This healthy Vegetarian Black Bean Soup is bursting with flavor. Onions and peppers are sautéed with spices and blended with black beans for a healthy, light and delicious soup. Serves 6 in about 45 minutes.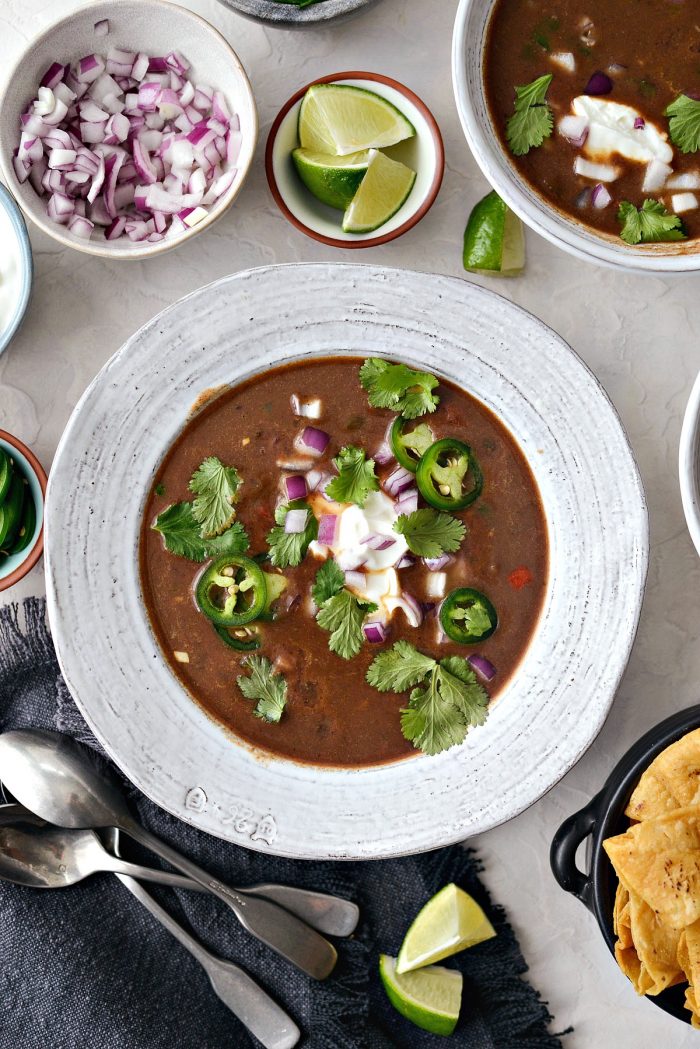 For weeks, I've been on a tex-mex type soup kick. I craved anything with a some heat or that I could eat with tortilla chips. Needless to say, I had a small back log of soup recipes to share.
After making tortilla soup, I was inspired and whipped up a vegetarian black bean. Because why not? It's SO easy and yet incredibly flavorful. It starts with onion, red bell pepper, jalapeño, garlic and spices and ends with black beans, broth, lime juice and fresh cilantro. It only simmers for 30 minutes and you're ready to ladle it into bowls.
I like my soup with a dollop of nonfat plain greek yogurt, minced raw red onion for crunch and bite, jalapeño slices and extra cilantro. Always extra cilantro.
To Make This Vegetarian Black Bean Soup You Will Need:
olive oil
yellow onion
diced red bell pepper
jalapeño pepper, plus more for serving
tomato paste
garlic
cumin
oregano (Mexican, if possible)
paprika
ground black pepper
bay leaf
low-sodium vegetable broth
black beans
lime juice
cilantro, plus morefor serving
red onion, for garnish
plain nonfat greek yogurt or sour cream, for serving
Measure and add 2 teaspoon olive oil, 1 medium diced yellow onion, 1 cup diced red bell pepper, 1 larger jalapeño -seeded and diced, and 4 cloves minced fresh garlic with a pinch of kosher salt. Stir and then sauté until tender and the onions translucent.
Once soft, measure and add in 2 teaspoons ground (toasted if possible) cumin, 1/2 teaspoon oregano (Mexican if possible) and 1/2 teaspoon paprika.
Combine and stir while cooking for 1 minute before stirring in 1 tablespoon tomato paste. Cook for 1 additional minute.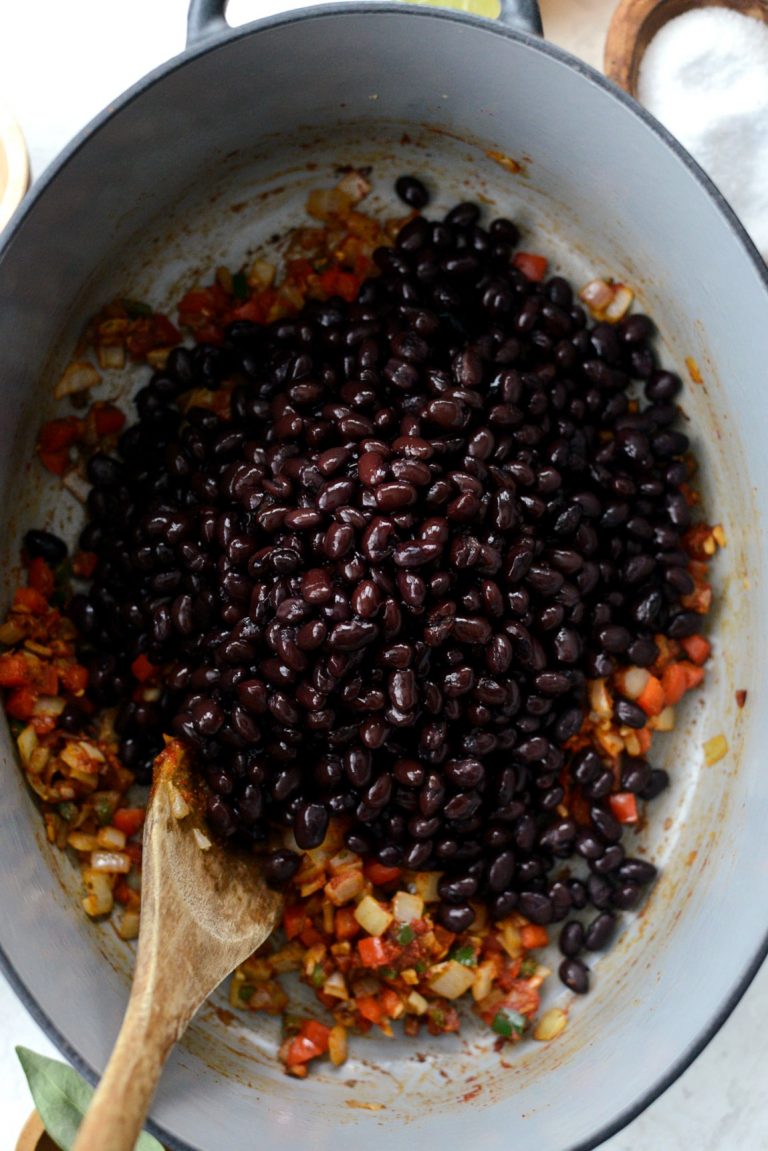 Next, add 2 (15 ounce) can rinsed and drained black beans.
Pour in 1 quart (4 cups) low-sodium vegetable broth.
Stirring well to combine.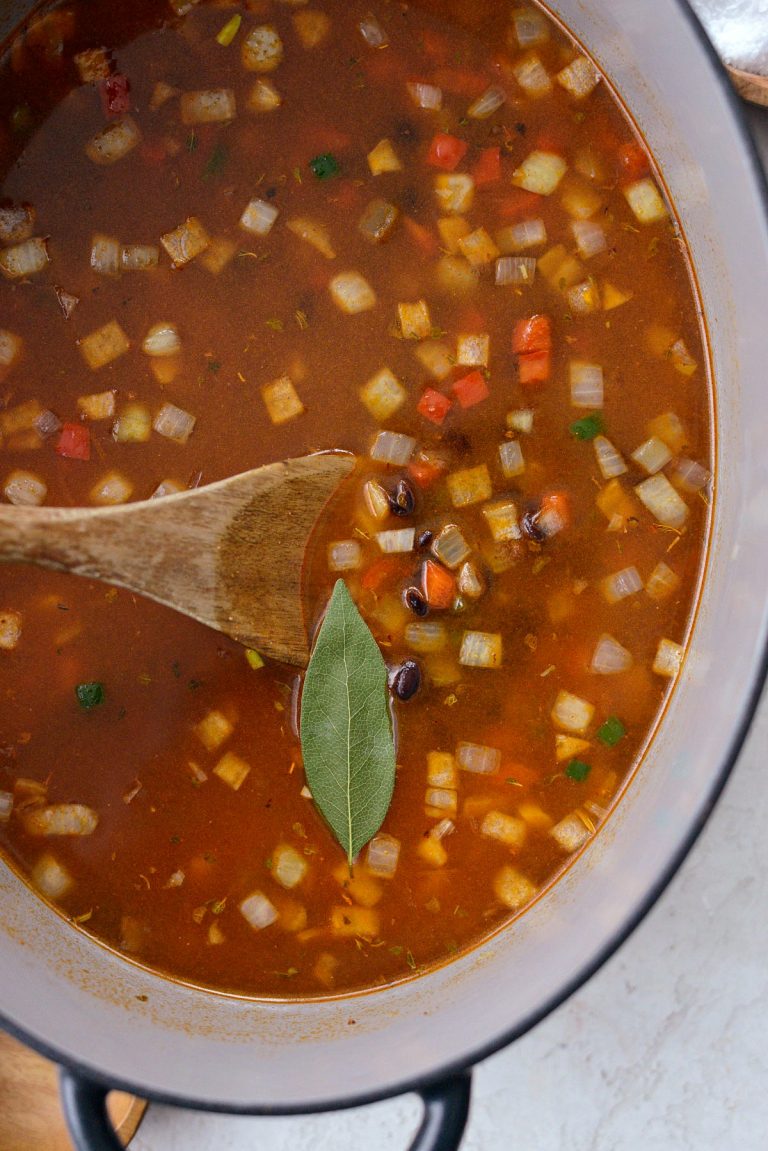 Drop in 1 bay leaf. Cover and bring to a low boil, reduce and simmer for 30 minutes.
Squeeze in the juice of 1/2 a lime.
And add in a small handful of chopped cilantro.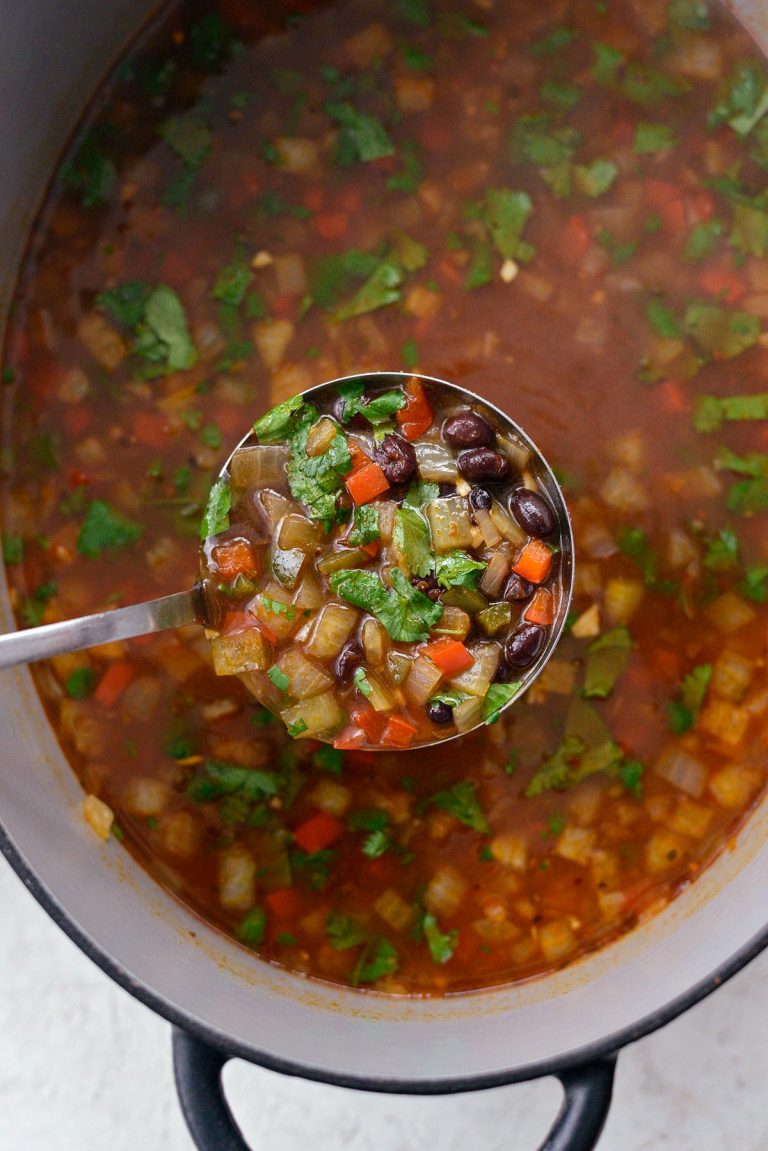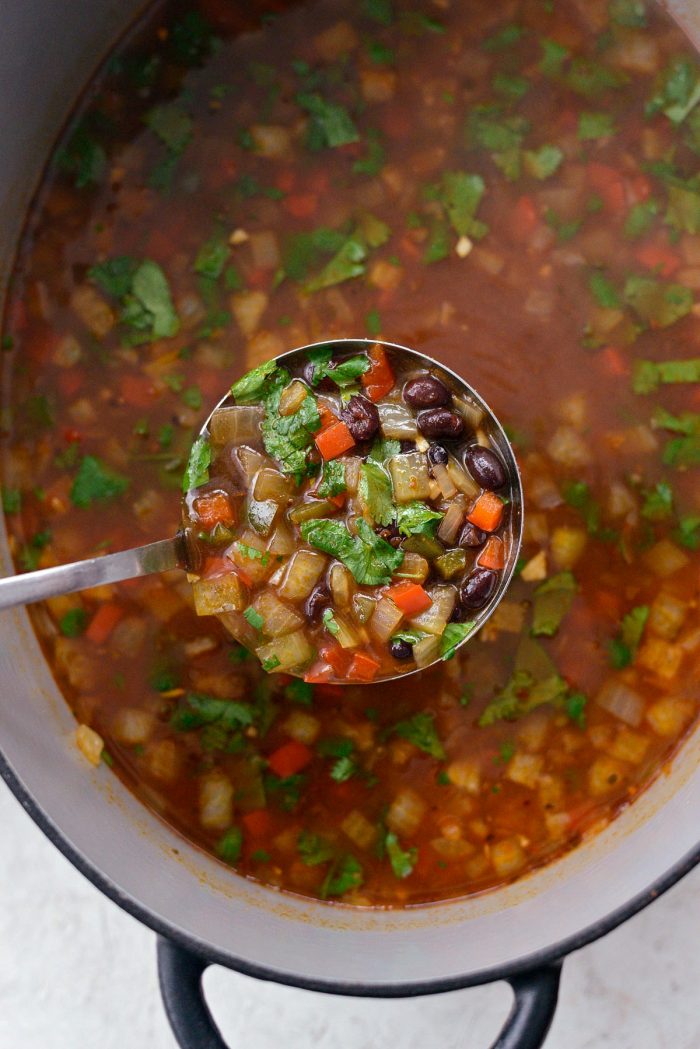 Ladle a few cups of the soup into a blender. Remove the center part in the lid and carefully hold a kitchen towel over the hole. Leaving the plug in the lid would trap pressure and potentially explode hot soup everywhere. Use caution.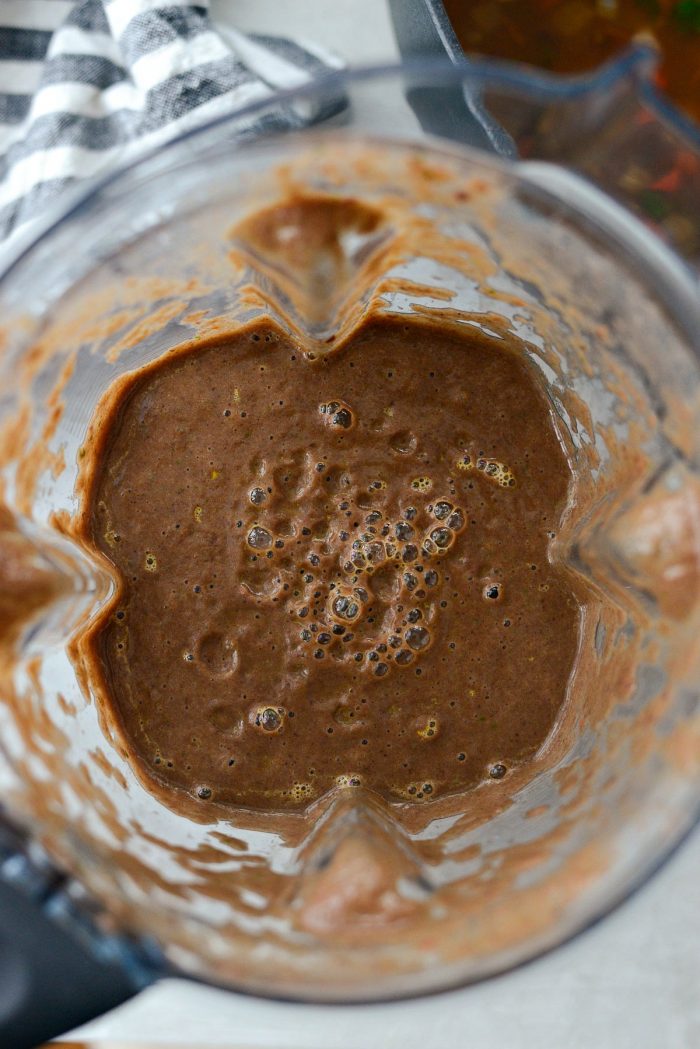 Processing until smooth.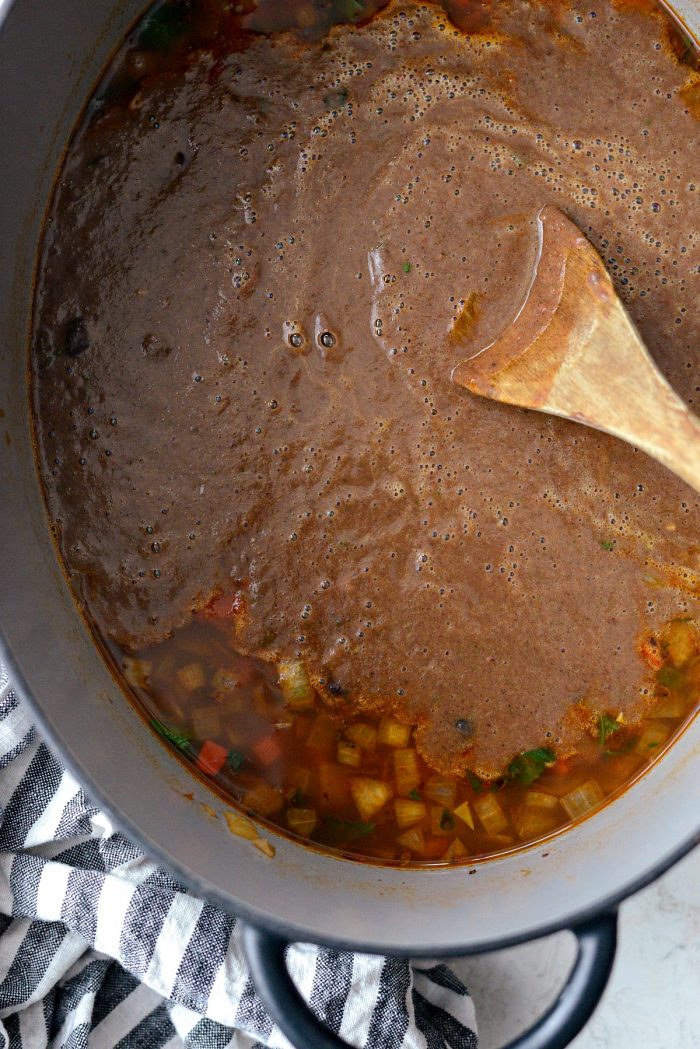 Pour the pureed soup back into the soup pot. Heat through.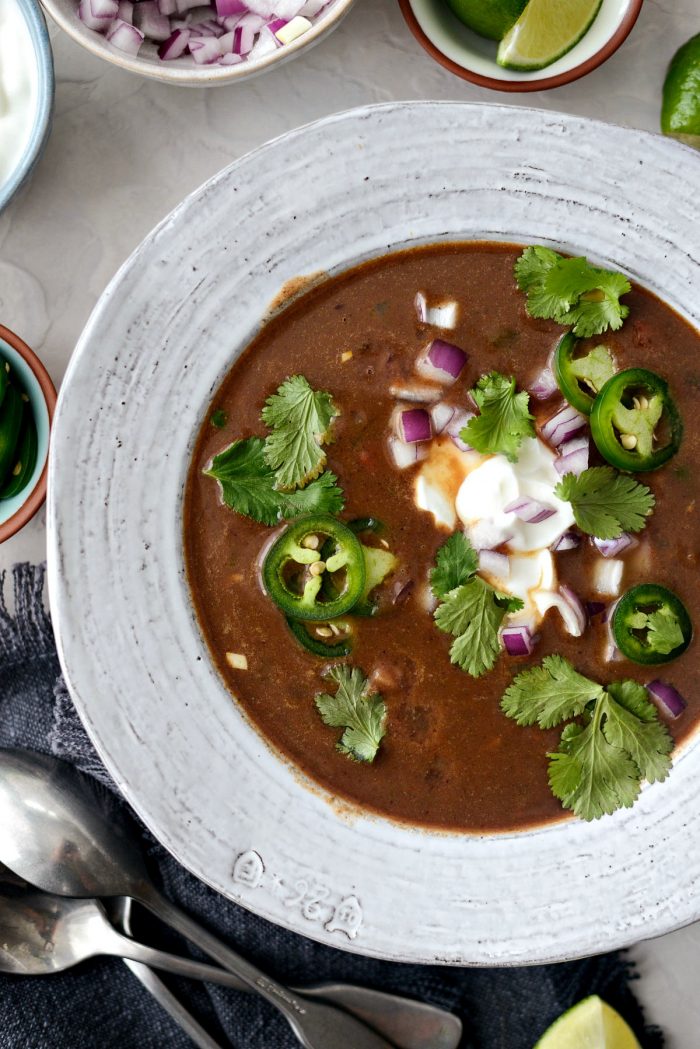 Ladle soup into bowls and top with a dollop of sour cream or plain nonfat greek yogurt, raw red onion (for bite and crunch!), sliced jalapeño and fresh cilantro. I love my vegetarian black bean soup with an extra squeeze of lime.
One of my favorite black bean soup recipes.
Addictively good and if you like it spicy, those sliced jalapeños are a must.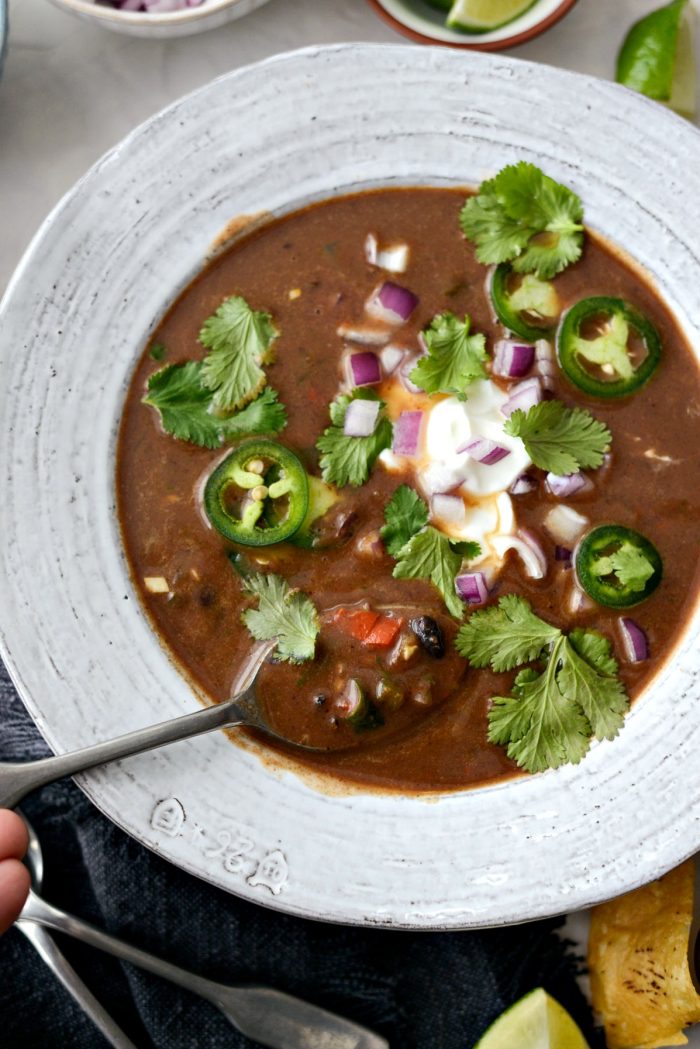 Easy.
Healthy.
Delicious.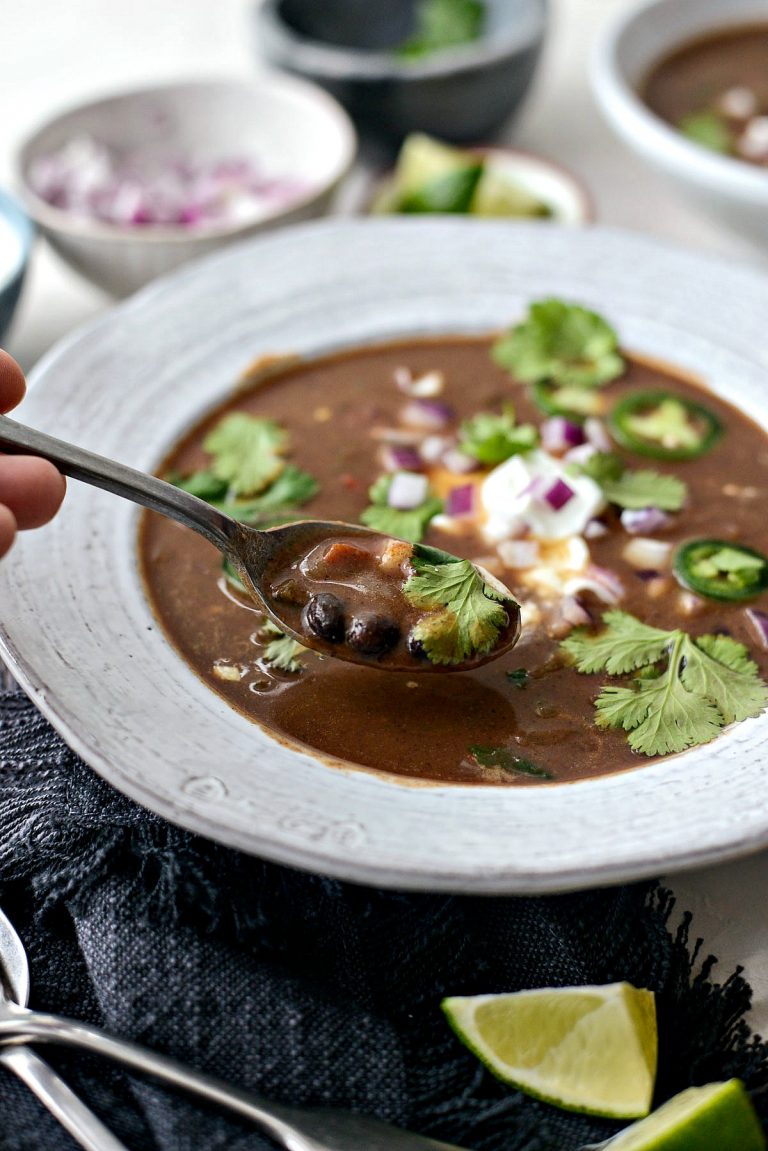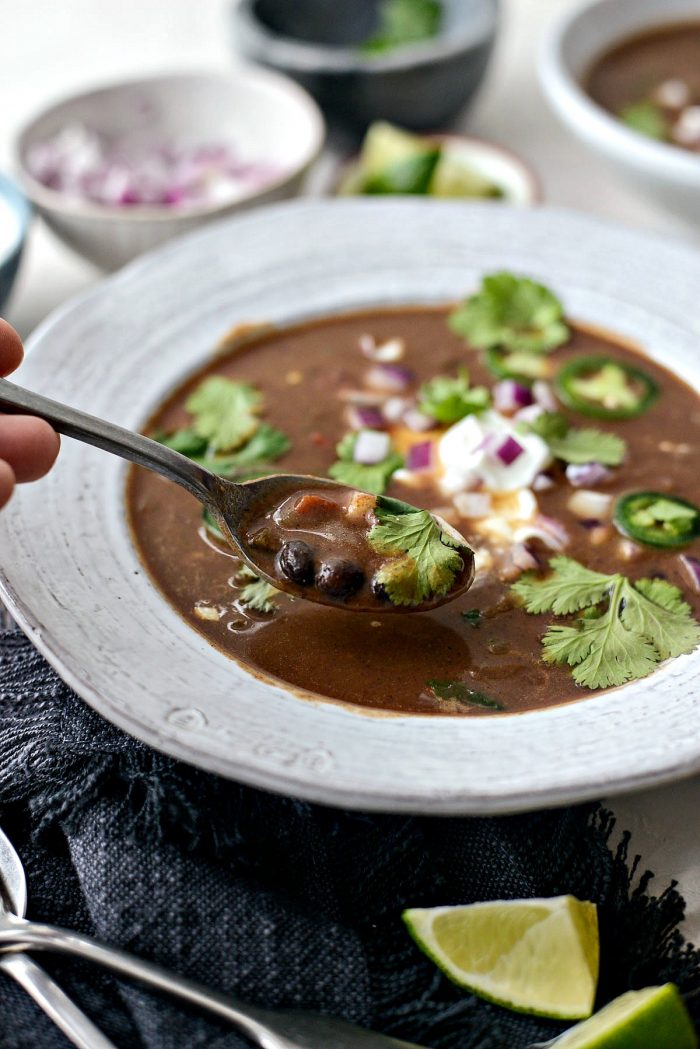 Enjoy! And if you give this recipe a try, let me know! Snap a photo and tag me on twitter or instagram!
This post may contain affiliate links.
Buy the Cookbook: Simply Scratch : 120 Wholesome Homemade Recipes Made Easy Now available on Amazon »
THANK YOU in advance for your support!