Cozy up with this healthy and easy Chicken Tortilla Soup! Chicken simmers with onion, jalapeño, garlic, black beans and sweet corn in a deliciously spiced tomato broth. Serve with crushed tortilla chips and a plethora of toppings! Serves 6-8 in under 45 minutes.
My love for Tex-Mex runs deep (you know this) and tortilla soup is my love language. And yet, not one single recipe for chicken tortilla soup on this blog. I don't get it.What I do get is that this might be one of the best tortilla soups out there. I know, I know, that's a mighty big promise to make but you guys, it's good. Like so so good.
In it onions, jalapeño and garlic sauté with spices and simmers in a fire roasted tomato broth. Plus, anything that calls fro crumbling tortilla chips into is bound to be epic – amiright?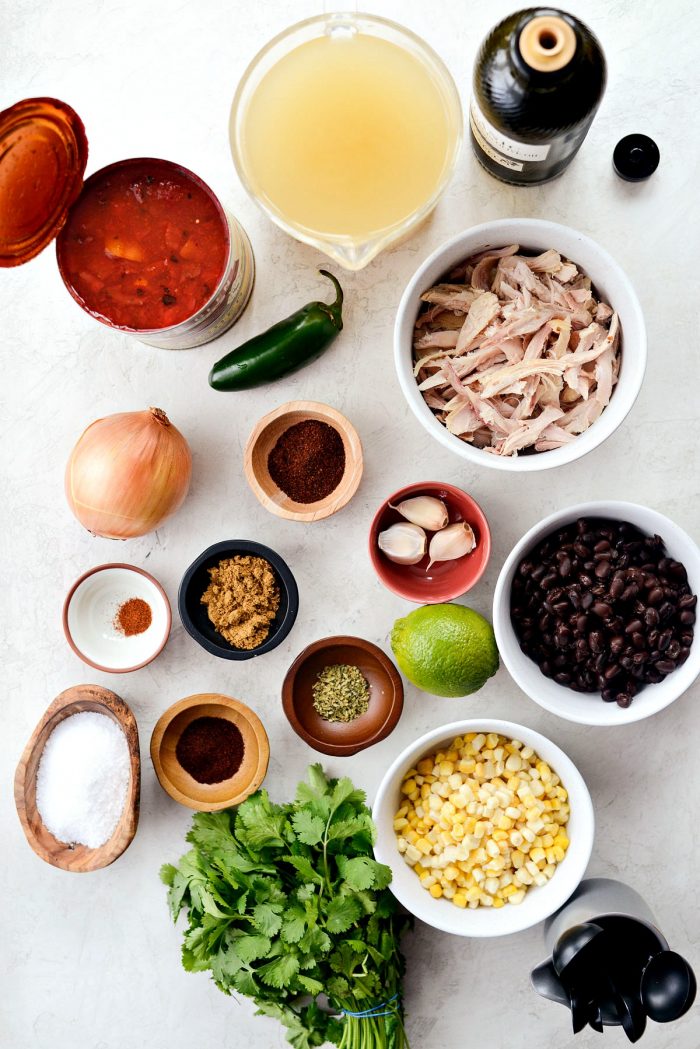 To Make This Easy Chicken Tortilla Soup You Will Need:
olive oil
yellow onion
jalapeño
garlic
kosher salt
chili powder
cumin
chipotle powder
oregano
cayenne
crushed fire-roasted tomatoes
black beans
sweet corn
leftover shredded cooked chicken
low-sodium chicken broth
lime (juice)
cilantro
tortilla chips
additional toppings like; plain non-fat greek yogurt or sour cream, sharp cheddar, avocado, sliced radish and jalapeño.
In a dutch oven or heavy pot, add 2 teaspoons olive oil with 1 medium diced yellow onion, 1 (if large, 2 if small) chopped jalapeños, 3 cloves minced cloves of garlic and a pinch of kosher salt.
For less heat, remove the ribs and seeds of the jalapeño.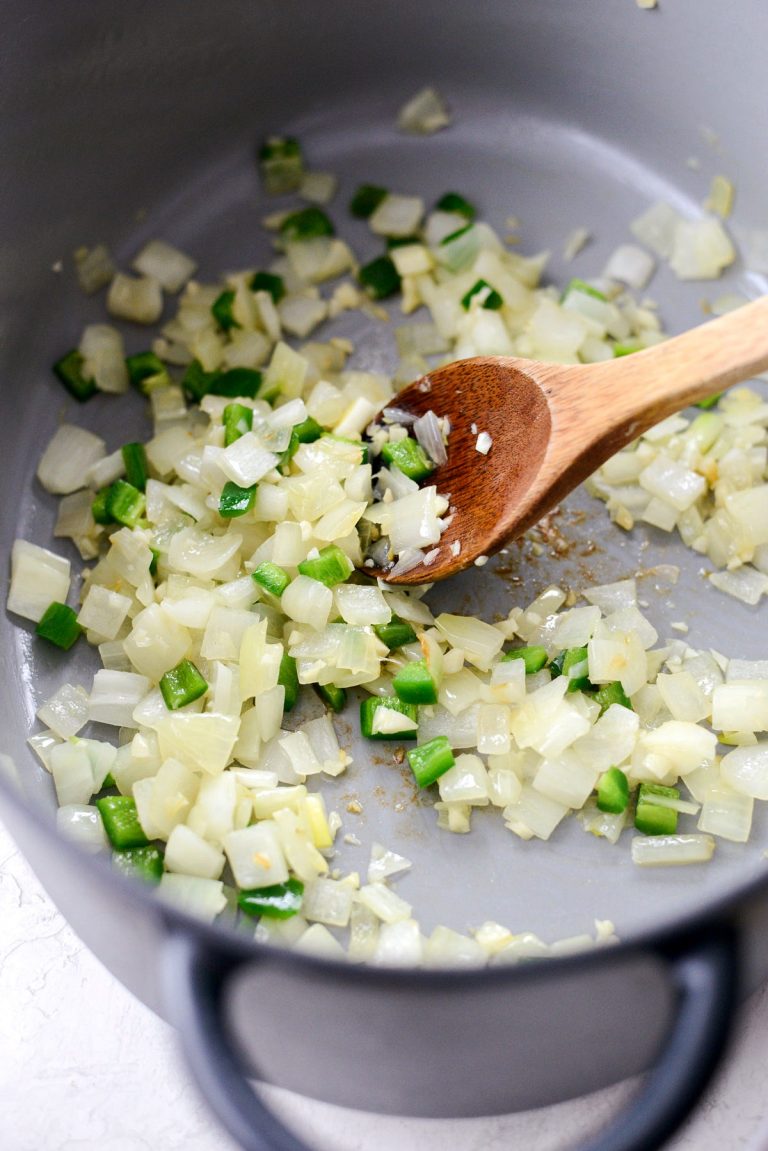 Cook over medium-low heat for 5 to 8 minutes or until softened.
Measure and add 1 tablespoon chili powder, 2 teaspoons ground cumin, 3/4 teaspoon chipotle powder, 1/2 teaspoon oregano (Mexican if possible) and 1/4 teaspoon cayenne pepper.
However, feel free to play with the chipotle and cayenne, adding more or less depending on your preferred heat level.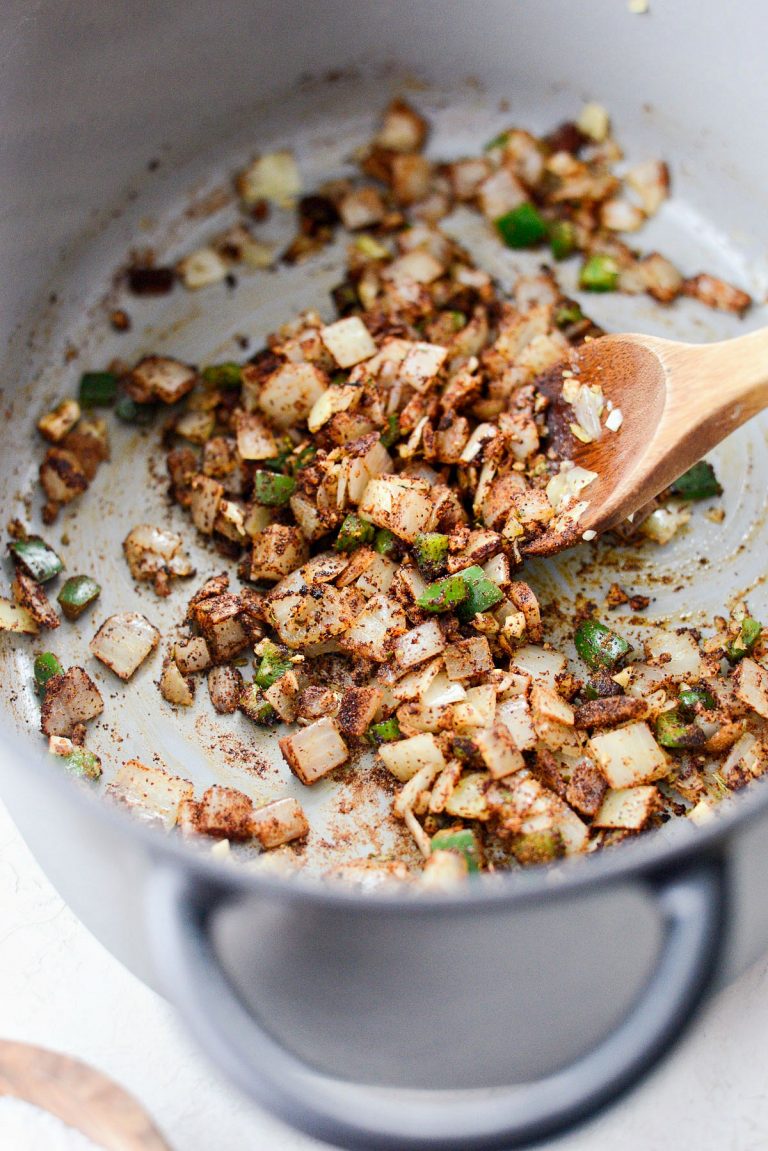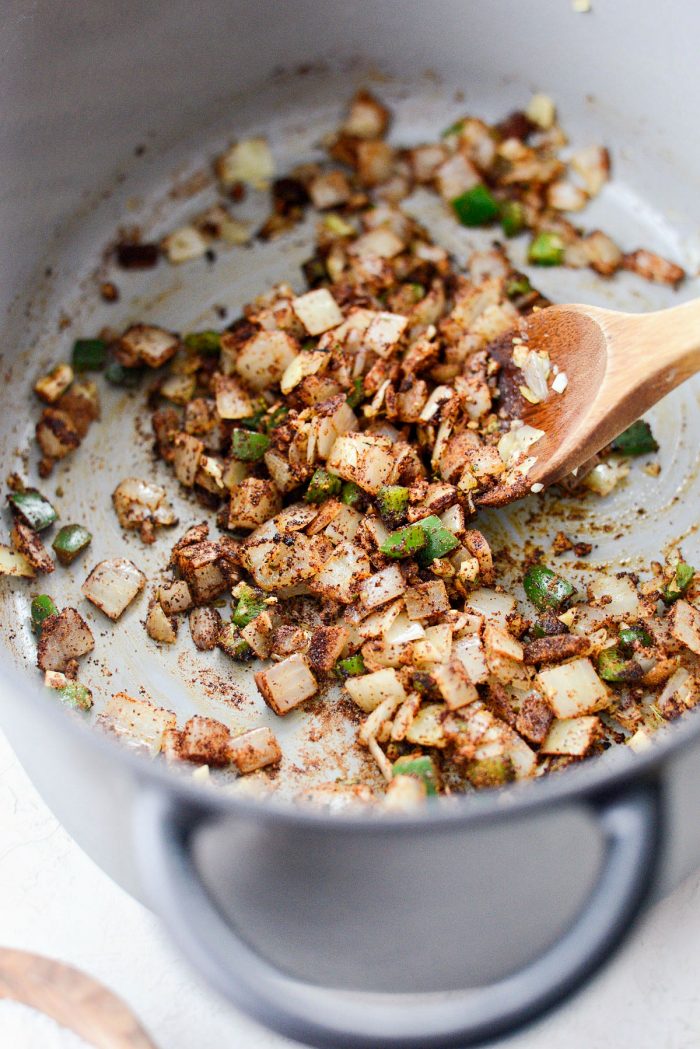 Stir and cook the spices for 1 minute, this will help bring out their flavor.
Next, add in 1 (28 ounce) can of crushed fire-roasted tomatoes.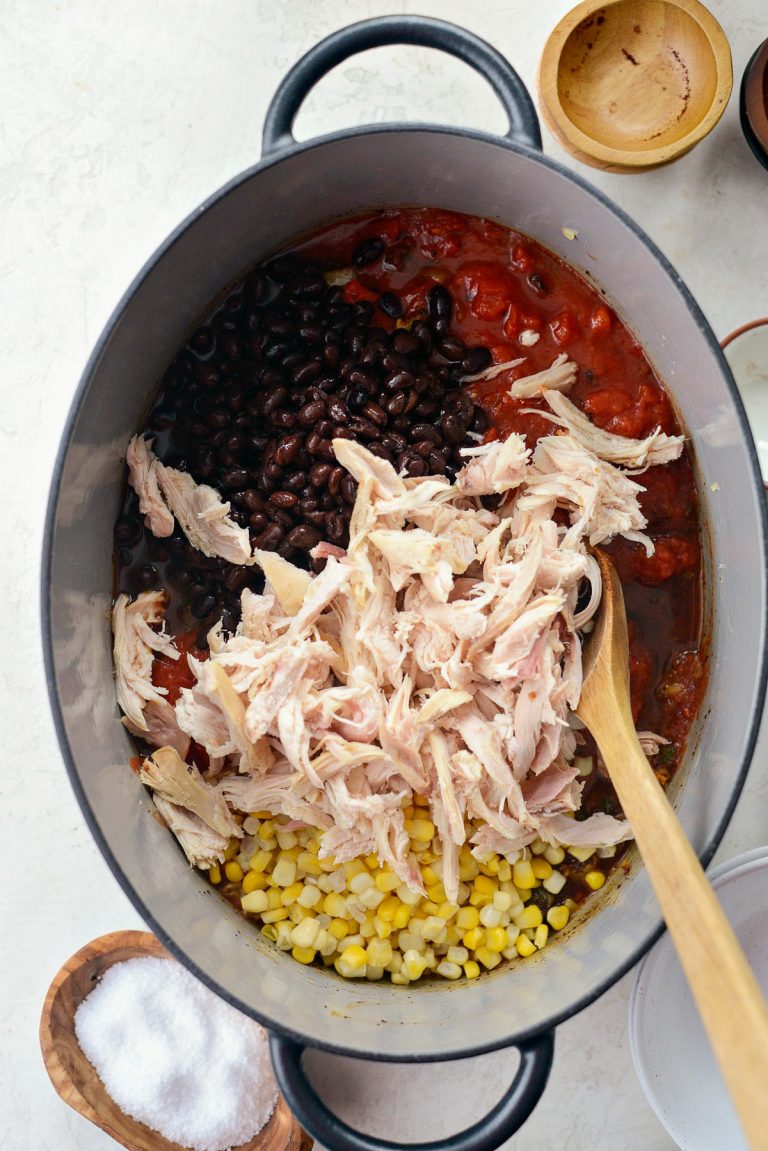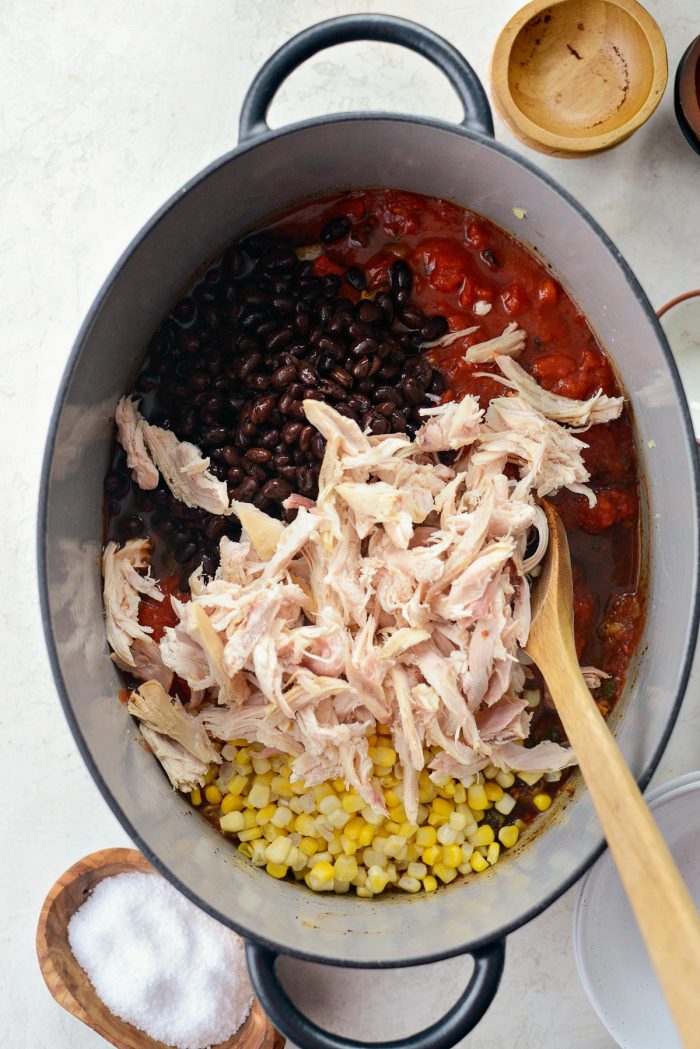 Then add in 1 (15 ounce) can of drained and rinsed black beans, 1 cup sweet corn (frozen or fresh) and 2 cups leftover shredded cooked chicken – either from a roasted chicken or rotisserie is fine too.
Pour in 1 quart (4 cups) low-sodium chicken broth.
Squeeze in the juice from 1/2 a large lime – about 2 tablespoons.
Stir well to combine.
Cover the pot, leaving the lid cracked and bring to a bubble over medium-high heat. Once bubbling, reduce to low and simmer for 30 minutes.
Before serving add in 2 tablespoons minced fresh cilantro and season with kosher salt. I add 2-1/2 teaspoons, but season to your preferred taste.
And It Smells incredible!
Ladle soup into bowls and top with your favorite toppings like; plain non-fat greek yogurt or sour cream, sliced avocado, radish and jalapeño, cheddar cheese and since this is tortilla soup… crumble up tortilla chips and add those in as well! They'll soften and add another layer of flavor to this already flavorful soup.
The flavor of this chicken tortilla soup is out of this world! Smoky with a smidgen of that back-of-the-throat heat, tender chicken and so many vegetables!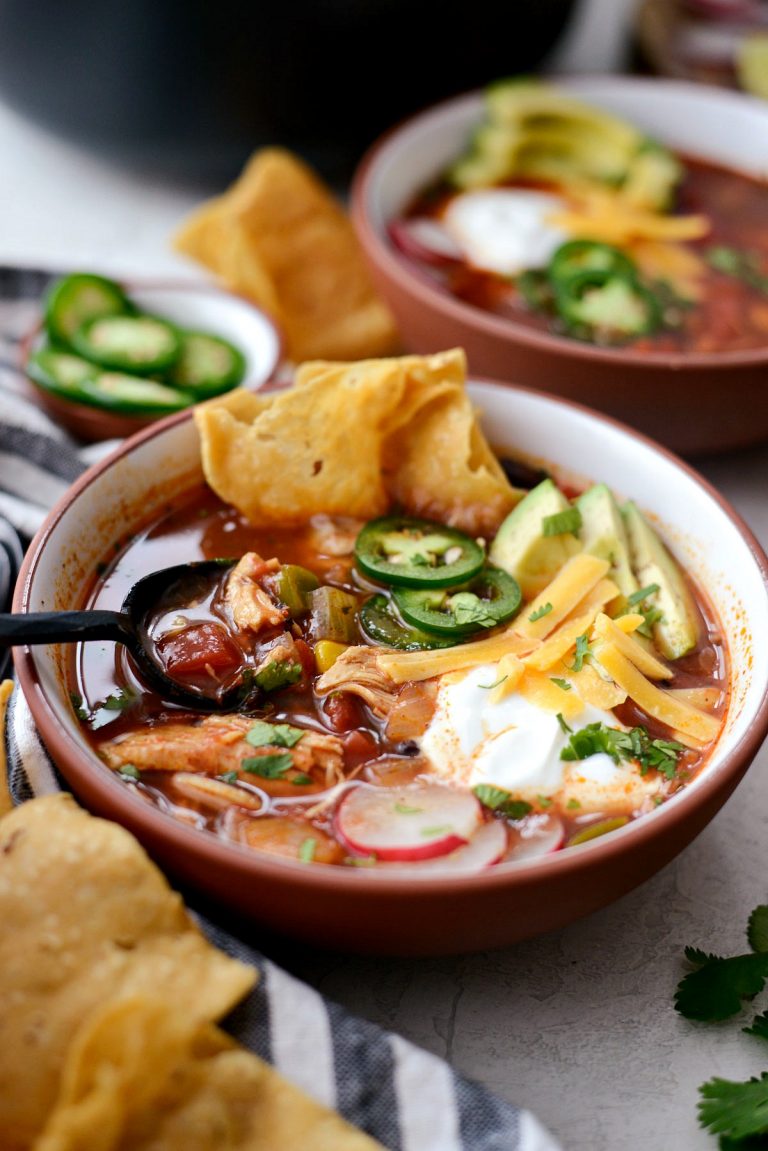 Enjoy! And if you give this Easy Chicken Tortilla Soup recipe a try, let me know! Snap a photo and tag me on twitter or instagram!
This post may contain affiliate links.
Buy the Cookbook: Simply Scratch : 120 Wholesome Homemade Recipes Made Easy Now available on Amazon »
THANK YOU in advance for your support!