Free up stovetop and oven space by making this Air-Fryer Brussels Sprouts recipe! Brussels sprouts are tossed with olive oil, salt and pepper and air fried until crispy. Serve with parmesan cheese and chopped fresh oregano. Serves 6 in under 20 minutes.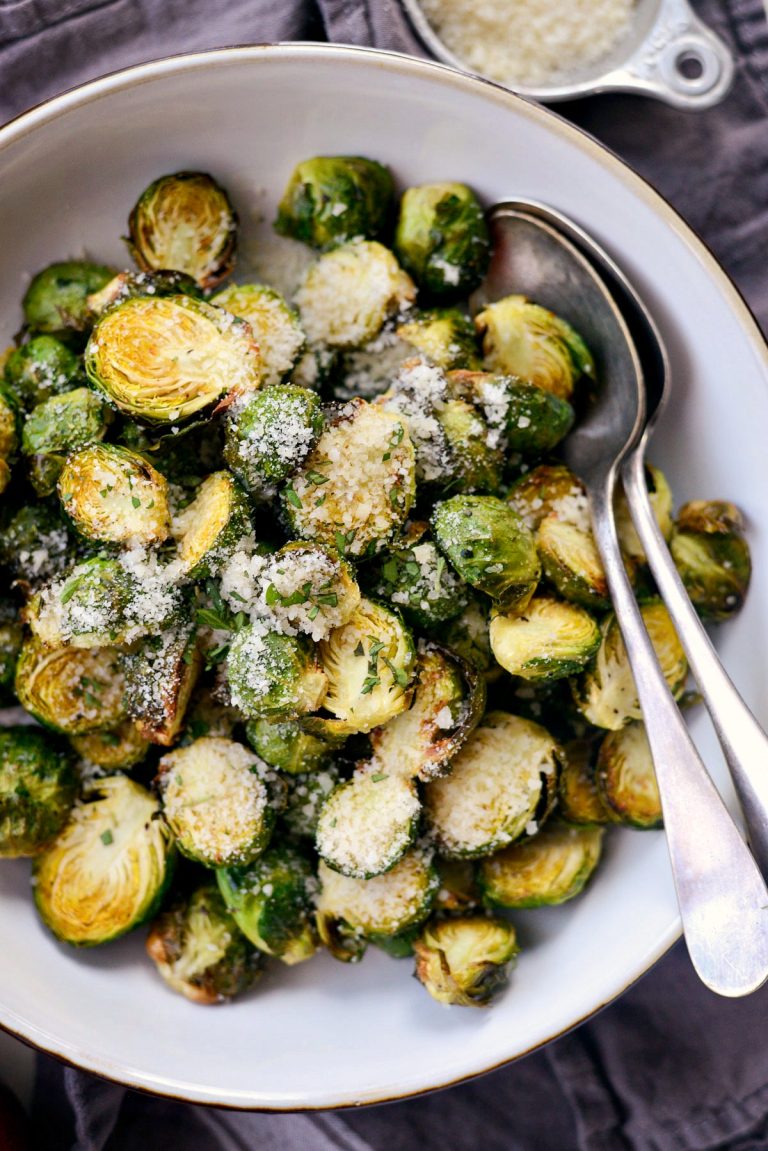 Move over roasted Brussels sprouts there's a new recipe in town and it's made in the air fryer!
I've said it once and will say it again… I love using my air fryer. Pat gifted it to me for Christmas a few years ago and I'm still loving it. My girls like it for reheating frozen foods and I love it for things like crispy chicken tenders, taquitos and now brussels sprouts.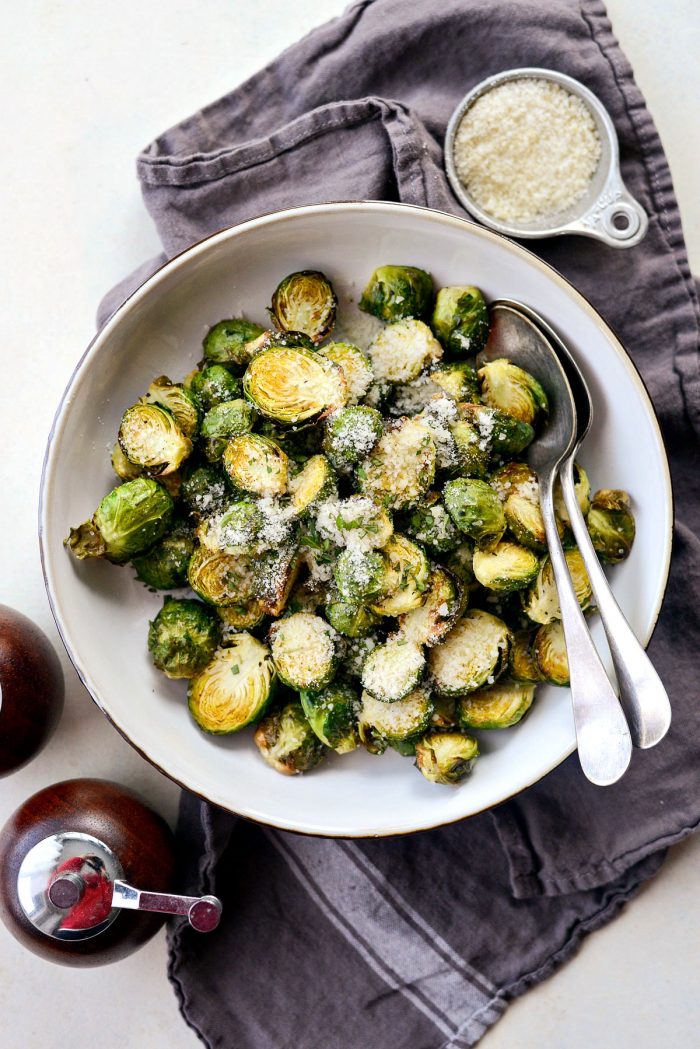 This past fall I roasted a lot of Brussels sprouts until it dawned on me to make them in my air fryer. Not only is it faster but it's also healthier and frees up space in my already teeny-tiny oven.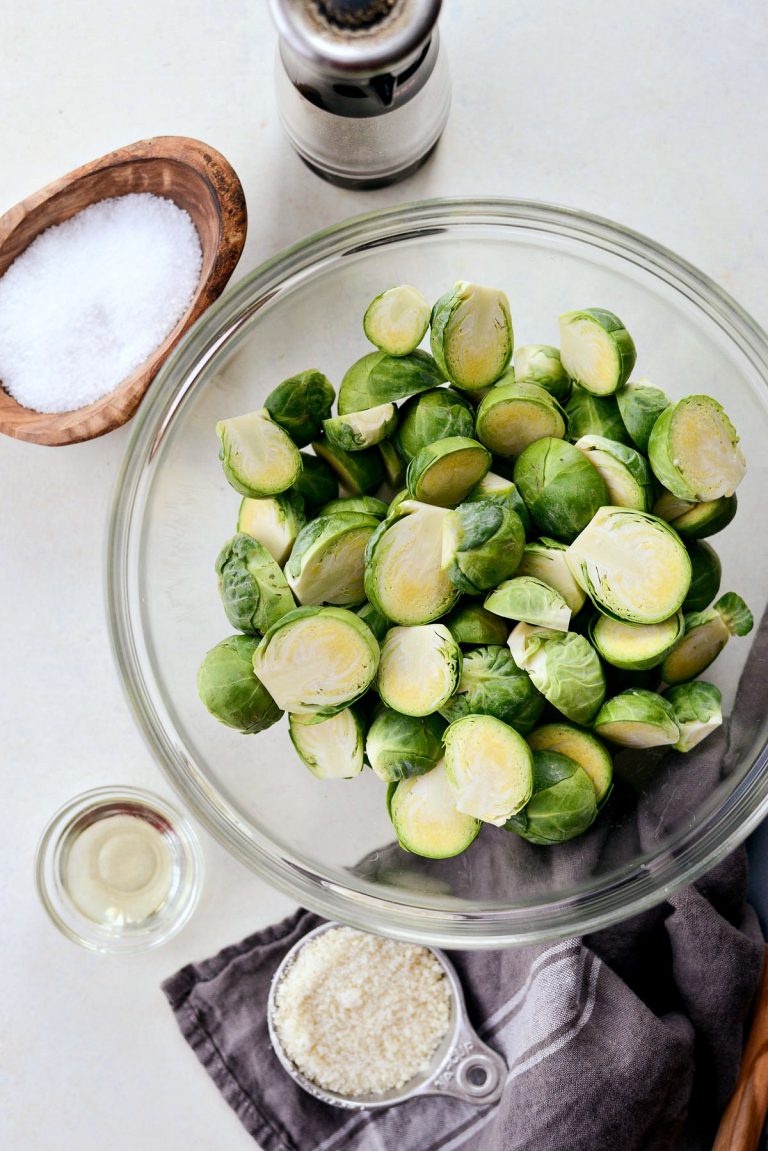 To Make This Air Fryer Brussels Sprouts You Will Need:
brussels sprouts
olive oil
kosher salt
black pepper
grated fresh parmesan cheese
fresh herbs like oregano or parsley
Trim and halve 1-1/2 pounds of fresh Brussels sprouts. Toss them into a bowl with 1-1/2 teaspoons extra light olive oil.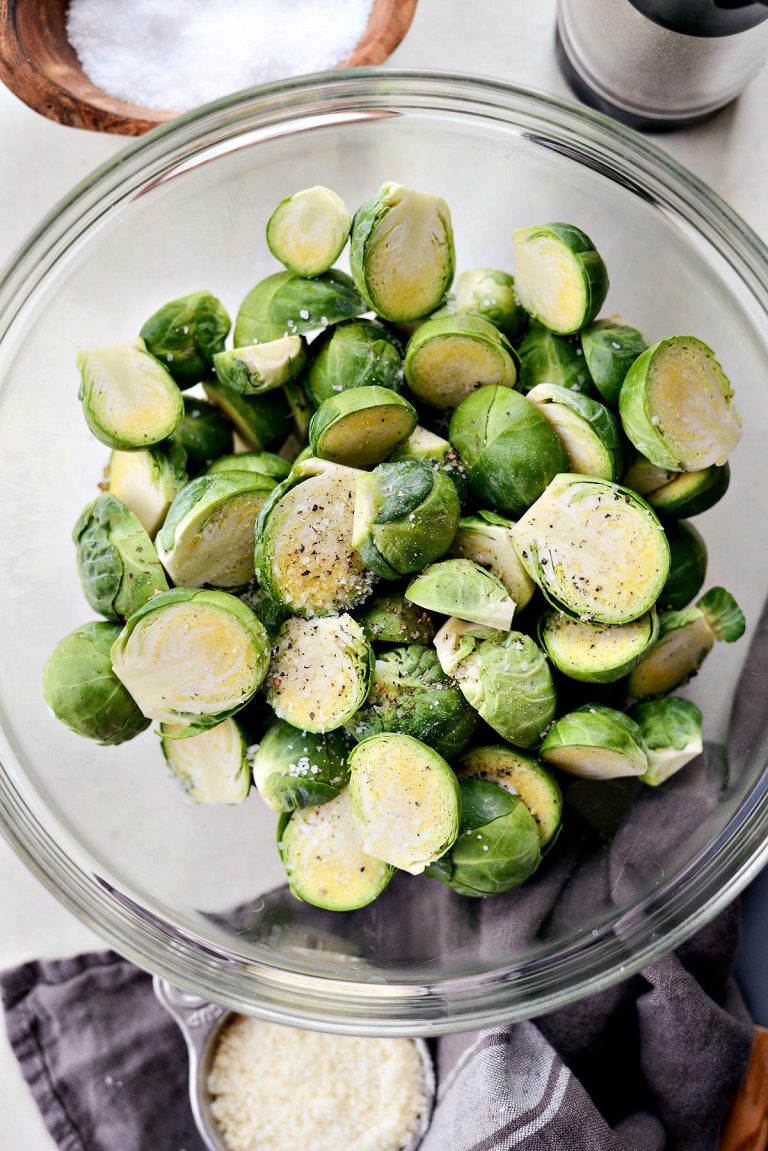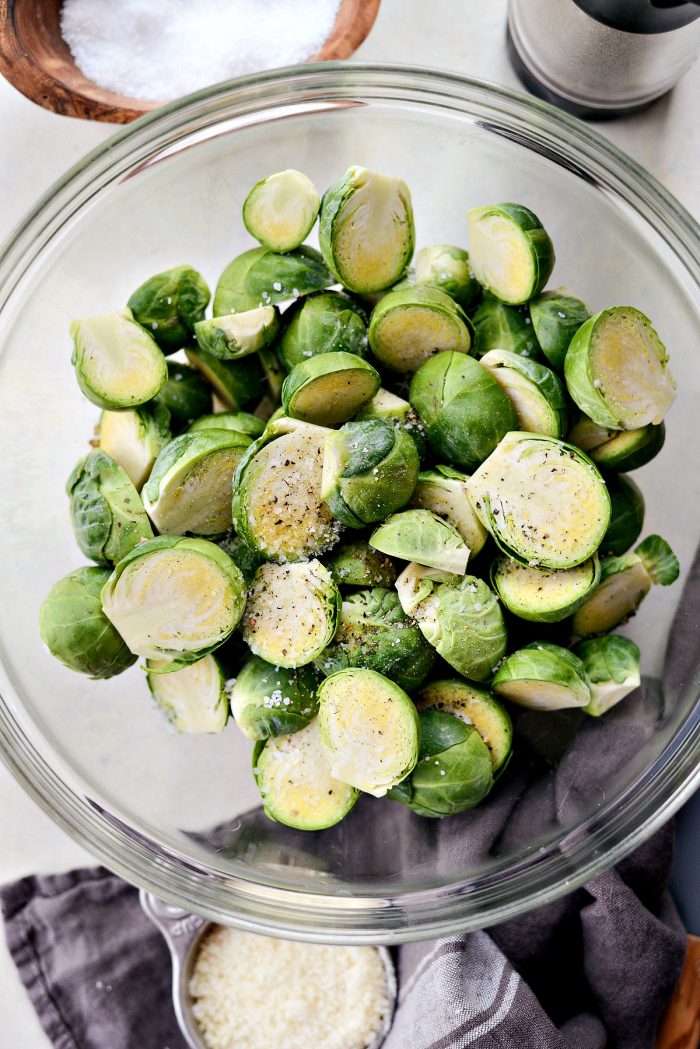 Season with a kosher salt and freshly ground black pepper.
Toss well to coat the Brussels sprouts evenly with the oil and seasoning.
Meanwhile, preheat your air fryer to 390°.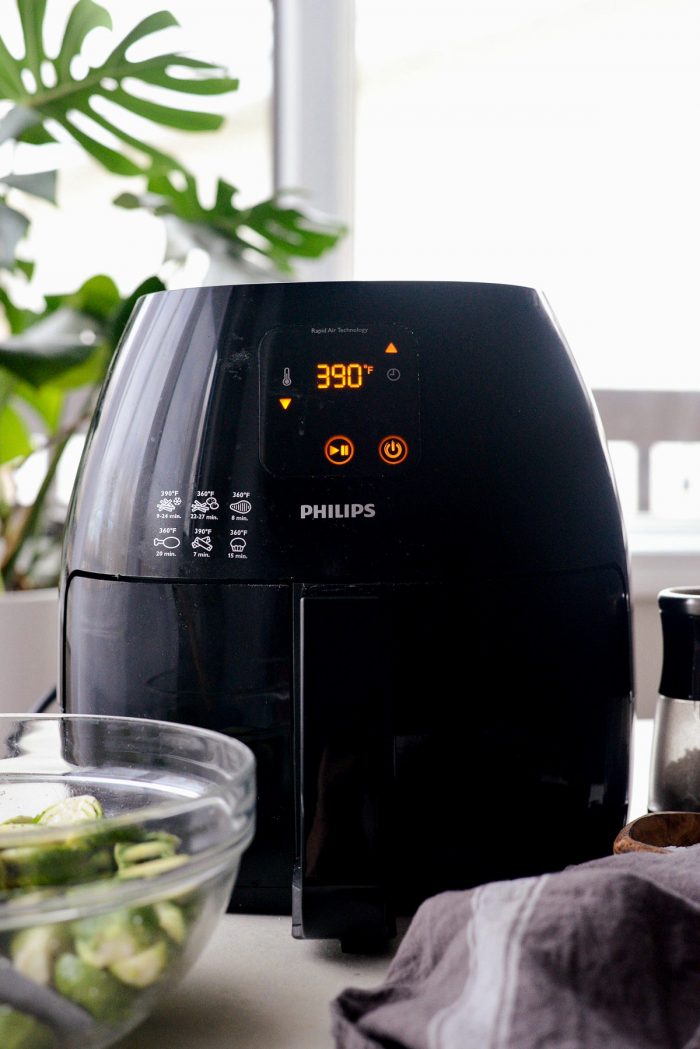 What Is Air Frying?
An air fryer is a counter top appliance that requires less oil (anything from a few spritz to 1 tablespoon) yet produces crispy food that rivals most deep fried foods. By using circulating hot air, it moves at a high speed so the food tends to cook in a fraction of the time.
There are a bunch of different makes and models of air fryers. My husband did the research (as he's known to do) and found this air fryer [affiliate] to be one of the best. But do your research and purchase one that fits your lifestyle.
How is Air Frying Healthier?
Air frying is healthier because only a thin layer of oil coats the food and when the hot air comes in contact it will crisp. Saving you a ton of fat and calories (without sacrificing any flavor!) because food is not being submerged in a vat of hot oil.
For more Air Fryer recipes, click here for my growing collection.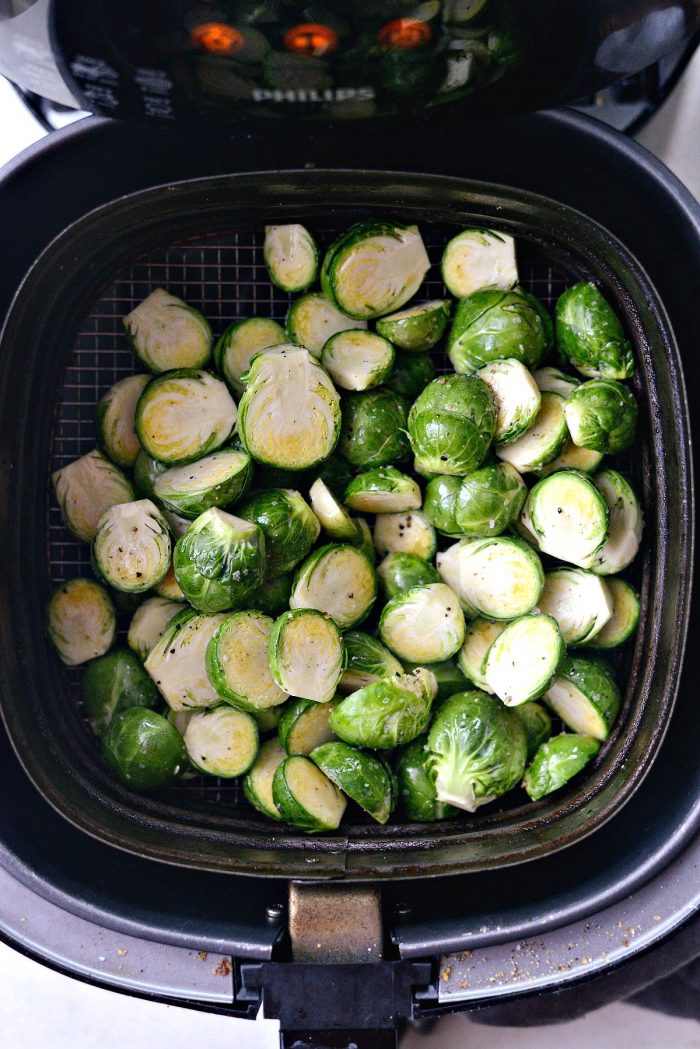 Once preheated, add the Brussels sprouts and air-fry for 4 minutes.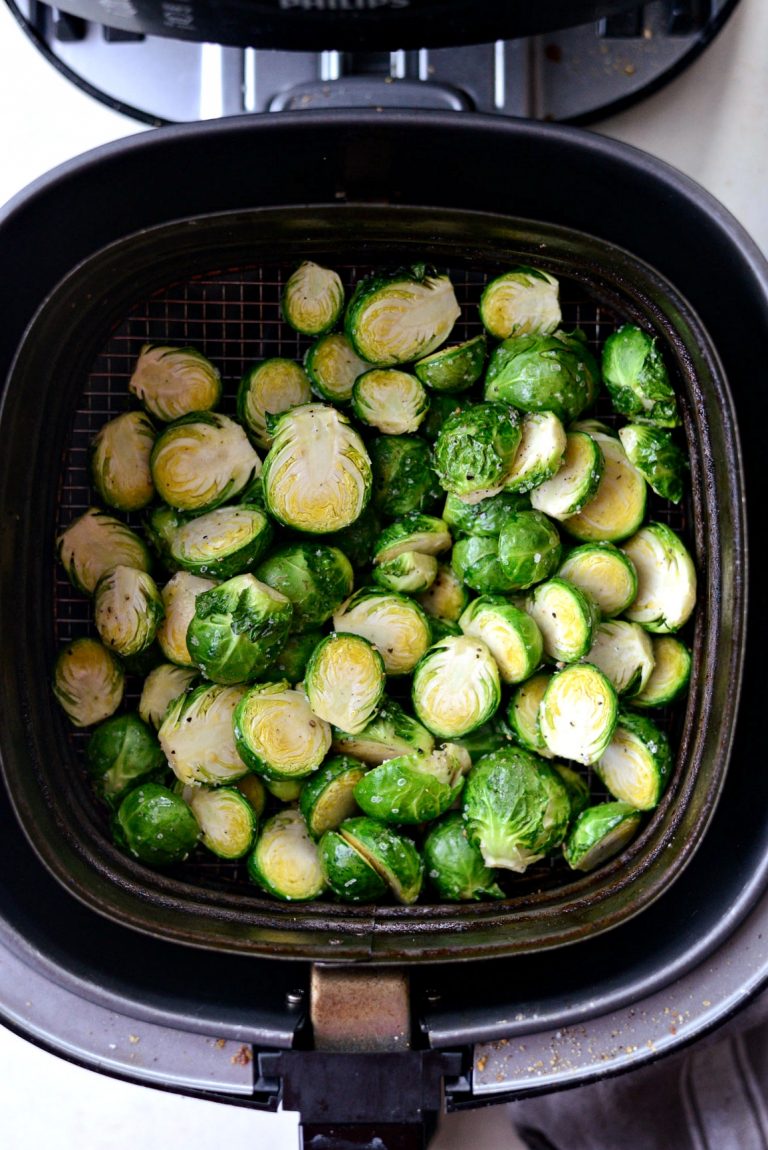 Open the air-fryer, shake and continue frying for 4 more minutes.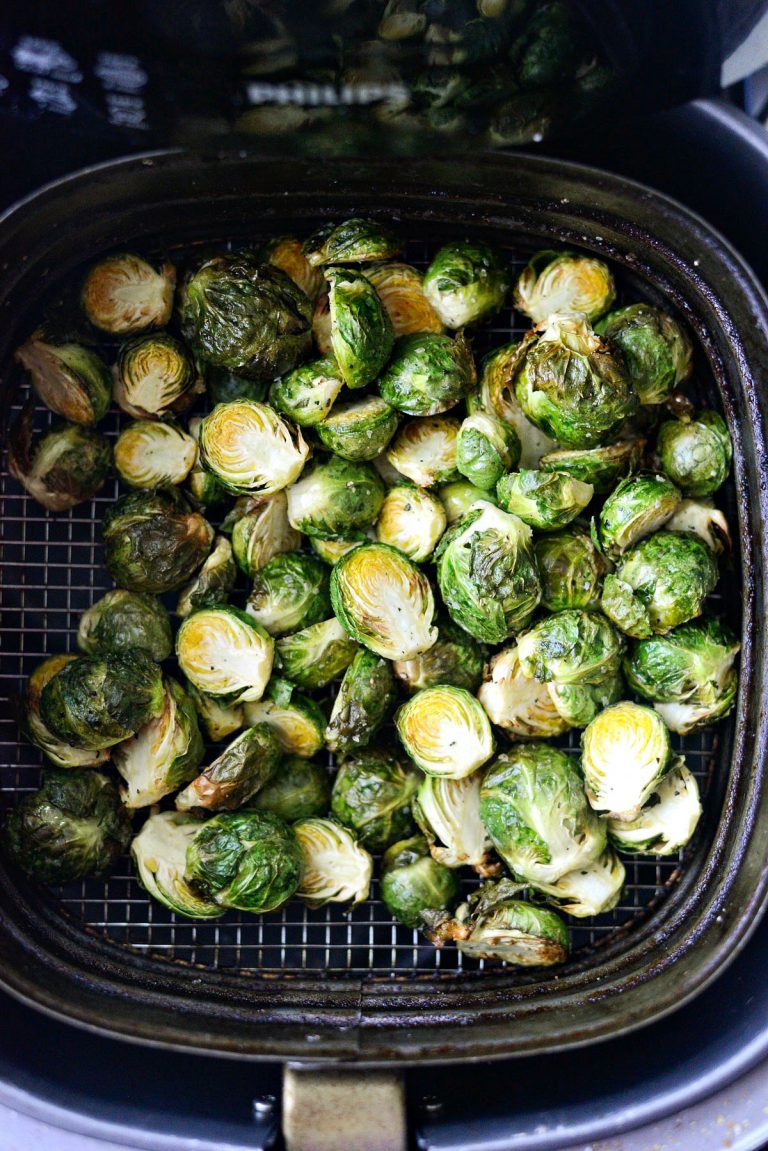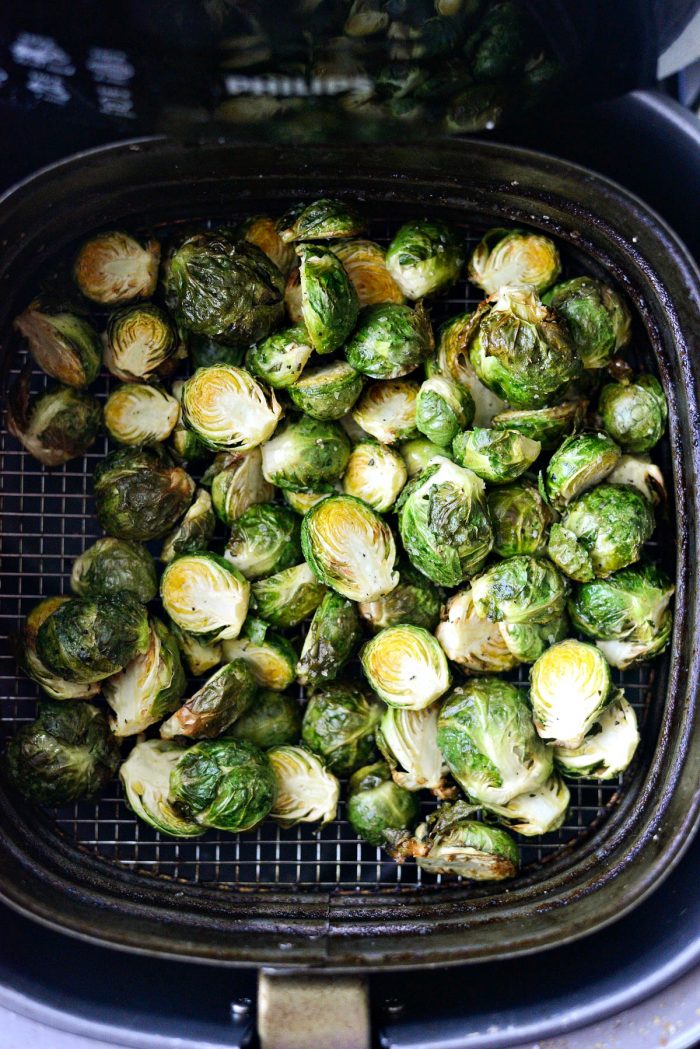 Repeat this 1 to 2 more times or until the Brussels sprouts are crispy and golden in spots.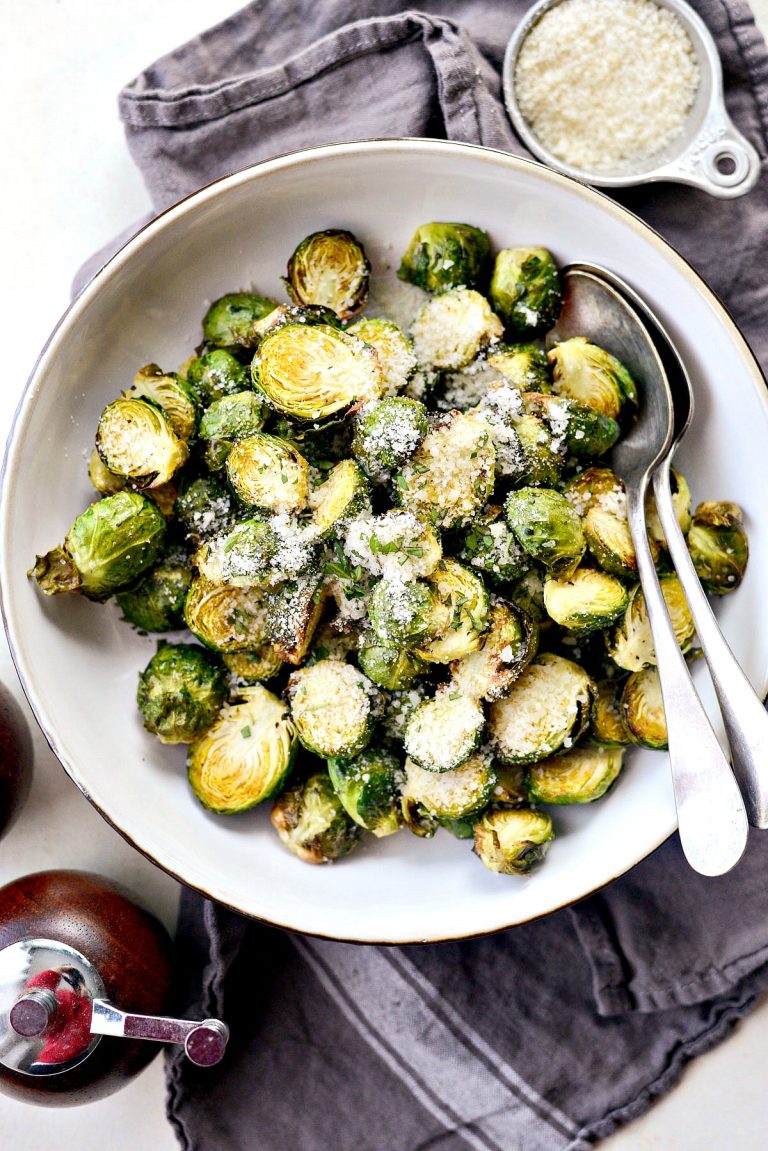 Serve immediately with a sprinkle of parmesan cheese and chopped fresh herbs.
SO easy.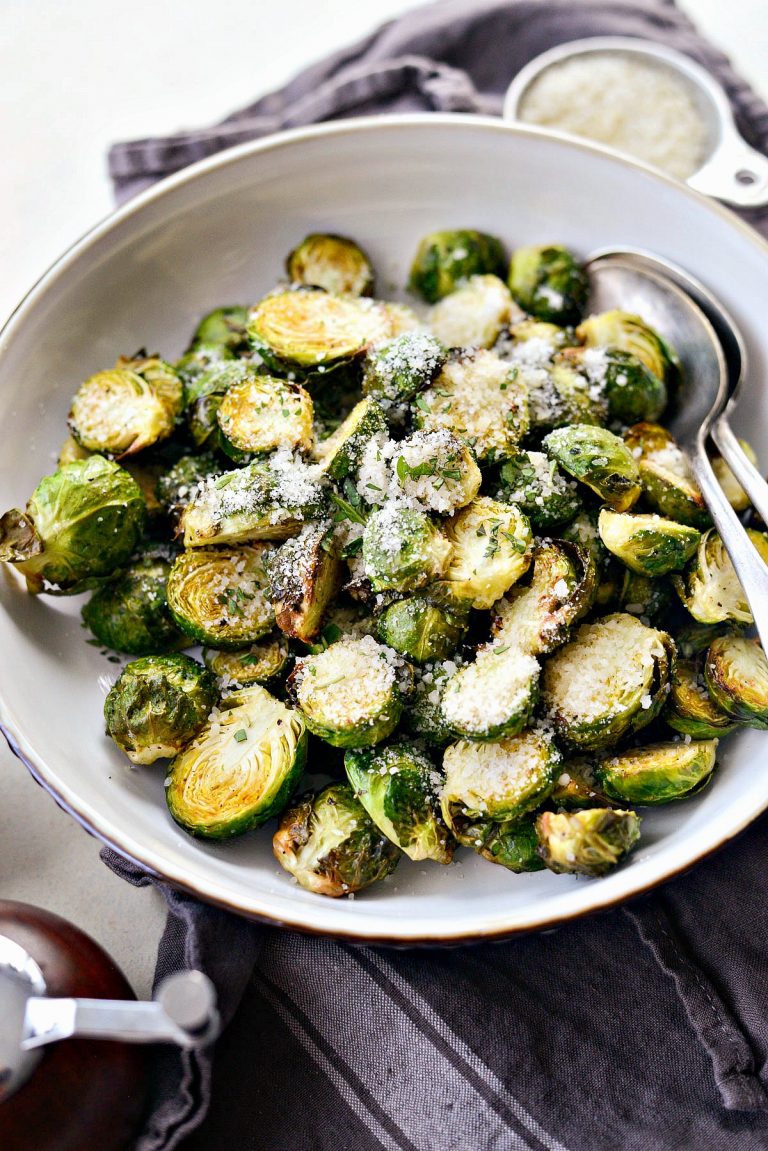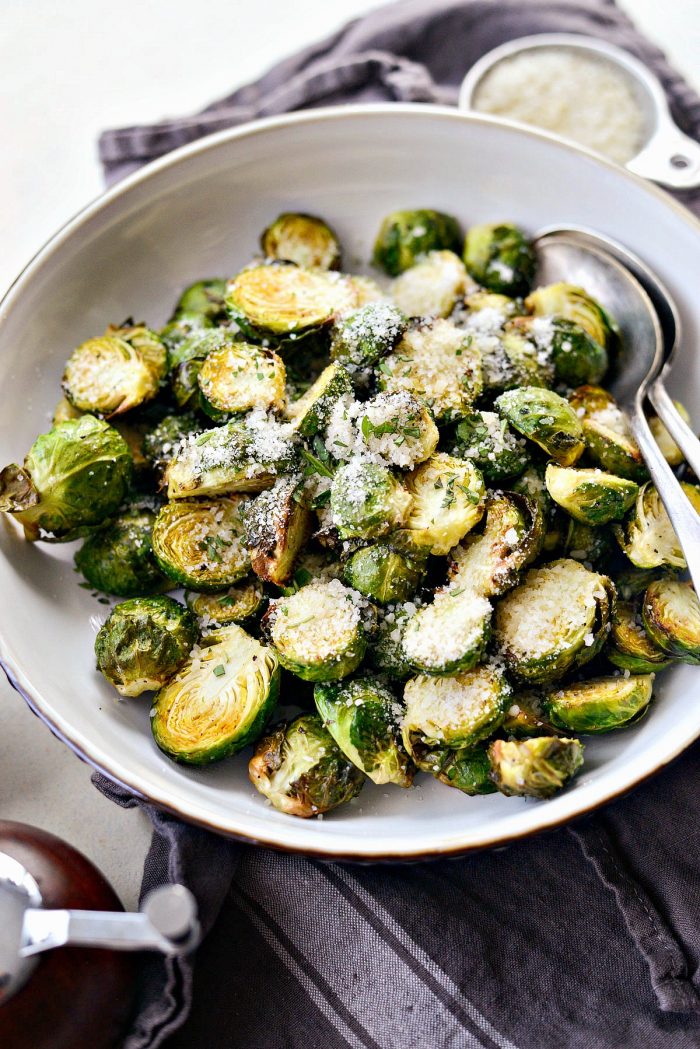 Serve with anything, from chicken to beef. I recently made them to go with beef tenderloin and short ribs.
Fantastic.
Enjoy! And if you give this Air Fryer Brussels Sprouts recipe a try, let me know! Snap a photo and tag me on twitter or instagram!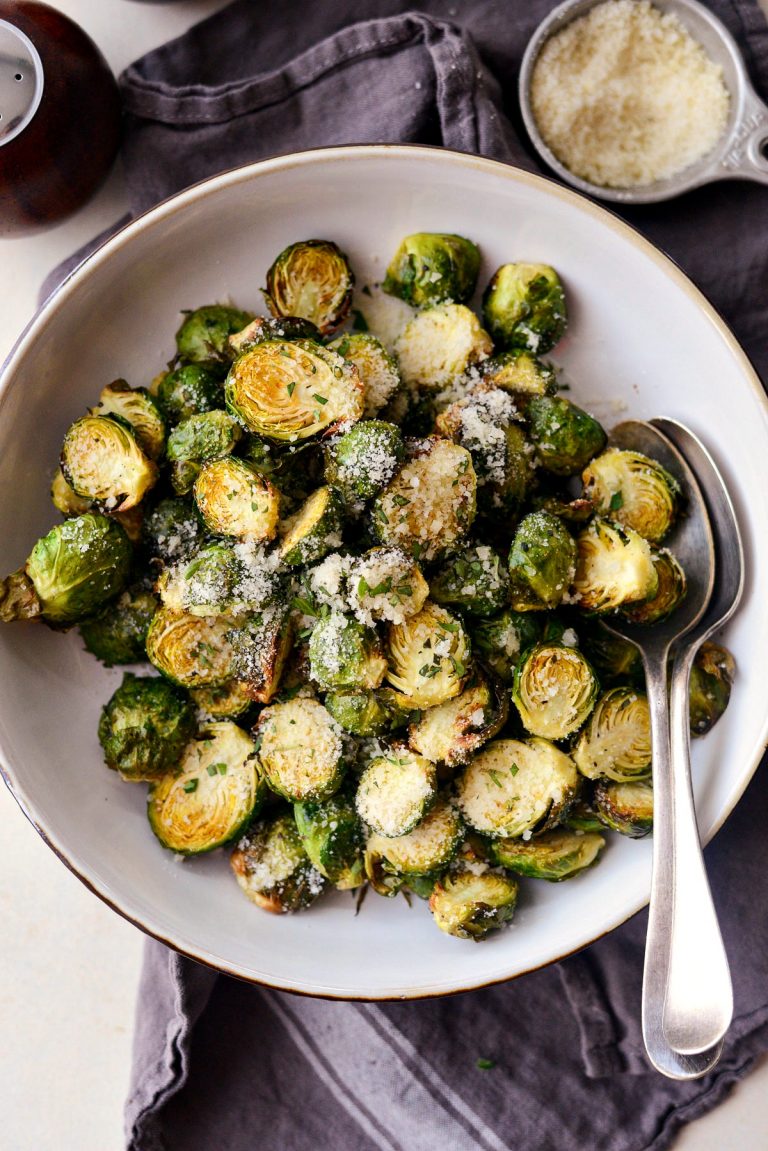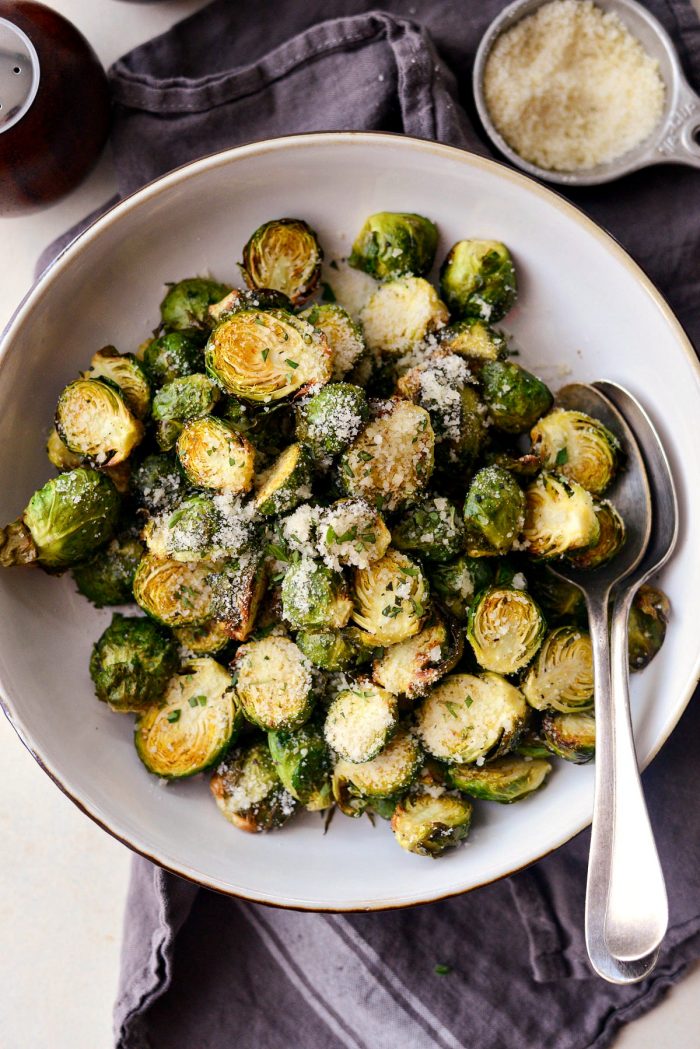 This post may contain affiliate links.
Buy the Cookbook: Simply Scratch : 120 Wholesome Homemade Recipes Made Easy Now available on Amazon »
THANK YOU in advance for your support!