These Air Fryer Salsa Chicken Taquitos couldn't be any easier! Shredded cooked chicken is tossed with salsa and wrapped in a tortilla with cheese. Then they are lightly sprayed with olive oil and air fried until crispy. This recipe yields 20 crispy taquitos!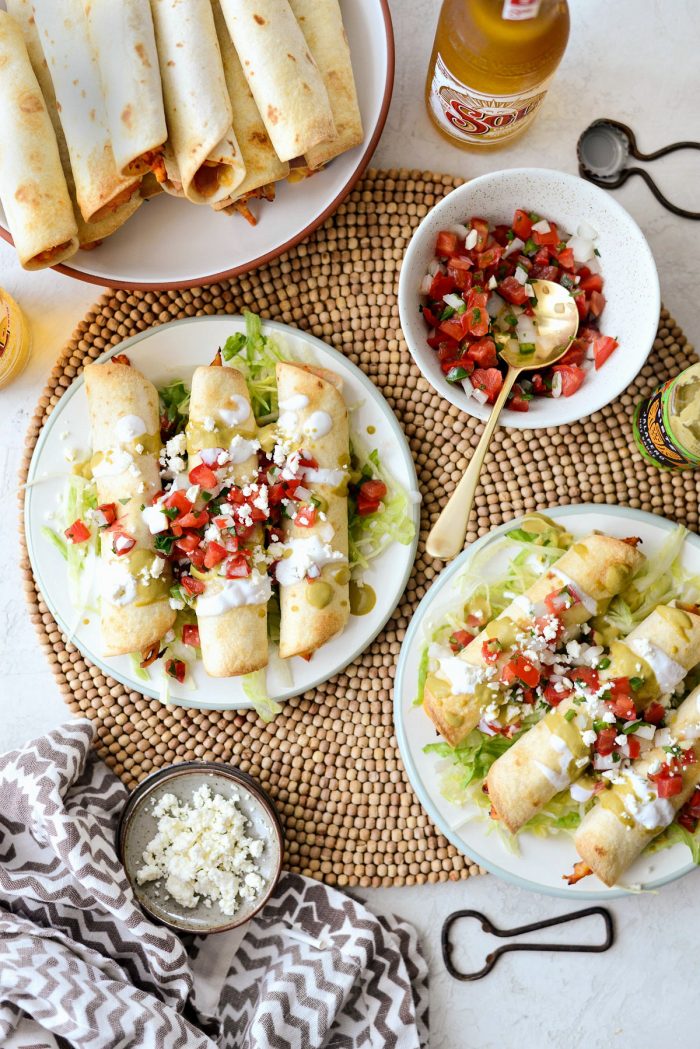 Super Easy Recipe alert!
Either served as an appetizer for guests or a fun and simple dinner, these salsa chicken taquitos never disappoint. And BONUS! you only need 5 (yes! FIVE) ingredients to make them. That's the kind of recipe my weekdays need!
This recipe originally was something I quickly whipped up when I had a bare bones and nearly empty fridge. Luckily, some leftover shredded chicken, salsa and soft flour tortillas saved the day. The outcome was these super crispy, cheesy and incredibly flavorful taquitos and it only took me minutes to pull together. #favoriterecipe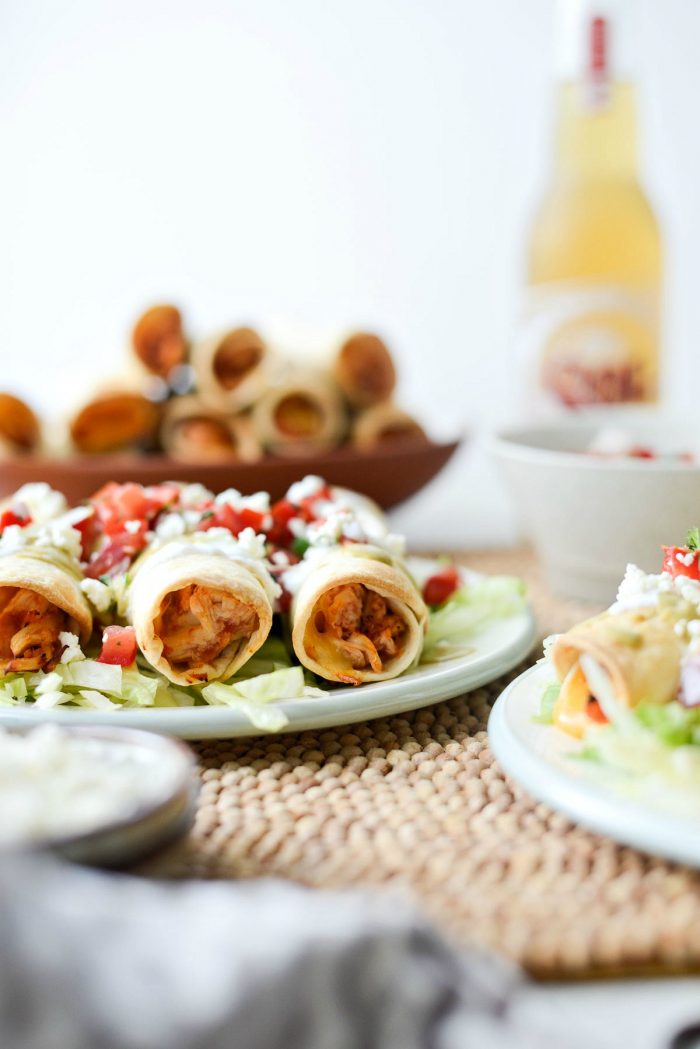 We like ours on top of finely shredded lettuce and garnished with sour cream (plain greek yogurt for me), jalapeño hot sauce, fresh pico de gallo and a little Cotija cheese. However, plain with a little hot sauce is still pretty darn delicious! Even my two teenagers gave them the thumbs up – and that's saying a lot.
To Make These Air Fryer Salsa Chicken Taquitos You Will Need:
shredded cooked chicken from 1 roasted chicken or rotisserie
salsa – store bought or homemade
shredded cheese
flour soft tortillas
olive oil spray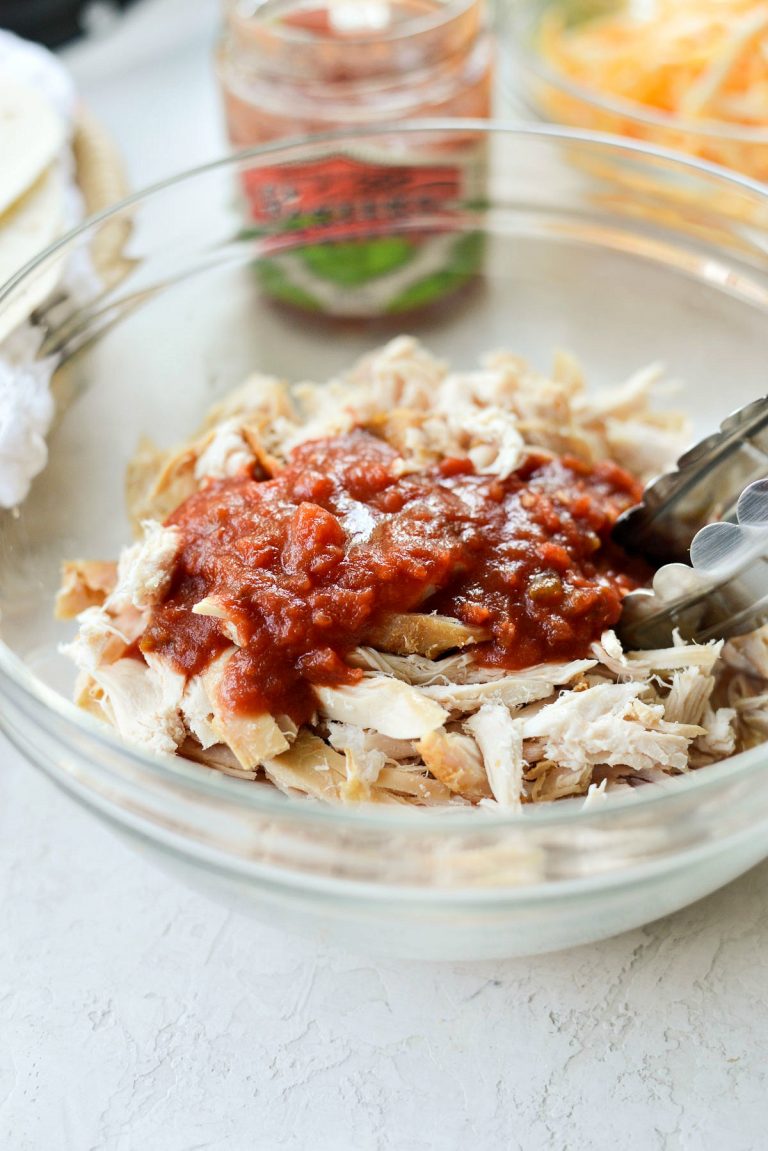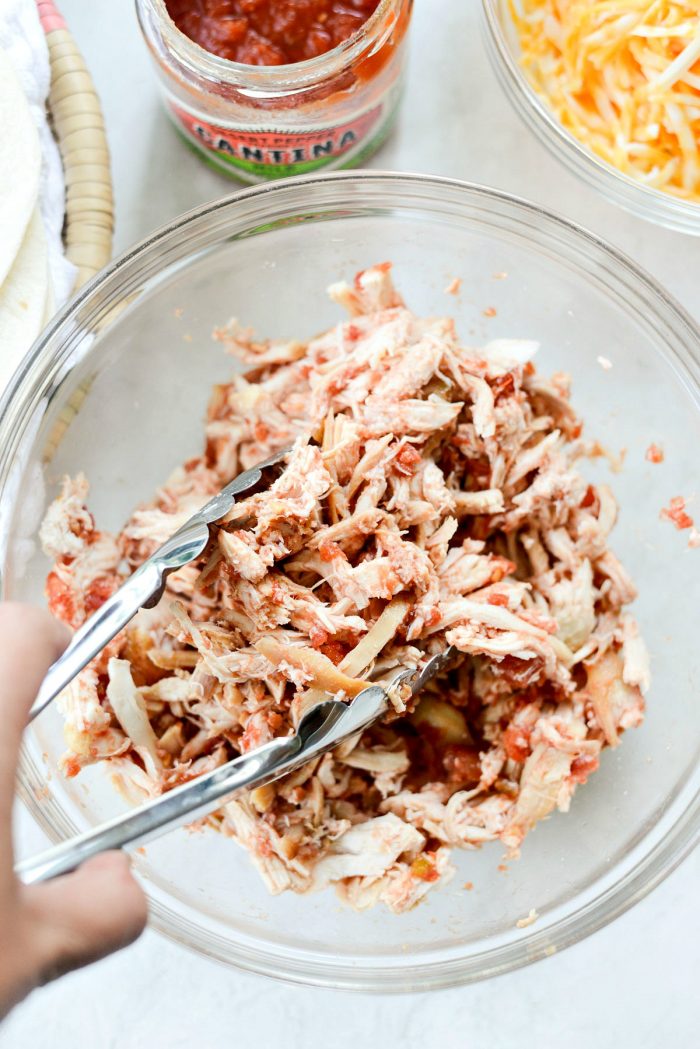 Add 3 to 4 cups shredded cooked chicken into a mixing bowl with 1/2 cup (give or take) and toss to combine. Oh and B-T-W use your favorite salsa, homemade or jarred. I knowww this is a from scratch blog, but even I need a cheat ingredient every now and again.
Working in batches, lay couple of the tortillas down. On the bottom third of each one, top with a little of the chicken and a little cheese.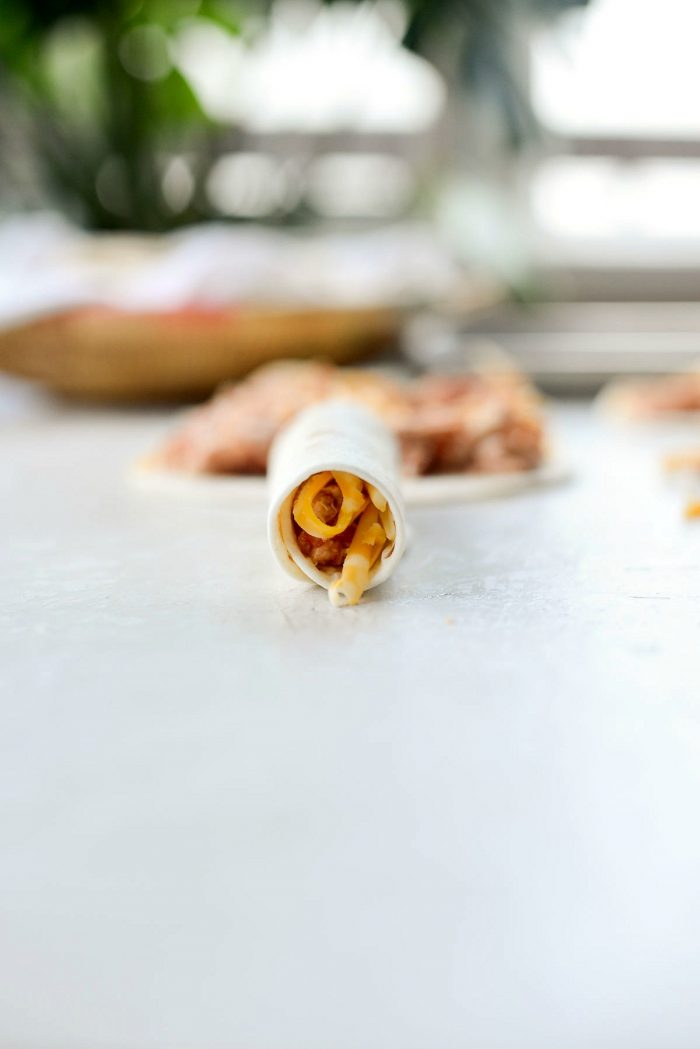 Roll tightly and repeat until all 20 taquitos are rolled. Place them seam side down on to a rimmed metal baking sheet.
Next spray with some of the olive oil spray while your air fryer preheats to 35o-360°.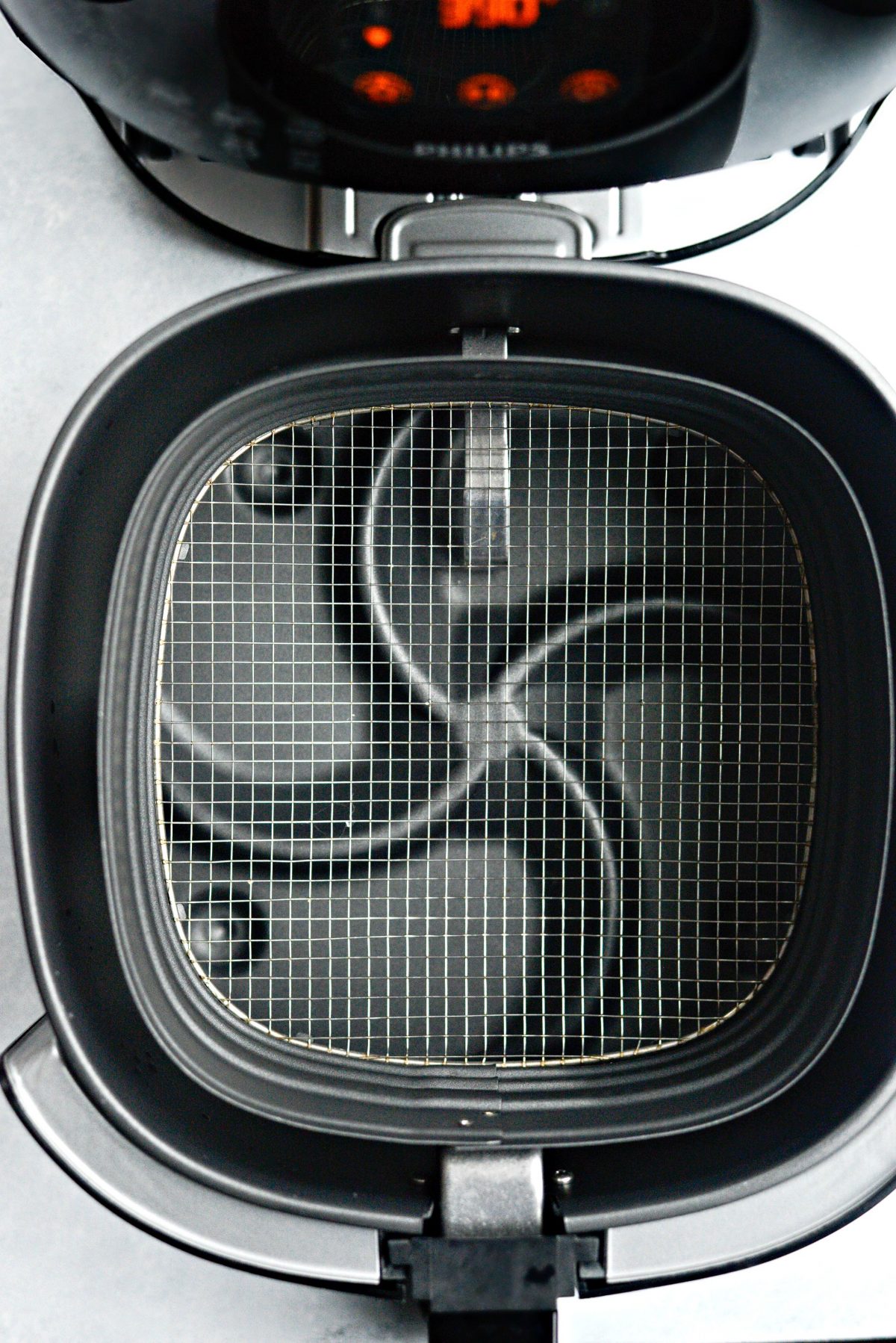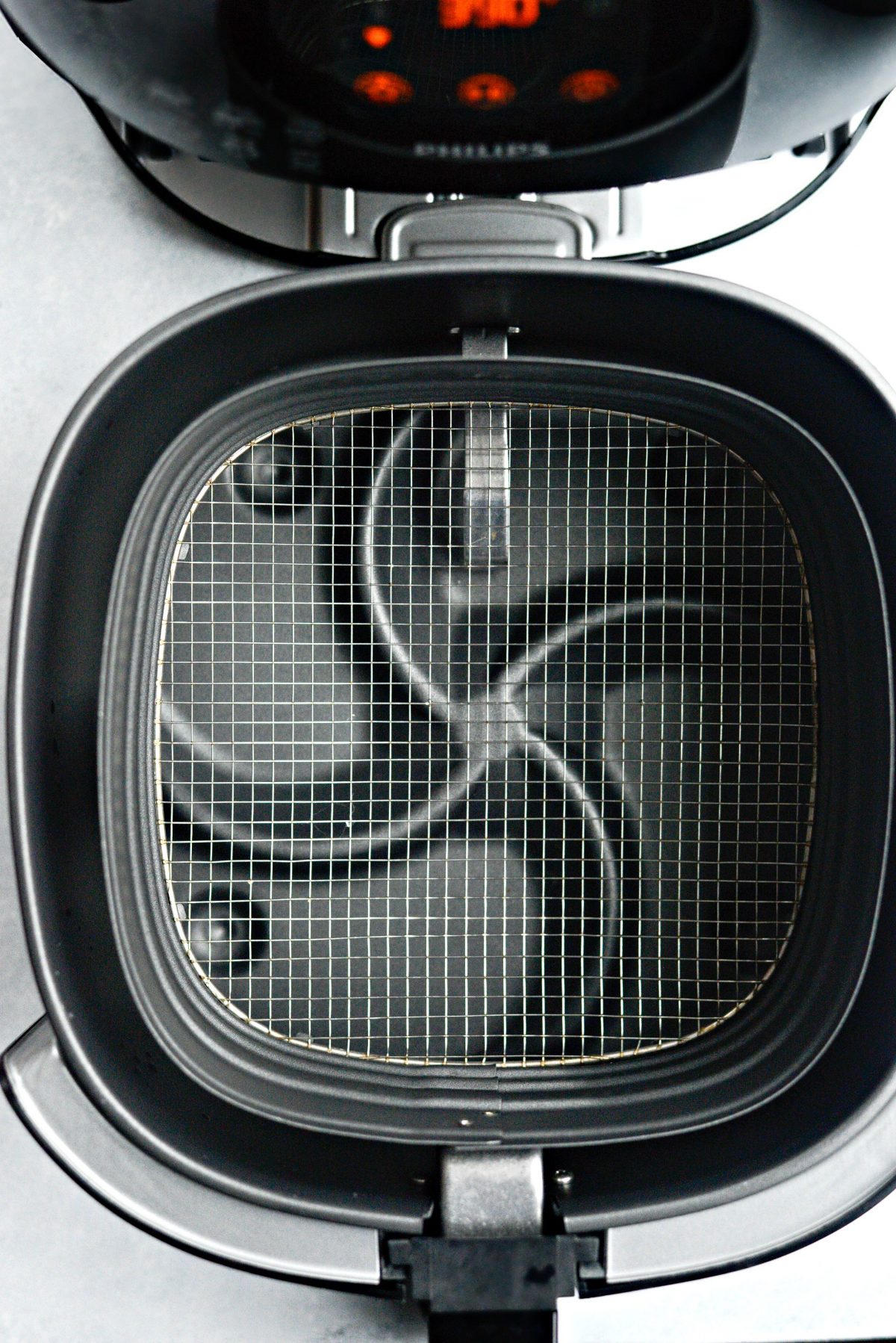 What Is Air Frying?
An air fryer is a counter top appliance that requires less oil (anything from a few spritz to 1 tablespoon) yet produces crispy food that rivals most deep fried foods. By using circulating hot air, it moves at a high speed so the food tends to cook in a fraction of the time.
There are a bunch of different makes and models of air fryers. My husband did the research (as he's known to do) and found this air fryer [affiliate] to be one of the best. But do your research and purchase one that fits your lifestyle.
How is Air Frying Healthier?
Air frying is healthier because only a thin layer of oil coats the food and when the hot air comes in contact it will crisp. Saving you a ton of fat and calories (without sacrificing any flavor!) because food is not being submerged in a vat of hot oil.
For more Air Fryer recipes, click here for my growing collection.
Once your air fryer has preheated, work in batches of 4 or 5 and air fry for 4 to 5 minutes or until golden and crispy. Try to avoid air frying less than 4 as they may unravel.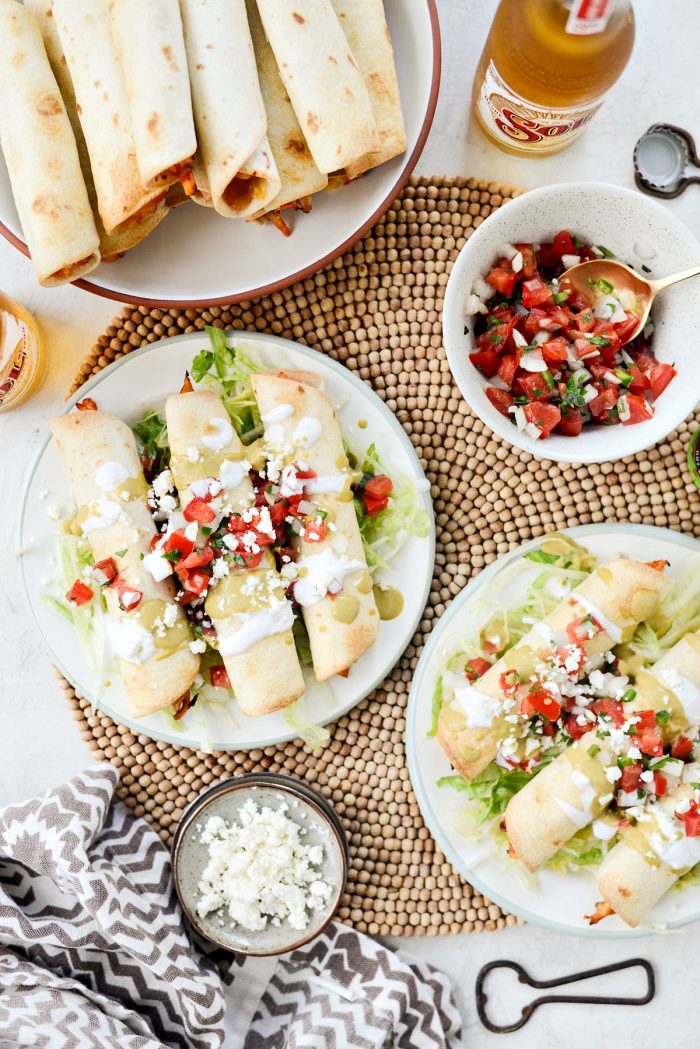 I serve mine on a bed of shredded lettuce (like restaurants do!) and top with jalapeño hot sauce, greek yogurt, pico and Cotija cheese.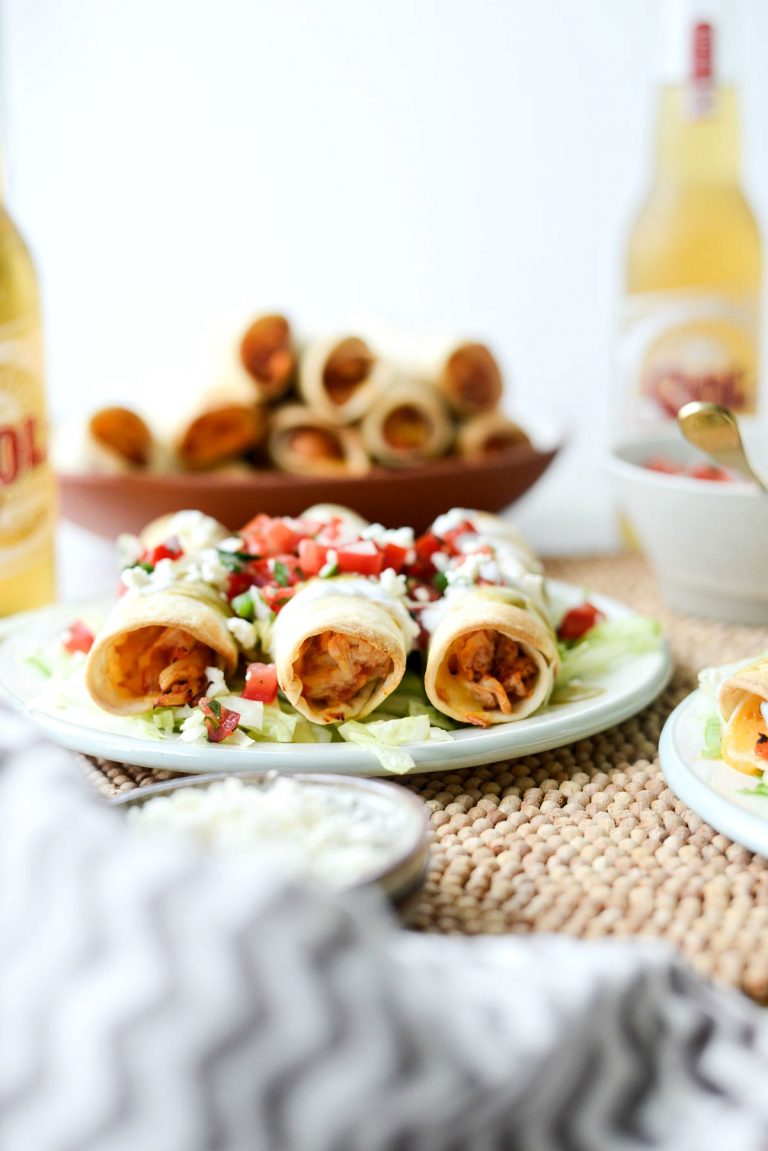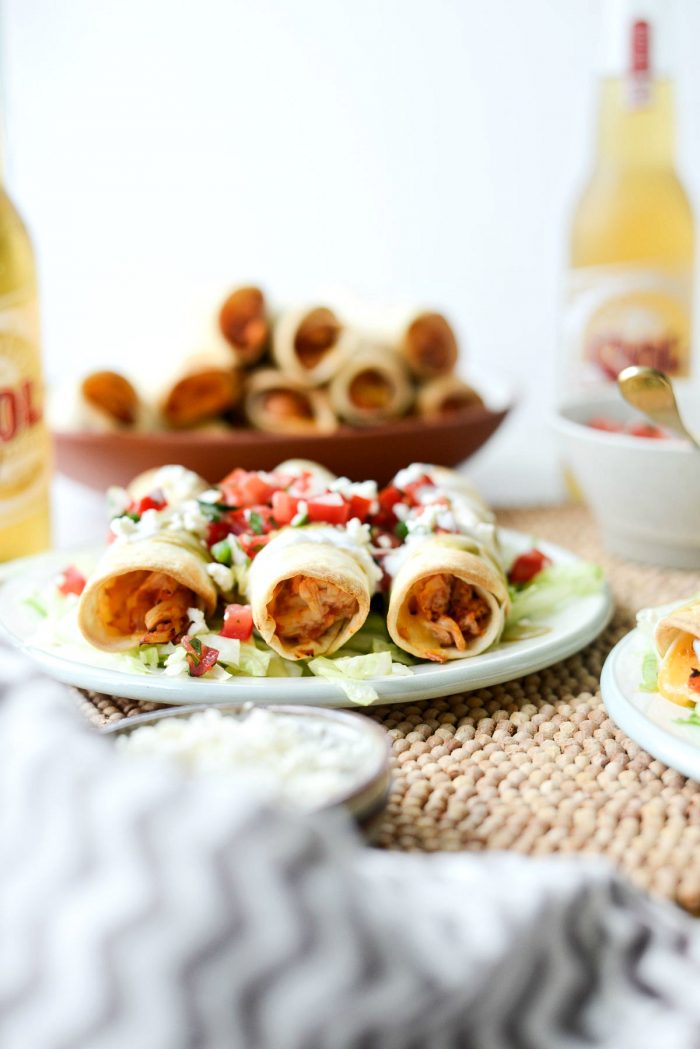 Crispy and delicious and SO delicious!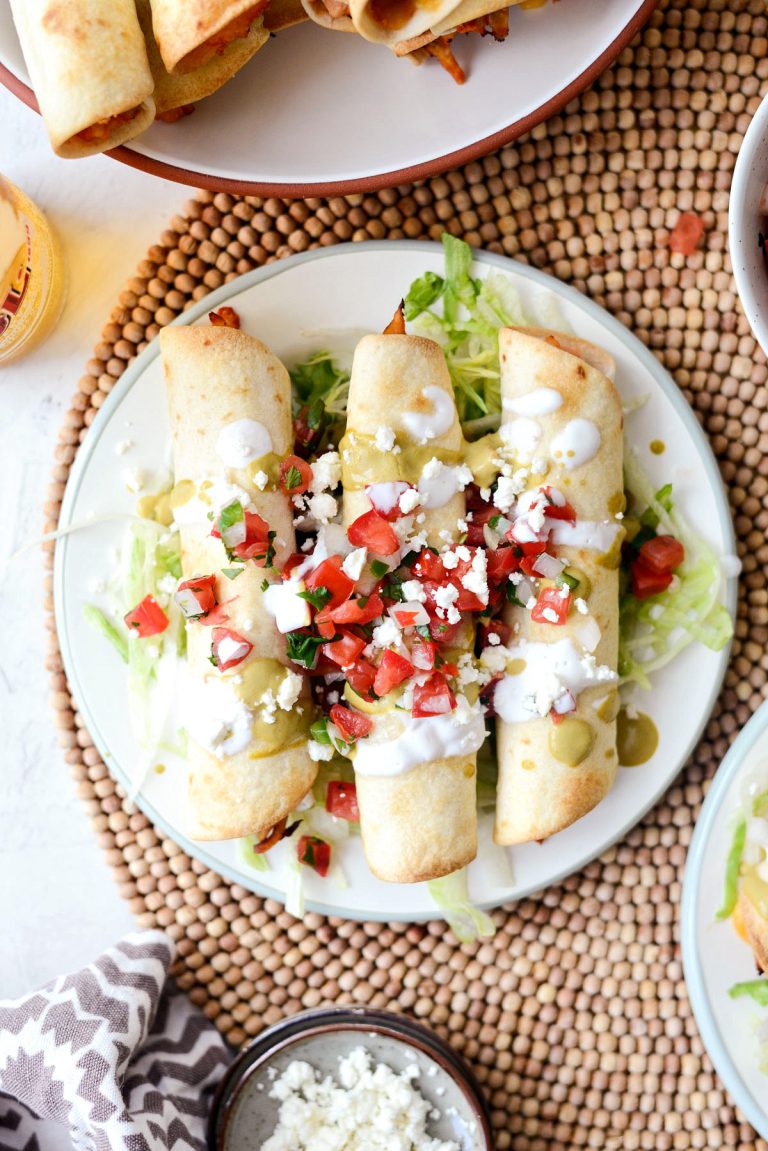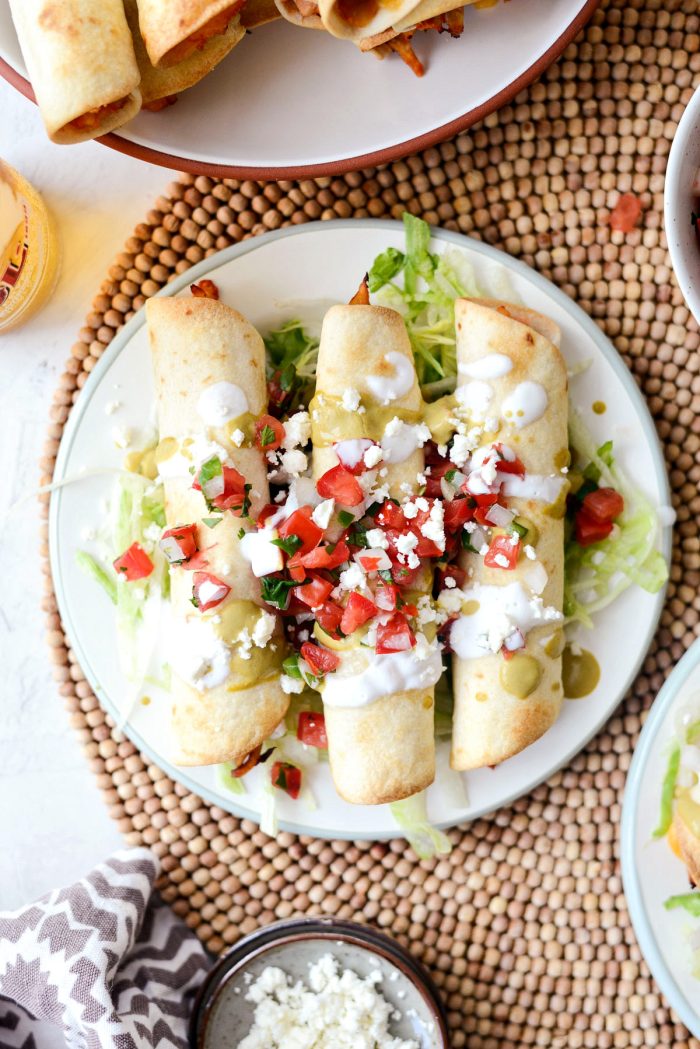 Enjoy! And if you give this recipe a try, let me know! Snap a photo and tag me on twitter or instagram!
This post may contain affiliate links.
Buy the Cookbook: Simply Scratch : 120 Wholesome Homemade Recipes Made Easy Now available on Amazon »
THANK YOU in advance for your support!