Chilly nights call for cozy dinners, like this Homemade Beef Bourguignon. Beef simmers with mushrooms and onions in a wine and beef broth. Serve over mashed potatoes with garlicky roasted carrots for the ultimate comfort meal.
I'm bringing out the big guns this Wednesday with this incredible Beef Bourguignon aka beef burgundy recipe.
Fun Fact:
Did you know burgundy wine is essentially pinot noir? Truth. Burgundy is a dry wine made in the Burgundy region in France using pinot noir grapes. White wines are made using chardonnay grapes. You need burgundy wine to make beef bourguignon, however if you can't find it, substitute with a good pinot noir. I used Walnut City pinot. #notsponored
This whole dish is my love language. Beef and wine and served over mashed potatoes. If I, for some reason or another, was granted a last meal… this would be it.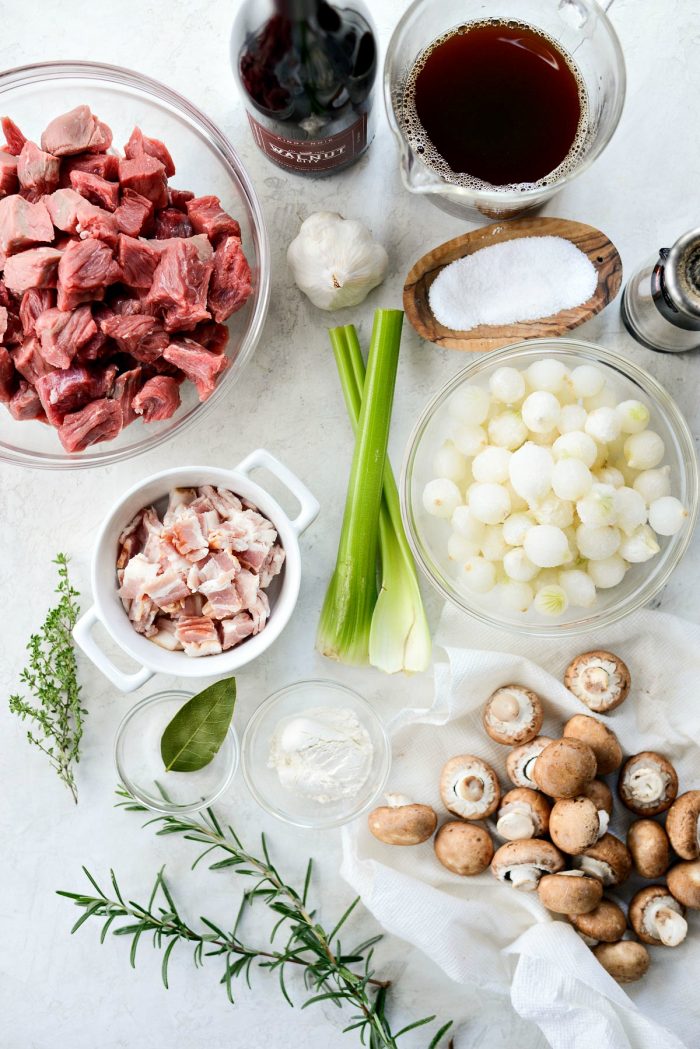 To Make This Homemade Beef Bourguignon You Will Need:
4 strips center cut bacon, diced
3 pounds bottom round roast, cut into 1-1/2 inch pieces
kosher salt
freshly ground black pepper
unbleached all-purpose flour
sliced cremini mushrooms
celery stalks, sliced
pearl onions*
garlic
rosemary (fresh)
thyme, (fresh)
bay leaf
beef stock
burgundy wine/pinot noir
cornstarch slurry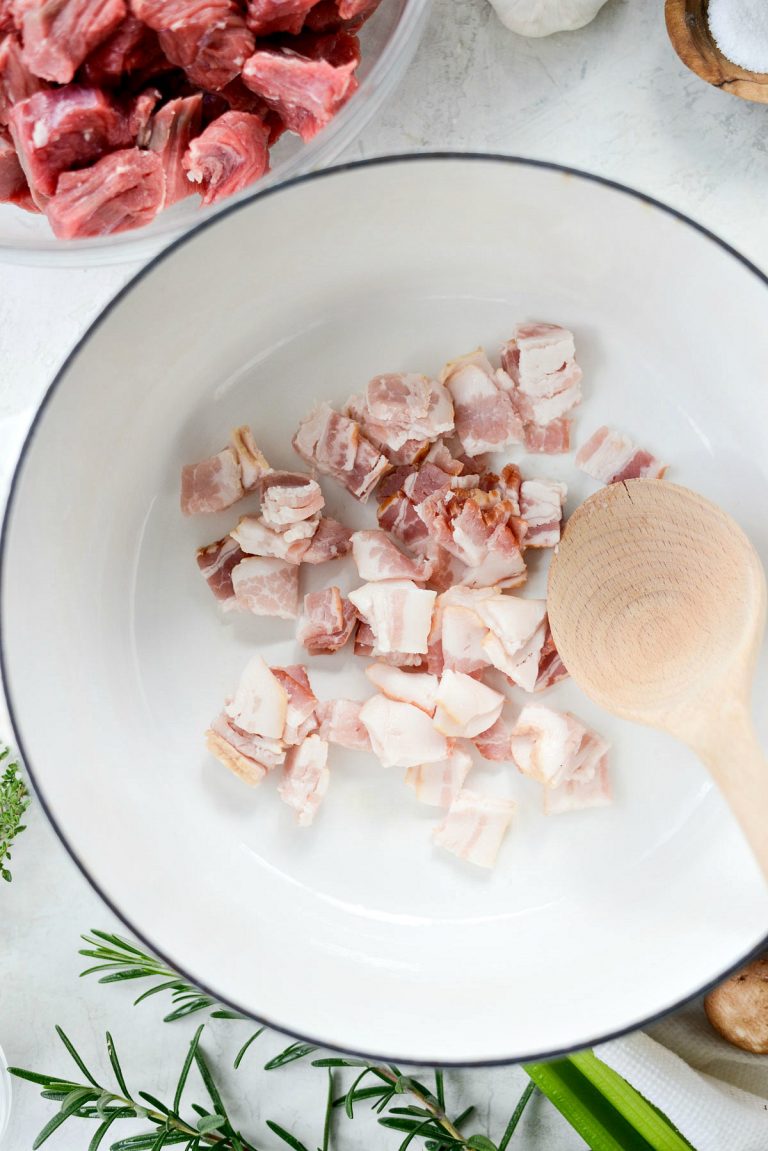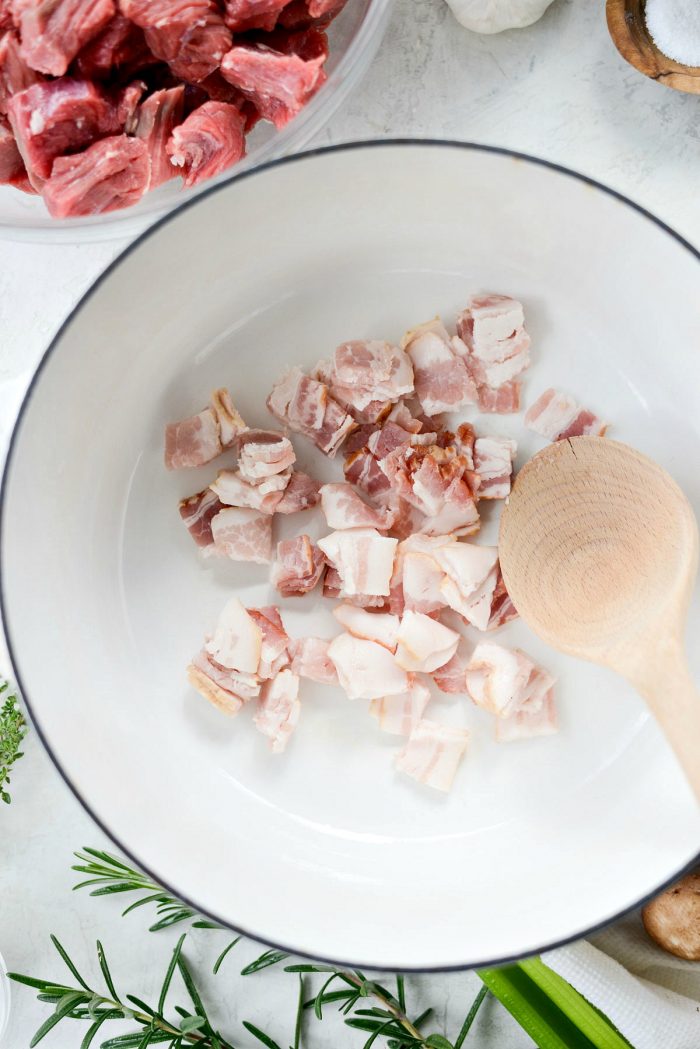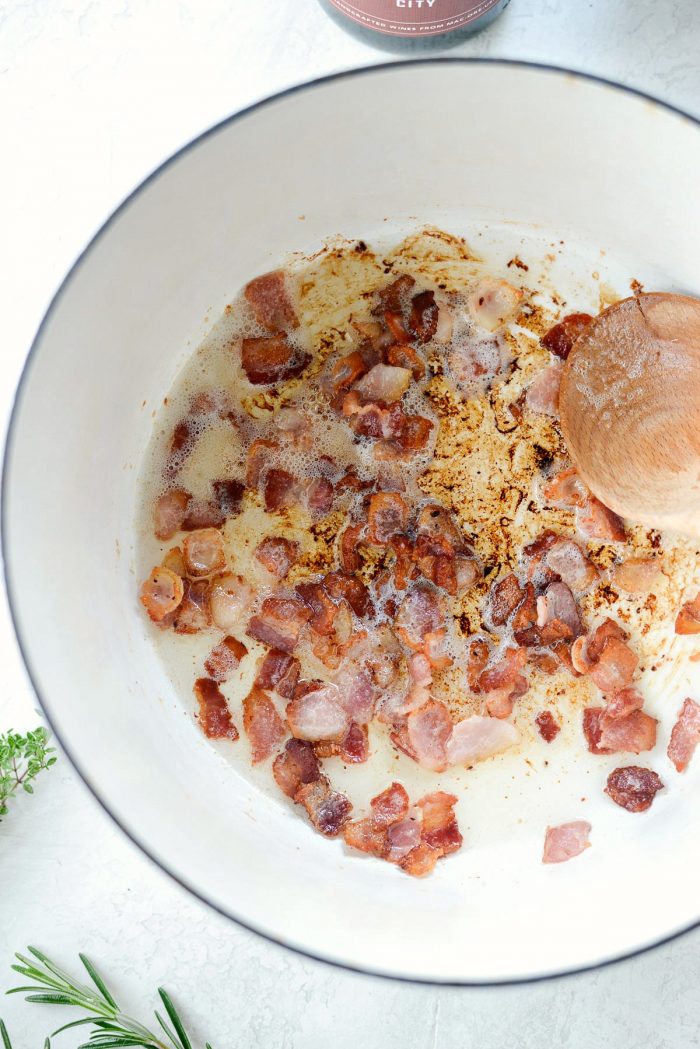 Add 4 strips of diced bacon into a dutch oven. Heat on medium to medium-low and cook until crispy. Use a slotted spoon and transfer the crispy bacon to a paper towel lined plate. Leaving the bacon fat in the pot.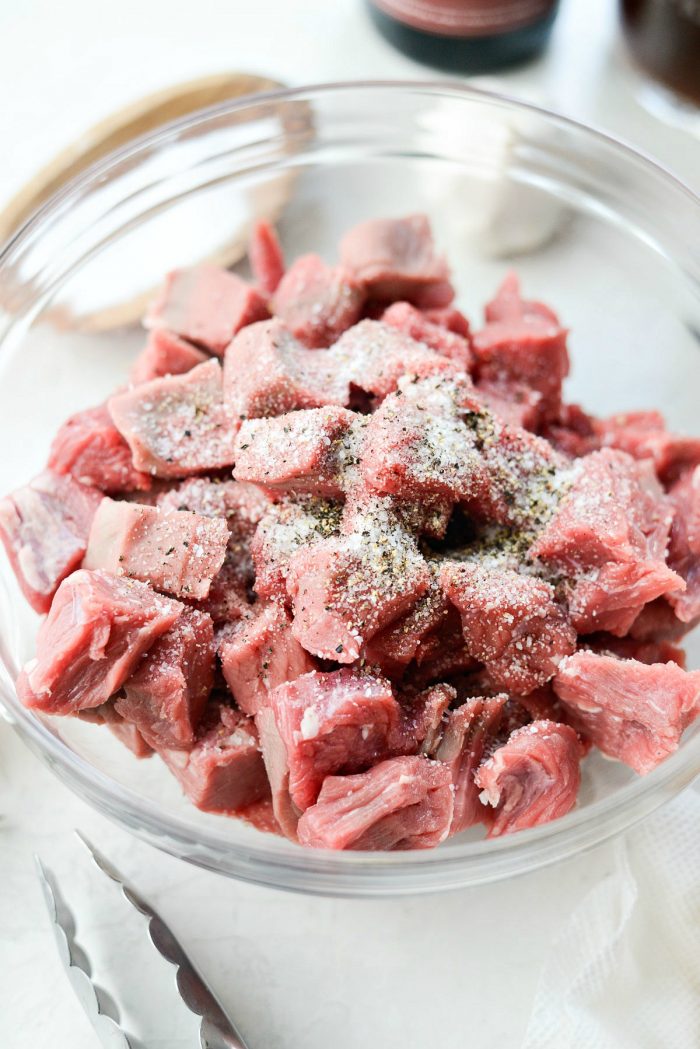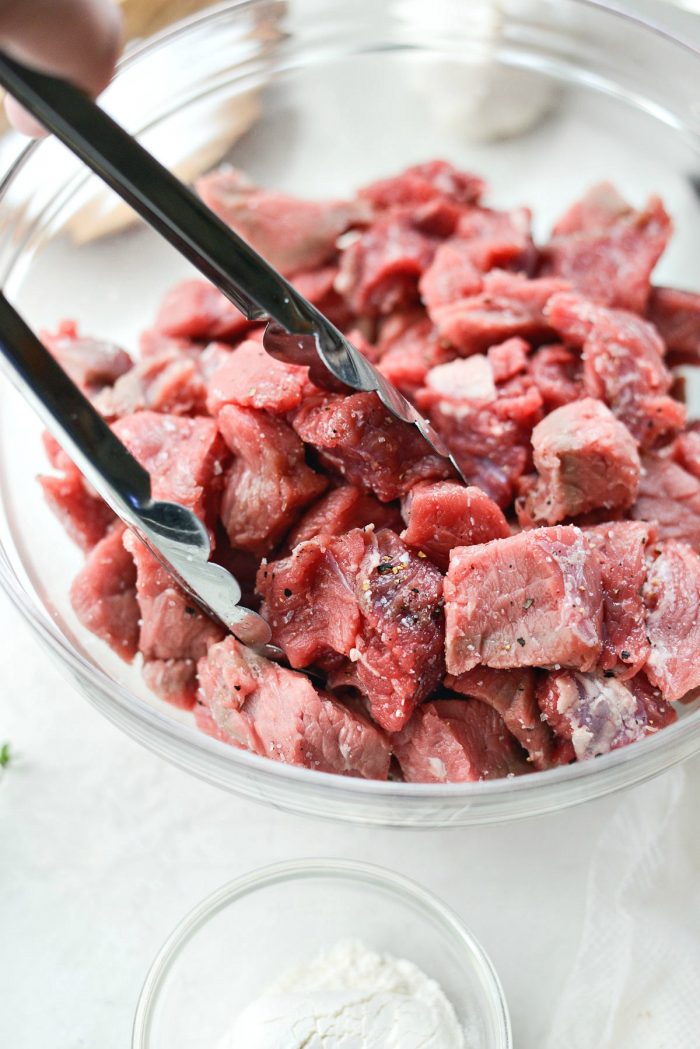 Meanwhile, toss the cubed beef with 3/4 teaspoon kosher salt and 1/2 teaspoon black pepper.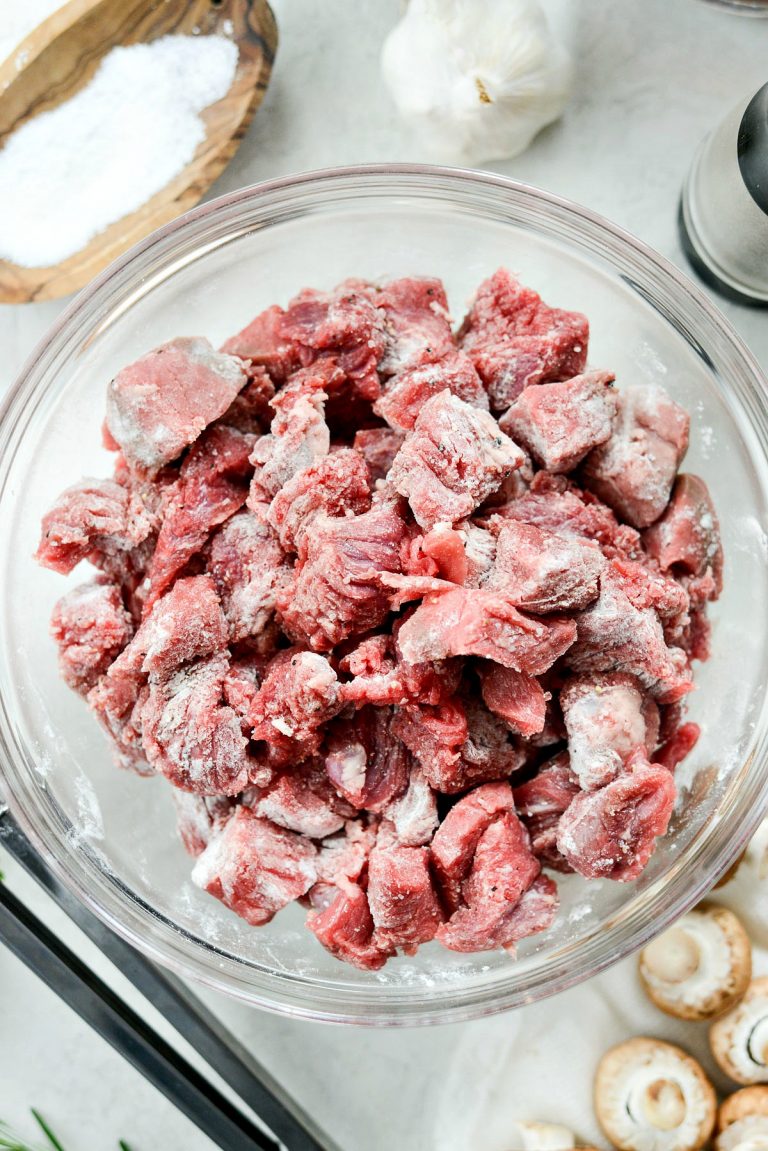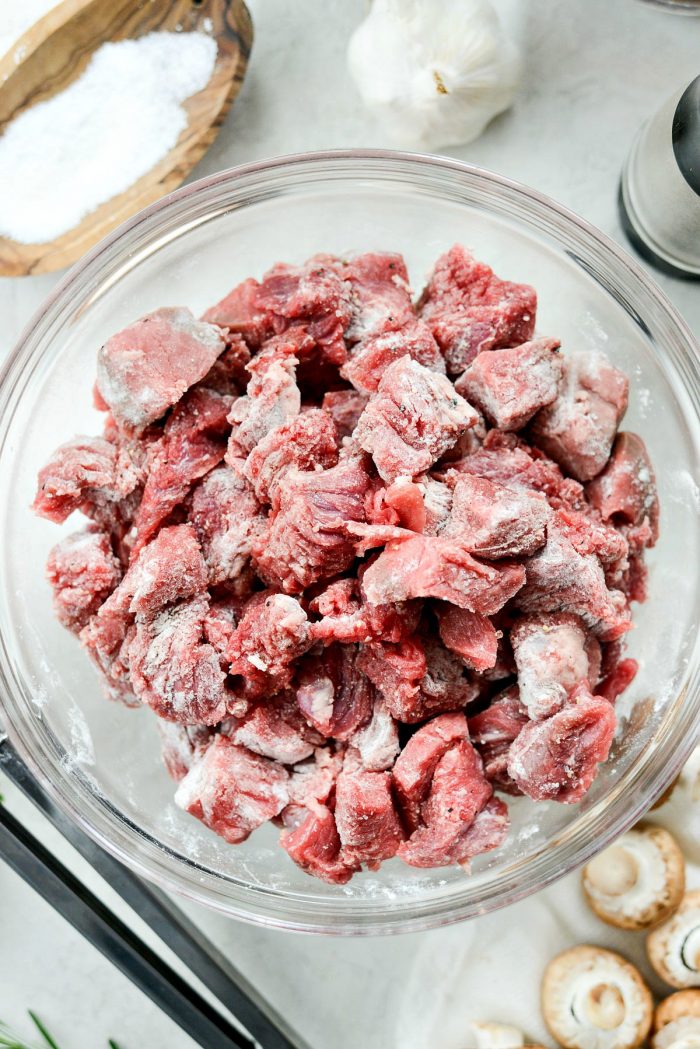 Once seasoned, sprinkle in 3 tablespoons of flour. Toss to combine.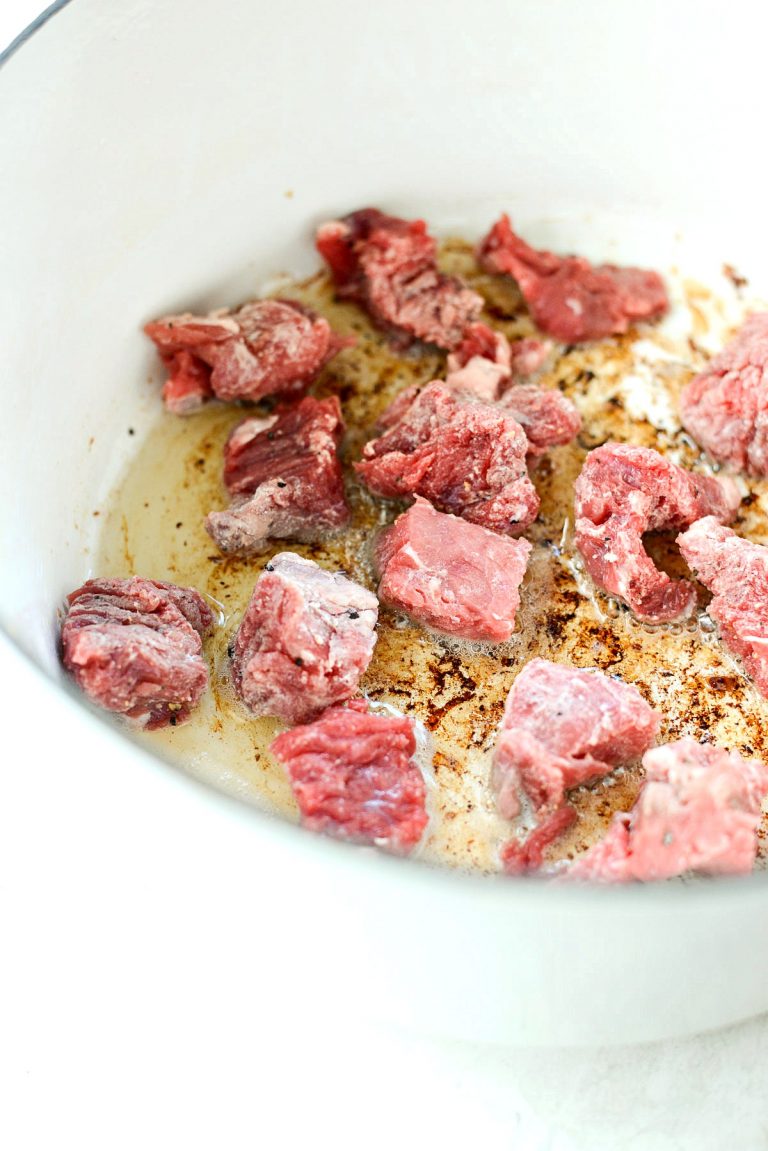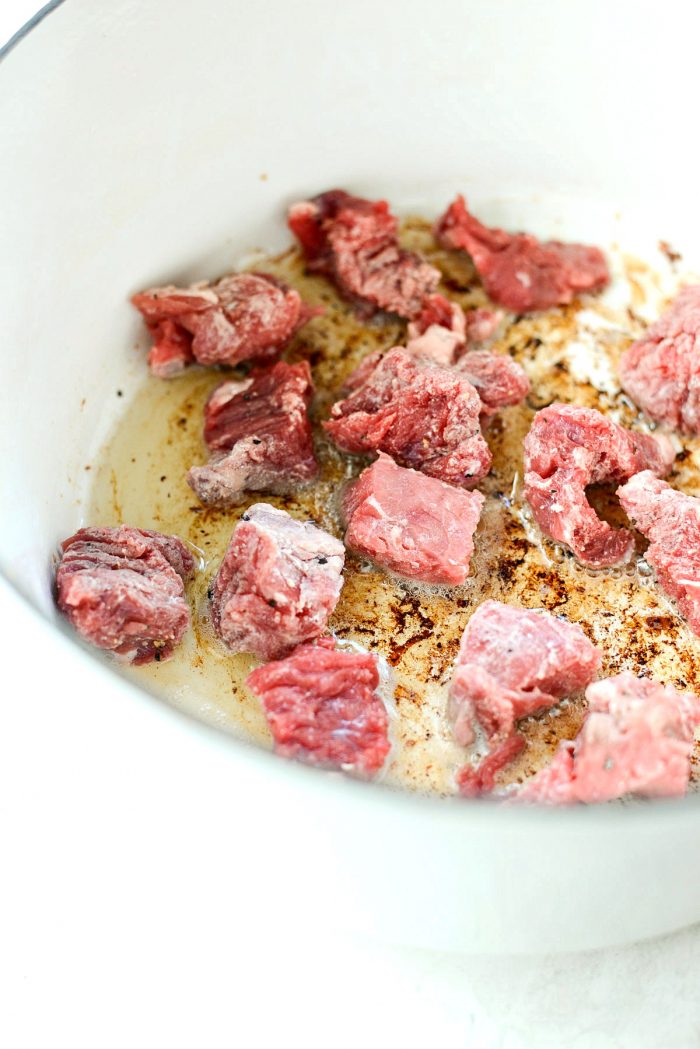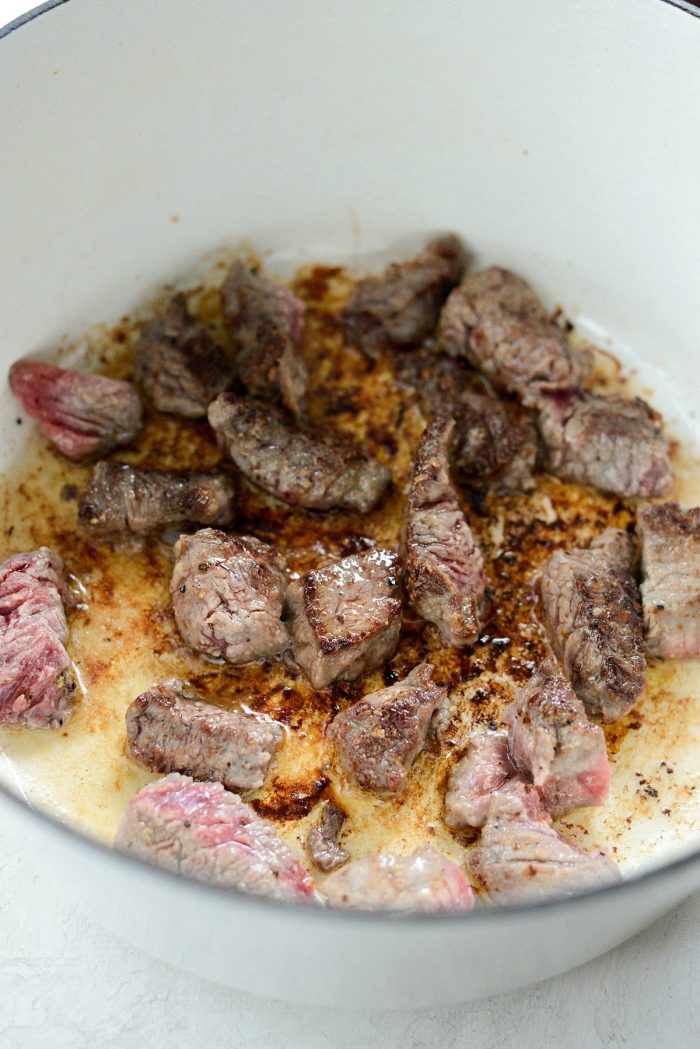 Work in batches, searing the meat until deeply golden on all sides.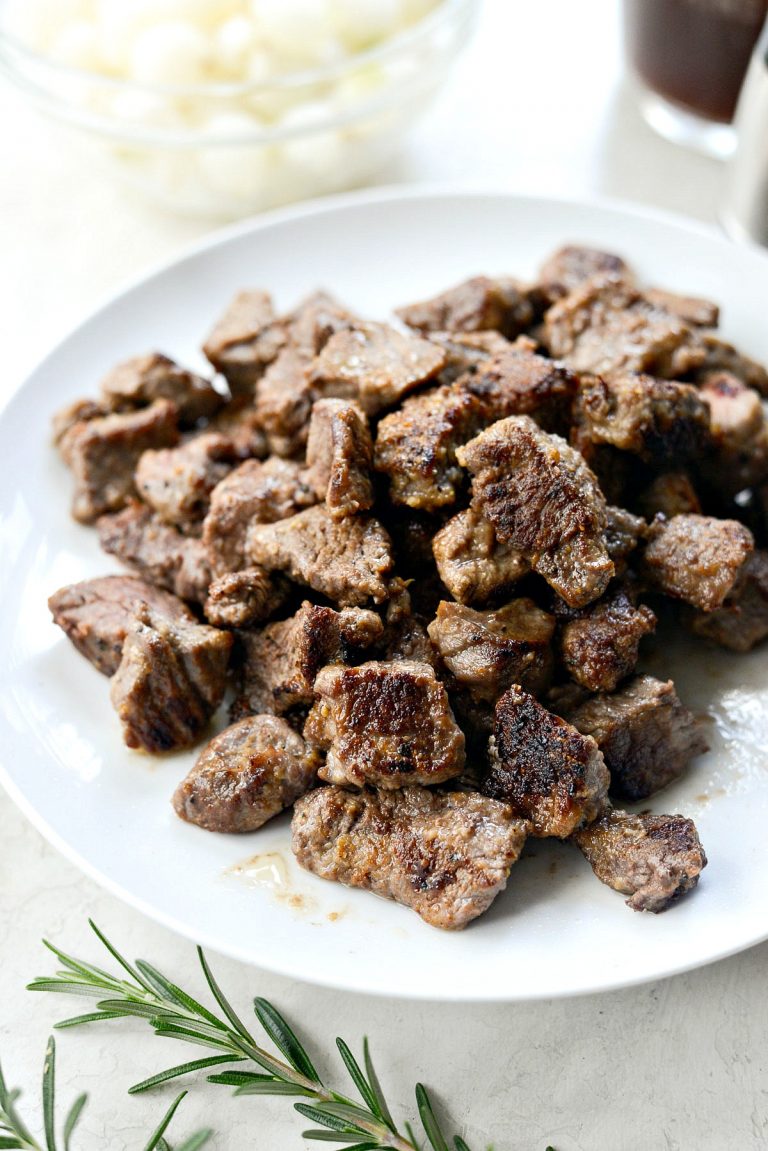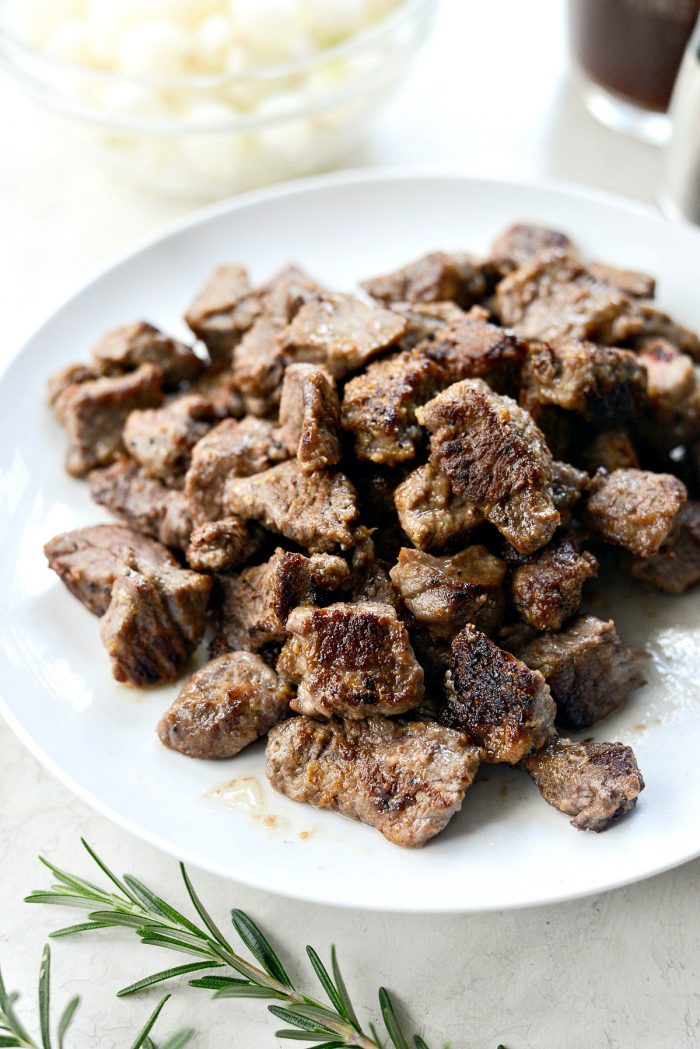 Transfrer to a clean platter and repeat with remaining beef. Set off to the side for a moment.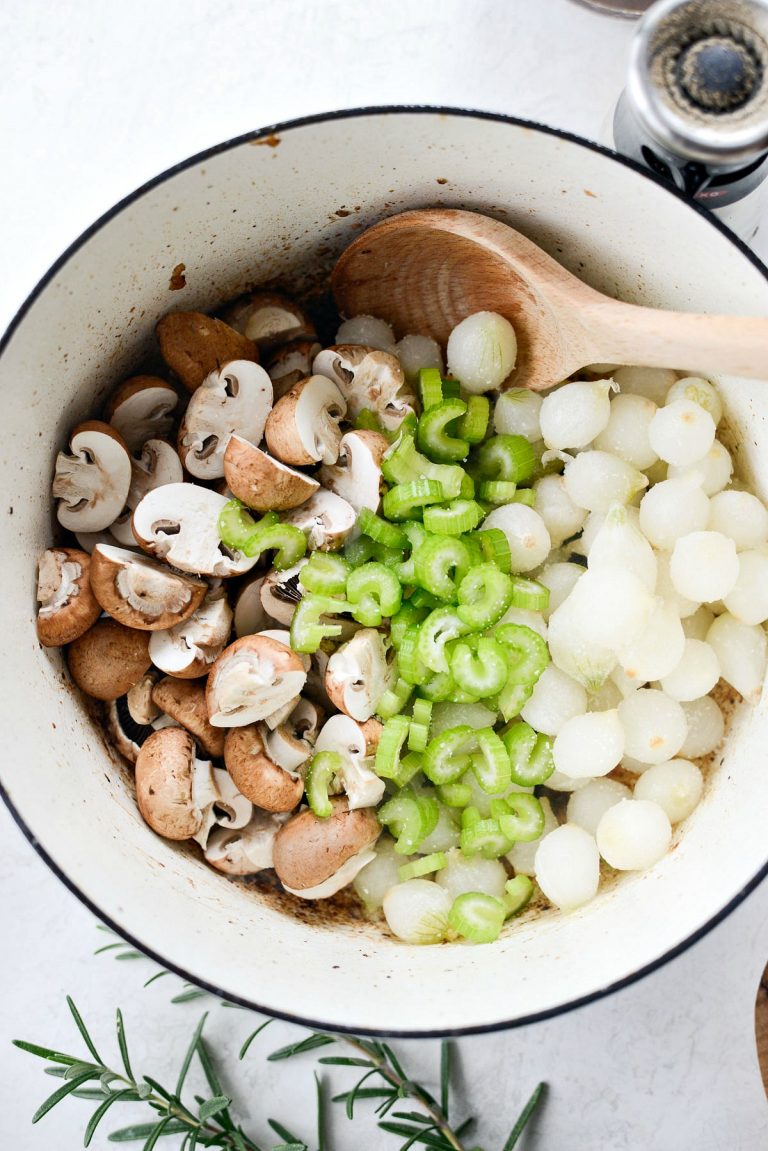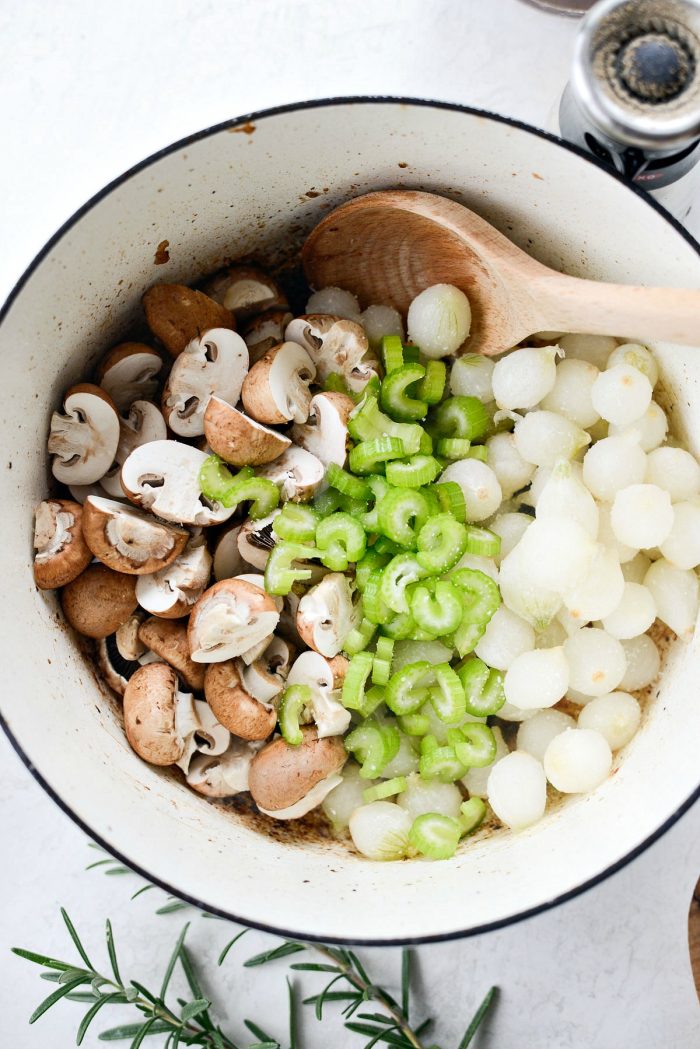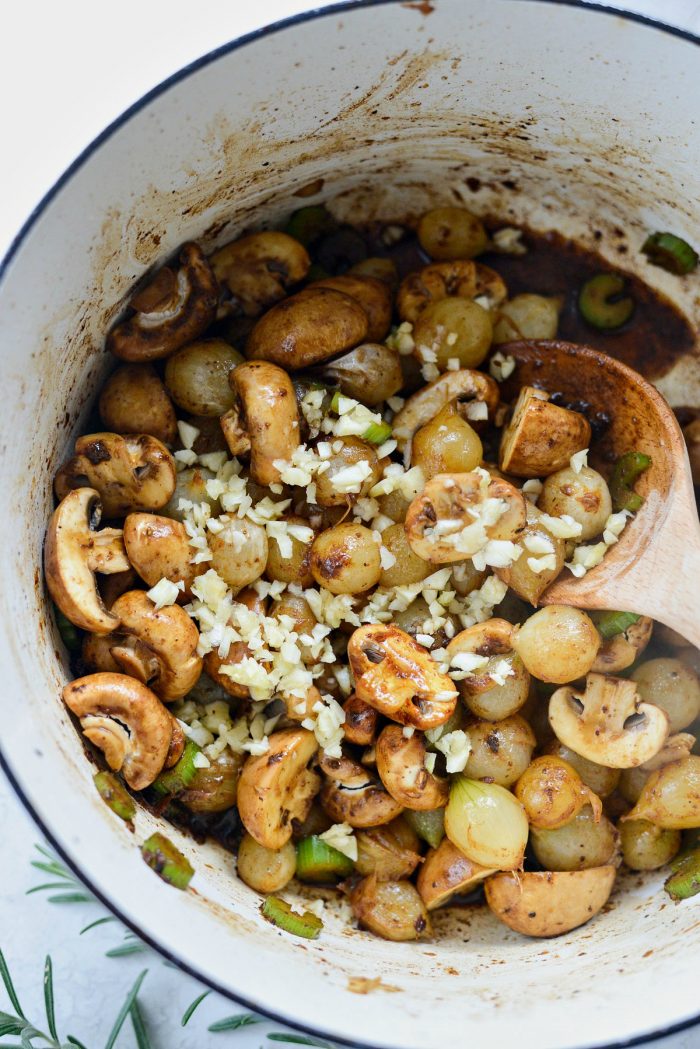 Once the meat is browned, add the mushrooms, celery, onions with a pinch of kosher salt. Stir and cook for 5 to 6 minutes. Add in the garlic and cook for 1 minute.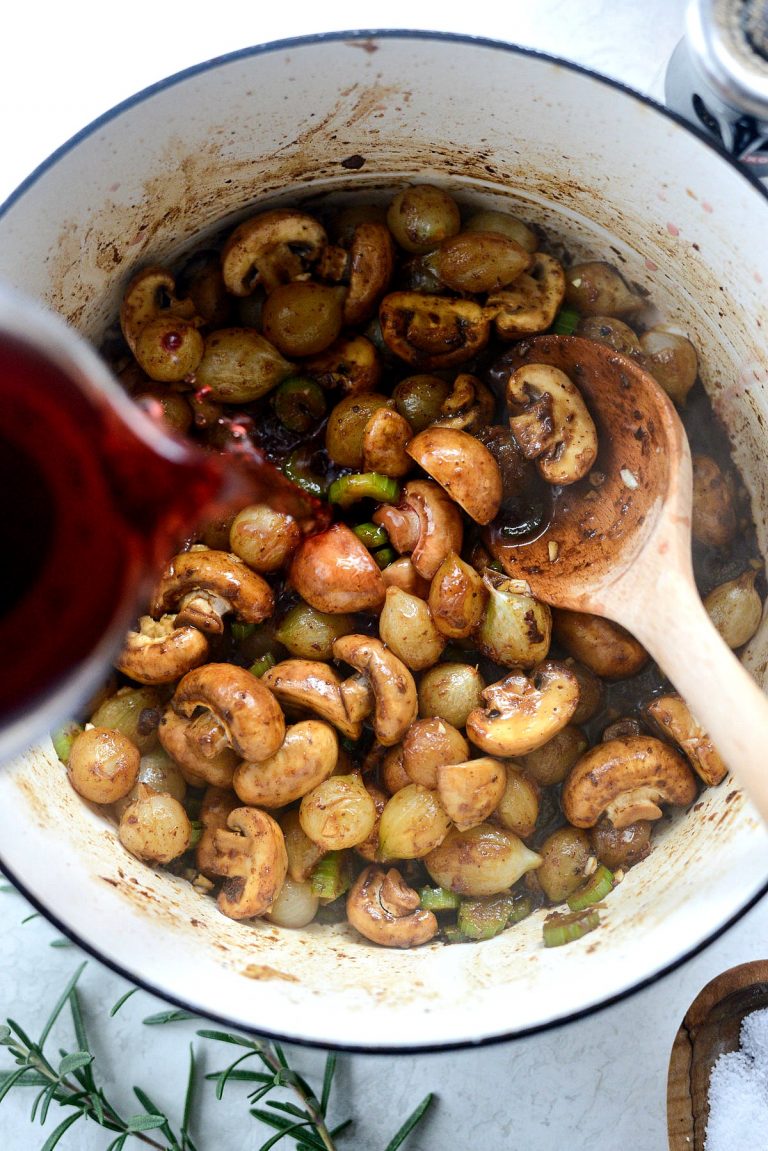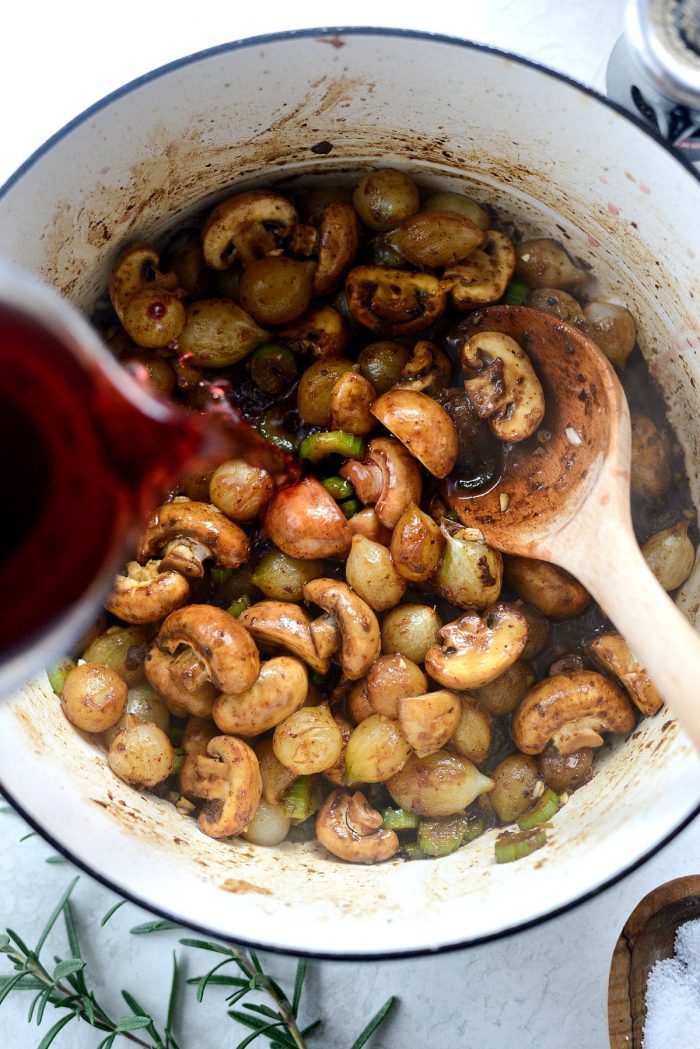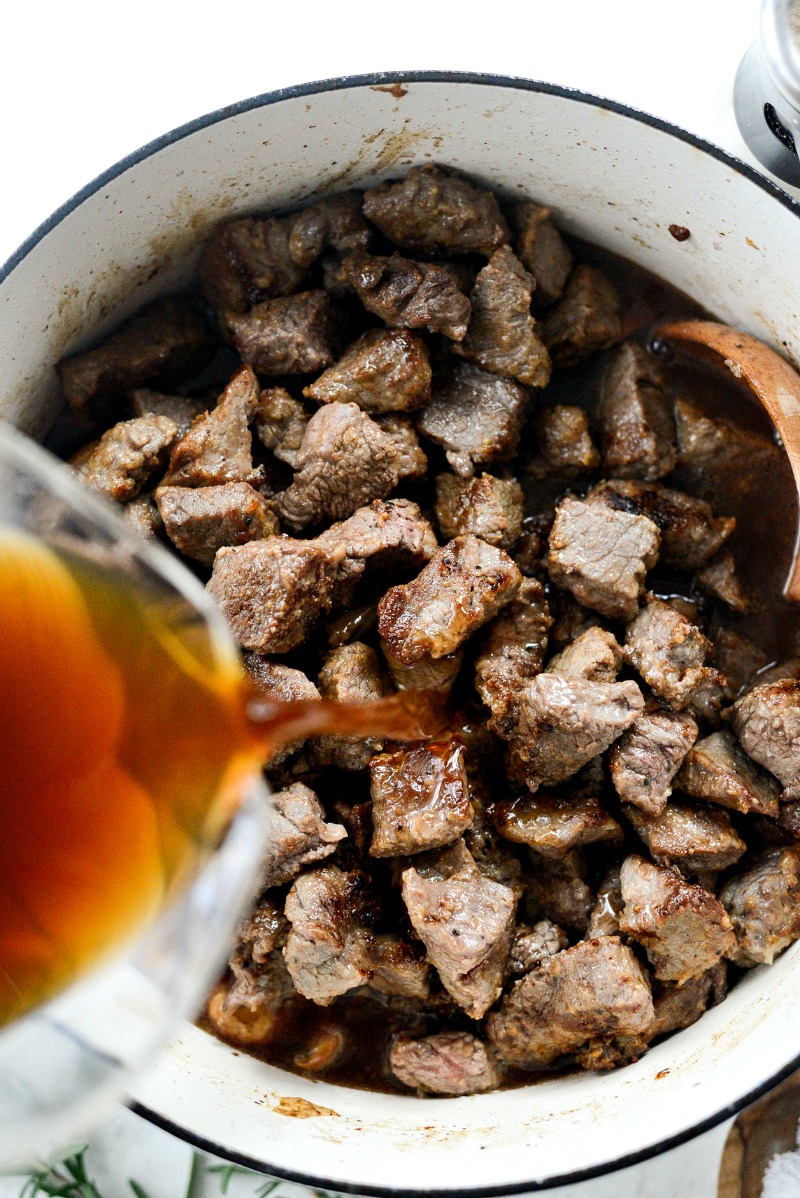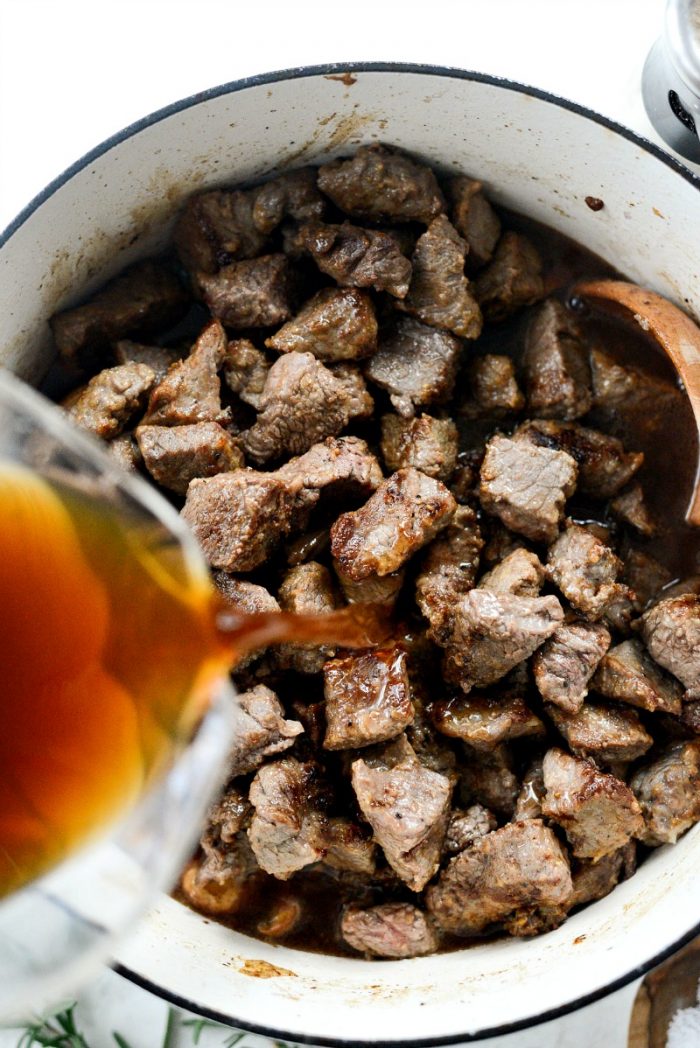 Return the beef back into the pot with any juices that have accumulated on the plate. Pour in the wine and broth, scraping the brown bits up from the bottom of the pot.
Lastly toss in the herbs, cover and bring to a boil. Reduce to medium-low to low and simmer for 2 to 3 hours or until the meat is tender.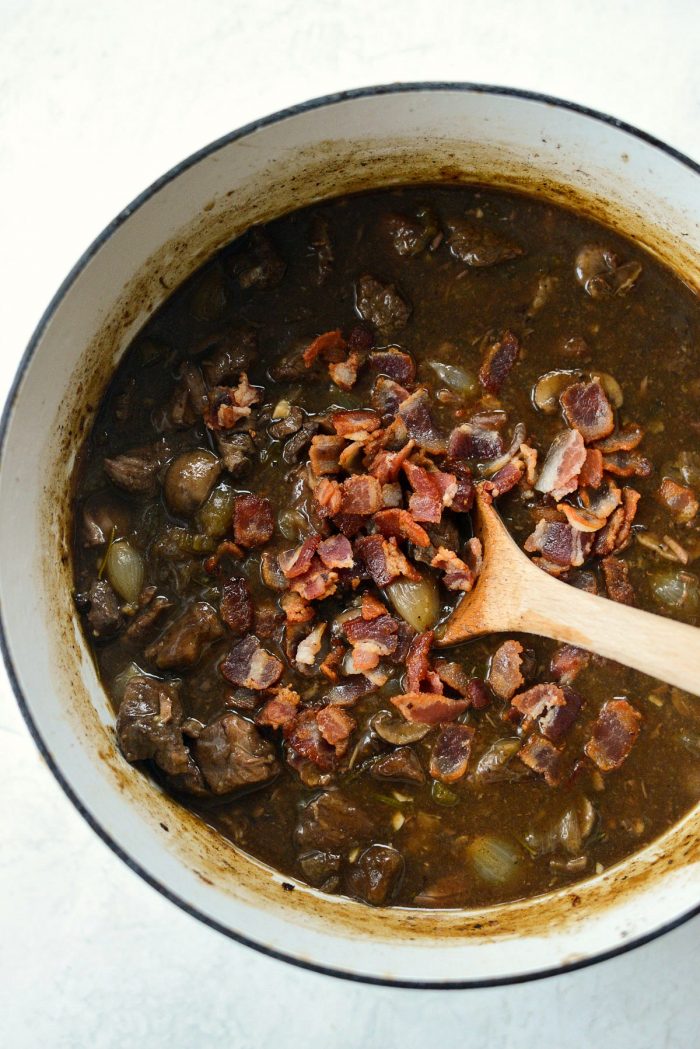 Smells divine!
Before serving, and while the stew is still simmering, make a cornstarch slurry of 2 tablespoons cornstarch and 2 tablespoons cold water. Stir while pouring it in, cook until thickened.
Lastly add in the bacon and taste and season with kosher salt and black pepper to taste.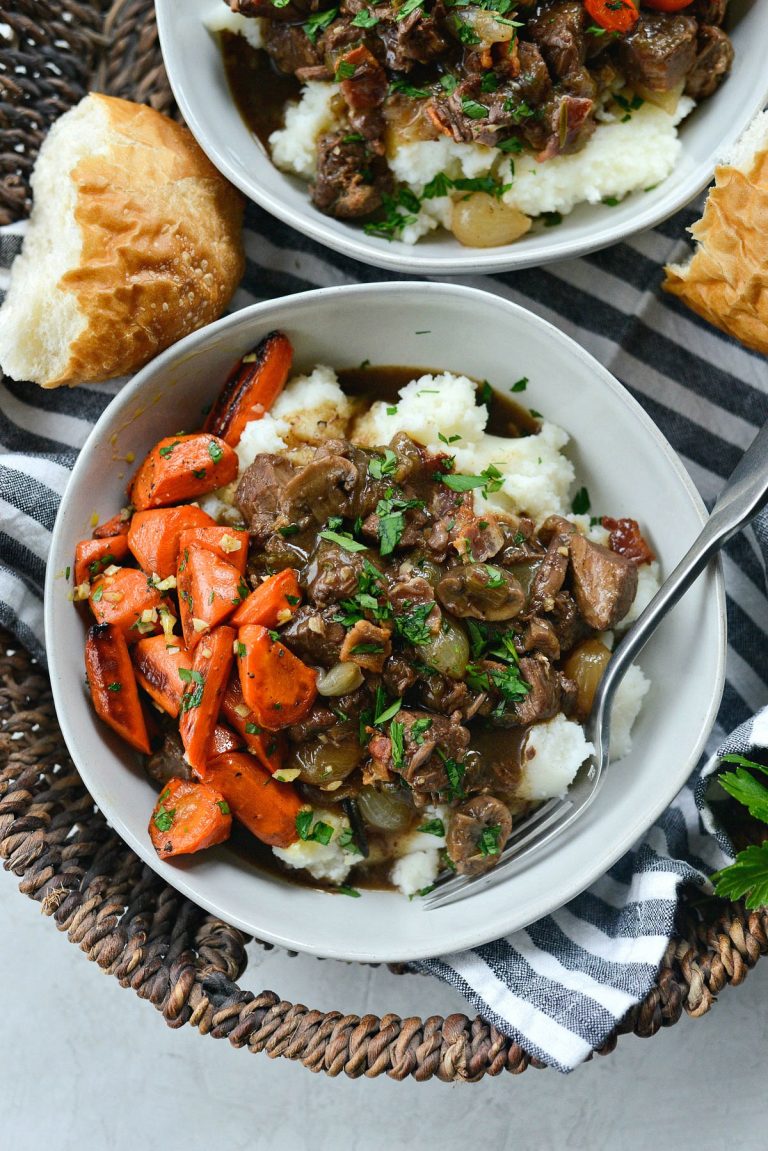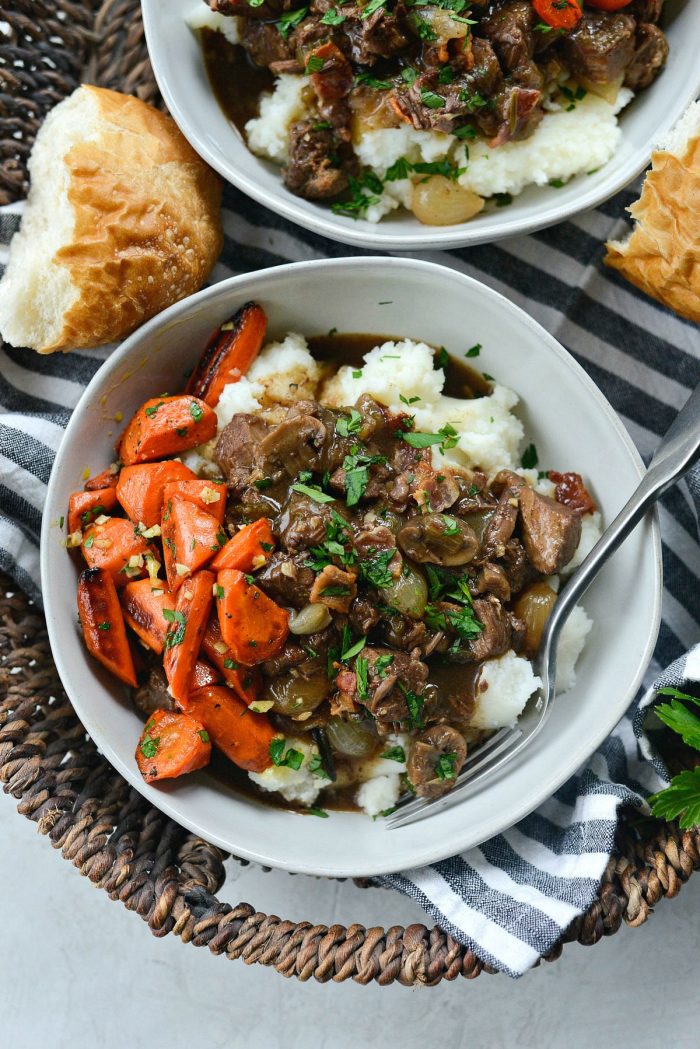 Instead of cooking carrots in the stew, I make these roasted garlic butter carrots instead. They add so much flavor and it's a delicious contrast to the slow cooked stew.
Serve over mashed potatoes with a sprinkle of fresh parley and a glass of pinot. And a chunk of bread to wipe your bowl clean.
Amazing.
Tender beef and veggie in a thick, glossy sauce. That description really doesn't do this recipe justice. But OH my gosh it's so delicious, comforting and satisfying.
Enjoy! And if you give this Beef Bourguignon recipe a try, let me know! Snap a photo and tag me on twitter or instagram!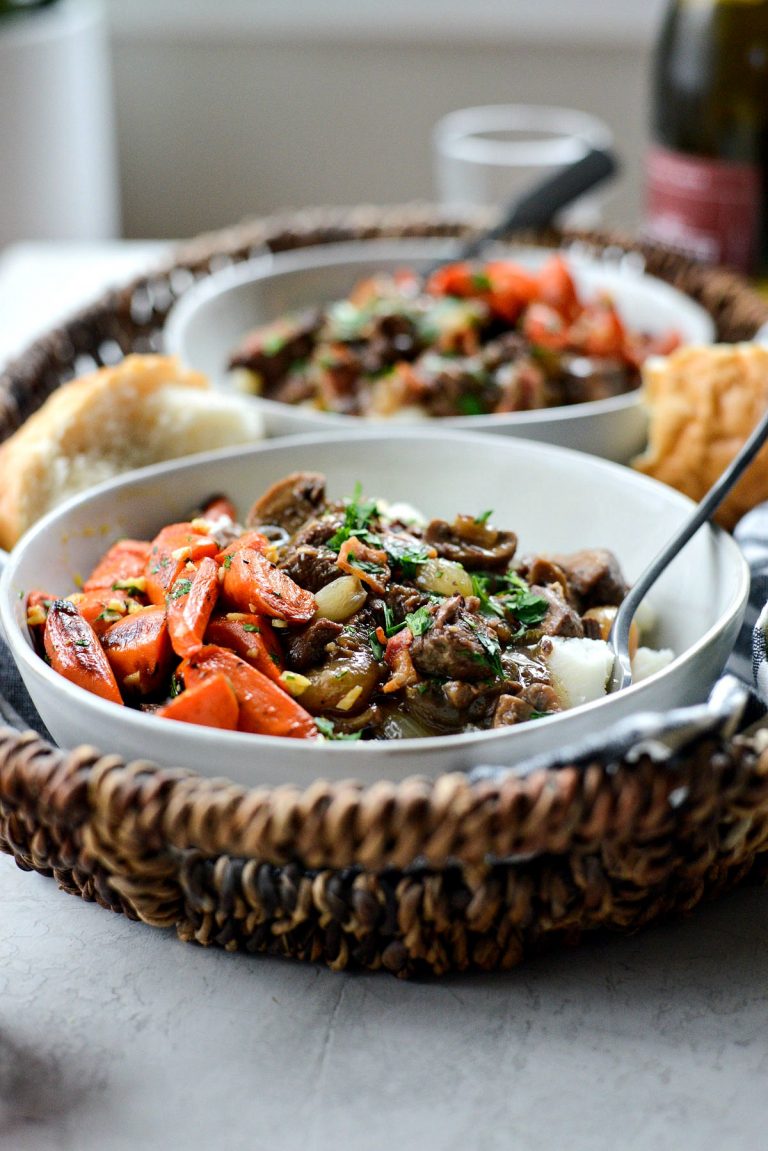 This post may contain affiliate links.
Buy the Cookbook: Simply Scratch : 120 Wholesome Homemade Recipes Made Easy Now available on Amazon »
THANK YOU in advance for your support!