This fall, bake up a batch of these mouthwatering Apple Pecan Chai Cinnamon Rolls! Honeycrisp apples, pecans, ground cinnamon and chai rolled into the easiest yeast-leavened dough and baked until amazing. Once cooled slightly, these gorgeous rolls are iced with brown butter cream cheese frosting.
Who doesn't love cinnamon rolls?
The tender dough, gooey middle and the more icing the better! And homemade is always better.
In this recipe, I use honeycrisp apples not only because they're my favorite, but also because the flavor is incredible, and when baked they don't loose too much shape so they really hold up in these rolls. To round these rolls out, they are warmly spiced with a homemade chai spice, cinnamon, toasty pecans and lots of butter and sugar as they're known to have. And as if these rolls aren't already incredible, they are iced with a brown butter cream cheese icing.
#micdrop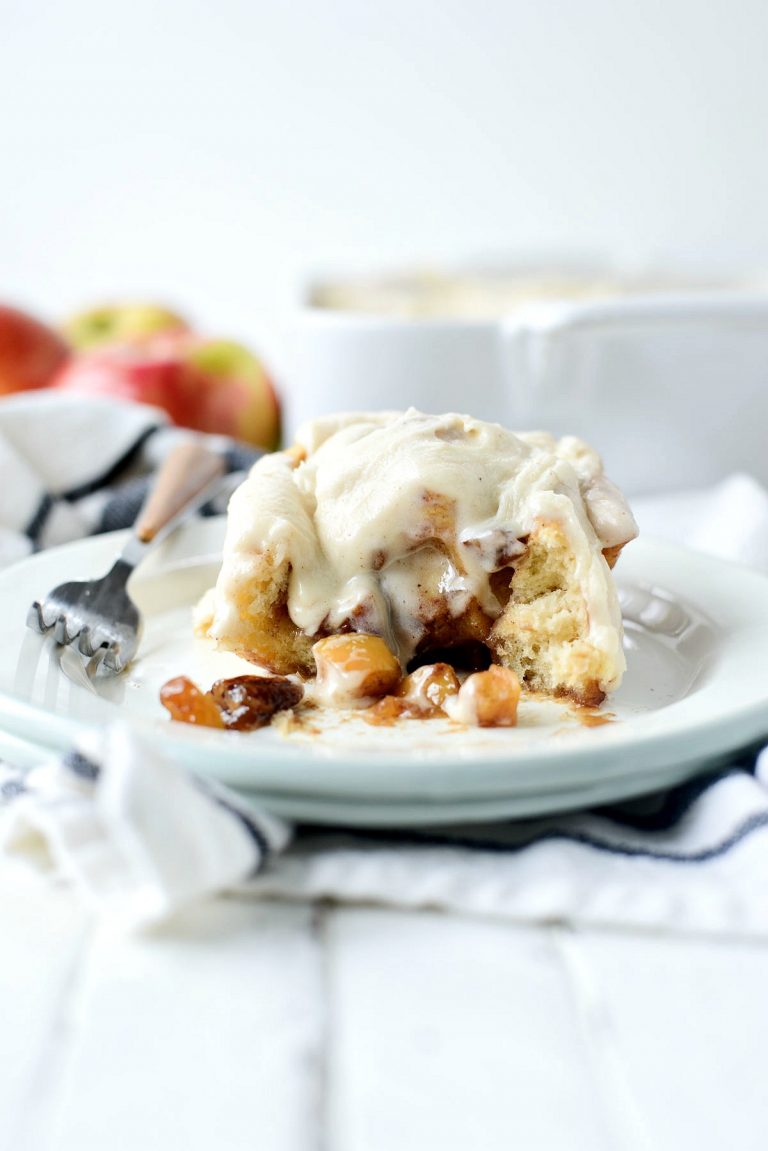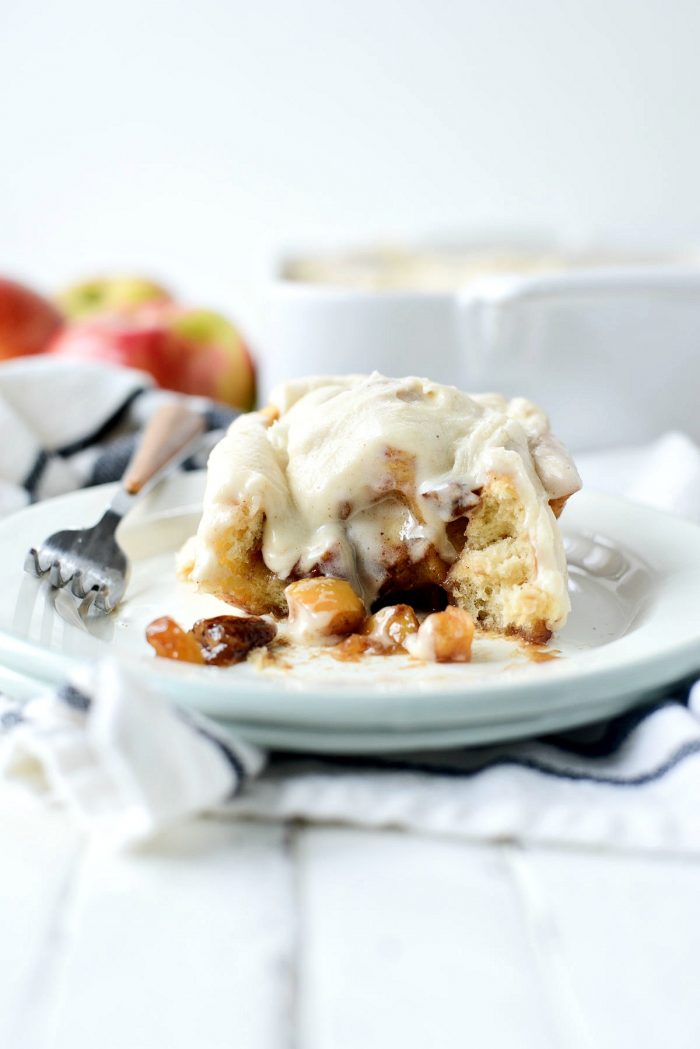 These apple pecan cinnamon rolls taste like fall!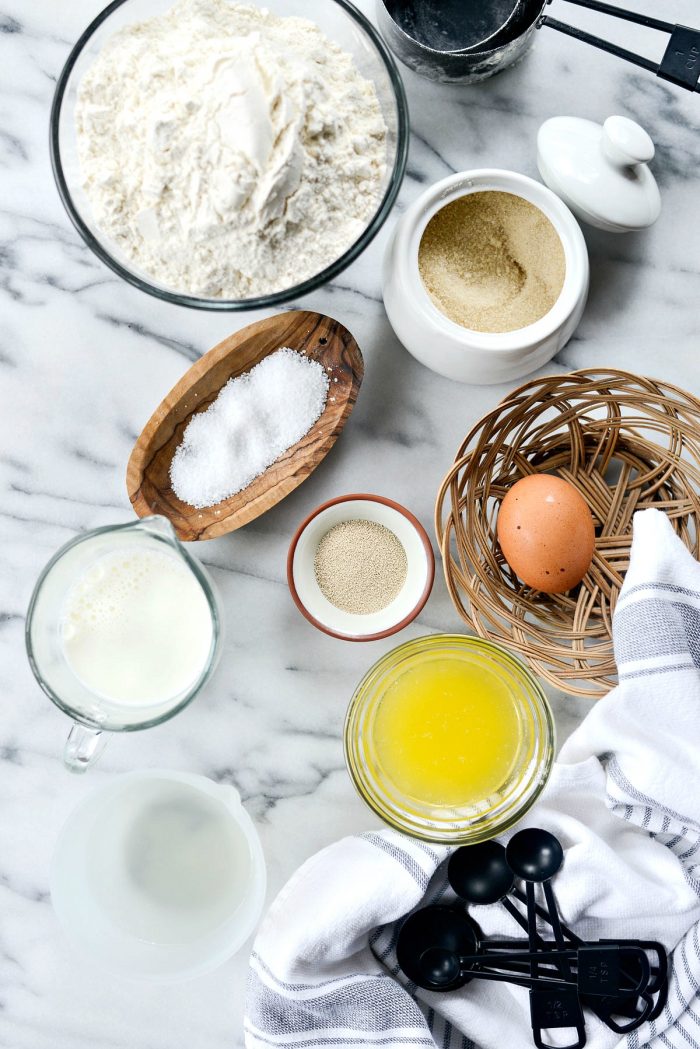 To Make The Dough for these Apple Pecan Chai Cinnamon Rolls You Will Need:
milk
water
active dry yeast
sugar
unsalted butter
kosher salt
egg
unbleached all-purpose flour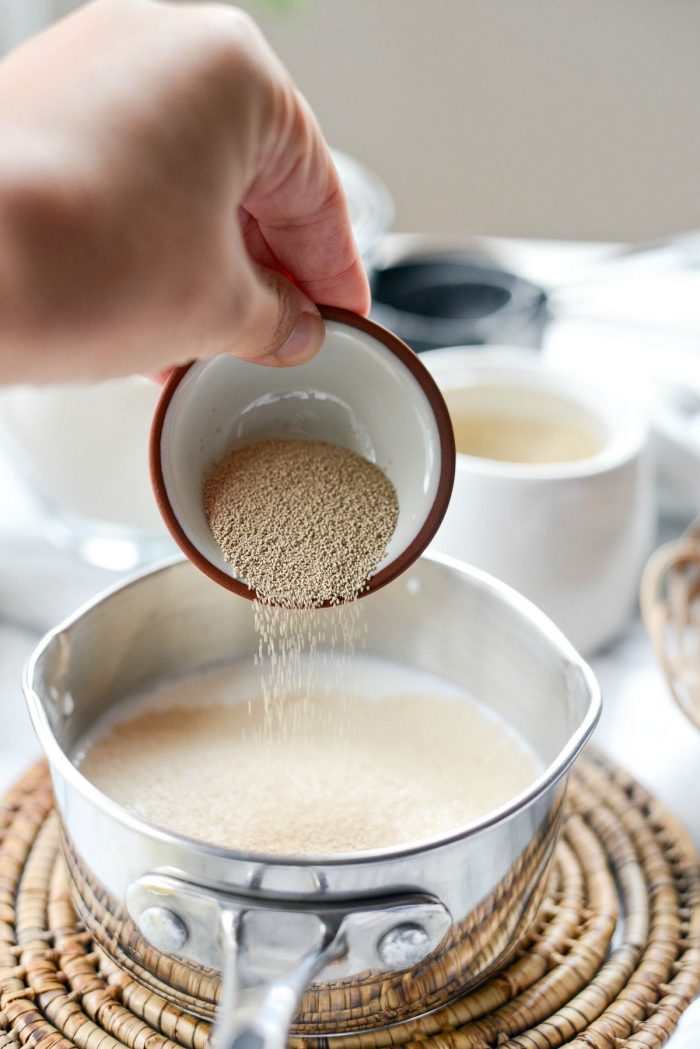 Start by heating 1/2 cup milk with 1/2 cup water in a small sauce pan until not but not boiling. I gauge this by when I start to see steam.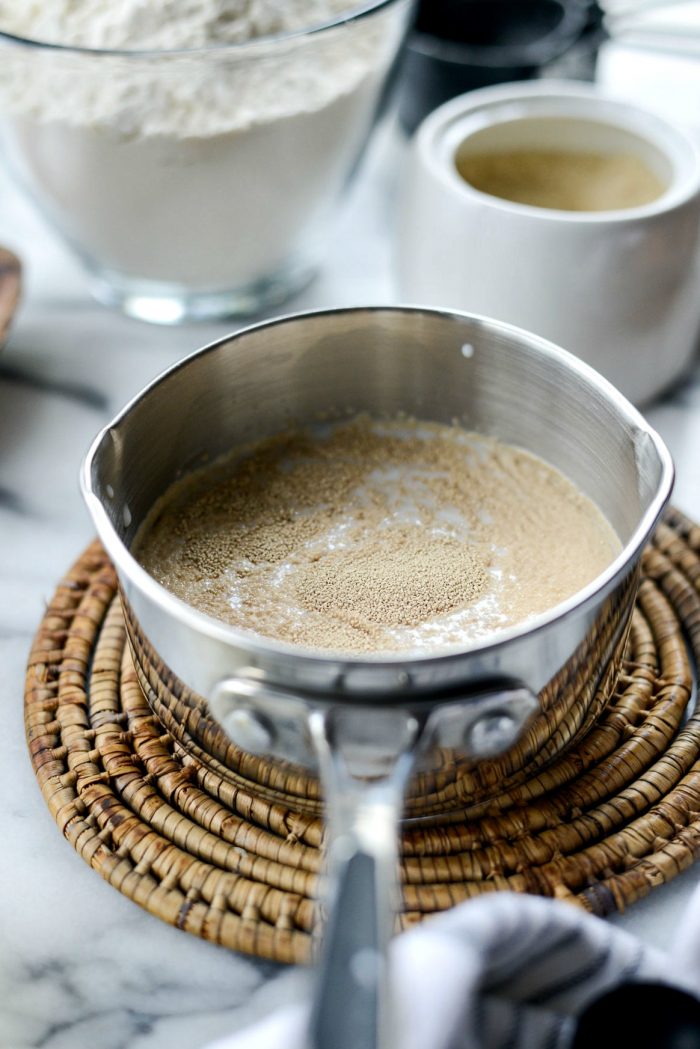 Sprinkle in 1 envelope or 2-1/4 teaspoons active dry yeast. Set this off to the side for about 10 minutes to allow the yeast to bloom.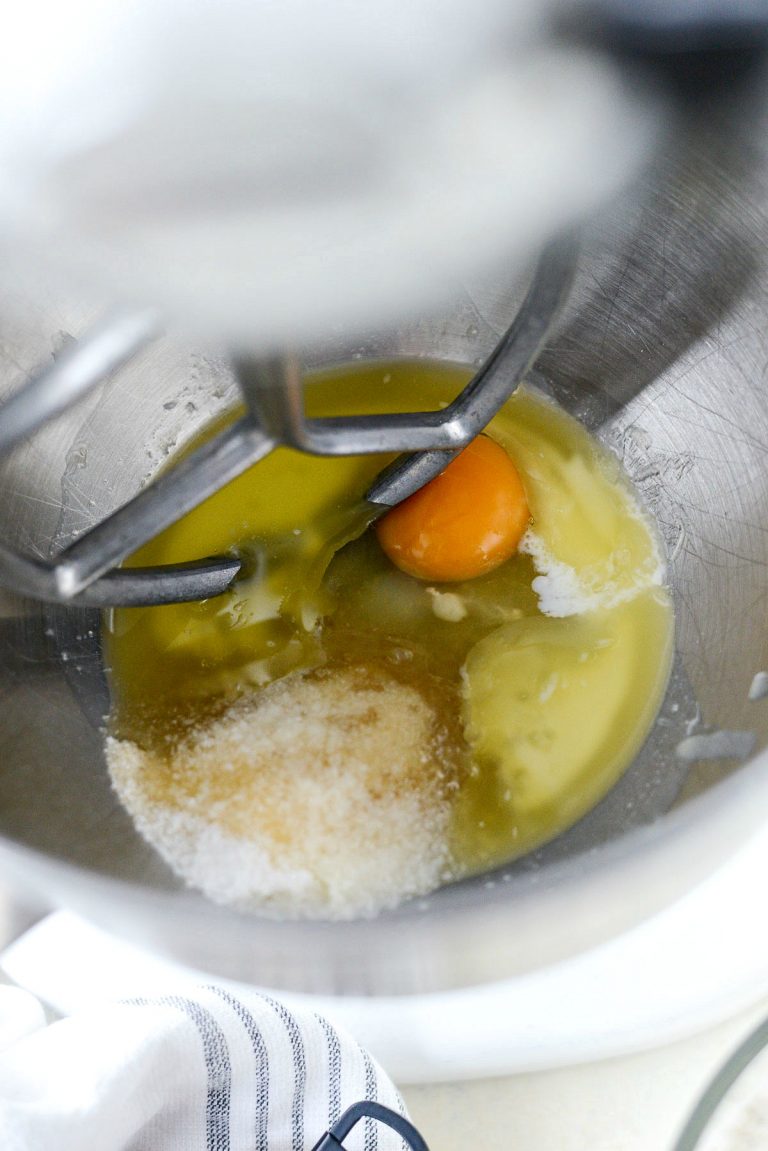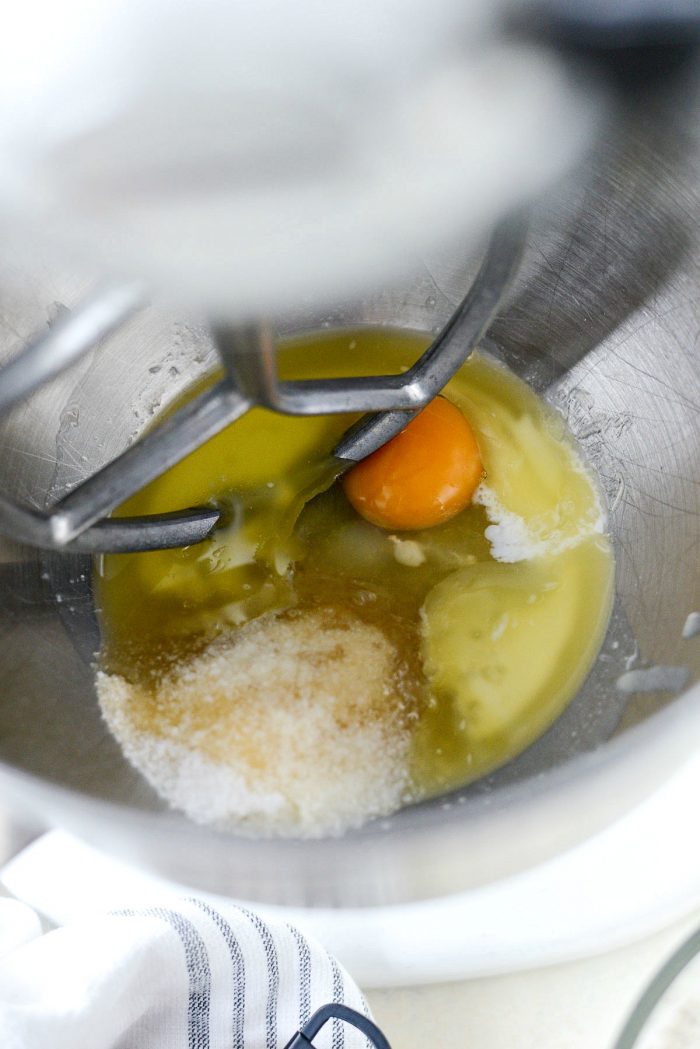 In the bowl of your stand mixer, fitted with the paddle attachment, add in 1/4 cup melted butter, 1/4 cup granulated sugar, 3/4 teaspoon kosher salt and 1 large egg. Mix on low until combine, scraping the bottom of the bowl to ensure all ingredients get incorporated.
Add in roughly half of 3-1/2 cups of flour and mix until combined and crumble. Pour in all of the yeast/milk mixture and mix until combined before adding in the remaining flour.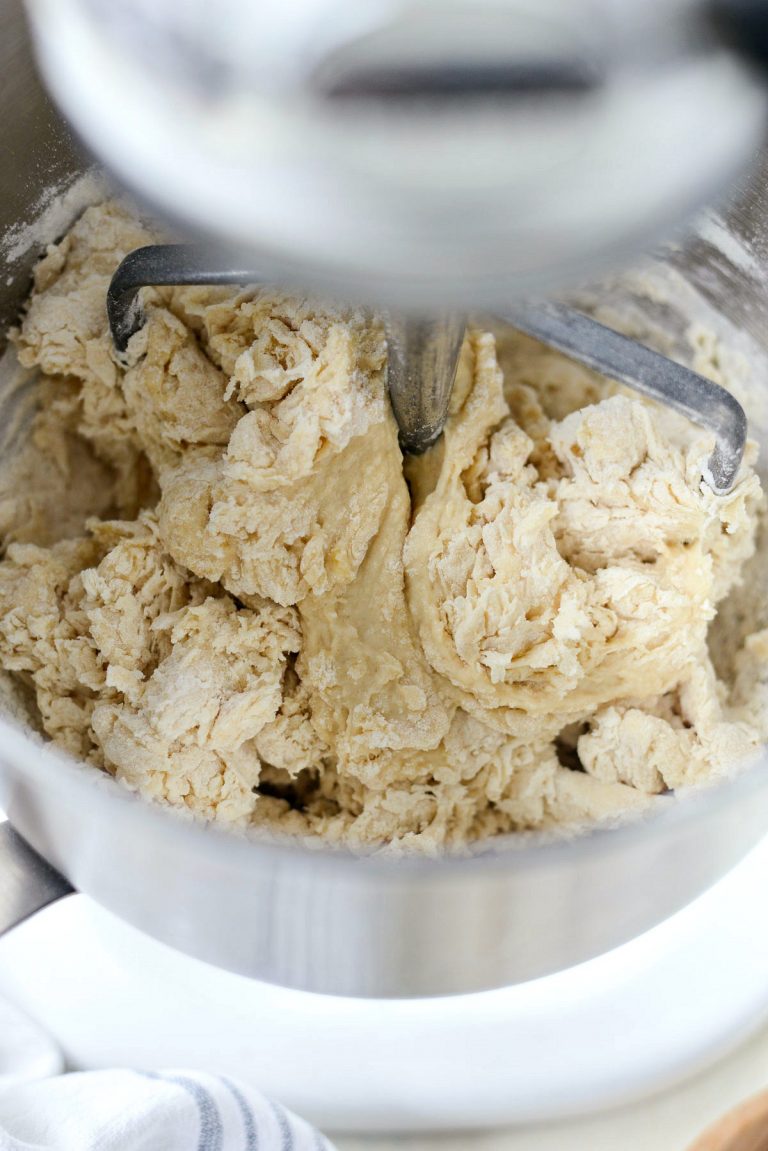 Once most of the flour mixture is combine, switch over to the hook attachment.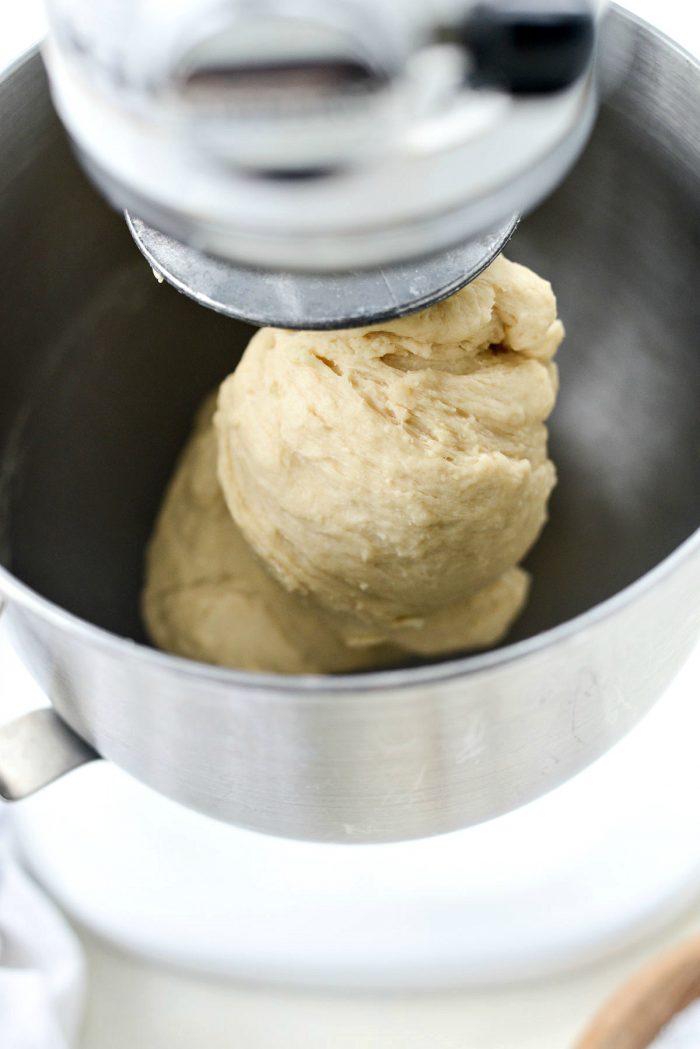 Set a timer for 8 minutes and with your mixer on low, "knead" until the dough is elastic and the timer is up.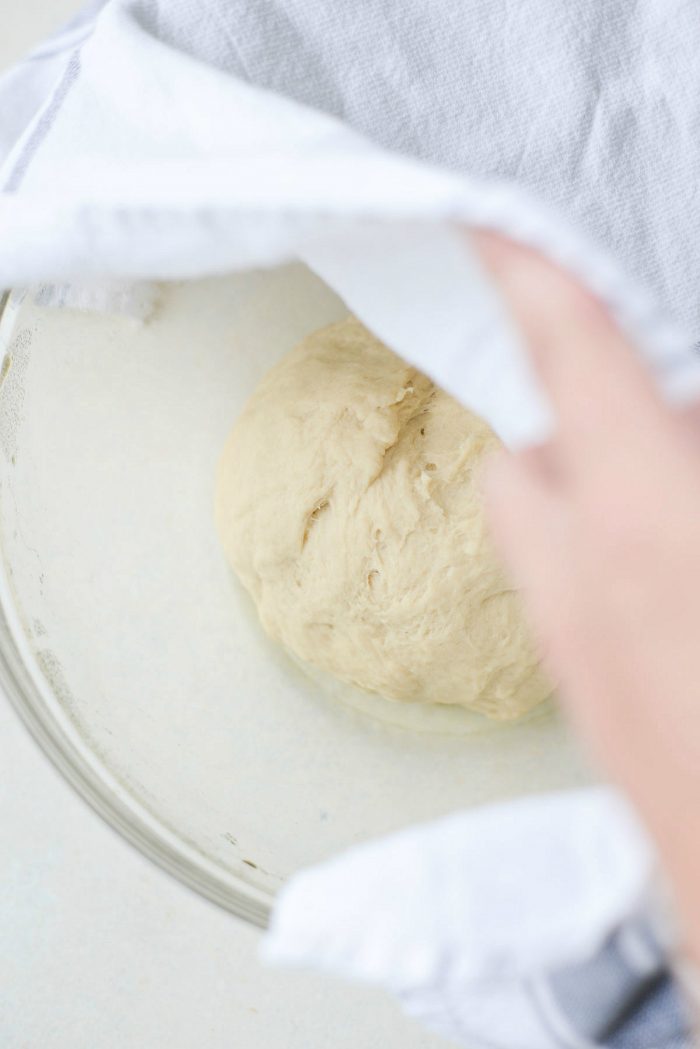 Transfer the dough to a well greased bowl, cover with a kitchen or tea towel and place in a dry warm place to rise for 1 hour. The dough should double in size.
Meanwhile make the apple pecan chai cinnamon filling.
To Make The Apple Pecan Chai Cinnamon Rolls Filling You will Need:
butter
honeycrisp apples
pecans
dark brown sugar
ground cinnamon
granulated sugar
Core and dice two medium honeycrisp apples into small 1/2-inch (approximately) pieces.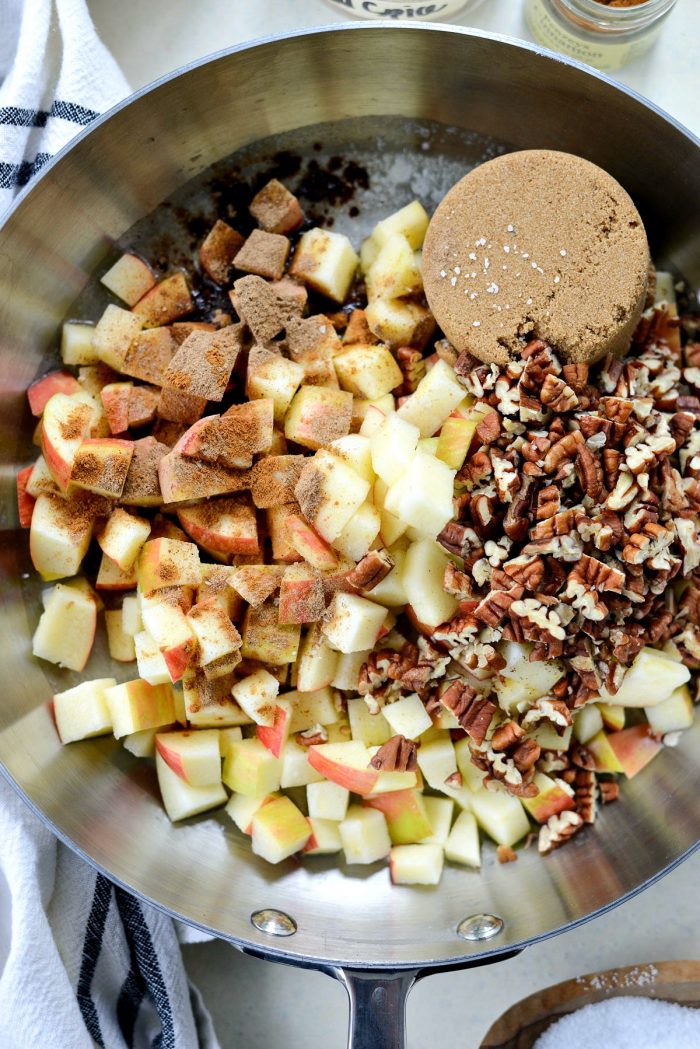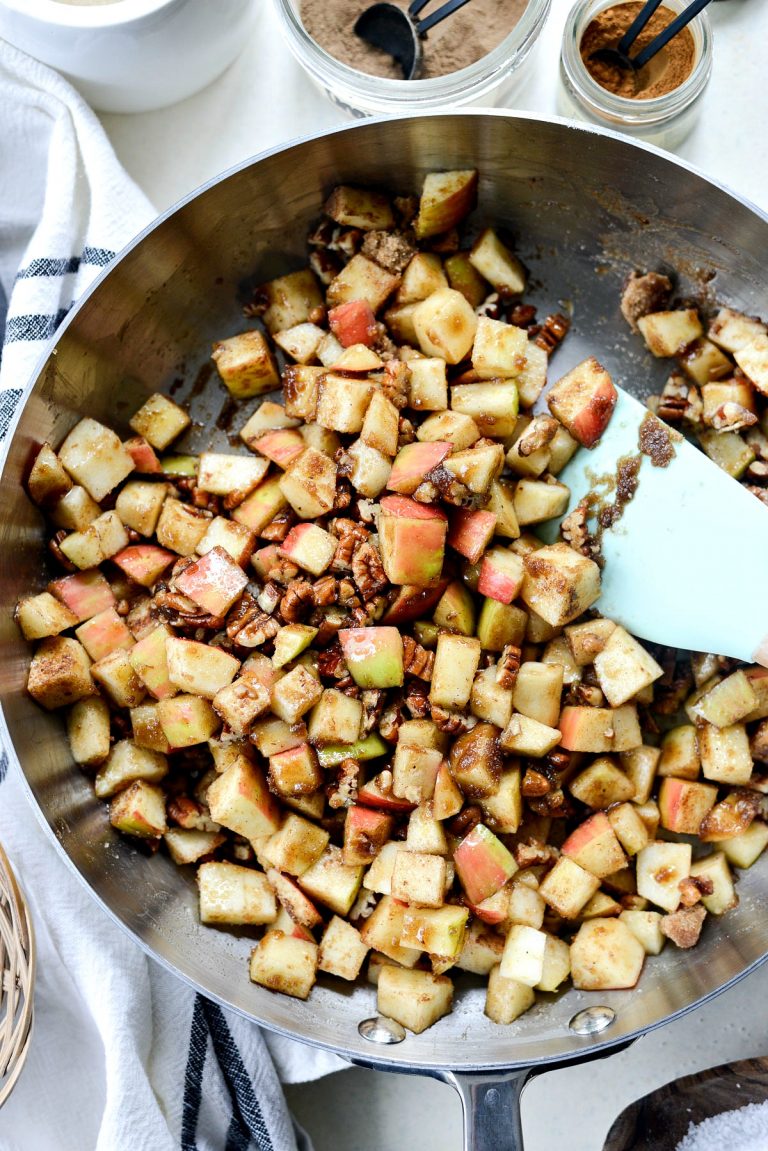 In a 10-inch, deep-sided skillet, add the butter and heat on medium to medium-low until melted. Add in the diced apples, 3/4 cup coarsely chopped pecans, 1/2 cup dark brown sugar, 3/4 teaspoon chai spice, 3/4 teaspoon ground cinnamon and a pinch of kosher salt.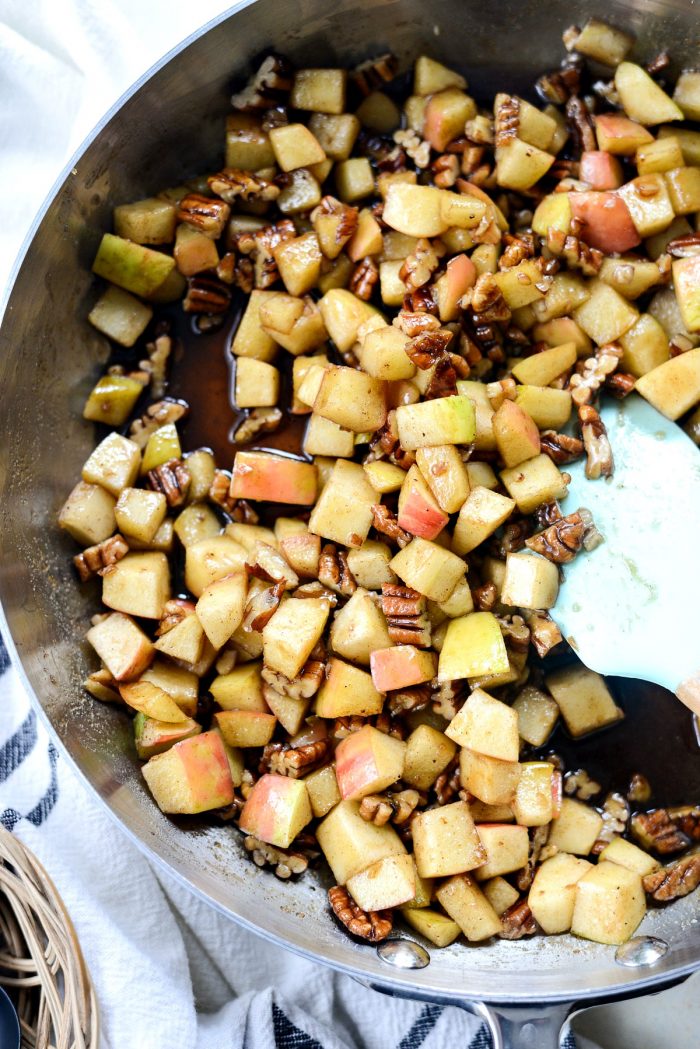 Stir and cook until the apples start to soften and release their juices, about 5 minutes. Remove the skillet off of the heat to cool while the dough finishes rising.
Lastly in a mixing bowl, combine 1/2 cup granulated sugar with 3/4 teaspoon each of the chai spice and ground cinnamon.
To Build The Apple Pecan Chai Cinnamon Rolls You Will Need:
risen yeast-leavened dough
chai cinnamon apples and pecans
butter (cubed)
cinnamon chai sugar
Position your own rack in the middle of your oven and preheat to 350° .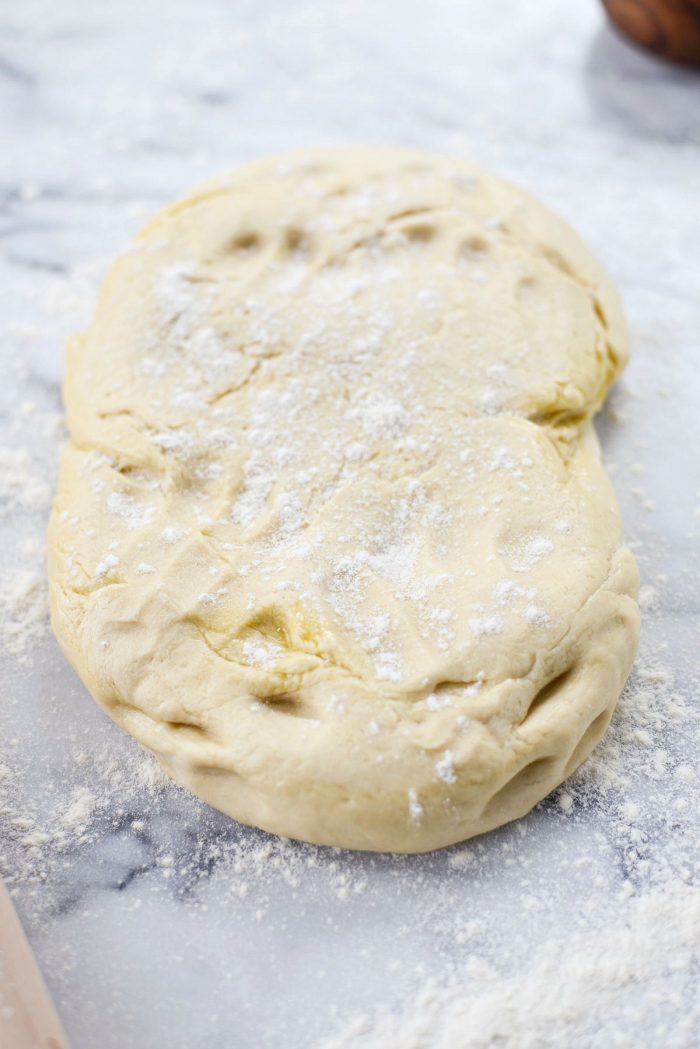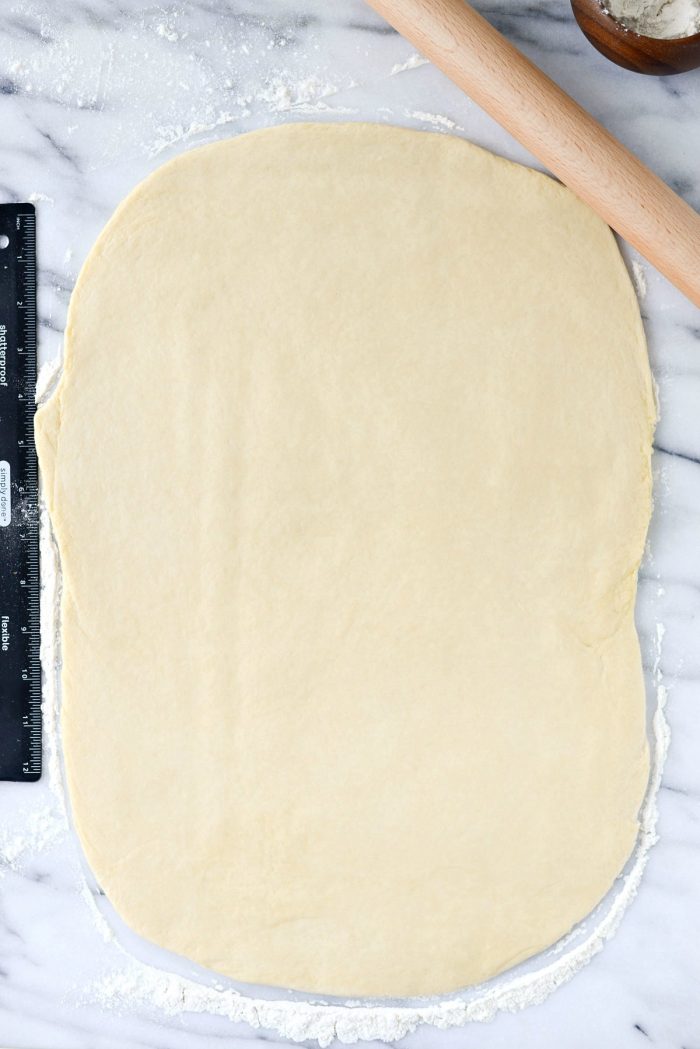 When the dough has finished risen, use your fist to gently punch down the dough. On a lightly floured surface, roll the dough out to roughly a 15×9 rectangle.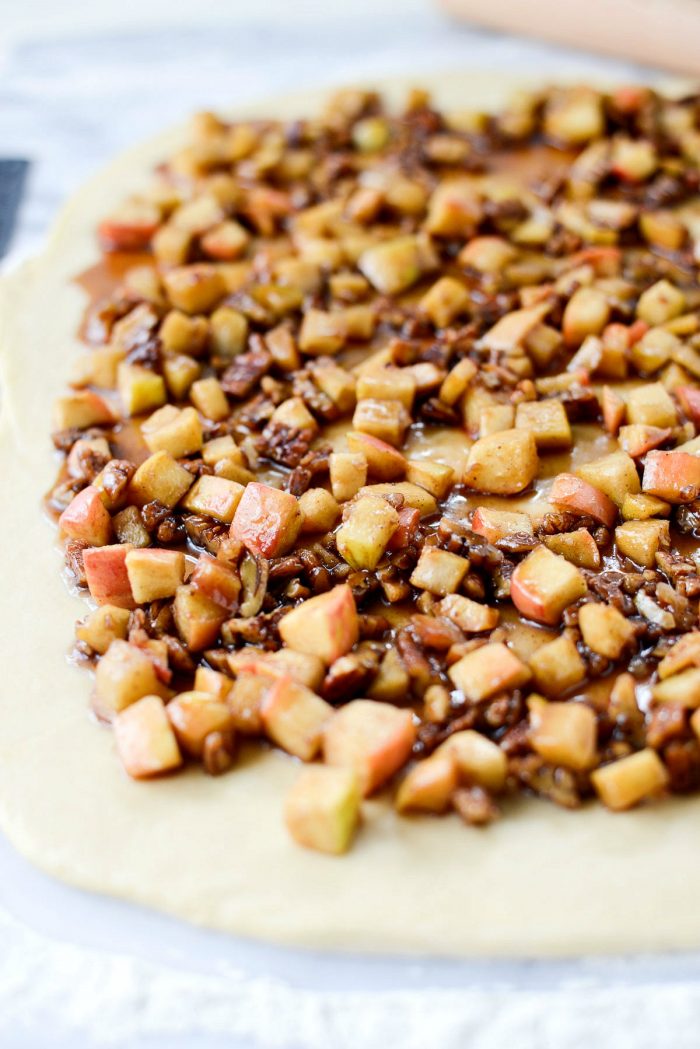 Spread all of the chai cinnamon apples and pecans over top of the dough.
Sprinkle with the sugar mixture.
Lastly, drop 1/2 cup cubed unsalted butter over top before starting at one of the longer sides and rolling tightly.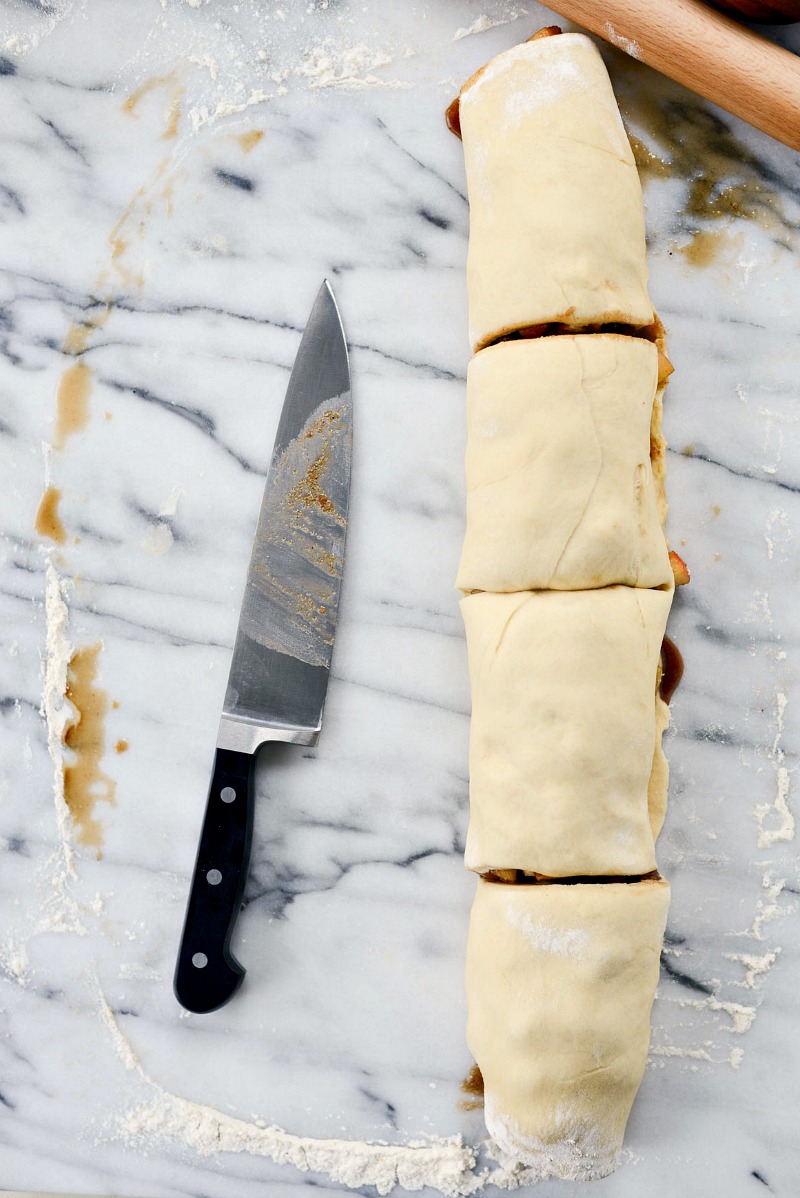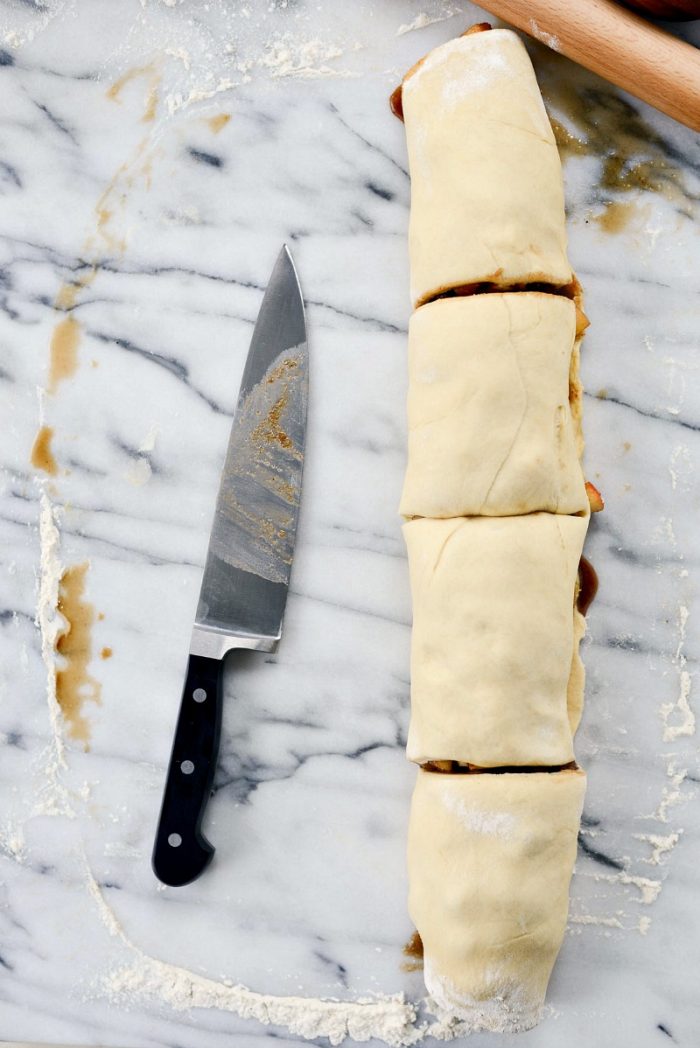 With a sharp knife, cut the dough in half. Then cut each half in half so you have 4 shorter pieces.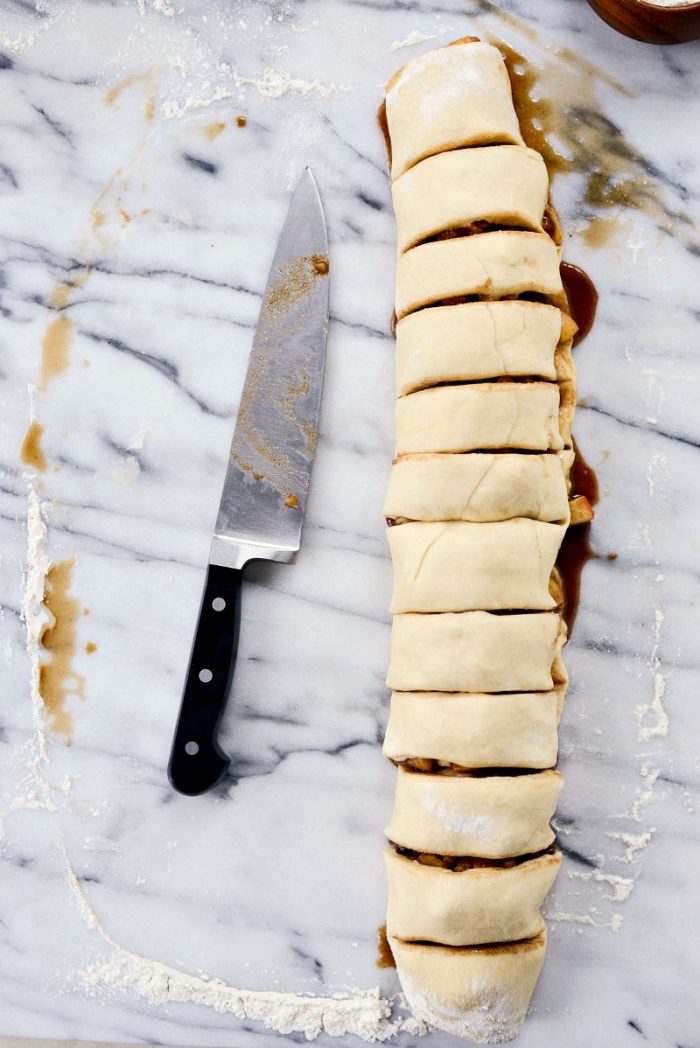 Slice each quarter into 3 (1-1/2 inch) slices so you end up with 12 rolls.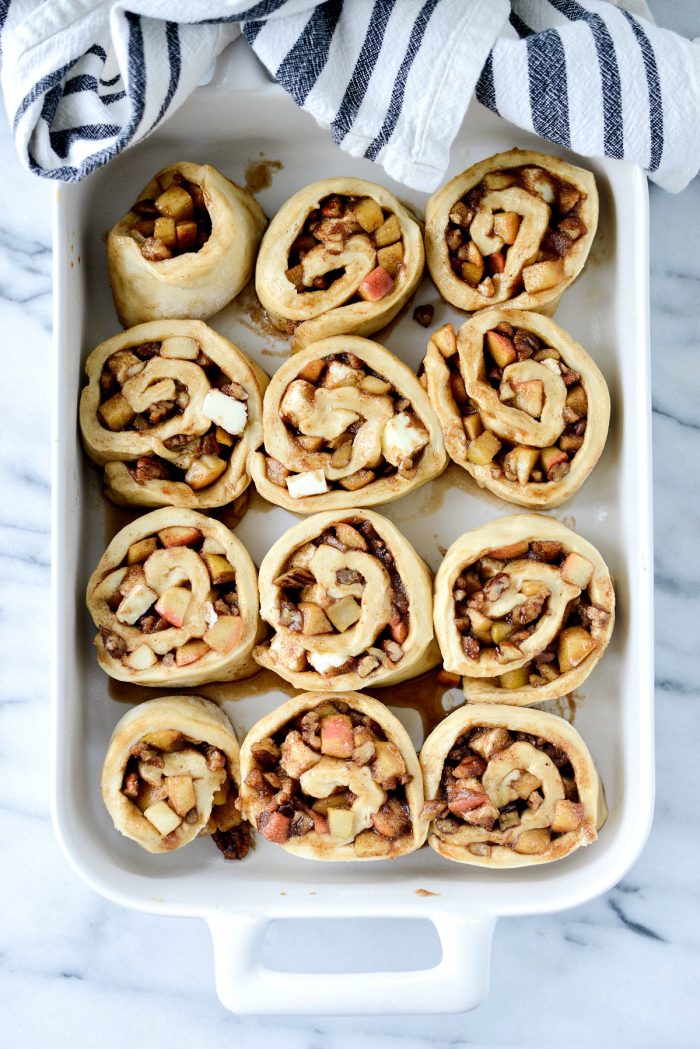 Place each roll into a well greased 9×13 baking dish and bake for 25 to 30 minutes or until bubbly and golden brown.
Meanwhile make the icing!
To Make This Brown Butter Cream Cheese Icing You Will Need:
softened cream cheese
vanilla
powdered sugar
whole milk
Set the cream cheese out 30 to 40 minutes prior to making the icing.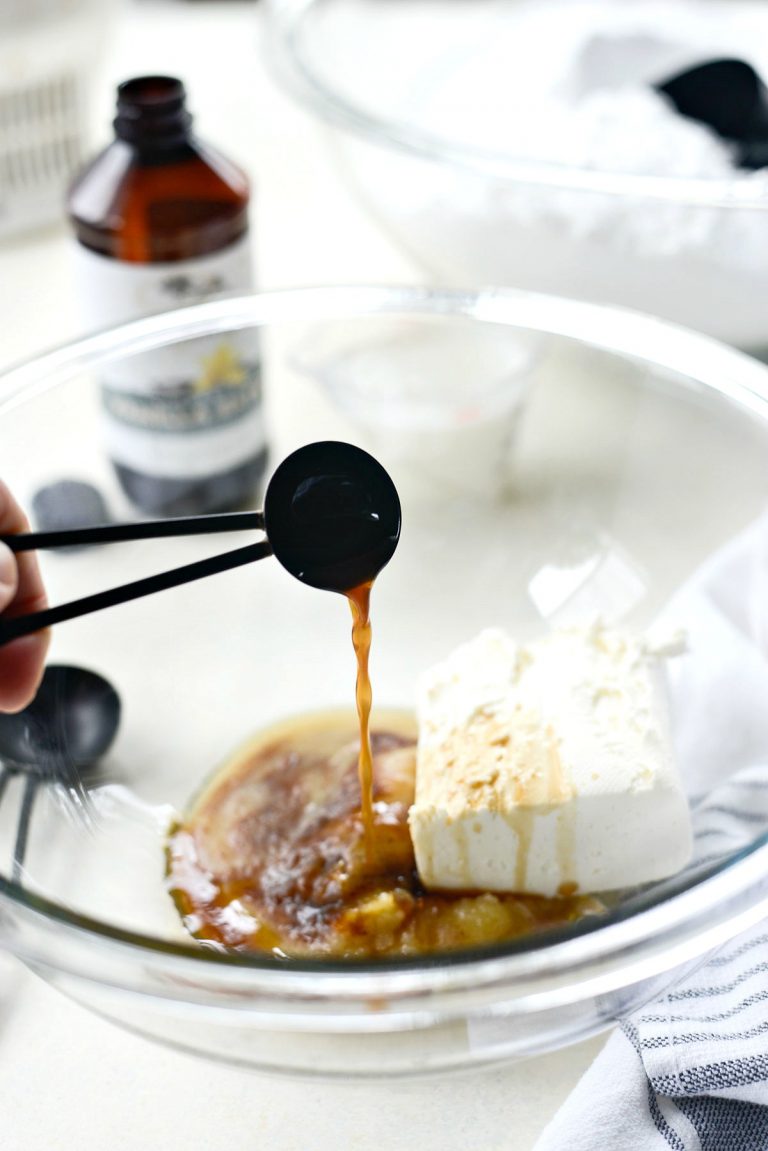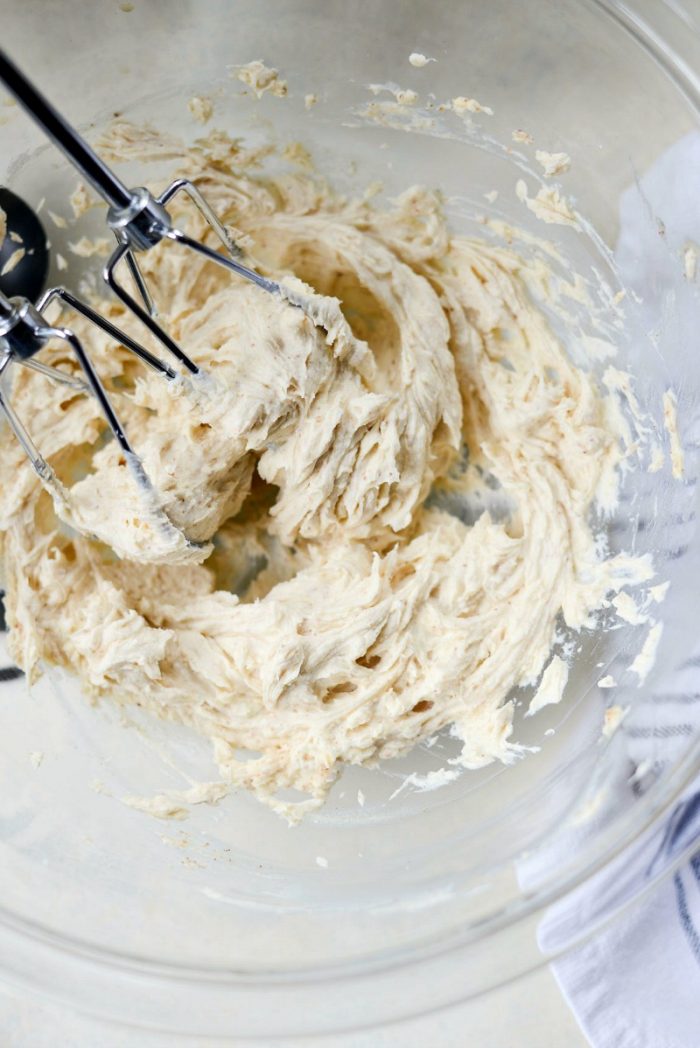 In a mixing bowl, combine 6 tablespoons browned butter, 4 ounces cream cheese and 1 teaspoon pure vanilla extract until smooth.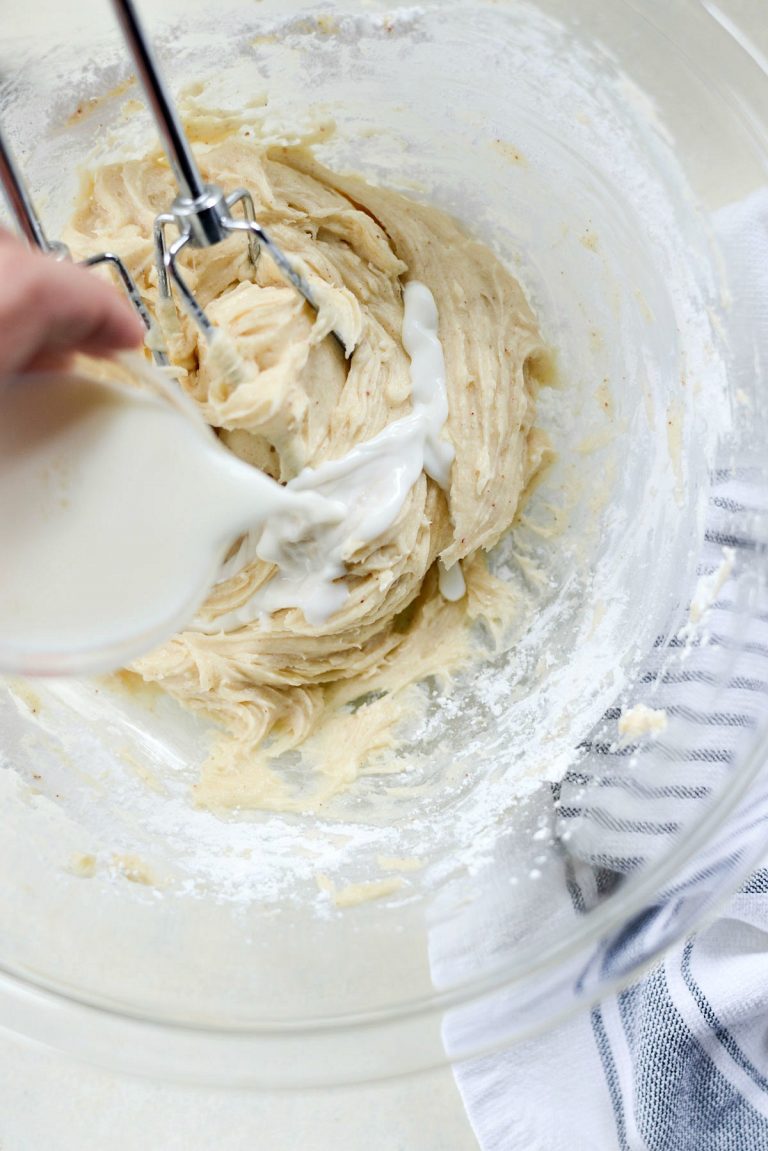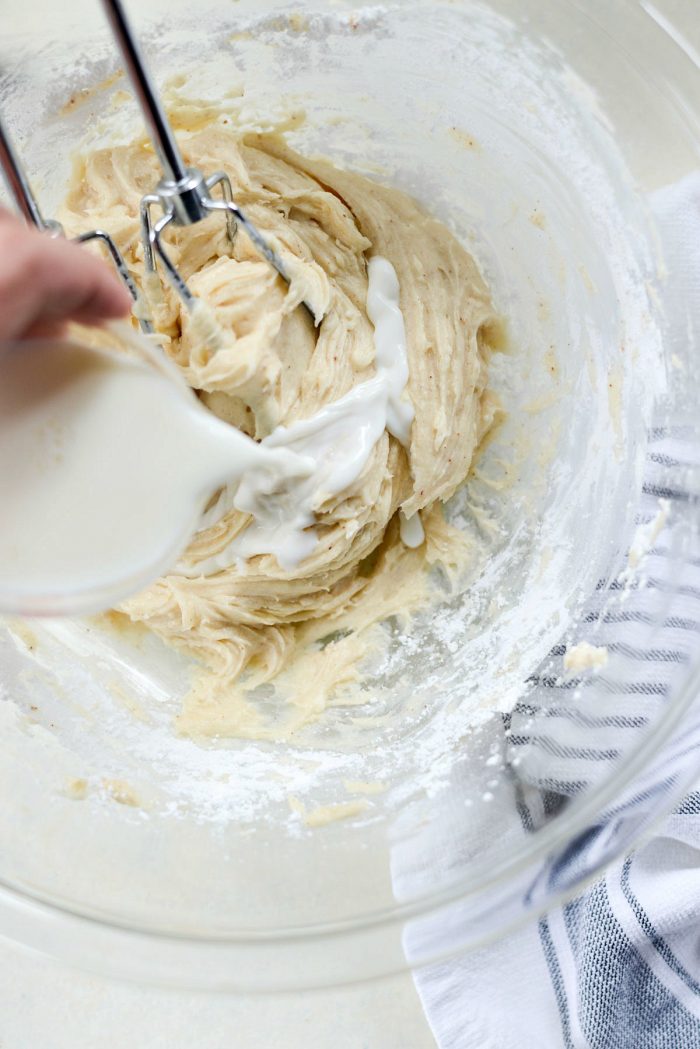 Alternate adding a cup of sifted powdered sugar and a splash of whole milk until all 4 cups are used and the icing is the consistency you desire. For me personally, I use less milk for a thicker, spreadable icing that will melt slightly when spread on the warm apple pecan chai cinnamon rolls.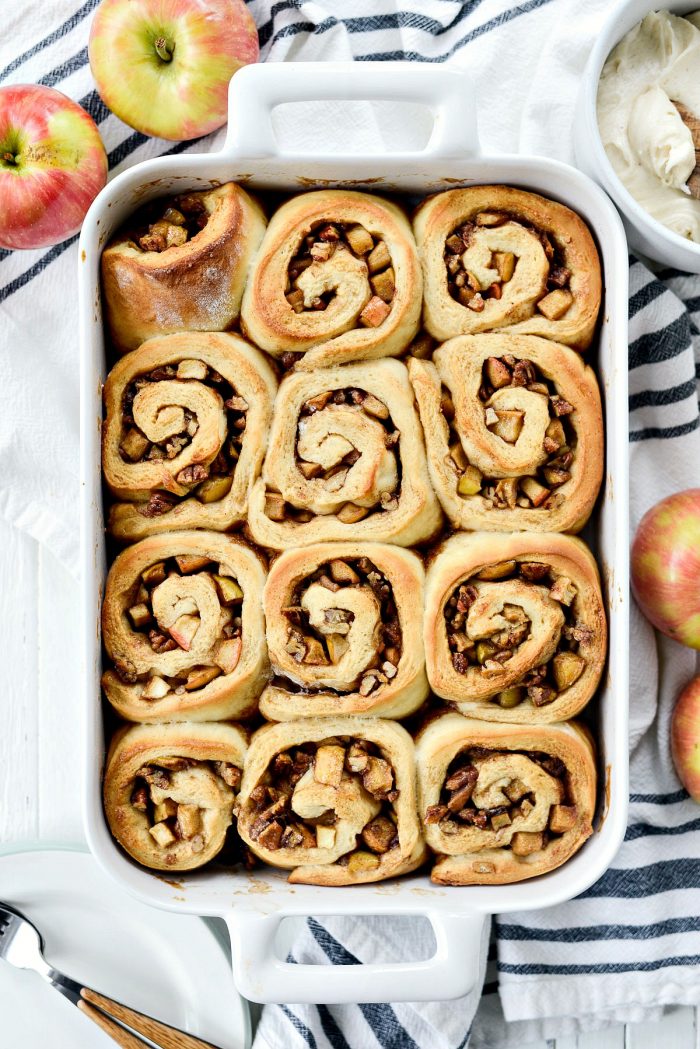 Allow the apple pecan chai cinnamon rolls to cool for about 5 to 10 minutes before icing.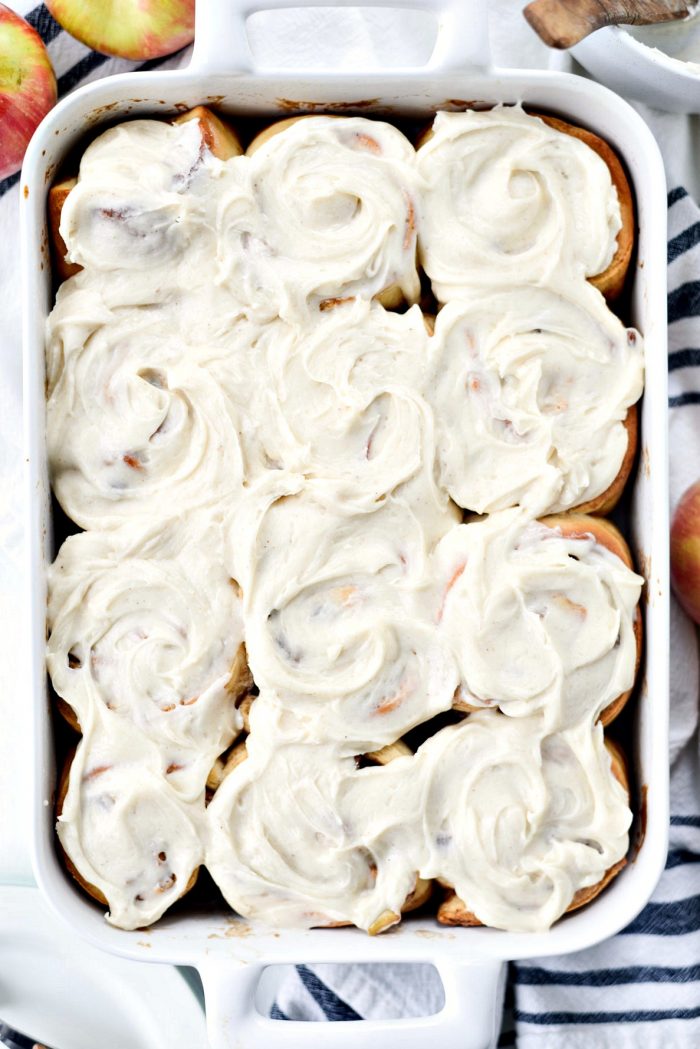 To do this, drop dollops of the icing onto each roll and spread it evenly.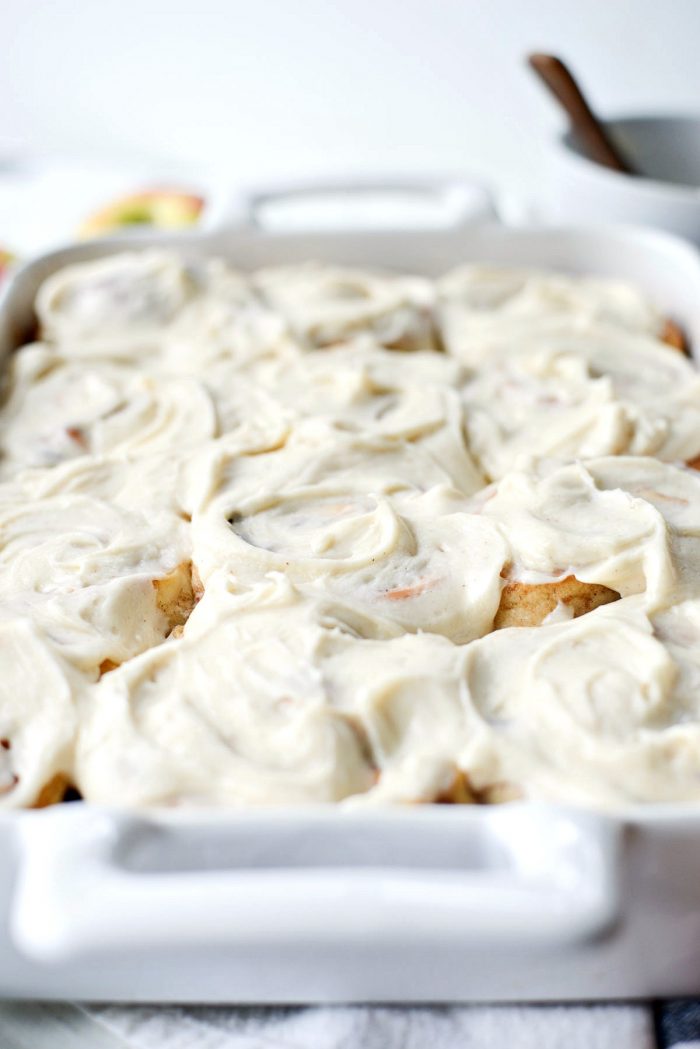 Phenomenal!
Below is a step-by-step on how to devour one of these apple pecan cinnamon rolls. Not pictured is me passing out from pure bliss.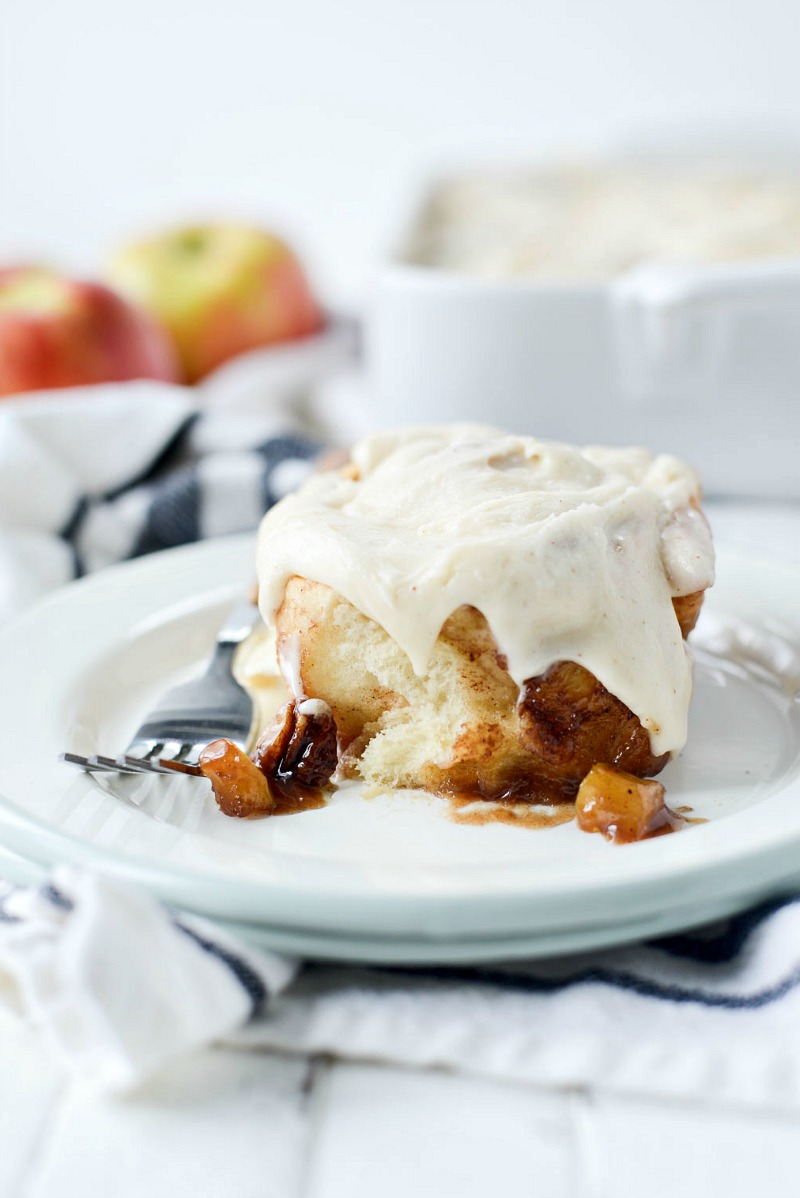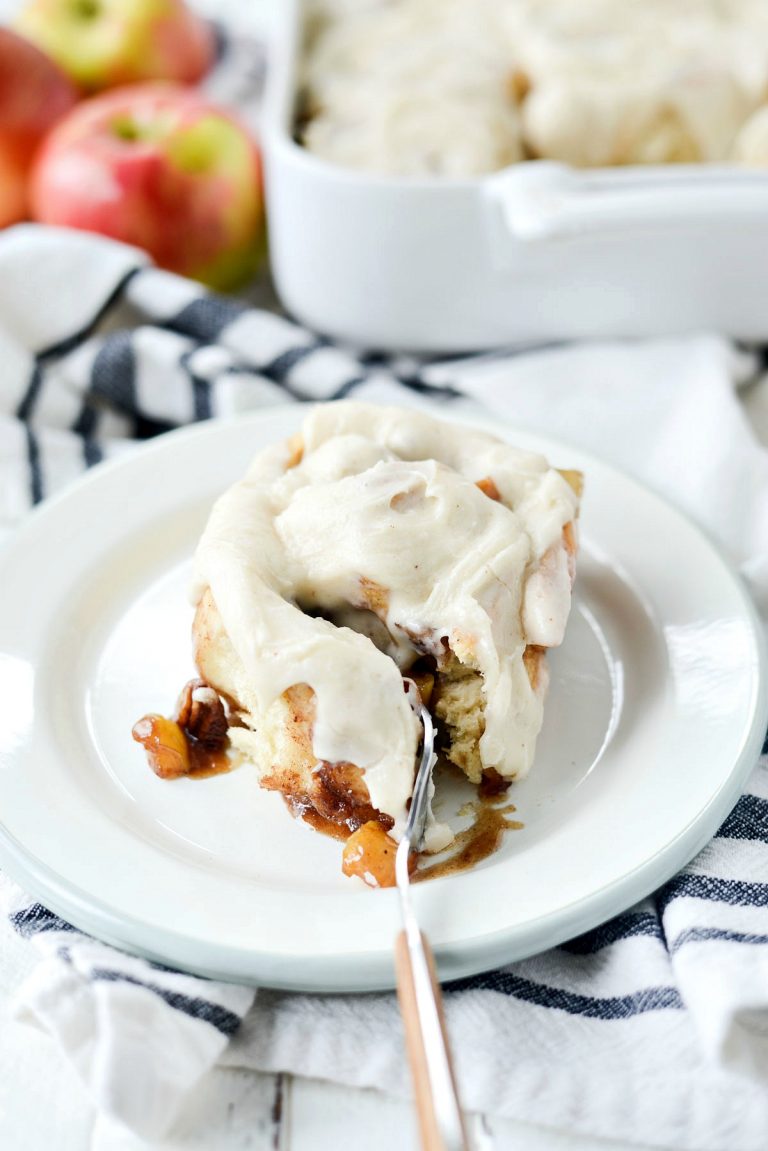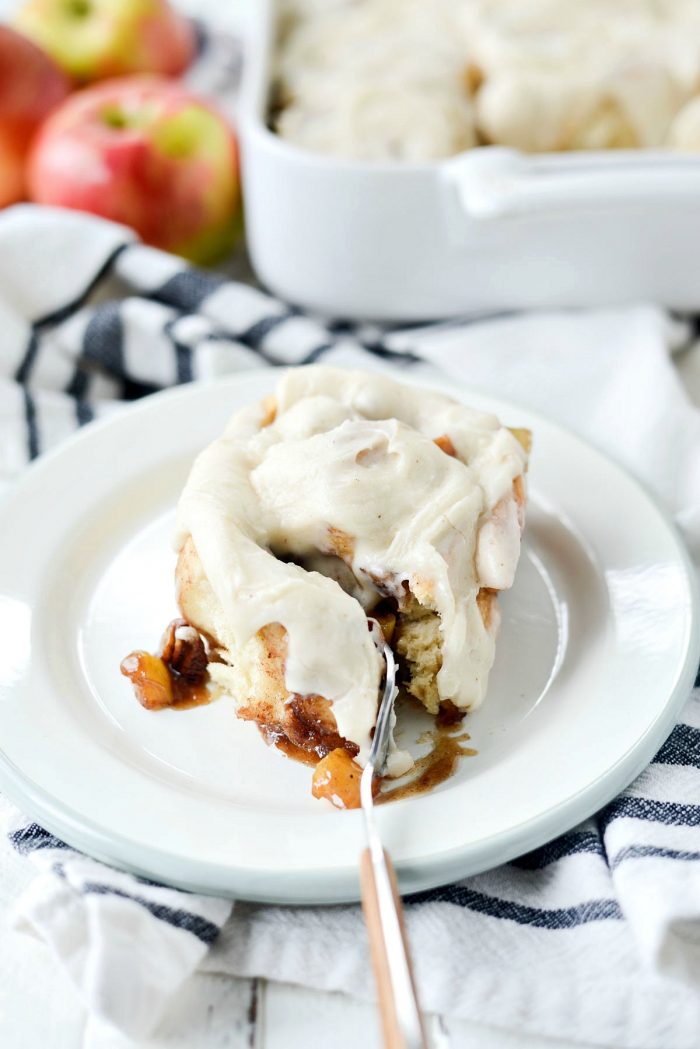 For more chai or chai spice inspired recipes Click Here!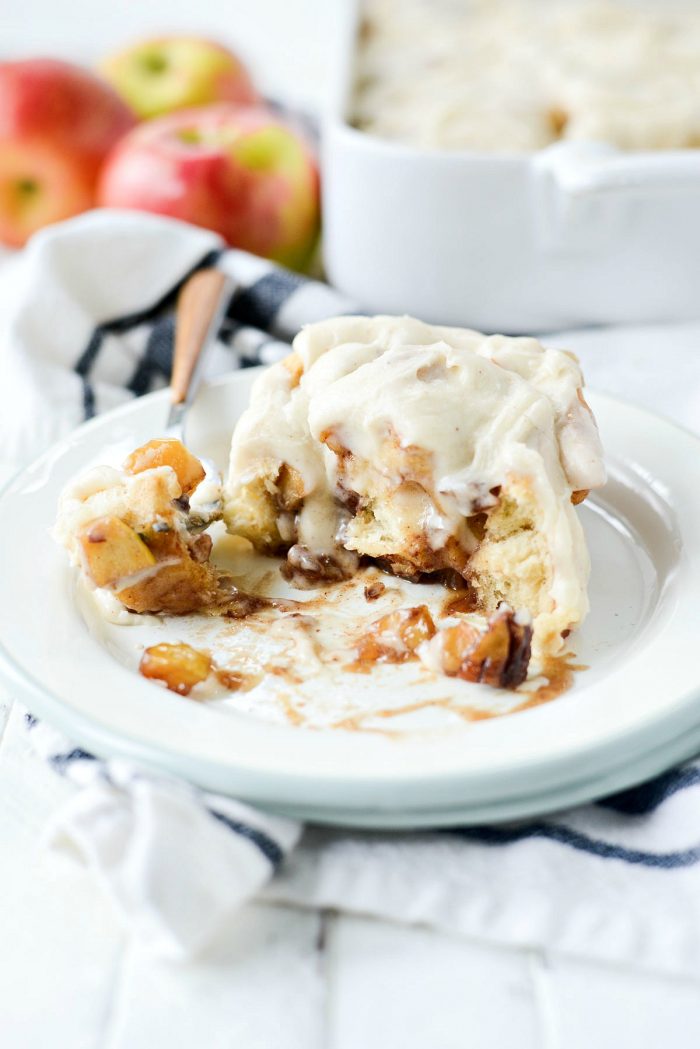 Enjoy! And if you give this Apple Pecan Chai Cinnamon Rolls recipe a try, let me know! Snap a photo and tag me on twitter or instagram!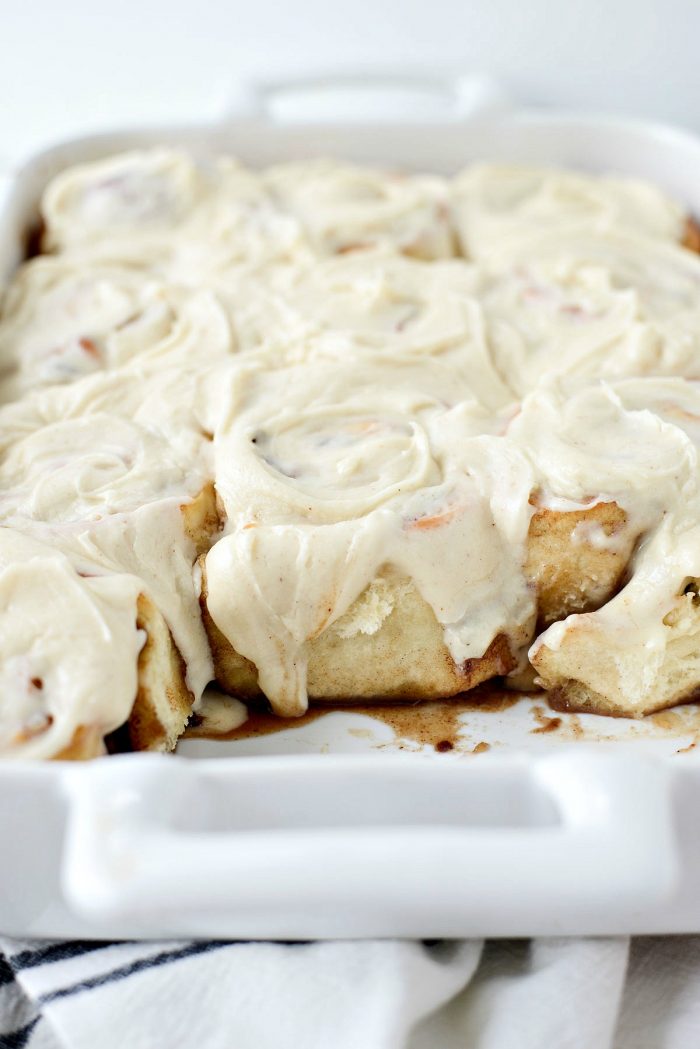 This post may contain affiliate links.
Buy the Cookbook: Simply Scratch : 120 Wholesome Homemade Recipes Made Easy Now available on Amazon »
THANK YOU in advance for your support!