These Spicy Potato Soft Tacos are a healthier take on a Taco Bell favorite. Warm tortillas wrap around crispy, oven roasted potatoes that are topped with a chipotle southwest sauce, shredded iceberg and cheddar cheese. A deliciously spicy vegetarian taco!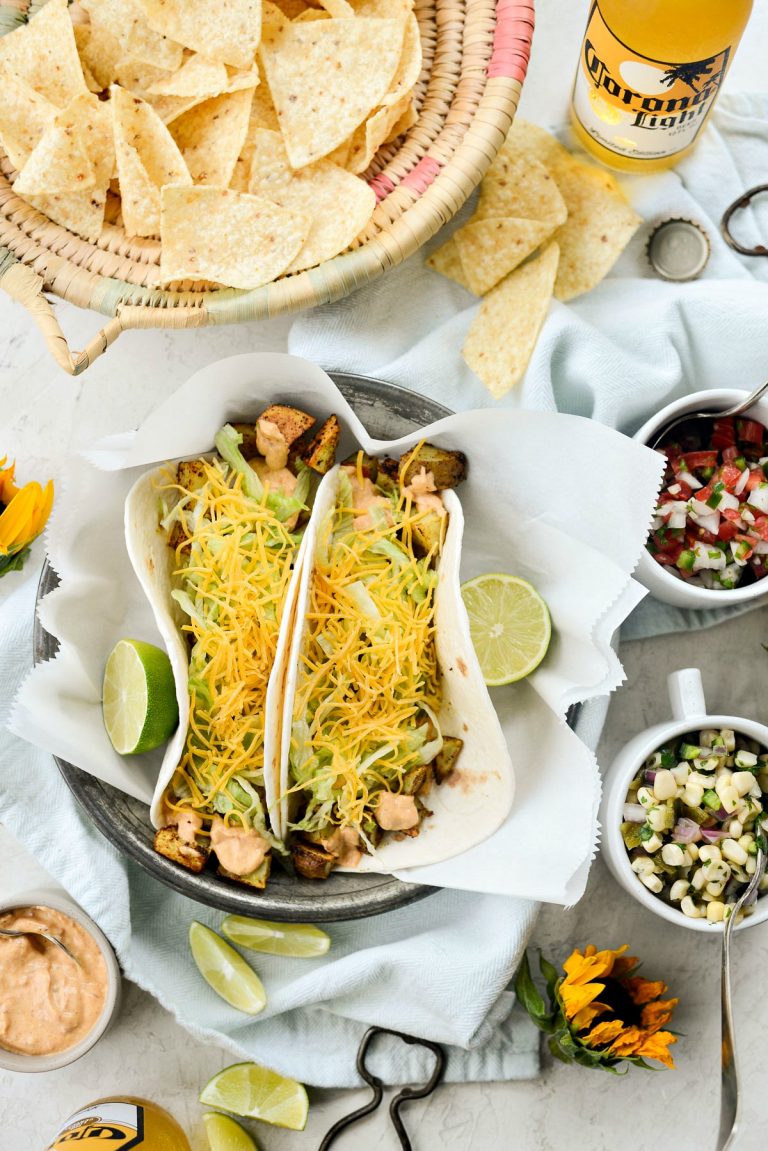 Yes it's true, I don't cook every night. What food blogger does?? Usually by the end of the week, I'm so completely burned out with cooking that we either go out to eat or pick up something. For the record, I'm not the least bit ashamed to admit it.
However ever since I had one of Taco Bell's spicy potato soft tacos I crave them a little more often than I should. First of all, it was kind of becoming an addiction and secondly, because they are so dang good. The potatoes are like crispy pillows and are coated in the most delicious sauce ever.
You know where this is headed.
Who can possibly resist crispy potato pillows tucked in a warm flour tortilla and topped with a spicy chipotle sauce, finely shredded iceberg and cheddar cheese? Not me. Since I'm still sticking to my healthy diet plan, the fast food version was not the best option. This obviously lead me to make my own at home, because we all need potato tacos in our life.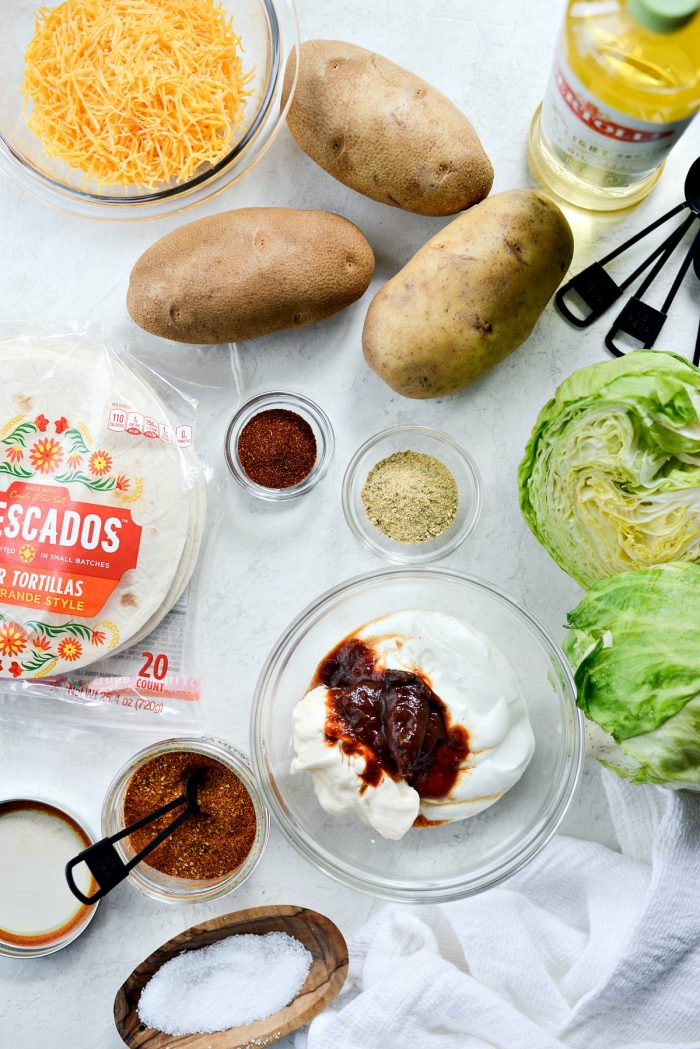 TO MAKE THE CHIPOTLE SOUTHWEST SAUCE YOU WILL NEED:
1/2 cup plain nonfat Greek yogurt
1/4 cup mayonnaise – use your favorite
1 to 2 chipotle peppers in adobo, plus a few splashes of adobo sauce
with a 1/2 teaspoon adobo seasoning
juice of 1/2 a lime
a pinch or two of kosher salt to taste
TO MAKE THE SPICY POTATO SOFT TACOS YOU WILL NEED:
olive oil spray
3 pounds russet potatoes, diced 1/2-inch cubes
light olive oil
2 tablespoons adobo seasoning*
plus 2 teaspoons paprika
1/2 teaspoon kosher salt
shredded iceberg lettuce
finely shredded sharp cheddar cheese
6-inch soft flour tortillas, about 16
Start by making the chipotle sauce first so the flavors a chance to blend.
First, into the bowl of your mini food processor or blender, add the greek yogurt, mayo, chipotle pepper(s) with about a teaspoon of the adobo sauce. Secondly, add 1/2 teaspoon both southwest and adobo seasonings and the juice of 1/2 a lime. Thirdly, blend on high until smooth, then season with kosher salt to taste. Fourthly (😂), cover tightly and refrigerate until ready to serve.
You can control the heat of this sauce by how many chipotle peppers and adobo sauce you add. However, I want to point out that the adobo seasoning is different from the canned adobo sauce and is not spicy at all.
To make the potatoes, first preheat your oven to 400° and then lightly spray 2 rimmed, metal baking sheets with olive oil.
Next divide the diced potatoes among each pan. Then drizzle with a teaspoon of olive oil and season each pan with 1 tablespoon of adobo seasoning, 1 teaspoon paprika, and 1/4 teaspoon of kosher salt.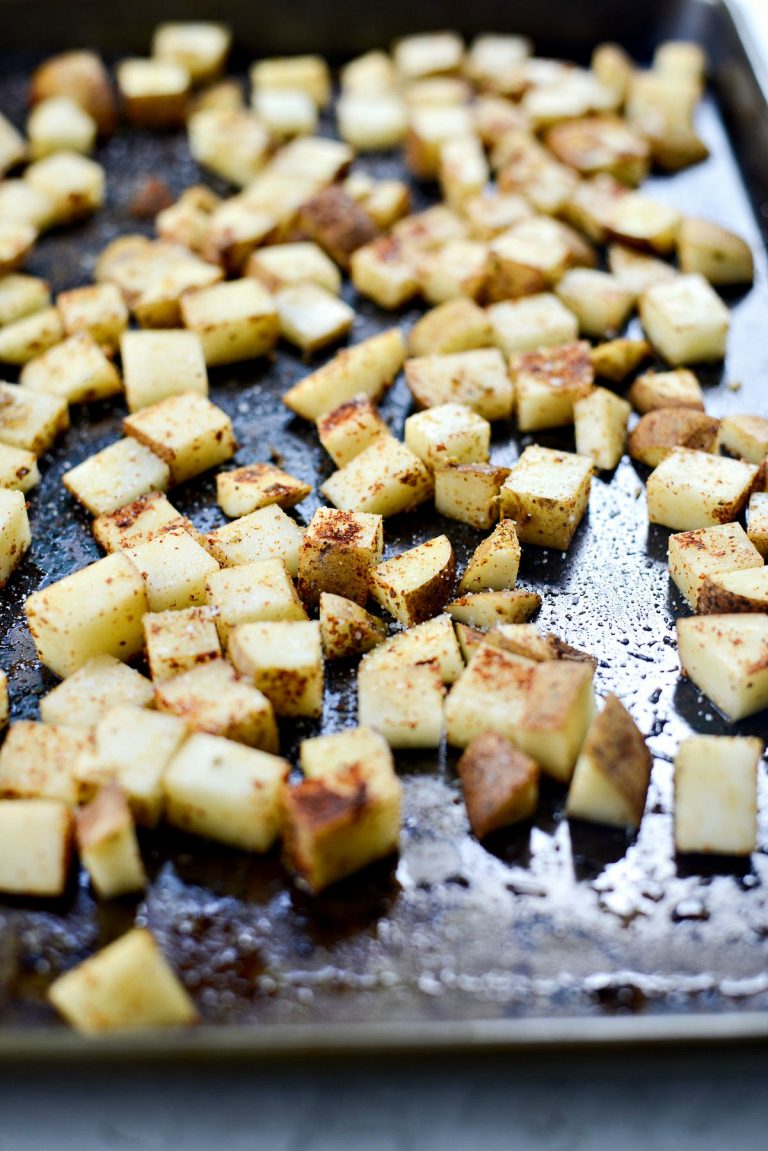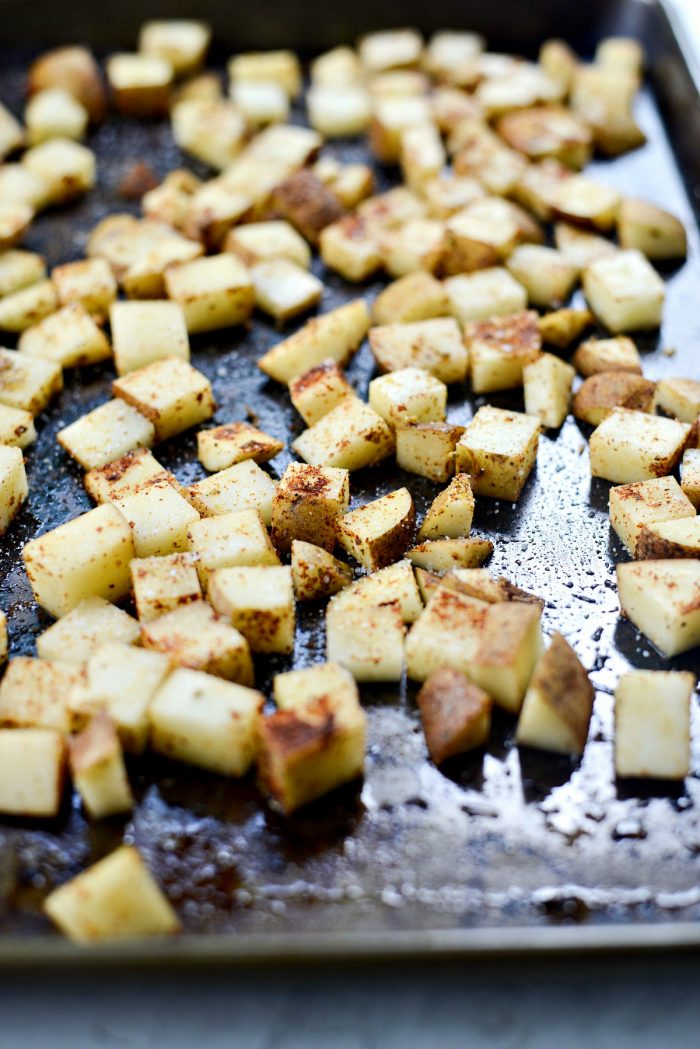 Toss both pans of potatoes with the oil and seasoning. Spread the potatoes out evenly in a single layer.
Then slide both pans into your oven – one on the lowest rack of your oven and one on the middle rack – for 20 to 25 minutes. Most importantly, to ensure even crisping, rotate the pans halfway through and swap their positions in the oven. ie. the pan on the middle rack moves to the bottom and vice versa.
PRO TIP: Do not try to flip or turn the potatoes!
Once they are done roasting and have cooled for a couple of minutes, the potatoes will release themselves from the bottom of the pan. With that said, if you try turning them too soon, they will tear.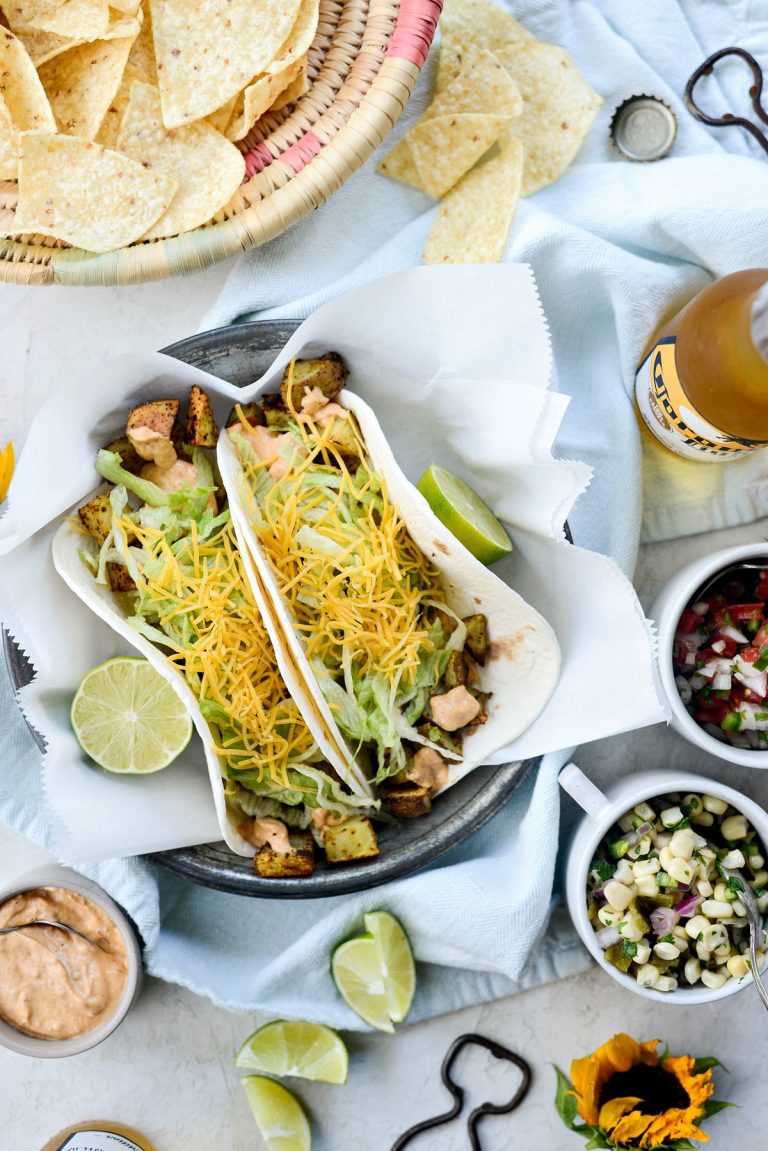 Warm your flour tortillas by heating them in the microwave. Alternatively, you can use a skillet or wrap small stacks in foil and heat in a 350° oven for a few minutes.
Finally, fill each one with crispy potatoes, a few dollops of the chipotle sauce and top with shredded iceberg lettuce and finely grated cheddar cheese.
So simple and deliciously fiery too.
I'm so happy that I can enjoy my favorite vegetarian tacos without the guilt, because these are just SO good, if not better than the fast food version. Besides that, it's ridiculous how easy these are to make and perfect for any night of the week.
Lastly, you can serve your tacos with side of pico or your favorite salsa and a few Coronas. You can't get those at Taco Bell. 😉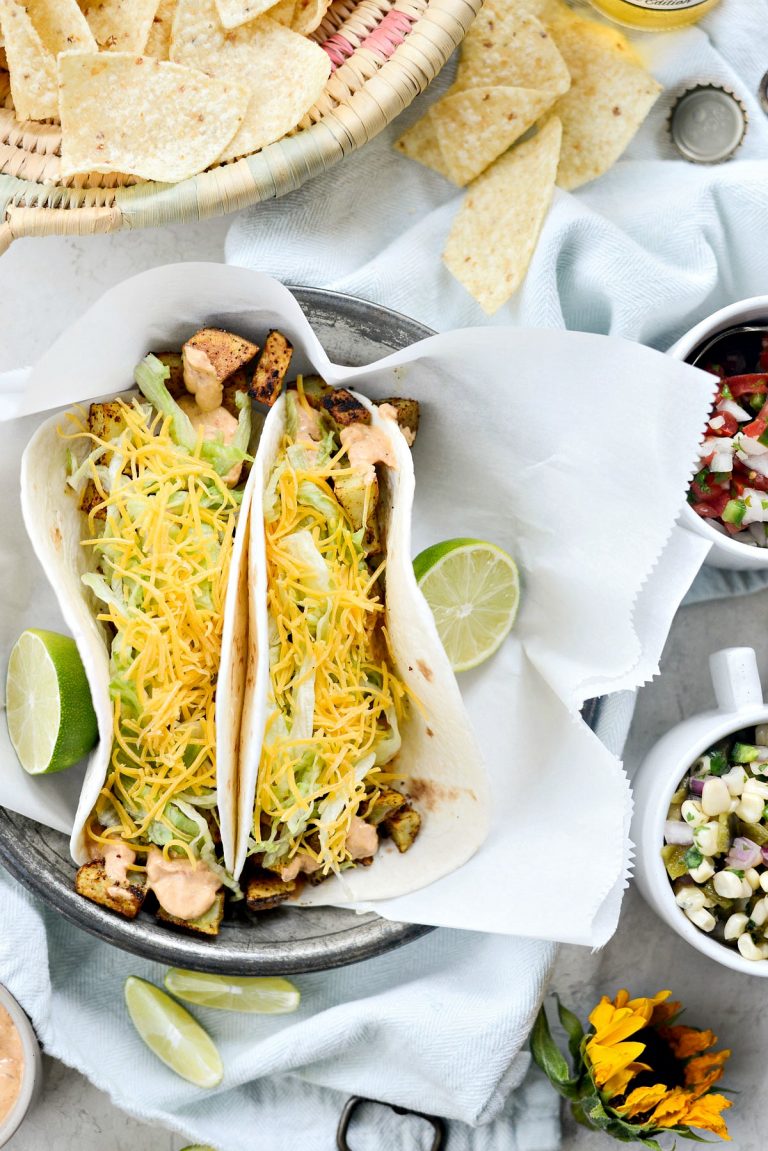 Enjoy! And if you give this Spicy Potato Soft Tacos recipe a try, let me know! Snap a photo and tag me on twitter or instagram!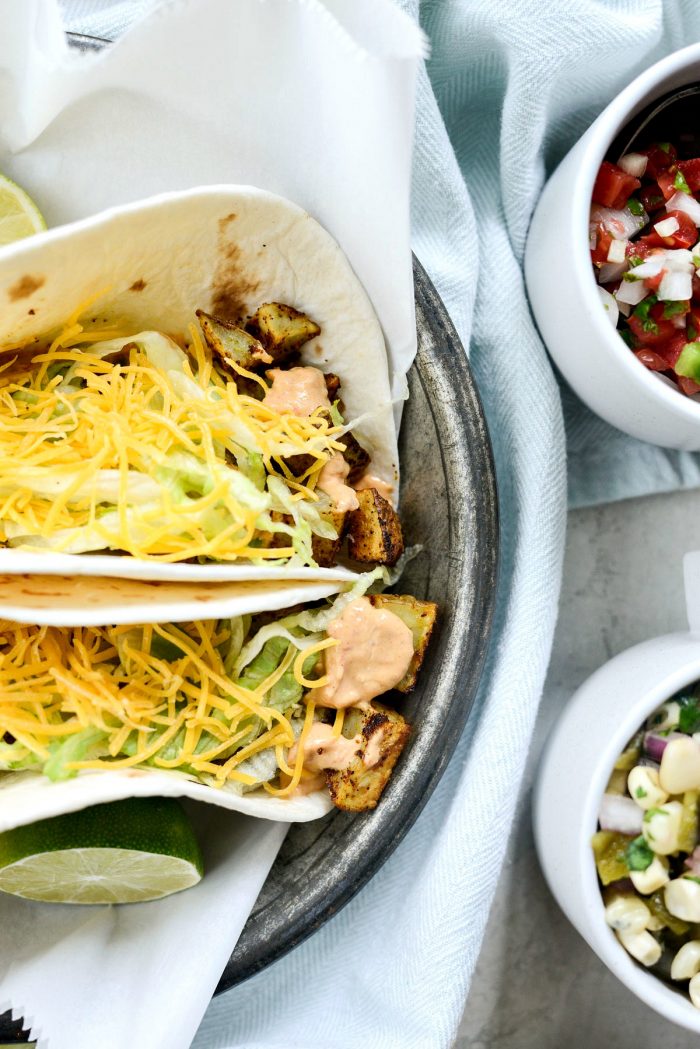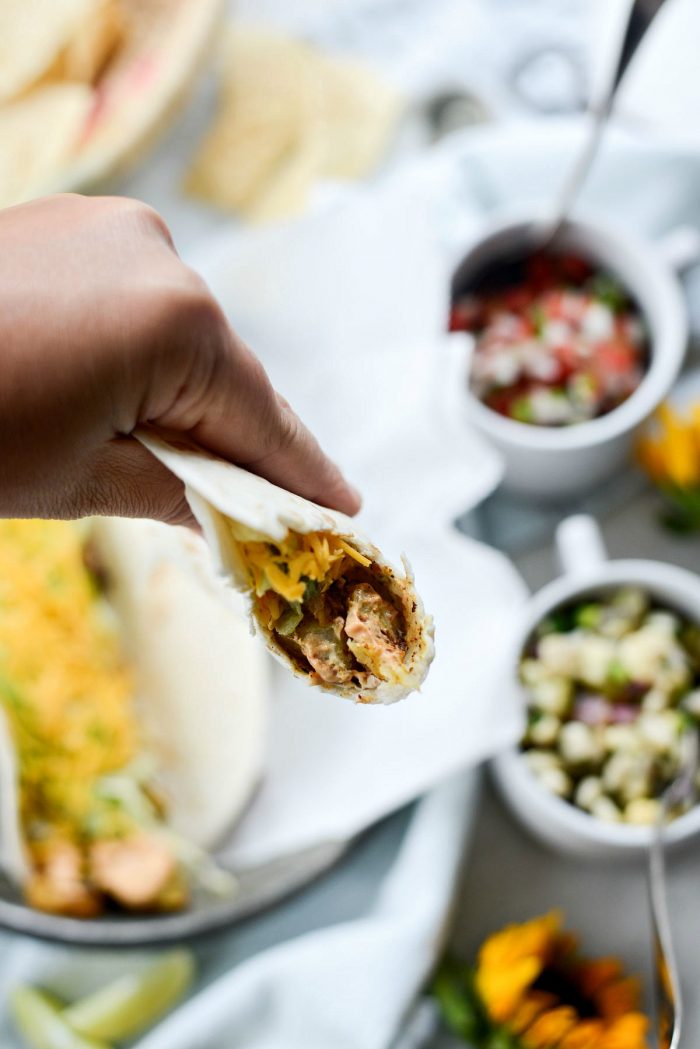 This post may contain affiliate links.
Buy the Cookbook: Simply Scratch : 120 Wholesome Homemade Recipes Made Easy Now available on Amazon »
THANK YOU in advance for your support!