These Pigs in a Blanket with Jalapeño Mustard Dip will no doubt be a hit at your next party! Smoked sausages and cheddar cheese are rolled up in puff pastry and sprinkled with homemade everything (but the bagel!) seasoning before being baked. Once dunked in this mouthwatering jalapeño mustard dip it becomese ultimate snack!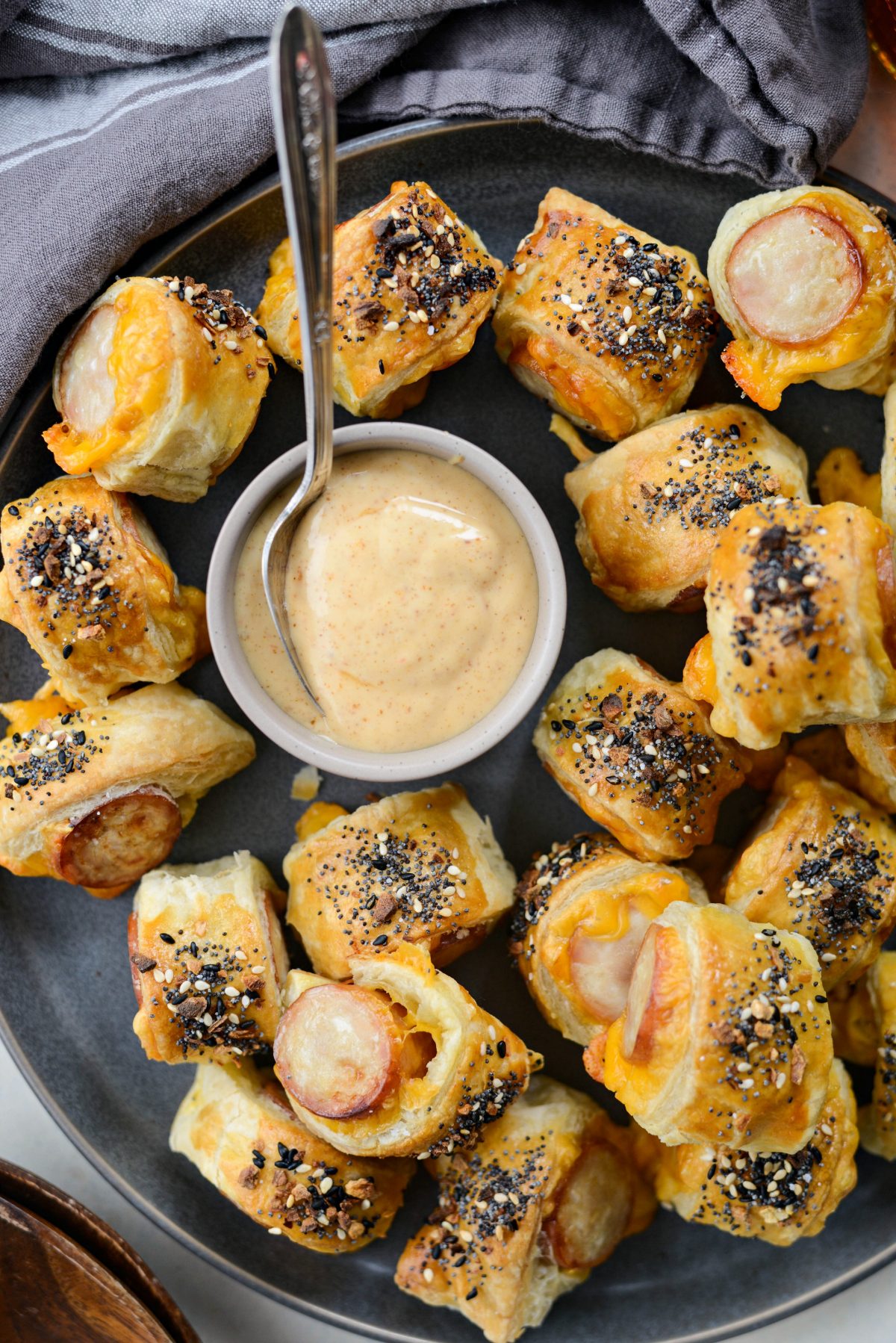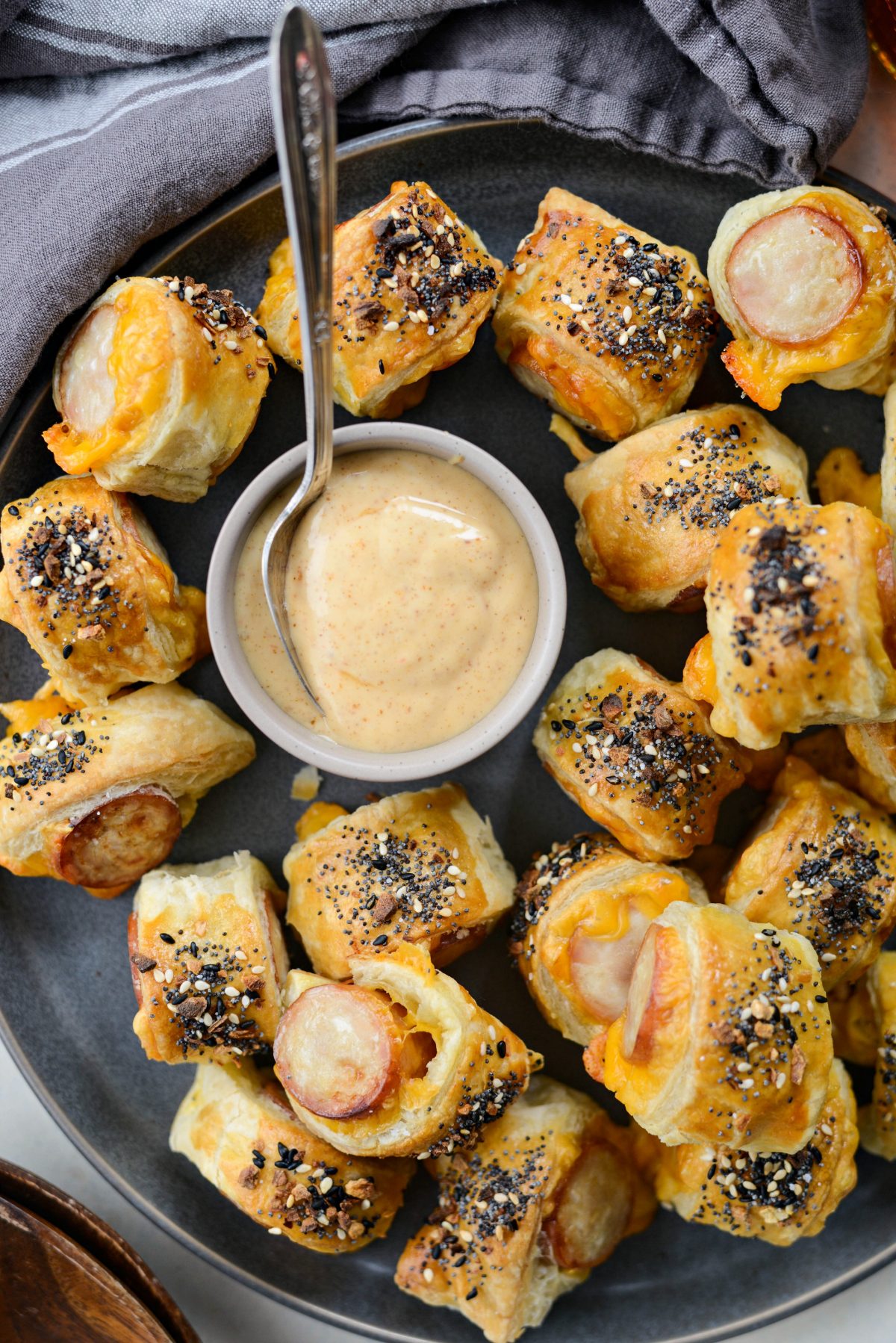 Pigs in a blanket! You guys, these are one of my favorite appetizers-slash-snack-slash-was-my-dinner-last-night! Since my mother-in-law introduced be to a similar breakfast pigs in a blanket, I've been obsessed. So much in fact, that I dreamed up a savory version.
In it, smoke sausage [I'm using chicken sausage] and cheddar are rolled up nice and snug in puff pastry, brushed with egg and sprinkled with everything (but the bagel!) seasoning. And if this two-bite appetizer wasn't already perfect, I whipped up a super simple jalapeño mustard dip.
So whether it's for a small crowd or dinner for two (I'm just sayin' it happens sometimes!) these pigs in a blanket will be a hit. Promise.
To Make These Pigs In A Blanket You Will Need:
puff pastry
cooked smoked sausages (around 1 pound)
sharp cheddar cheese
egg
mayonnaise
spicy brown mustard
jalapeño jelly
Note: I am using fully cooked smoked chicken sausages. If you're using raw sausages you will want to cook them fully and allow them to cool COMPLETELY before assembling. This will also affect prep times.
Make the jalapeño mustard dip first to get that out of the way and in the fridge. Start by adding 2/3 cup mayonnaise, 1/4 cup spicy brown mustard and the (heaping) 2 tablespoons jalapeño pepper jelly. Whisk to combine, cover and chill.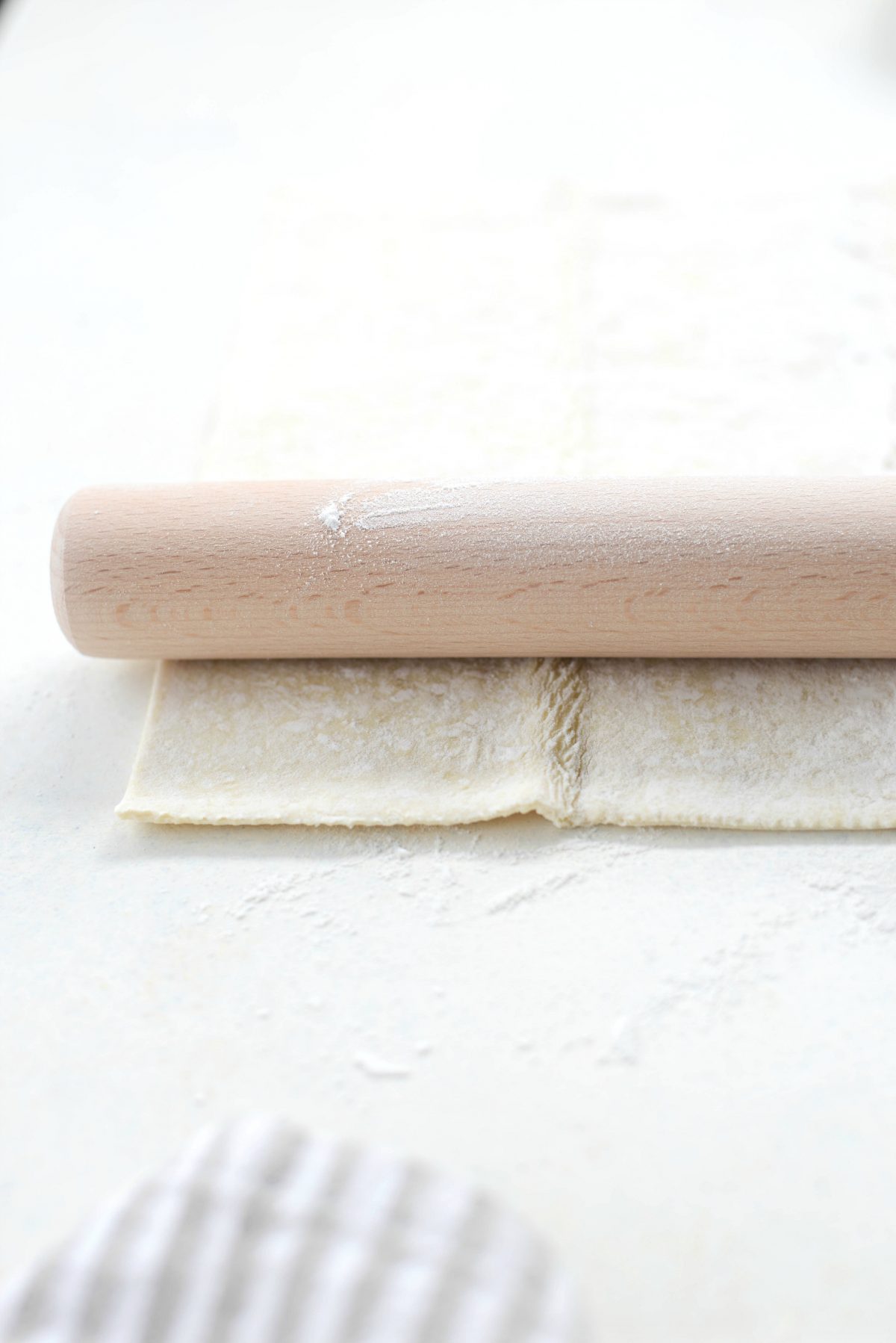 Next, remove 1 sheet of puff pastry from your freezer 20 to 30 minutes prior to give it chance to thaw. Doing this will allow you to roll it out easier. With that said, on a lightly floured surface, roll the puff pastry out until 1/8th of an inch thick.
Then cut the dough into thirds along the visible fold lines. Next, sprinkle the 3-1/2 ounces of cheese on the bottom half of each row.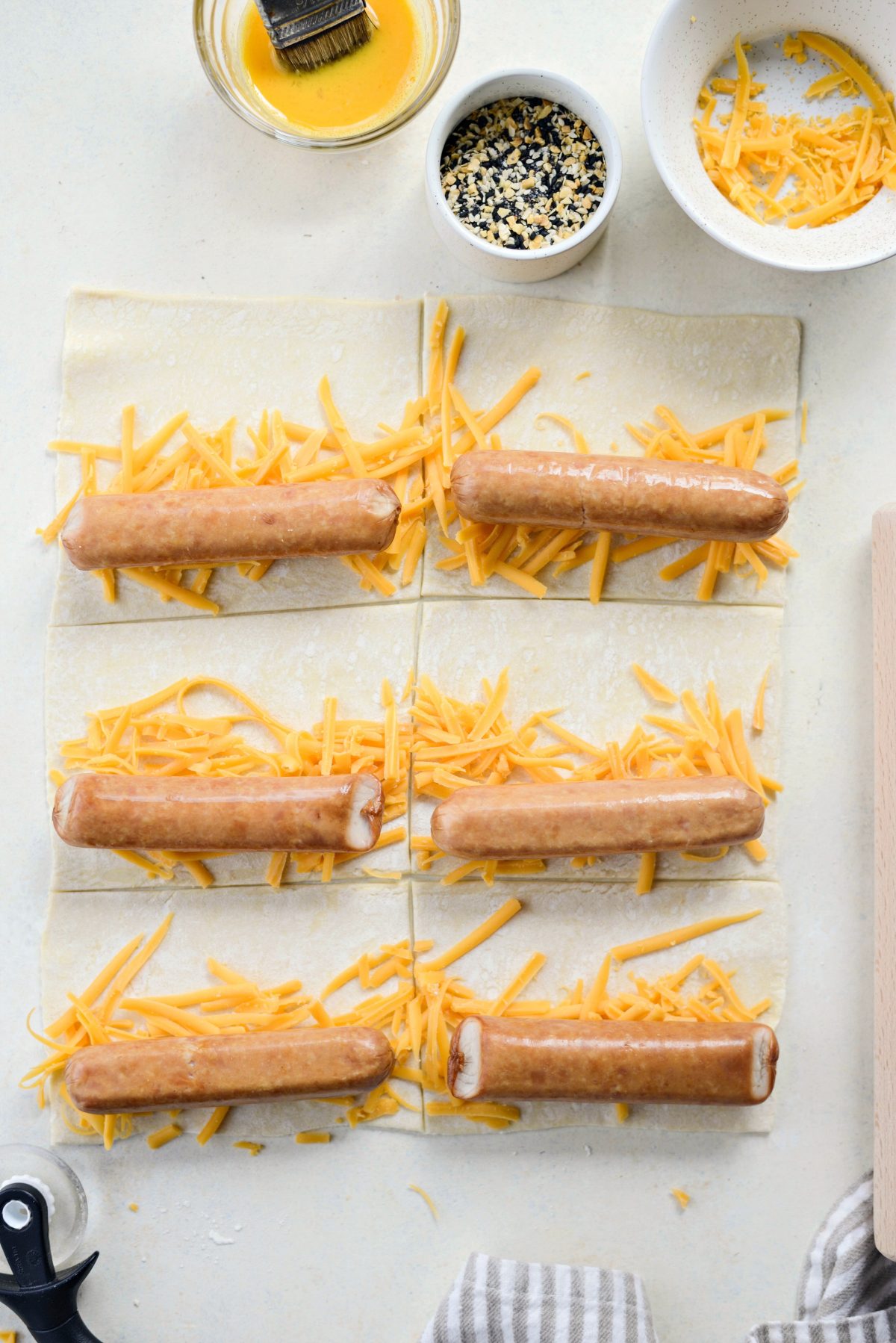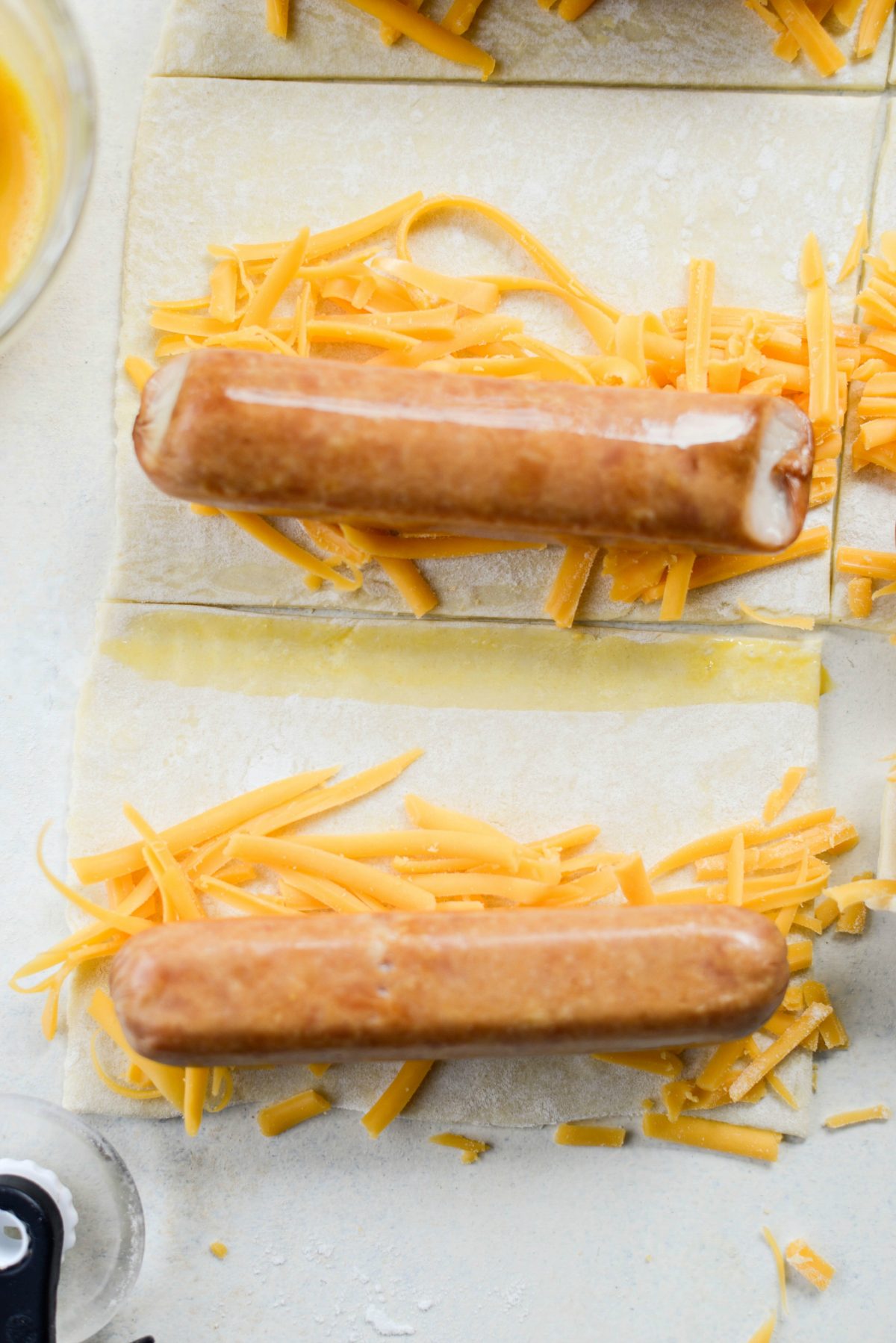 Then place the 6 [fully cooked] smoked sausages on top of the cheese and then, going the opposite direction, cut the three rows in half and brush the top portion with egg wash. Starting on the cheese and sausage side, roll the sausages up and use the egg washed side to seal.
Slice each rolled sausage into fourths and place on a smaller rimmed baking sheet. Freeze for 20 minutes. Doing this will refreeze the puff pastry so it will be flakey when baked. You don't want to skip this step.
Meanwhile preheat your oven to 400°.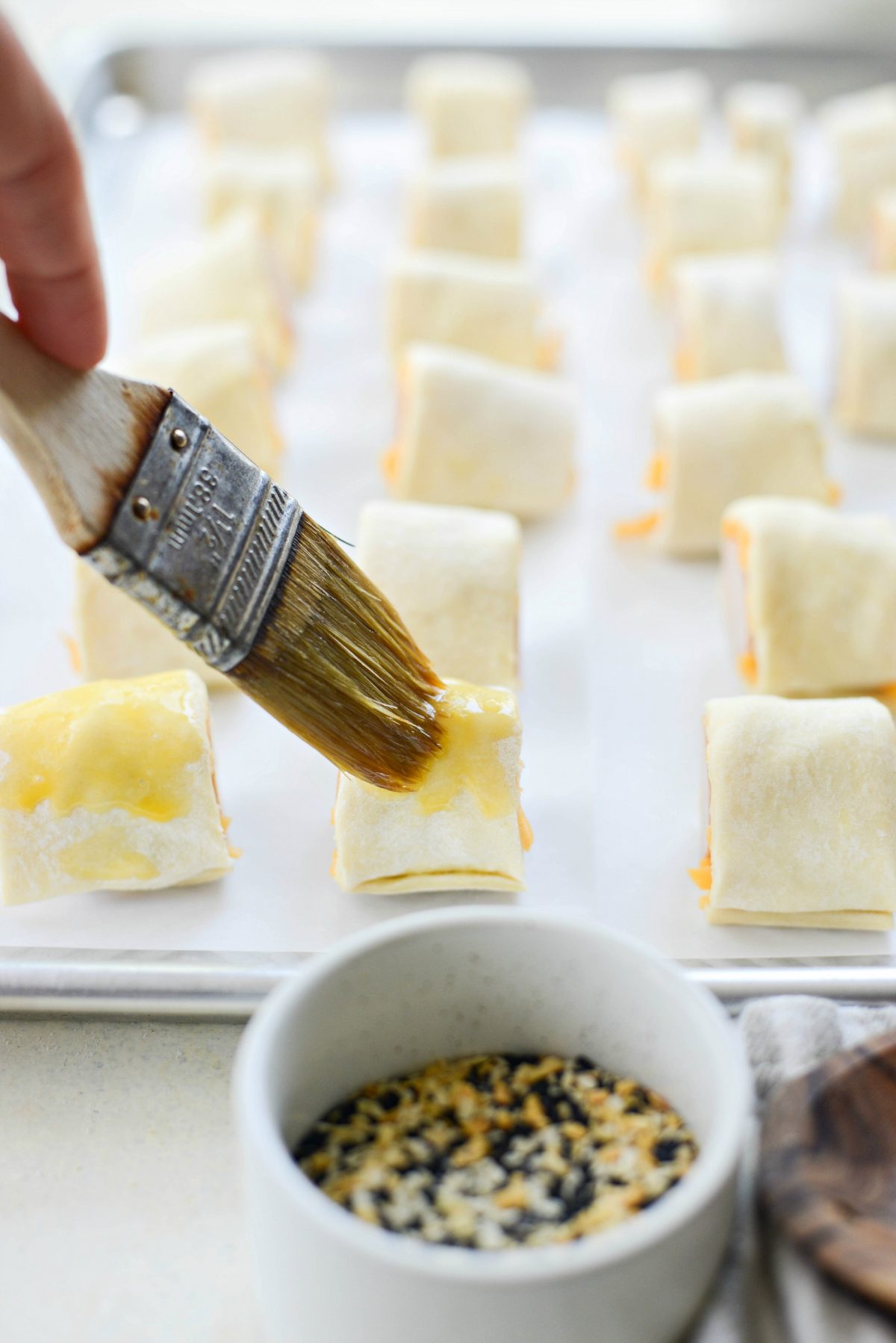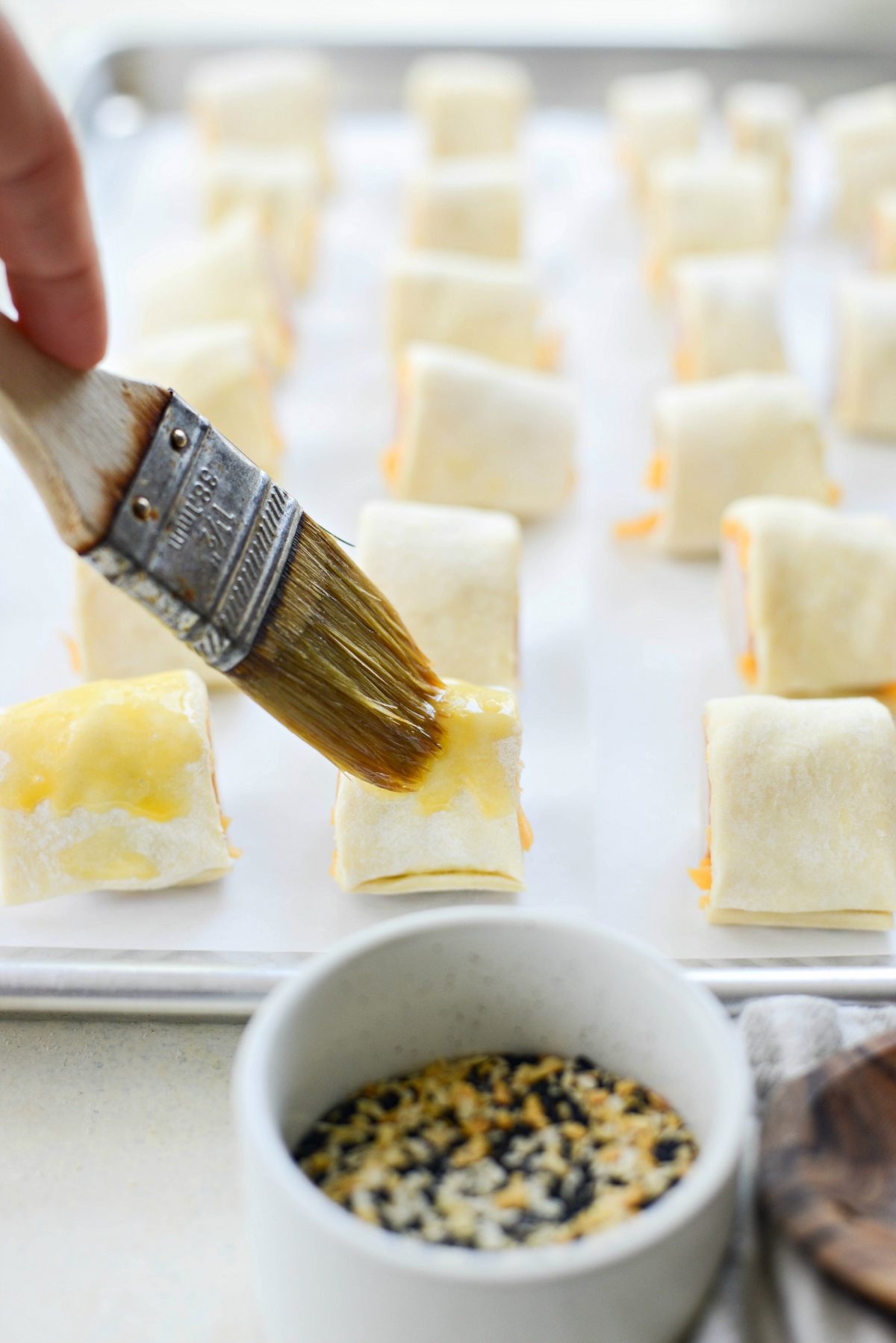 Once the pigs in the blanket are frozen, remove and place them onto a parchment lined large rimmed metal baking sheet. Brush with egg wash and sprinkle with everything seasoning and kosher salt.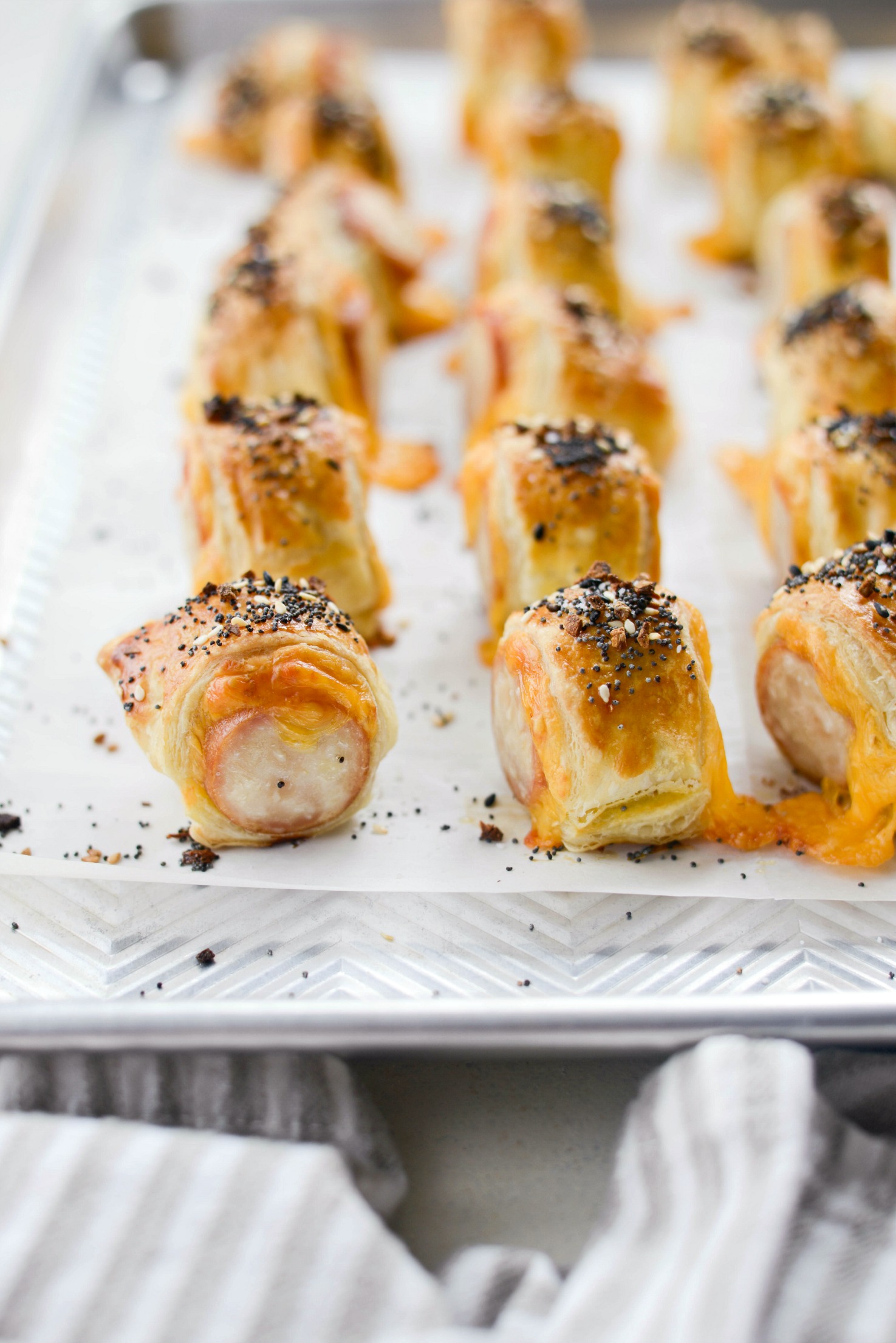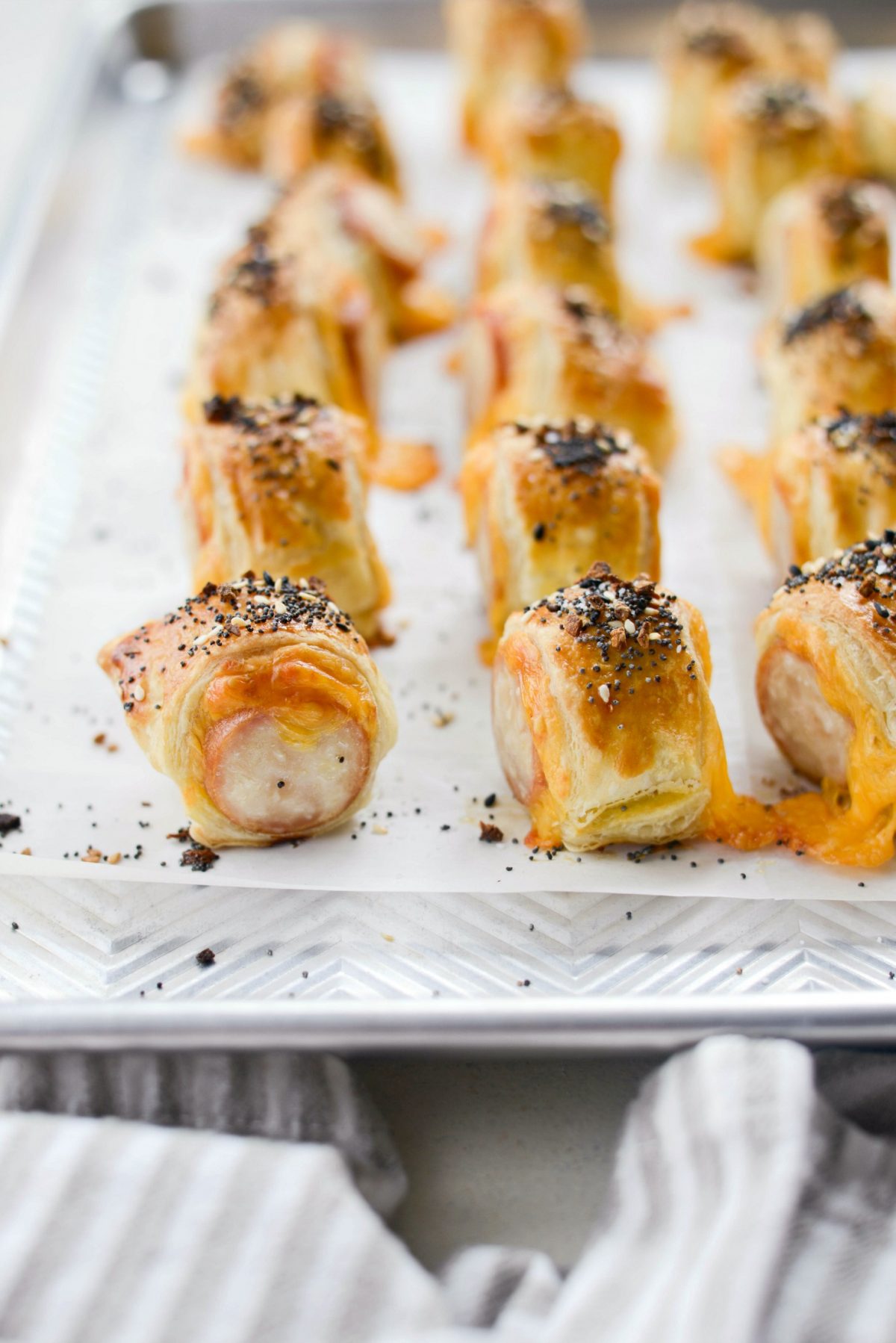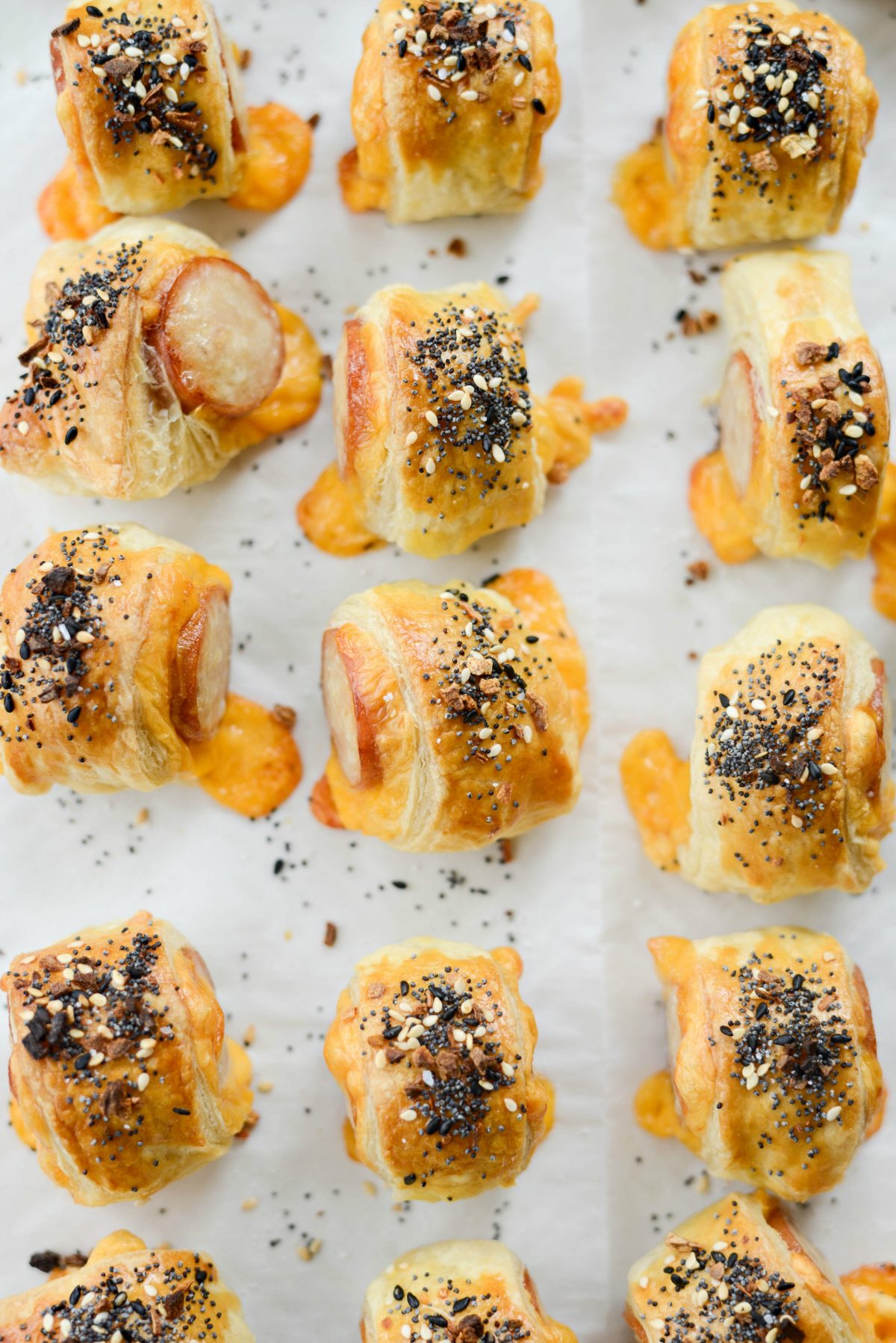 Lastly, bake on the middle rack of your preheated oven for 20 to 25 minutes or until the pastry is golden and flakey and the cheese is melted.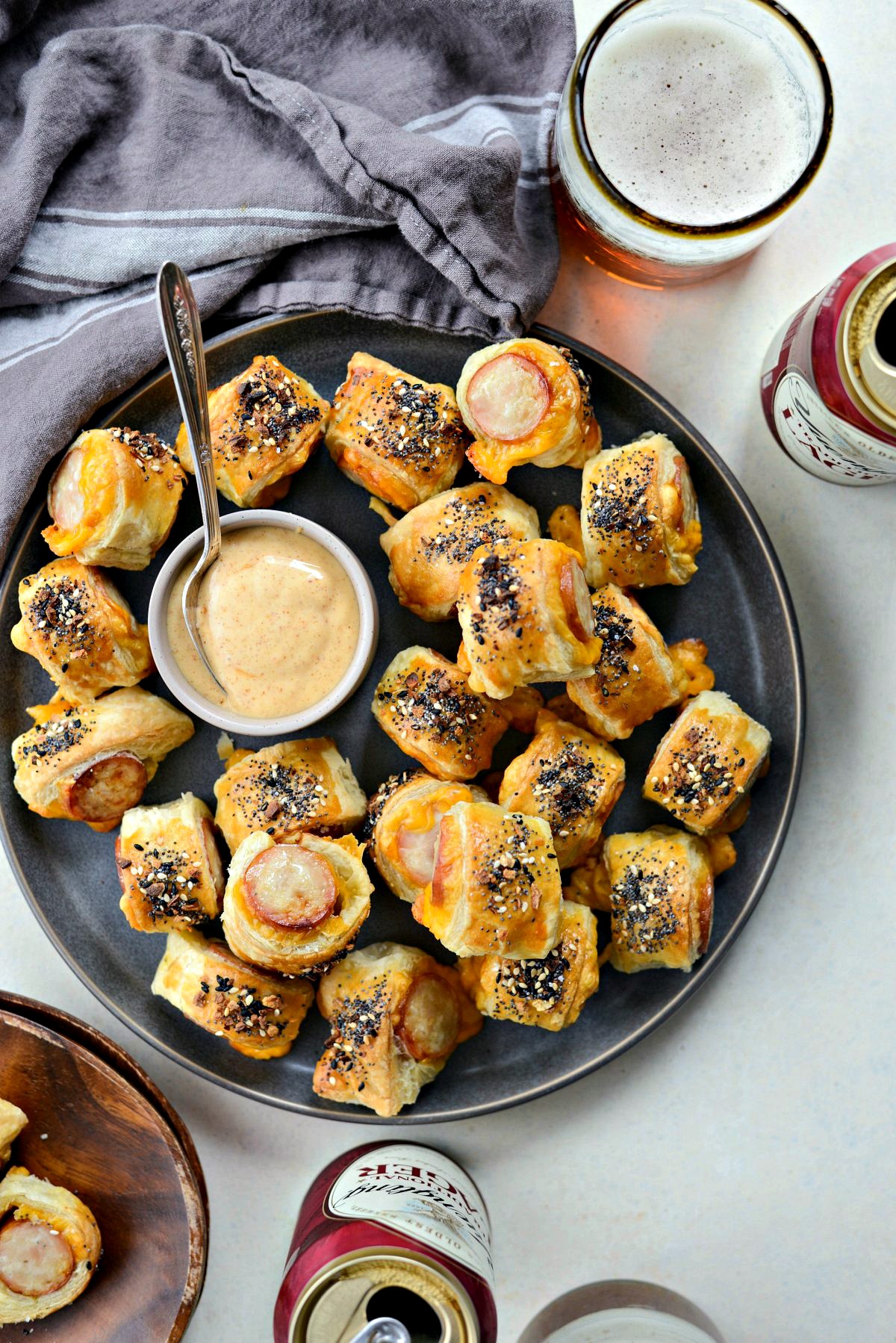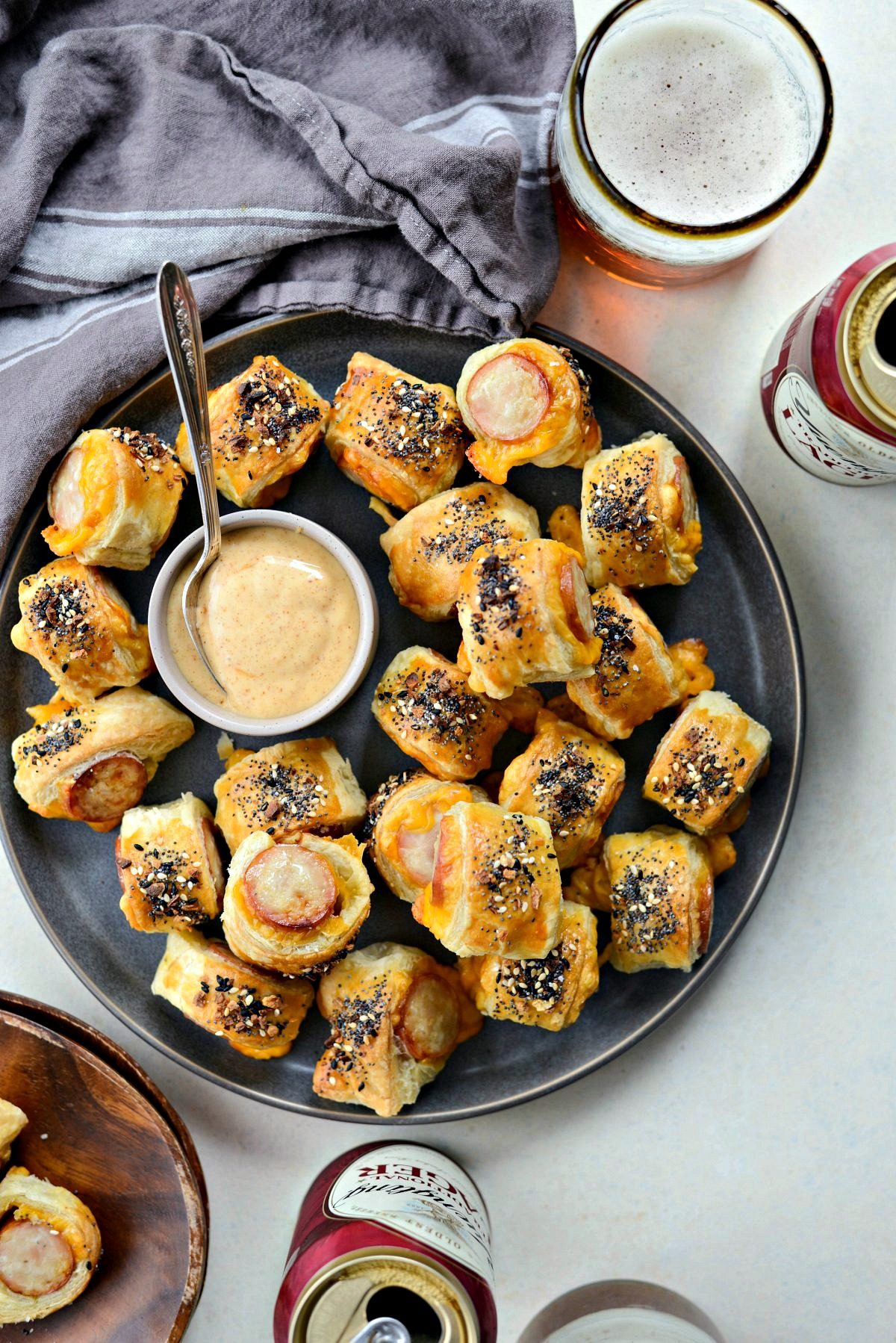 Serve on a platter with a bowl of the jalapeño mustard dip and your favorite icy cold beverage.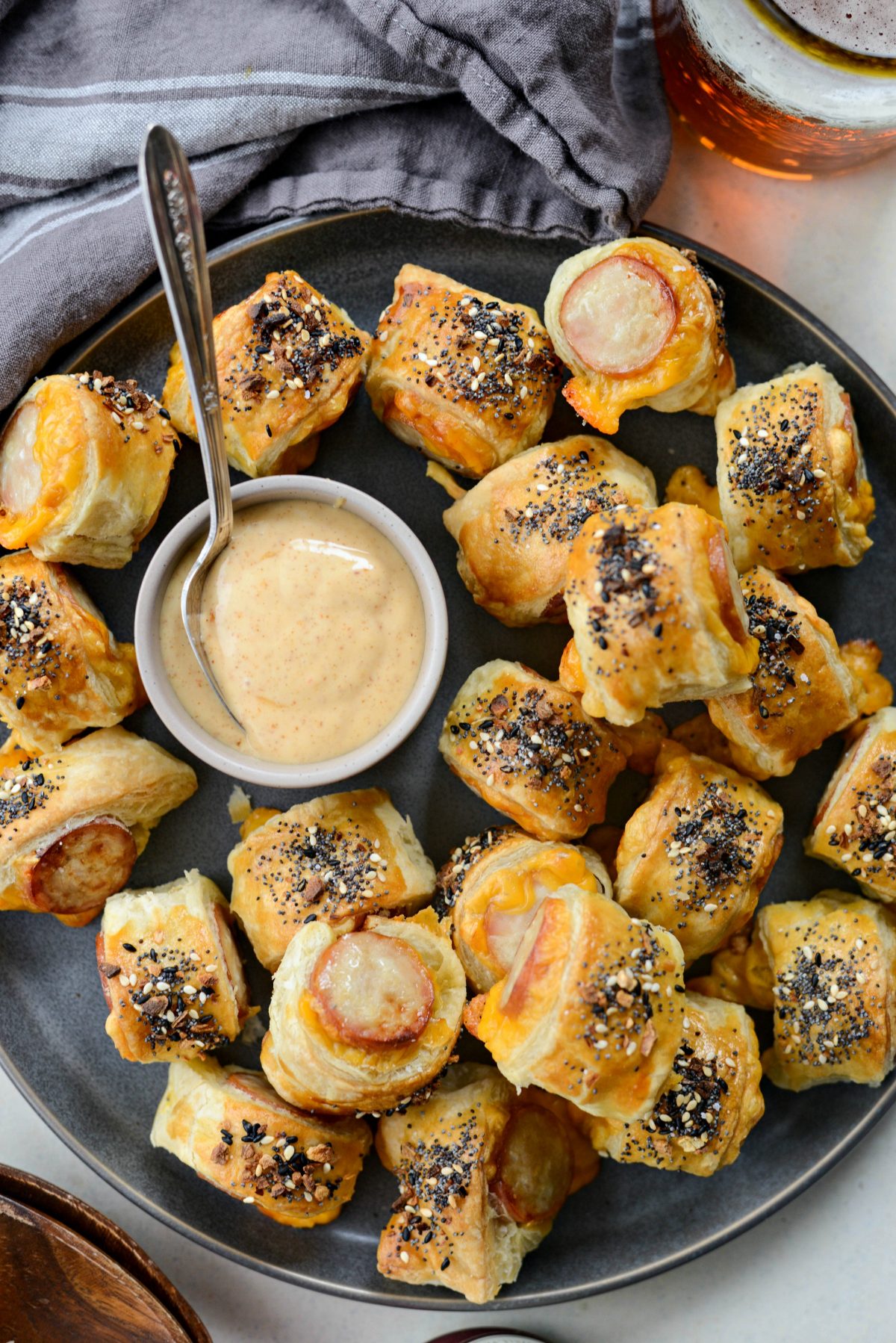 Such a phenomenal snack or app. Since I shot this recipe during the day and no one was home and somehow managed not to eat them all. I saved them and reheated them in my air fryer and they were perfect!
The mustard dip wasn't crazy spicy and more zingy than anything. It worked beautifully with the smoked sausage.
Winner-winner pigs in a blanket for dinner.
Enjoy! And if you give this Pigs In A Blanket recipe a try, let me know! Snap a photo and tag me on twitter or instagram!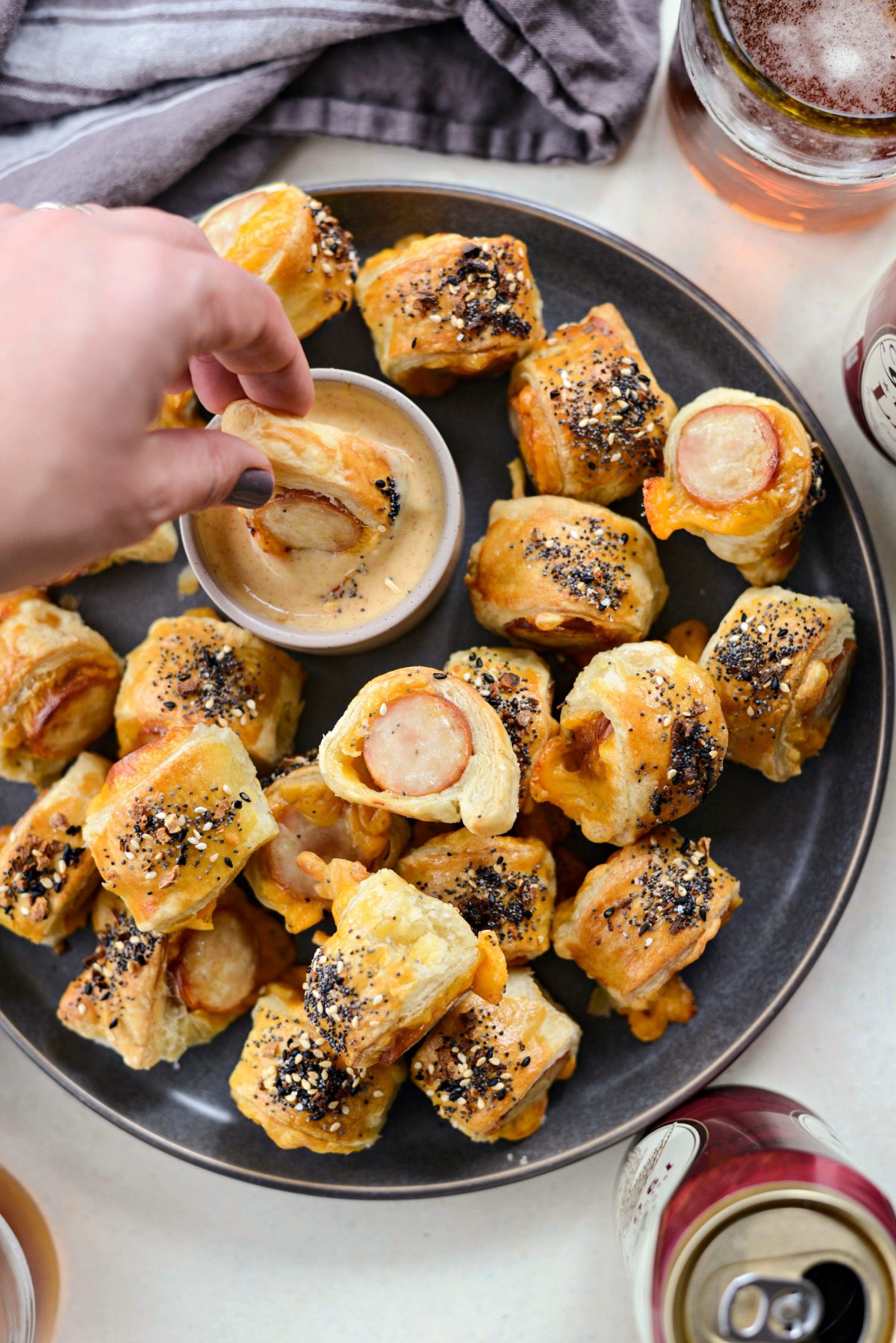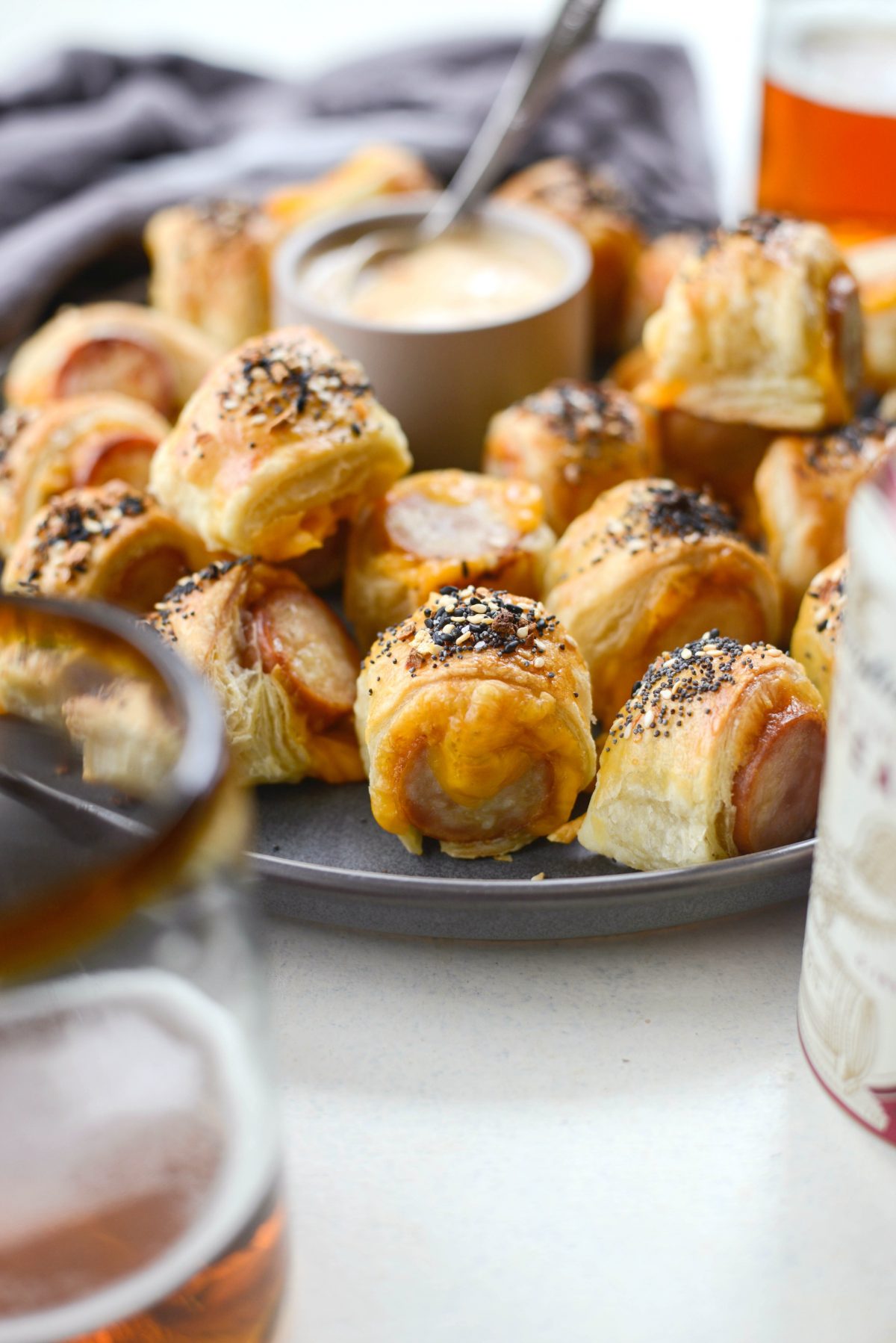 This post may contain affiliate links.
Buy the Cookbook: Simply Scratch : 120 Wholesome Homemade Recipes Made Easy Now available on Amazon »
THANK YOU in advance for your support!