This No-Knead Rustic Bread Loaf is one of the easiest bread recipes. It starts with flour, salt, yeast and water, add in a little time plus a hot dutch oven equals one crusty rustic loaf!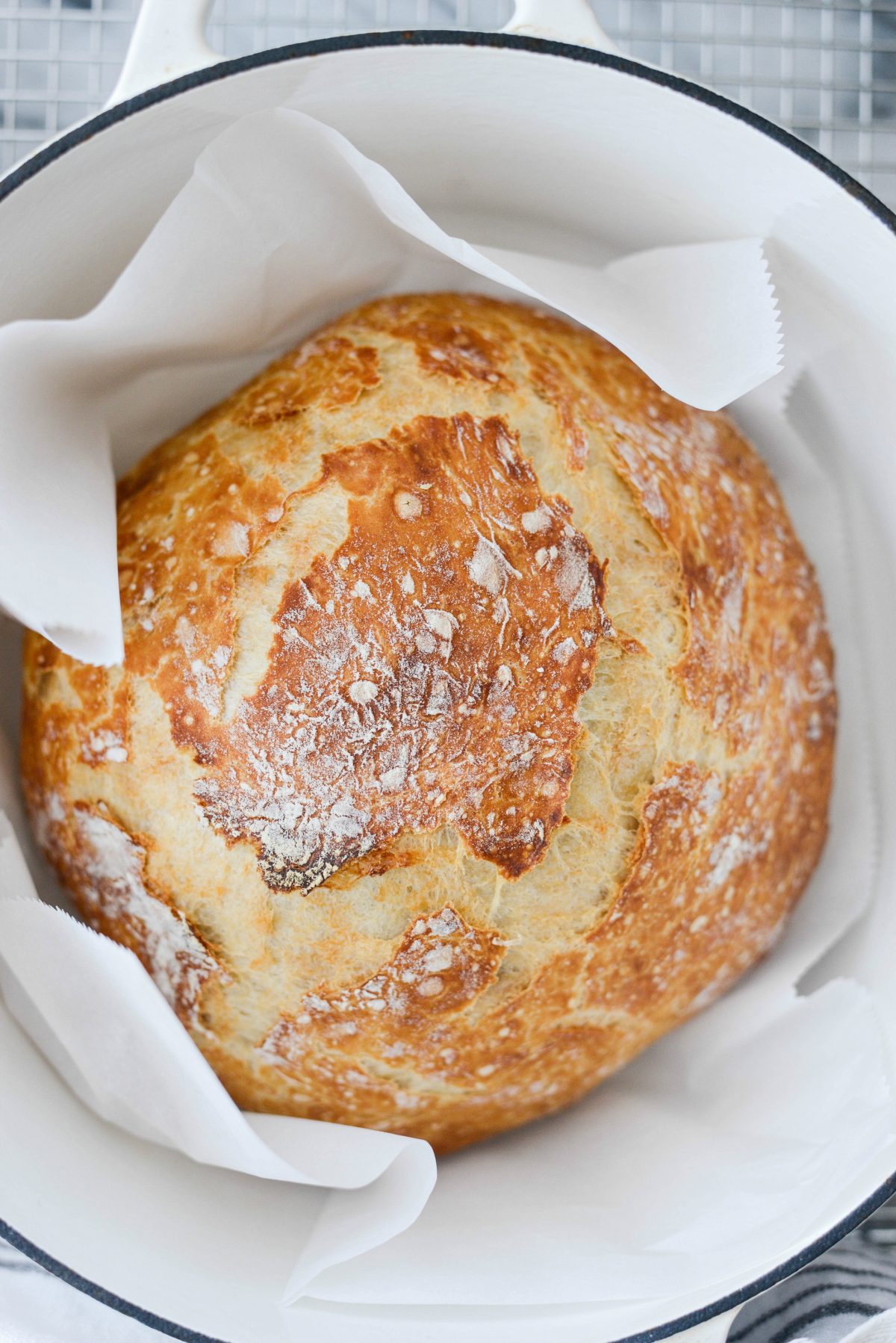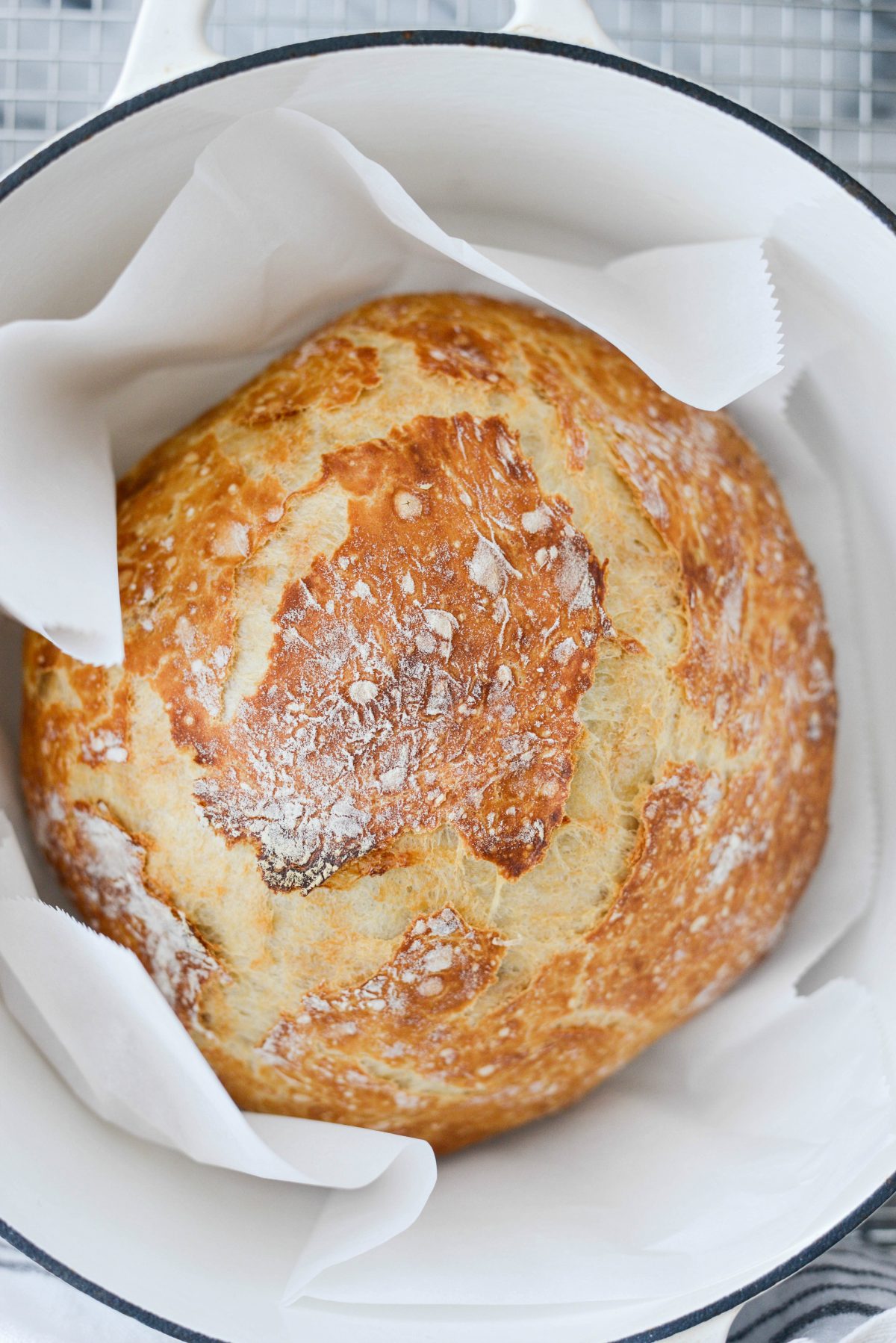 Here's the math: 4 ingredients + 24 hours + a hot dutch oven = 1 rustic bakery loaf of bread. I have literally purchased bread that looked exactly like this. However this no-knead bread tastes a gazillion times better. Plus what is better than the smell of bread baking in your home? Nada.
The crust is crisp and even has those tiny little air bubbles on the exterior. The inside is tender and soft with lots of chewy goodness and just waiting for a slather of butter or to stack with leftover corned beef.
Got 24 hours? Make this rustic bread or maybe ciabatta?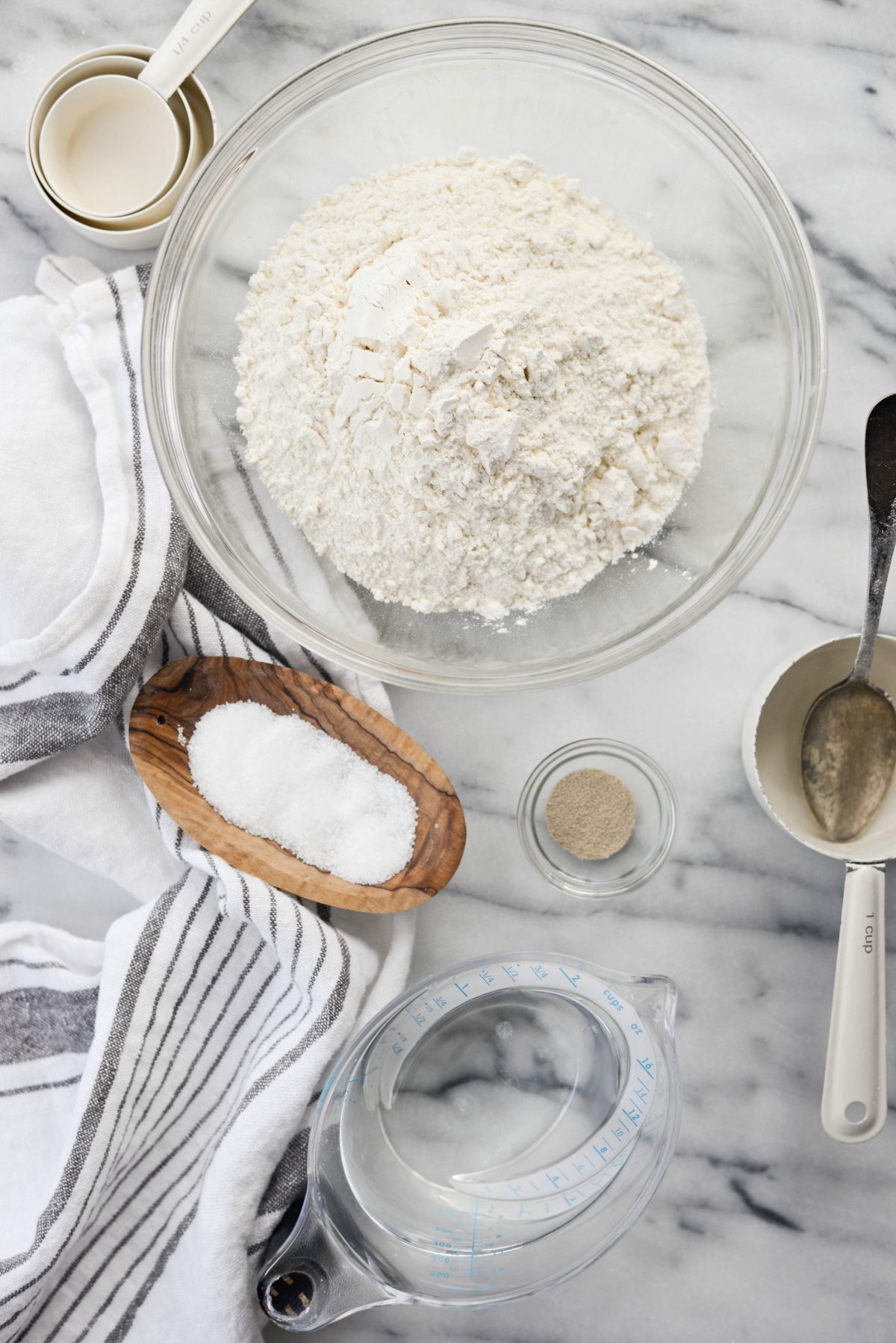 To Make This Rustic Bread Loaf You Will Need:
3 cups bread flour
1-1/2 teaspoons kosher salt
3/4 teaspoon active dry yeast
1-1/2 cups warm water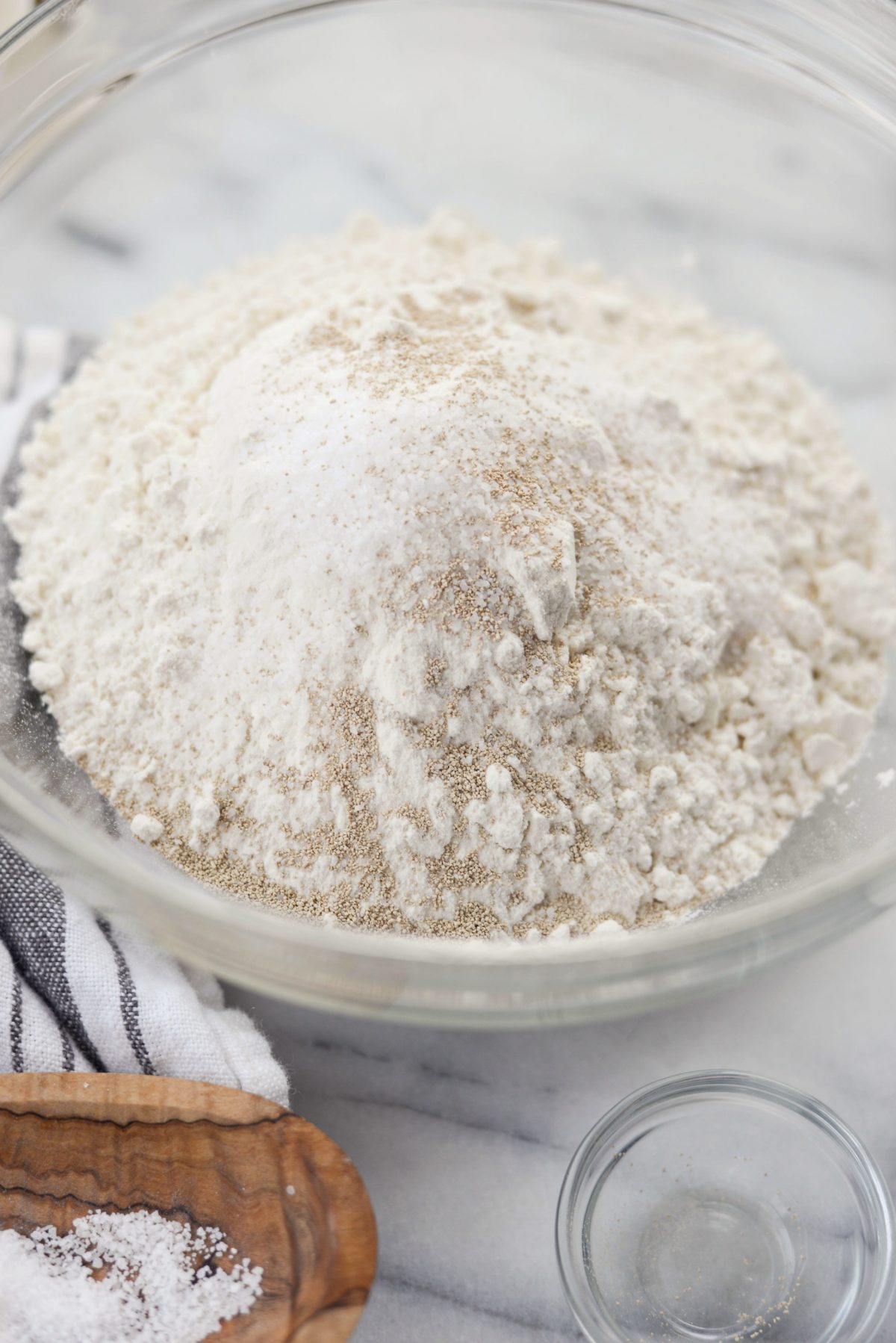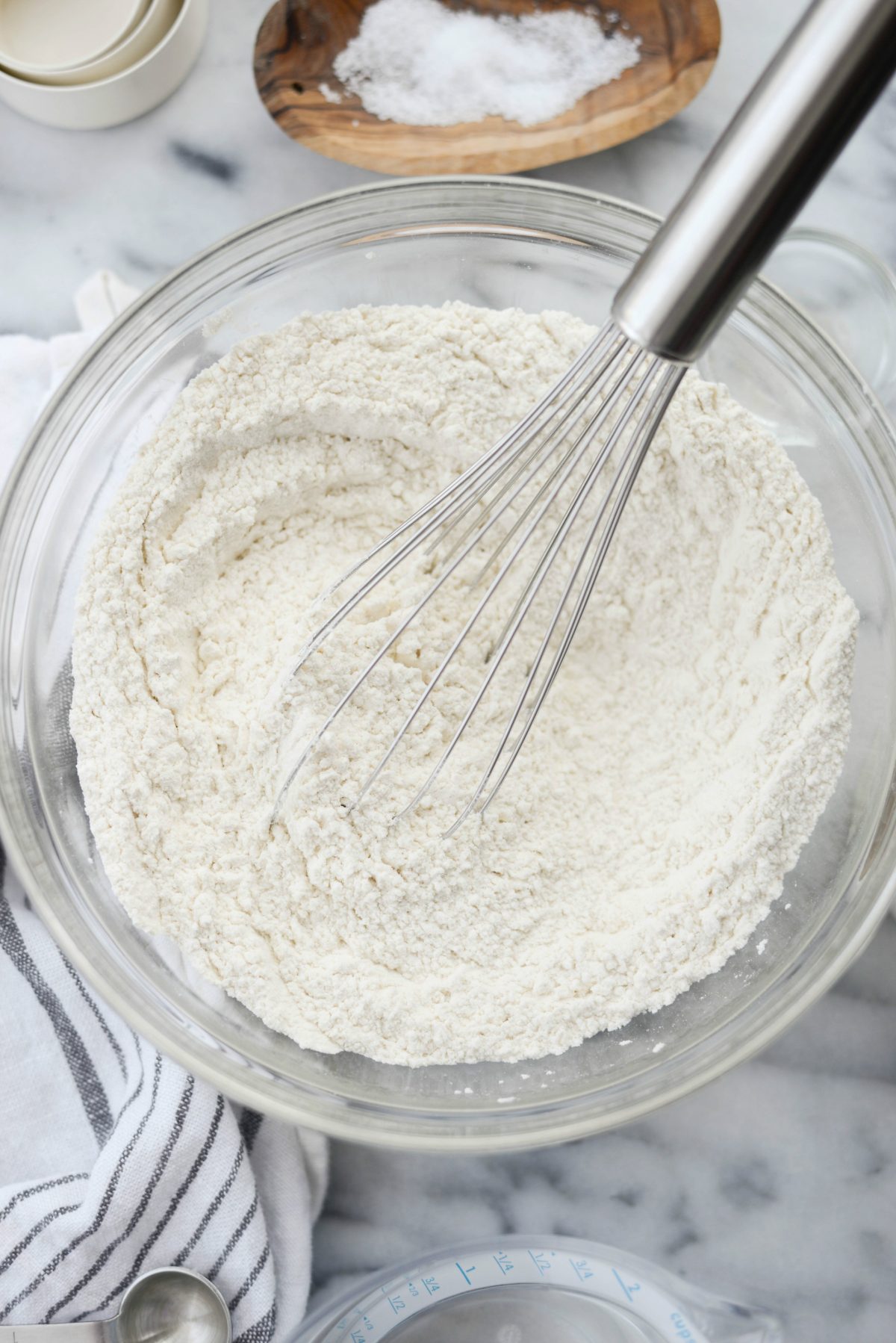 First, in a large mixing bowl, measure and add in the flour, salt and yeast. Then whisk to combine.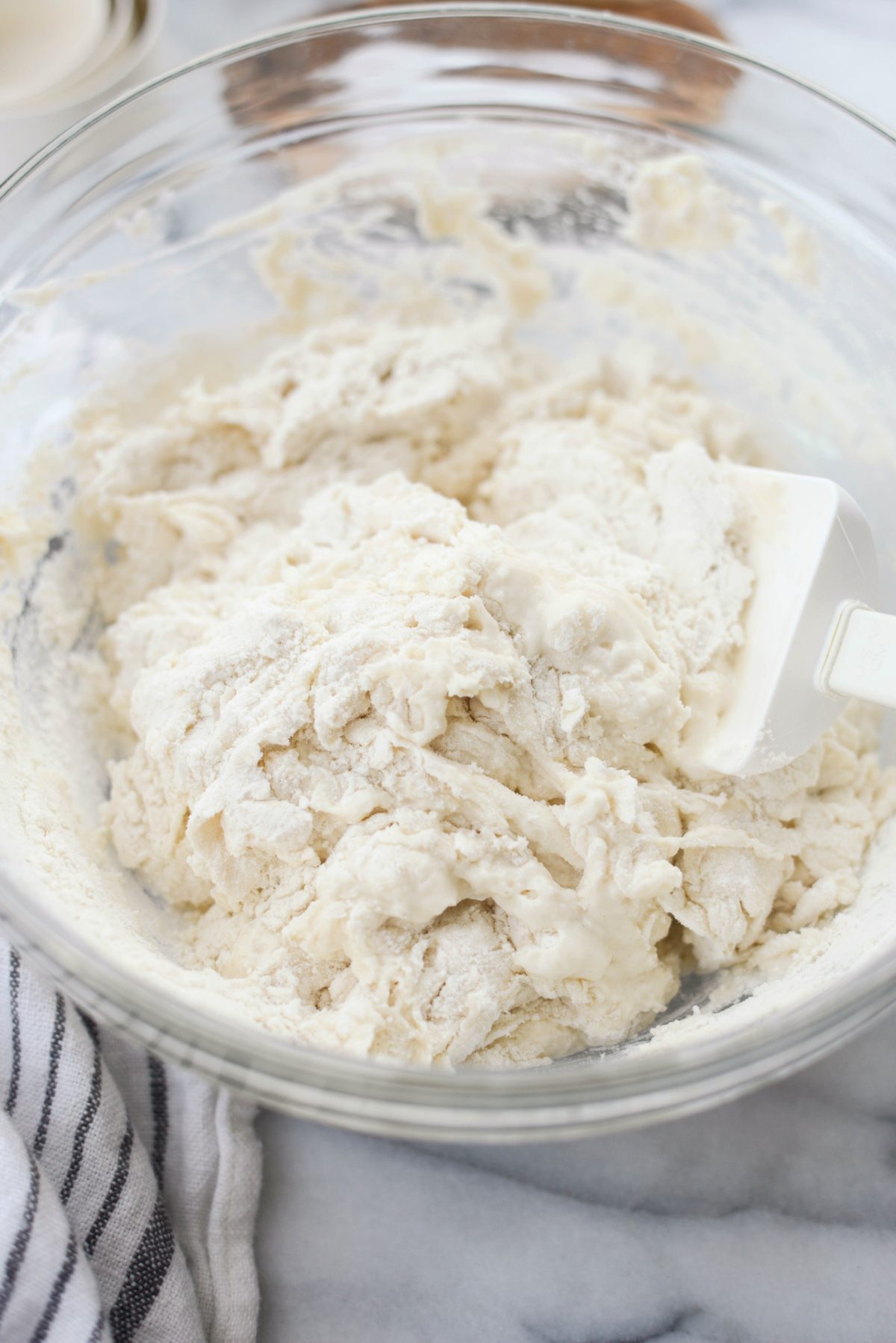 Next pour in the water and use a rubber spatula and mix. It will start to form a shaggy dough but keep going until all the flour is incorporated.
Lastly, cover the bowl tightly with plastic wrap and set it out on your counter for 18 to 24 hours. No more mixing, stirring and definitely no kneading until tomorrow.
The next day, place a round dutch oven (with lid) on the lowest rack of your oven. Then preheat your oven (with the dutch oven inside) to 450°. I set a timer for 20 minutes from the very start to make sure the pot gets hot.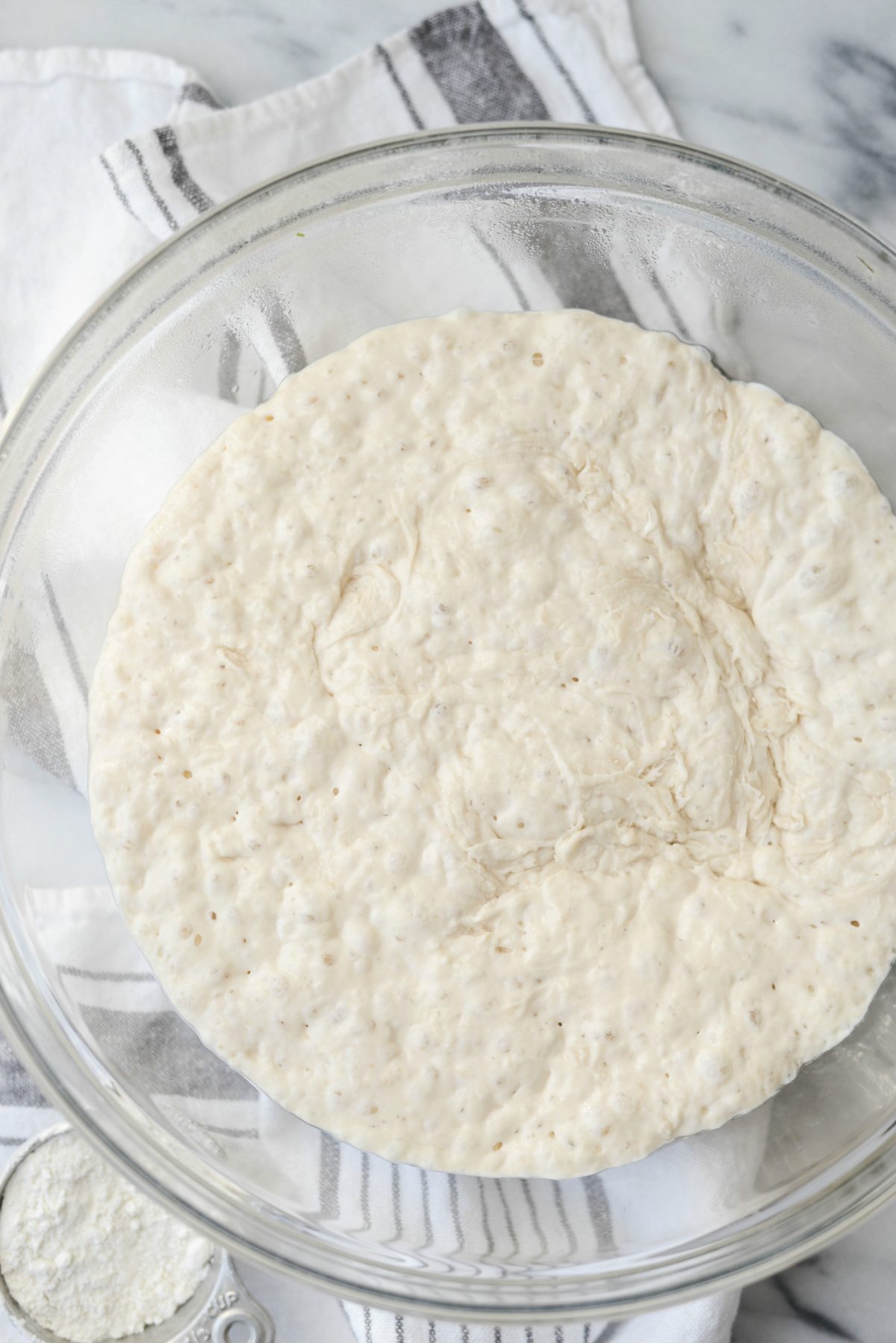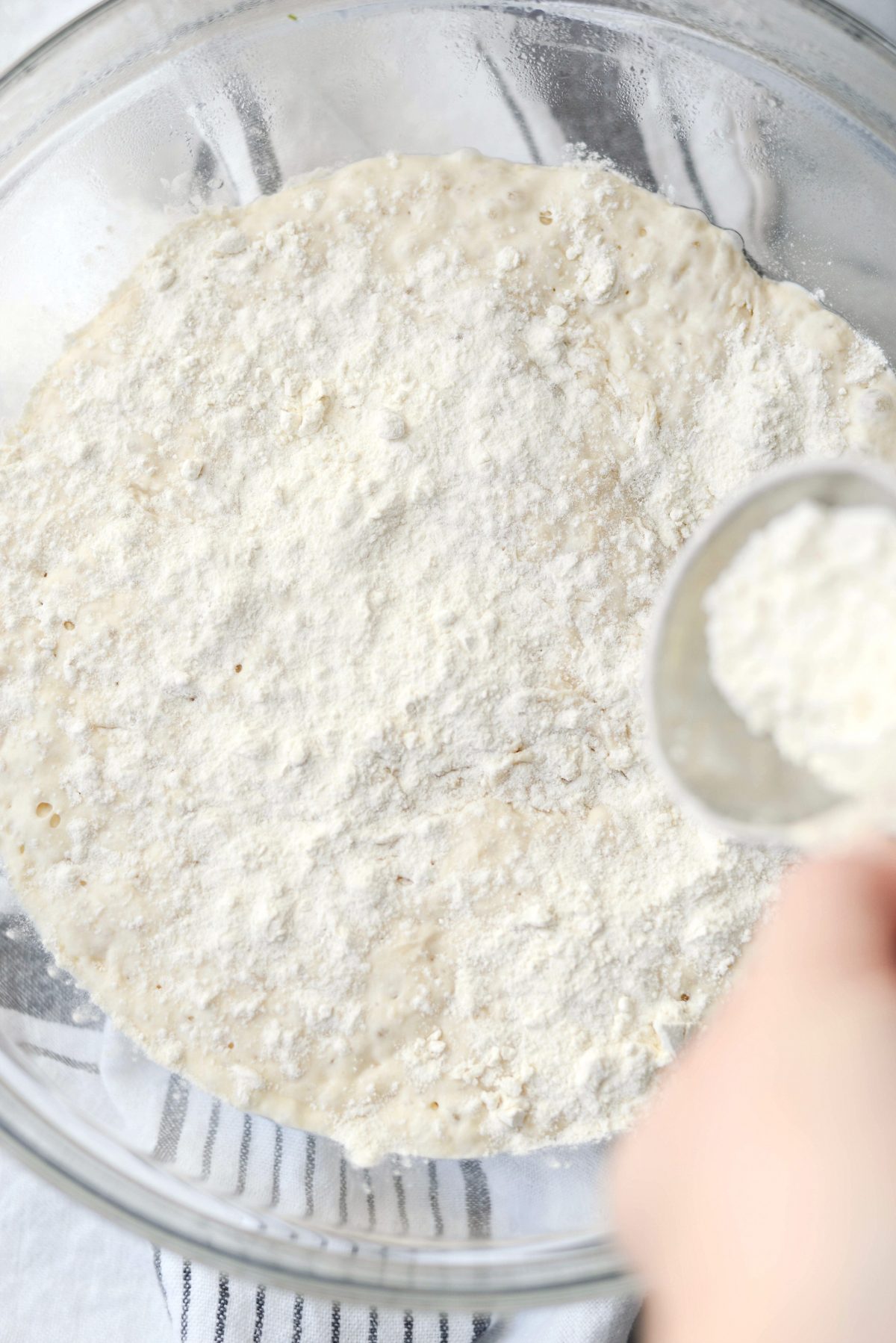 Meanwhile, remove the plastic wrap. The dough will be pretty sticky, therefore sprinkle with a few tablespoons of flour over top of the dough.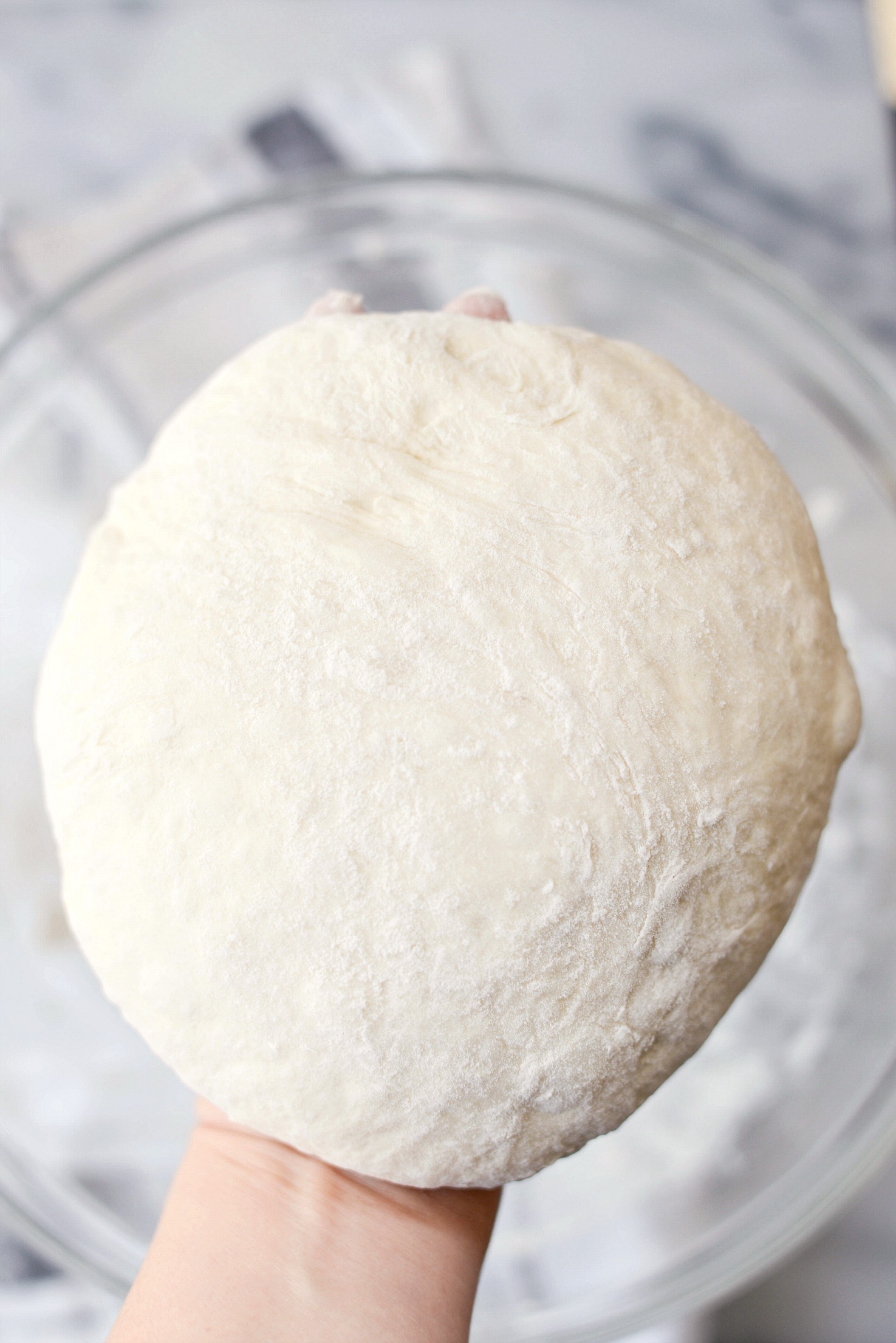 Then use a rubber spatula to scrape the sides of the dough, working your way around and underneath. Next, with floured hands, shape it into a ball.
Then, using oven mitts, remove the dutch oven and the lid. Next, carefully place the loaf into the hot dutch oven and because the pot is still hot, use mitts, replace the lid and slide the covered pot back into your oven to bake for 30 minutes.
After baking the bread for 30 minutes, remove the lid to the dutch oven and continue to bake for 15 to 20 minutes or until the exterior is deeply golden brown.
Next, remove and transfer the loaf to a wire rack and cool completely. Because the dutch oven is screaming hot the bread should't stick.
It's pretty magical, I'm not going to lie.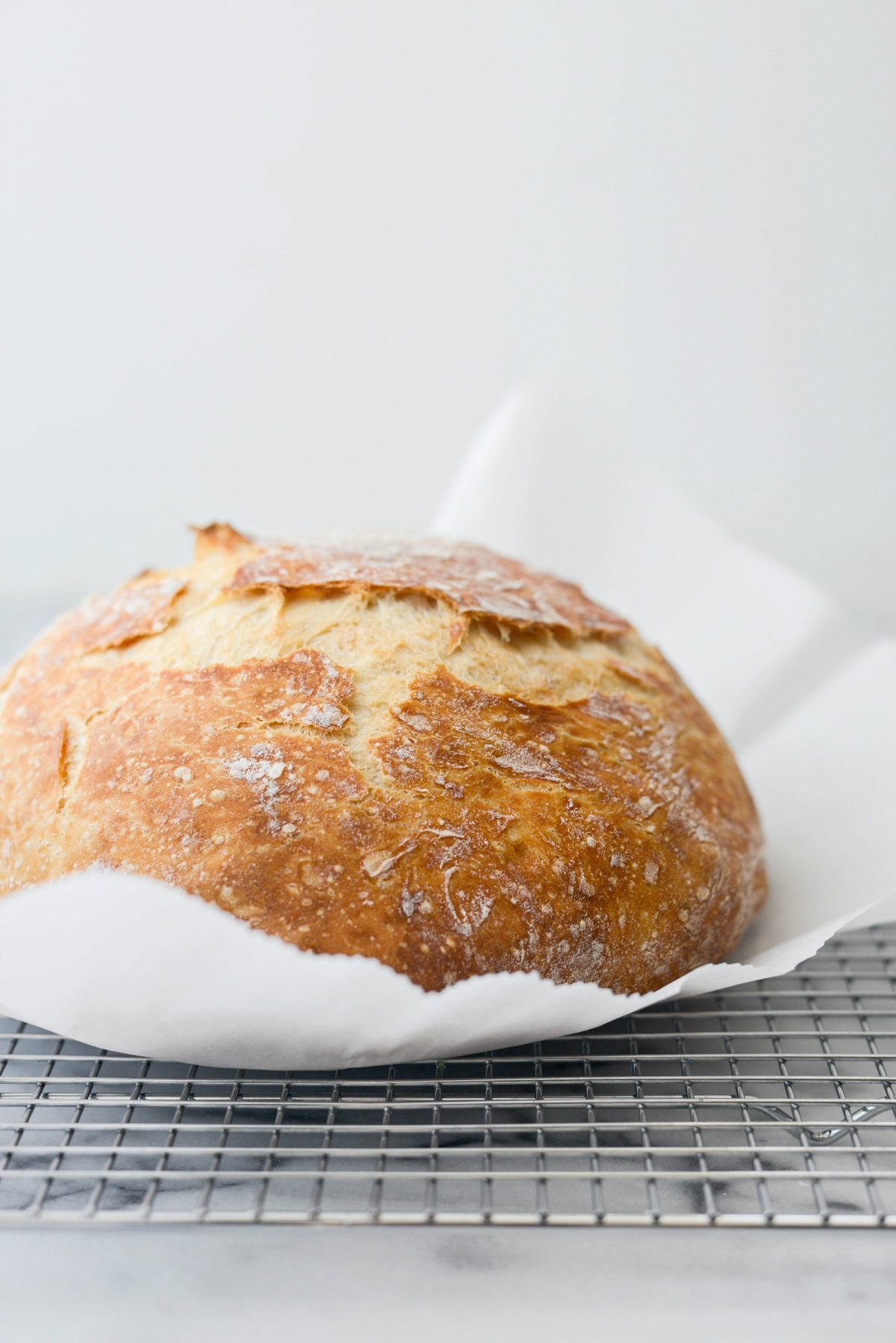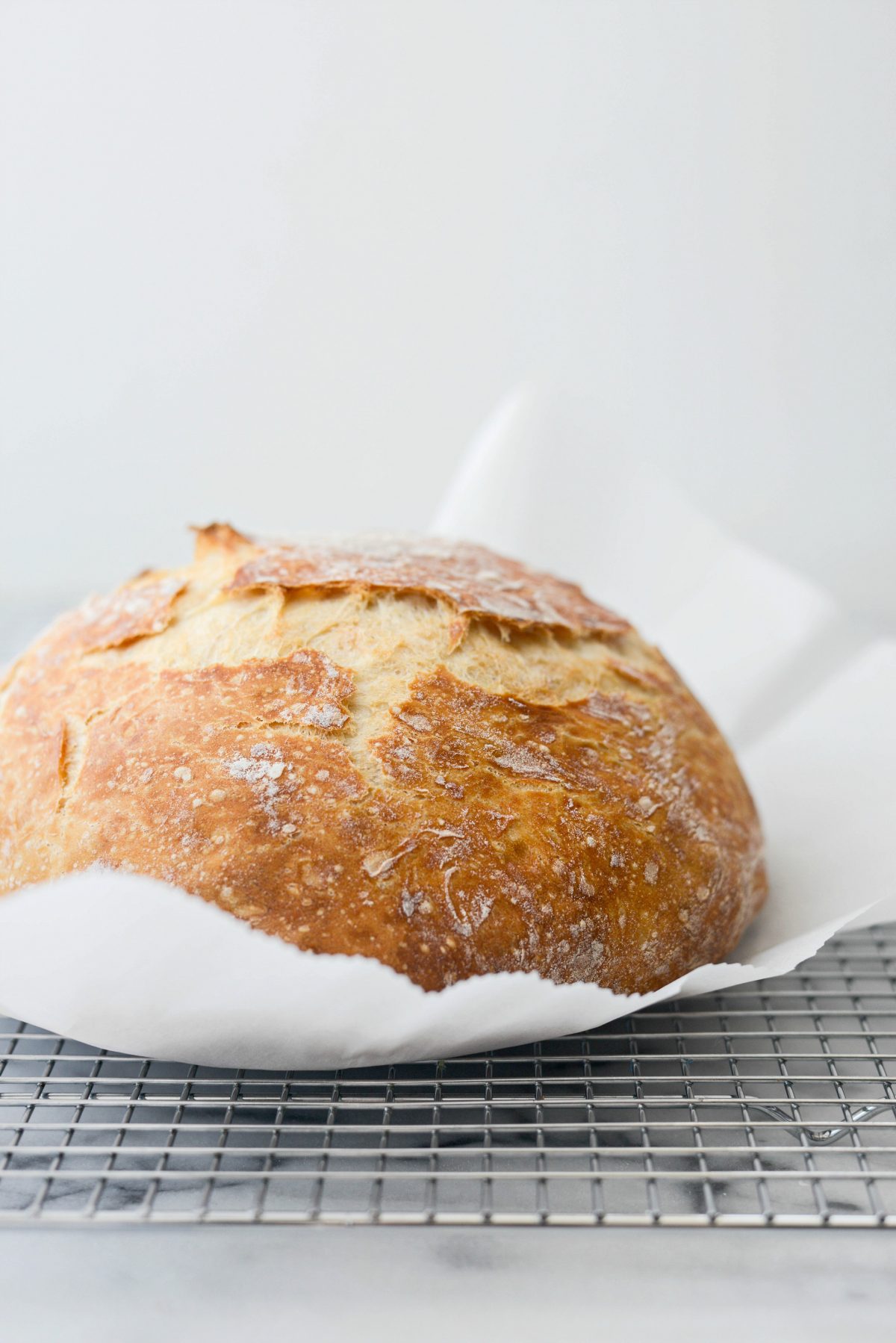 Lastly, once the rustic bread loaf has cooled, use a bread knife and slice before swiping in butter 😉
Enjoy! And if you give this Rustic Bread Loaf recipe a try, let me know! Snap a photo and tag me on twitter or instagram!
This post may contain affiliate links.
Buy the Cookbook: Simply Scratch : 120 Wholesome Homemade Recipes Made Easy Now available on Amazon »
THANK YOU in advance for your support!