This Guinness Beef Pot Pie is full of tender beef and vegetables in a thick, rich and flavorful stout gravy and topped with an Irish cheddar pie crust. This delicious St. Patrick's Day pot pie will serve 8 generously.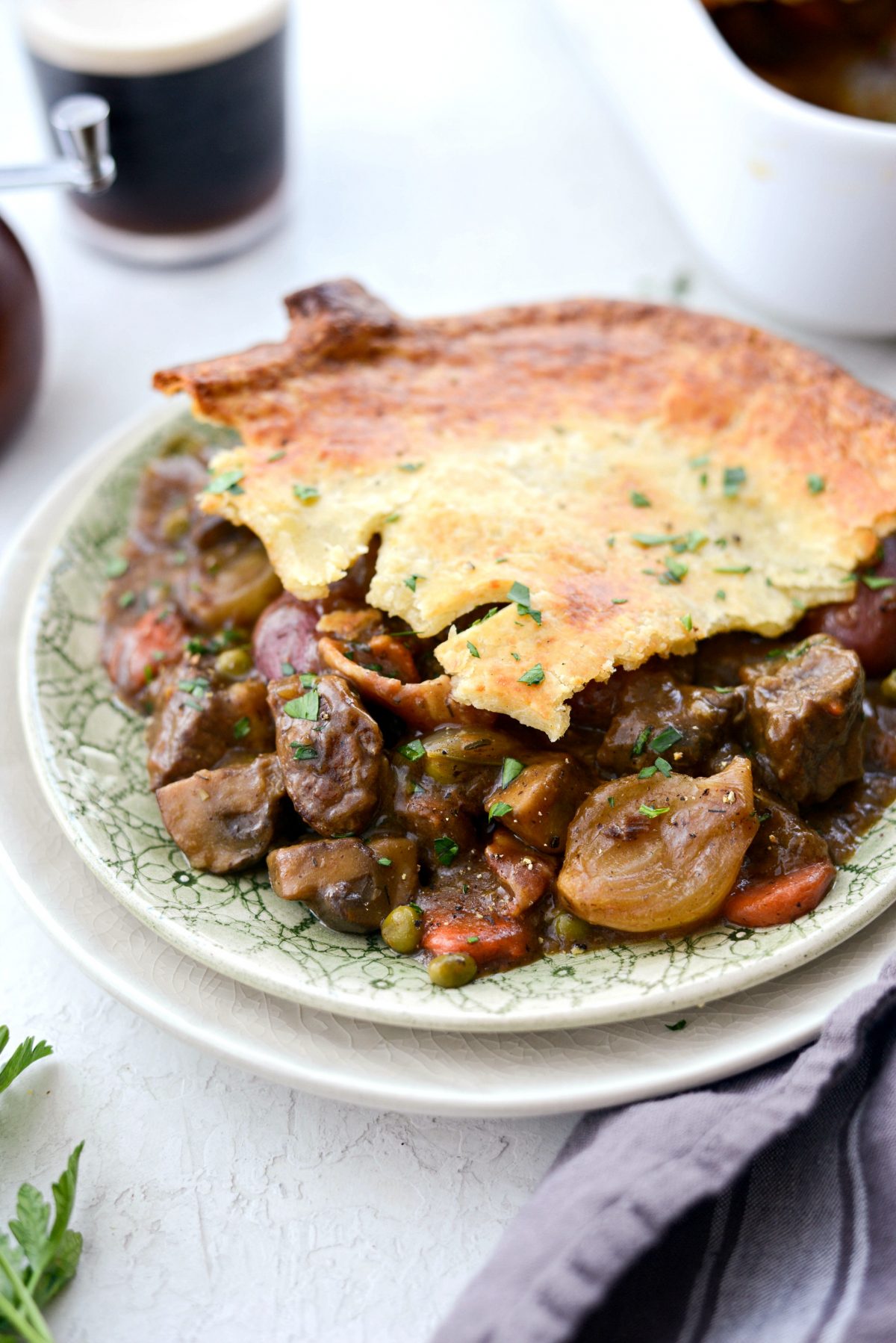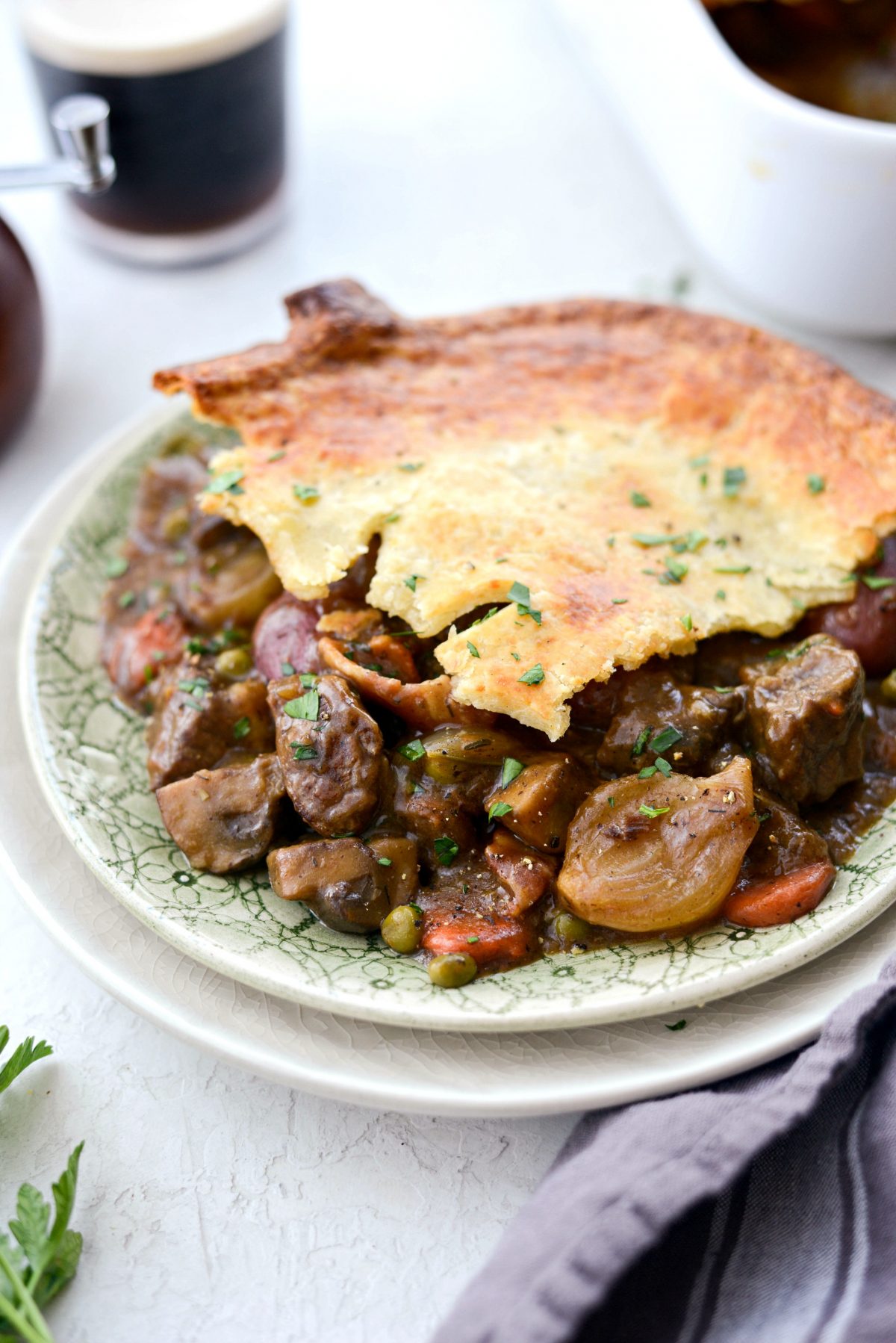 I'd like you to meet the most delicious Guinness beef pot pie ever.
Tender pieces of beef, a plethora of vegetables in a thick and deeply flavored Guinness gravy. In this recipe, bottom round roast is cubed and seared in bacon fat, and simmered with pearl onions, carrots, mushrooms and potatoes. The Guinness gravy is flavored with herbs, dijon mustard, horseradish with a splash of balsamic vinegar, yielding a rich and delicious sauce.
This isn't a quick recipe. In fact I encourage you to make it easy on yourself and prepare it in a few steps over the span of a few days as it is indeed a labor of love. The day before I prepare the crust and filling and pull it all together the day-of to bake.
And to top it all off (literally) is an Irish cheddar pie crust. After the first bite, I promise you all your effort will be worth it.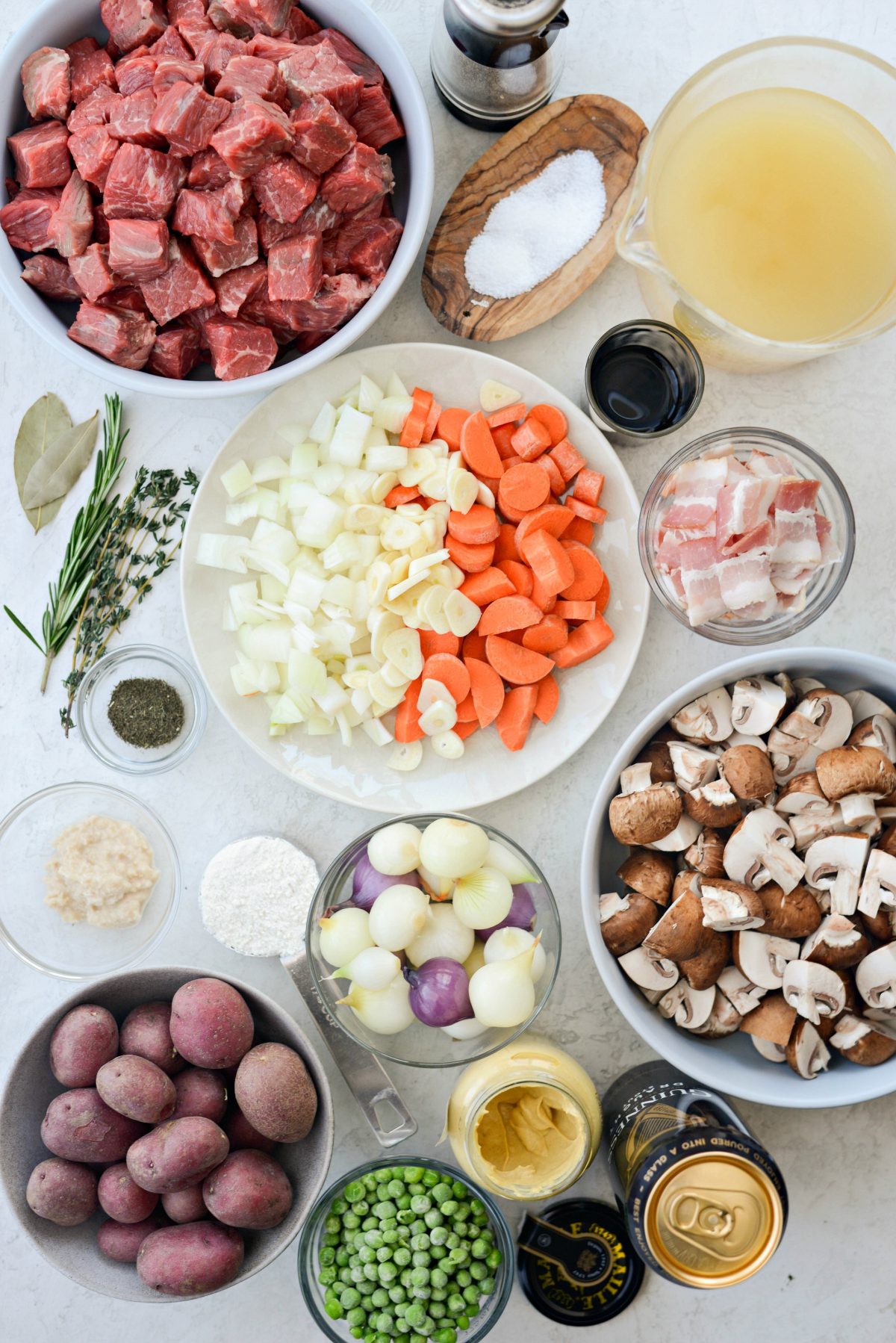 To Make this Guinness Beef Pot Pie you will need:
6 strips bacon, cut into 1-inch pieces
3 pounds bottom round roast, cut into 1-1½ inch pieces
kosher salt and freshly ground black pepper
3 cups low-sodium chicken broth
1 medium yellow onion, diced
2 medium carrots, chopped
6 cloves garlic, peeled and sliced
1 pound cremini mushrooms, cleaned and quartered
3/4 teaspoon dried dill
1 tablespoon Dijon mustard
1/4 cup unbleached all-purpose flour
2 cups Guinness stout beer
6 sprigs fresh thyme
1 sprig rosemary
2 small bay leaves
1 pound baby redskin potatoes (halved if not bitesize)
8 ounces blanched fresh pearl onions, halved* (or use 8 ounces frozen and cut in half if large)
1 tablespoon prepared horseradish
1 tablespoon balsamic vinegar
3/4 cup peas
1 recipe cheddar pie crust
egg wash, for pie crust which is 1 egg beaten with 1 tablespoon water.
Here is how to prepare fresh pearl onions: Slice the root end off with a sharp knife. Meanwhile bring a pot of water to boil. Drop in the onions and boil for 30-60 seconds. Remove to a bowl or ice water until cool, then drain. Pinch the top end and squeeze the onion out of the bottom.
To start, in a cold dutch oven or brassier, add bacon and cook on medium heat until the fat has rendered out and the bacon is crispy. Use a slotted spoon to drain the bacon and transfer to a paper towel lined plate – leaving the fat in the pan. Next, increase the heat to medium-high.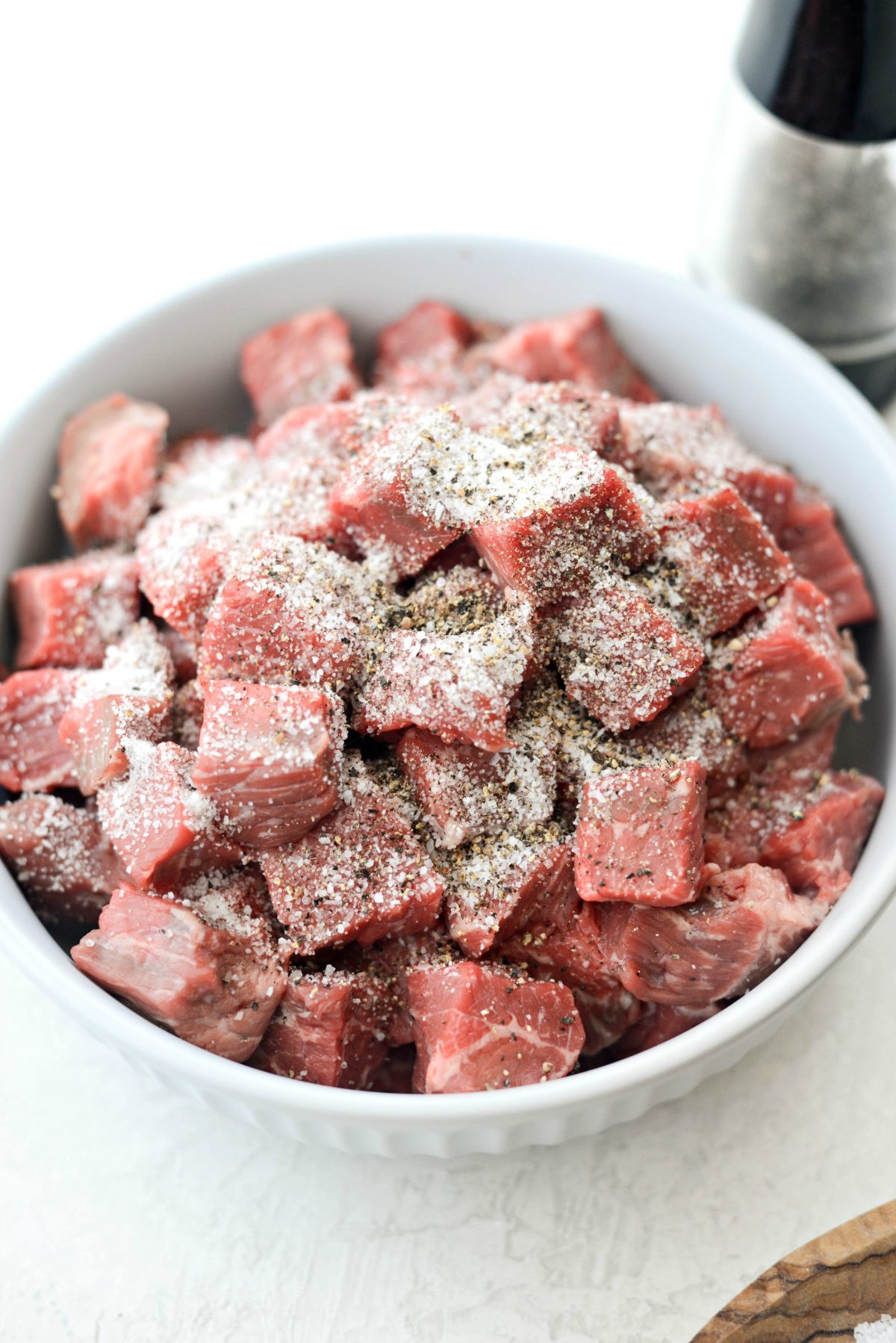 Meanwhile, toss the cubed beef bottom roast with 2 teaspoons kosher salt and 1 teaspoon freshly ground black pepper.
Then, working in batches of 3, cook the beef for 4 to 5 minutes a side until deeply browned on all sides. Transfer the browned beef to a large bowl. If needed, add a little extra light olive oil to the pan in-between batches.
But first, I'll let you in on a little secret. And that is the key to a deep, rich brown gravy. Whether it's for stew or a pot pie, how well you brown your beef. That is key to the richness of this pot pie and We all are pretty familiar with the chicken pot pie.
When all of the beef has been browned, reduce the heat to medium and pour in 1 cup of broth. Using a wooden spatula scrape up the brown bits on the bottom of the pot. Then pour this liquid gold over the beef in the bowl.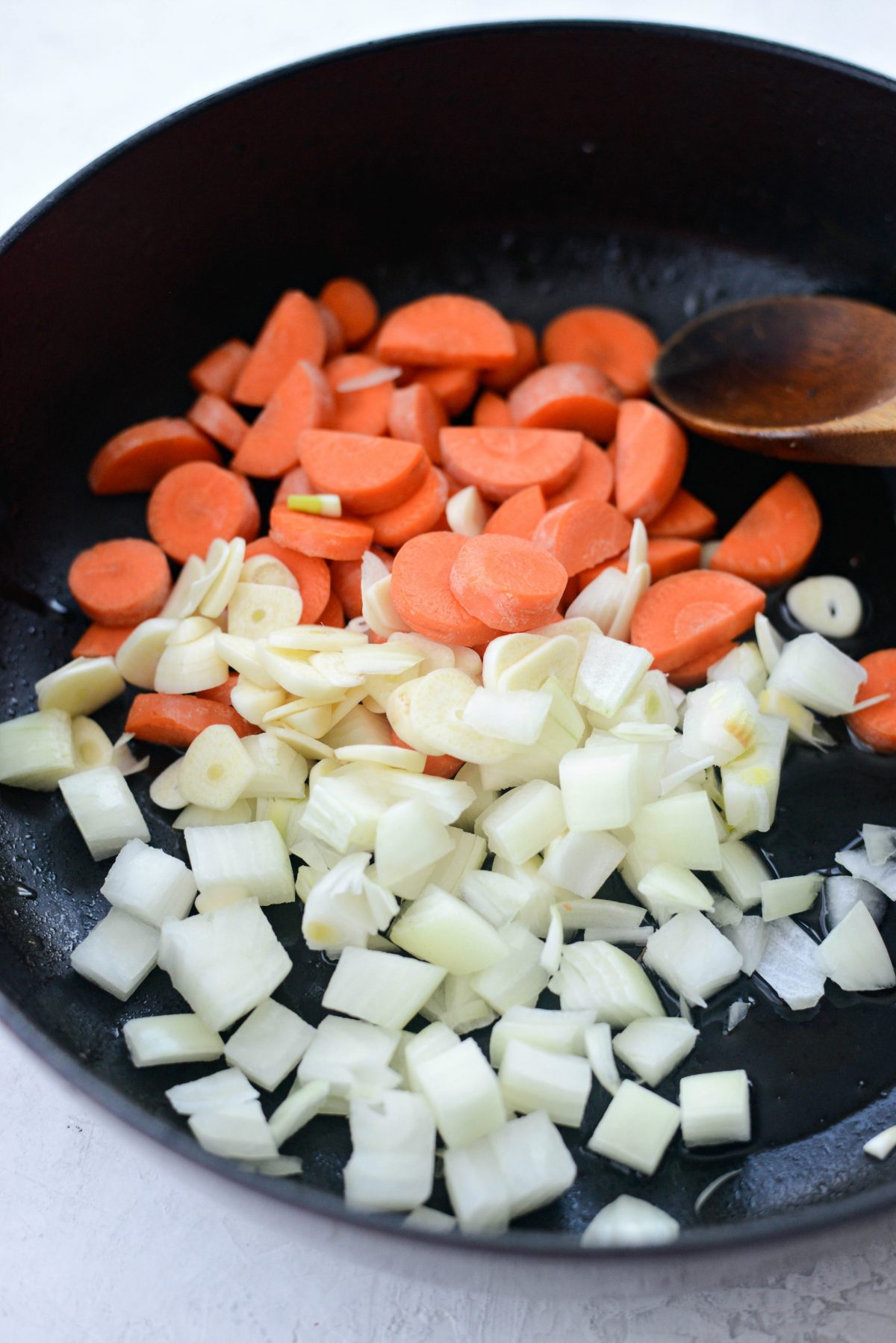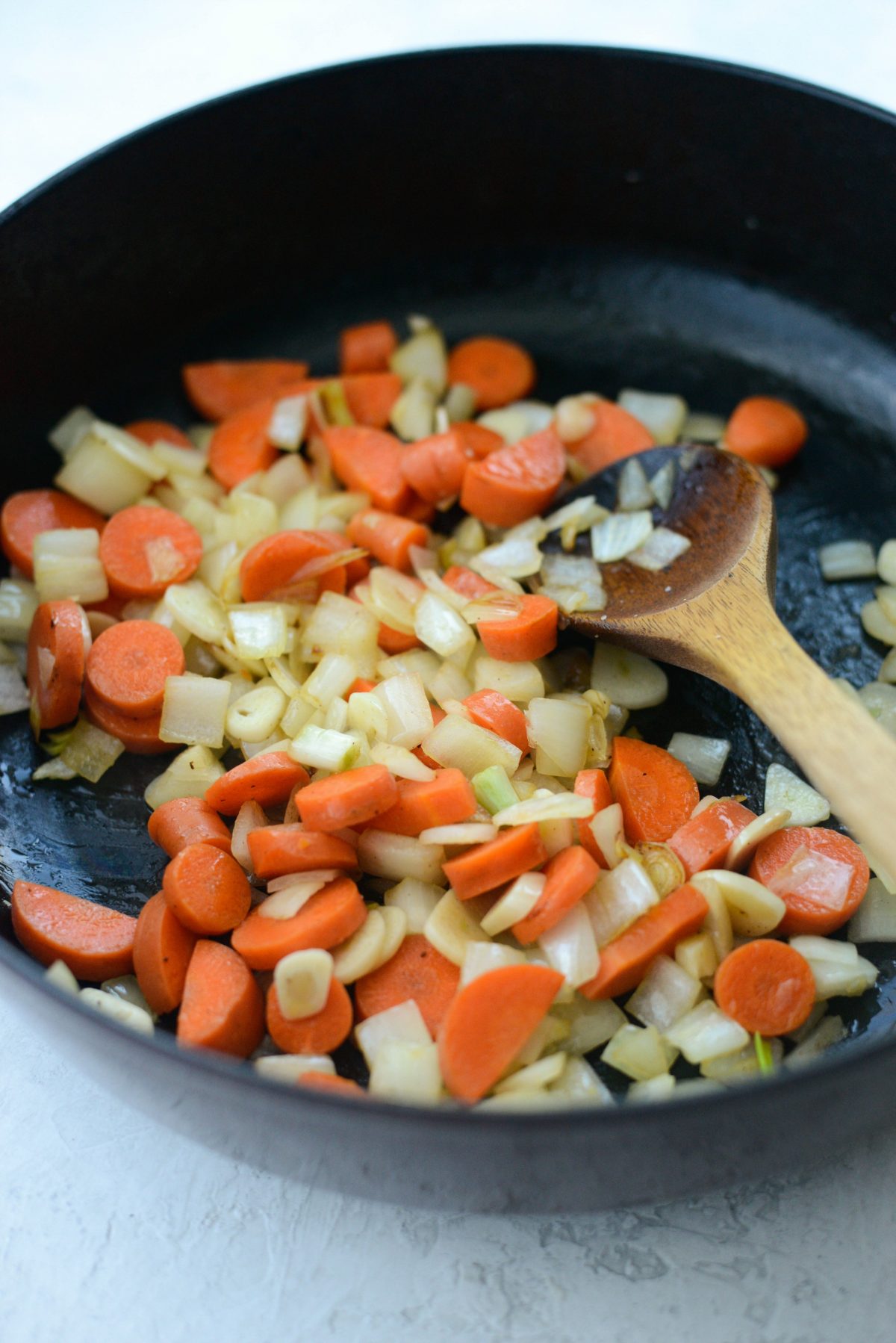 Next add 1 tablespoon of olive oil to the pan. Then add in the diced onion, carrots and sliced garlic with a pinch of kosher salt. Stir and cook 3 to 4 minutes or until starting to soften.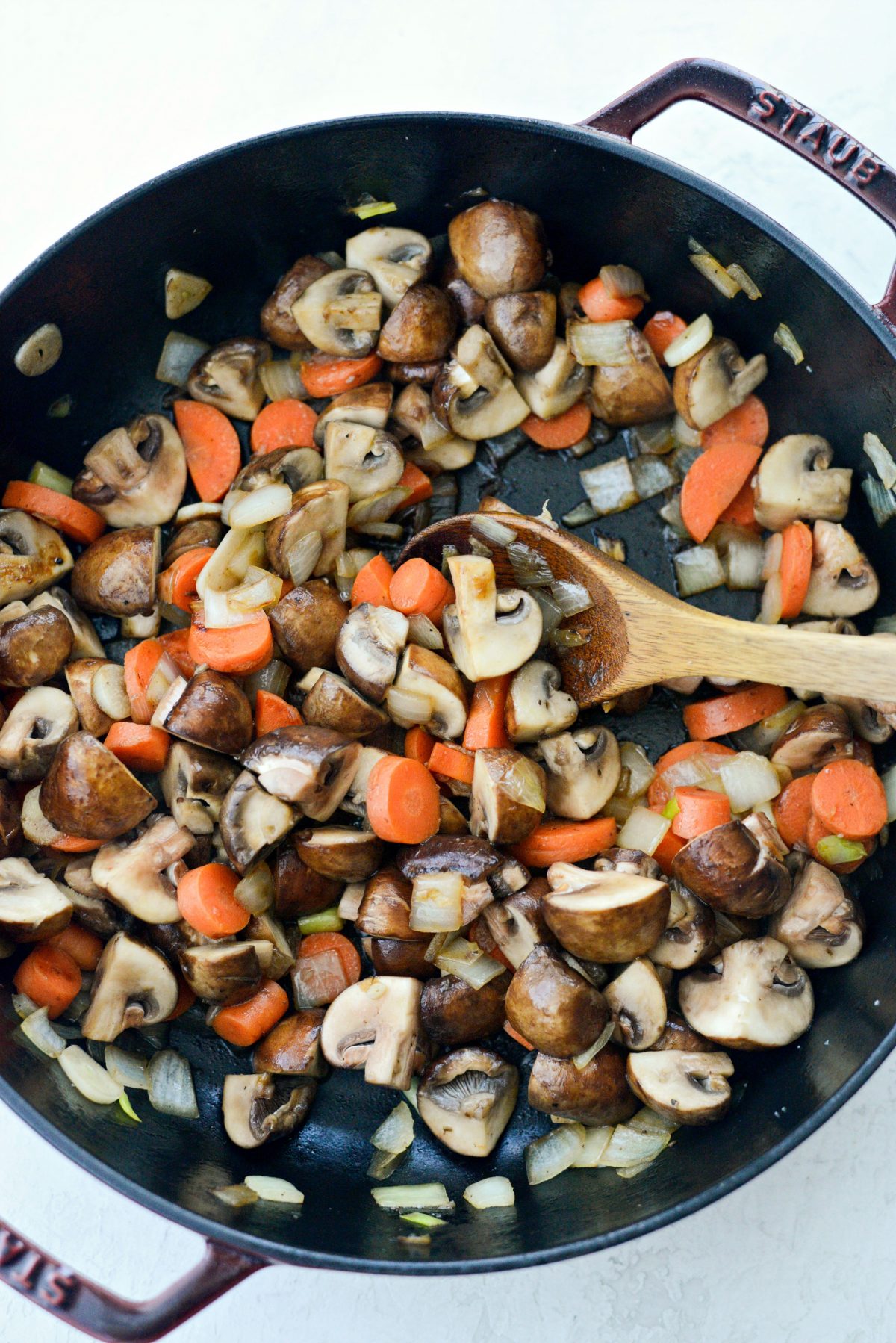 Stir in mushrooms and cook for 3 to 4 minutes.
Then sprinkle in the flour, dried dill and add in the Dijon mustard. Stir and cook for 1 to 2 minutes.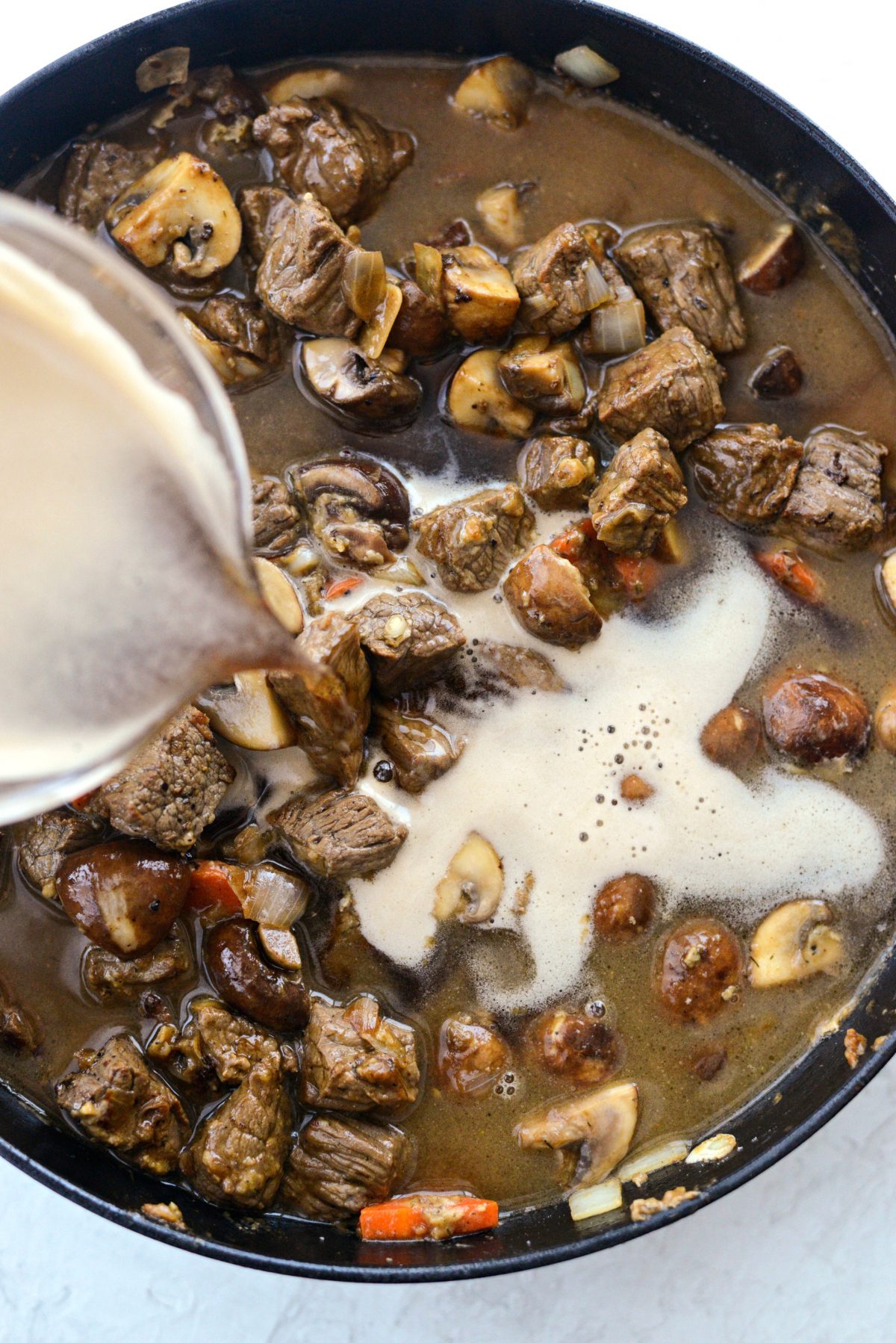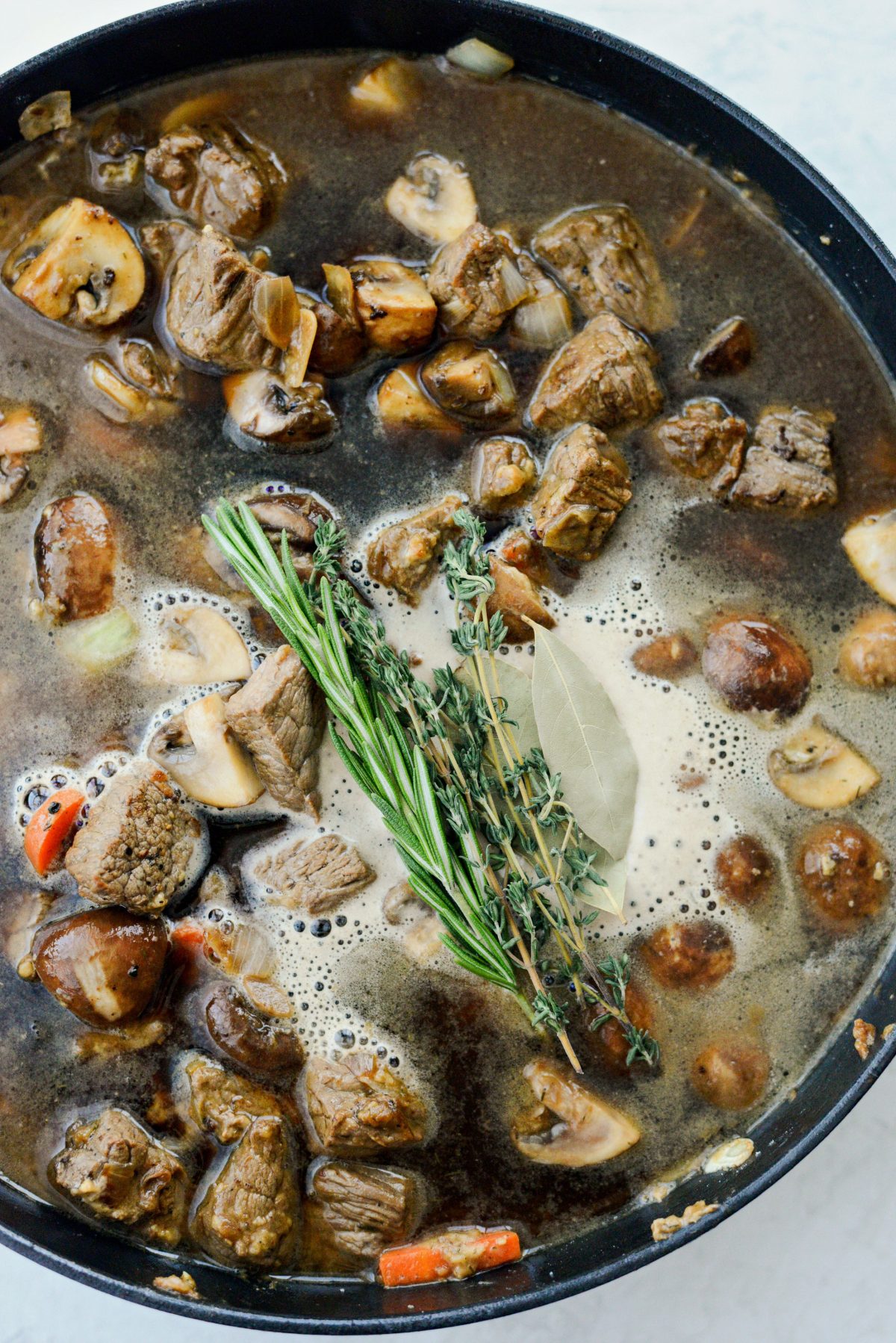 Next, return the beef and the pain liquids to the pot and stir in the Guinness and remaining broth. Then add in the thyme, rosemary and bay leaves. Cover, bring to a boil and then reduce, crack the lid a tad and simmer for 1 hour and 30 minutes.
SO much flavor!
Then add the potatoes and pearl onion halves. Cover and simmer for 20 to 25 minutes or until the potatoes are just cooked through. Next remove and discard herbs. If the gravy isn't quite thick enough, while it's bubbling, stir in a cornstarch slurry (1 to 2 tablespoons cornstarch mixed with equal parts cold water).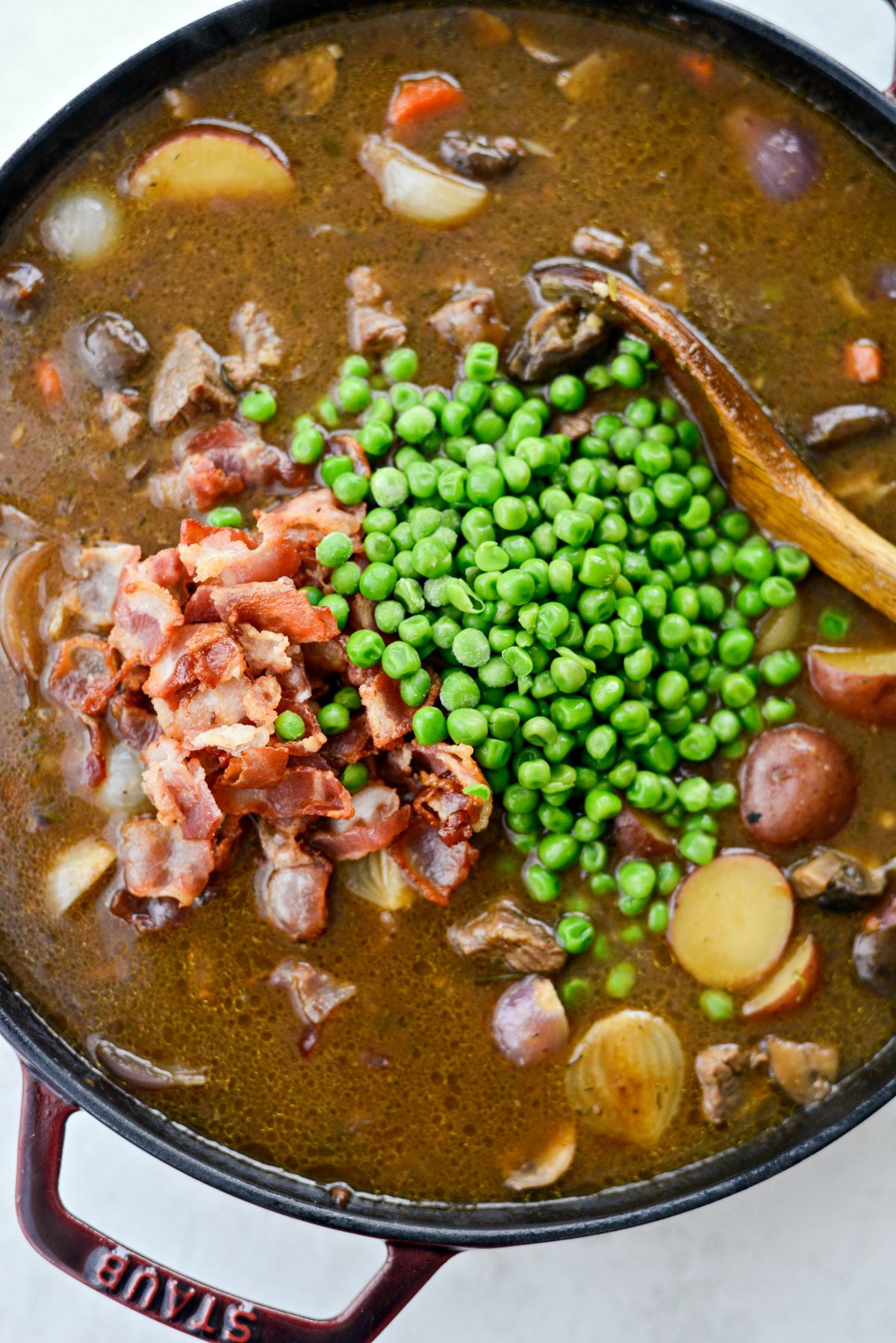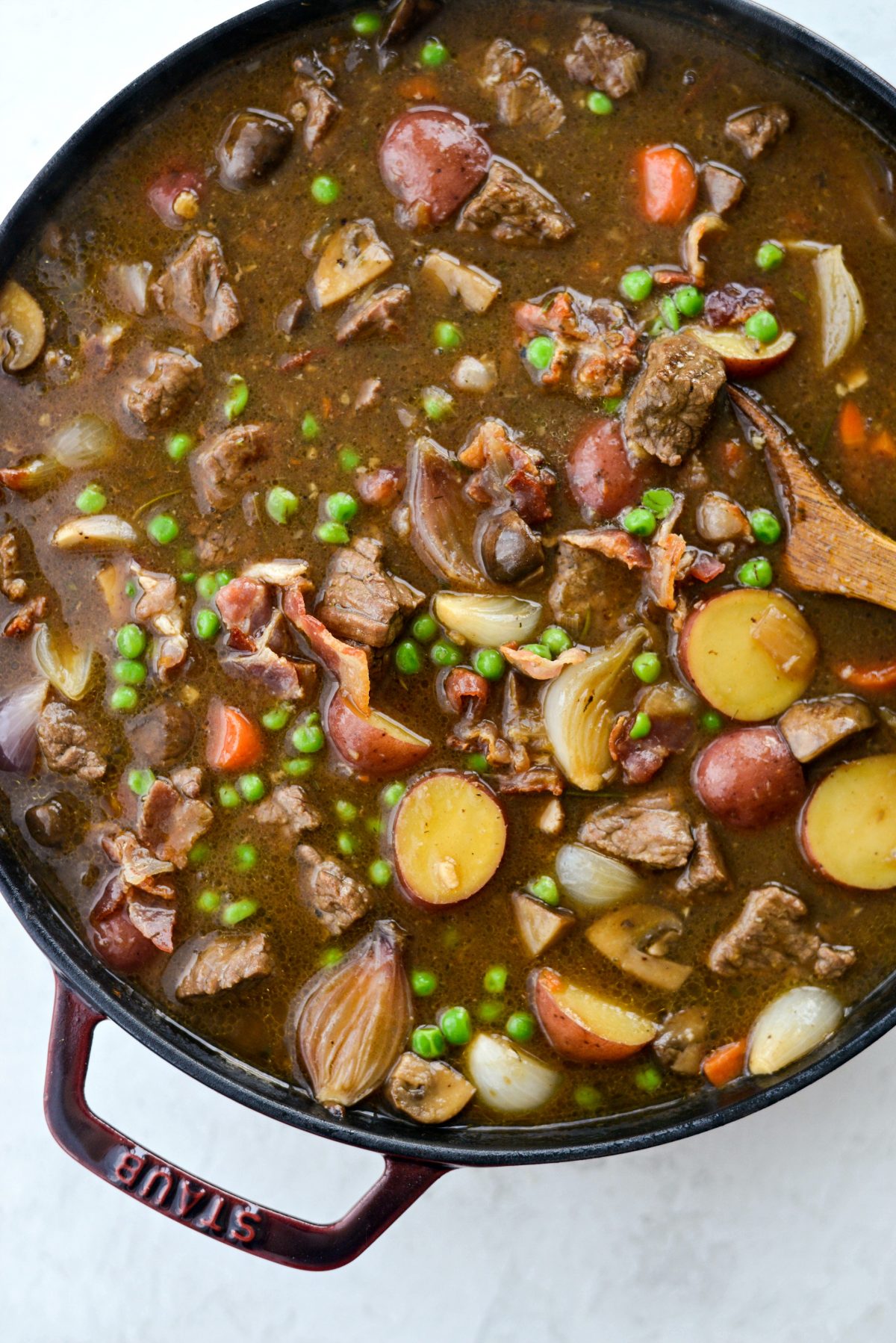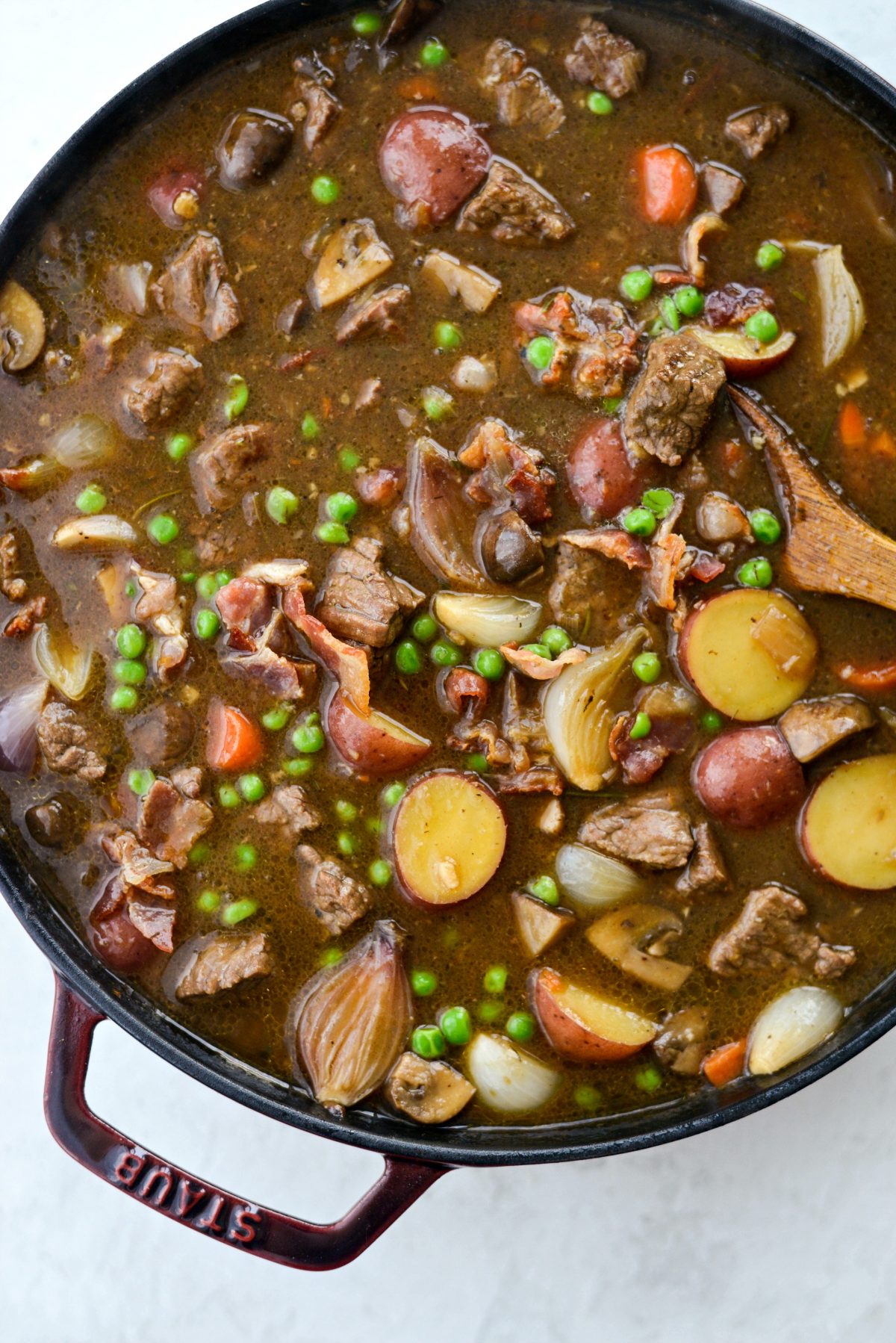 Then turn off the heat and stir in the horseradish and balsamic vinegar. Add the cooked bacon and peas to the pot and stir to combine. Taste and season with more kosher salt and black pepper, if desired.
Pour the filling into a 13×9 (3 to 4 quart) casserole dish and allow to cool significantly before rolling out the cheddar pie crust.
The Guinness pie filling can be made 1 day in advance. I recommend pulling it out 1-1½ hours before baking to bring up to room temperature. Then bake as directed. If the filling is hot/warm when you go to place the pie crust, it will melt the butter in the dough and it will not bake or crisp up properly. It will be a disaster!
Making sure the filling has cooled is a must and I HIGHLY recommend making the filling the day before.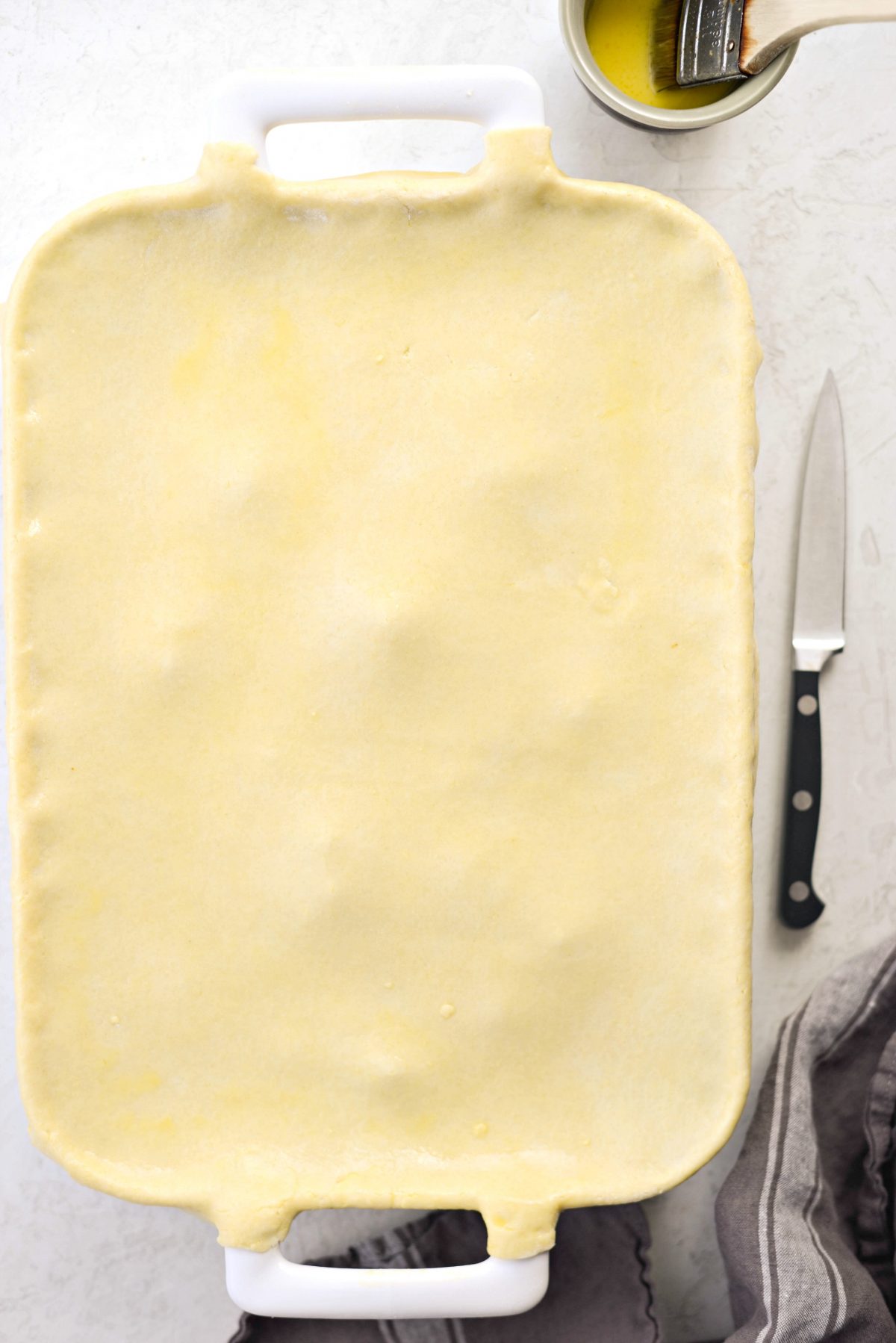 On a floured surface, roll out the pie crust to fit your baking dish with 2 inches of overhang. Brush the underneath edge (about 2-inches worth) with the egg wash. Invert the crust onto the baking dish and press the side with the egg wash onto the edge of the baking dish. Trim off excess dough, leaving an approximate 1-inch boarder.
Brush the top and sides of the pie dough with remaining egg wash and cut air vents with a paring knife.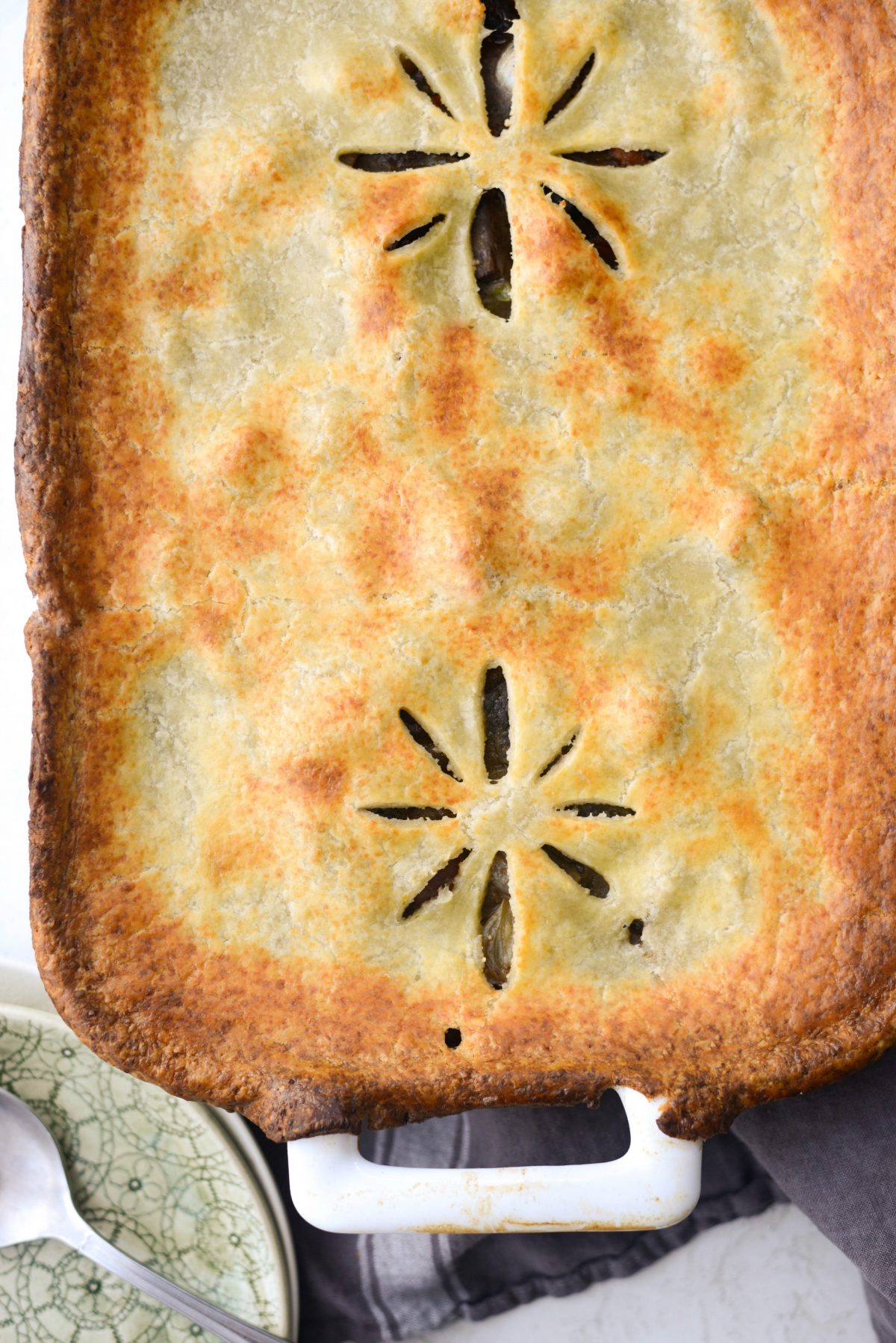 Bake on the bottom rack of your preheated oven for 35 to 45 minutes or until the filling is bubbling and the crust is deeply golden.
Hearty and delicious! This Guinness Beef Pot Pie is phe-nom-enal!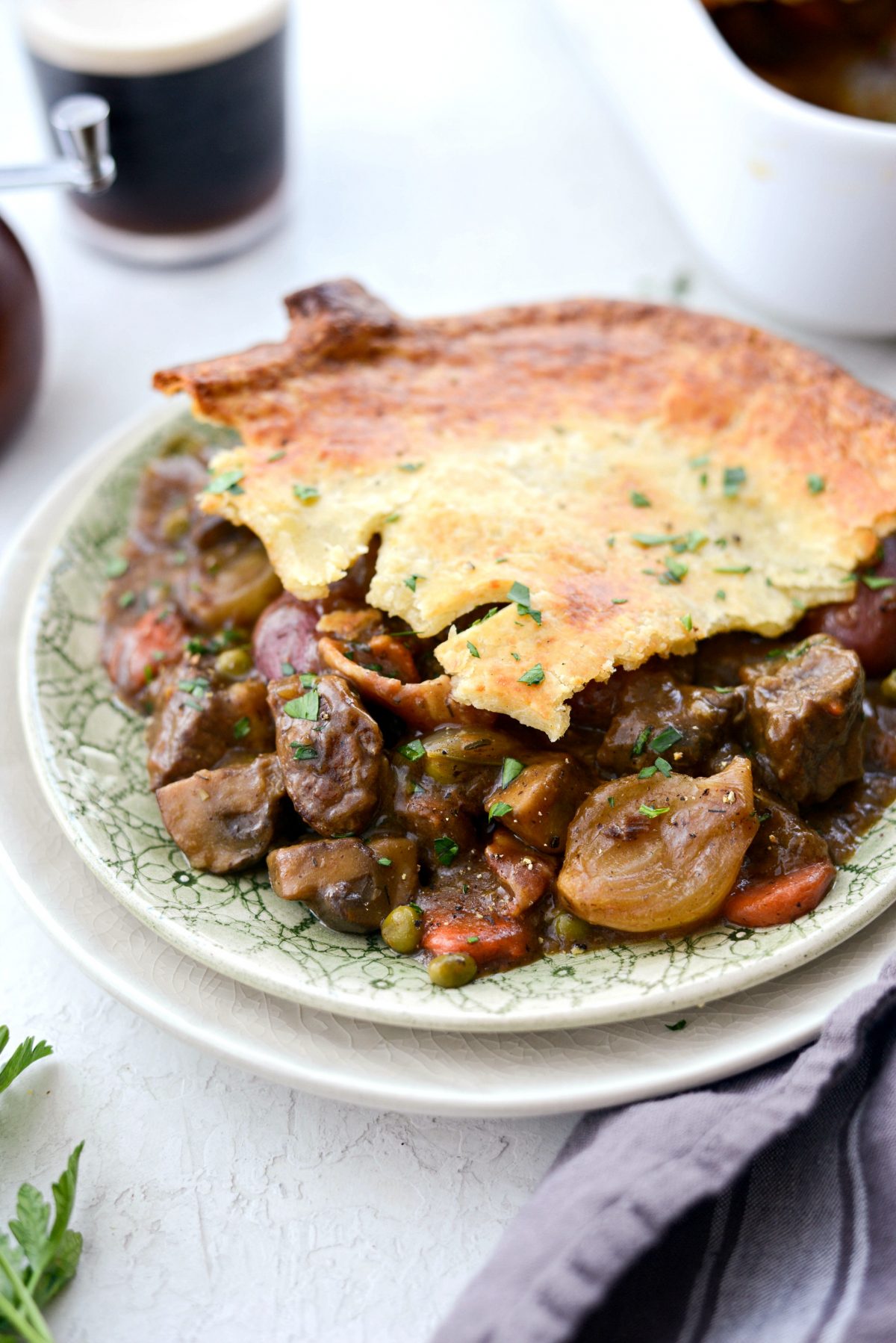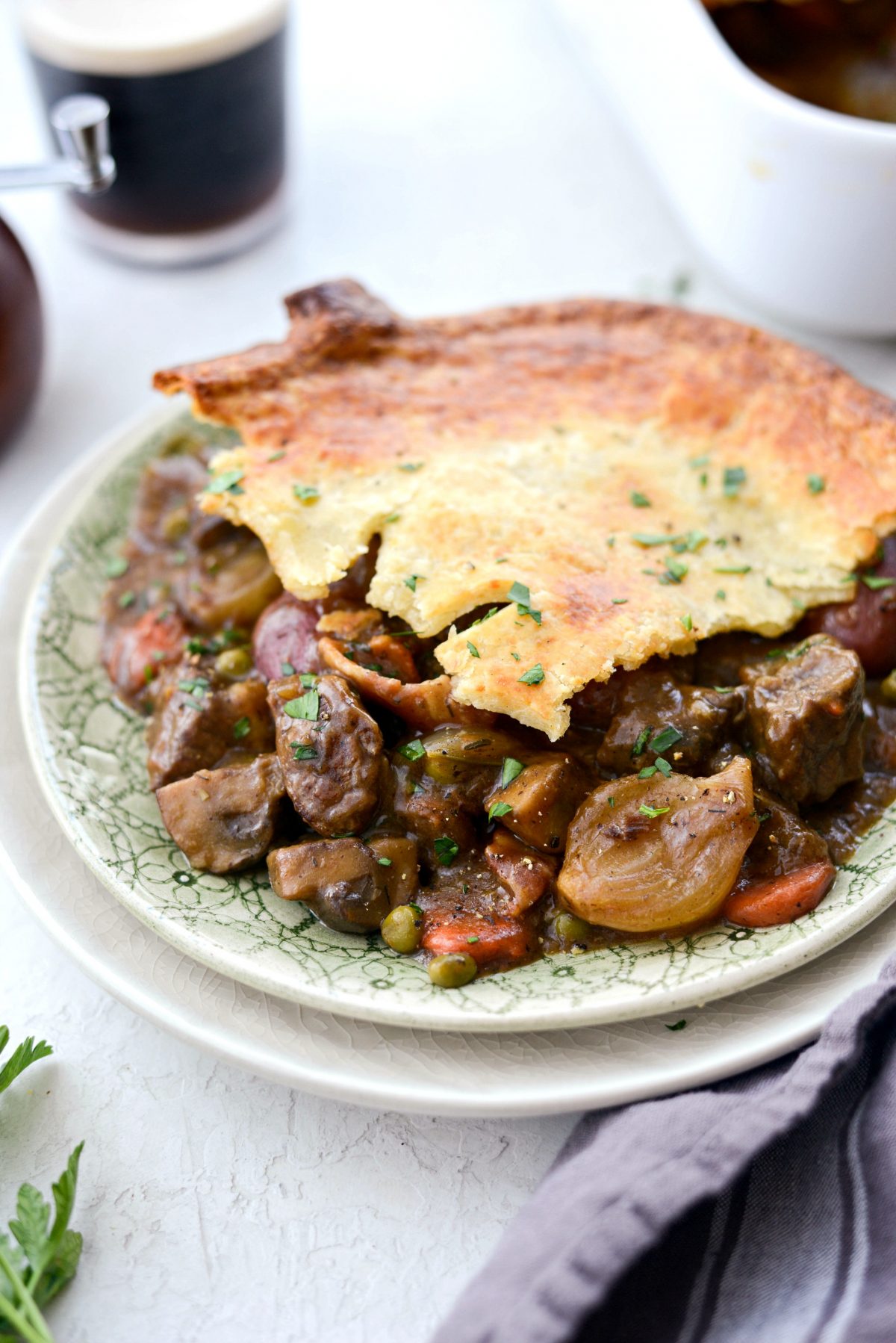 Enjoy! And if you give this Guiness Beef Pot Pie recipe a try, let me know! Snap a photo and tag me on twitter or instagram!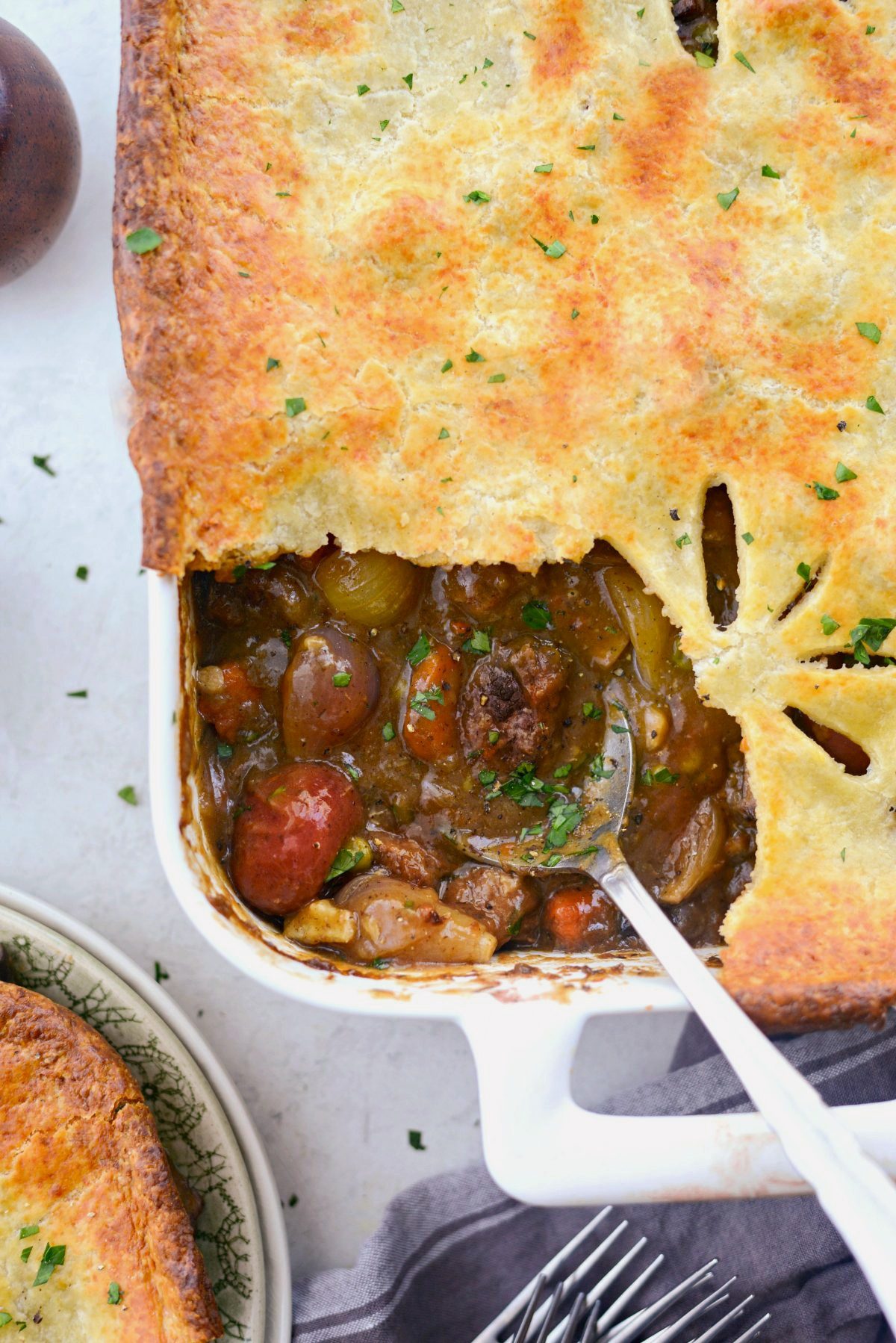 This recipe was adapted from Martha Stewarts Guinness Pie recipe.
This post may contain affiliate links.
Buy the Cookbook: Simply Scratch : 120 Wholesome Homemade Recipes Made Easy Now available on Amazon »
THANK YOU in advance for your support!