In this Waldorf Salad with Kale; sliced celery, apple and purple grapes are tossed with purple kale, tossed in a simple dressing and topped with candied walnuts. Perfect for the upcoming holiday season.
The Waldorf salad might be one of the most famous salads to exist. You have to think, it's been around since the late 1800's so it has to be good, right? Believe to or not, the original recipe was just apples, celery and mayonnaise without nuts. But eventually nuts were thrown in and then overtime.
There's been lots of different variations over the years, but I found this one and instantly fell in love. Besides the crisp celery, this newer version has juicy red grapes, and tart honeycrisp apples but with a light yogurt-based dressing sweetened with honey. Also richly hued purple kale is added into the mix and the walnuts are candied in sugar, cinnamon and nutmeg.
Fancy yet so easy to throw together. Which makes this the perfect holiday salad, amiright?
TO Make This Waldorf salad with Kale and Candied Walnuts You Will Need:
purple kale
olive oil
kosher salt
apple (I personally love honeycrisp)
2 to 3 stalks celery
1 bunch purple grapes
creamy salad dressing (I'll explain more a little later)
candied walnuts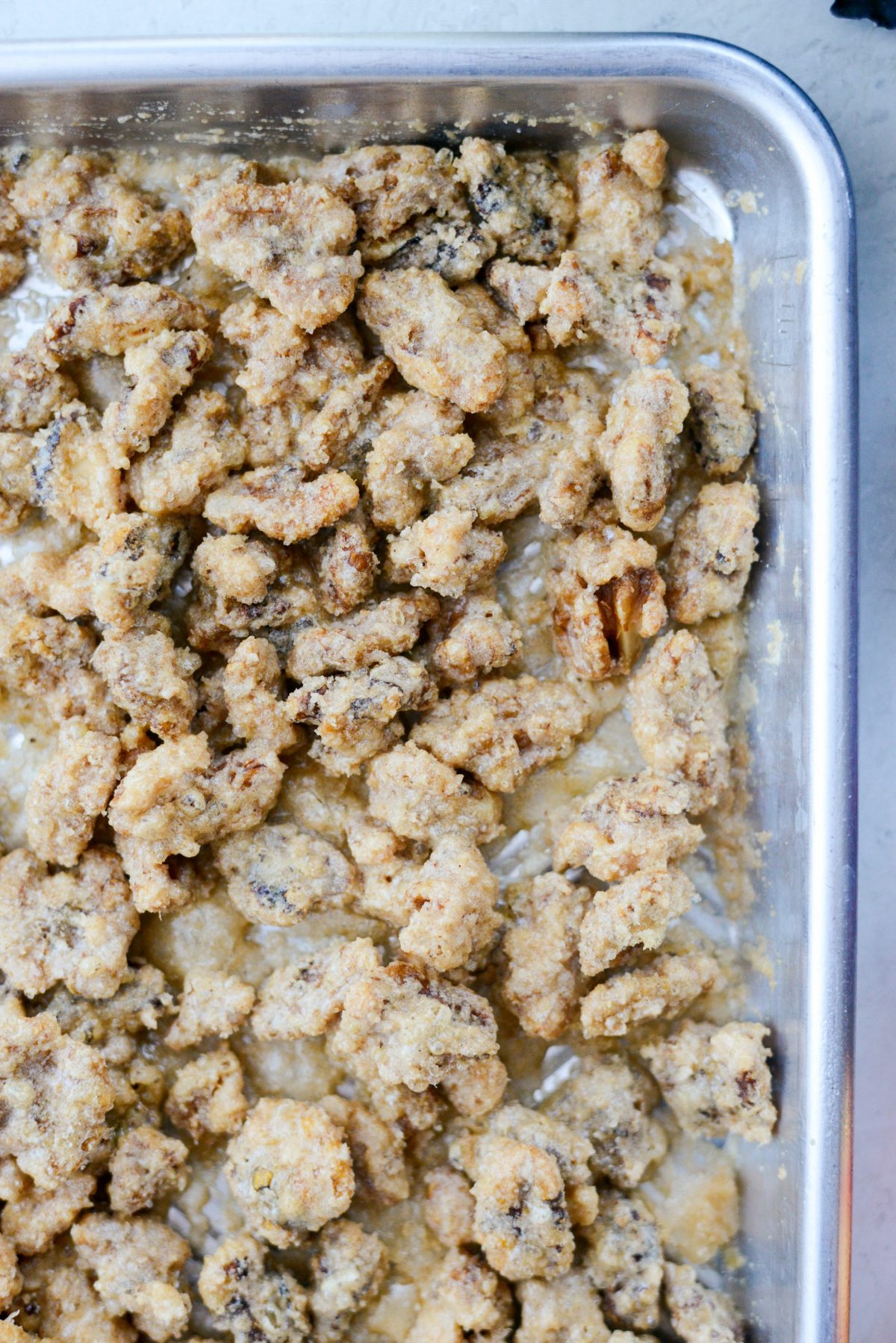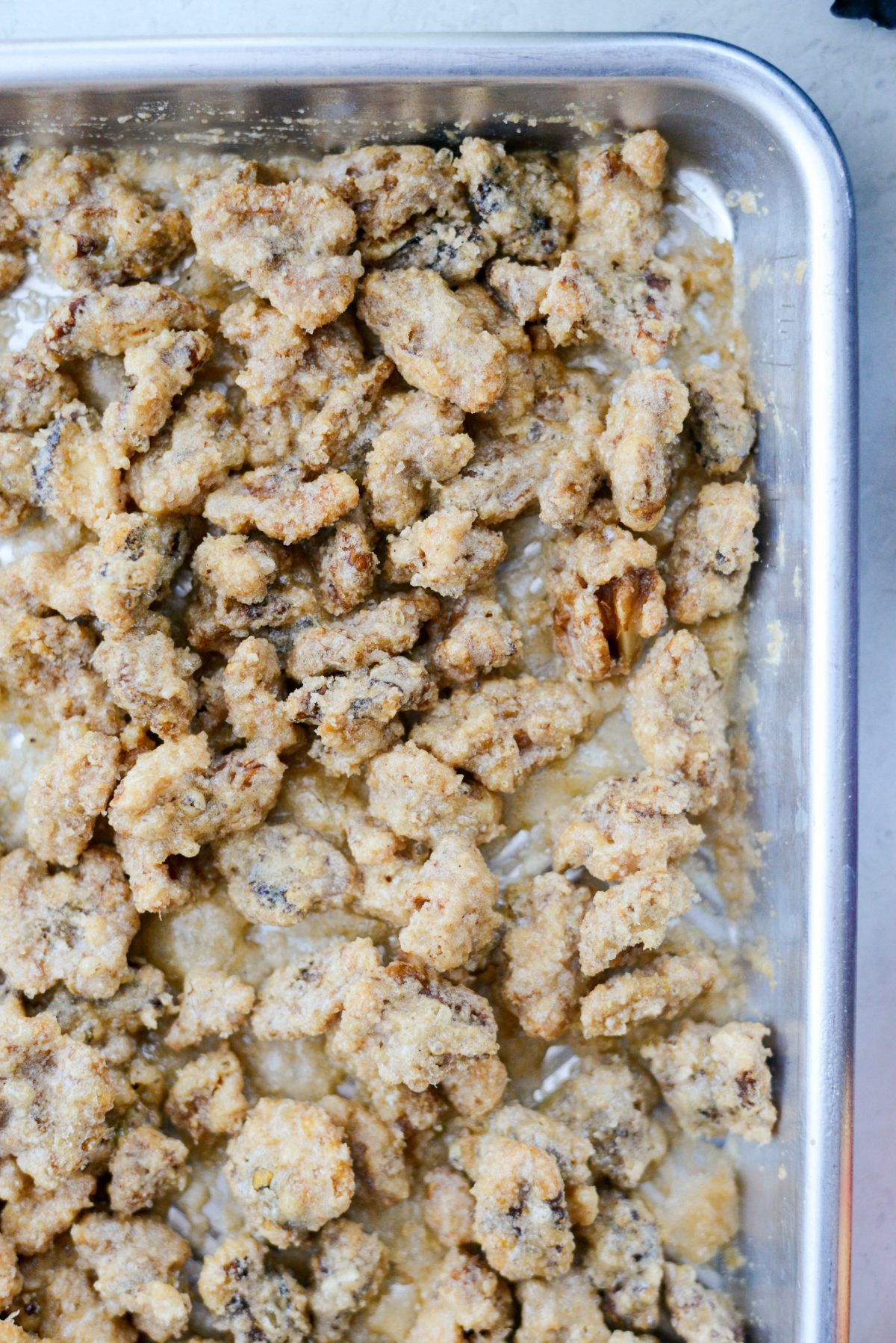 Speaking of candied walnuts, this is how I make mine. 🙂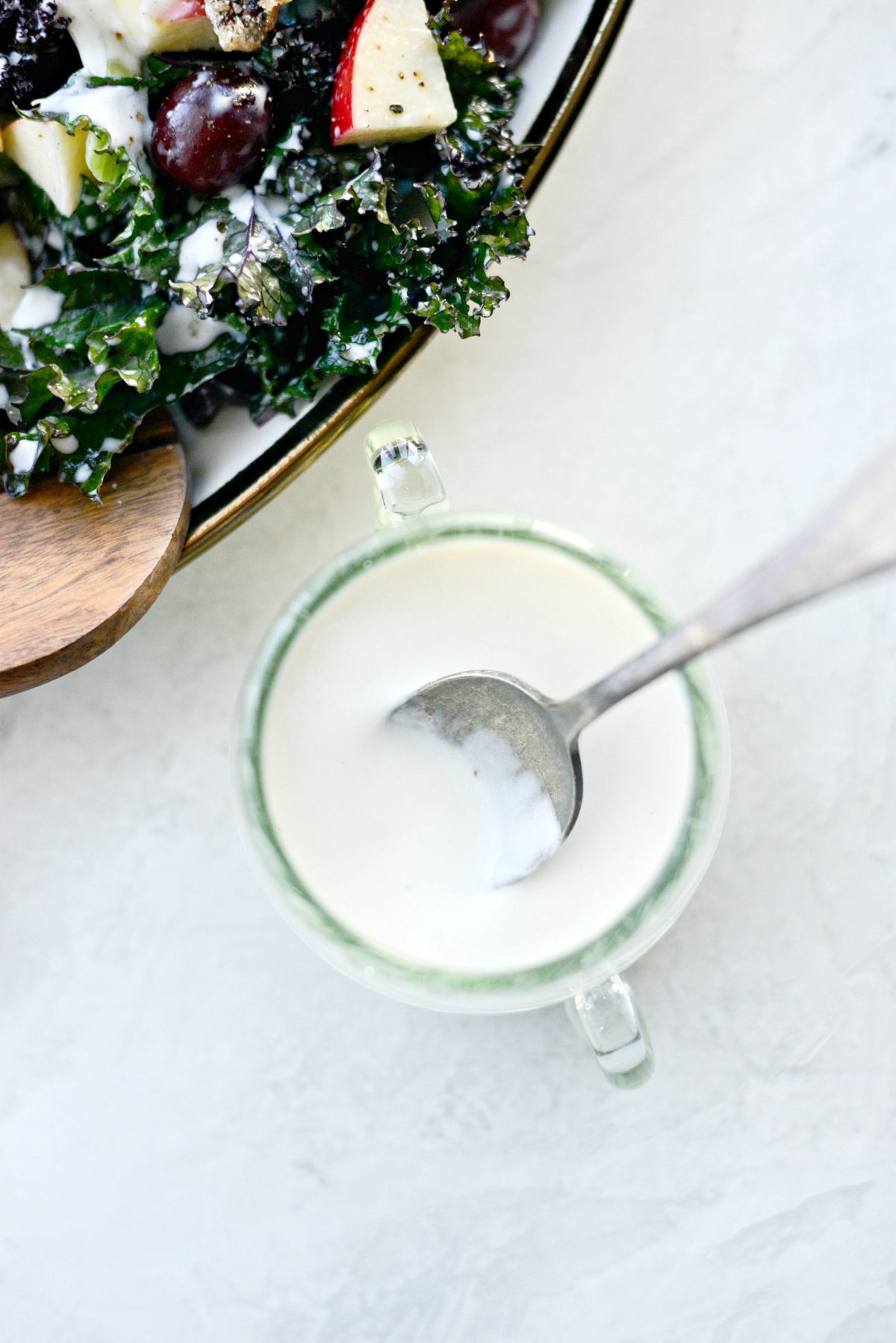 So I did make the dressing with less mayo (don't shoot!) but it still tastes rich and delicious drizzled over top. It's simply 1/2 cup greek (nonfat and unsweetened) yogurt, 2 tablespoons mayonnaise, 1 tablespoon honey, 1 tablespoon lemon juice, 1 tablespoon champagne vinegar, 2 tablespoon olive oil, salt and pepper and a little water to thin the dressing to a pourable consistency.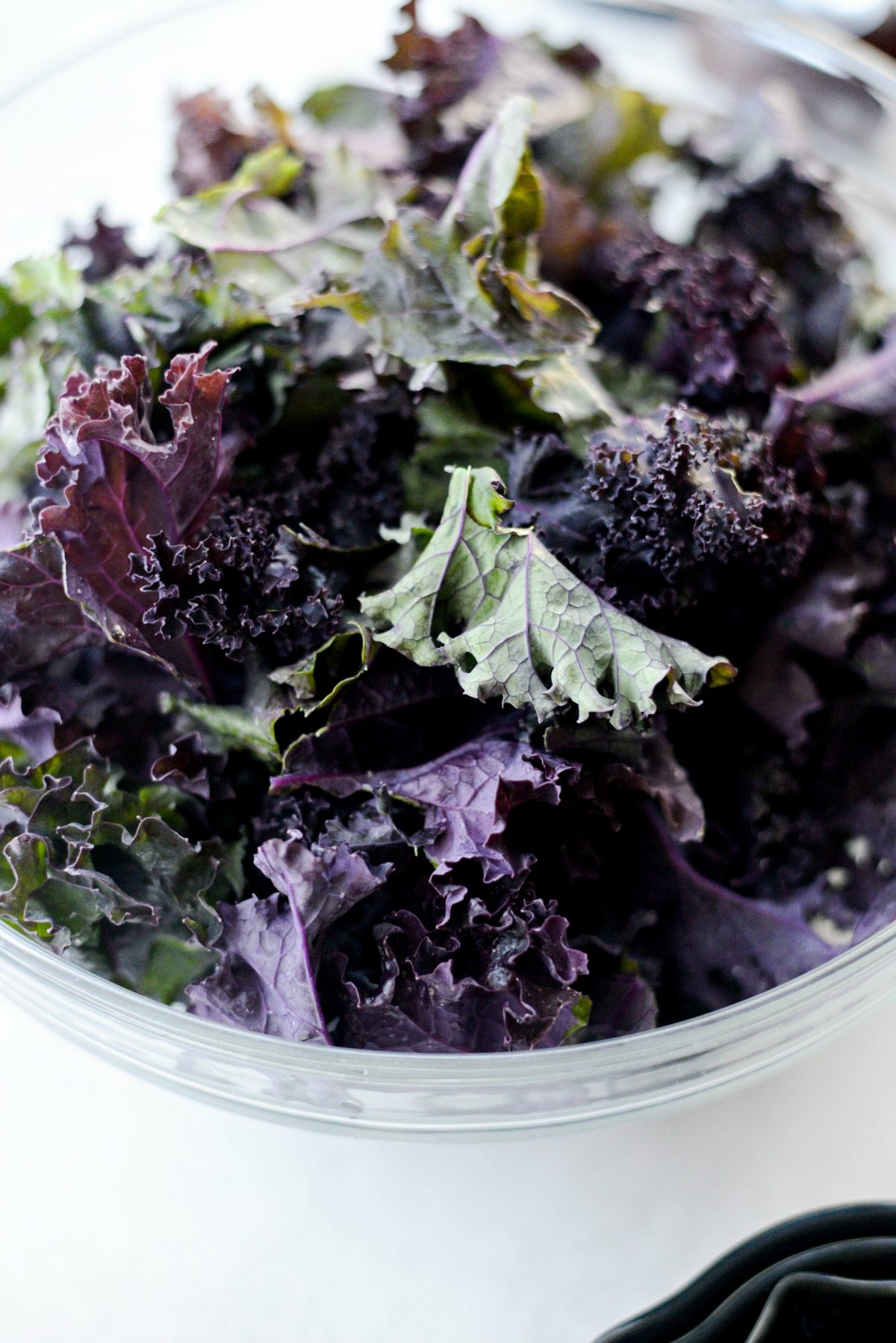 Next strip the leaves off of 1 large bunch of kale, discarding the tough stems and roughly chopping those beautiful leaves. Then give them a thorough rinse and spin-dry or pat dry with paper towel.
Next add the kale to a large bowl and drizzle with 1/2 teaspoon olive oil and season with a pinch of kosher salt. Massage the oil and salt into the leaves, doing so will tenderize the leaves so they're more palatable. I do this every single time I use kale in a salad.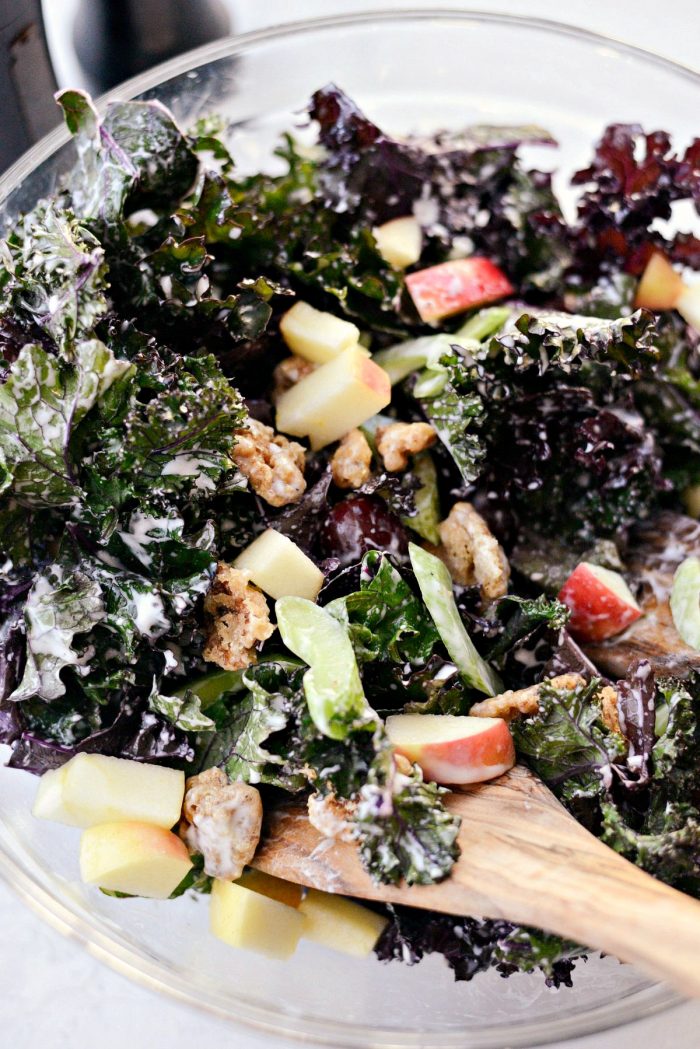 Next add in the sliced celery, 1 diced apple (tossed in a little lemon juice to keep form oxidizing), 1 small bunch purple grapes, a few spoonfuls of the dressing and some of the candied walnuts.
Only add the dressing and walnuts if serving immediately because you don't want to dressing to soften the crispy exterior of those candied nuts.
Side Note: I'm one of the those people who loves celery. I go through a package every other week because I eat it raw, with or without almond butter and I also cook with it all. the. time. So this salad is a major two-thumbs up for me.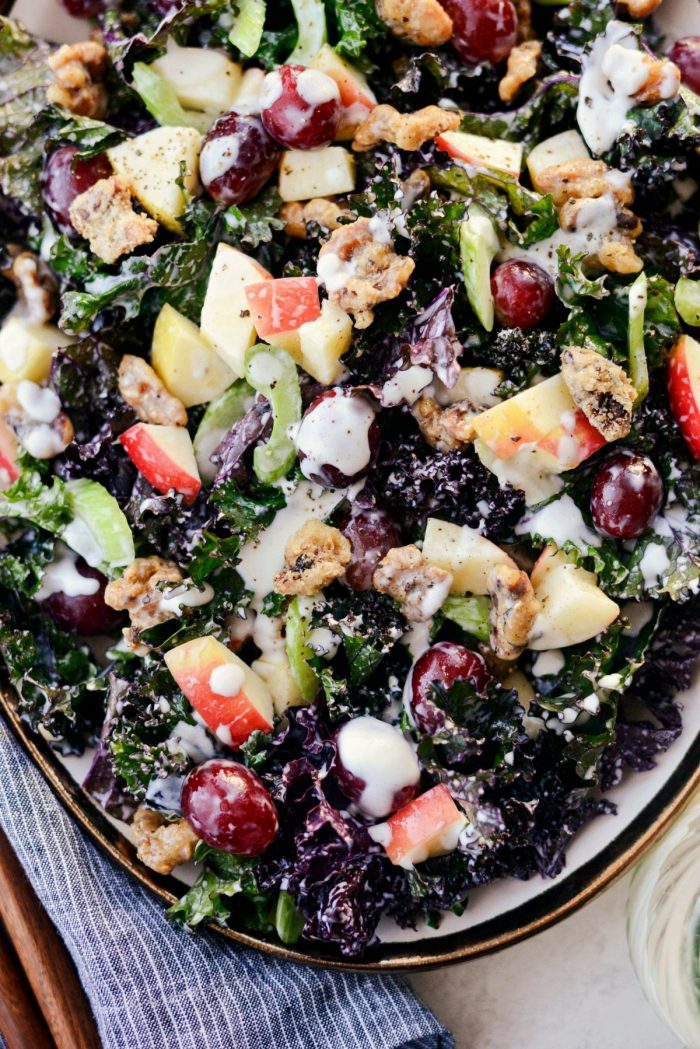 Tip the salad out onto a large platter and drizzle with more dressing, scatter the walnuts and then adds lots of freshly ground black pepper.
The flavors are perfection together, as you knew they would be. For once I can't pick any single ingredient that shines more than the other. Everything is exquisite and complementary.
Not to mention, as a whole, this salad is a show stopper.
Enjoy! And if you give this Waldorf Salad with Kale recipe a try, let me know! Snap a photo and tag me on twitter or instagram!
This recipe was inspired by The Modern Proper : https://themodernproper.com/posts/chicken-waldorf-salad
This post may contain affiliate links.
Buy the Cookbook: Simply Scratch : 120 Wholesome Homemade Recipes Made Easy Now available on Amazon »
THANK YOU in advance for your support!