Step up the nutrients in your marinara by swirling in homemade butternut squash purée. In this robust Butternut Squash Marinara, onions and garlic sauté with spices and san marzano tomatoes. Yields 4 cups in about 30 minutes.
If there's one cuisine my family can all agree on, it's Italian. Well, Mexican too now that I think about it. But whether spaghetti, stuffed shells or lasagna we love it all! And if time allows, I like to make a homemade marinara sauce. It's not as hard as you would think and can be done in 30 minutes and even better if made a day or two in advance as something magical happens as it chills in the fridge.
Last week, you may remember, I roasted a butternut squash and turned it into an silky-smooth purée. Well I had some delicious plans for it, like adding it to marinara sauce. It adds sweetness and nutrients and a subtle creaminess to the sauce, yet no one would ever really know it's in their unless you told them. It's so good and flavorful. And the best part is that it makes 4 cups and can be used in any recipe.
And the best part is that it makes 4 cups and can be used in any recipe.
TO Make this Butternut Squash Marinara you Will need:
olive oil
1 small yellow onion
4 cloves garlic
2 teaspoon italian seasoning
3/4 (heaping) teaspoon rubbed sage
1/4 cup white wine (or low-sodium chicken broth can be substituted)
1 (28 ounce) can whole san marzano tomatoes
1 cup butternut squash
kosher salt
freshly ground black pepper
sugar
chili flakes.
First thing to do is make your purée. Sure, I suppose you can purchase frozen winter squash puree at your grocery store, but you'll miss out on the glorious smell of it roasting in the oven! I use this method and it's so easy. I prefer to make my purée in advance (and can be frozen!) so it's ready for when I need it. And this also why I don't include the time in the recipe printable.
First, preheat 2 teaspoons olive oil in a skillet over medium-low heat. Next, add 1 heaping cup of diced onion (about 1 medium) along with a pinch of kosher salt. Stir and cook until the onion is soft and translucent and the edges start to brown a little. Then add in 4 (medium size) cloves of minced fresh garlic to the onions, stir and cook for 1 to 2 minutes.
Smells incredible, right?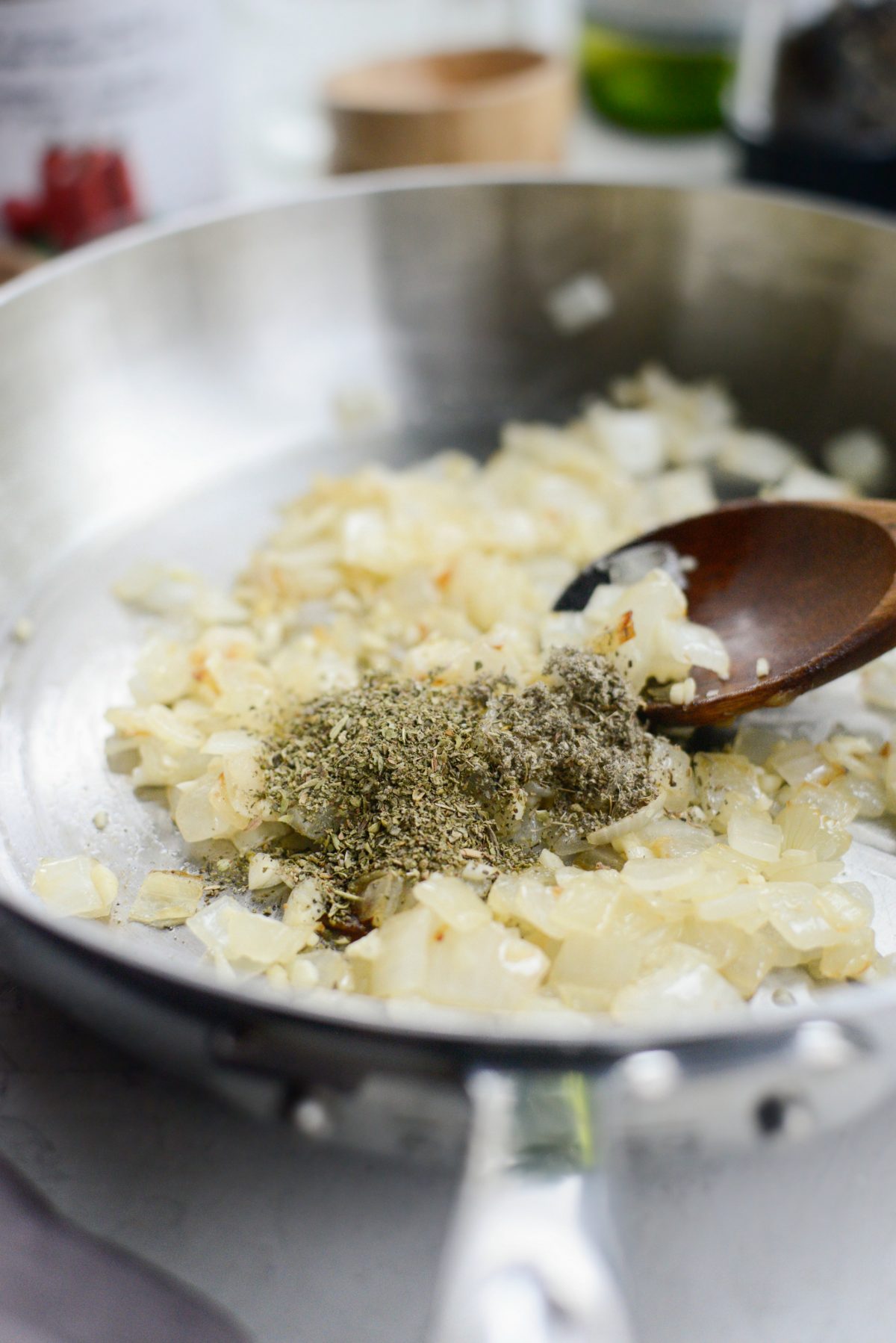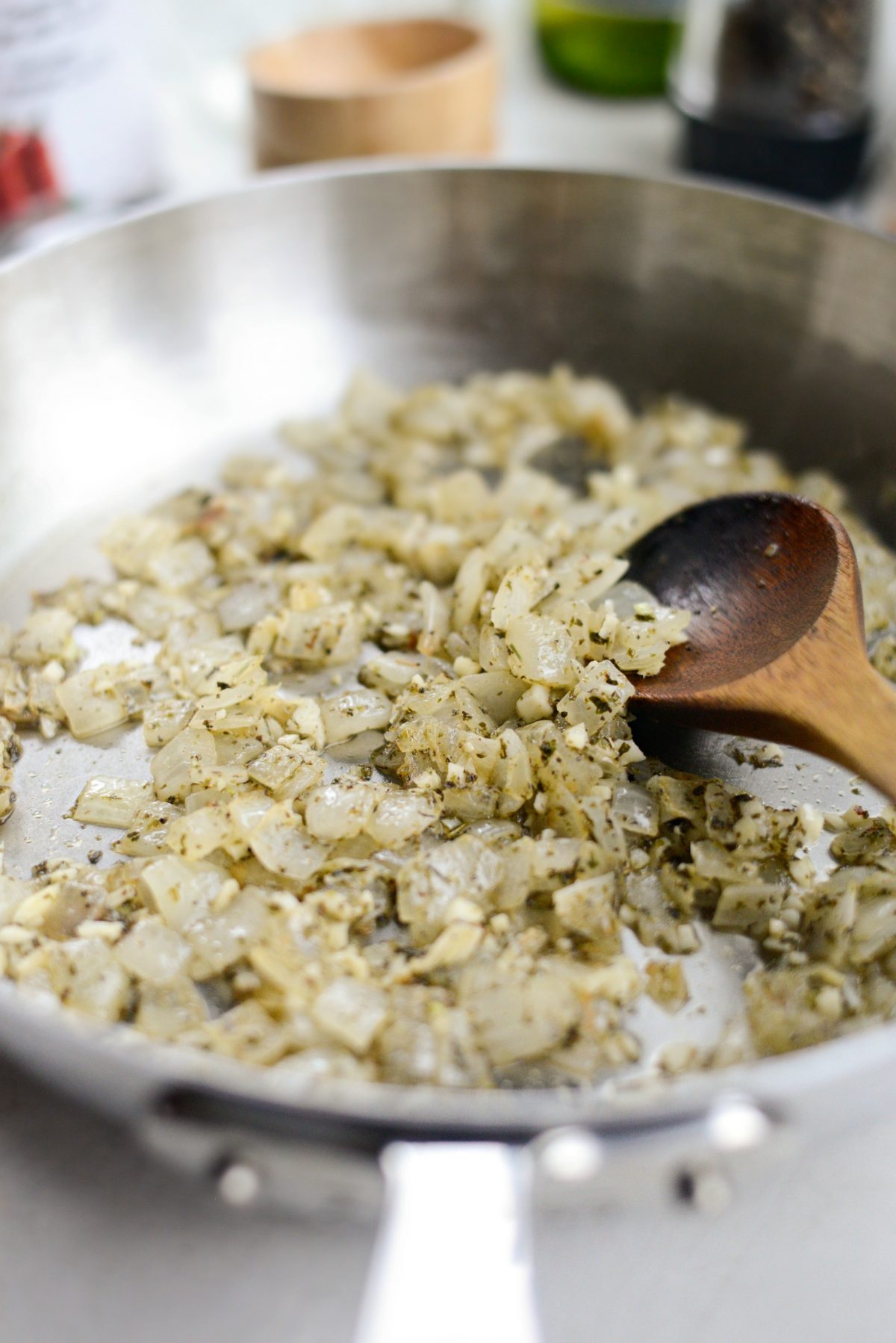 Now measure and add in 2 teaspoons Italian seasoning (I use the recipe from my cookbook) and 3/4 teaspoon rubbed sage. It's different from dried sage, so check and make sure you have the right one on hand.
Then pour in 1/4 cup dry white wine. Increase the heat to medium-high and simmer until most of the wine has reduced.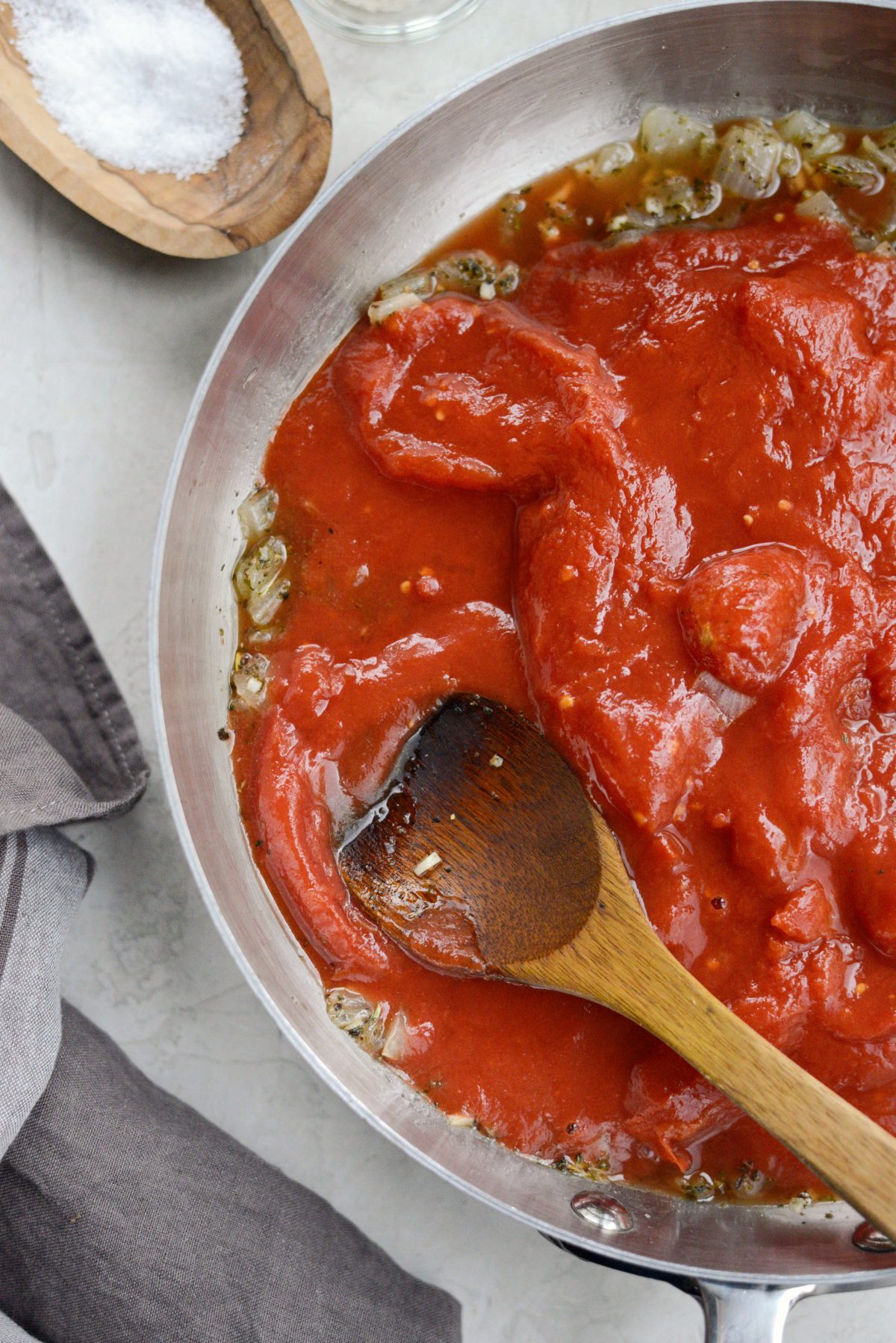 Next add in 1 (28 ounce) can of whole san marzano tomatoes – juice and all. Then, using the back of your wooden spoon, smash the tomatoes into small pieces. Cover and bring to a simmer, then reduce the heat to low and allow the sauce to gently bubble for 15 minutes.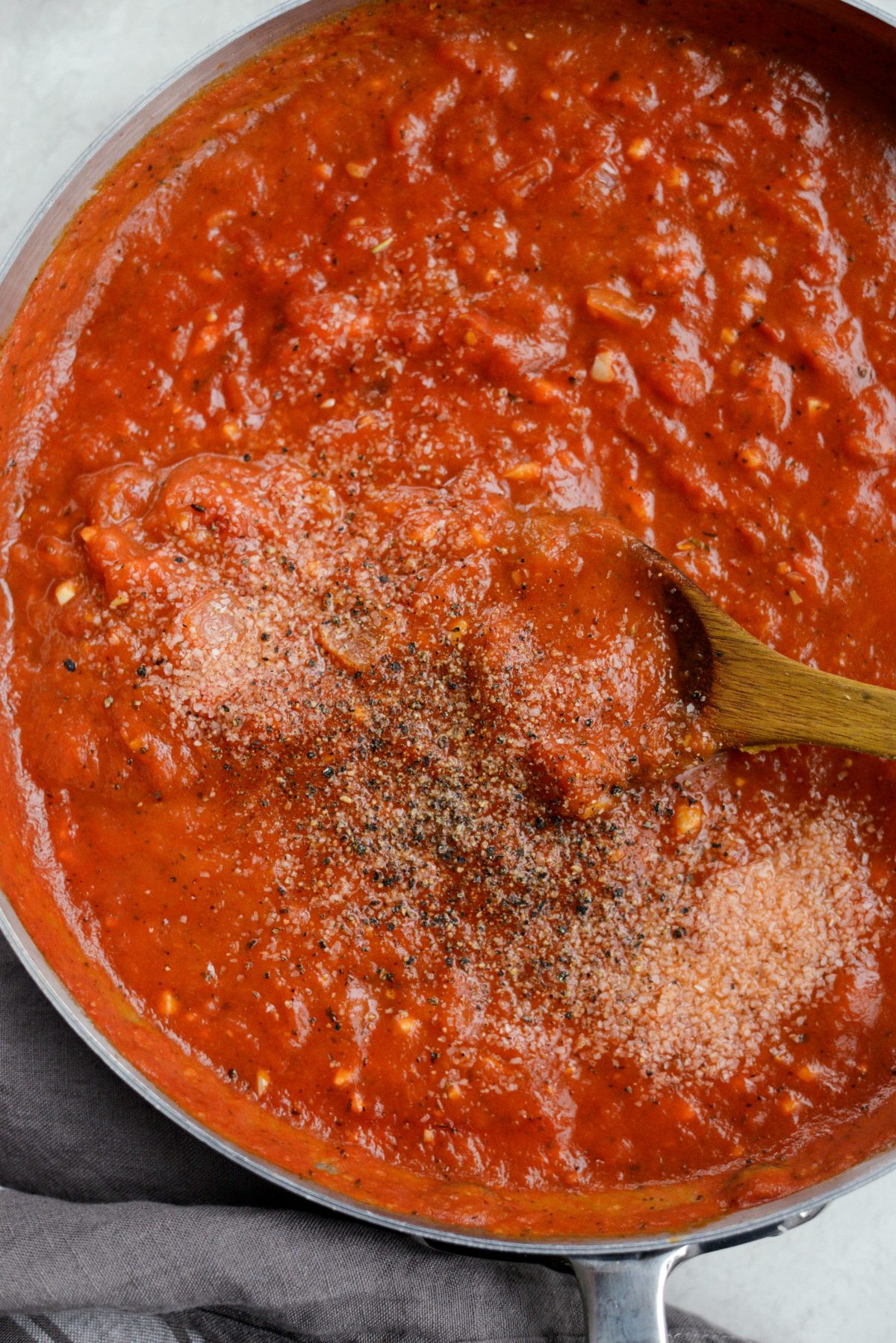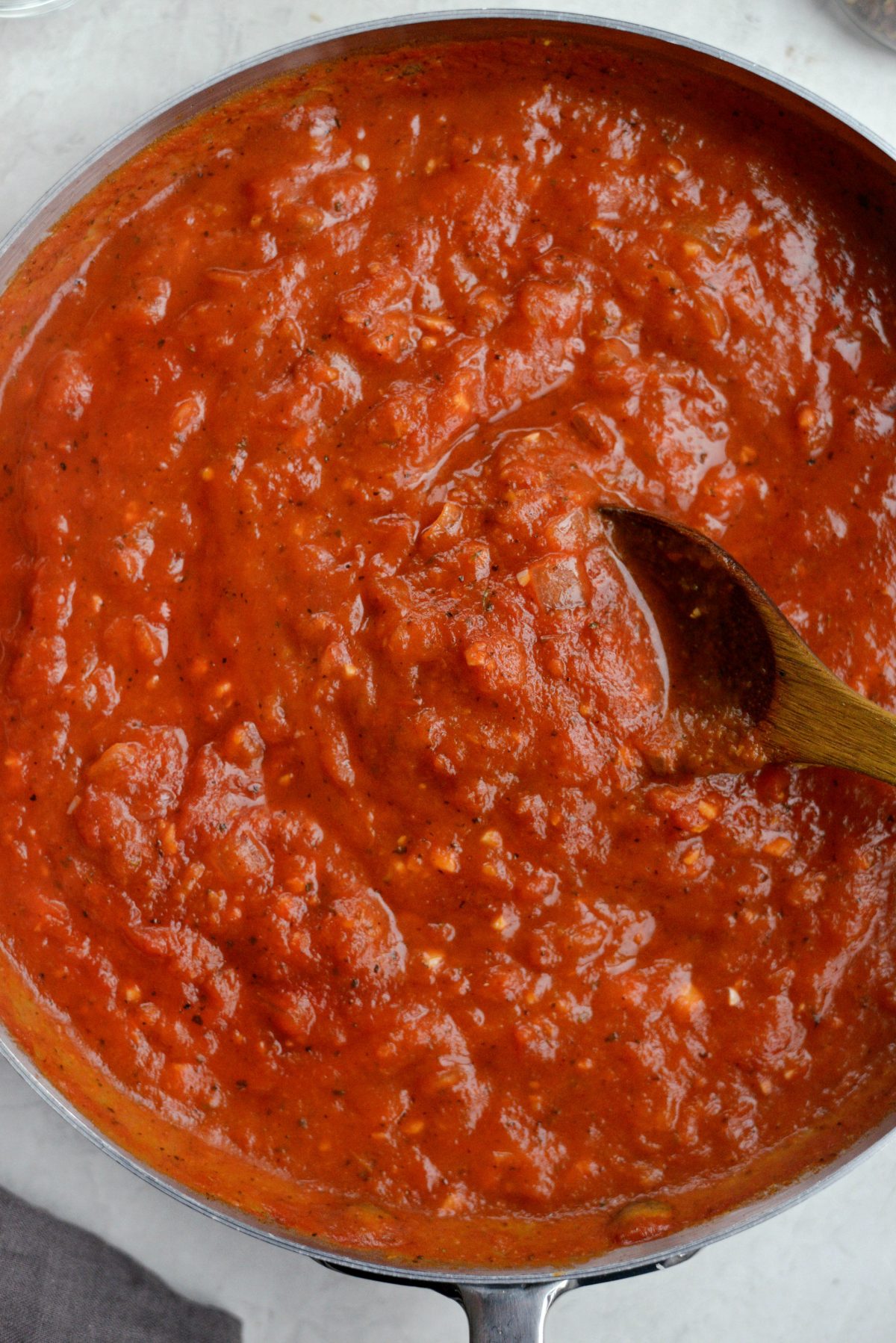 Lastly, swirl in the butternut squash purée and 1/2 teaspoon sugar. Taste-test and season with 1 to 1-1/4 teaspoon of kosher salt and 1/2 teaspoon of freshly ground black pepper.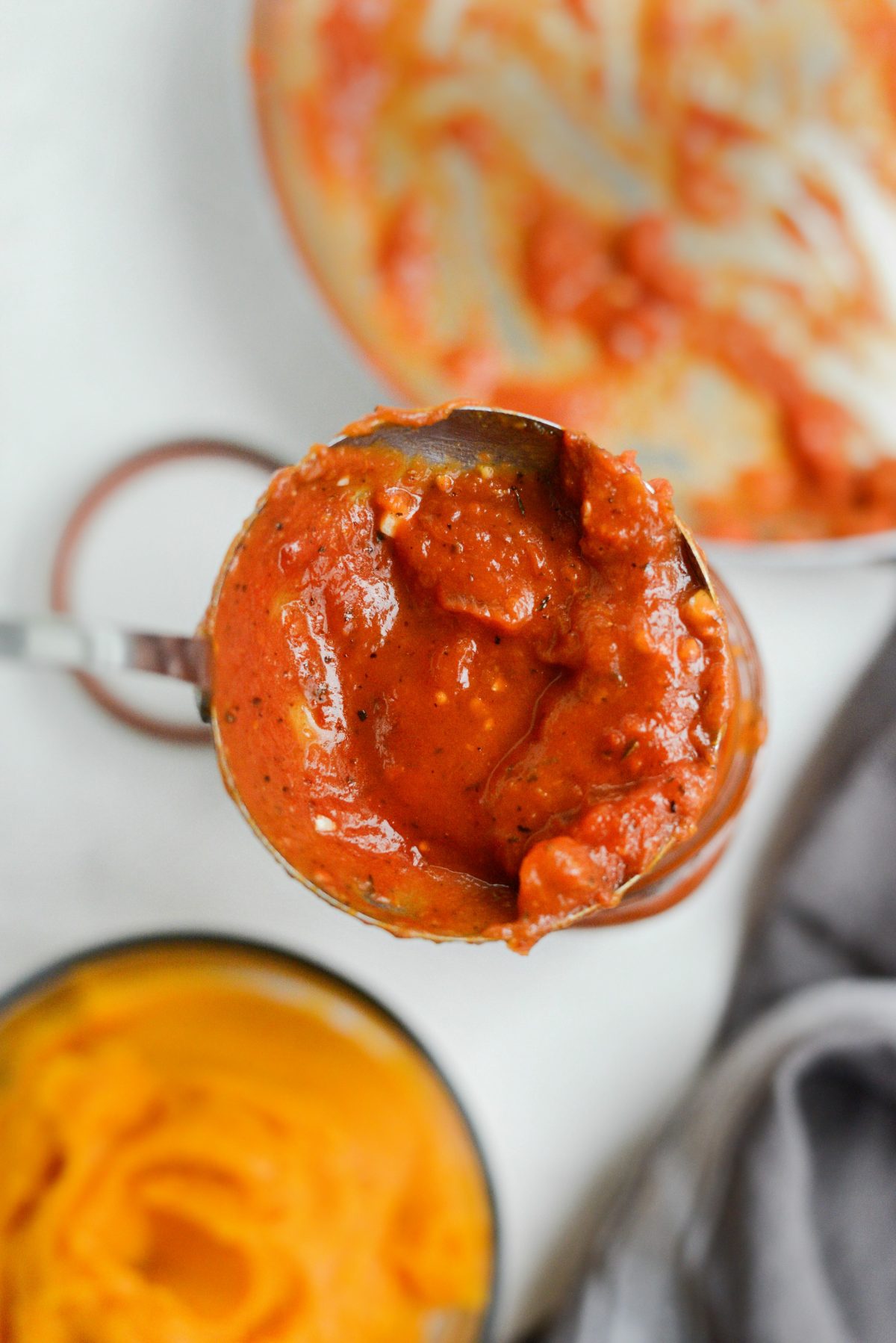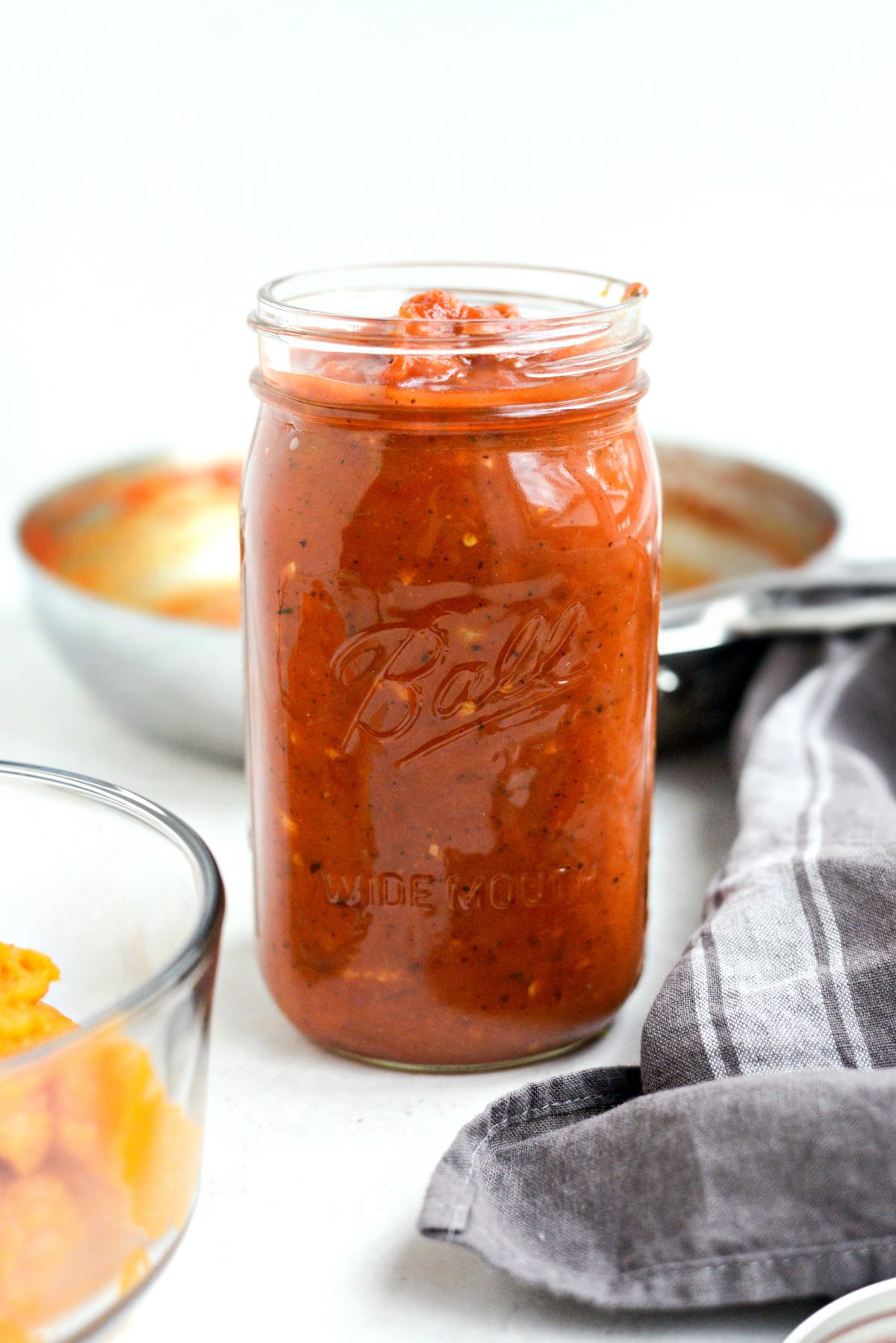 If making this sauce a day or so in advance, be sure to allow the butternut squash marinara to cool before spooning it into a jar and sealing it shut. This recipe makes roughly 4 cups so use a large jar for storing. Secure a tight-fitting lid and store in the refrigerator for up to 5 or 6 days.
That's it! So easy and extremely delicious!
Enjoy! And if you give this Butternut Squash Marinara recipe a try, let me know! Snap a photo and tag me on twitter or instagram!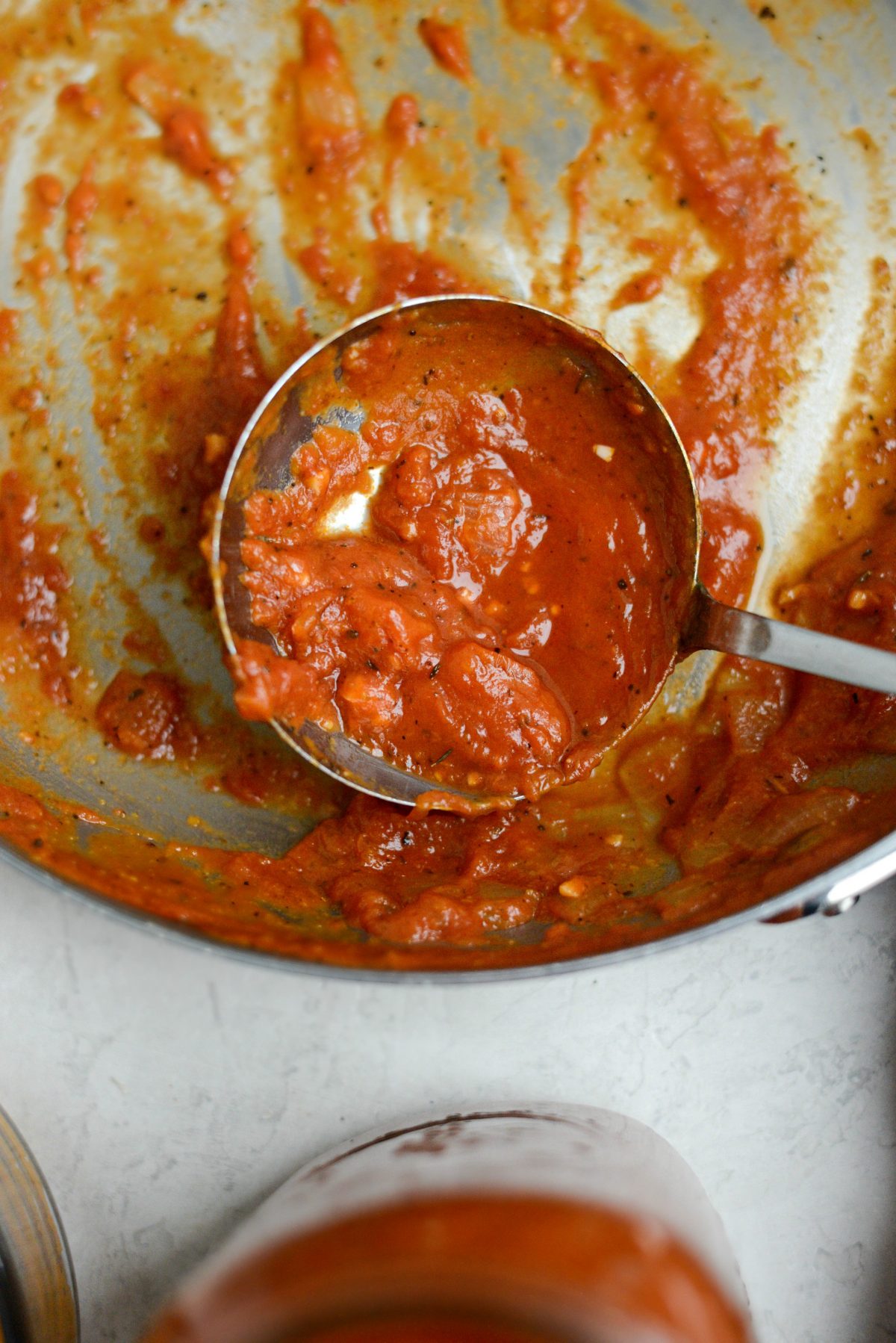 This post may contain affiliate links.
Buy the Cookbook: Simply Scratch : 120 Wholesome Homemade Recipes Made Easy Now available on Amazon »
THANK YOU in advance for your support!