Tequila and lime collide in the most delicious Grilled Tequila Lime Chicken Tacos! Chicken marinates in a sweet meets sour, garlicky and a smidgen spicy marinade. Grilled to perfection, stuffed into corn tortillas with crisp cabbage, red onion, queso fresco, fresh cilantro and slices of avocado.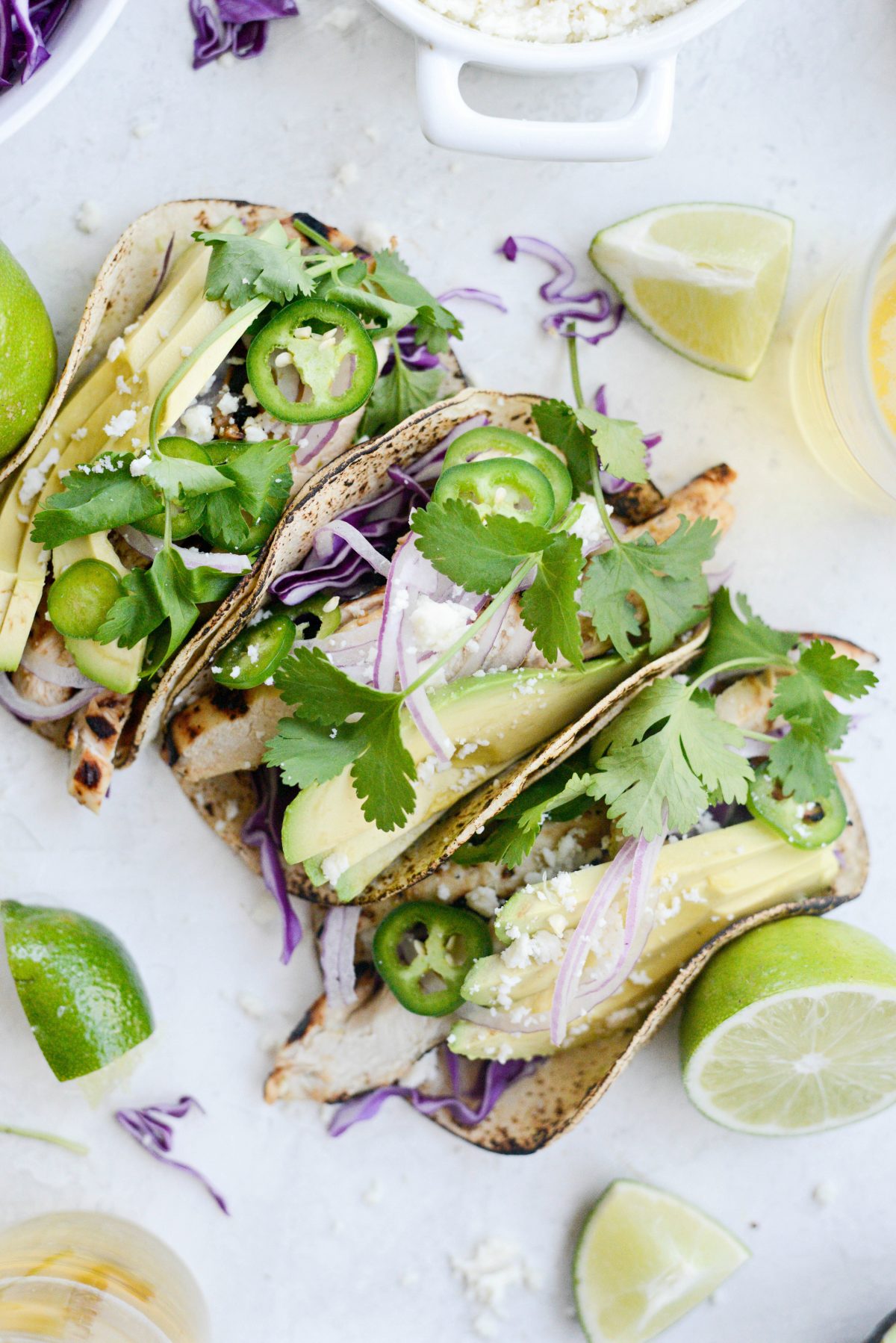 When I think of Cinco de Mayo, I think of two things and two things only. Margaritas and tacos. Not just because they're two of my most favorite things in the whole world, but also because they go hand in hand. Literally. Marg in one hand, taco in the other.
So for this Cinco de Mayo I'm merging the two and creating the ultimate dinner: grilled tequila lime chicken tacos.
Originally there were a few more step-by-step photos of the marinade, but then I accidentally deleted those along with a WHOLE other recipe for a totally separate post. To say I'm bummed is an understatement. I literally just finished blogging a recipe and ran out of space on my SD card and while I thought I was deleting old images, apparently I deleted the ones I just took.
But hey, that's okay. We still have tacos. And margaritas, right?
The two together make everything better. Or numbs the pain a little. Thank you tequila.
To make these Grilled Tequila Lime Chicken Tacos you will need:
grilled tequila lime chicken
corn tortillas
purple cabbage
red onion
cilantro
avocado
queso fresca or Cotija cheese
jalapeños
lime wedges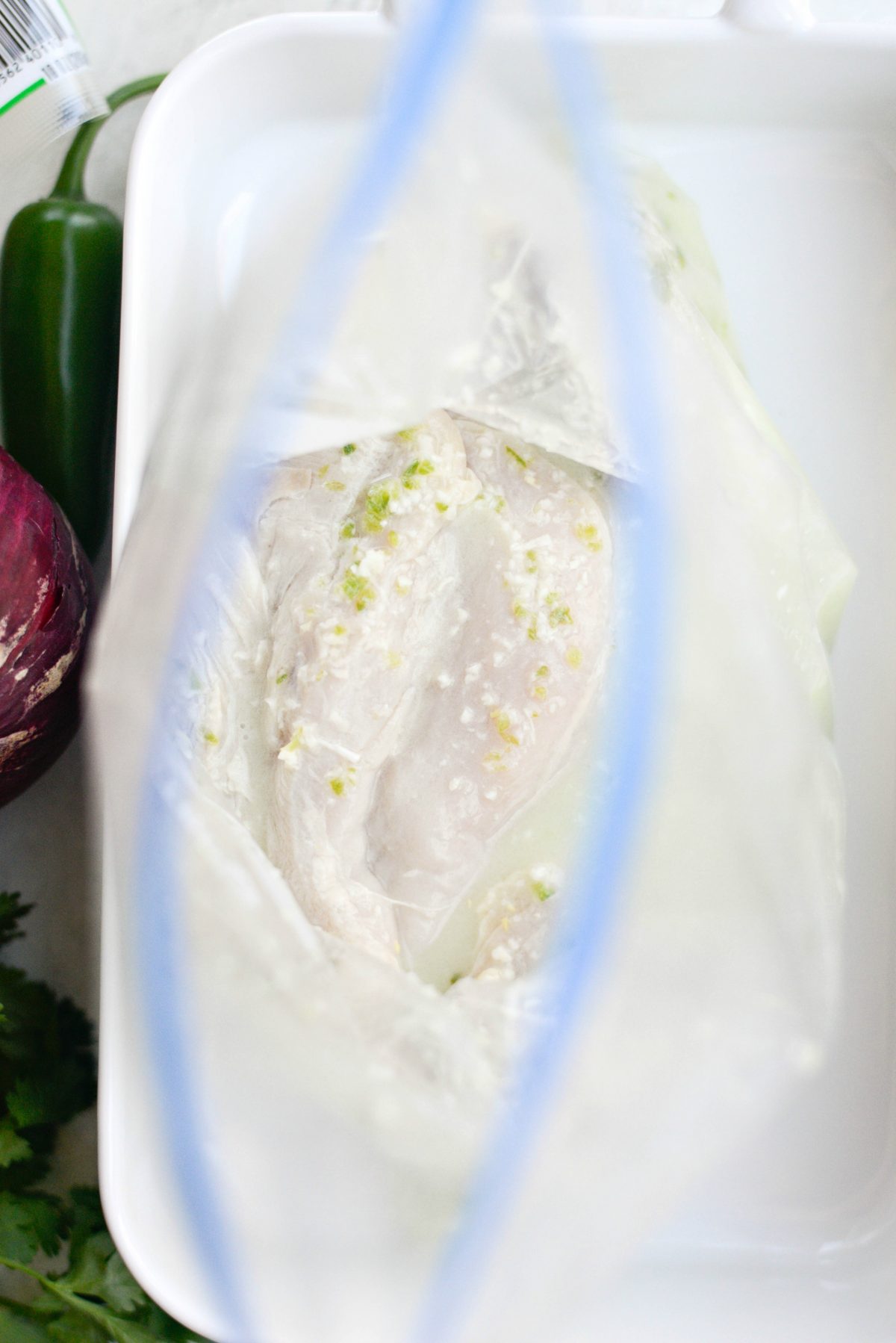 Earlier in the afternoon, I whipped up this super simple marinade in my mini food processor that smelled like a margarita. I was instantly thirsty.
Is 1 pm too early to crave a margarita? Asking for a friend.
Anyways, for the marinade you'll need 4 cloves peeled garlic, 1 seeded and diced jalapeño, 1/4 cup fresh lime juice plus the zest of 1 lime, 2 tablespoons agave, 2 tablespoons olive oil, 1/4 teaspoon black pepper and 1/2 cup tequila blanco. Add it all into your food processor and puree to combine.
Next, place the chicken breast halves in a gallon size re-sealable bag and pour the marinade over top. Seal and work the marinade into the chicken. Place in a shallow dish and and pop it into your fridge to chill for 1 hour. Remove the marinating chicken from your fridge and place it on your counter for 20 to 30 minutes prior to grilling. Try not to let the chicken marinate longer than 1-1/2 hours to avoid the citric acid from "cooking" or "ceviche-ing" the chicken.
Grill time!
Preheat your grill to 450°. Once hot, remove the chicken form the marinade and place it on the preheated grill grates, season with kosher salt and close the lid.
Then grill for 4 to 6 minutes or until grill marks form and the chicken releases from the grill grates easily. Next, turn the chicken, close the lid and continue grilling for another 4 to 5 minutes until the chicken is no longer pink and is fully cooked. Then transfer to a cutting board to rest under tented foil for about 5 minutes before slicing.
Next top toasted corn tortillas (I used white corn and my kitchen torch to toast them with cabbage, slices of grilled tequila lime chicken, avocado, onions, cheese and cilantro. Lastly, squeeze fresh lime juice over top and unhinge your jaw to accommodate this mammoth taco. Finally.
These tacos are light and flavorful and packed with lots of textural deliciousness. I love the crunch of the cabbage, the toasty corn tortillas and the creamy saltiness of the queso fresco. Actually, I love it all.
Happy Cinco de Mayo!
Enjoy! And if you give this Grilled Tequila Lime Chicken Tacos recipe a try, let me know! Snap a photo and tag me on twitter or instagram!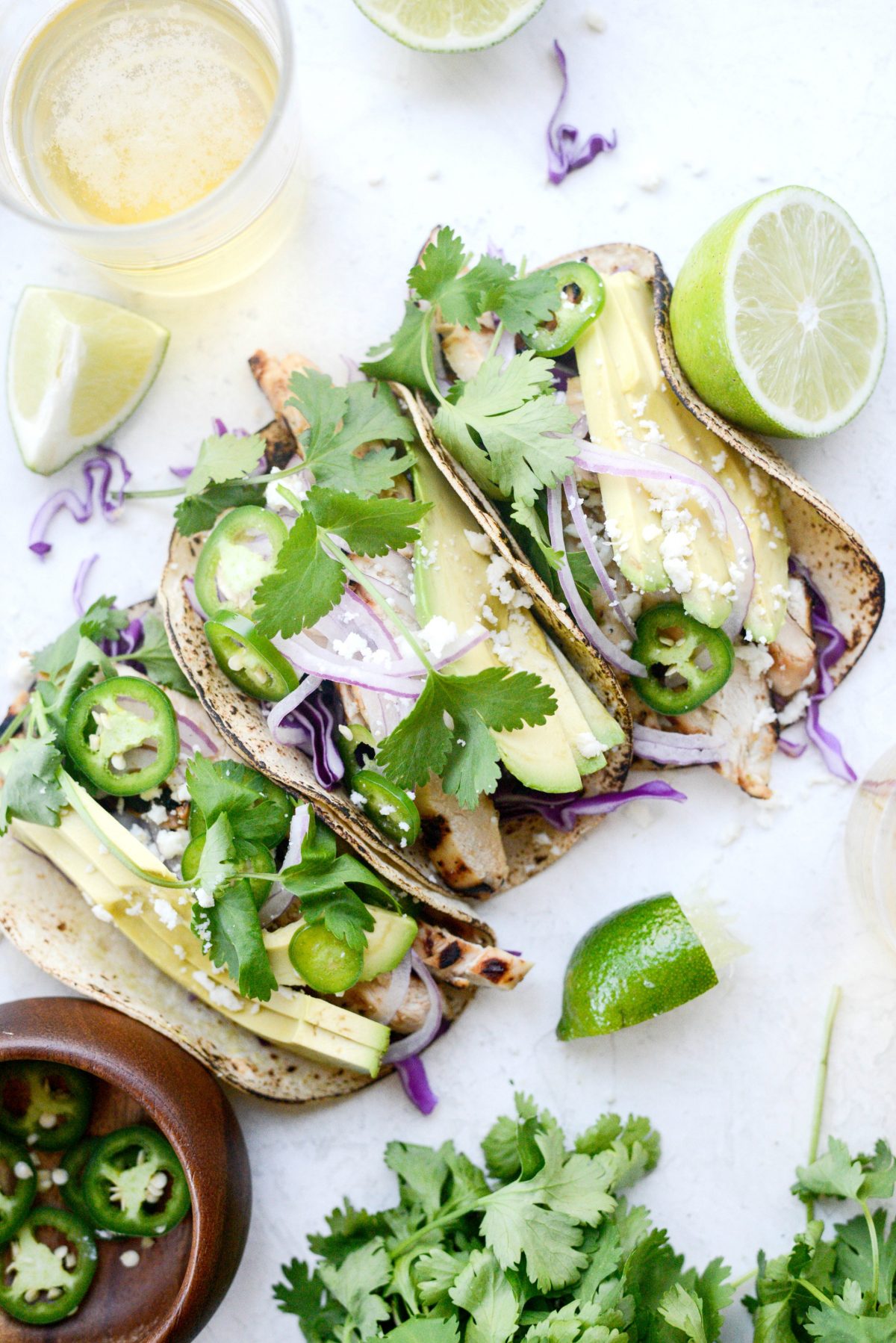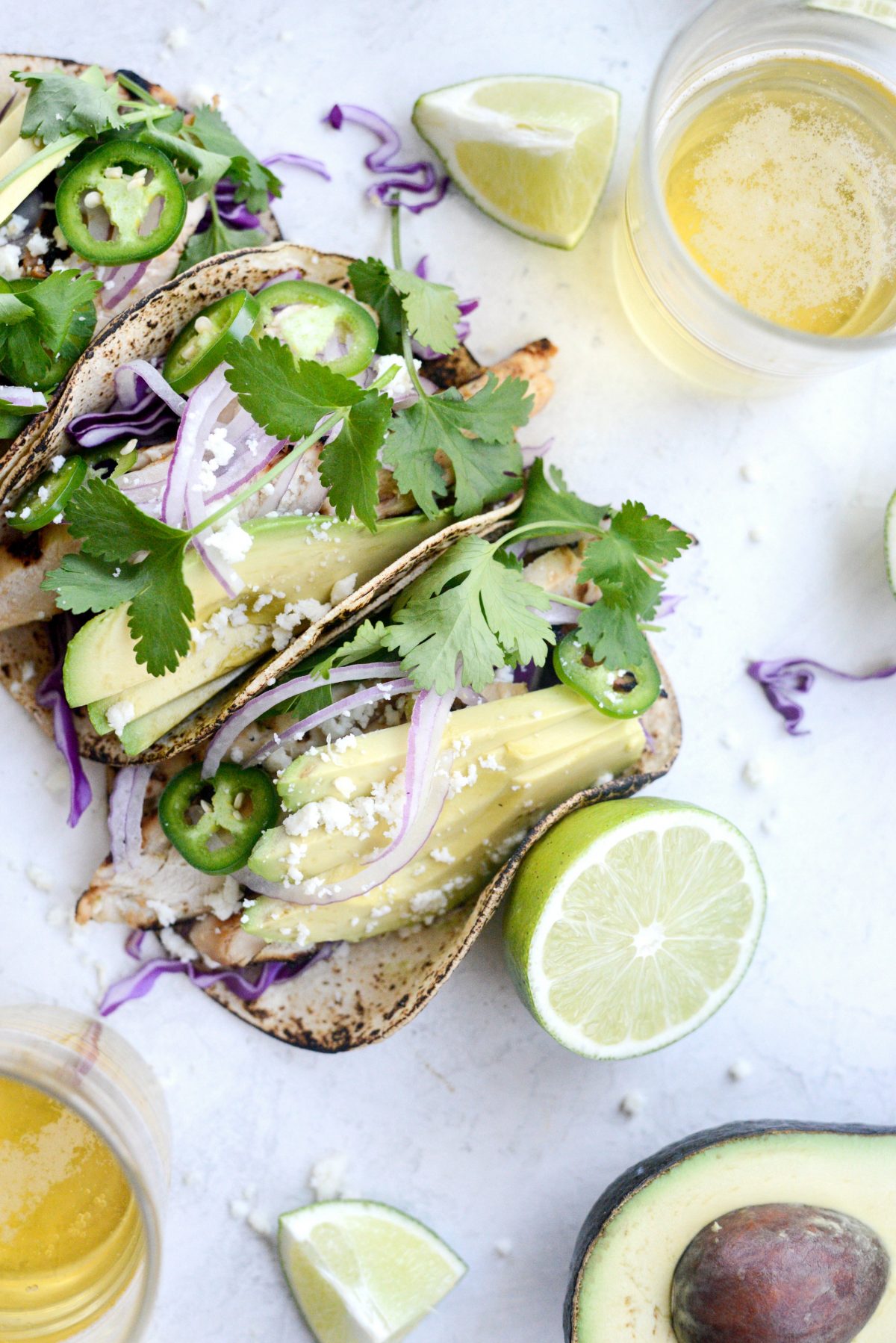 This post may contain affiliate links.
Buy the Cookbook: Simply Scratch : 120 Wholesome Homemade Recipes Made Easy Now available on Amazon »
THANK YOU in advance for your support!