In this Mexicali Sweet Potato Noodle Salad, roasted poblanos and charred corn are tossed with sweet potato noodles, kale, jalapeño, cabbage and red onion in a simple lime infused Mexicali dressing. Fresh, bright and with a subtle smoky heat.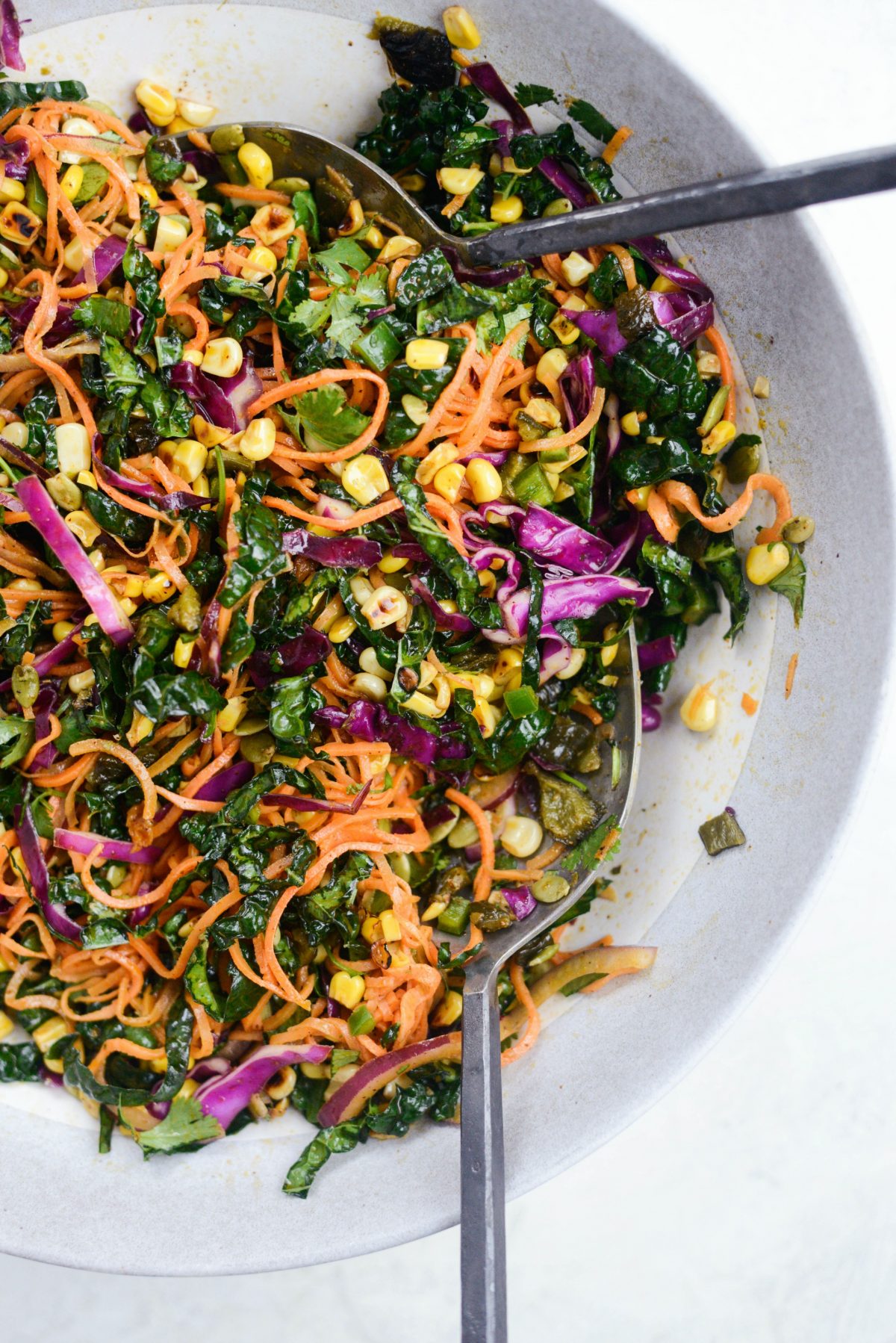 This is me: buys a spiralizer 8 months ago and just now getting around to using it and on the first day, I sliced my finger.
I literally ran my pinky finger down the blade. Why? Sure life could be worse than an inch long incision that I have to cover with a bandaid, but YAY! to finally getting around to spiralizing!
I'm not one to follow trends. HOWEVER I am all about easy gadgets that promote healthy eating, and when I found how easy it was to spiralize (and trust me, you will too) I now want to spiralize everything. SO this is a recipe I've made before, but I used my julienne peeler and while it was tasty, it just didn't look pretty at all. To achieve ultimate salad beauty, you'll want a spiralizer. Not only for the fact it's ridiculously easy to use but the aesthetically pleasing outcome is satisfying as well.
I found my spiralizer on Amazon, and I'll admit I'm pretty impressed with it. Granted I only used it once so far, it does comes with 7 different blades so you have lots of voodling (veggie-noodling, I just made that up) options. I picked the angel hair blade, and while it worked like a champ, next time I'll try one of the other blades.
This Mexicali sweet potato noodle salad You Will Need:
is pretty forgiving, so you can use what you have on hand in the quantities that you decide fit. Drizzle it with this super simple lime infused Mexicali dressing and prepare to fall in love.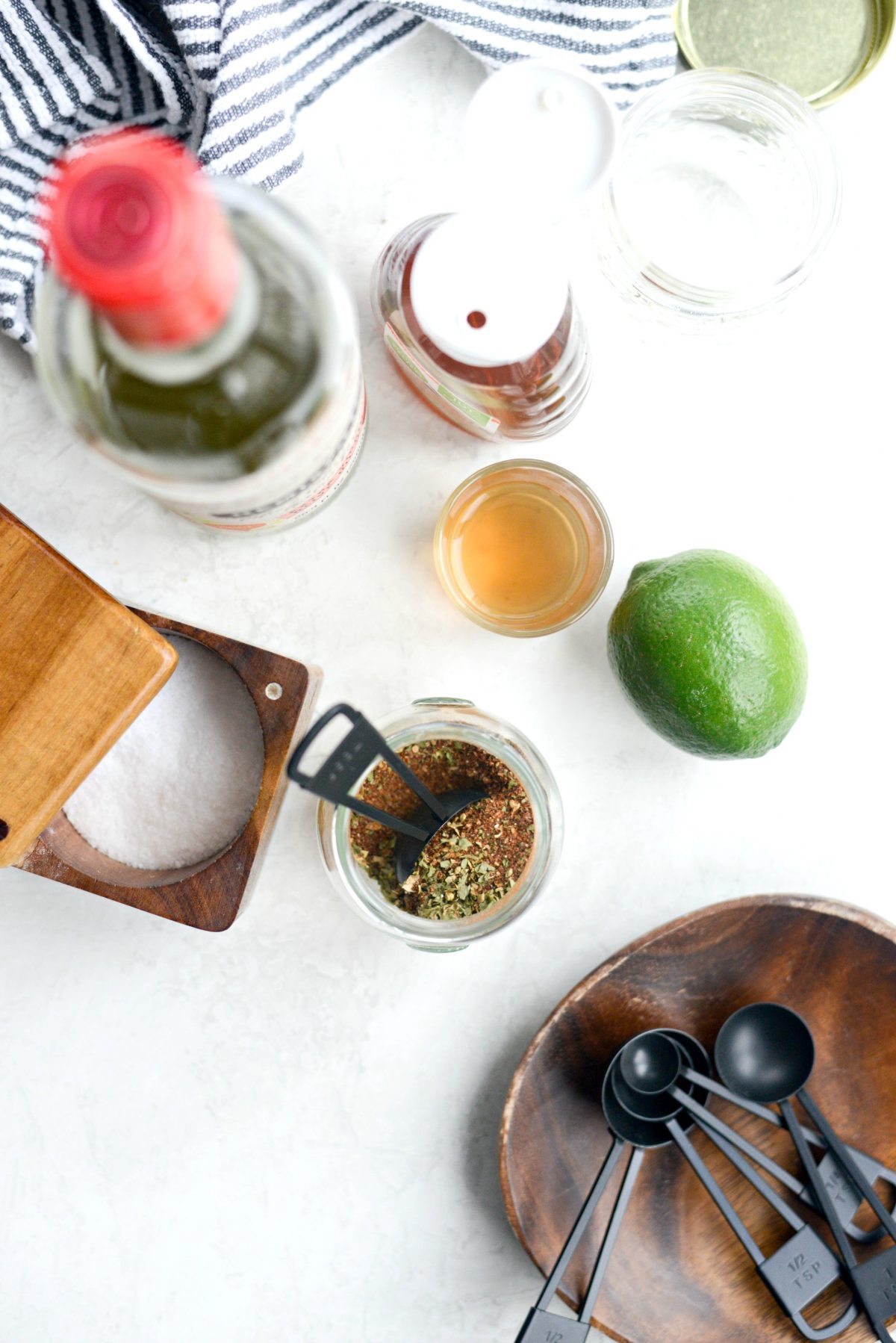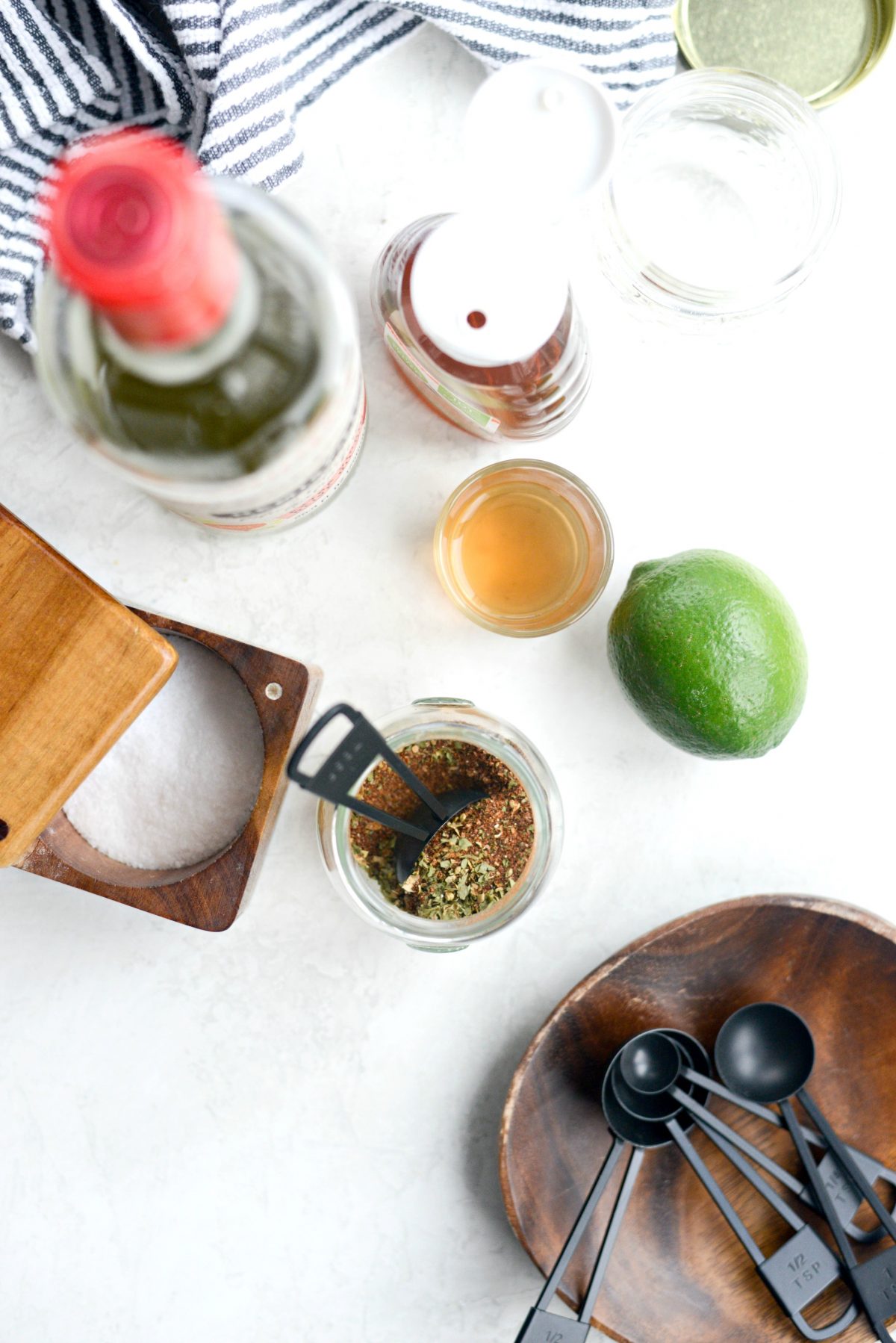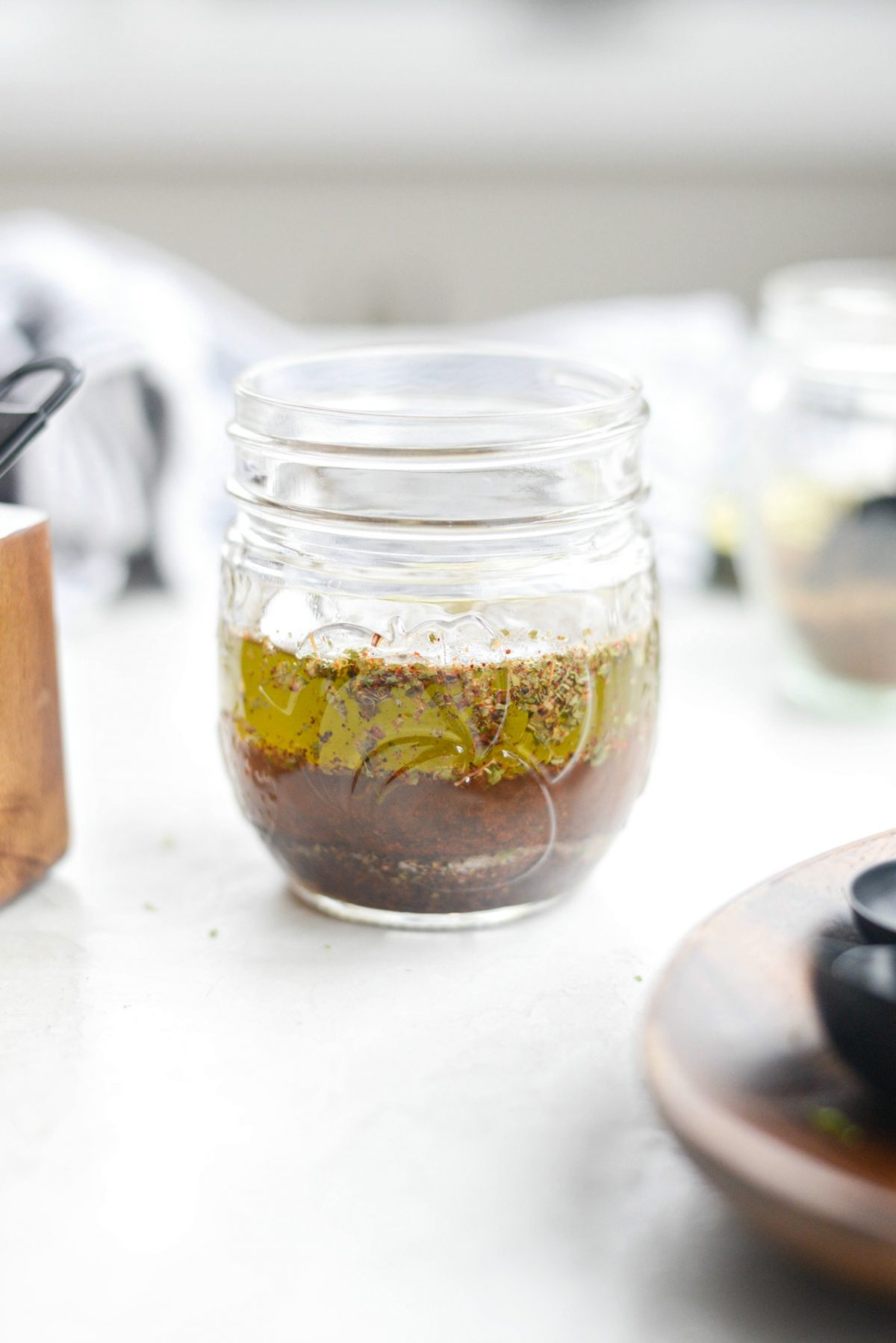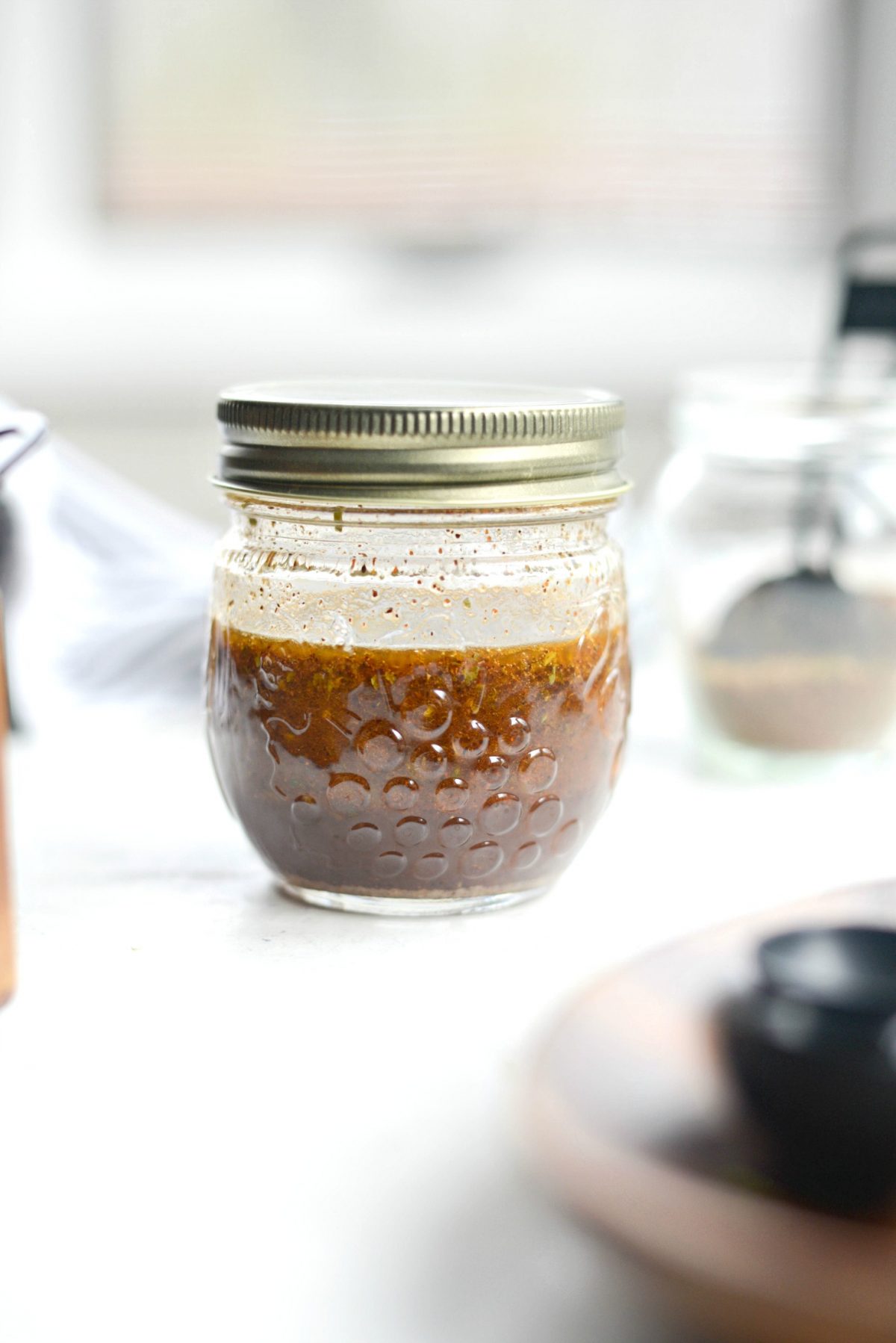 To Make the Dressing You will need:
kosher salt
lime – both the zest and juice
champagne vinegar
honey
olive oil
Measure and add a tablespoon of my Mexicali seasoning, 1/2 teaspoon kosher salt, a medium-sized lime – both the zest and juice, 2 tablespoons champagne vinegar, 1 tablespoon honey, 1/4 cup of olive oil into a glass jar that has a tight fitting lid and shake to combine. Let this sit so the lime juice and vinegar can start working their magic on the spice blend.
TO Make The Mexicali the salad, you will need;
roasted poblano peppers
sweet corn
sweet potatoes
a bunch of lacinato kale
cabbage
red onion
jalapeño
pepitas
kosher salt
Mexicali vinaigrette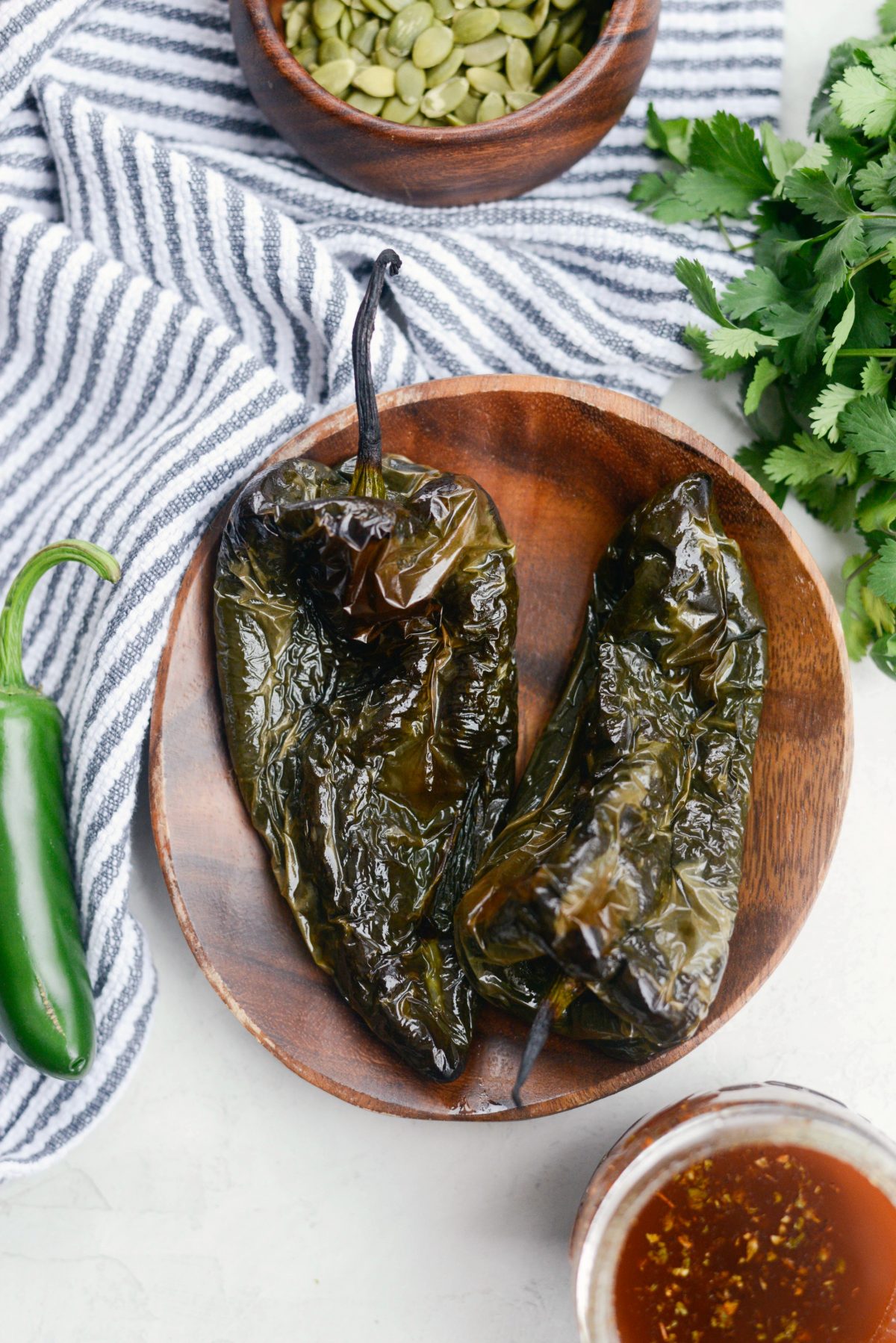 First thing I do is roast the poblanos. In the colder months, I like to use my go-to method of oven roasting by following this method. While the poblanos roast, I prep the rest of the veggies.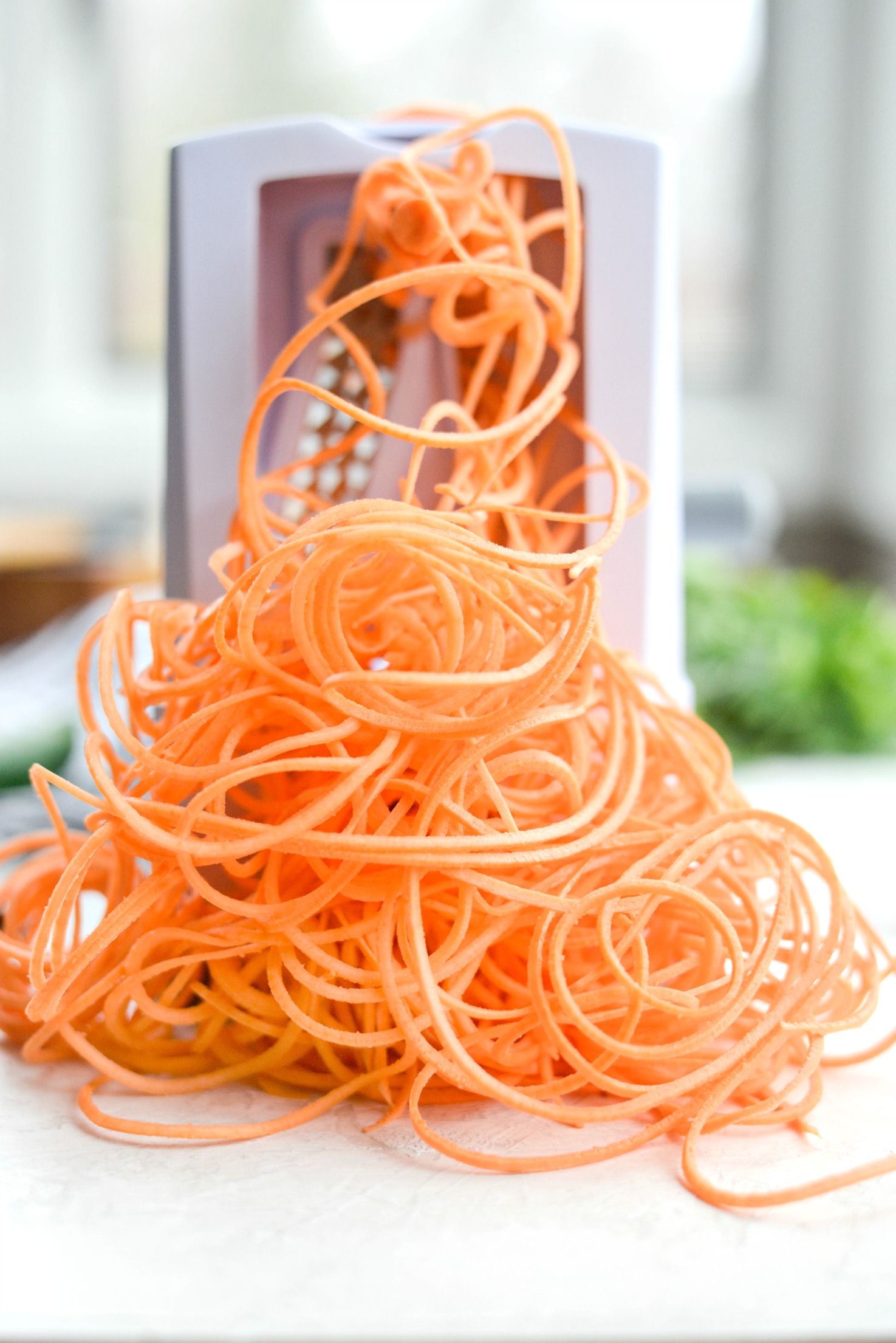 Peel and trim the ends off of 1 to 2 sweet potatoes, spiralize on your favorite blade and set aside. I had plans to use two sweet potatoes but one was in bad condition. The sweet potato noodle salad was still delish with only one spiralized sweet potato.
Preheat a large, 12-inch cast iron skillet with 2 teaspoons of olive oil on medium-high heat. Cut the kernels off of each of the cobs. Once hot, add in the corn kernels, toss in the oil and spread in an even layer. Cook, undisturbed for 2 to 3 minutes or until a good char forms. Stir and repeat for another 2 to 3 minutes. Transfer the toasted corn to a large mixing bowl.
Measure and add 2 more teaspoons of oil to the skillet and reduce the heat to medium. And oss in the sweet potatoes, toss in the oil and cook for 5 to 6 minutes or until the sweet potato wilts a bit but still has a bit of crunch to them.
Fun fact! Sweet potatoes are delicious raw!
Transfer to the bowl with the charred corn.
Remove and discard the stems from a bunch of kale, then thinly slice the kale leaves. Toss in a little of the dressing and a pinch of kosher salt and toss to coat. Add the kale into the bowl with the corn and sweet potato noodles.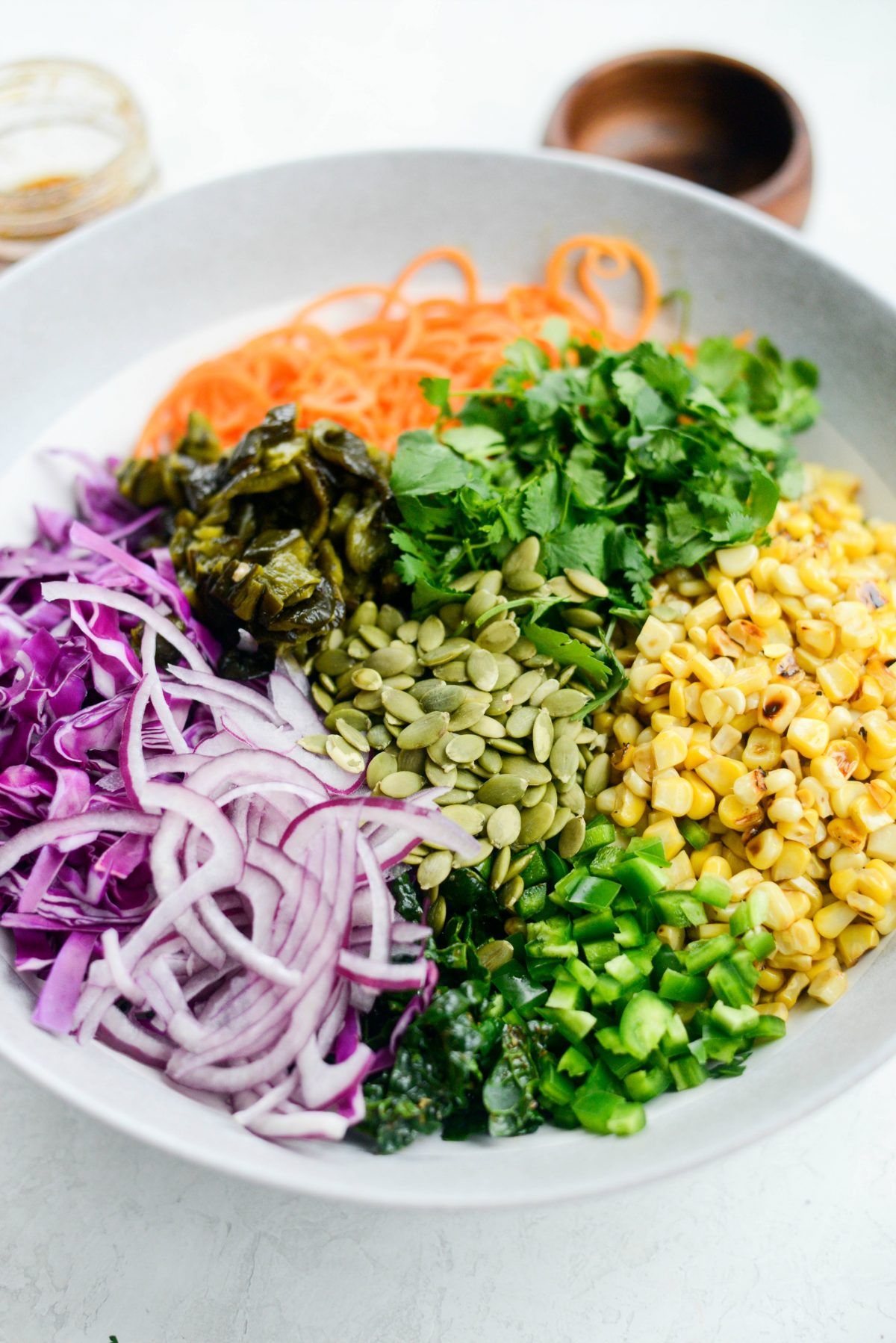 Then add in the rest of the prepared veg; the sliced purple cabbage, red onion, skinned, seeded and diced poblano, coarsely chopped cilantro, pepitas, (seeded and diced for less heat) jalapeños and a few pinches of kosher salt.
Lastly, quickly toss to combine before pouring in the desired amount of dressing, which is totally up to you.
Toss the salad a few more times to incorporate the dressing and that everything is coated.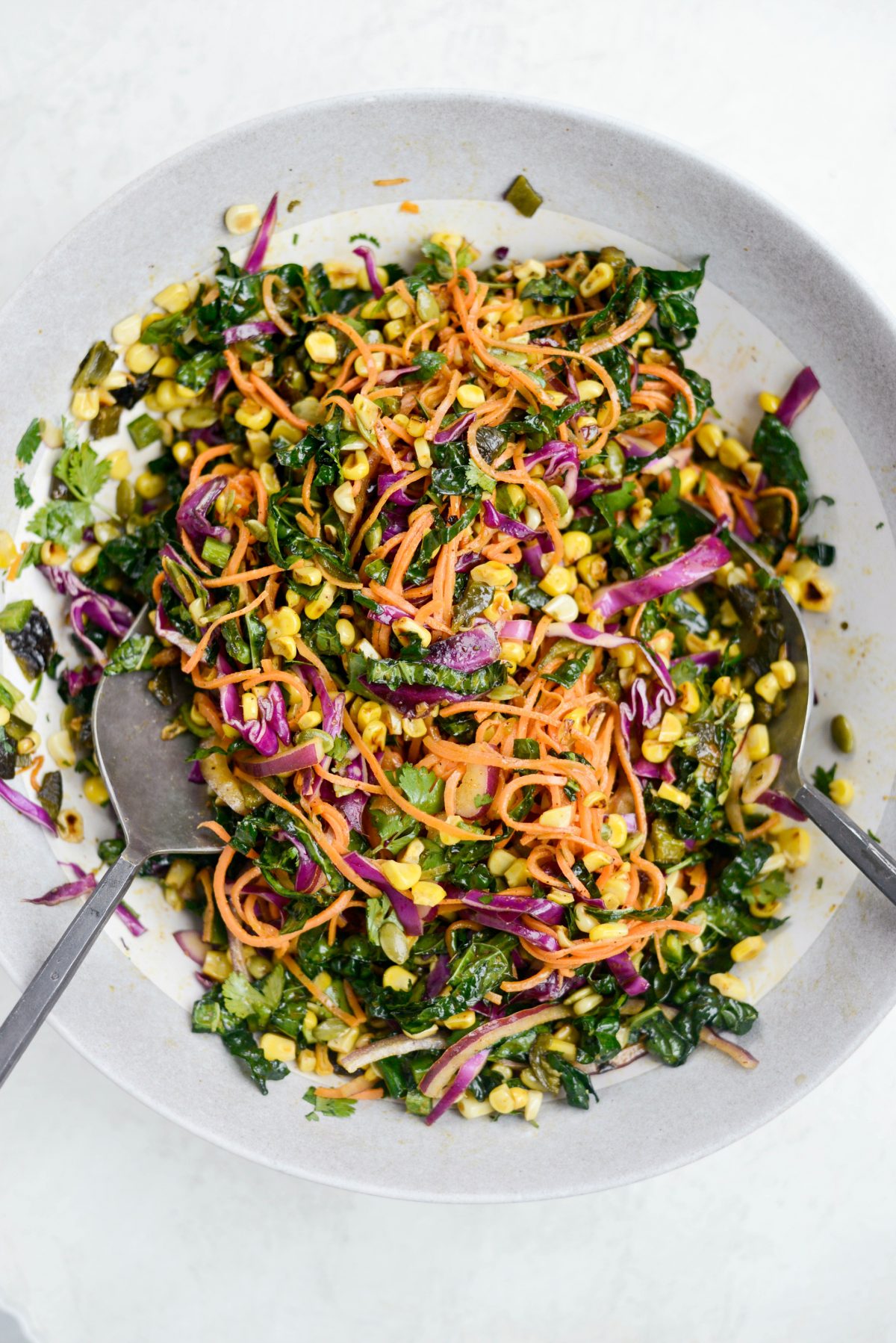 Crunchy and tender, slightly sweet with smoky heat and some spice (thank you jalapeños!). This Mexicali sweet potato noodle salad is perfect as is, but is wonderful as a side to chicken or salmon… any seafood really.
And only gets better as it sits.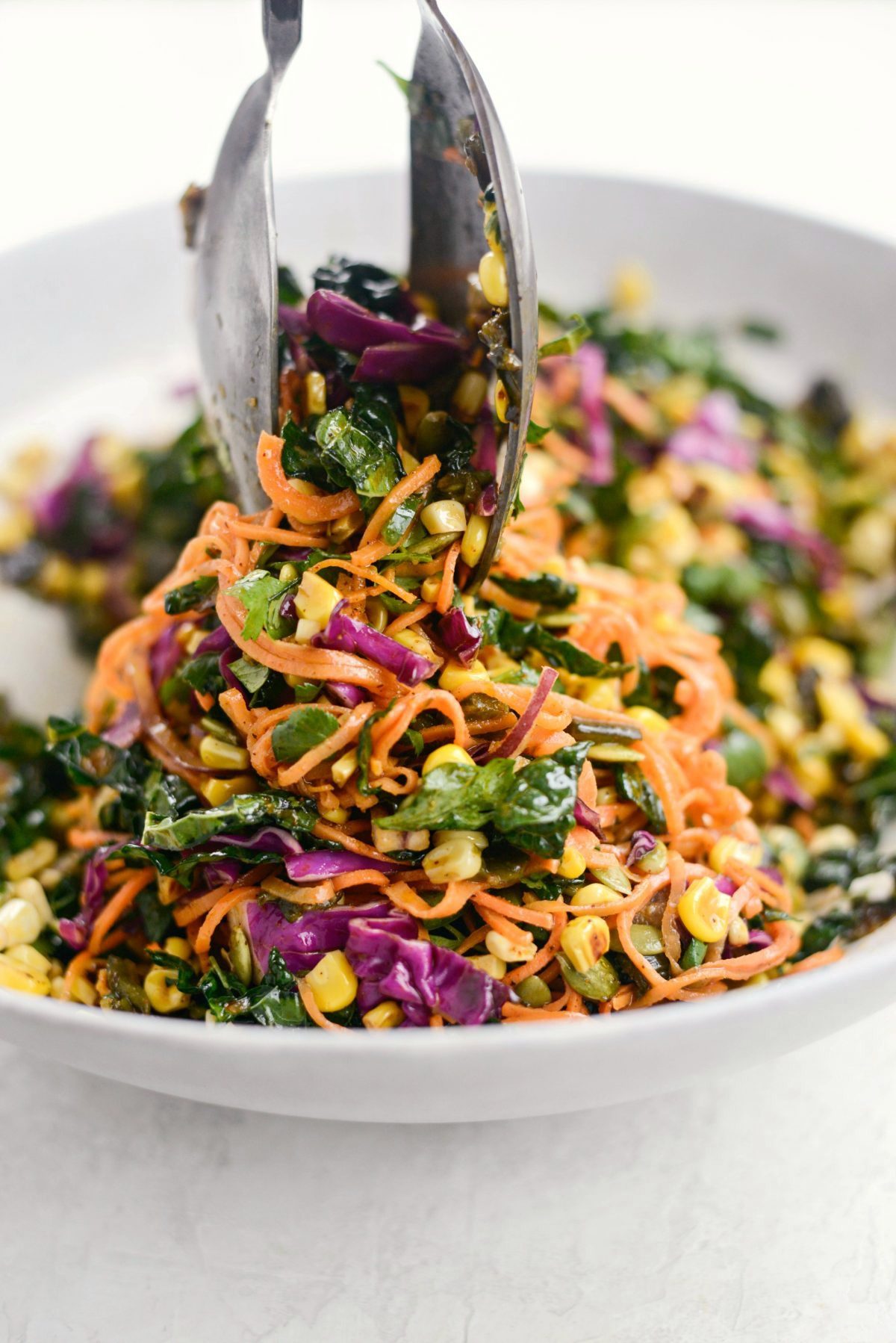 Enjoy! And if you give this Mexicali Sweet Potato Noodle Salad recipe a try, let me know! Snap a photo and tag me on twitter or instagram!

This post may contain affiliate links.
Buy the Cookbook: Simply Scratch : 120 Wholesome Homemade Recipes Made Easy Now available on Amazon »
THANK YOU in advance for your support!