Inspired by Panera Bread, this Modern Greek Kale Salad is healthy and delicious! Fresh and nutritious kale with romaine are the bed for diced cucumber, kalamata olives, sliced cooked chicken, crumbled feta, toasted almonds and a tomato quinoa sofrito that adds a modern twist and nutritious boost to this salad. Serves 4 in about an hour and is great for meal prep!

A little over a week ago, Malloree finally got her braces. After two years with either an expander or a retainer to hold the expansion, and losing about 8 or 9 teeth along the way, we went in to the appointment hoping for the go ahead and that we would finally be able to make an appointment. I've never witness anyone more eager to get her braces on in my life. Long story, short she left that morning check up with a shiny silver grill.
Just when I though she couldn't be any cuter, she gets braces. So CUTE.
I'll spare you the details that in the wake of me being excited for Mal getting braces, I slipped on a patch of black ice in the parking lot, landing quick and hard bruising just about the entire left side of my body. My hip taking the brunt, I was emotionally bruised as well (read: embarrassed).
After dropping Mal (and her grill😬) off at school, I had some errands to run and I WAS STARVING. So I stopped by Panera because a) they have a drive through and b) I'm always game for a soup and salad combo. Since my favorite soup and salad is seasonal and temporarily off the menu, I was forced to try something new and so I ordered the first thing I saw on the menu, their modern greek salad, adding chicken to it along with a bowl of tomato soup.
The next day, I made my own version of their modern greek kale salad because I loved it so much and had it again just yesterday when I took Haileigh and Malloree shopping and to lunch.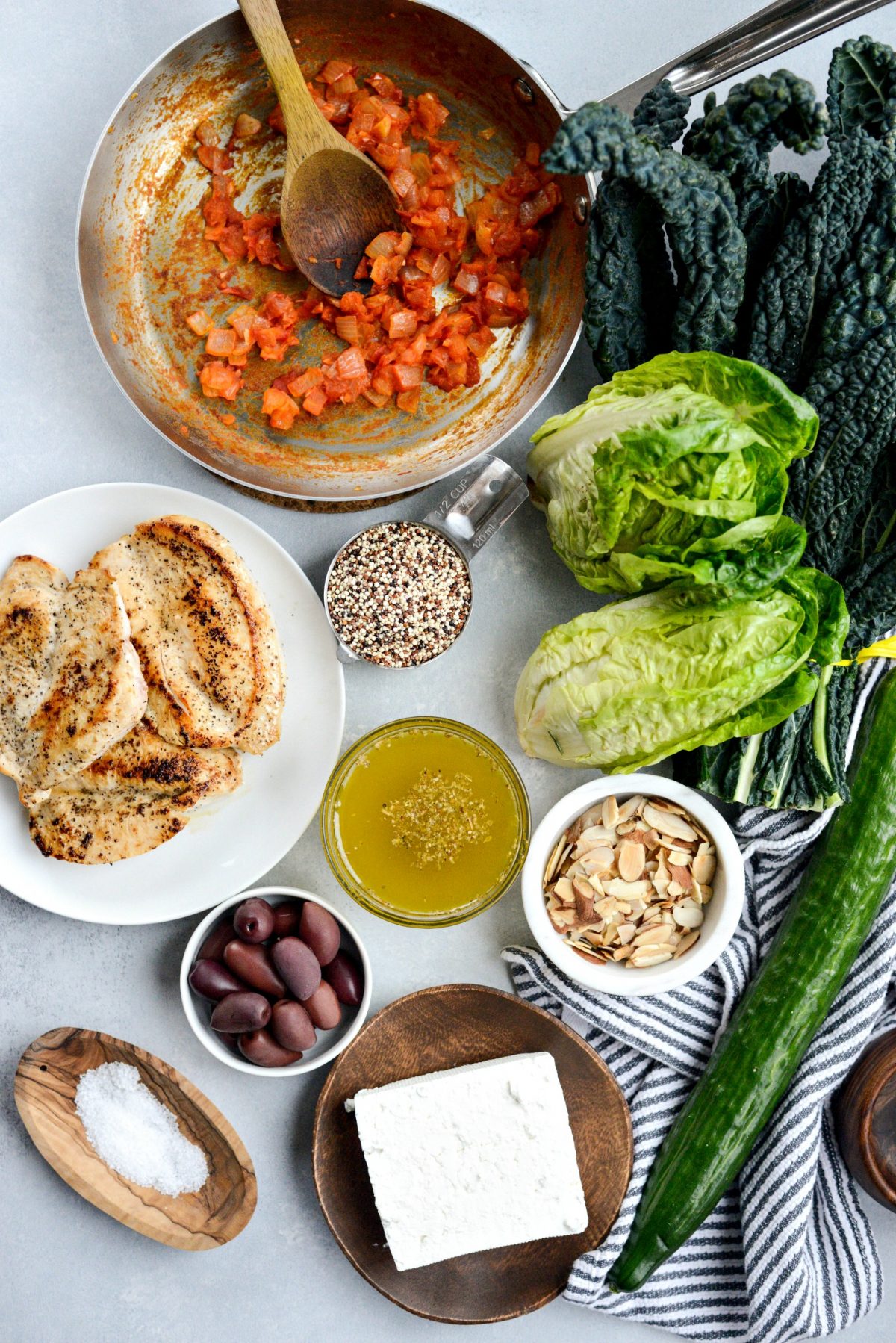 To Make this Modern Greek Kale Salad You Will Need:
kale (any kind)
romaine
quinoa
toasted almonds
kalamata olives
feta
cucumber
grilled chicken
tomato sofrito
In advance I cooked up a few chicken breasts to add to the salad. I just sprinkled them with salt and lemon pepper and cooked them in a skillet until golden and cooked through.
Chop up a large tomato and sauté it with 3/4 cup diced yellow onion in olive oil and once tender I stirred in a heaping tablespoon of tomato paste, but I will include all those instructions in the printable at the end of the post.
I recommend rinsing your quinoa in a mesh strainer, vigorously shaking it while rinsing under cool water before you cook it. I explain it all here. Then add it into a sauce pan along with the sautéed tomatoes and onions, pour in 1 cup of water or broth and bring to a boil for 5 minutes. Leaving the pan on the burner, cover and turn the heat off.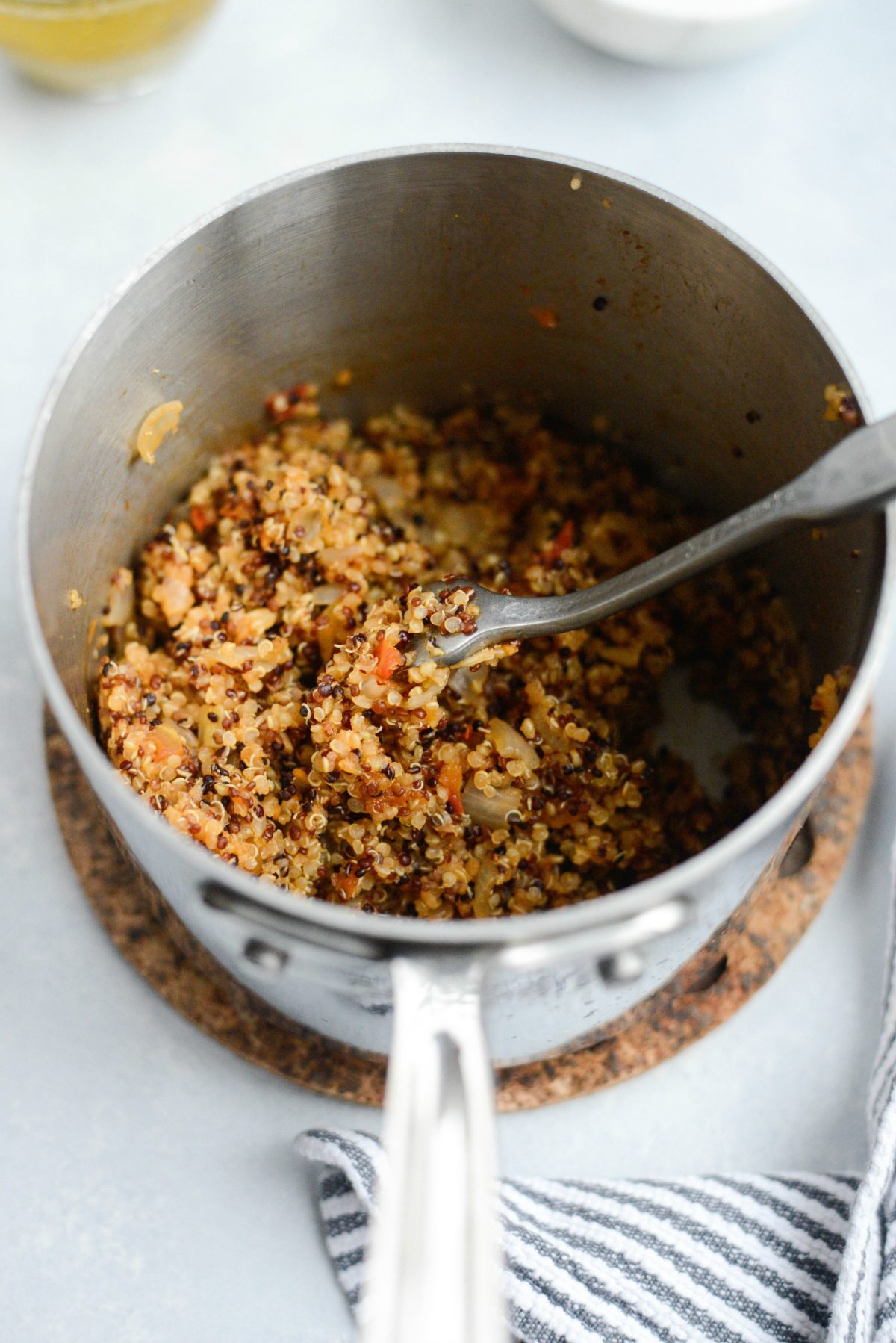 Let it stand for 20 minutes before removing the lid and fluffing it with a fork. This tomato sofrito can be added to the salad warm or cold, you choose.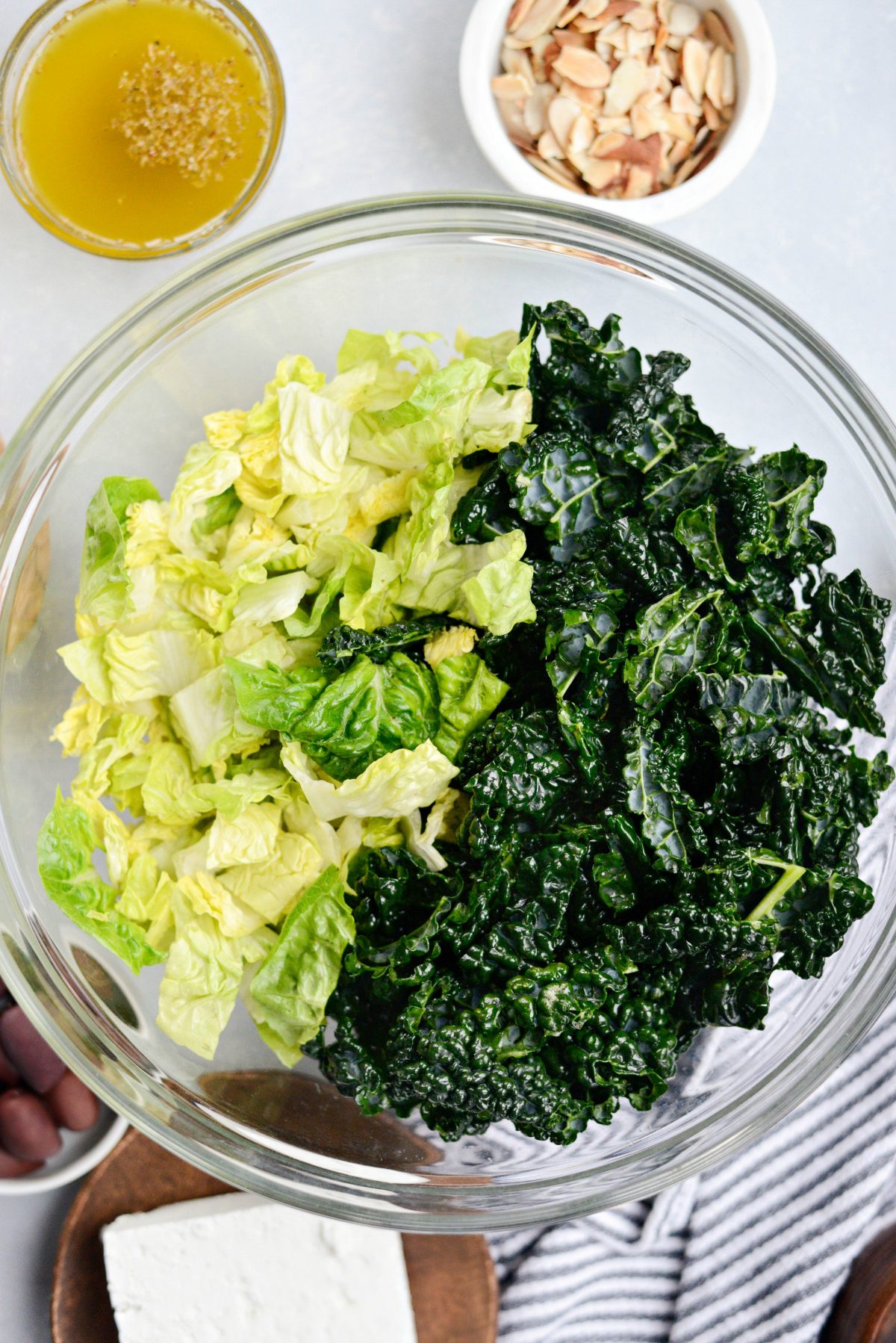 Strip the leaves off the stems Chop, wash and rinse the kale. Then massage the leaves with a little olive oil and a pinch of kosher salt to tenderize. Toss with the chopped (washed and dried) romaine before arranging onto salad plates or bowls.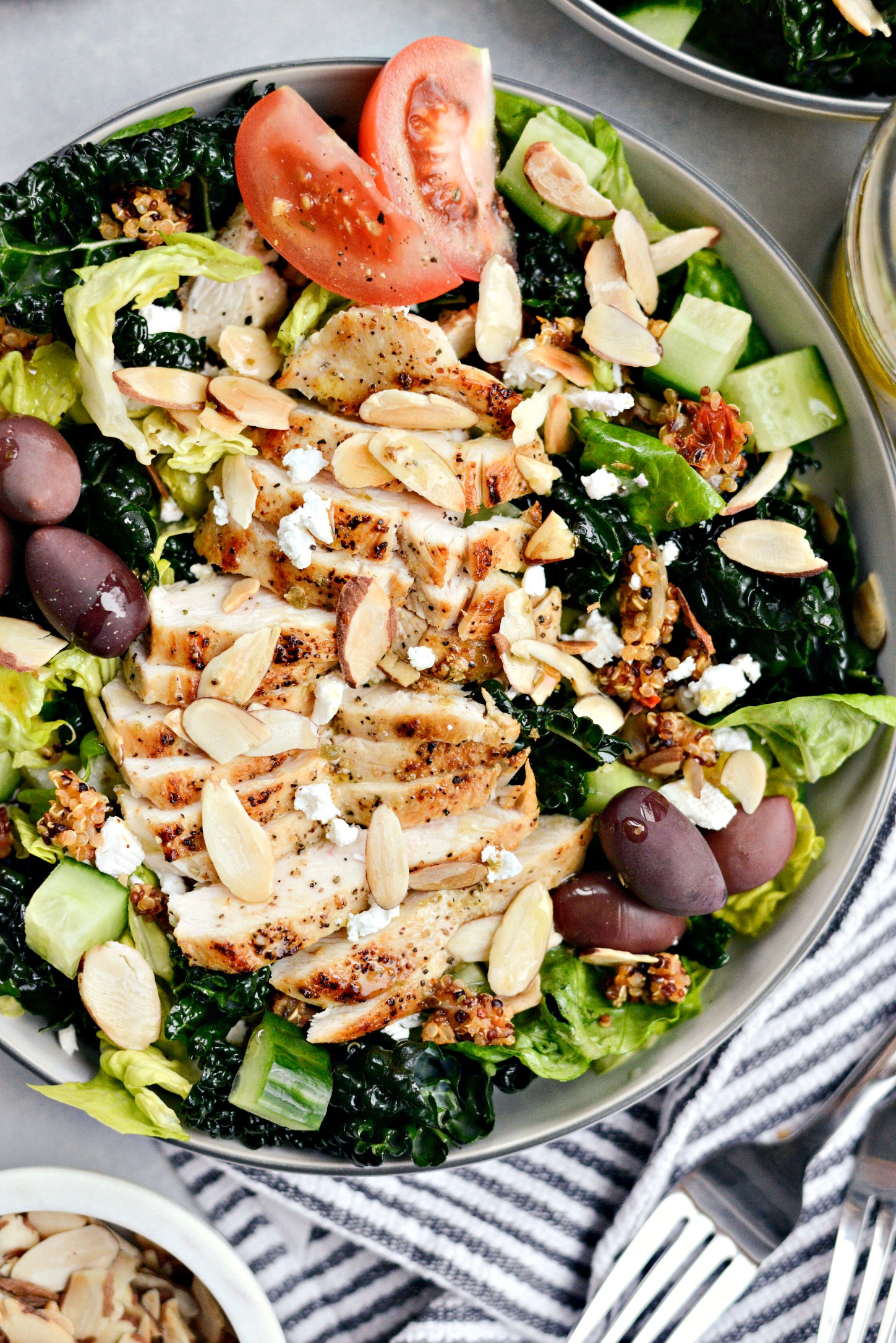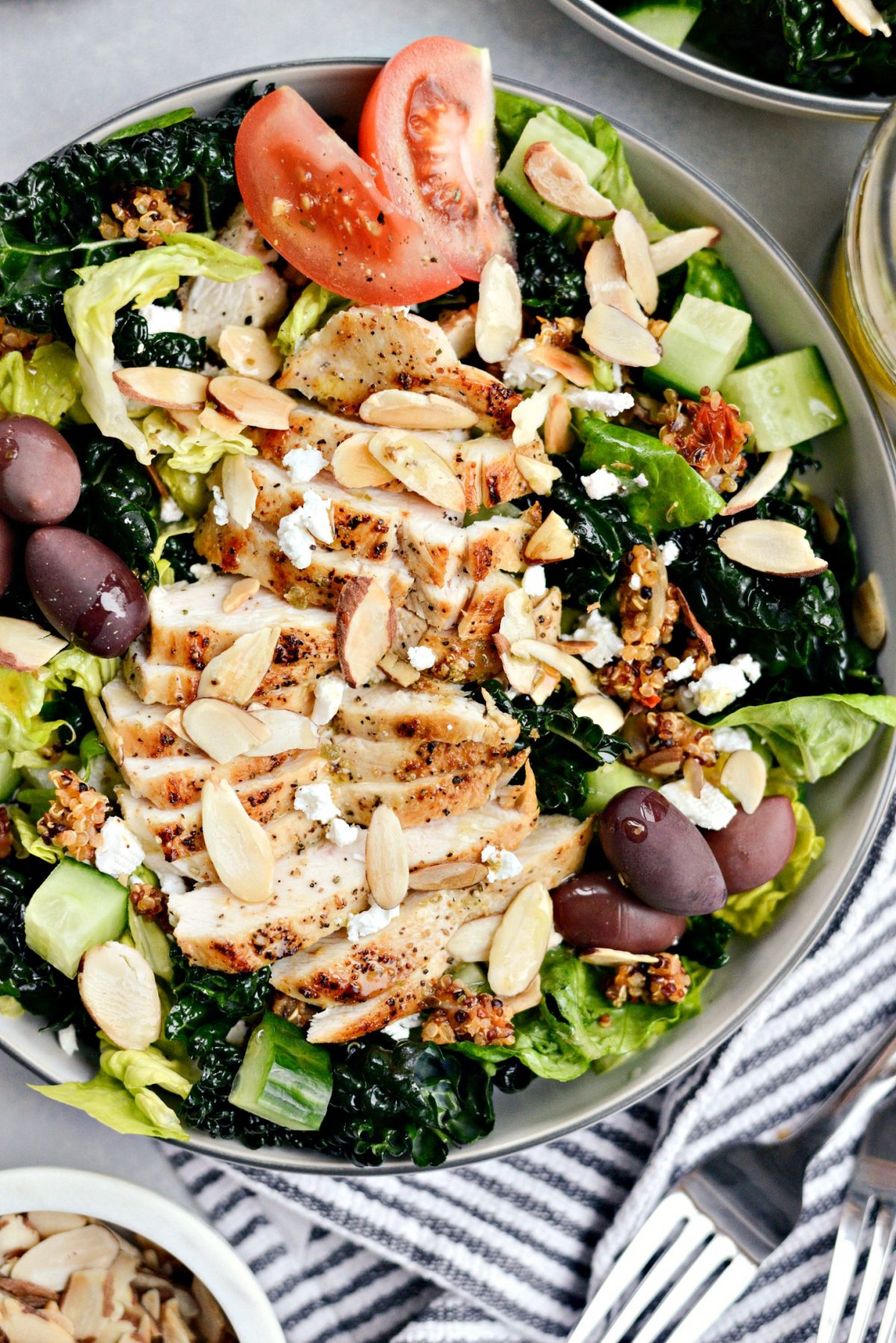 Top with the tomato quinoa sofrito, sliced chicken, kalamata olives, cucumber, feta, toasted almonds and drizzle with Greek dressing.
I love the modern twists on this salad, adding the kale, the toasted almonds and the sofrito really make it.
To mine I add extra feta and olives because I'm a fuh-reak and love them obsessively.
And of course this modern greek kale salad would not be complete unless it was drizzled in my one and only favorite greek salad dressing.
This made for a deliciously light and healthy lunch that kept feel full all afternoon.
Enjoy! And if you give this Modern Greek Kale Salad recipe a try, let me know! Snap a photo and tag me on twitter or instagram!
This post may contain affiliate links.
Buy the Cookbook: Simply Scratch : 120 Wholesome Homemade Recipes Made Easy Now available on Amazon »
THANK YOU in advance for your support!