Creamy Potato, Sausage and Kale Soup is hearty, comforting and delicious. Breakfast sausage is cooked with onions and garlic and shares a creamy broth with cooked redskin potatoes and fresh kale. This soup can easily be pulled together with little dishes to wash afterwards, did I mention this is all made in one pot? I like to serve this soup with a slice of crusty bread or a super melty grilled cheese sandwich. This soup serves 6 in about 1 hour and 20 minutes.
Happy Monday!
I swear these weeks keep going by in a blink of an eye. Is it just me? Because I feel like I'm reliving Groundhog's Day and keep waking up on a new Monday and have to grocery shop…again. However I will say, this weekend was pretty great. We laid low, Seamus [our dog] recently had surgery and he's still healing so we didn't want to leave him home for long and risk him jumping on the couch (as he's known to do when we aren't looking) and tear a suture. He's nine years old but still very much acts like a puppy. So I made soup, we played cards… it was great.
Speaking of soup 😉 there has never been a creamy soup that I didn't like.
Truth. Not only is this potato, sausage and kale soup one of my favorites but it's incredibly soul-satisfyingly delicious too! There's so much textural things happening; creamy, buttery potatoes, chewy and tender sausage and kale. And I feel good about the creamy nature of the soup because there is kale floating among the potatoes and sausage.
And if I'm doing my math right, that's like two vegetables vs. 2 cups half & half, so they should totally cancel each other out. Right?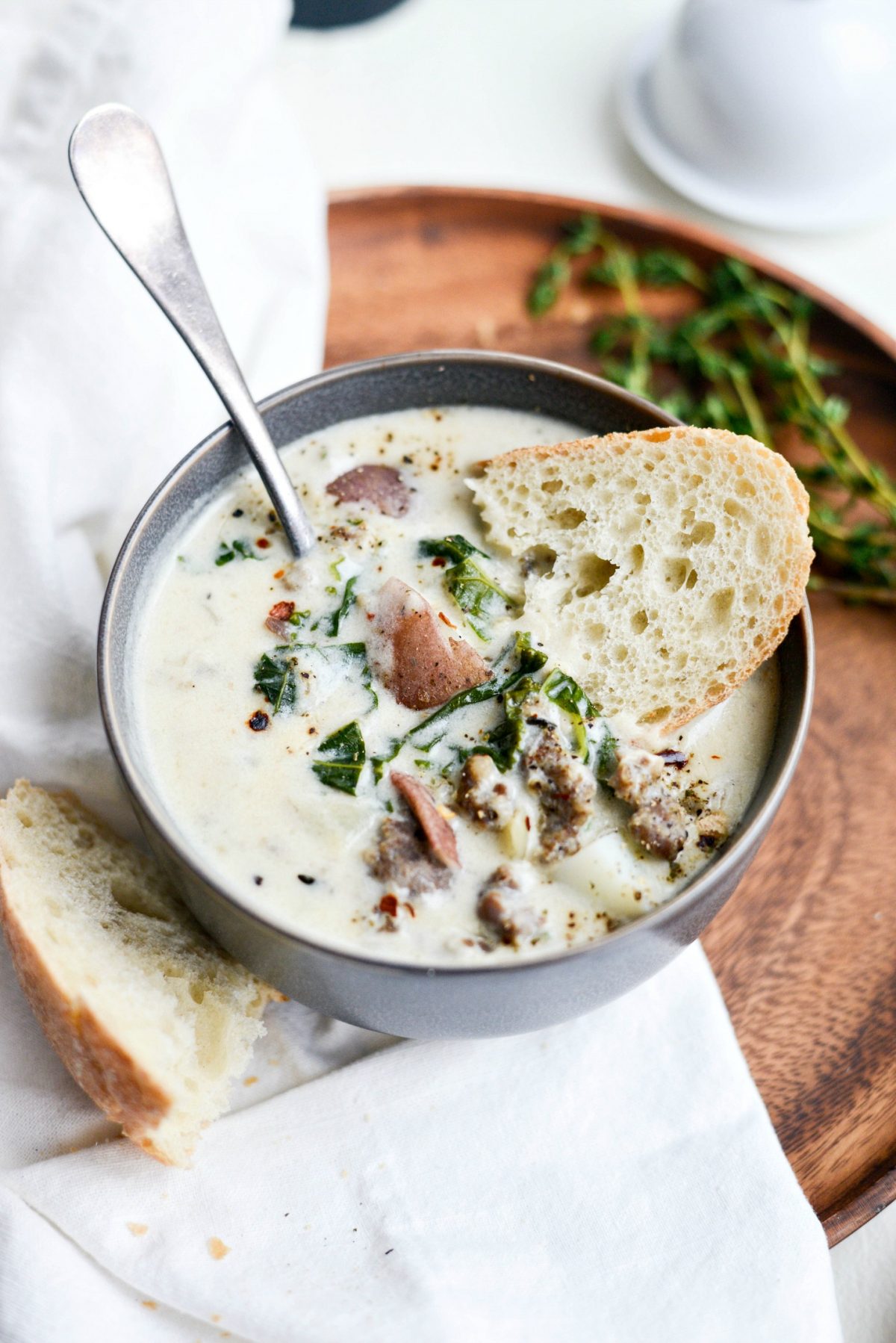 Did I mention this is a one-pot soup?
Golden.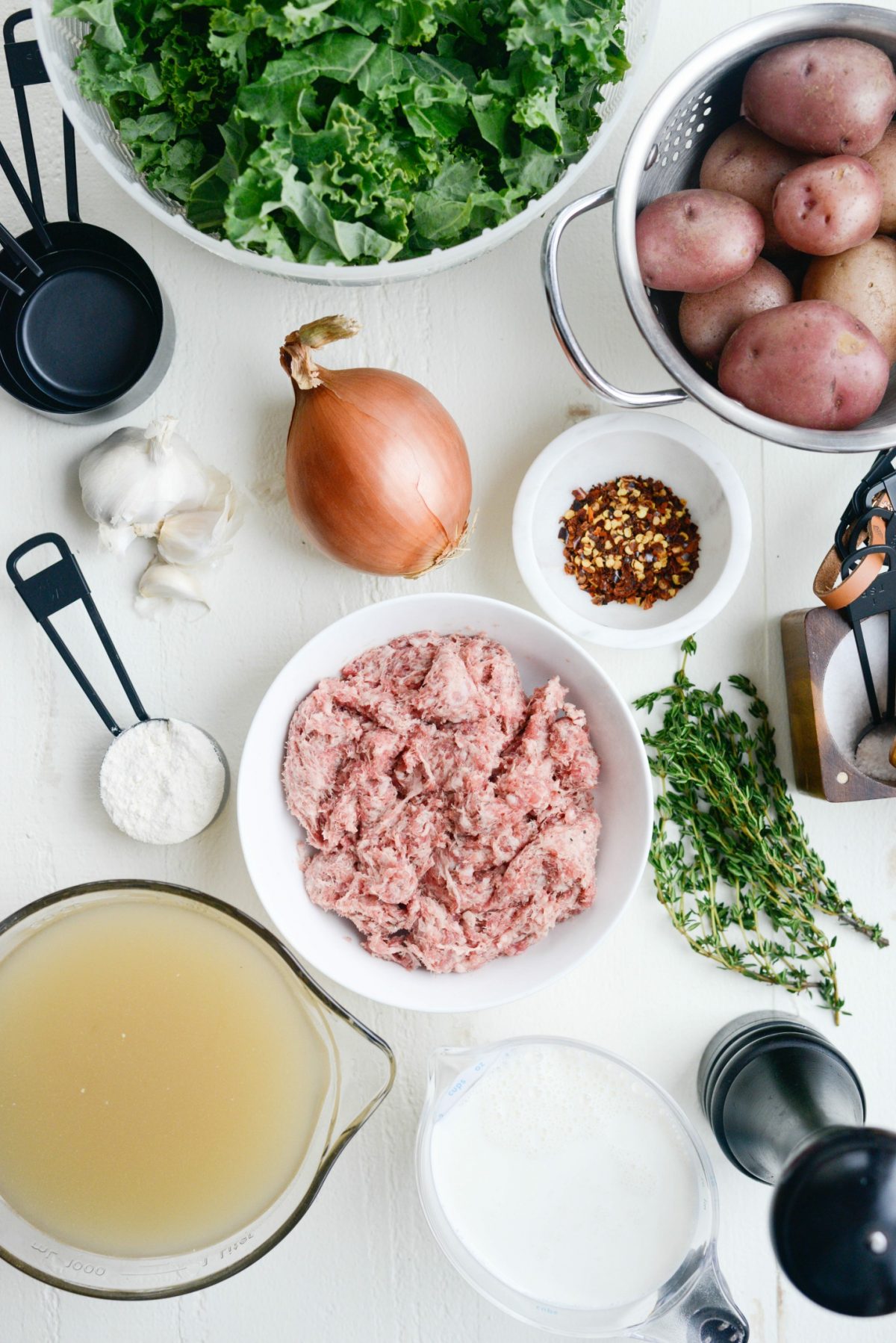 To make This Potato Sausage and Kale Soup You Will Need:
redskins
onions
garlic
dried red pepper flakes
thyme
bulk breakfast sausage
unbleached all-purpose flour
low-sodium chicken broth, half & half and kale.
If you happen to live somewhere without access to half & half, for this recipe, you can use 1 cup whole milk with 1 cup heavy cream.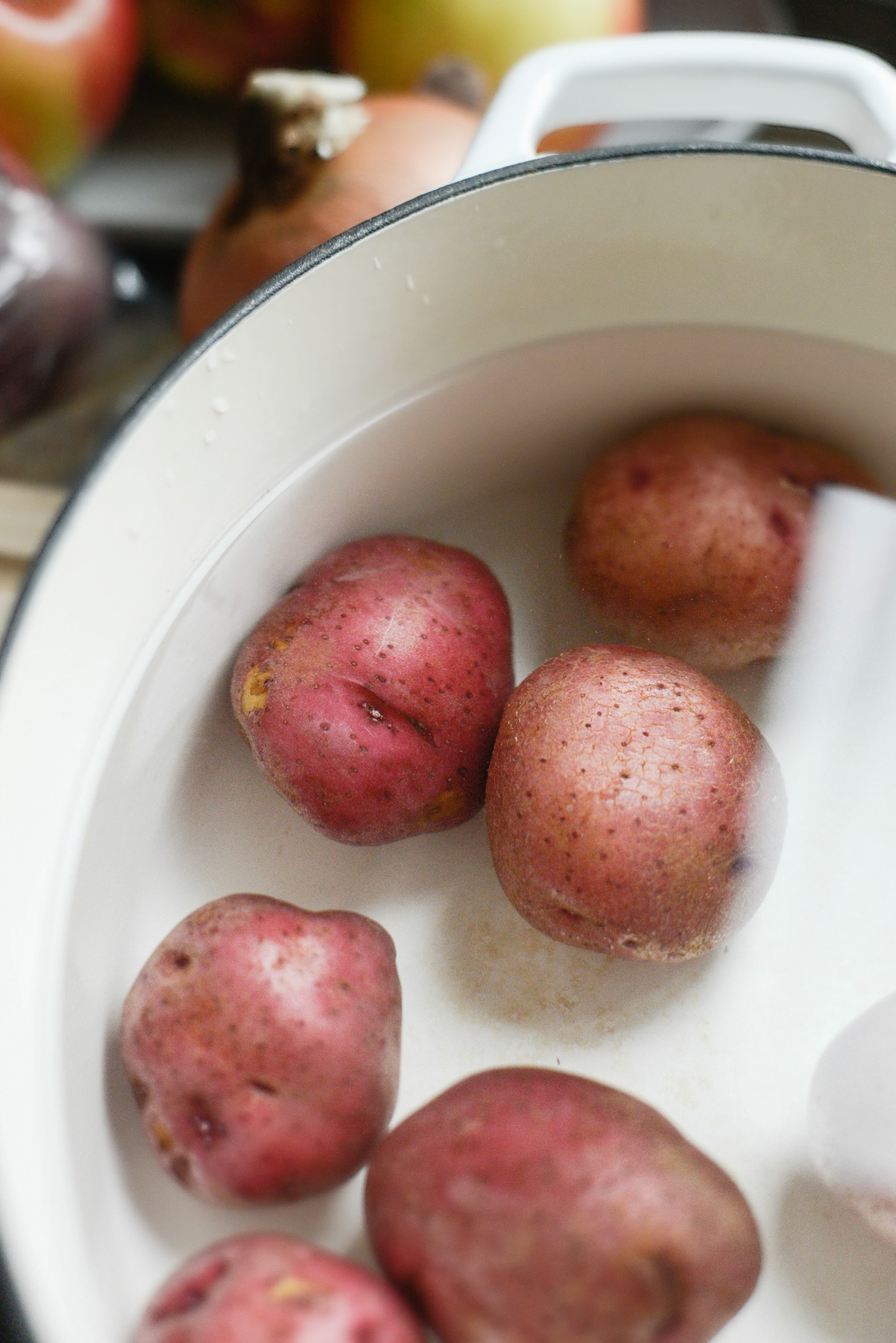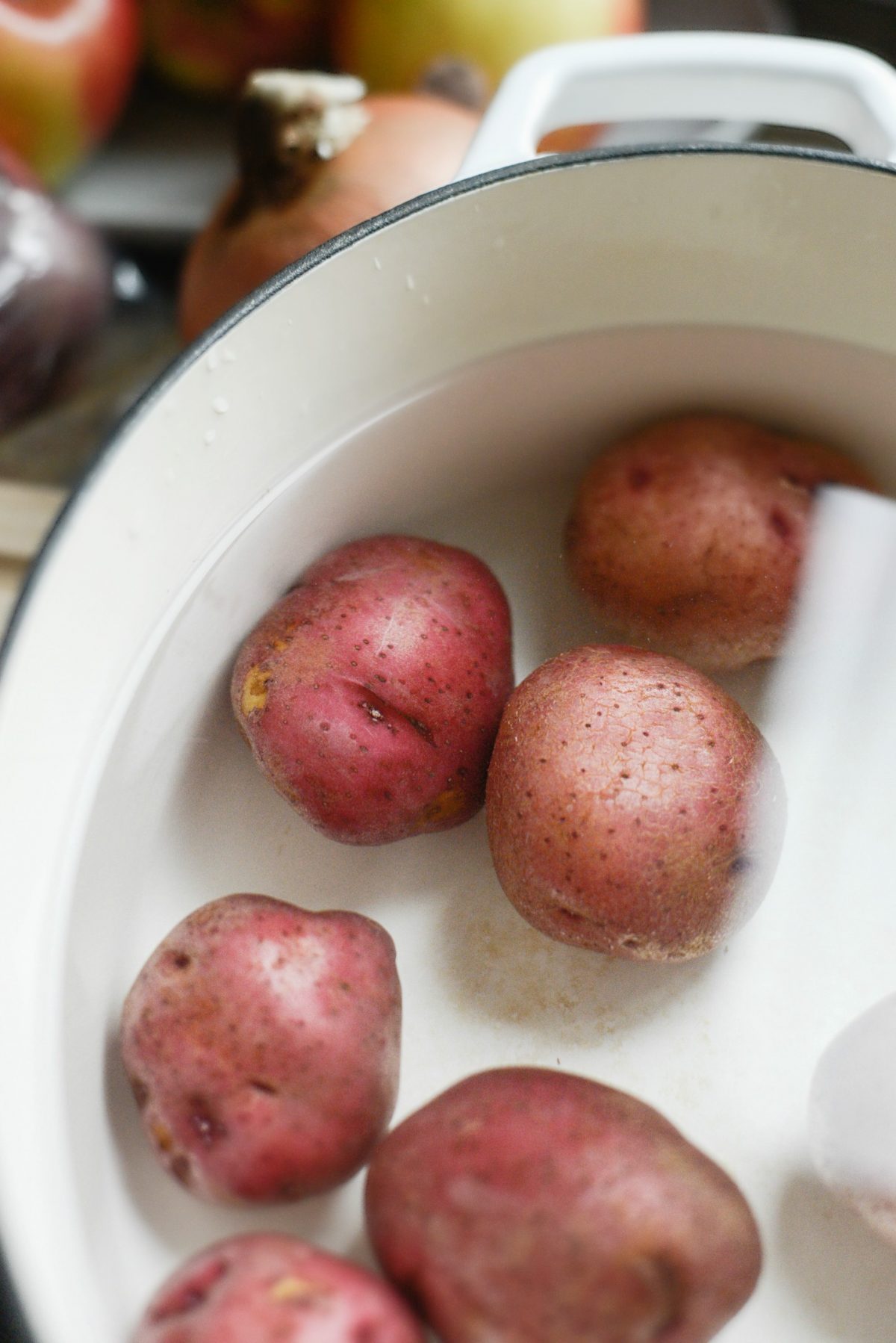 Start by placing 6 to 8 small to medium (around 1 pound total) redskin potatoes into a heavy pot or Dutch oven. Cover with water by 2-inches and bring to a boil. Reduce heat to medium-low and simmer with the lid askew for 20 to 25 minutes or until the potatoes can be easily pierced by a fork, with zero resistance.
Drain the potatoes into a colander set into your kitchen sink and return the pot to the stove top.
Then add 2 teaspoons light olive oil into the pot, add 1 cup diced yellow onion and a pinch of kosher salt and sauté until tender and translucent. Next add in the 2 cloves minced garlic and 1 teaspoon minced fresh thyme leaves and cook for 1 to 2 minutes.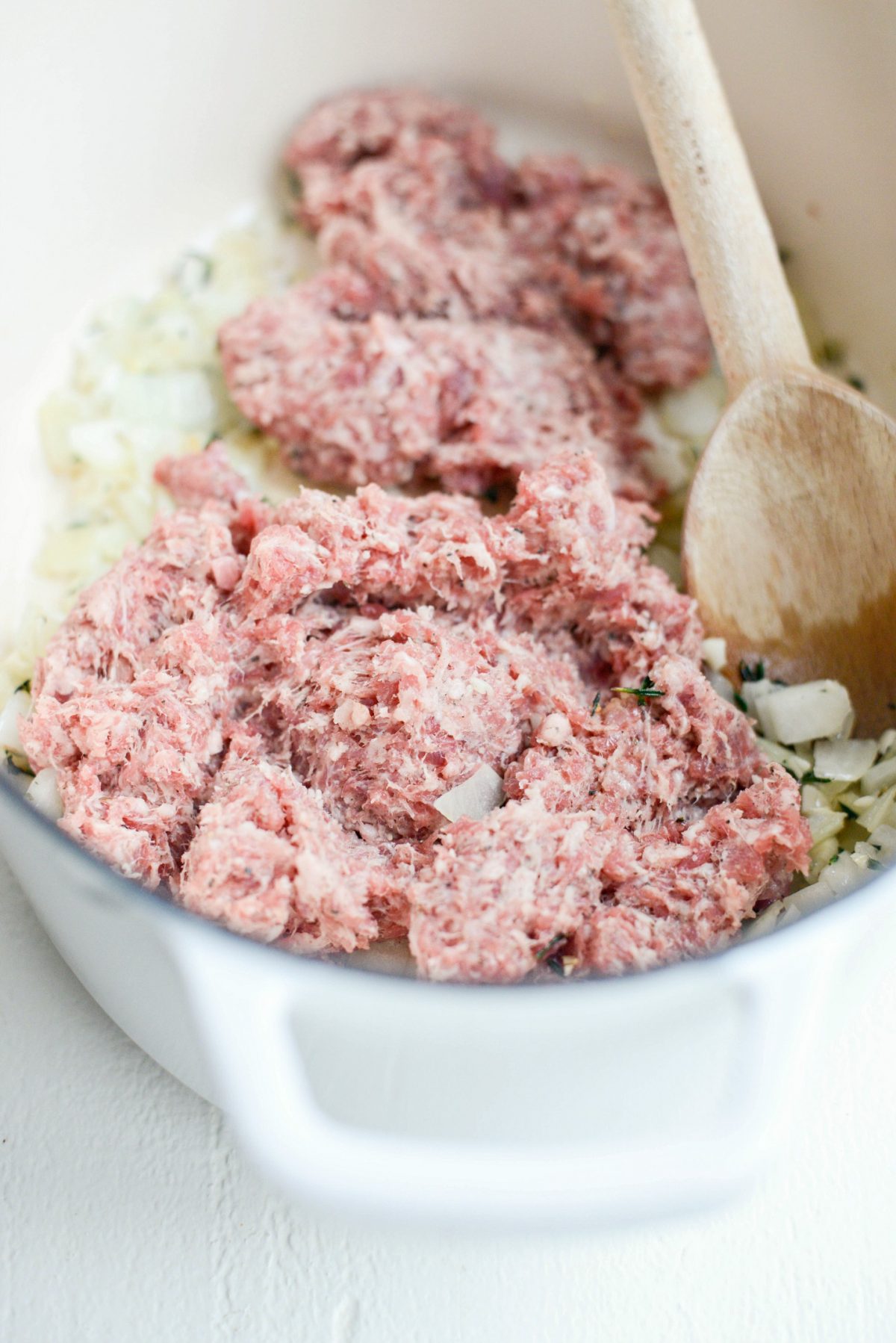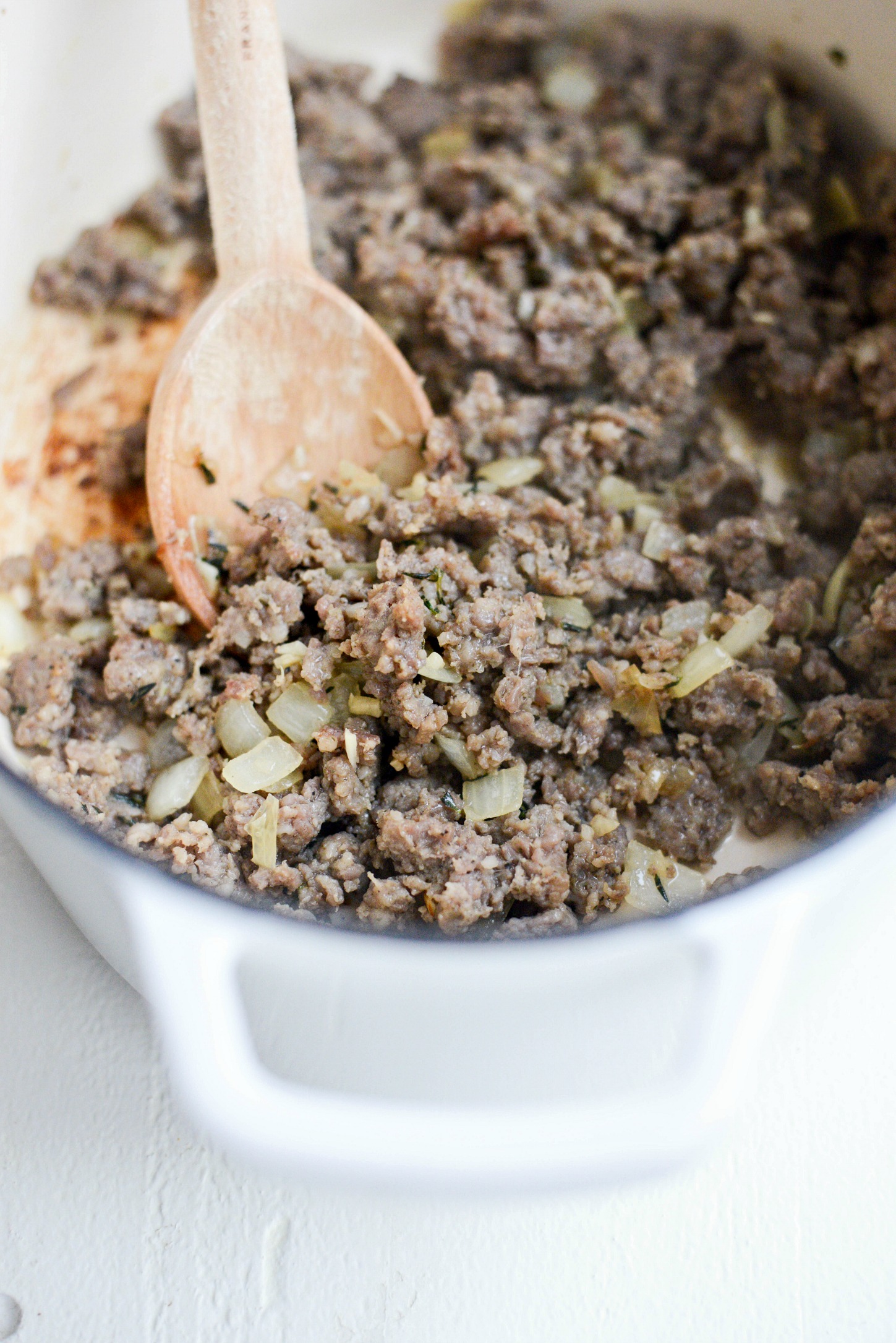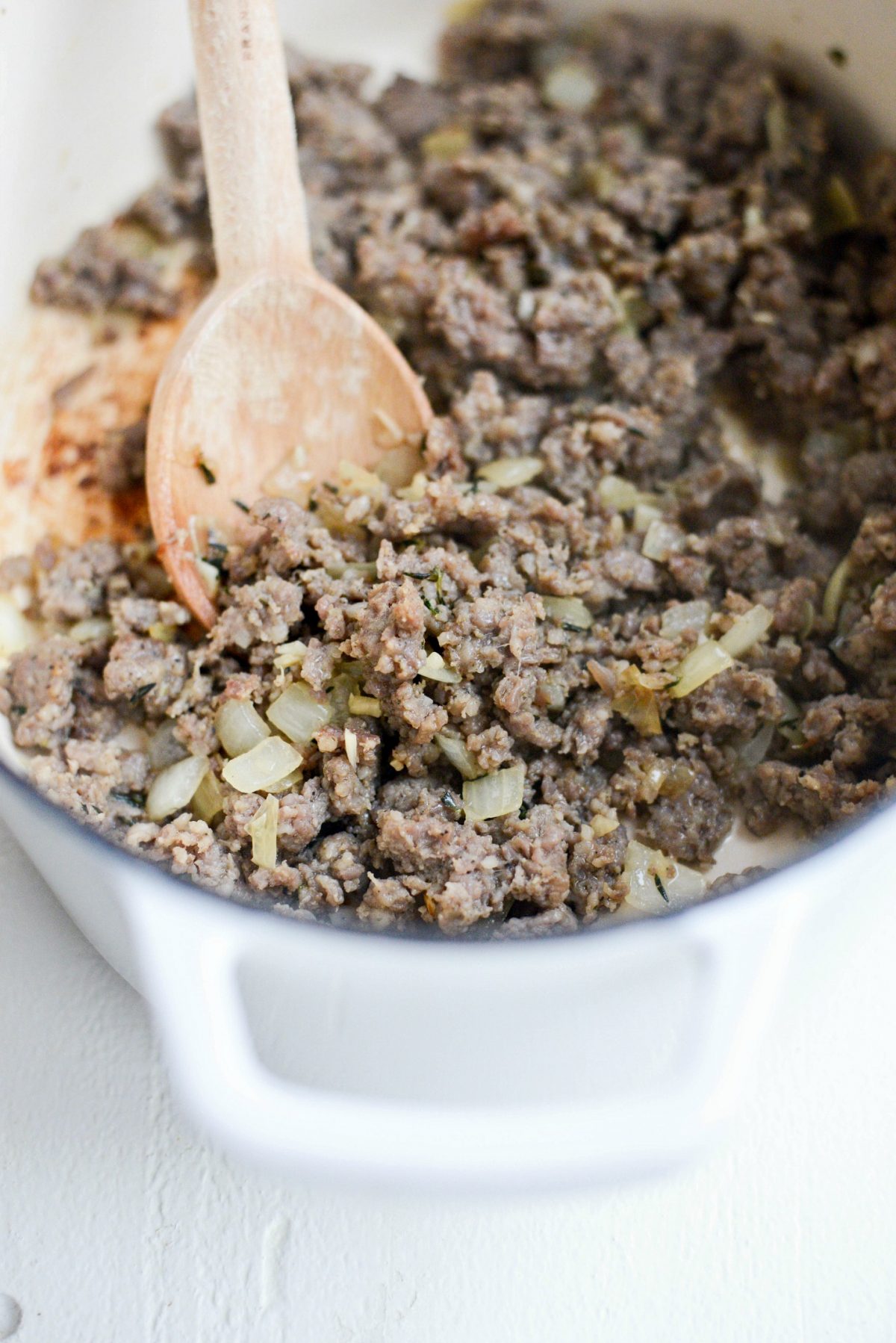 Next add in the pound of bulk breakfast sausage and cook on medium to medium-low heat until browned and fully cooked. About 10 to 15 minutes or so.
You want there to be browned bits [or fond] on the bottom of the pot, there is so much flavor there.
Stir in 1/4 cup unbleached all-purpose flour until fully absorbed and no trace of flour remains. Because all brands of sausage can be different, there could be differing amounts of fat, with that said add a little more flour if needed to absorb any remaining traces of fat.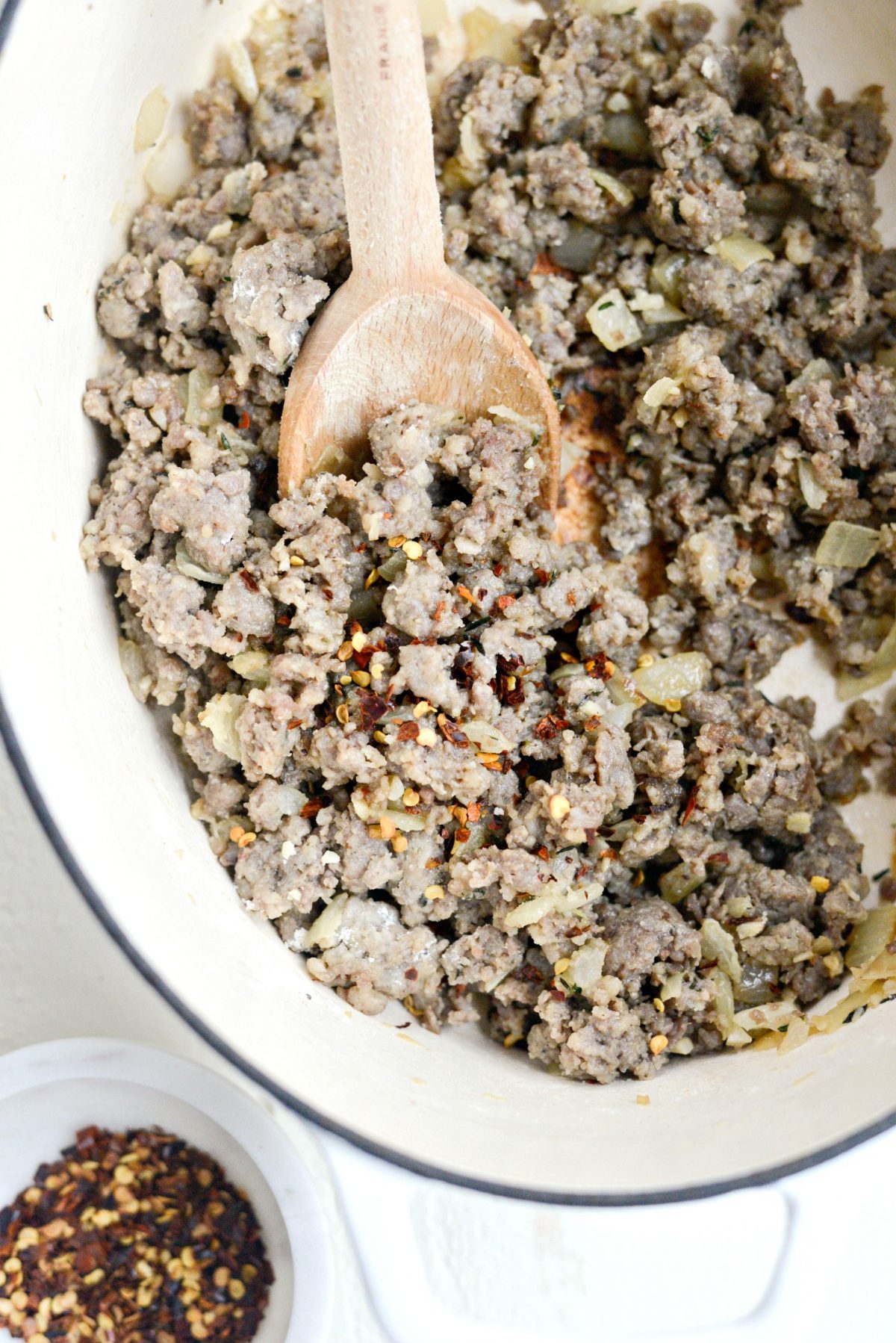 Once the flour has been absorbed, add in a few pinches of red pepper flakes before pouring in the 6 cups of low-sodium chicken broth.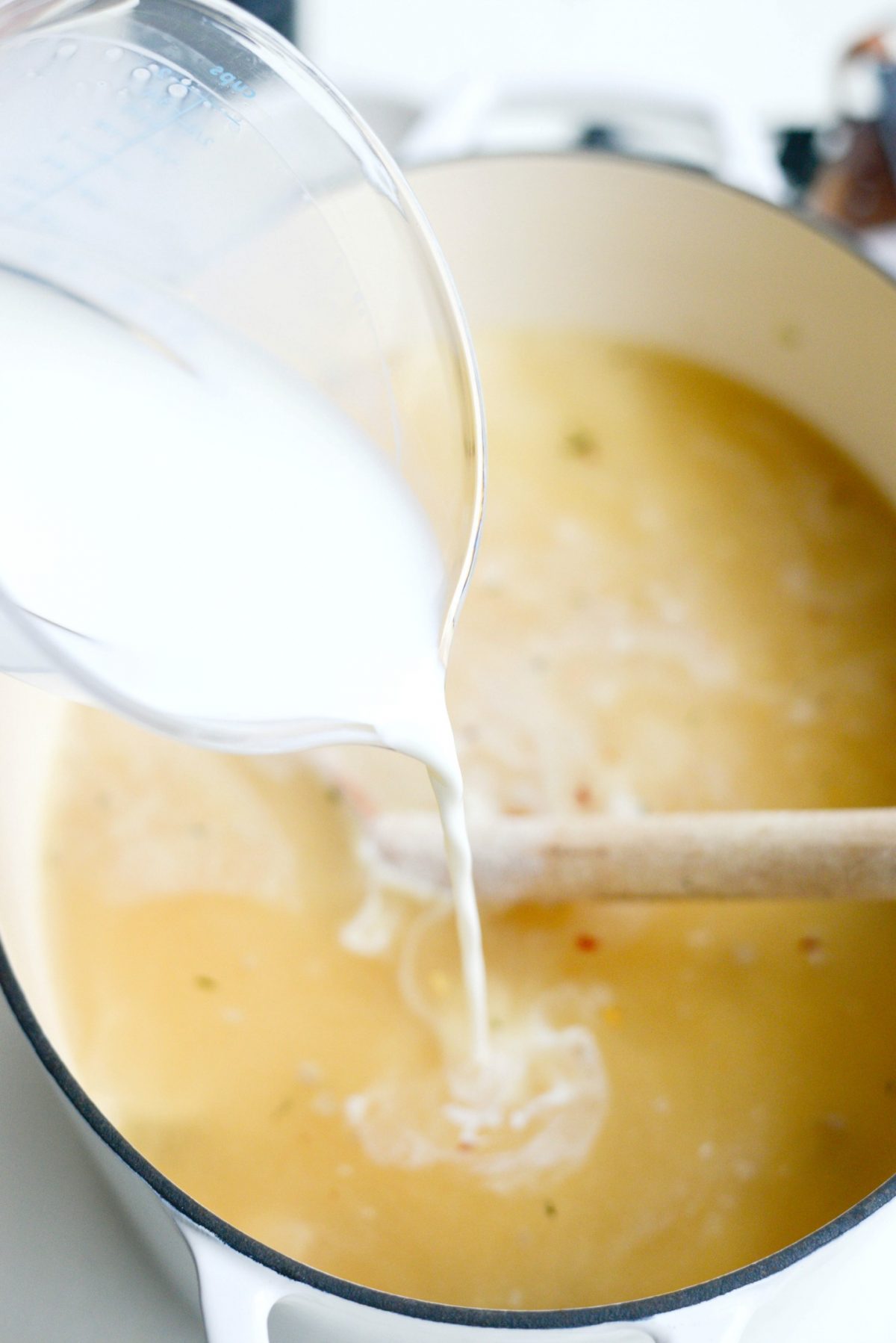 Be sure to scrape any brown bits up off the bottom of your pot. Then add in the 2 cups half & half.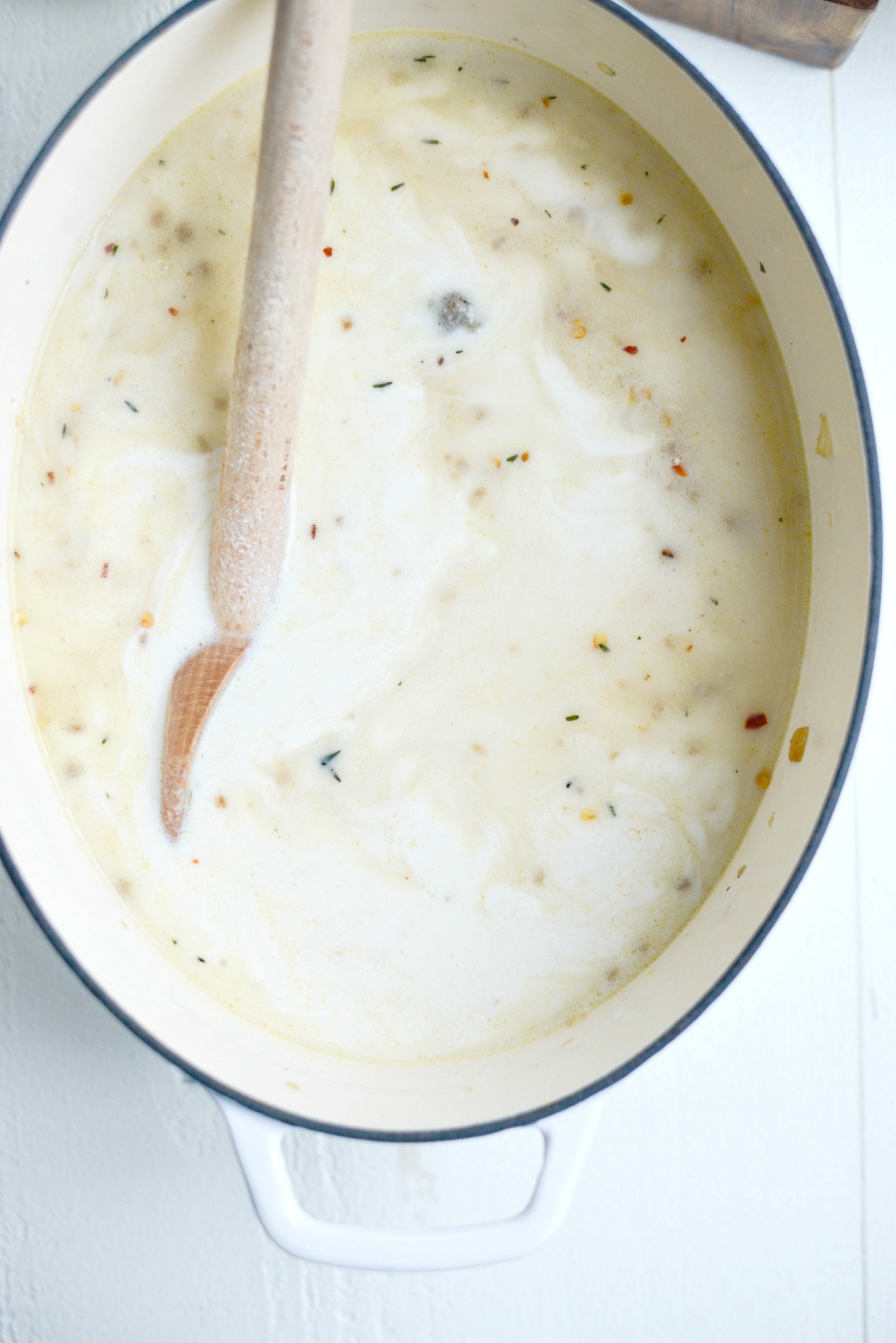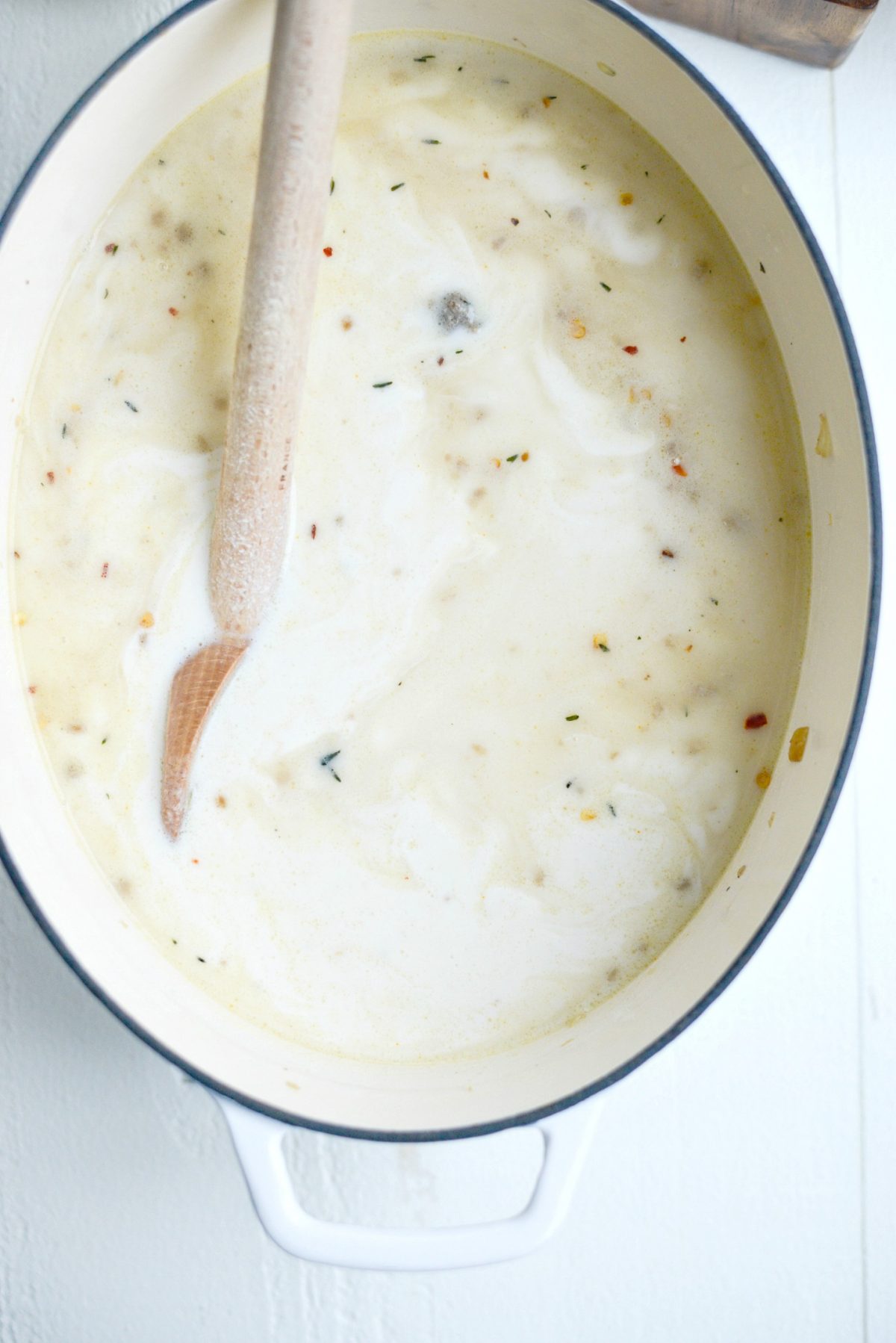 Stir, bring to a simmer and continue to cook until the soup is starting to thicken.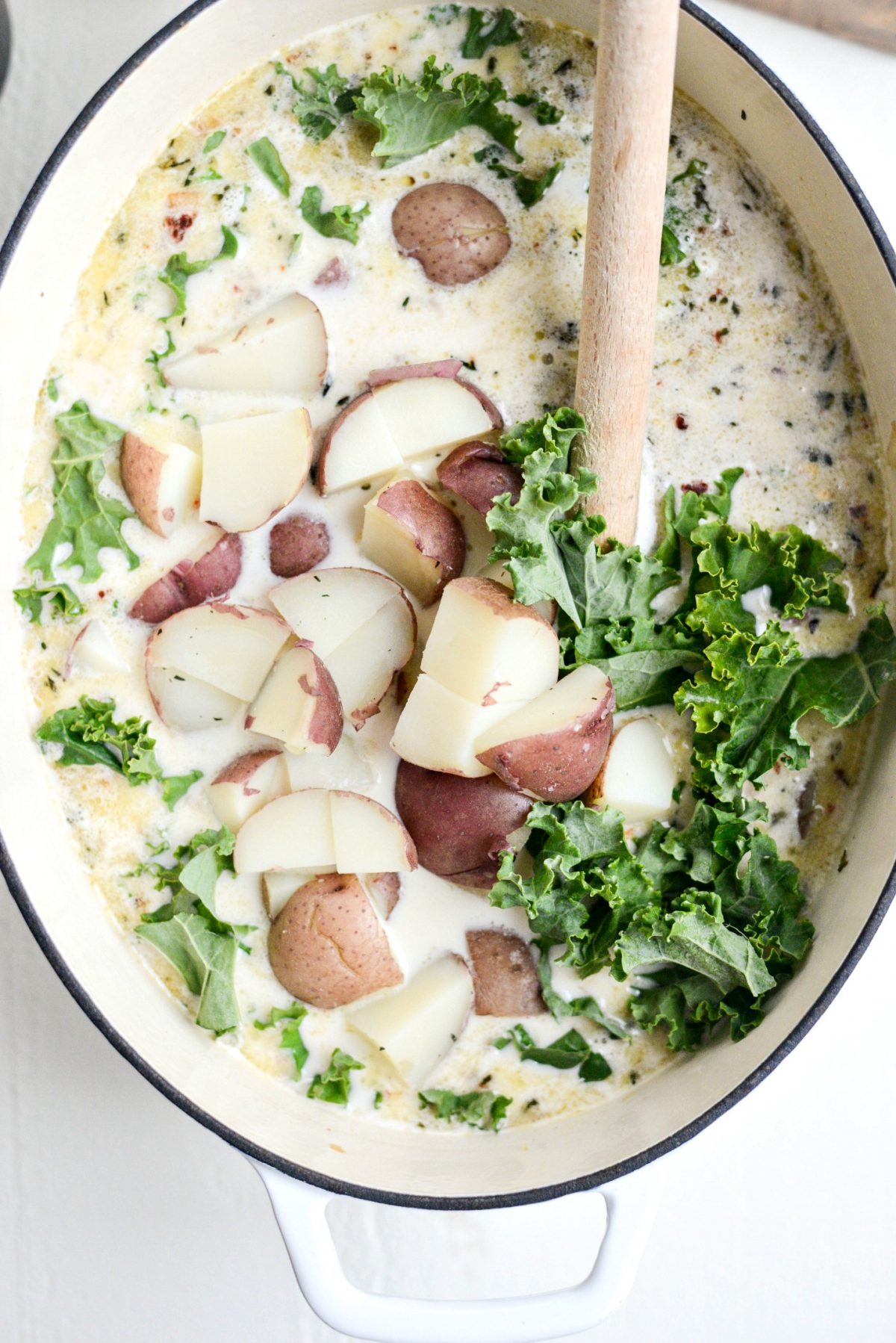 Add in the diced (cooked) redskin potatoes and the chopped kale. Stir and continue to cook until the kale has wilted and the soup is thick. About 15 more minutes or so. Sometimes, because I'm extremely impatient, I wait for the kale to wilt and then I stir in a slurry of 2 tablespoons cornstarch mixed with 2 tablespoons cold water.
Once the potato, sausage and kale soup has thickened, season with salt and pepper to taste and ladle it into bowl and serve alongside a loaf of crusty bread or grilled cheese sandwich. Or neither and eat as is. Creamy and flavorful! I hope you love this soup as much as we do!
For more soul-satisfying soups, check out my rapidly growing recipe collection!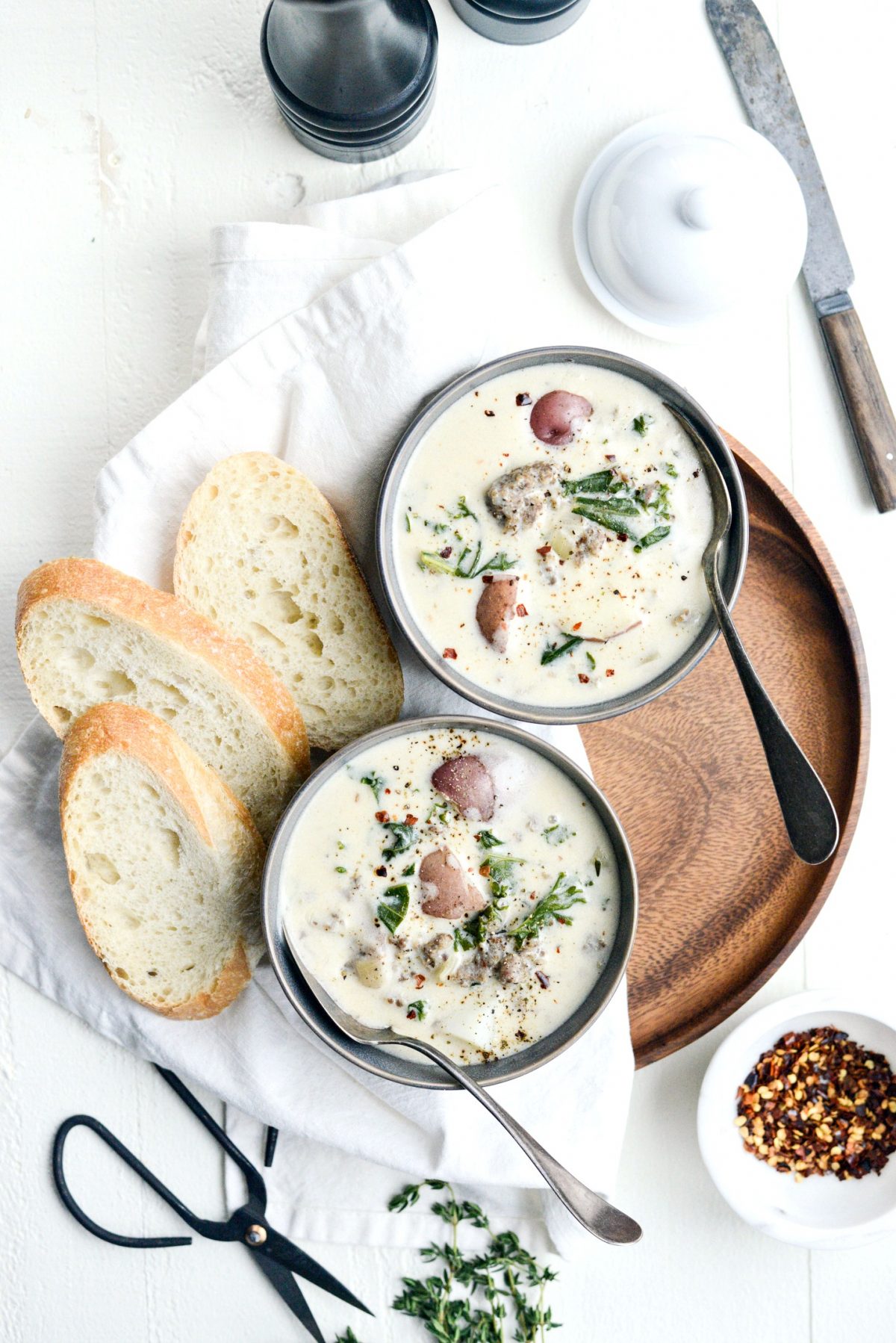 Enjoy! And if you give this Potato Sausage and Kale Soup recipe a try, let me know! Snap a photo and tag me on twitter or instagram!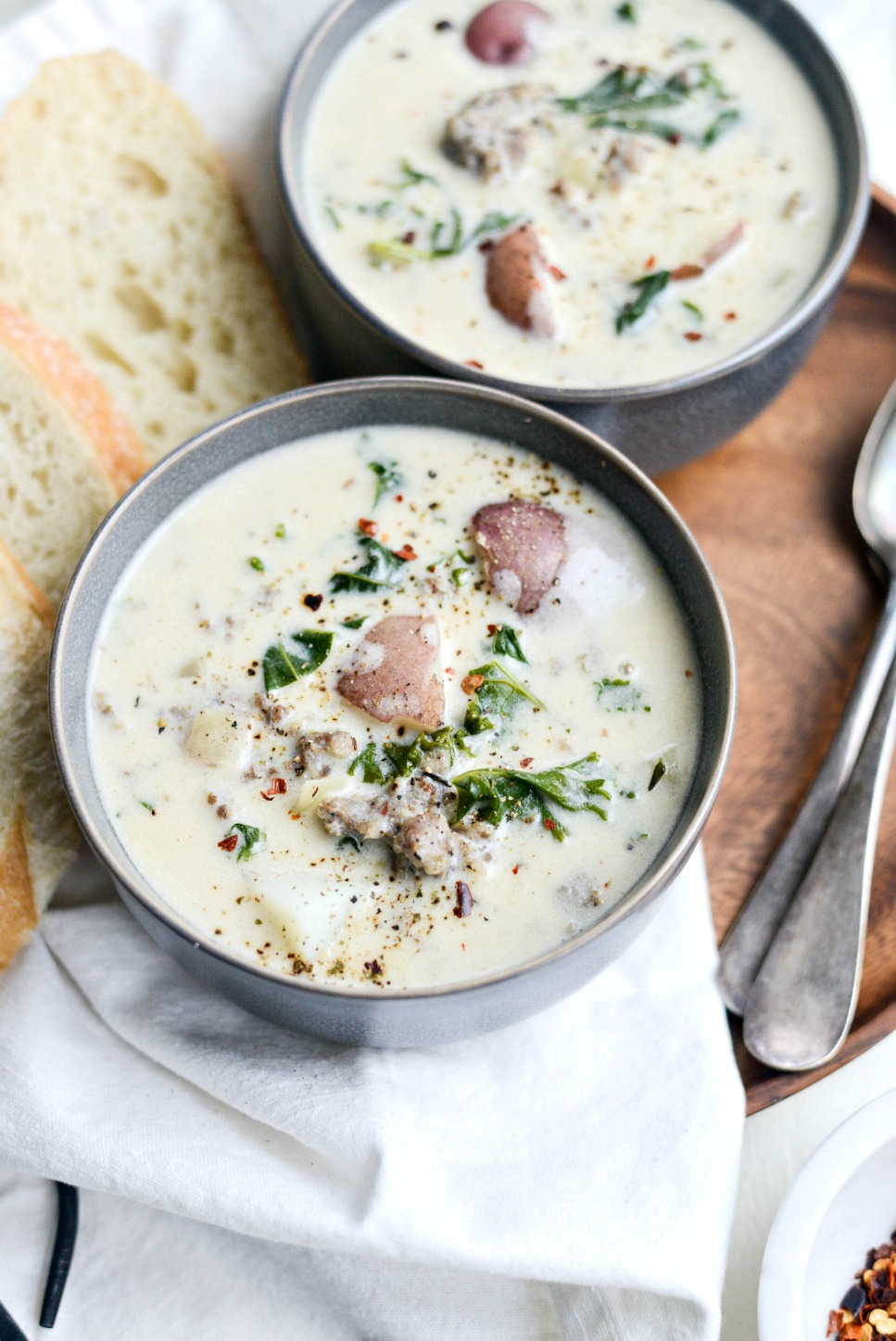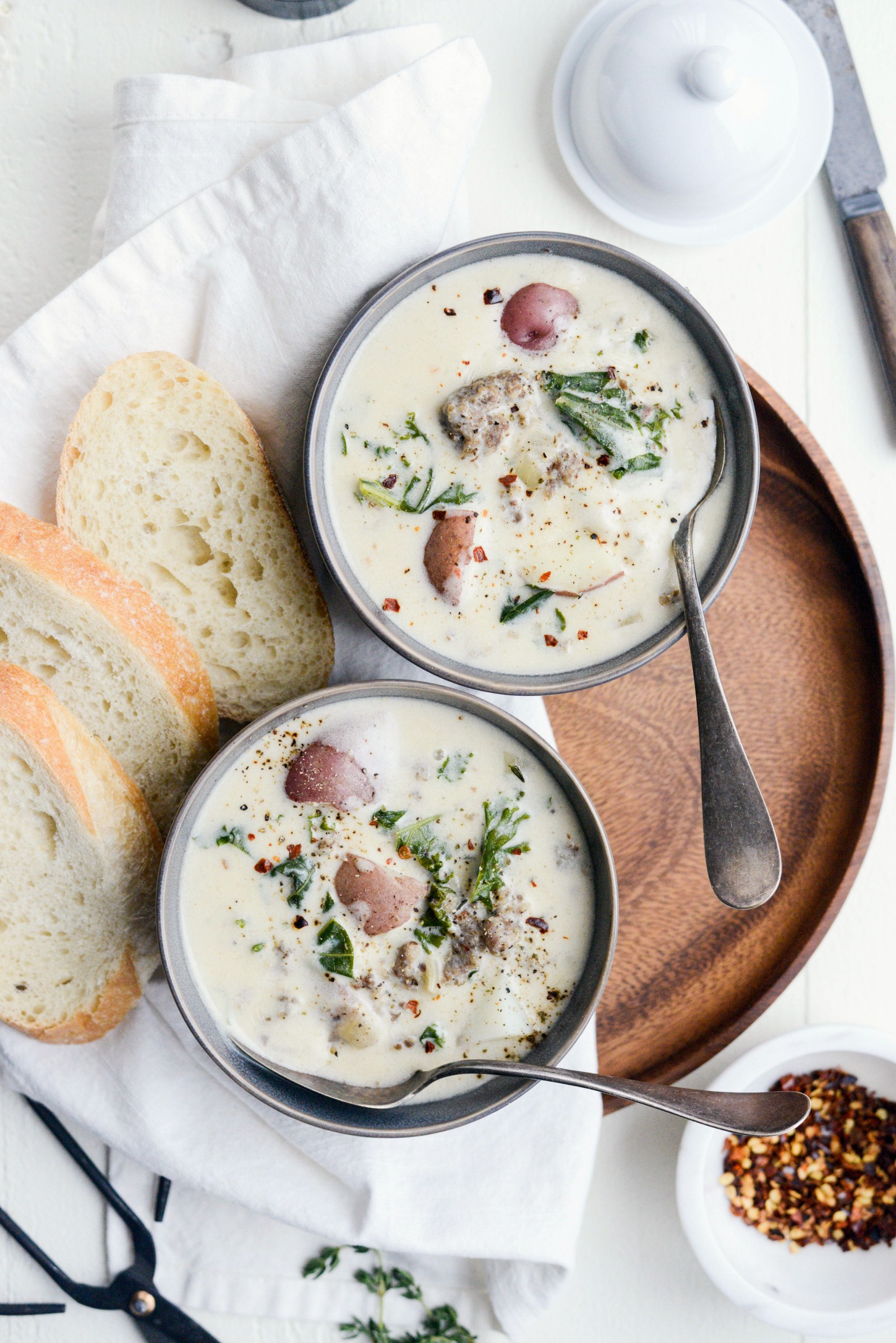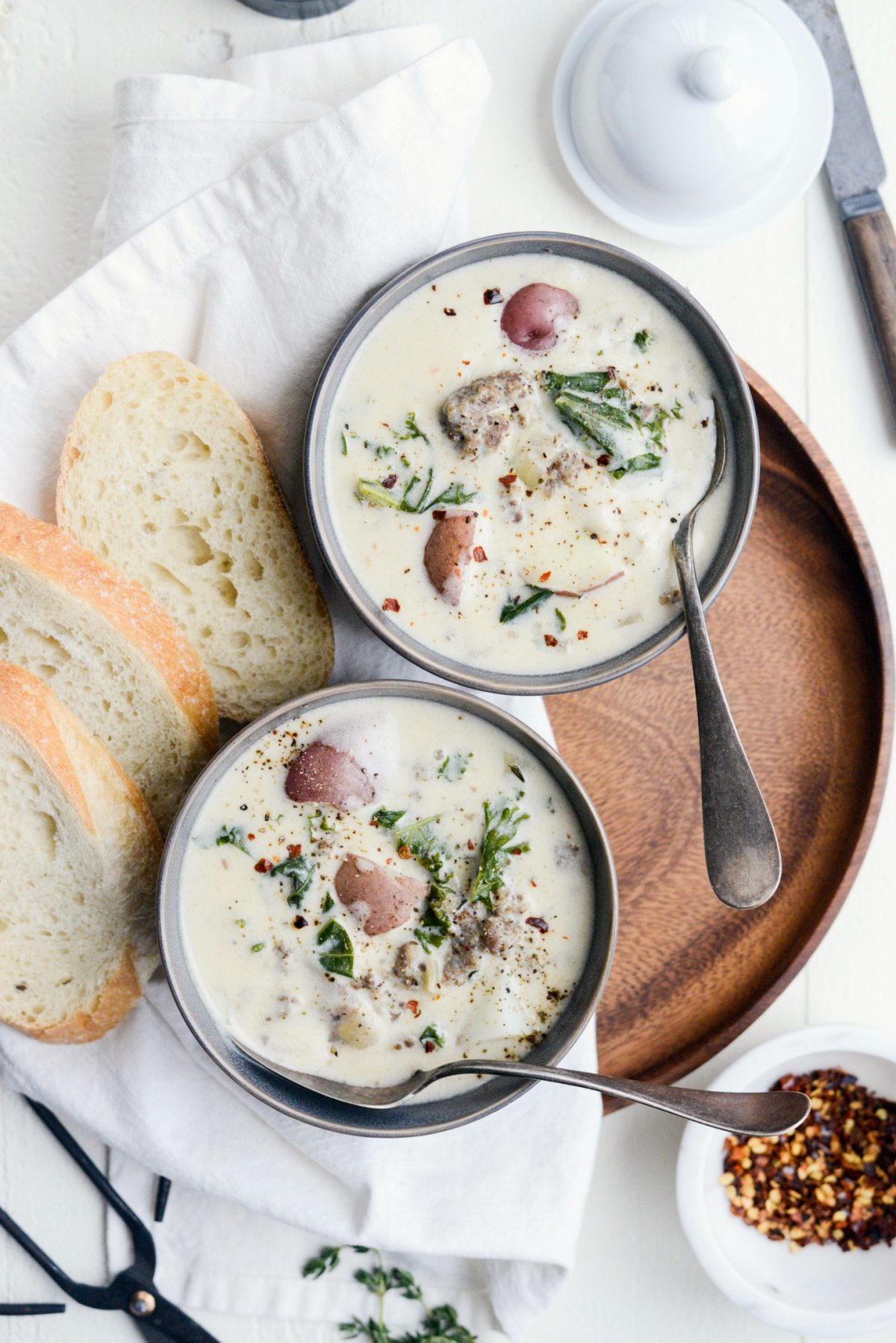 This post may contain affiliate links.
Buy the Cookbook: Simply Scratch : 120 Wholesome Homemade Recipes Made Easy Now available on Amazon »
THANK YOU in advance for your support!