These Ham and Gouda Party Sandwiches are a great way to use up your leftover ham! Turn dinner rolls into buns and slather them with a homemade roasted garlic dijon mayo and stack with leftover ham and shredded gouda cheese. Brush with butter, sprinkle with everything seasoning and bake until golden and toasted and deliciously melty. These sandwiches are great for feeding a crowd.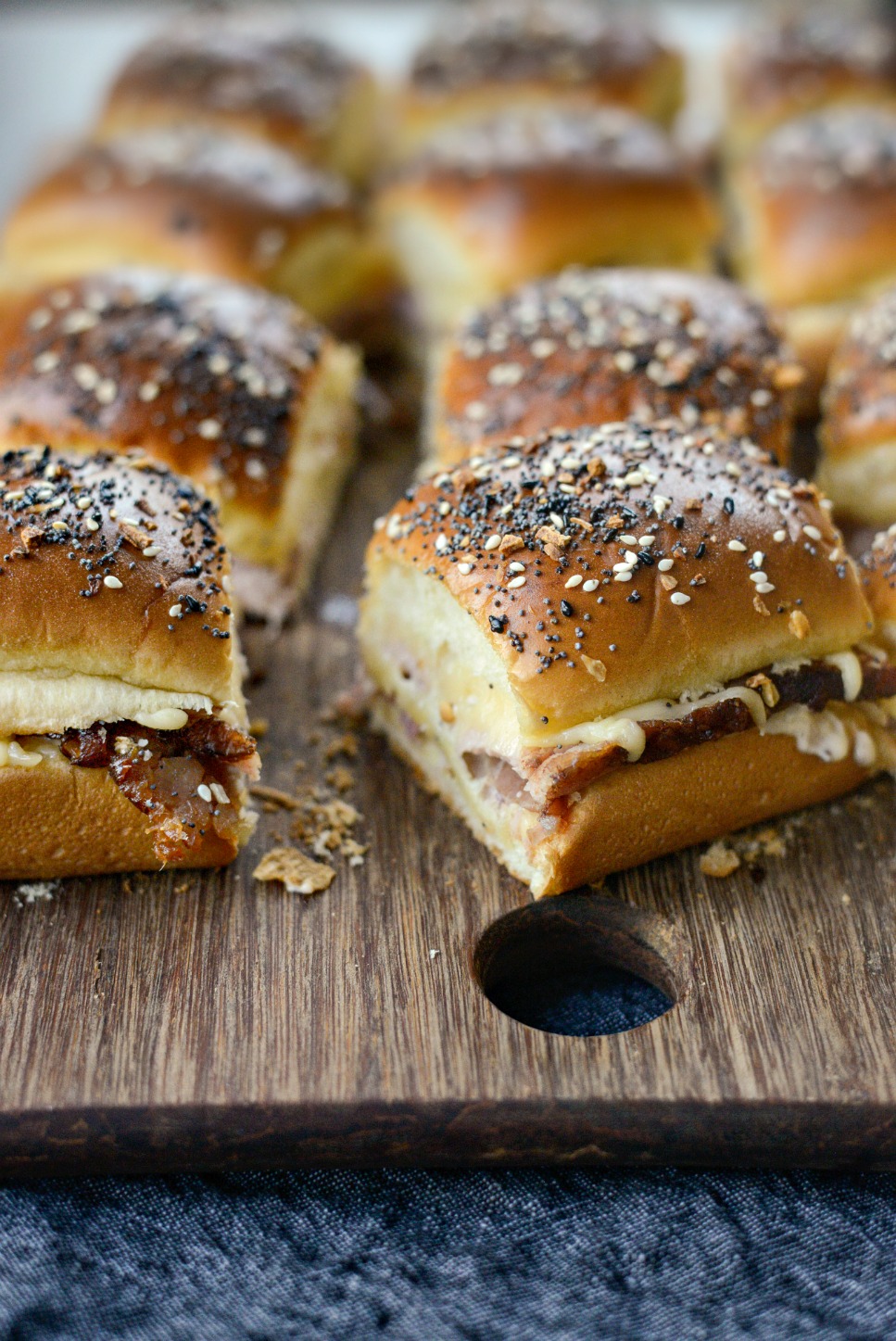 How was your holiday?! Our was wonderful! Pat is on call for his job this week, and he ended getting a call that had pulled him away from home missing all of Christmas Eve. However, he was luckily not called in on Christmas Day so we spent the entire day together. That honestly was the biggest gift of all. It was relaxing and cozy, we got plenty of snow so it was most definitely a white Christmas.
I don't know about you, but I always buy way-to-big of ham for the holidays.
Last year, I bought a huge ham for my mom's side Christmas celebration. I bought a variety of cheeses, breads and condiments for my family members to make sandwiches. Because sometimes even I want something a little more substantial than a meal of appetizers. Afterwards, I had basically a whole ham left. It didn't look like we even made a dent in it.
The next day I rummaged through my fridge and found a wedge of gouda and formed a plan. Now, I didn't make the rolls because I had them already, but hey that would just make an easy recipe not-so-easy if you had to make your own rolls, right?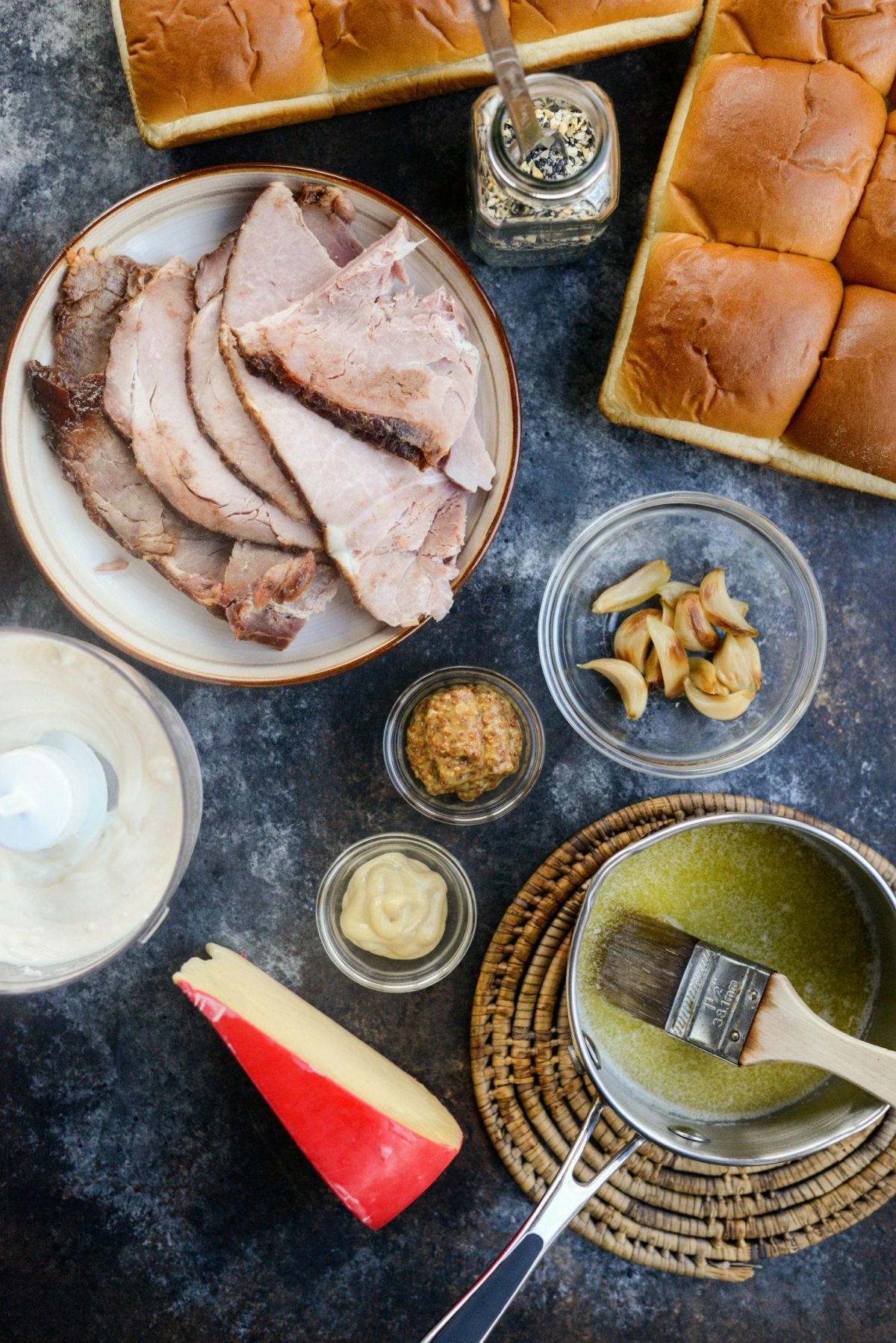 To Make These Ham and Gouda Party Sandwiches You Will Need:
a large package (of 12 rolls)
8 to 10 slices of leftover ham (deli ham will also work)
2/3 cup mayonnaise
a head of roasted garlic
1 tablespoon whole grain mustard
2 teaspoons Dijon mustard
8 ounce wedge of Gouda
melted butter
To roast the garlic:
Break up a small head of garlic into individual cloves [with the outer skin intact] and place them on to a sheet of aluminum foil. Drizzle with a little olive oil, then fold up the sides of the foil like a purse, and place onto to the middle rack of your preheated 400° oven and roast for 20-25 minutes. Remove and let cool until safe enough to peel off the outer skin of each clove.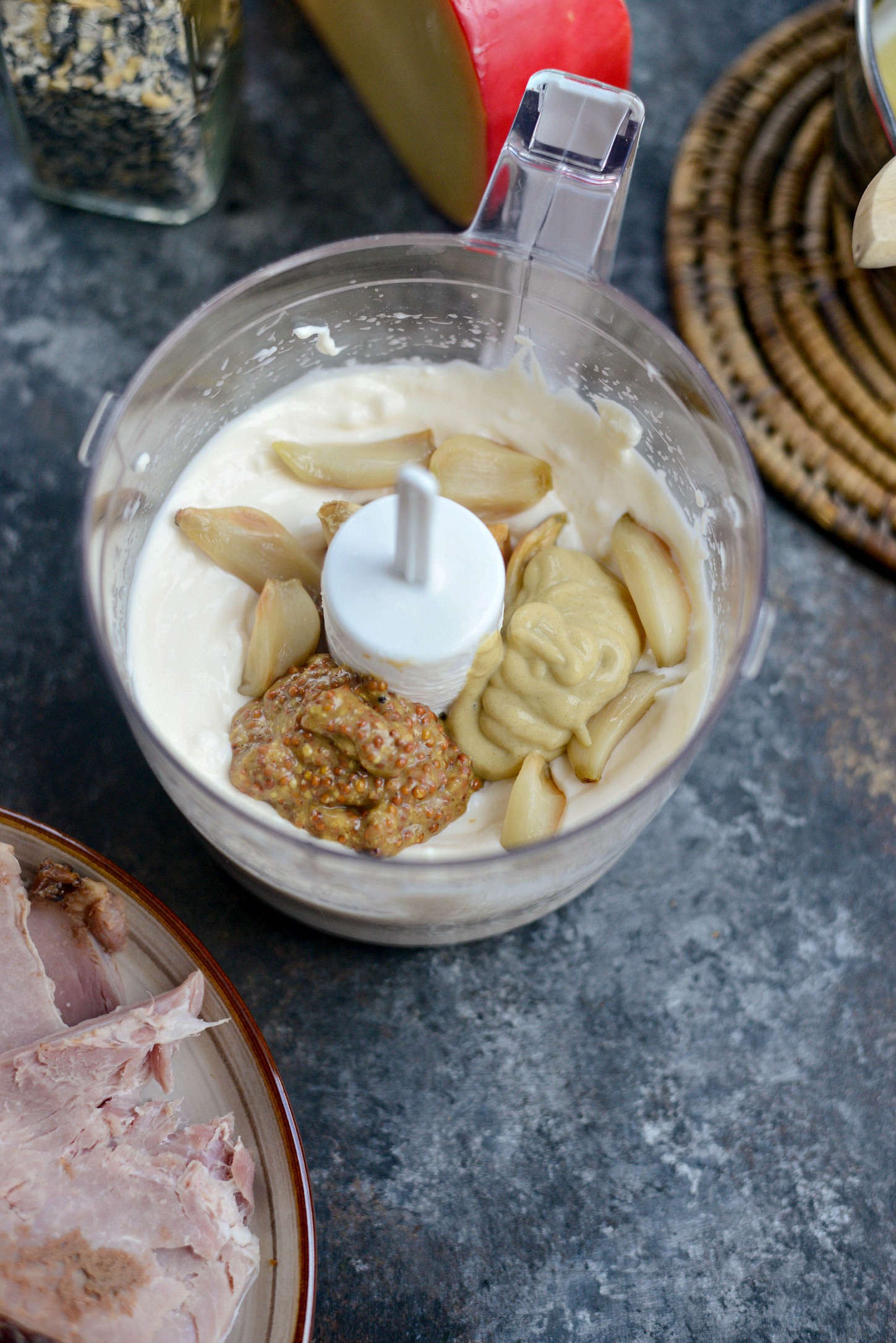 To the 2/3 cup of mayo add in all of the roasted garlic cloves, a tablespoon of whole grain mustard and 2 teaspoons of Dijon mustard.
Blend until combined, scraping down the sides and continuing to blend until somewhat smooth.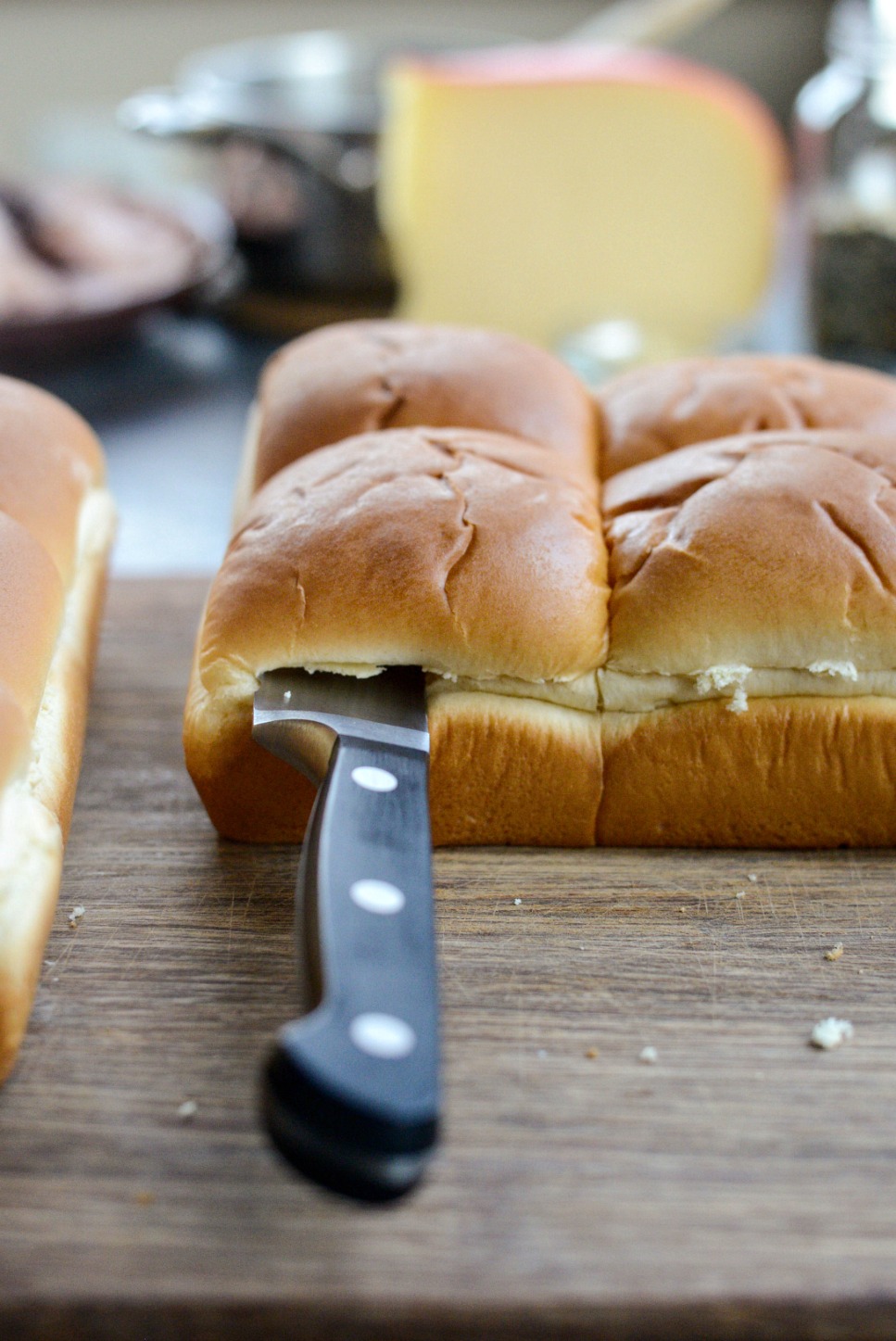 Slice the rolls in half, keeping the base and top in one large piece.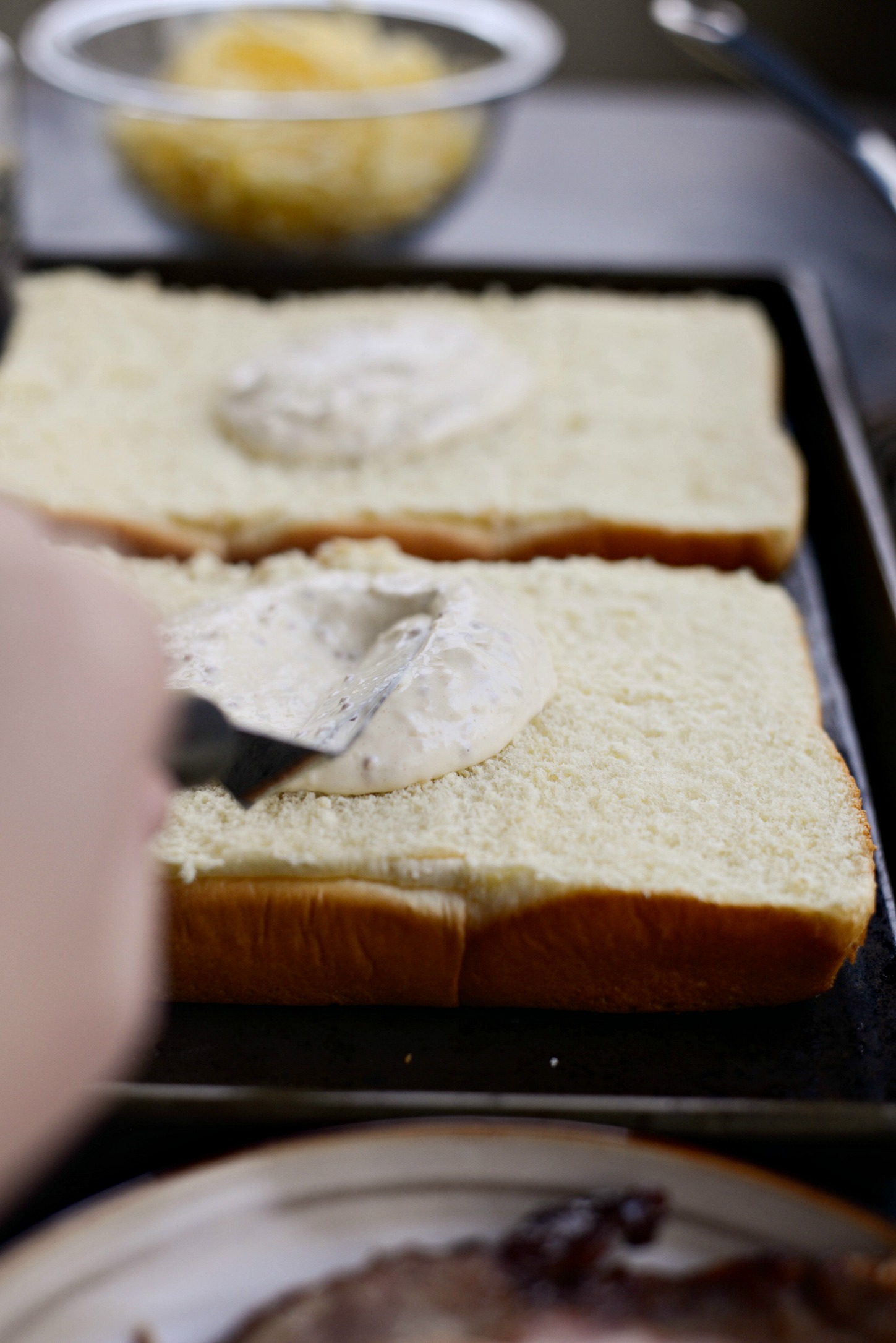 Then generously spread the mayo onto the base of the rolls. Top with slices of the leftover ham.
Generously layer with the shredded gouda.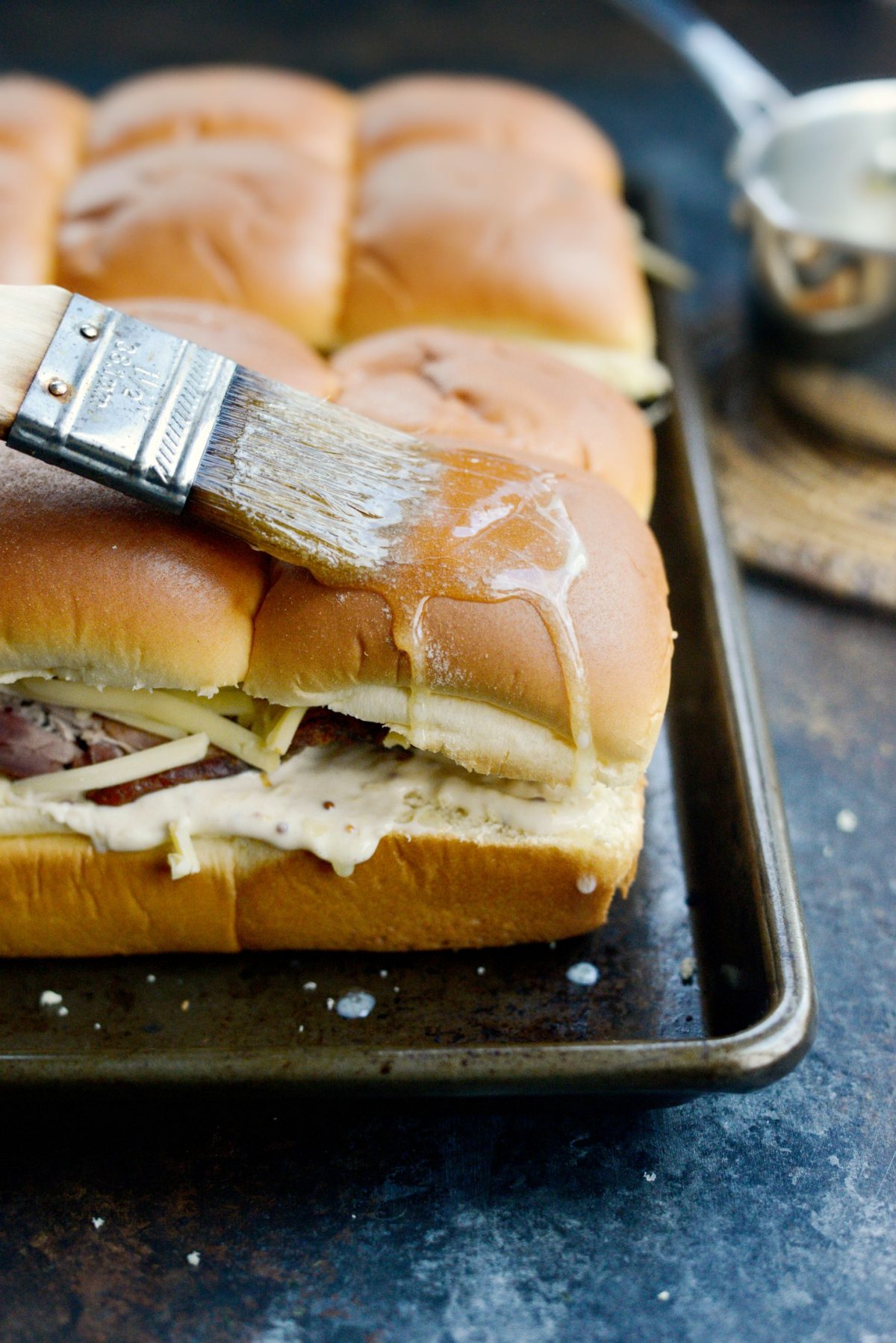 Carefully replace the top of the rolls and brush the top with the melted [salted] butter.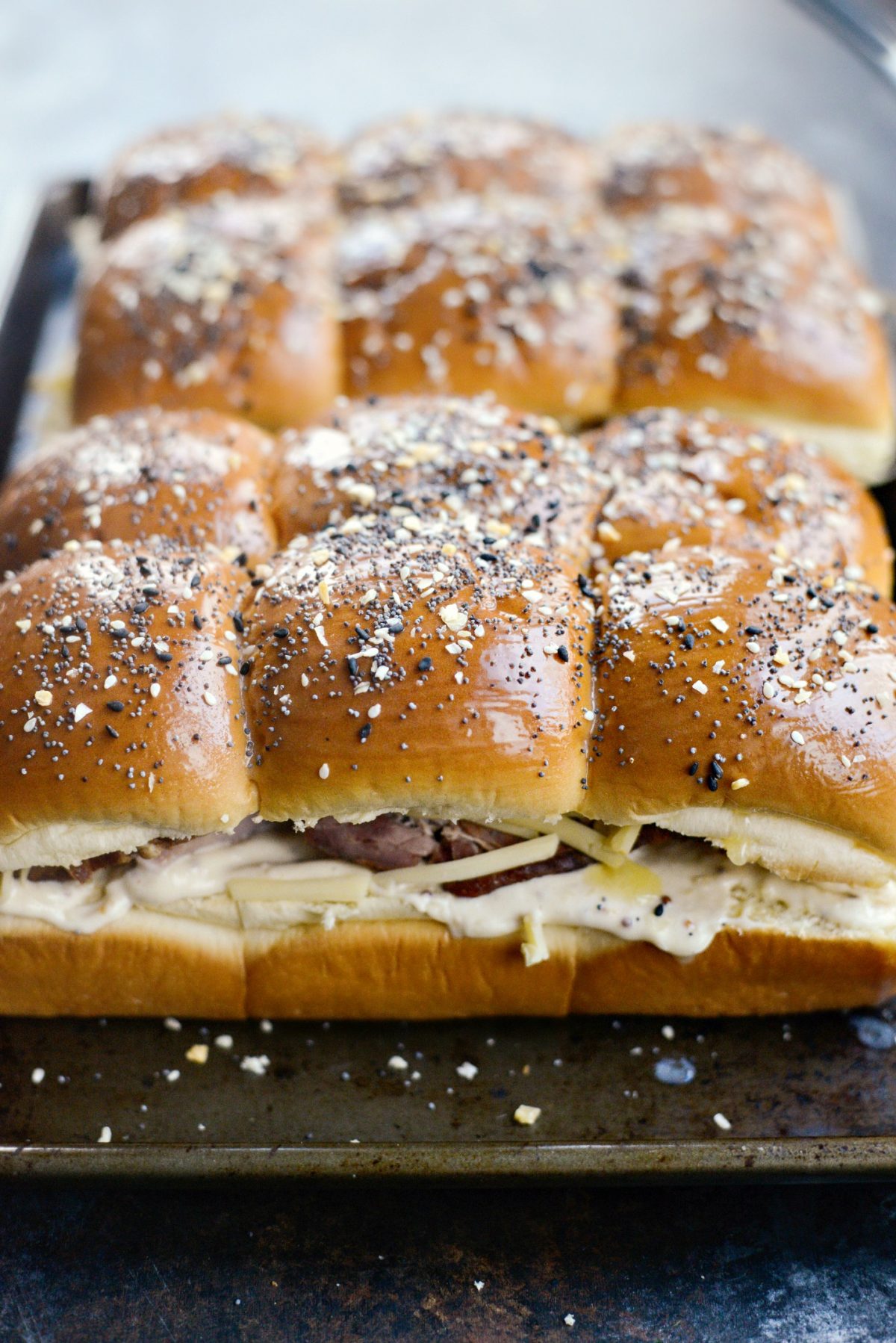 Sprinkle with 1-1/2 tablespoon of everything seasoning or you could simply use sesame or poppy seeds.
Slide the sandwiches into a preheated 350° oven for 15 to 20 minutes or until heated through and the cheese is melted and the tops are golden brown.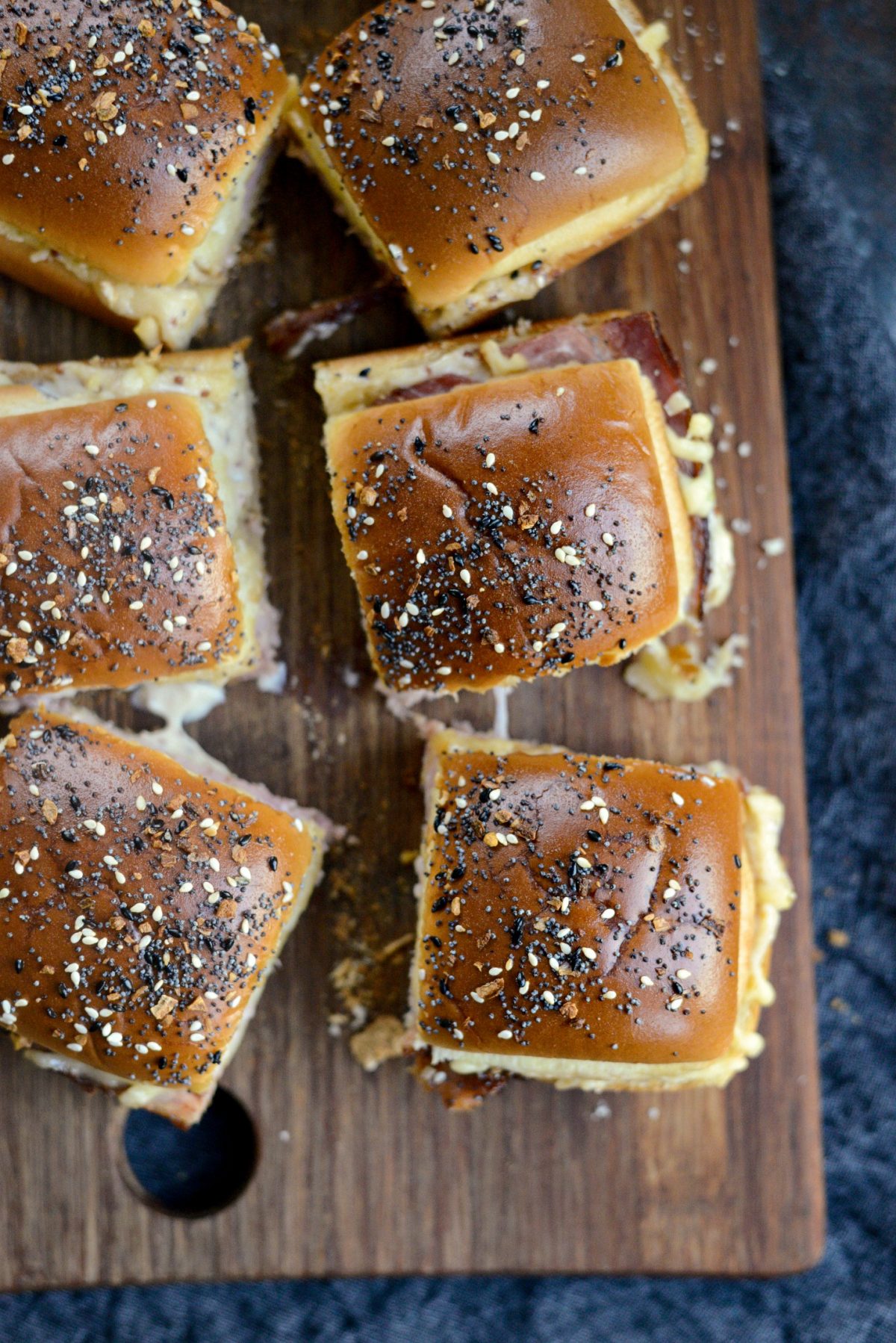 Cut the ham and gouda party sandwiches and serve immediately. Great for serving a crowd at a gathering or party. These are so delicious and simple to throw together.
Enjoy! And if you give this Ham and Gouda Party Sandwiches recipe a try, let me know! Snap a photo and tag me on twitter or instagram!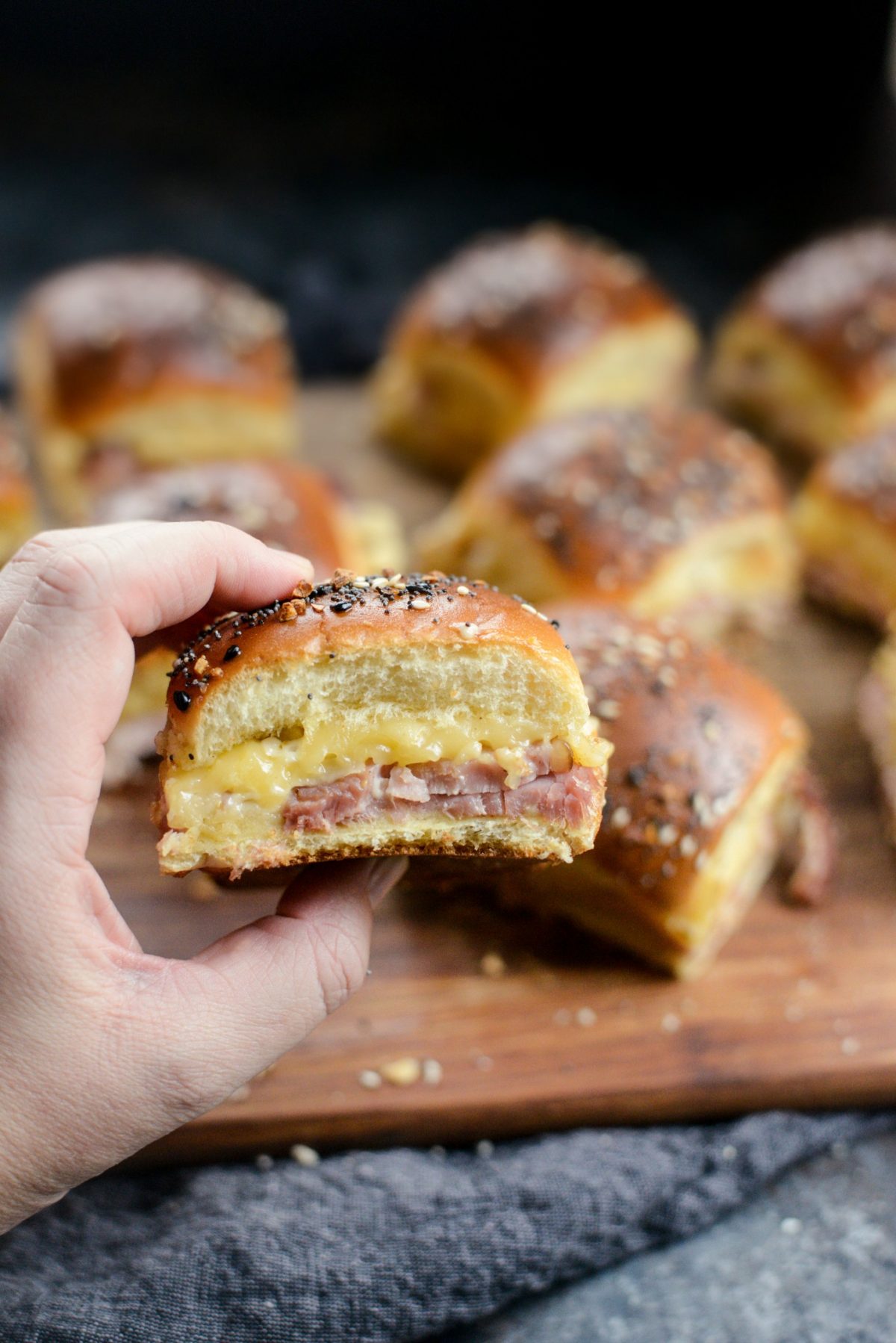 This post may contain affiliate links.
Buy the Cookbook: Simply Scratch : 120 Wholesome Homemade Recipes Made Easy Now available on Amazon »
THANK YOU in advance for your support!