I've been making this four cheese spinach artichoke dip for years now.
It's warm and cheesy! Every time I pull it out of the oven, it reminds me of when my best friend would come over for wine night. We would plop down on my couch, with this four cheese spinach artichoke dip [or this caramelized shallot and blue cheese dip] between us and a glass of wine in our hand. Sometimes we'd watch a movie and sometimes we'd just eat, sip and chat.
Feeling blissfully stuffed and a bit tipsy, by the end of the night, we'd joke about how we finished off the entire dip. And wine. Then we'd make a strict promise that we'd go out and run the next day. But we both knew we wouldn't be getting out of bed. Somehow this made us feel better about it all.
Back then we lived in the same neighborhood. So these sort of nights happened every fall when Pat would be up north hunting. Now we're a seven minute drive away and we do more coffee dates in morning than wine nights. But that's okay because I love coffee and mornings. Oh and we still don't run.
This four cheese spinach artichoke dip recipe is a perfect party app for a small gathering or a movie night amongst friends, and is cinch to whip up. It's creamy, cheesy and sort of healthy because of the spinach and artichokes right?? [please say yes]
Now go grab a bottle of your favorite wine, some crusty bread or chips and your favorite best friend(s) and settle in.
For this dip you will need, 8 ounces [softened] cream cheese, one clove of garlic, 1/4 cup mayonnaise, 1/4 cup plus 1 tablespoon each asiago, parmesan and Romano cheese, 1 cup chopped artichoke hearts, (9 ounce package) frozen chopped spinach [thawed], salt and pepper.
Start by spraying a cast iron skillet or baking dish with olive oil or smearing with softened butter. In the past, I've used a ceramic baking dish and also a deep-sided glass pie dish. Now I prefer my trusty 10-inch cast iron skillet because it gets the edges nice and crispy, just how I like it.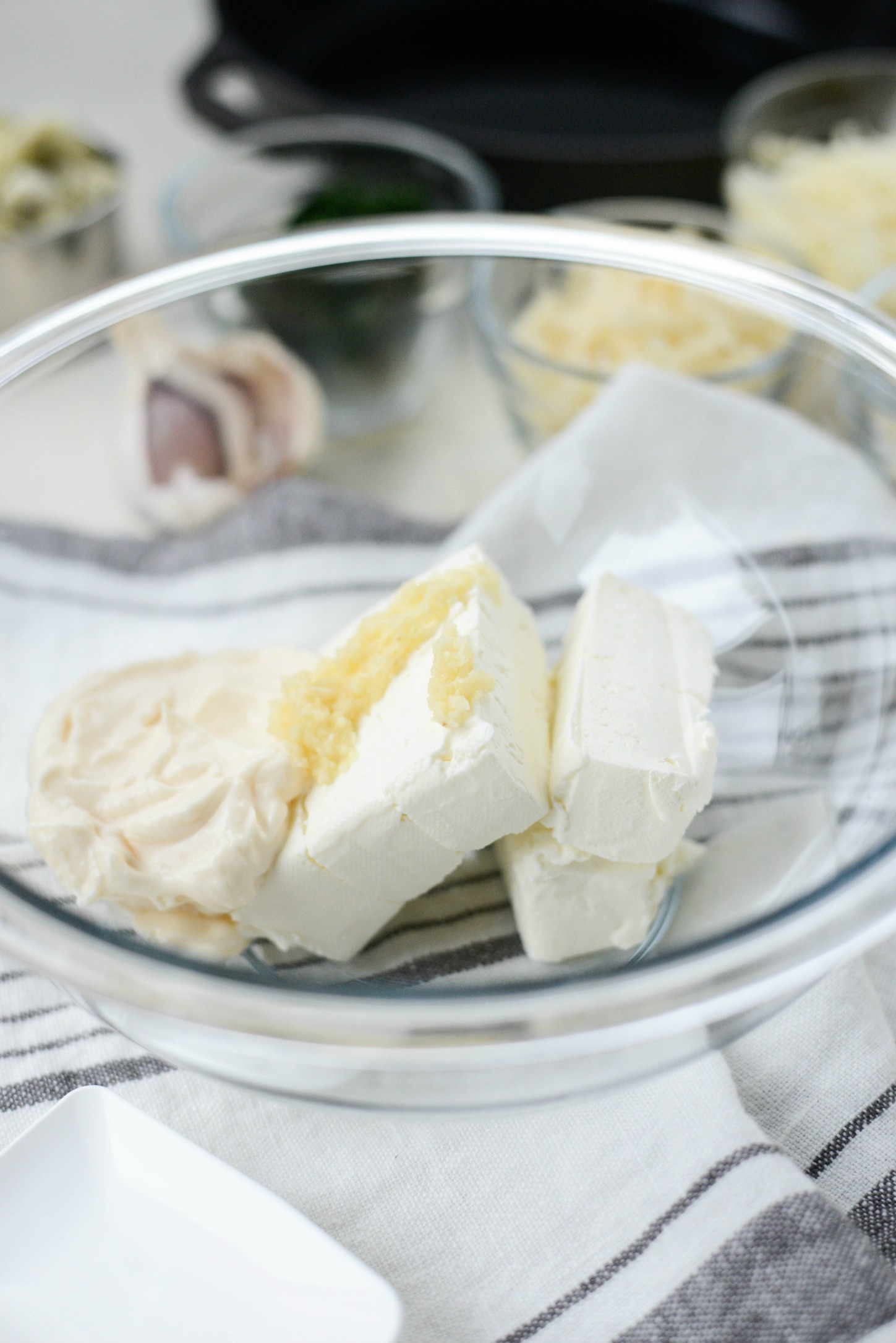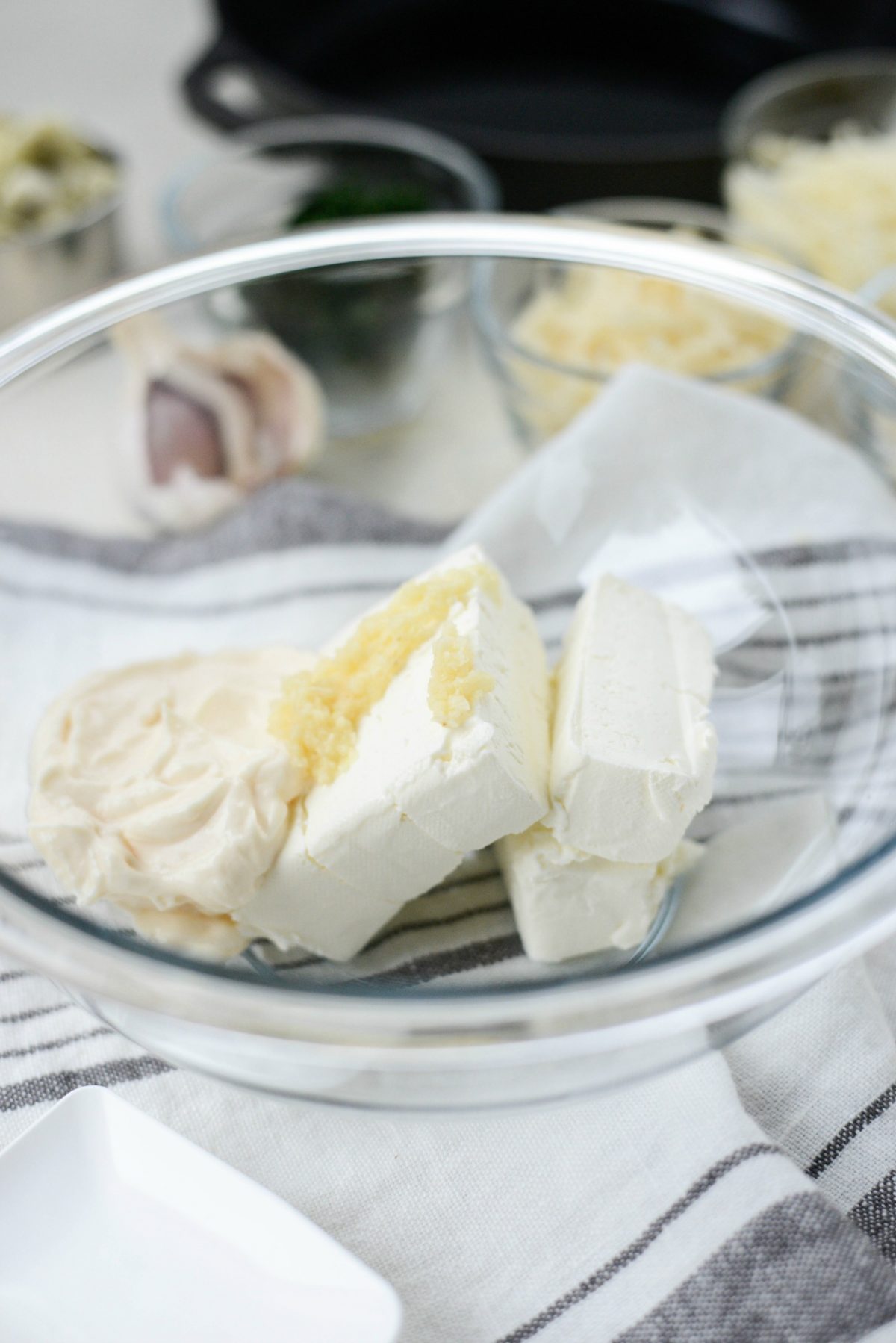 Start by adding the softened cream cheese and 1/4 cup of mayo into a medium bowl, and grate in the peeled clove of garlic.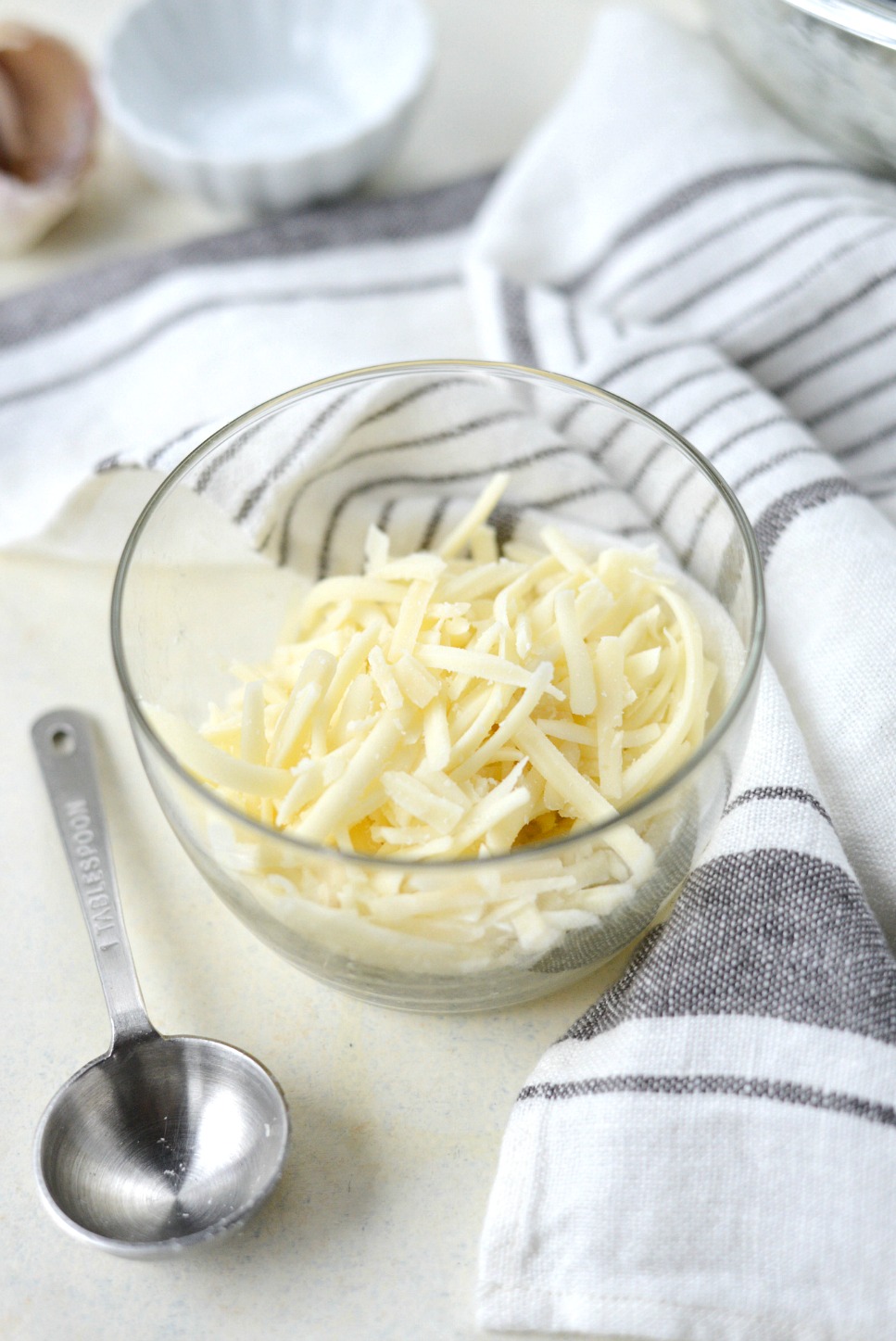 Next, add a 1/2 cup of the grated mozzarella and a tablespoon of each of the freshly grated cheeses into a bowl. Set that off to the side.
Add the remaining 1/2 cup of mozzarella and 1/4 cup each of  asiago, parmesan, romano cheese in to the bowl with the cream cheese.
I always use frozen spinach and defrost it low and slowly in the microwave. Hand squeeze out as much water as possible. Then place the spinach in a clean kitchen towel and twist to wring out the rest of the water. Also, if the artichokes are in a brine, I'll drain them into a colander. Rinse well with cold water and then quarter the artichokes into smaller pieces.
Add in the cup of quartered artichokes and chopped spinach to the bowl of cheese. Season with 1/2 teaspoon of dried basil and a pinch of salt and pepper.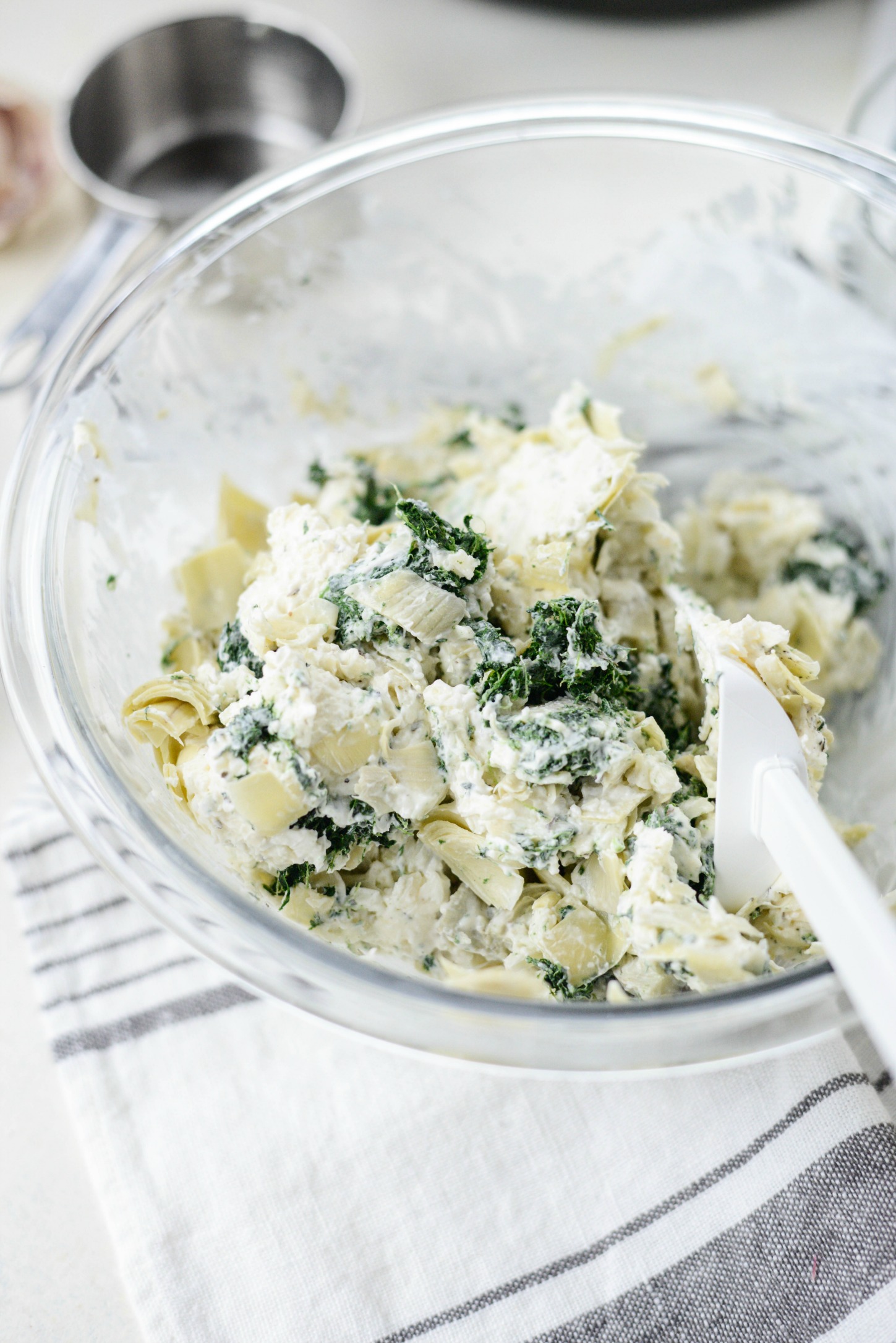 Use a rubber spatula and gently fold in all the ingredients until combined. Really work the spatula to break up the spinach.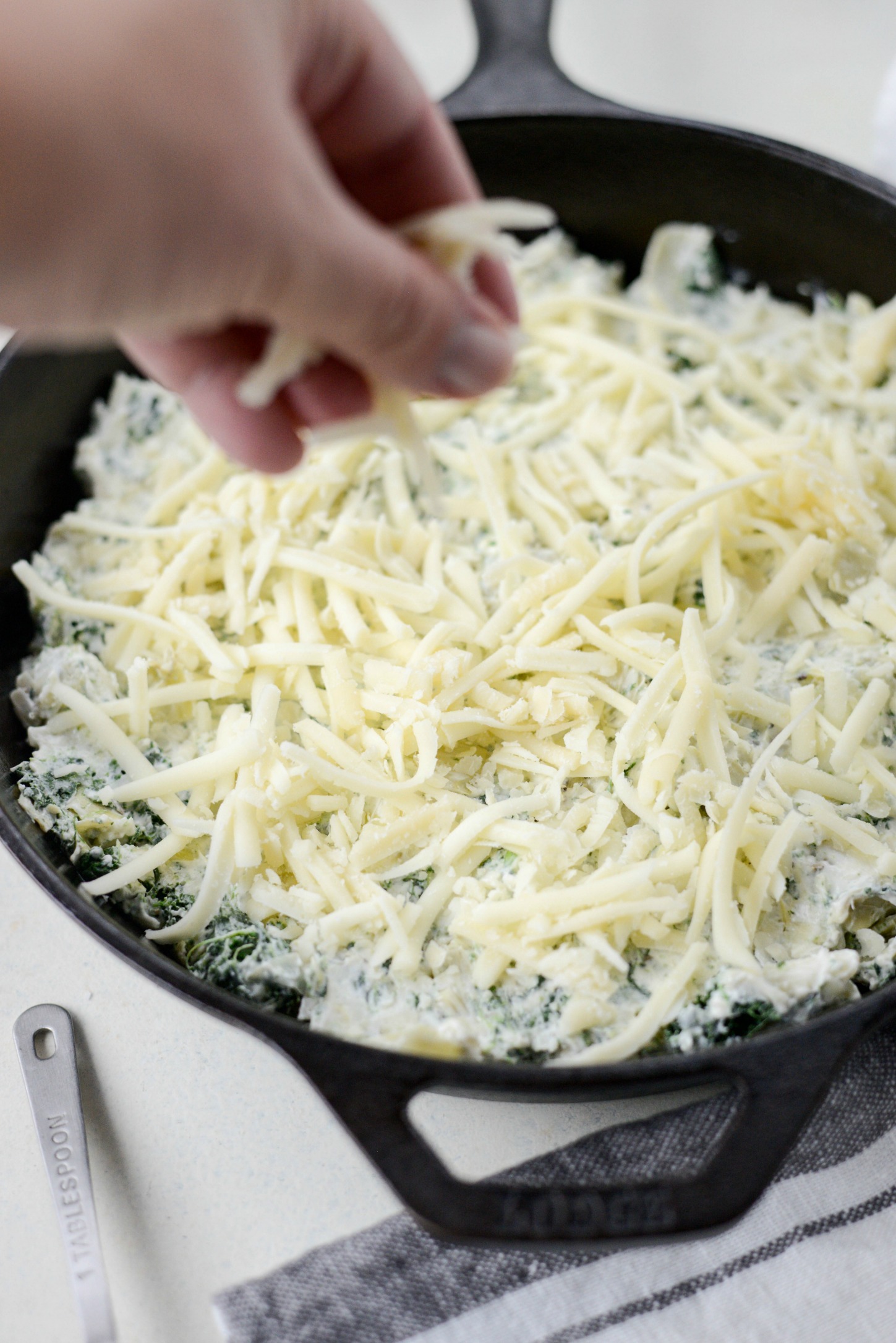 Transfer the spinach mixture into the prepared dish and spread it all out evenly. Really I could just skip the baking step and just eat it now. But it's SO darn good all warm and melty! The struggle is real.
Sprinkle with that remaining four cheese mixture. Bake the dip in your preheated 350° oven for 30 to 35 minutes.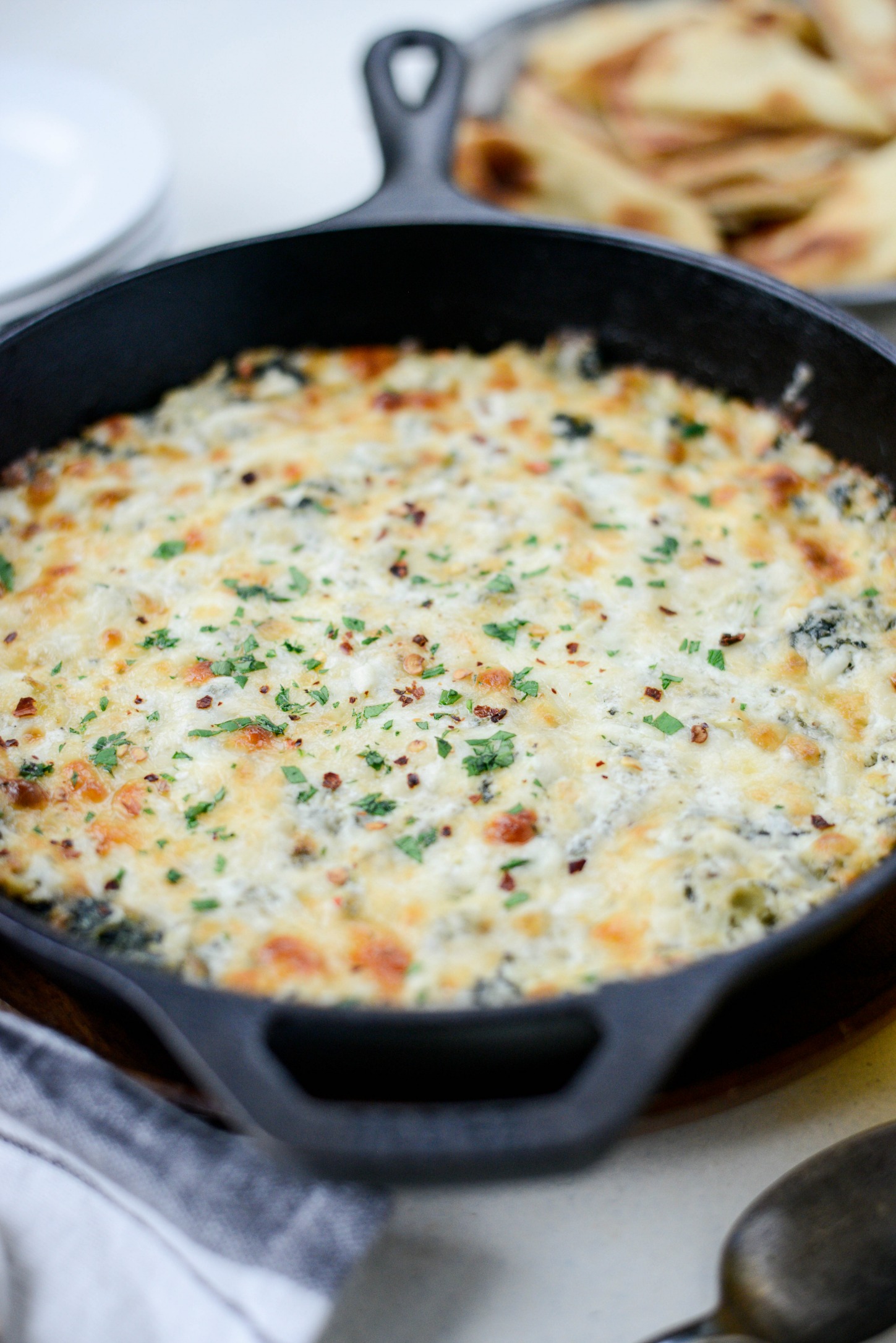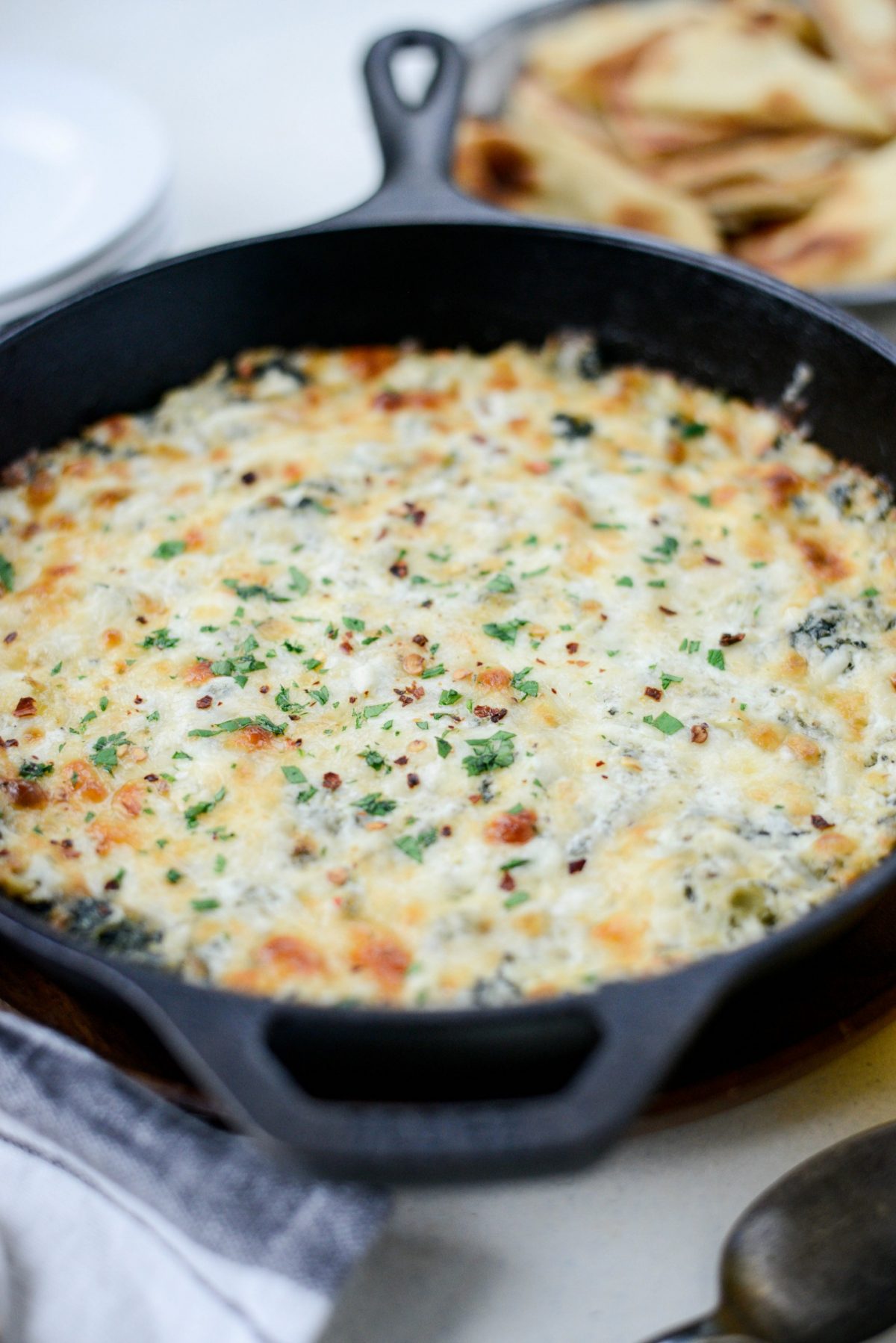 The top of the dip should be lightly golden and bubbly. Allow the dip to cool a bit, about 5 minutes or so before serving.
Feel free to serve this four cheese spinach and artichoke dip with corn tortilla chips, pumpernickel bread, or my personal favorite, toasted pita or naan chips.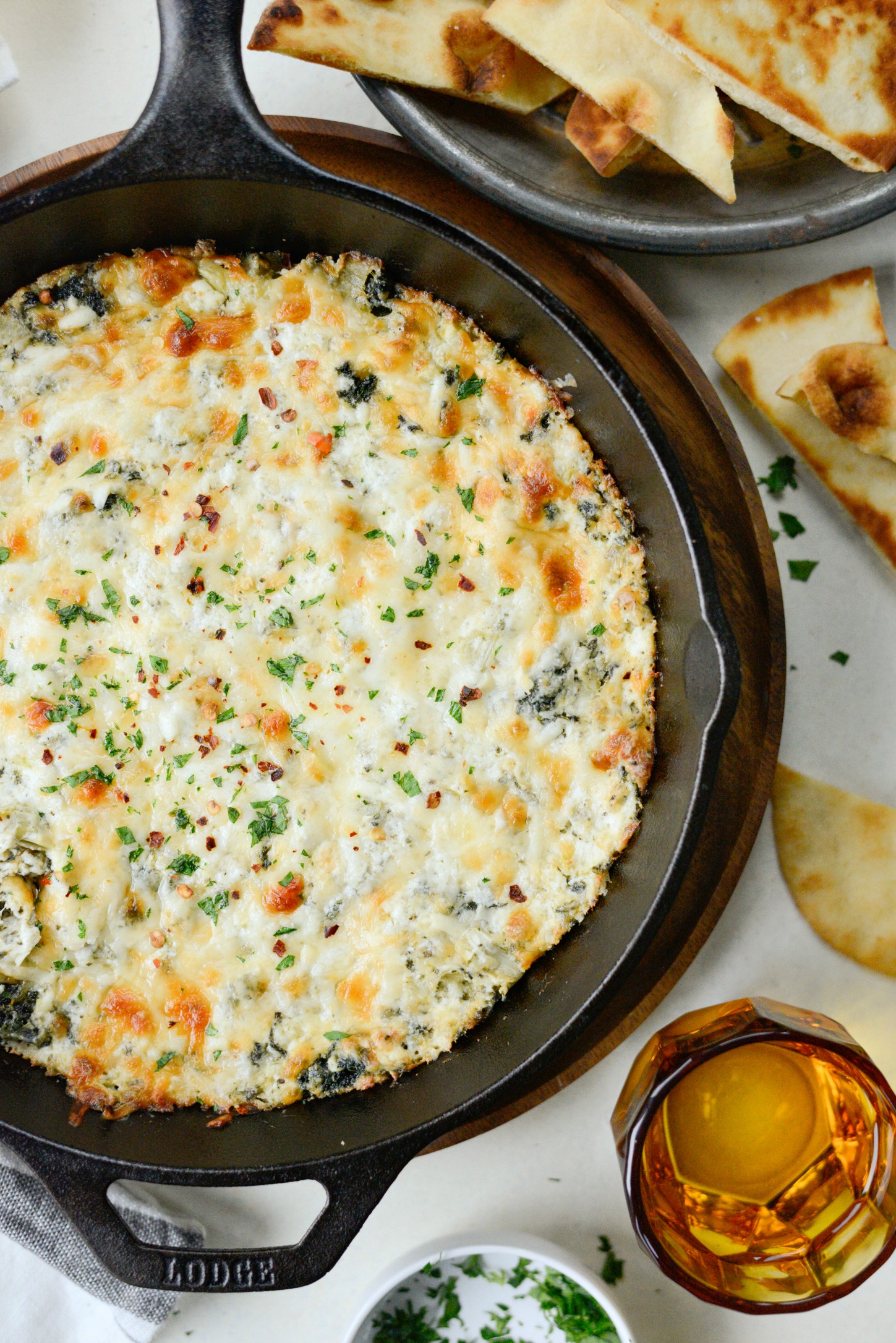 Sometimes, right before serving, I sprinkle the dip with red pepper flakes for a little spice. And maybe even some chopped parsley for a pop of color, but these two are totally optional.
You're gonna love this four cheese spinach artichoke dip!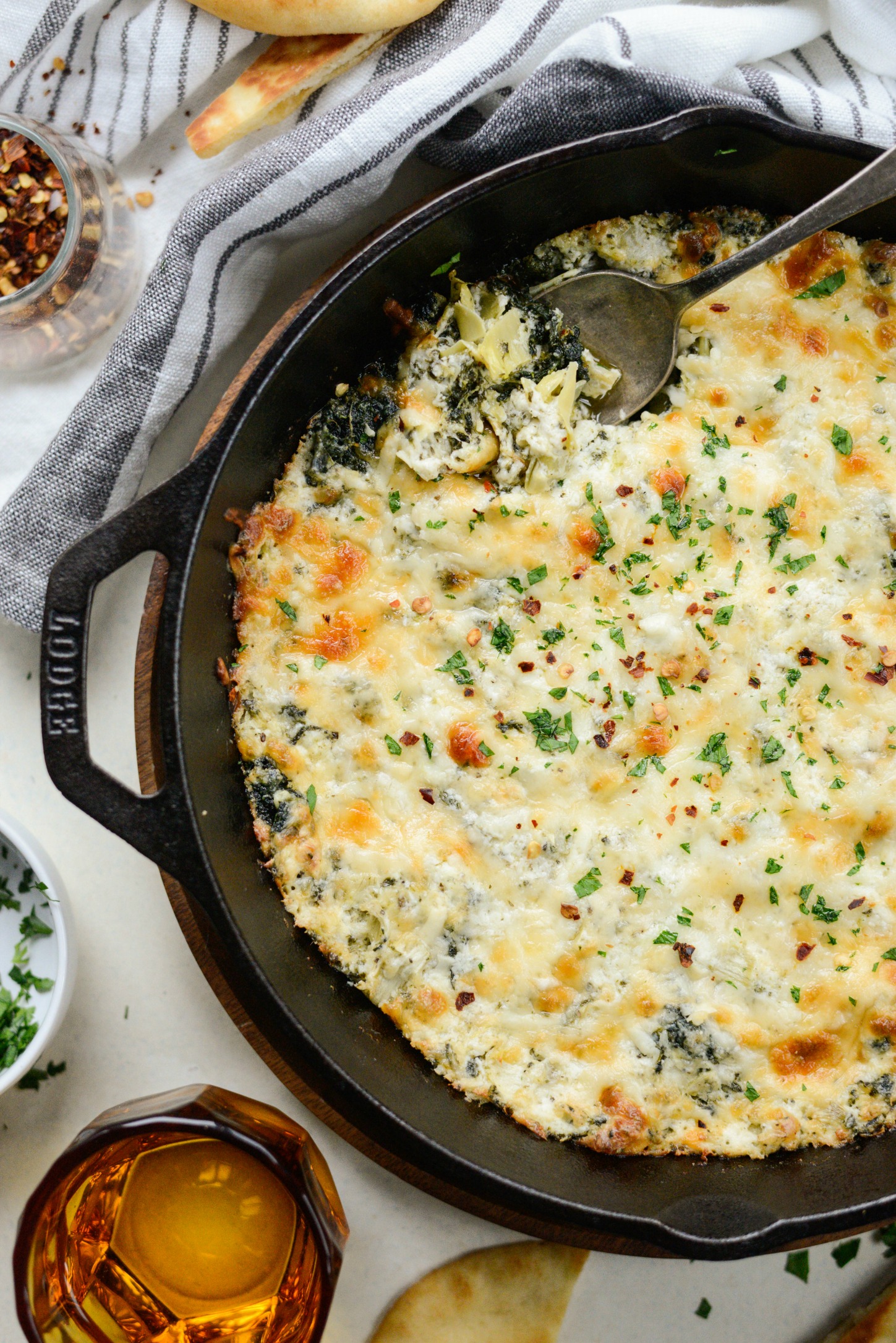 Enjoy! And if you give this Baked Four Cheese Spinach Artichoke Dip recipe a try, let me know by snapping a photo and tagging me on twitter or instagram!
My cookbook Simply Scratch : 120 Wholesome Homemade Recipes Made Easy is now available! CLICK HERE for details and THANK YOU in advance! 
[this post contains affiliate links.]
This post may contain affiliate links.
Buy the Cookbook: Simply Scratch : 120 Wholesome Homemade Recipes Made Easy Now available on Amazon »
THANK YOU in advance for your support!