This Watermelon Feta Salad is not just a pretty face. This beautiful salad has lightly dressed power mix of greens topped with diced ruby-red watermelon, crumbled feta cheese, red onion, honey-candied pistachios, fresh basil leaves. And is finished with a drizzle of balsamic glaze. This simple salad has it all, it's sweet, salty, peppery and delicious.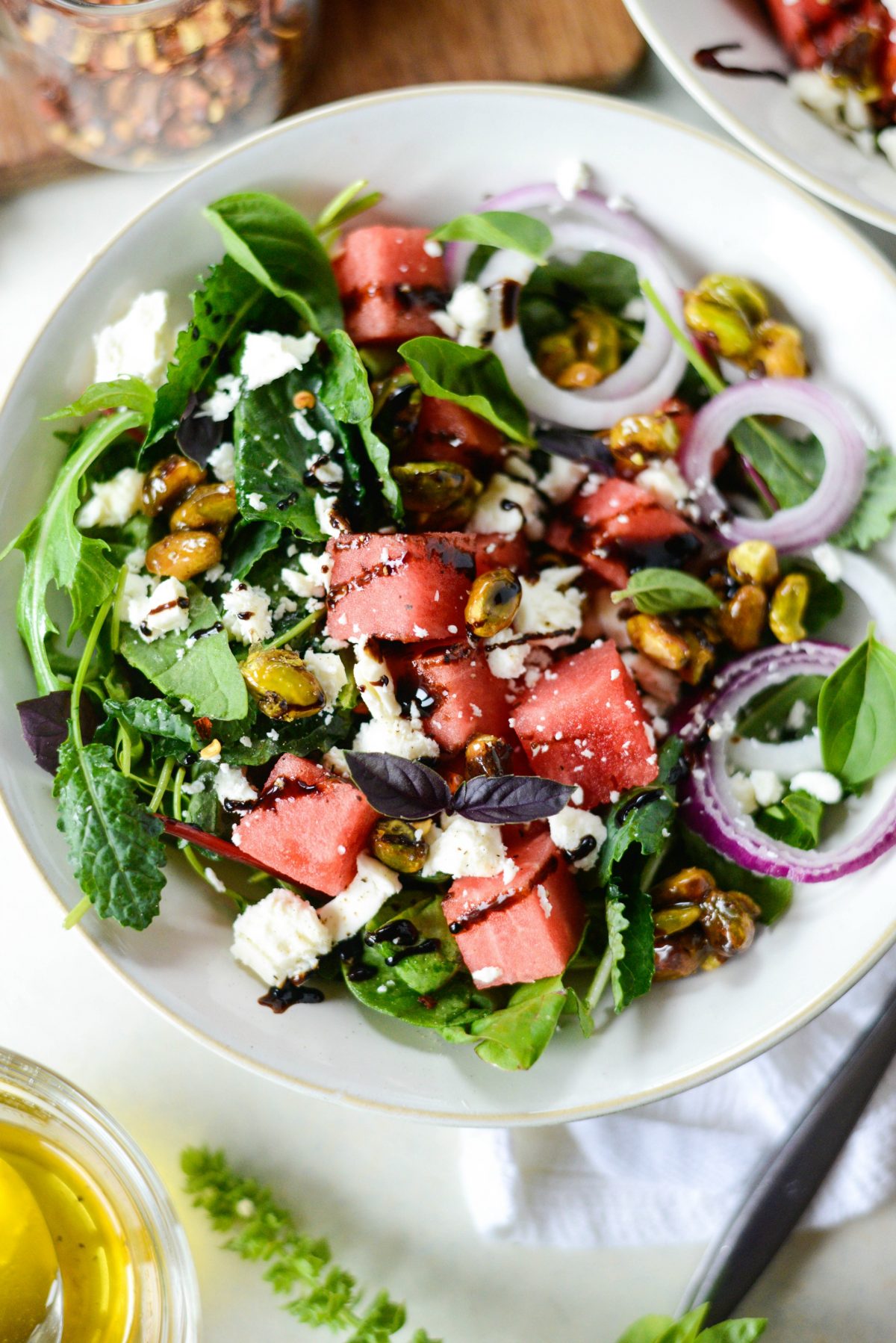 Sadly summer is winding down.
The air, at least in Michigan, has been a little chillier and the sun is setting earlier and earlier. Lately, my life has been revolving around Haileigh and Malloree's back to school errands. Things like registrations, school shopping, hair and orthodontist appointments. What I really want to do is soak in the lingering summer and fresh produce for as long and as much as possible. I'm not saying that I'm dreading fall, if you know me you are well aware of how I love that time of year, but I'm just sad to see summer go.
Until then, here's one dreamy salad.
Watermelon in salad is probably my favorite thing. Similar to this salad, yet totally different at the same time. Watermelon and feta together is a flavorful duo. I've been dreaming about throwing this combo together with candied pistachios, red onions, mixed greens tossed in my favorite champagne vinaigrette. Lastly drizzle the whole thing with a glossy reduced balsamic glaze and sprinkle with black pepper, red pepper flakes and basil leaves.
This is ultimately summer in a bowl.
Start by making the honey-candied pistachios by adding 2 tablespoon honey with 2 tablespoons granulated sugar.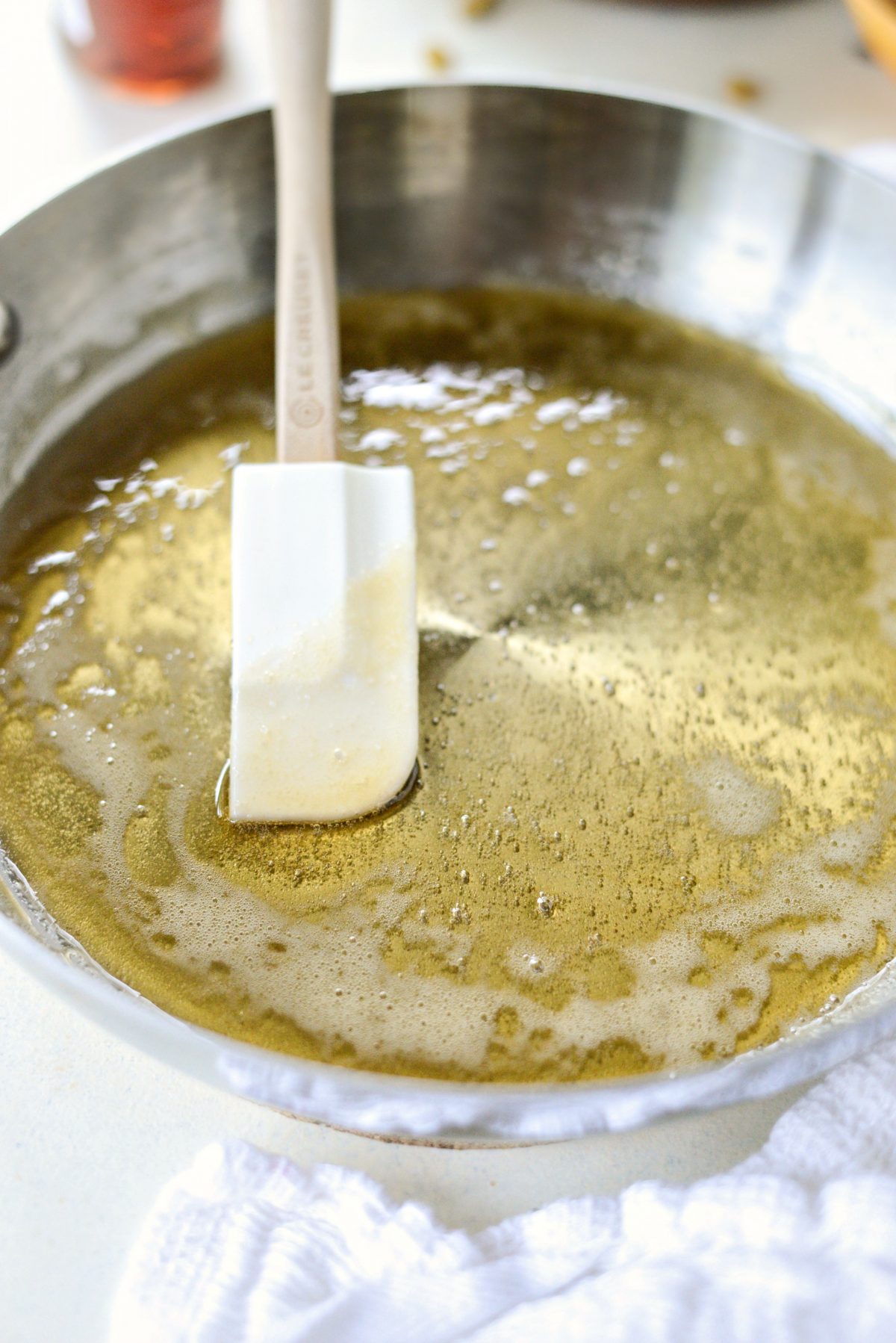 Heat on medium, whisking until the sugar has dissolved and the mixture is bubbling. Adjust the heat accordingly so you don't burn them.
Add in a cup of pistachios, use a rubber spatula to stir and coat the pistachios.
Turn the heat up to medium-high. Stir continuously until the pistachios are completely coated and the pistachios start to toast and are fragrant. About 1 to 2 minutes.
Transfer the hot and sticky pistachios to a parchment paper or a silicone baking mat to cool.
They will continue to harden as they cool.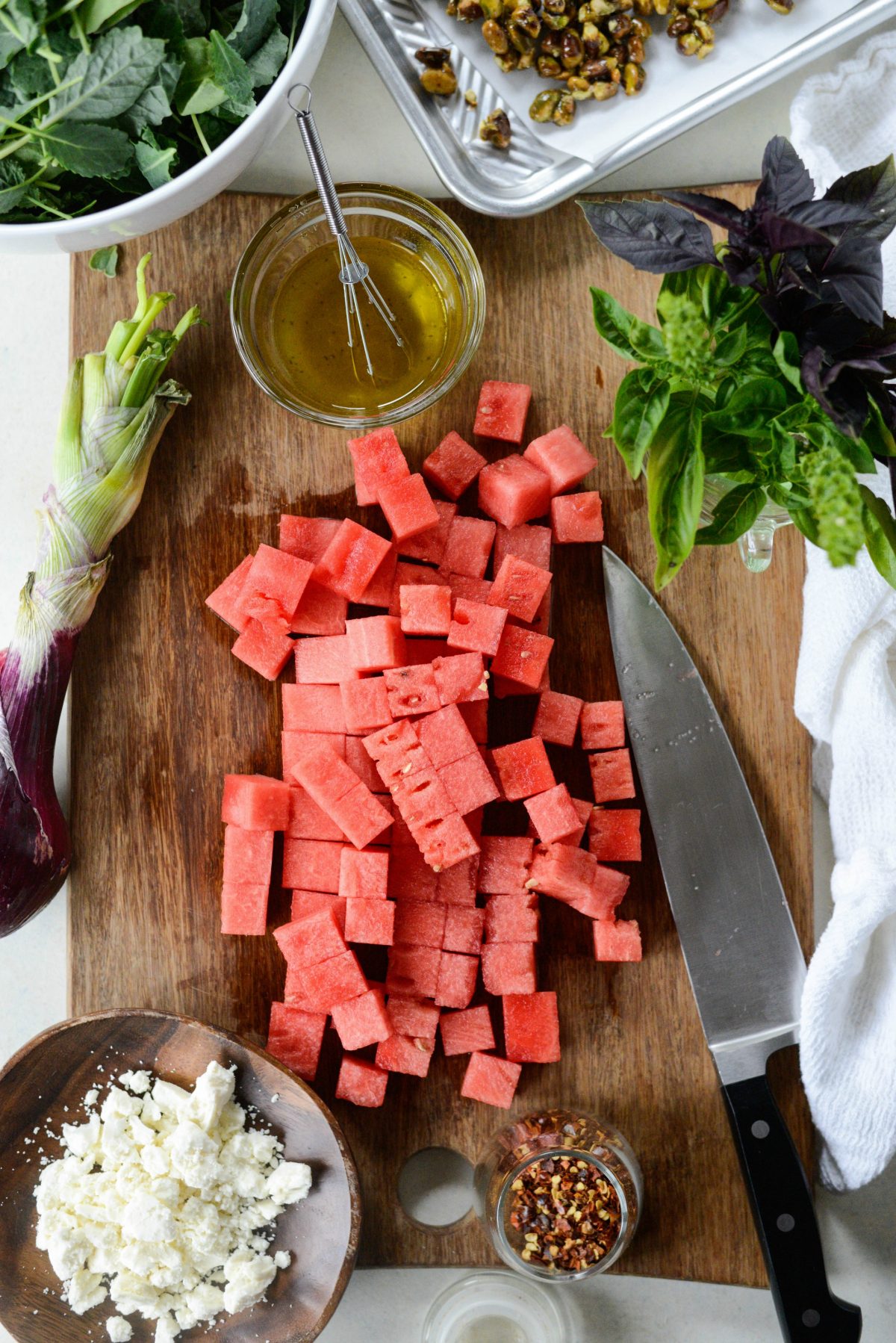 The pistachios is pretty much the extent of the cooking. While the pistachios cool, dice up 2 to 3 cups of watermelon. I bought a pre-cut slab in the produce section at my grocery store which saves so much time. Then slice a small red onion and whisk together the ingredients for the vinaigrette (recipe below). Crumble the feta, snip some basil leaves and gather the remaining few ingredients.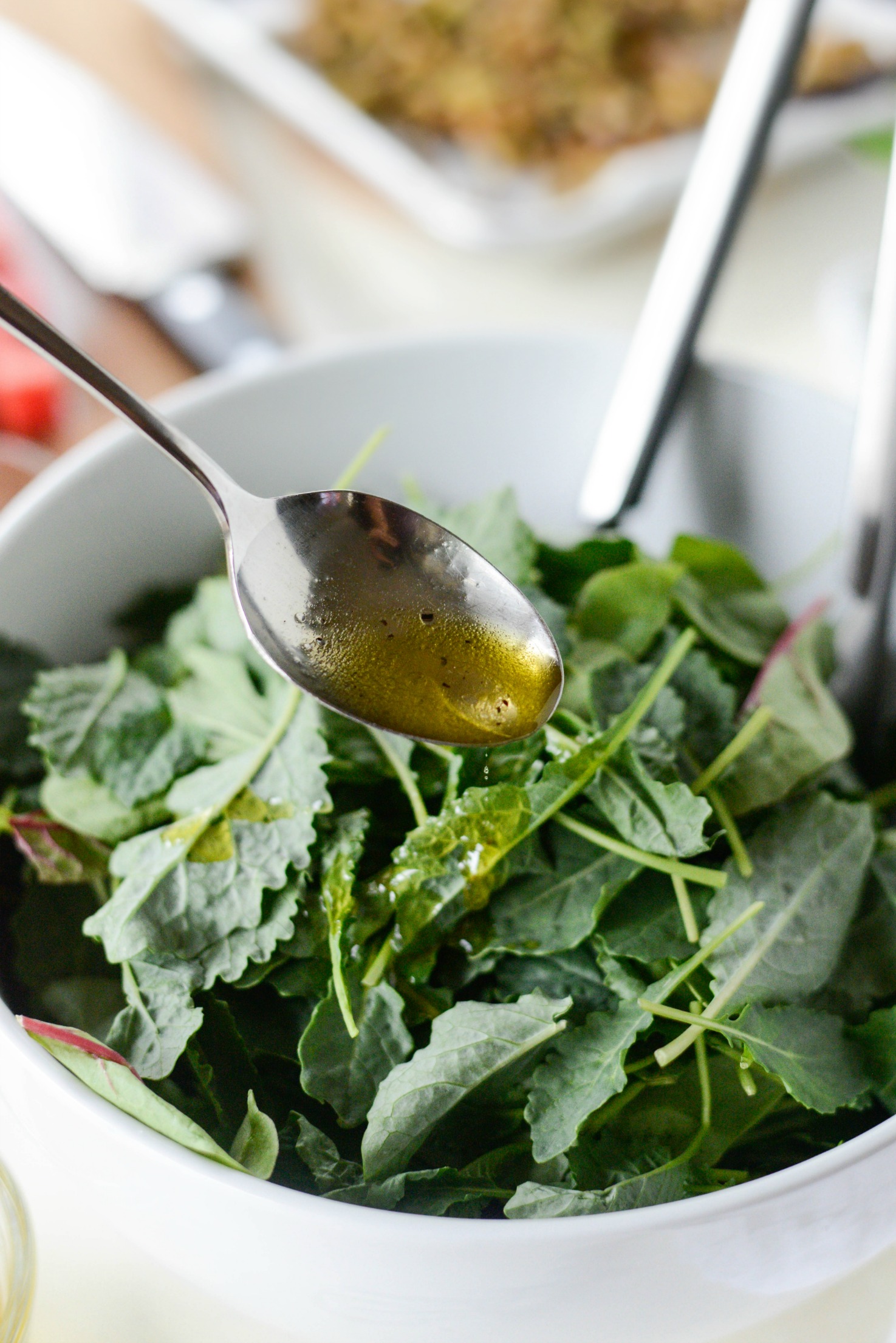 Use the salad greens you prefer.
Baby spinach, arugula, spring mix or a power mix of baby spinach, kale, mizuna, chard and kale. Really it doesn't particularly matter.
Drizzle with a desired amount of the champagne vinaigrette (1 tablespoon champagne vinegar + 1 tablespoon olive oil and a pinch of kosher salt and black pepper) and toss to combine.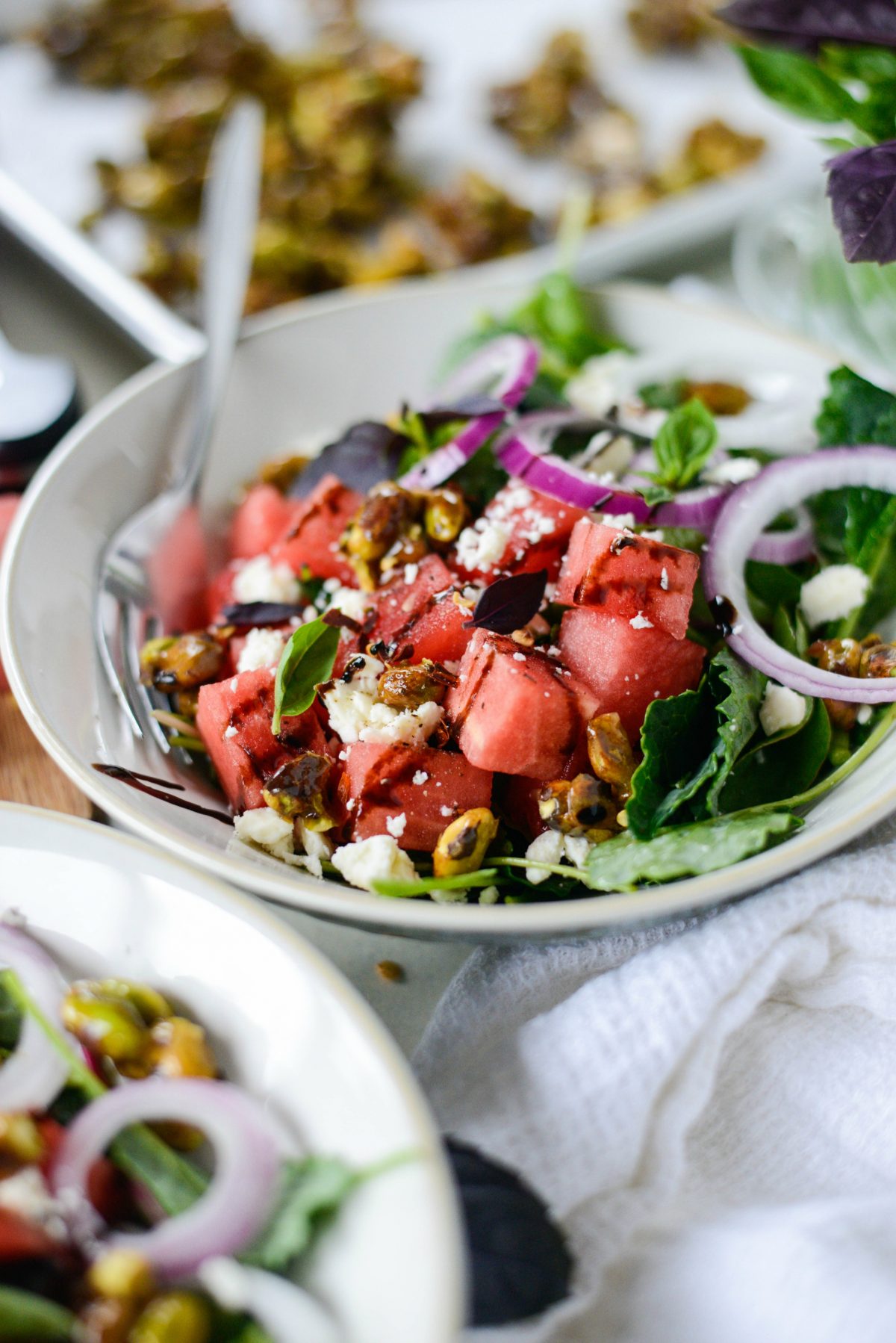 Divide the dressed greens among salad bowls. Then top with cubed watermelon, candied pistachios, sliced red onion and crumbled feta. Garnish it with freshly ground black pepper, chili flakes and fresh basil.
Lastly, but certainly not least-ly, I like to drizzle the watermelon feta salad with reduced balsamic vinegar – homemade or store bought, it's up to you. The balsamic glaze adds so much deliciously sweet and tangy deliciousness to this salad.
Enjoy! And if you give this Watermelon Feta Salad recipe a try, let me know! Snap a photo and tag me on twitter or instagram!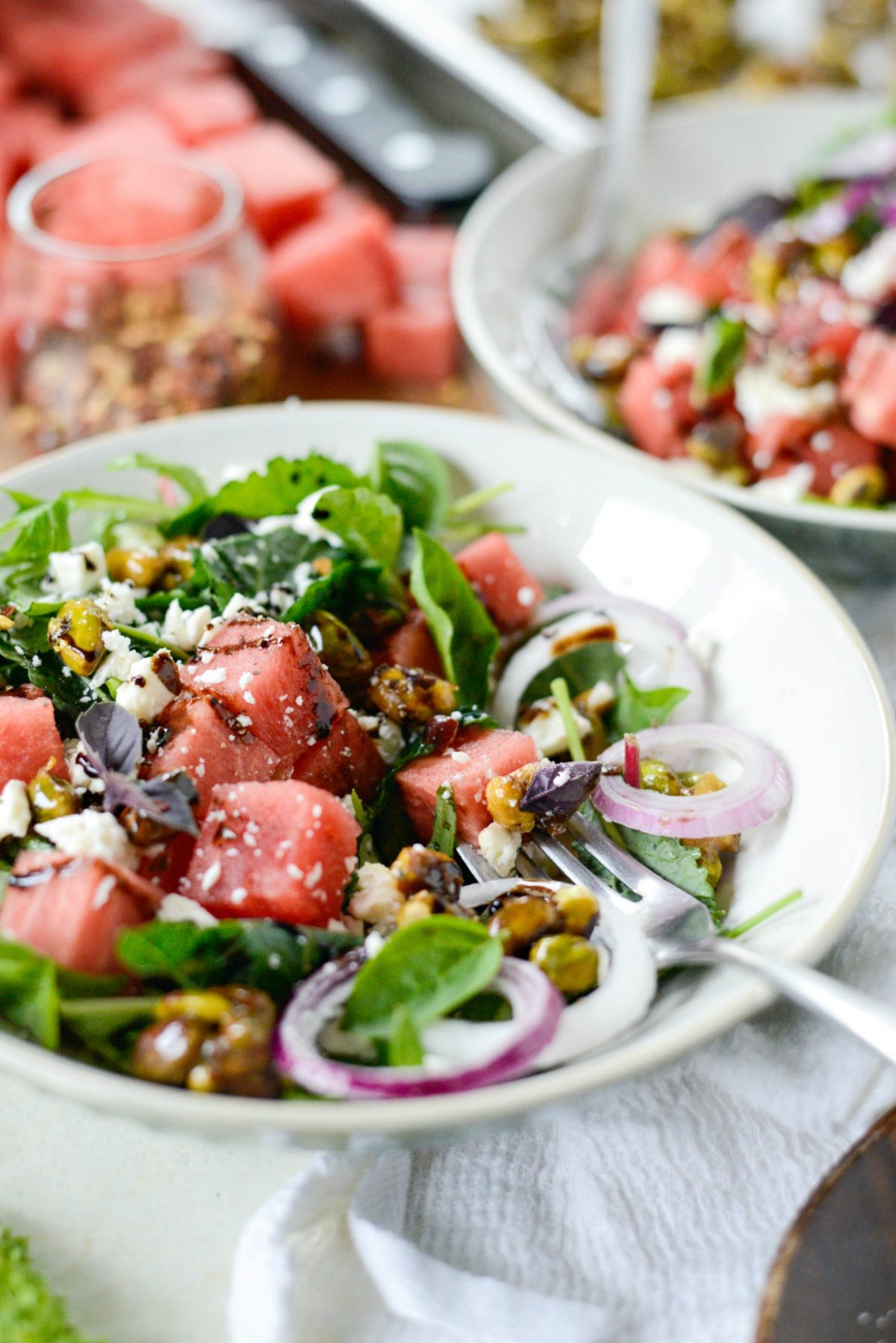 This post may contain affiliate links.
Buy the Cookbook: Simply Scratch : 120 Wholesome Homemade Recipes Made Easy Now available on Amazon »
THANK YOU in advance for your support!