Firecracker Chicken: Sweet, sour and fiery! I would describe this flavorful chicken stir-fry dish as sweet and sour chicken meets buffalo — thanks to Frank's Red Hot and red pepper flakes. It's not an extremely hot recipe, but has a delicious kick that will keep you coming back for more. An instant family favorite!
We had the most beautiful weather, perfect for spending it outside doing lawn work.
This weekend was the only shot we had to rake up 85 million sticks leftover from winter, edge our driveway, turn up our garden and weed out my raised herb garden. So we definitely made the most of it and got to work. HOLY MOLY am I sore, I must have hauled 200 pounds of dirt and grass that we edged away (gaining over a foot of driveway) and loading it into my husbands truck. Pat edged and I hauled– our yard has never looked better.
Earlier last week I whipped this little ditty up in the middle of the day, because I knew we'd have a few late nights at the ball field, so I made sure on those days to have dinner ready and in the fridge to reheat later. On the menu was this Firecracker Chicken.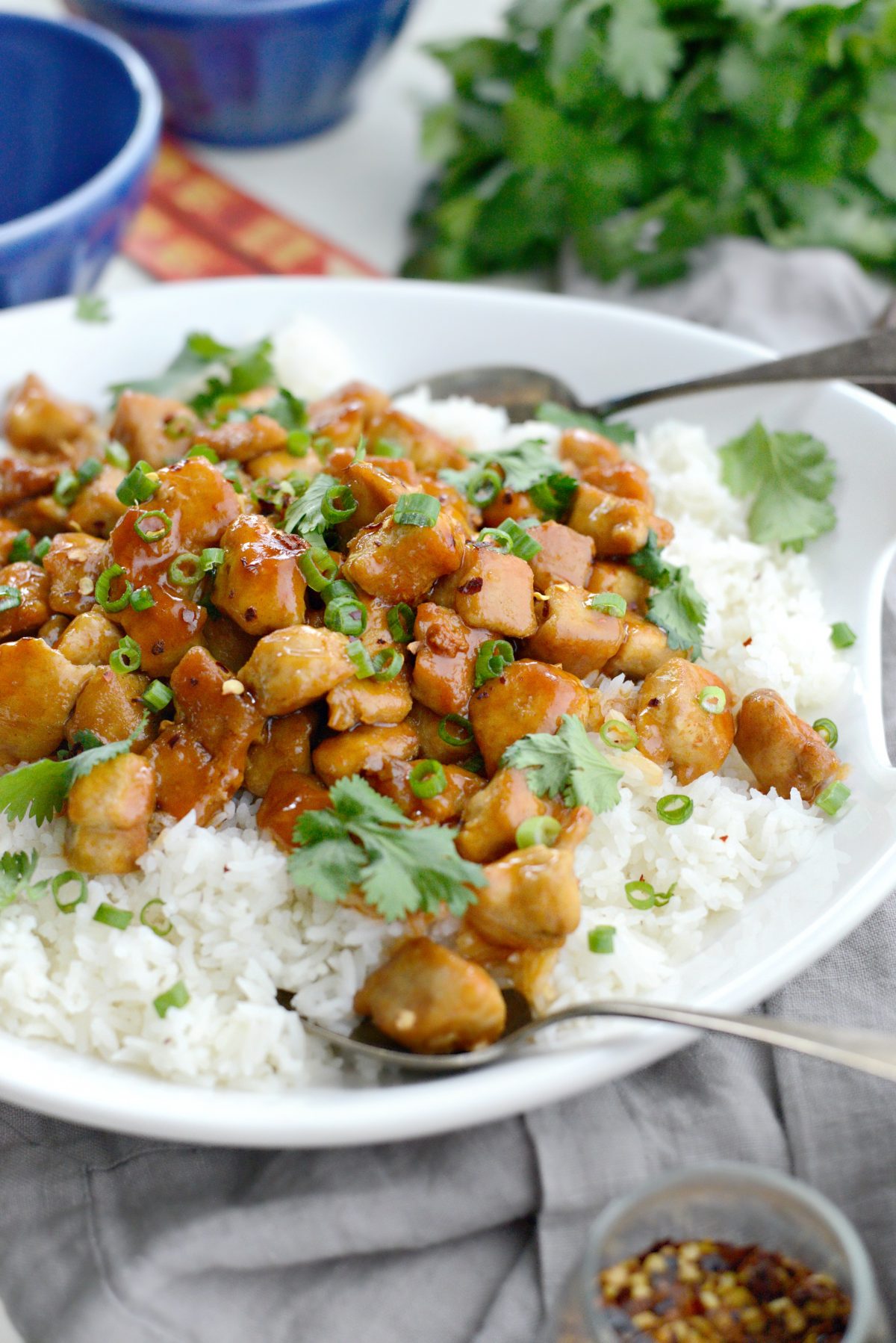 For those who aren't a fan of vegetables in their stir-fry, well then Firecracker Chicken is your jam. Chicken is coated in a light cornstarch batter and pan-fried in coconut oil until golden and crispy and tossed in a sweet and sour sauce that has a spiciness that is equally addictive and delicious. I serve it with cooked jasmine rice and, you guessed it, my favorite 10-minute roasted broccoli recipe.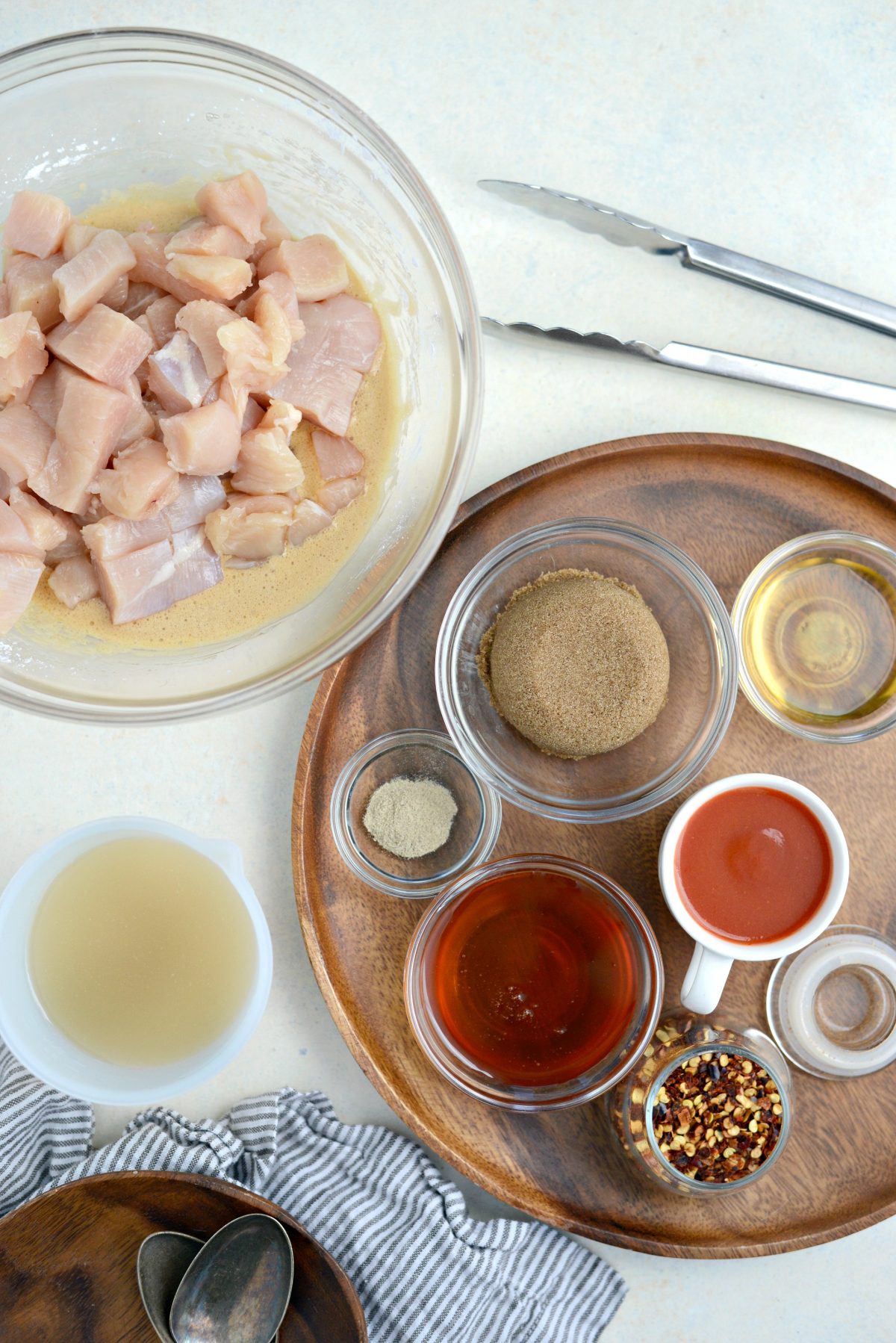 To Make This Firecracker Chicken You Will Need:
an egg white
low-sodium tamari (or low-sodium soy sauce)
white pepper
cornstarch
boneless, skinless (thin cut) chicken breast halves
honey
dark brown sugar
low-sodium chicken broth
hot sauce (like Frank's Red Hot)
cider vinegar
red pepper flakes
First add the egg white into a medium bowl, discarding the yolk or saving it for a different purpose. Beat the egg white until frothy and whisk in a tablespoon of tamari, 1-1/2 tablespoons of cornstarch and a 1/2 teaspoon of white pepper.
Cube up 1-1/4 to 1-1/2 pounds of boneless, skinless chicken breast halves into 1-inch pieces. Use tongs to toss and coat in the cornstarch batter.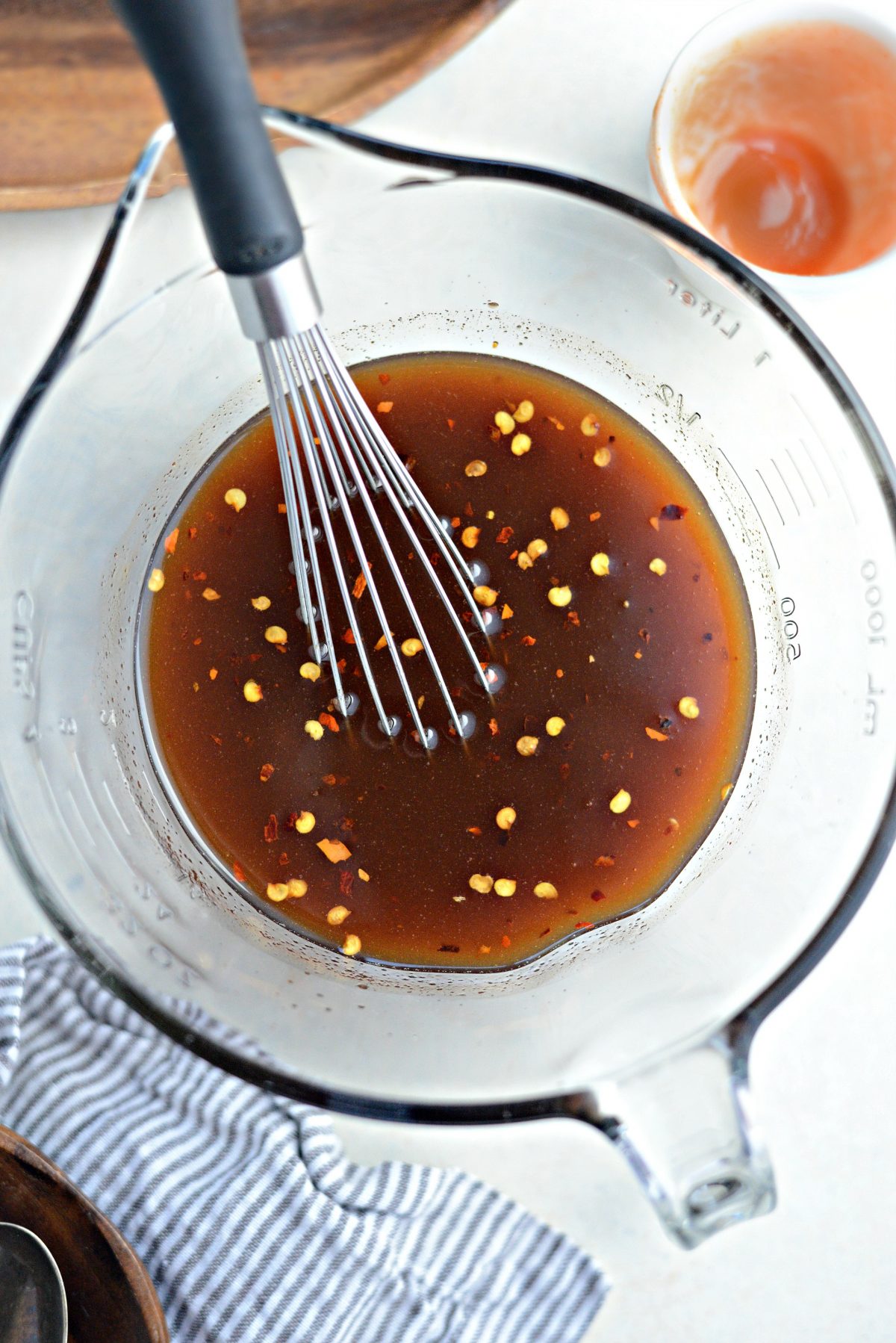 In a separate medium bowl, measure and whisk together; 1/3 cup of dark brown sugar, 1/4 cup of honey, 1/3 cup Frank's Red Hot sauce, 2 tablespoons cider vinegar, 1/4 to 1/2 teaspoon red chili pepper flakes and 1 cup of low sodium chicken broth.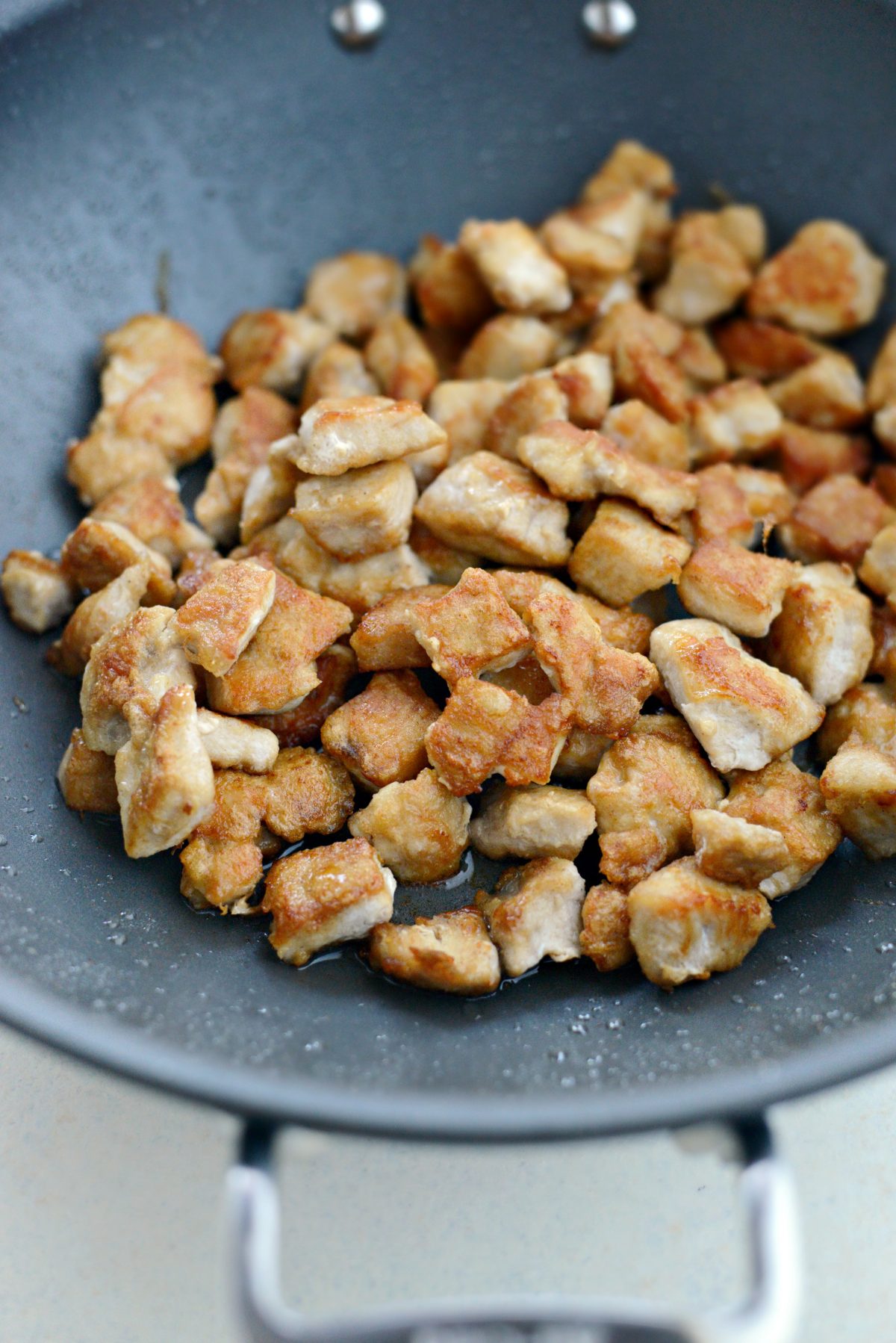 Next, preheat a large 12-inch chefs pan or wok on medium-high heat.
Add in 2 tablespoons of coconut oil and working in batches, cook the chicken until deeply golden brown and crispy. Transfer the chicken to a paper towel lined plate and repeat with the remaining uncooked chicken. When the chicken is crispy, add it back into the pan, and then pour in the firecracker sauce. Bringing to a boil.
Once the sauce is bubbling away, stir while pouring in a cornstarch slurry. (1 tablespoon cornstarch mixed with 1 tablespoon cool water)
Stir often until the sauce is thick and glossy.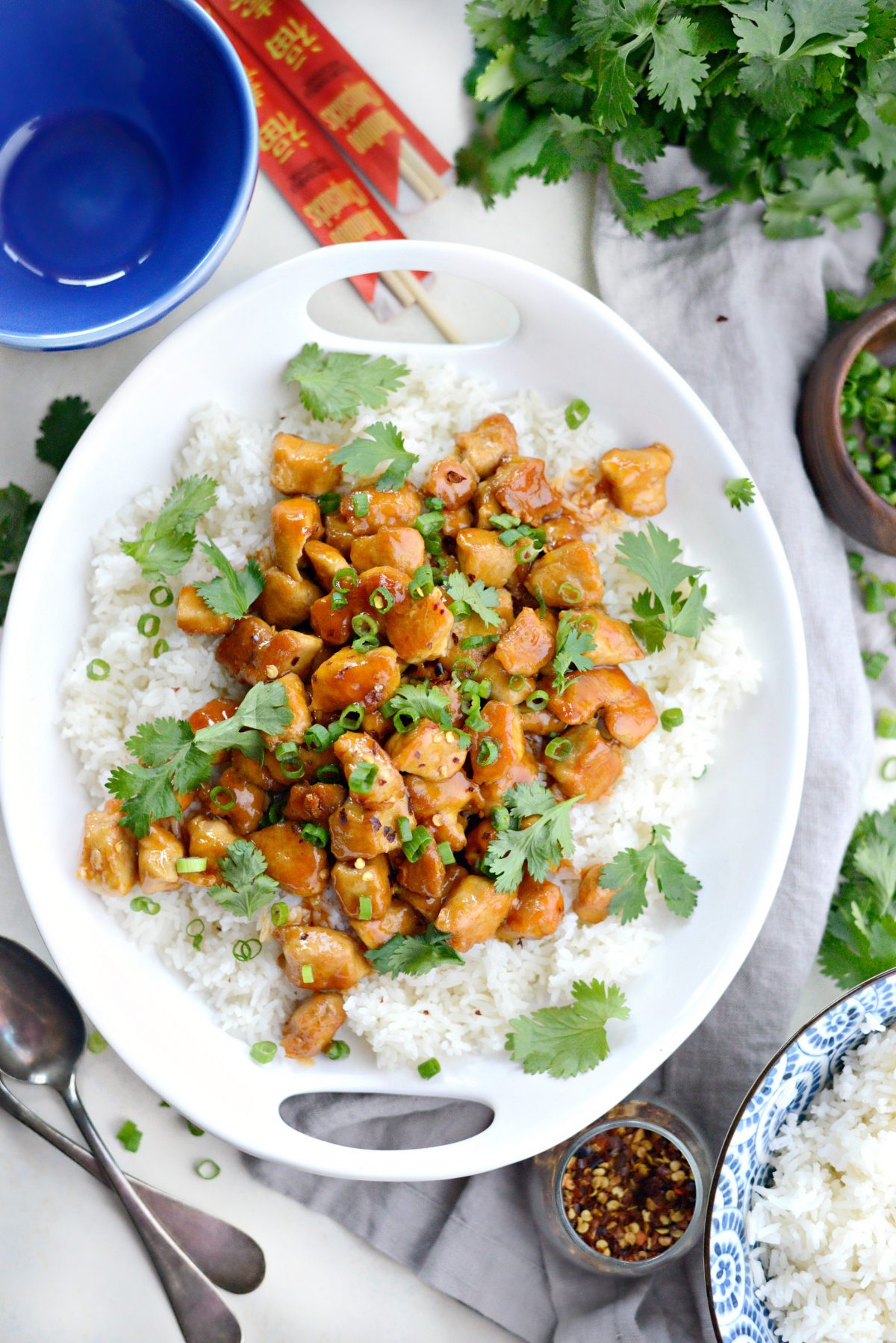 Now it's time to eat! I serve on a bed of jasmine rice, family-style with a sprinkling of sliced green onions and cilantro leaves. But individual bowl work too, feel free to saddle up roasted broccoli, sugar snap peas or a medley of your favorite spring/summer veggies right next to the firecracker chicken and rice. BUT for my fellow heat-lovers, I sprinkle even more red pepper flakes over top.
Can't. Get. Enough
I'm not kidding you, this is better than take-out! Because homemade usually is. And I have zero doubts that this delicious firecracker chicken stir-fry will become your family's new favorite!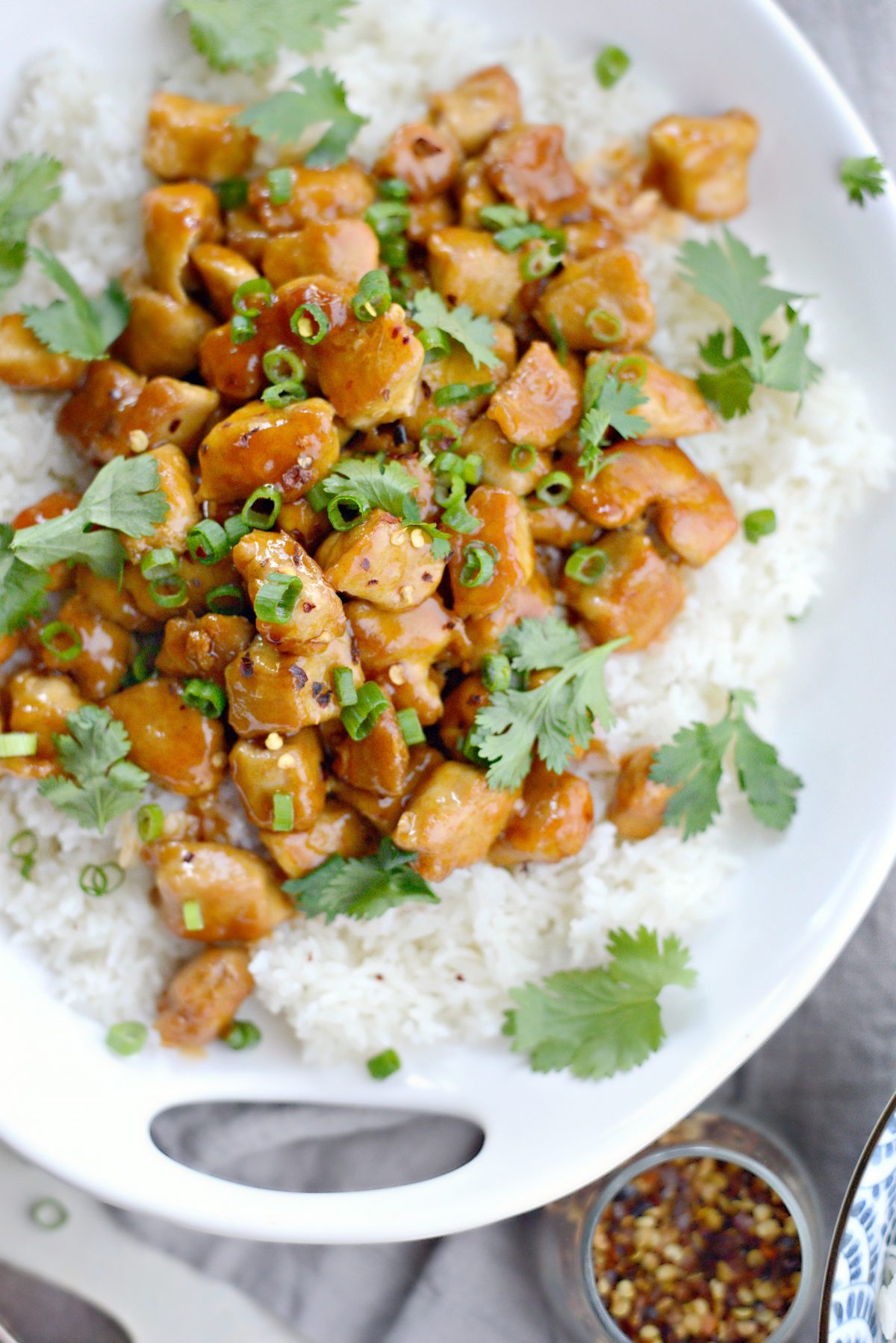 Enjoy! And if you give this Firecracker Chicken recipe a try, let me know! Snap a photo and tag me on twitter or instagram!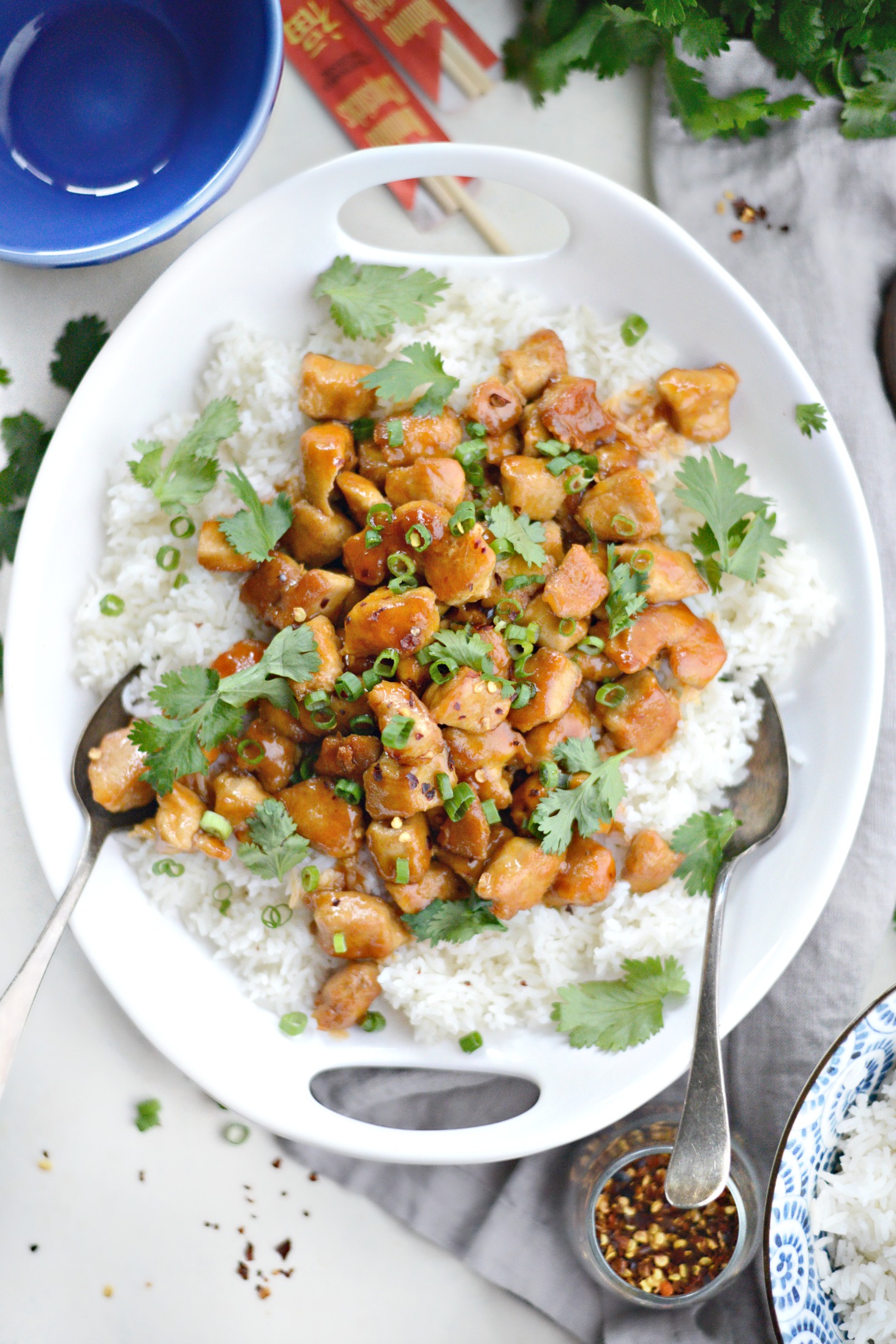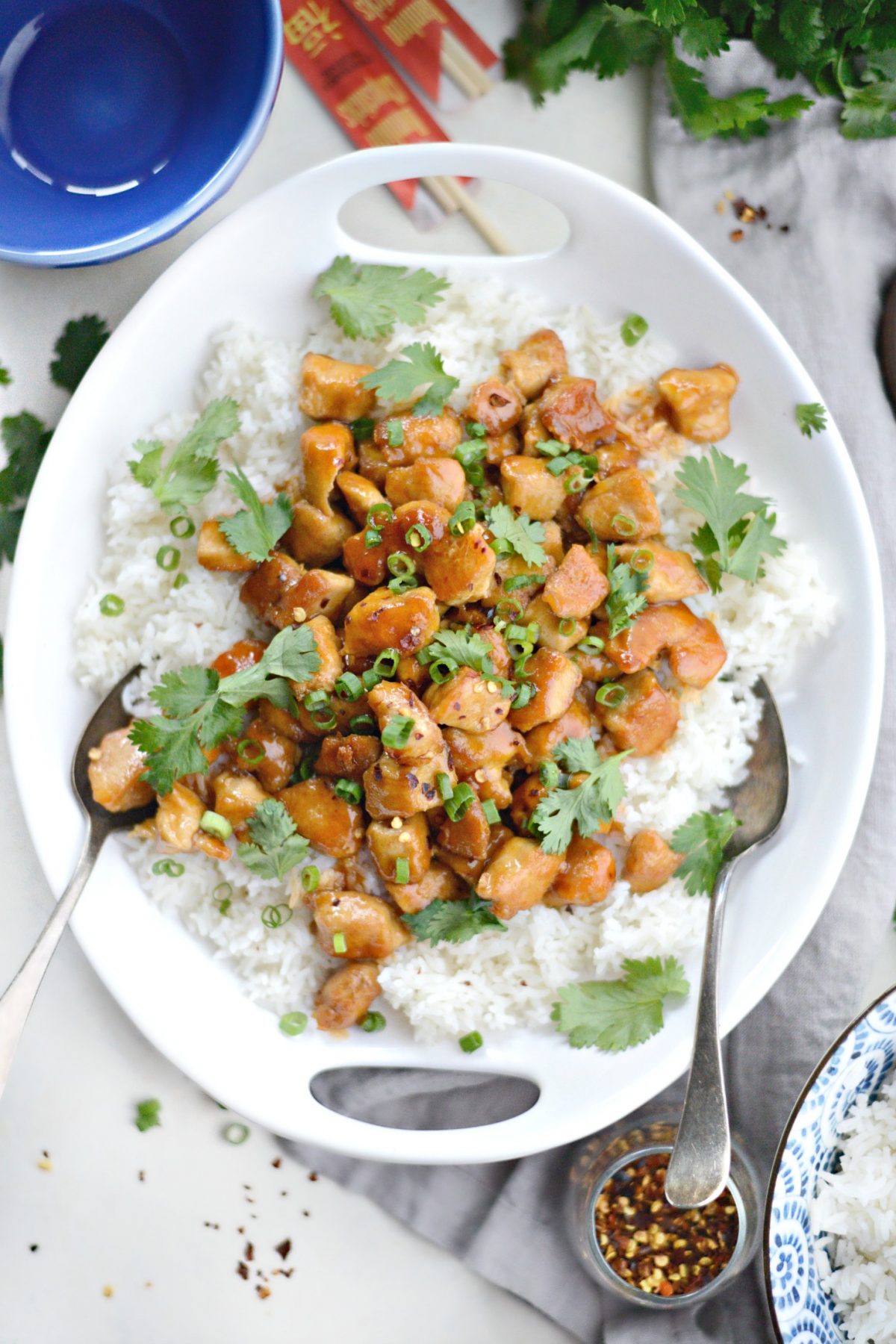 This post may contain affiliate links.
Buy the Cookbook: Simply Scratch : 120 Wholesome Homemade Recipes Made Easy Now available on Amazon »
THANK YOU in advance for your support!