Using plum jam is a great way to add flavor, like in these Sriracha Plum Glazed Drumsticks. Plum jam with fresh ginger, garlic and Sriracha and (a few other simple ingredients) add delicious flavor and some heat. All in all these are pretty easy to whip up! Serve with rice and roasted vegetables. 
I'm in a cooking-slash-food slump.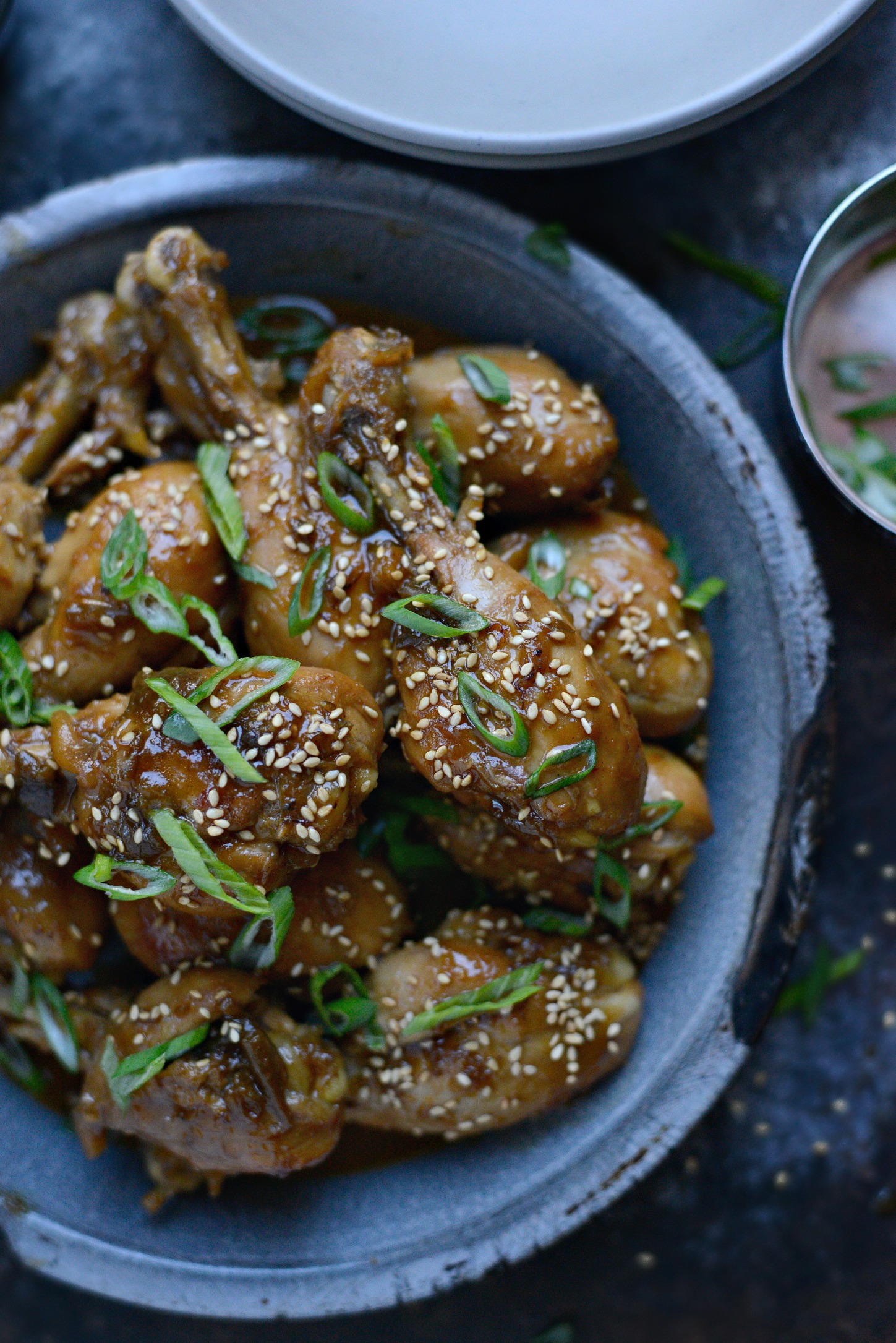 I have been severely slacking in the creativity department. I am in the mood to make nothing. Creativity levels are at a severe low and I'll I crave are peanut butter and jelly sandwiches. This happens from time to time and I usually just go with the flow, but I really am in deep this time.
Send help. Or recipes ;).
I have however been having some fun using jams and preserves in recipes. Like this blueberry balsamic vinaigrette and now the Sriracha plum glazed drumsticks you see before you.
I must confess, I do purchase these jams as I have zero time (or seasonal fruit on hand) to make it from scratch. Plus the idea of making a whole batch of plum preserves for 1/3 of a cup seems a little daunting, if not ridiculous. At least that's what I'm telling myself. HOWEVER if you can get your mitts on some good quality preserves and perhaps homemade (by the hands of some other lovely soul who indeed does have time) then I suggest you make this as soon as humanly possible.
The flavor and ease of this recipe is astounding.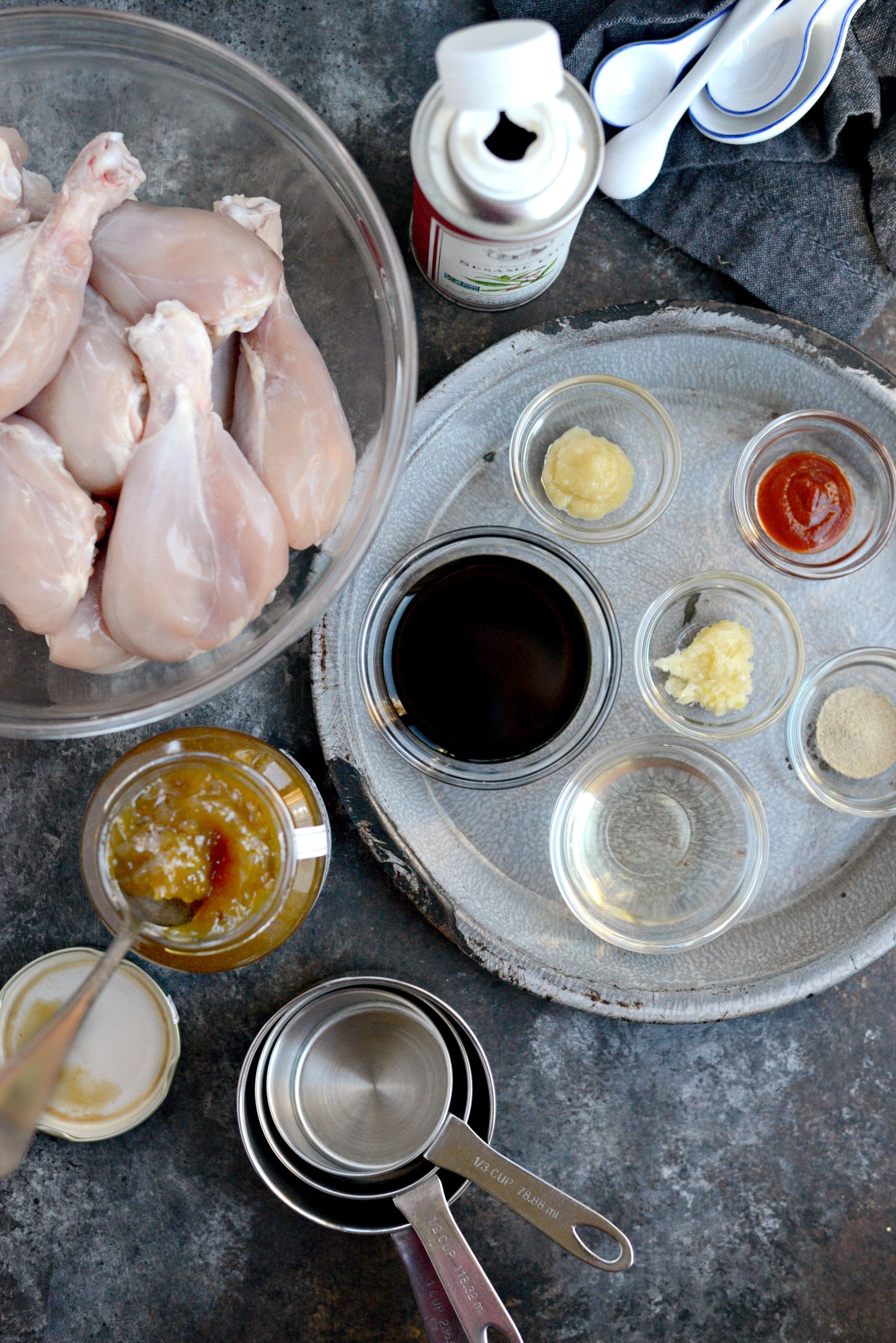 I'll be honest with you, the most daunting thing about these Sriracha plum glazed drumsticks may be peeling the chicken skins off of the drumsticks. I like to place my chicken drumsticks out onto the counter a good 30 minutes in advance –so they aren't extremely cold and easier to handle. Then I start by peeling the skin back a little bit (towards the end with the smaller joint) then I use a paper towel to grip the skin and pull it the rest of the way off. All in all it should take about 8 to 10 minutes.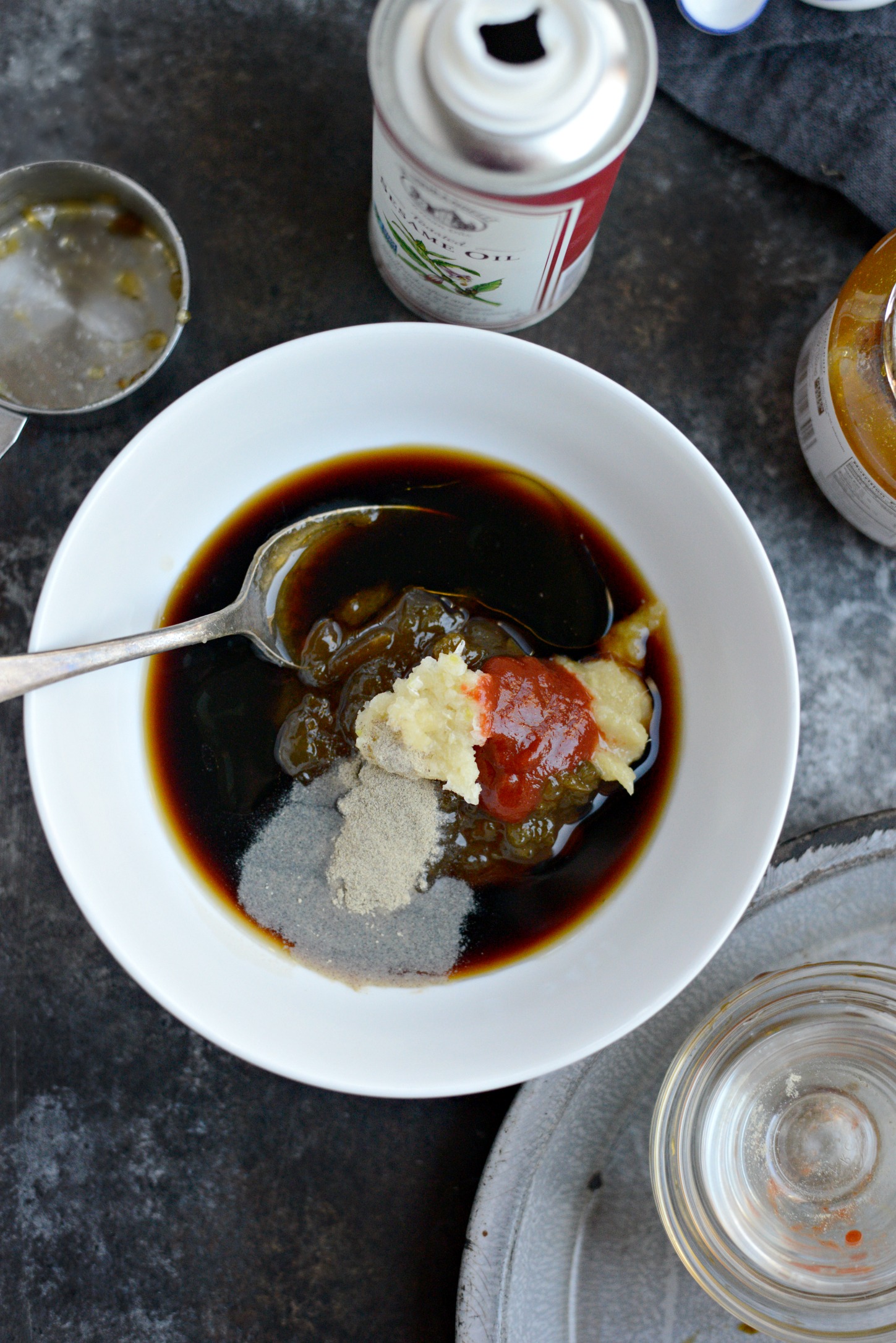 Then in a bowl, combine 1/3 cup of the plum preserves, 1 clove grated fresh garlic, 1 teaspoon grated fresh ginger root, 1 teaspoon Sriracha, 1-1/2 cup of water plus 3 tablespoons of low-sodium tamari, 1-1/2 tablespoons rice vinegar, 1/2 teaspoon toasted sesame oil and 1/4 teaspoon white pepper.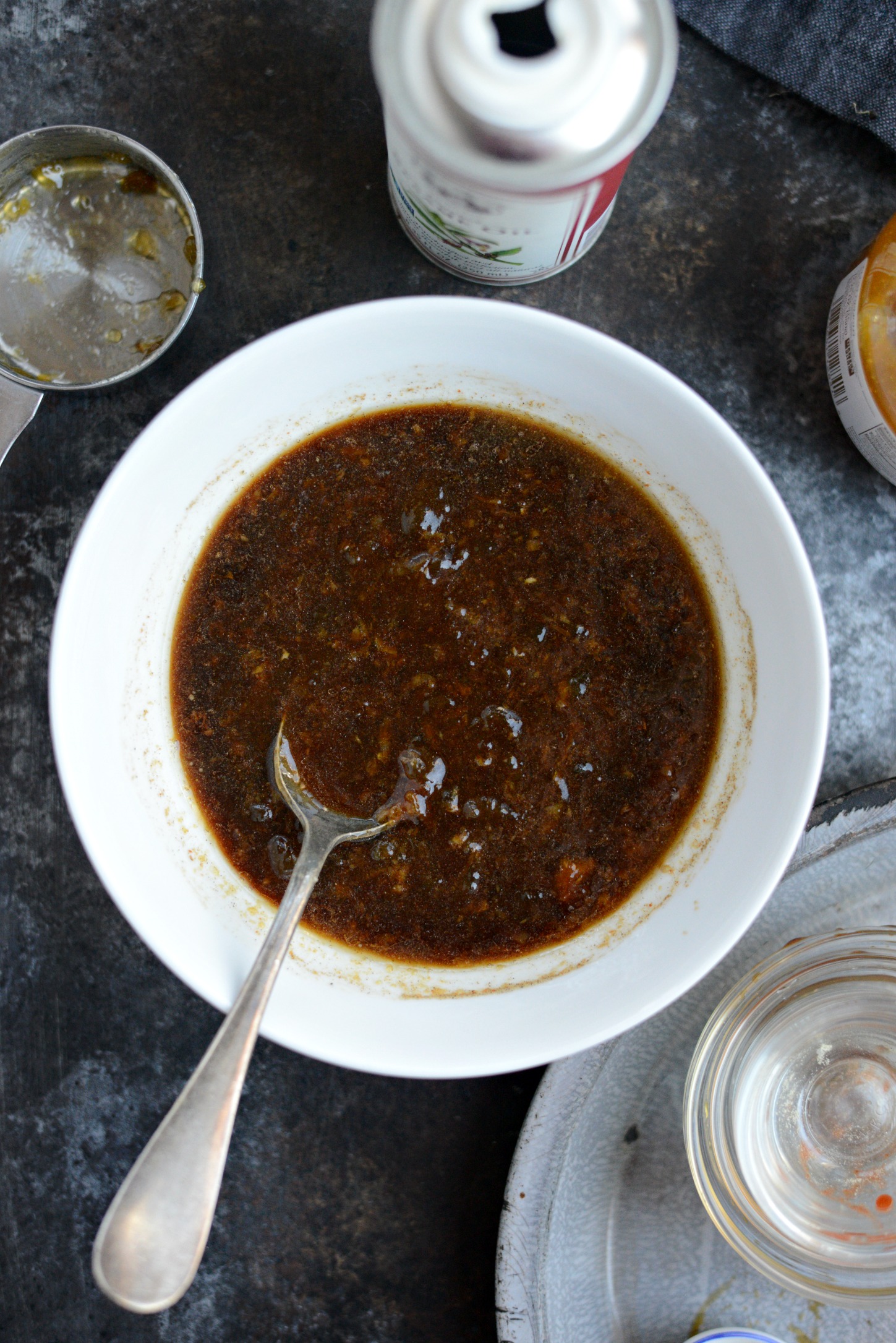 Stir all of the ingredients together until combined.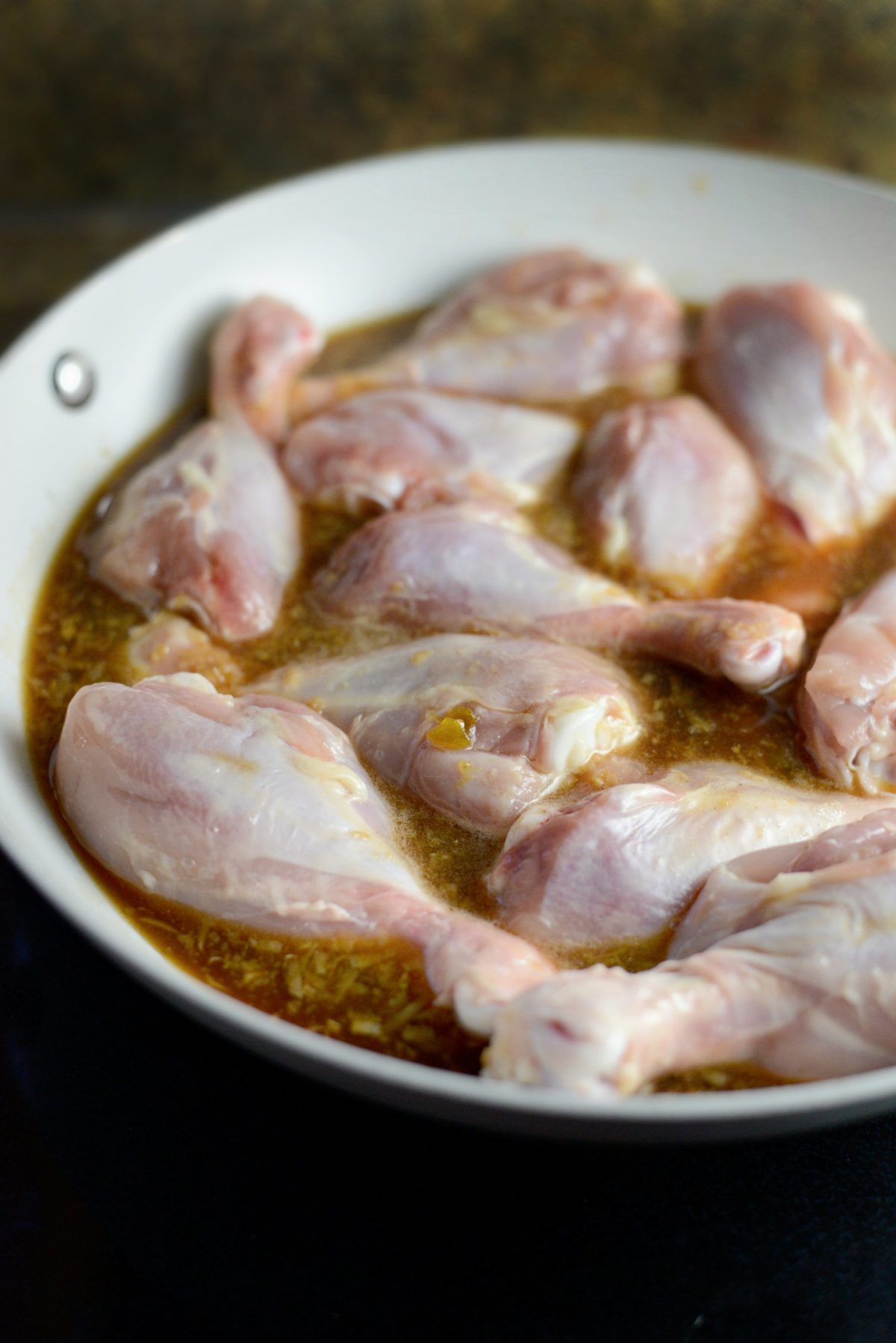 Pour the plum Sriracha sauce into a wide 10 to 12-inch skillet, preheat to medium and nestle the drumsticks into the sauce.
Cover, bring to a bubble and cook for 10 minutes.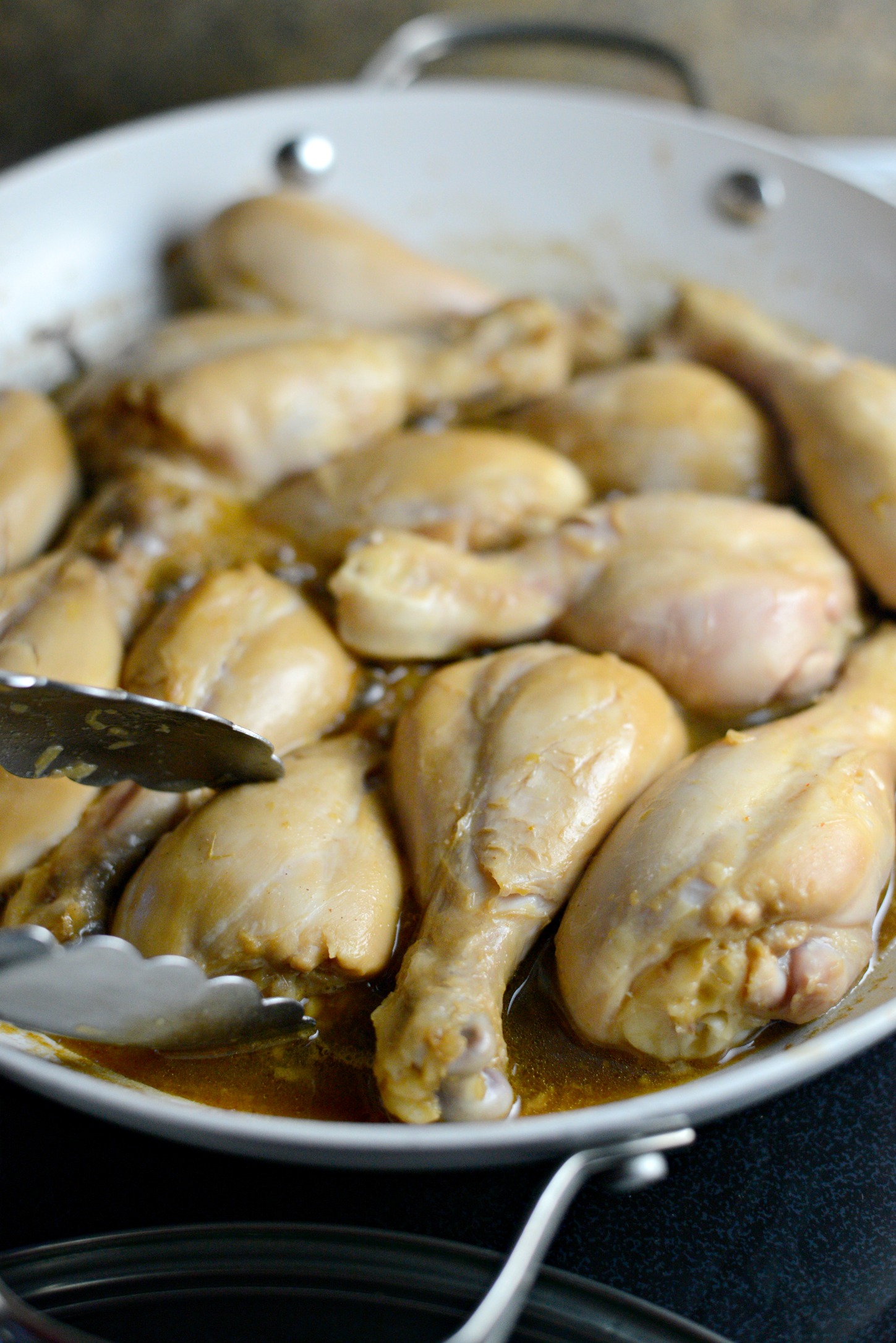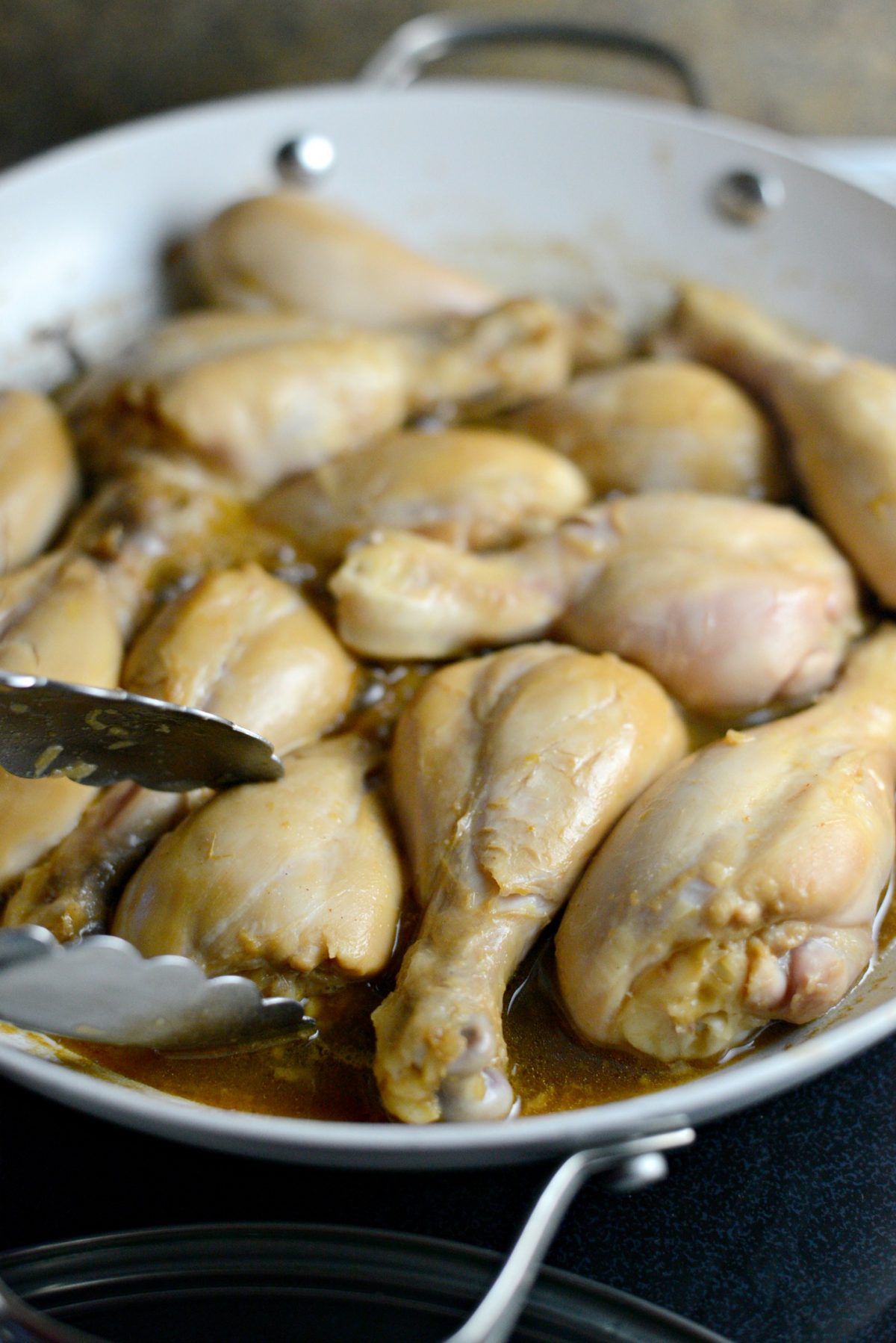 Uncover, turn the chicken and replace the cover and cook for an additional 15 minutes.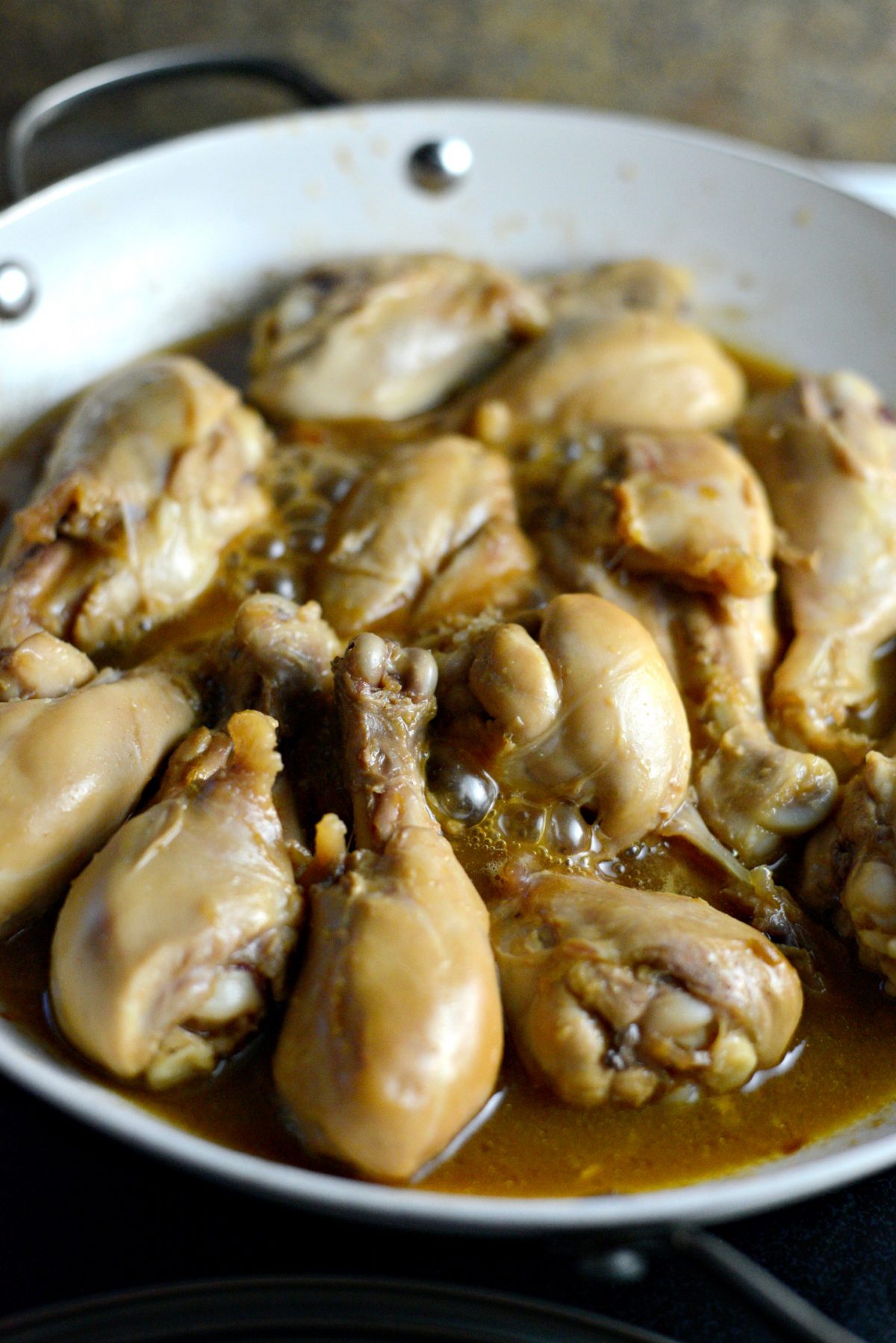 Then uncover, turn the chicken and cook uncovered for 15 minutes. Spoon the glaze over top until the chicken is fully cooked and the glaze has thickened.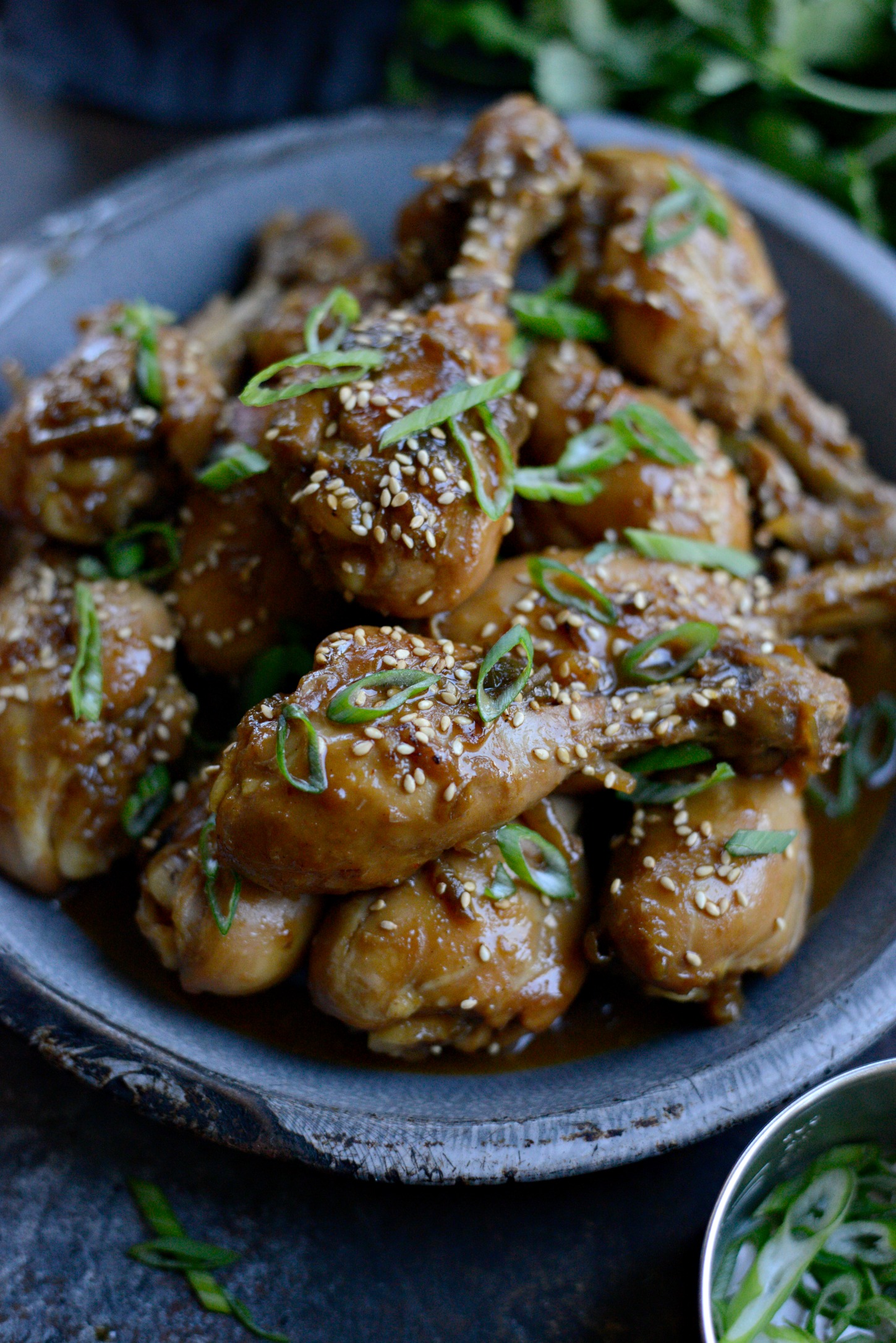 Plate up these gingery Sriracha plum glazed drumsticks and glaze with the remaining sauce. Serve with rice, roasted veggies and…
Enjoy!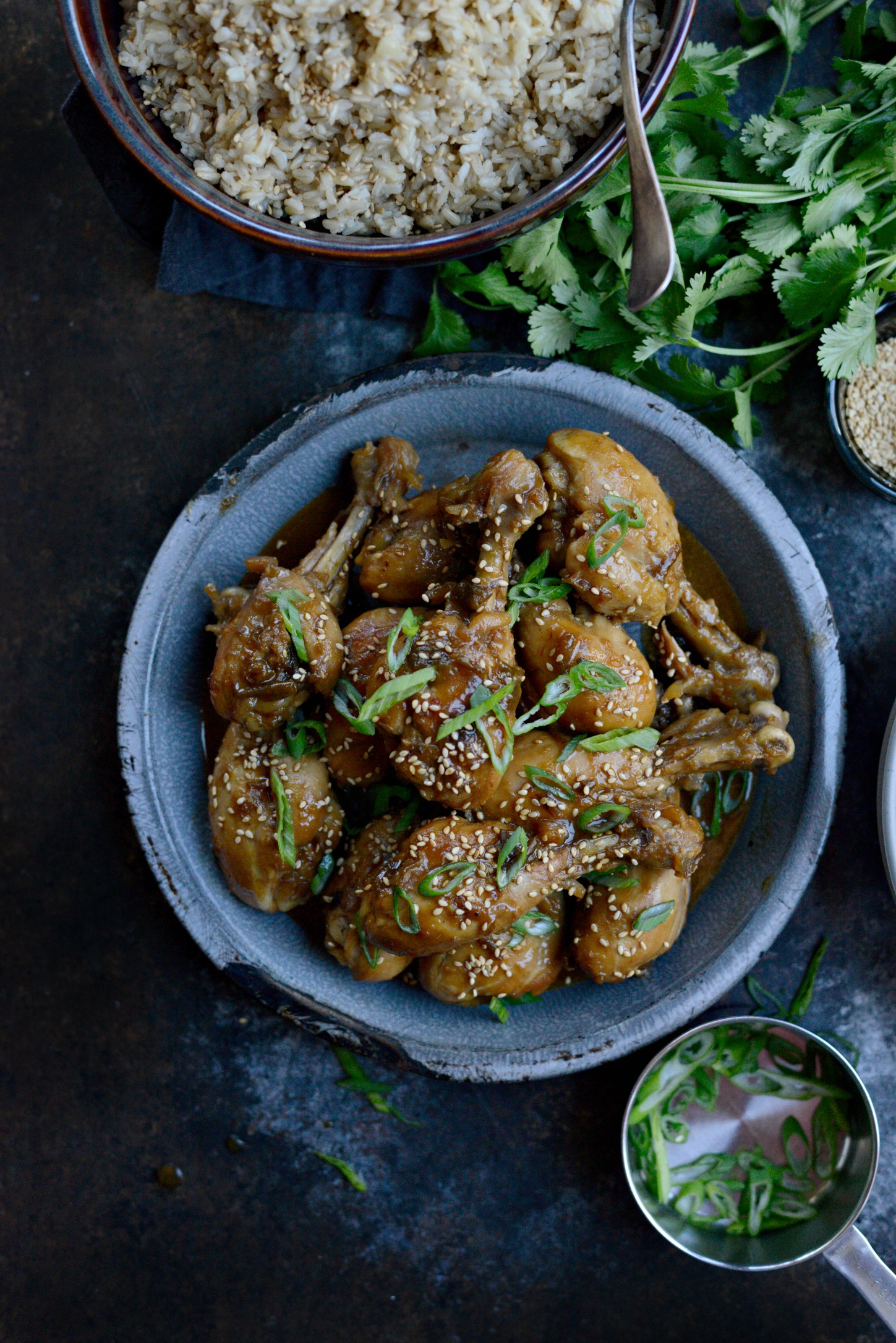 My cookbook Simply Scratch : 120 Wholesome Homemade Recipes Made Easy is now available! CLICK HERE for details and THANK YOU in advance! 
[this post contains affiliate links.]
This post may contain affiliate links.
Buy the Cookbook: Simply Scratch : 120 Wholesome Homemade Recipes Made Easy Now available on Amazon »
THANK YOU in advance for your support!