I took all the shortcuts I could to make this skillet shepherd's pie as easy as can be. Frozen veggies –check. Leftover mashed potatoes –check (but don't worry, I give instructions incase you don't want to wait for leftover mashed potatoes). This skillet meals comes together easily and is one comforting meal that the whole family will love.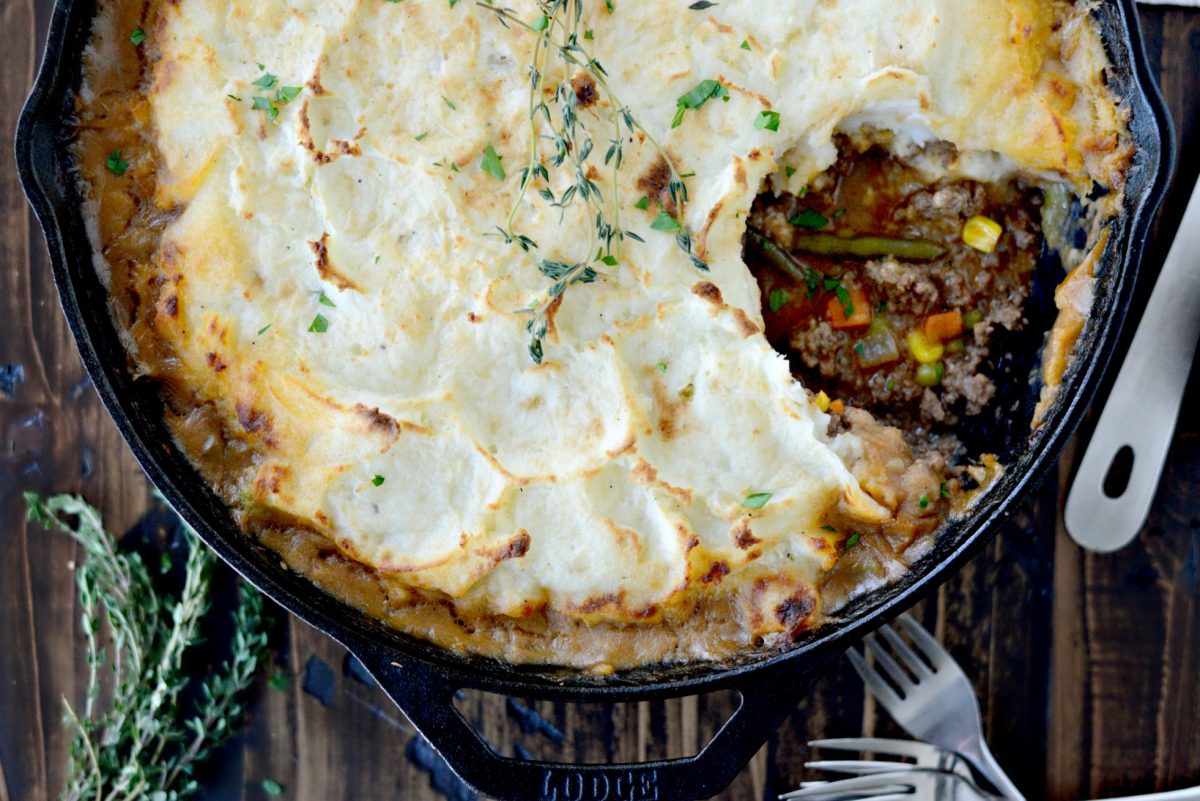 My love for skillet meals knows no bounds.
If I can prepare it in one skillet, not only do I want to eat it but I also want to share it with you all.
Enter this crazy-simple skillet shepherd's pie. In my book, shepherd's pie is a quintessential comfort food. It's known for it's simplistic flavors and ingredients. The protein source can be beef or lamb, and in my household sometimes it's venison– and is usually tossed with some form of vegetable, in a gravy and topped with mashed potatoes. It's the perfect way to use of any leftovers you may have in your fridge.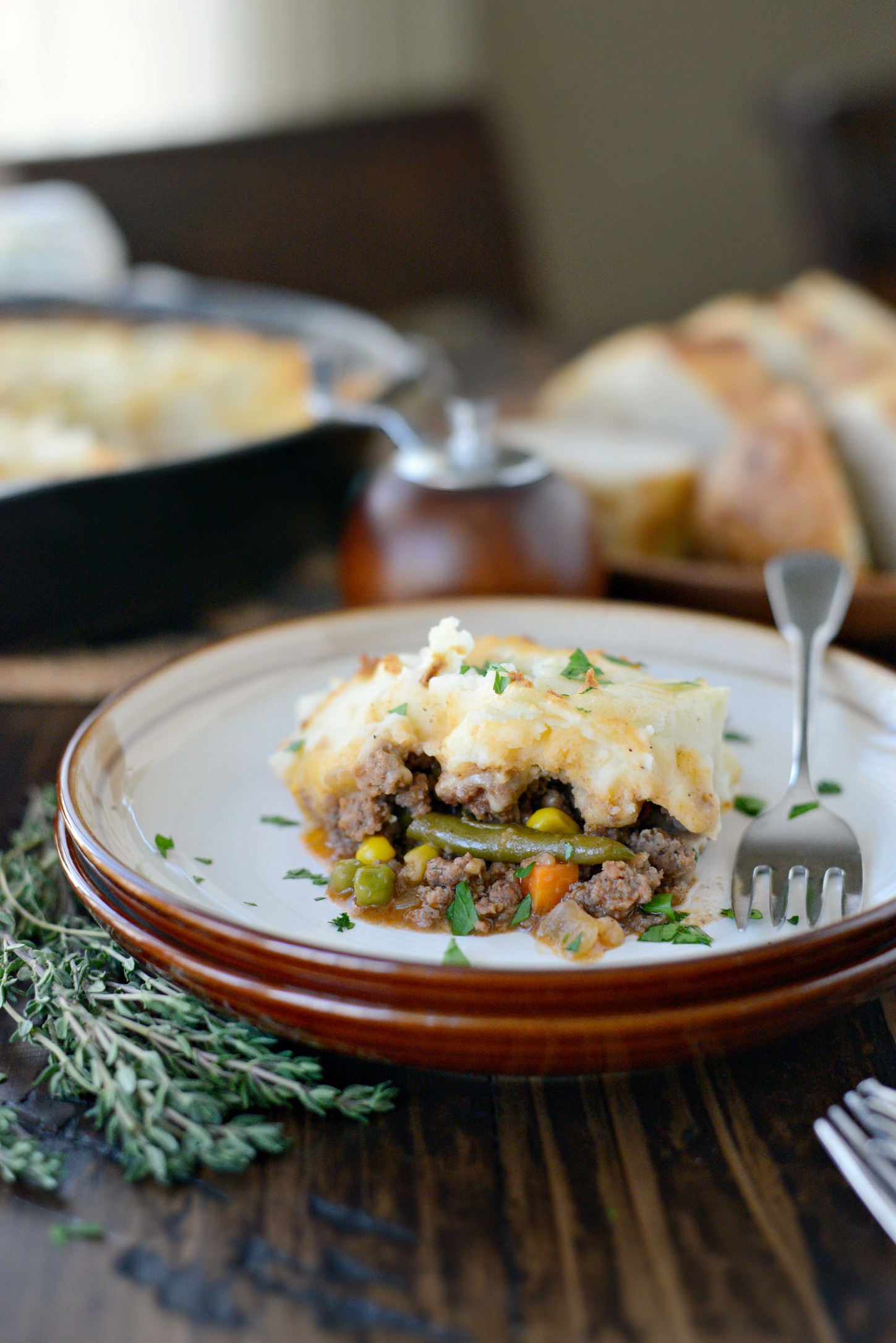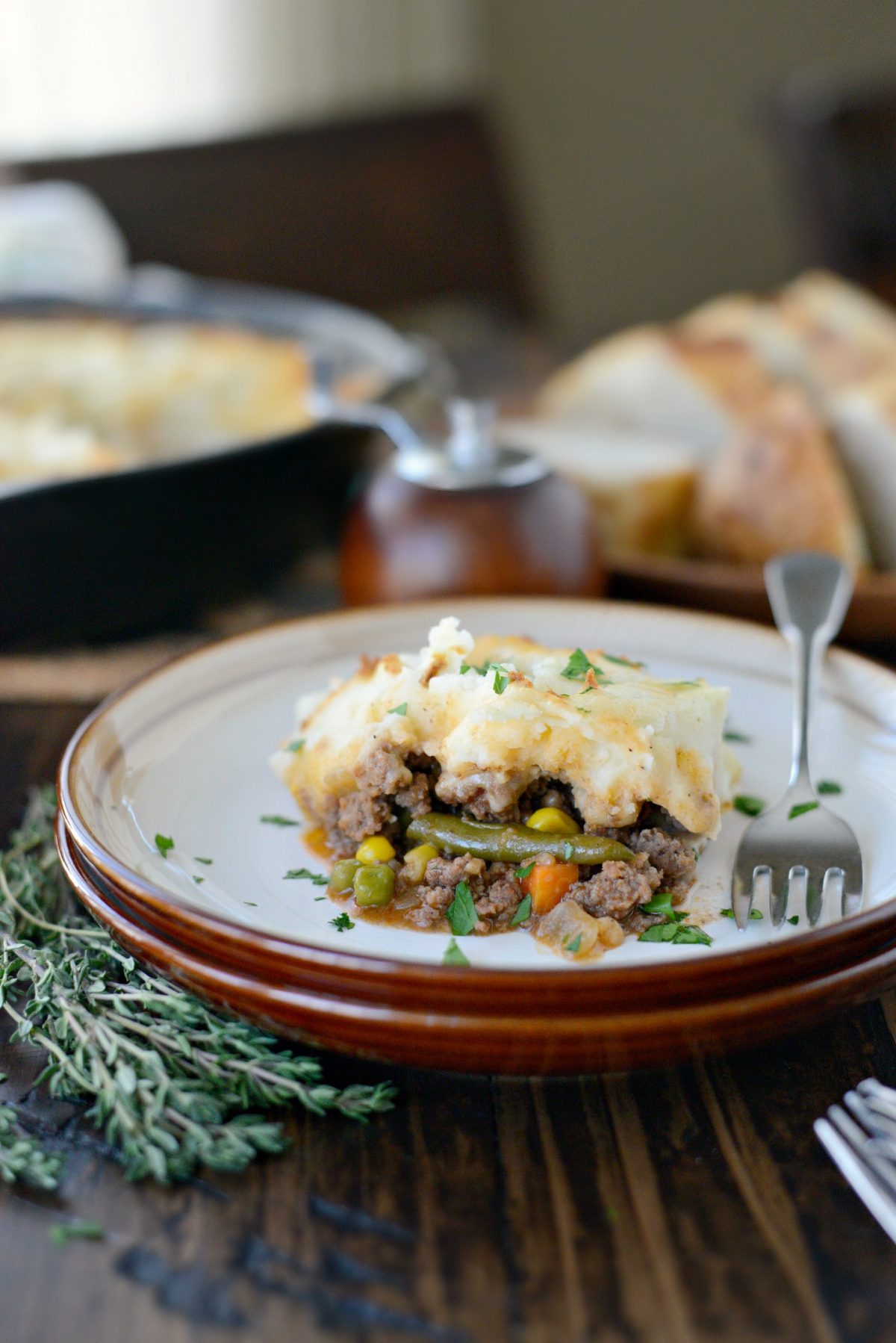 When it's cold and windy out, this sort of dish is what I crave. I'm sure it has something to do with ground beef and veggies in a glossy gravy-like sauce that's topped with cheddar and mashed potatoes. I mean, really. But the best part? Baking it in a hot oven so the tops of the potatoes get all browned and crispy.
To Make This Skillet Shepherd's Pie You Will Need:
olive oil
yellow onion
garlic, minced
fresh thyme, chopped
lean ground beef (any)
unbleached all-purpose flour
tomato paste
low-sodium beef broth
kosher salt
ground black pepper, more or less to taste
frozen peas and carrots blend
green beans, frozen (I use haricot verts and sliced them in half while still frozen)
and frozen corn
leftover mashed potatoes
sharp white cheddar cheese, shredded (I like Vermont white cheddar)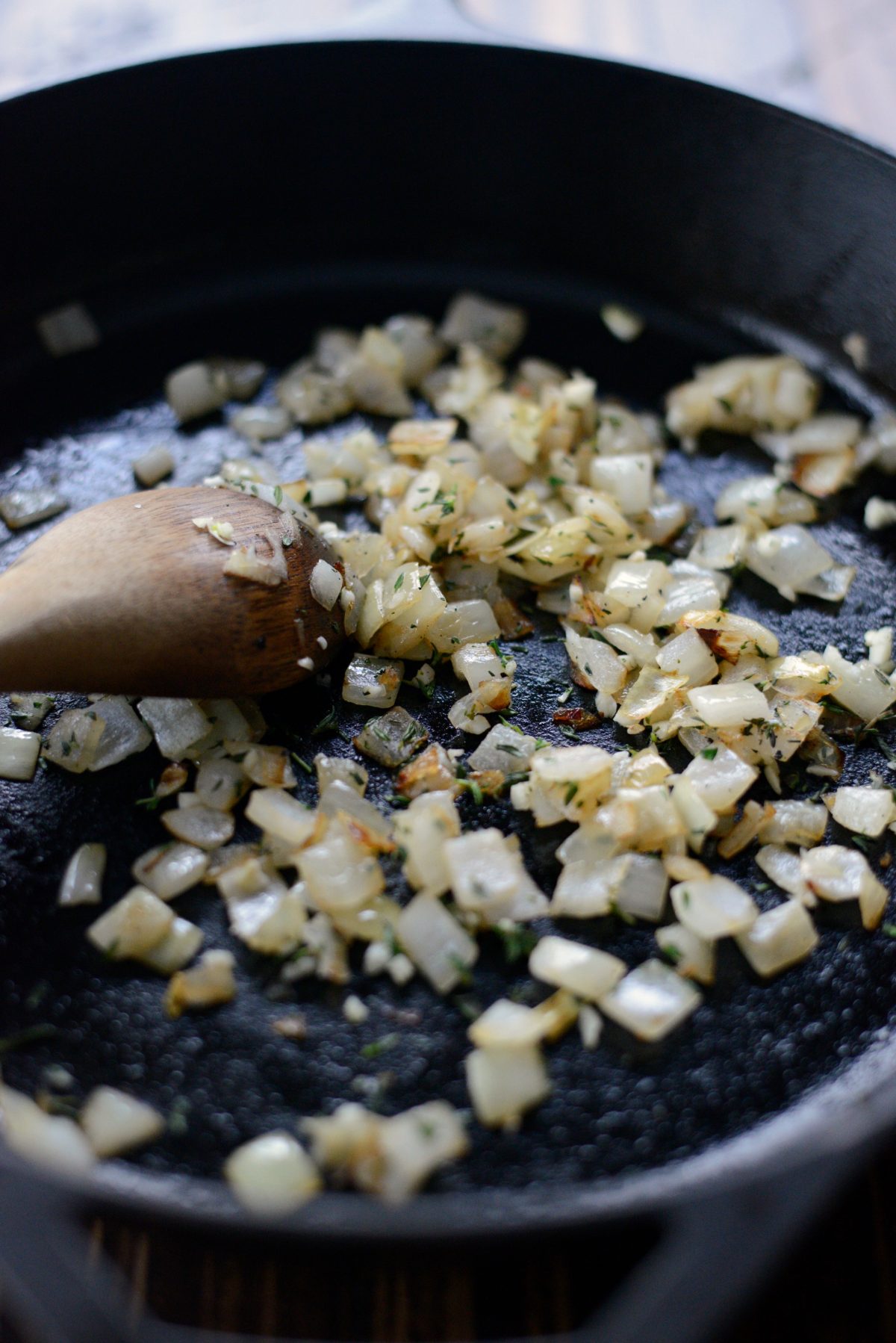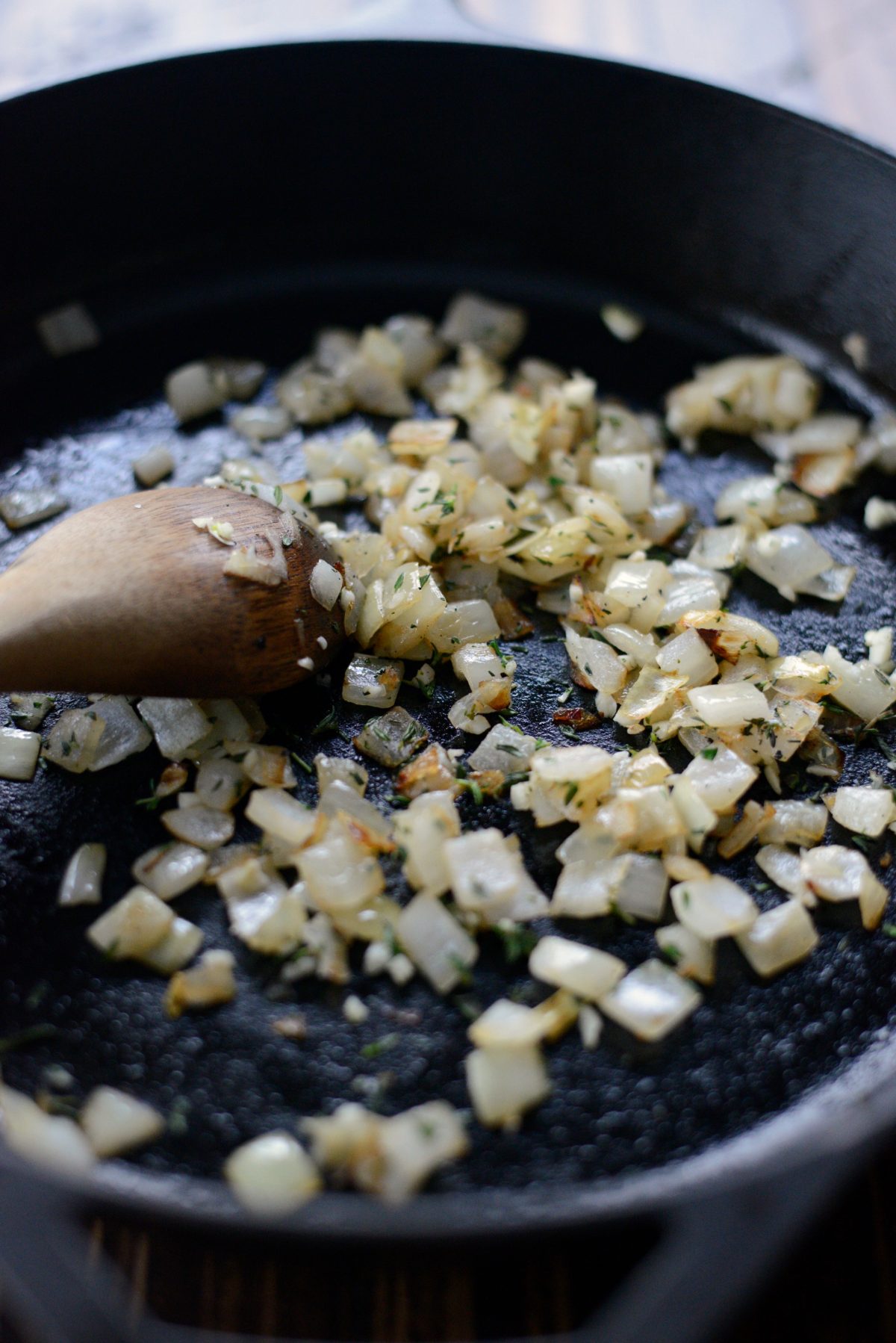 To start this cozy-dinner party, grab a large 12-inch skillet. I'm using cast iron but any (12-inch) oven-safe skillet will do. Add about 2 teaspoons of light olive oil and heat the pan over medium to medium-low. Once preheated, add in 1 cup diced yellow onion and a pinch of kosher salt. Stir and cook the onion until softened and the edges started to turn a golden brown. You may need to adjust the heat throughout, cast iron retains heat so I often have to adjust the heat while cooking, so nothing burns. Next add in 1 clove of minced garlic and a heaping teaspoon of chopped fresh thyme and cooked it for an additional 1 minute.
If you don't have fresh thyme, then 1/2 teaspoon dried thyme may be substituted.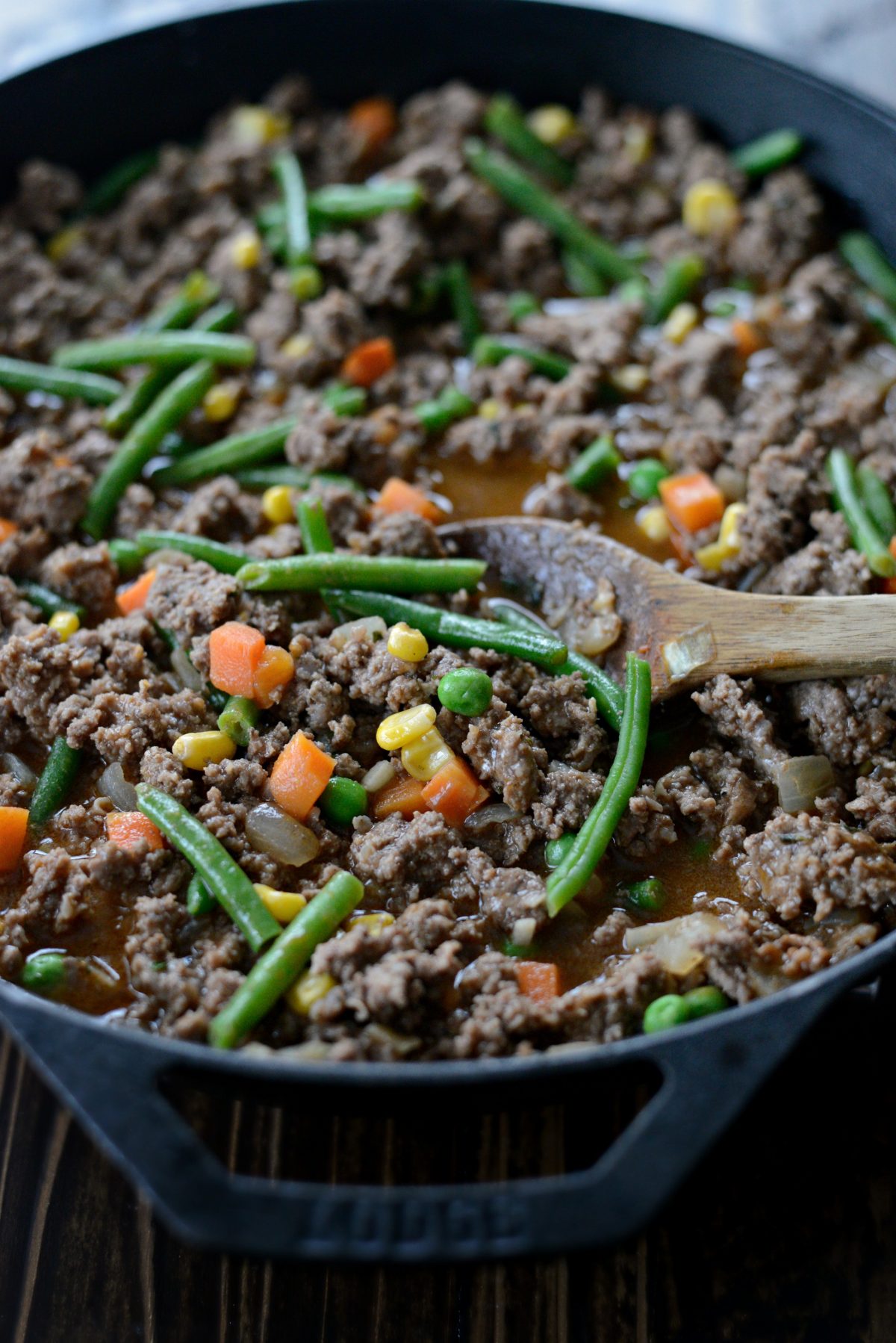 Add in 2 pounds ground beef. I use grass fed beef which doesn't render off too much fat. If you are using a different kind of ground beef, drain off all but a tablespoon or two before adding in 1 to 2 tablespoons of flour.
Stir and cook for 2 minutes before adding in 1 heaping tablespoon of tomato paste, 2 tablespoons Worcestershire, 1 (15 ounce) can low-sodium beef broth, and salt and pepper– more or less to taste. I let this simmer for 10 minutes before I add in 2/3 of a cup of each; green beans (I use frozen haricot verts and just cut them in half), corn and of a pea and carrot medley.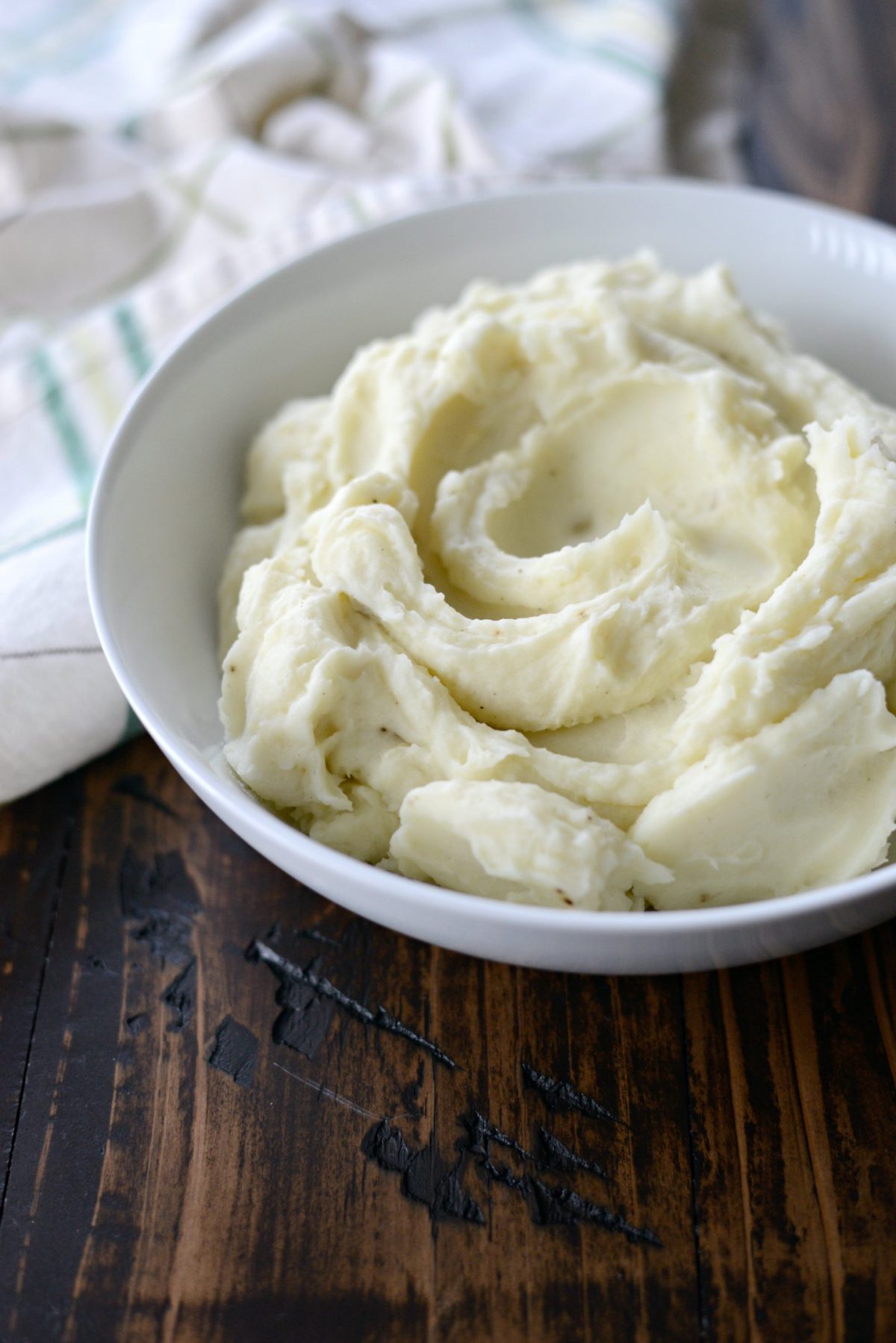 For the mashed potatoes you can do one of two things here. Use about 3 to 4 cups leftover mashed potatoes or make them yourself. I simmered 4 to 5 medium peeled russet potatoes until fork tender. Then I drained and mashed them with 4 tablespoons of unsalted butter, 1/2 cup of milk and seasoned them with salt and pepper to taste. Stir in the Parmesan cheese, if using.
TIP: To make them super smooth, I whip them with my hand held mixer for a few.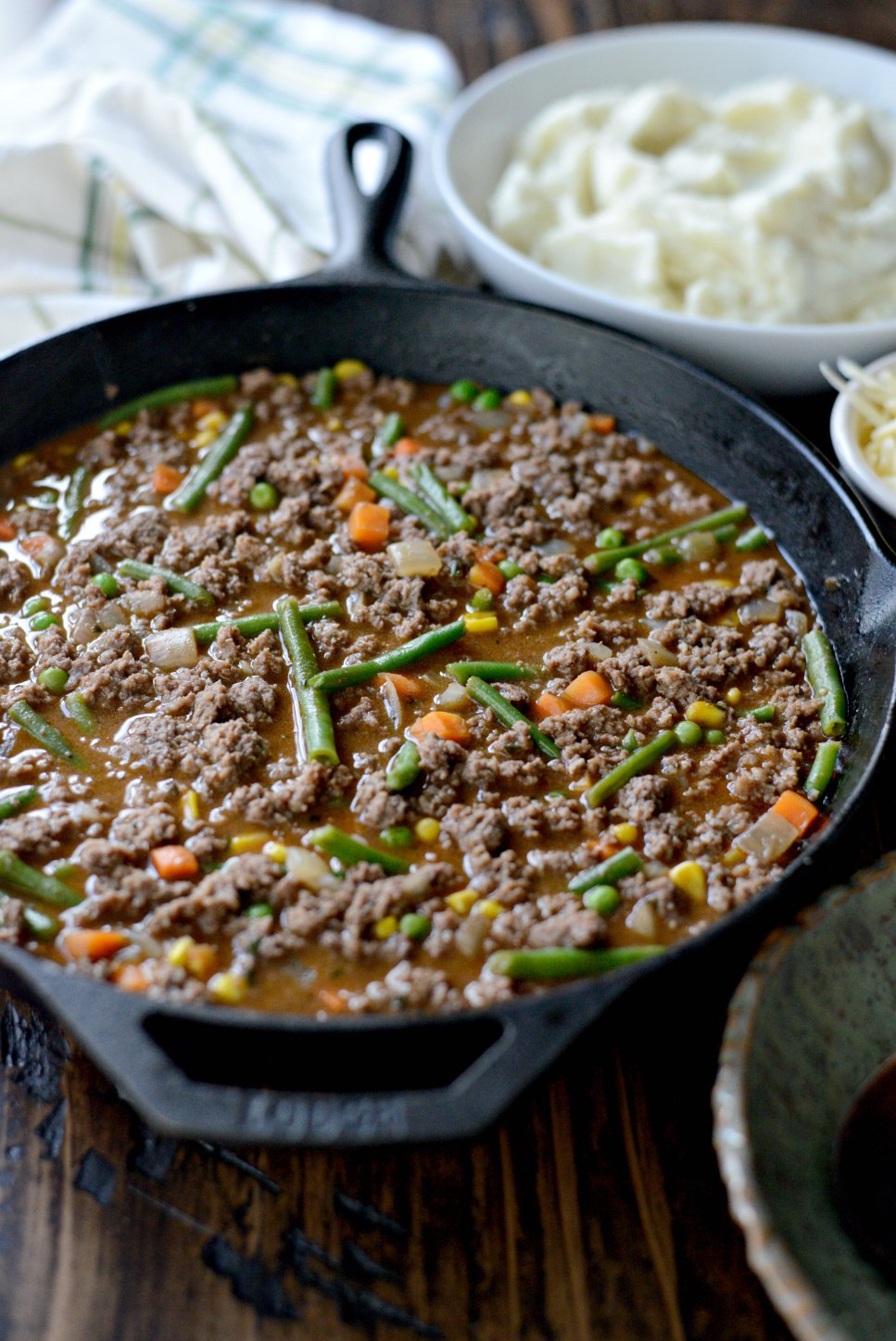 Now it's time for the final steps and in little to no time you'll be ready to eat. Start by pressing the beef and vegetable mixture into a flat, even layer.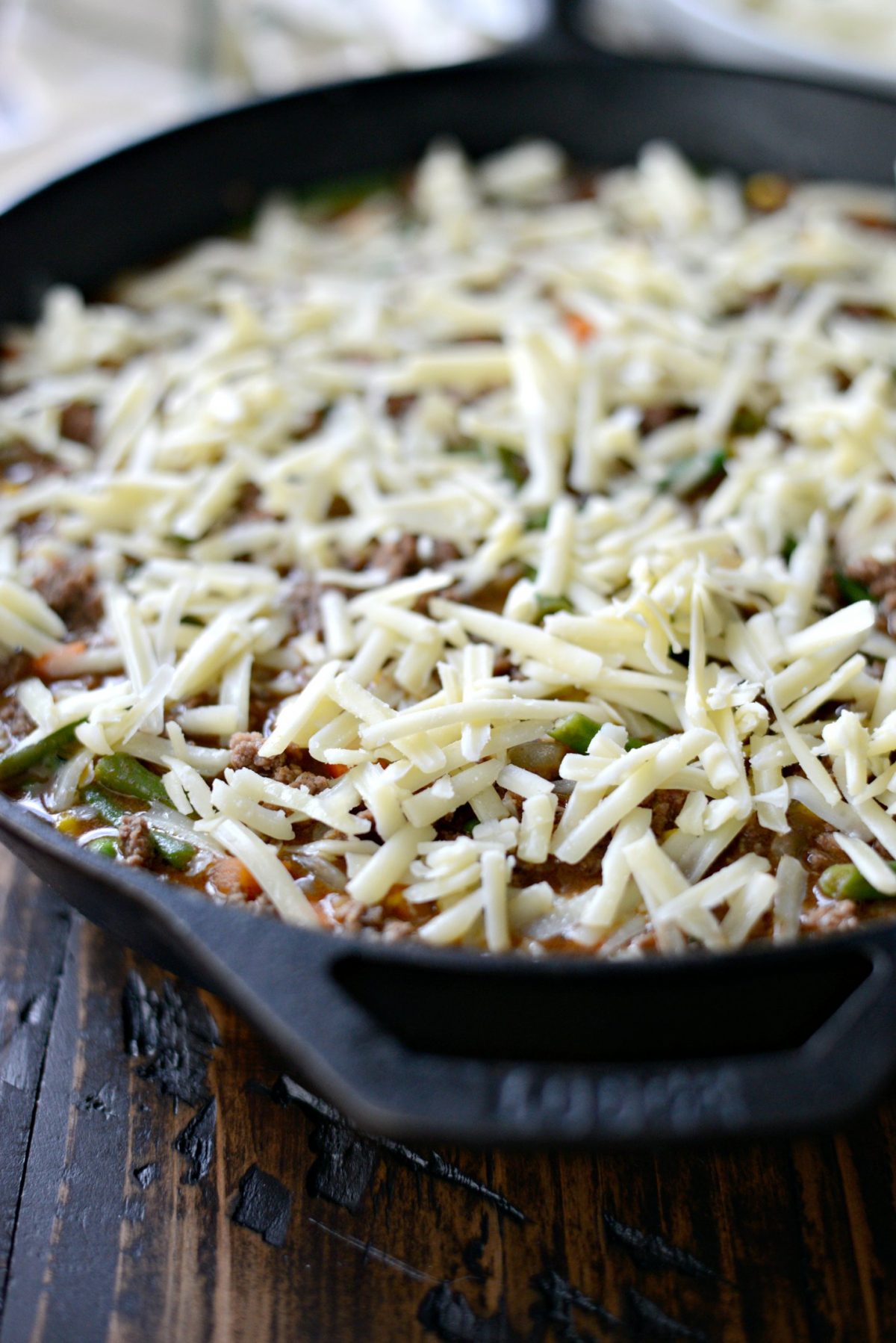 Sprinkle with 4 ounces freshly grated sharp cheddar. I like Vermont white cheddar but yellow sharp cheddar would be just as good!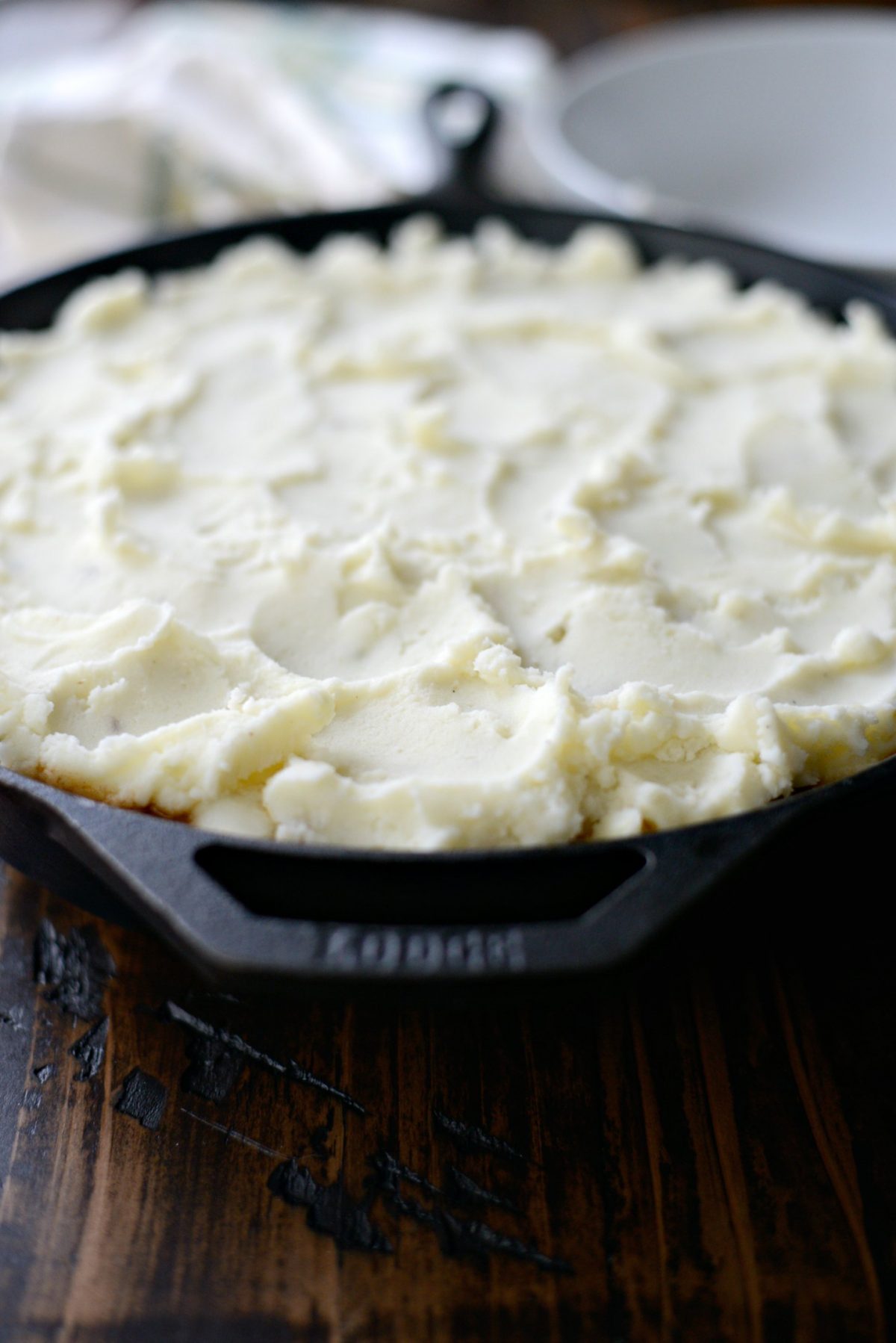 Top with the mashed potatoes…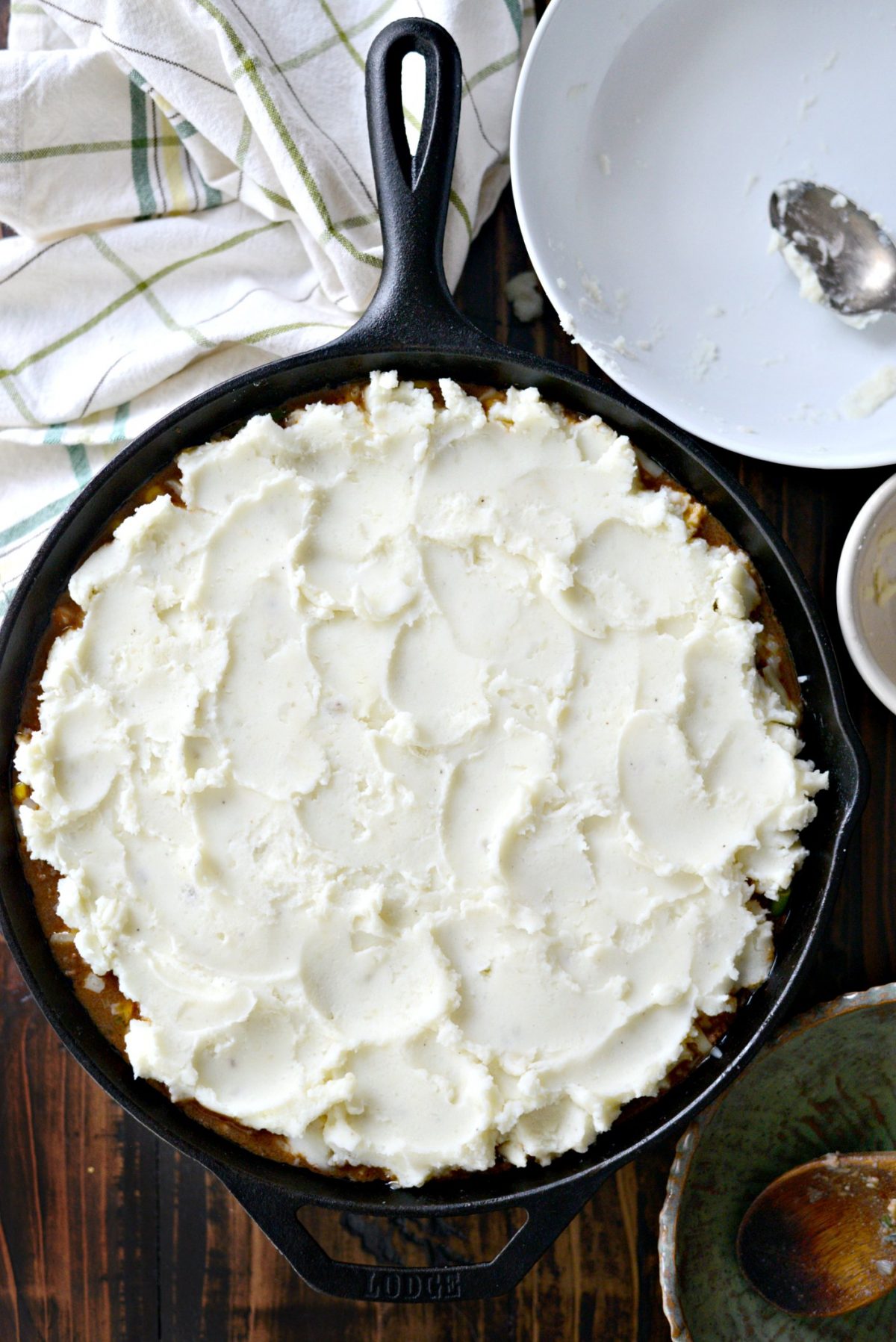 Then with the back of a spoon form swells or waves into the mashed potatoes. Those peaks are what will get crisp in the oven. Alternatively you can use the tines of the fork and scrap to get the same effect.
Next just slip the skillet into your preheated 400° oven for 20 to 25 minutes or until the top is golden and crisp.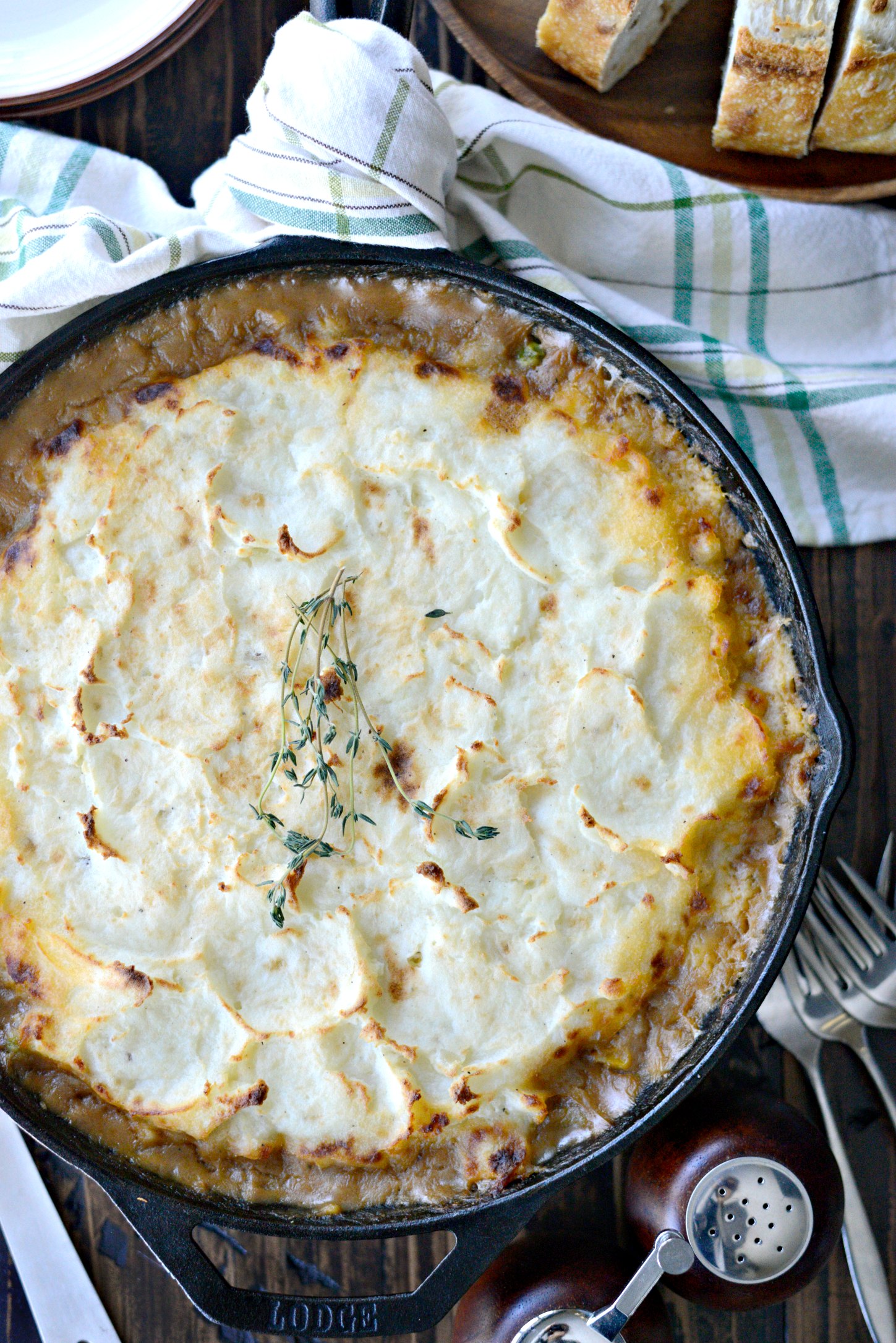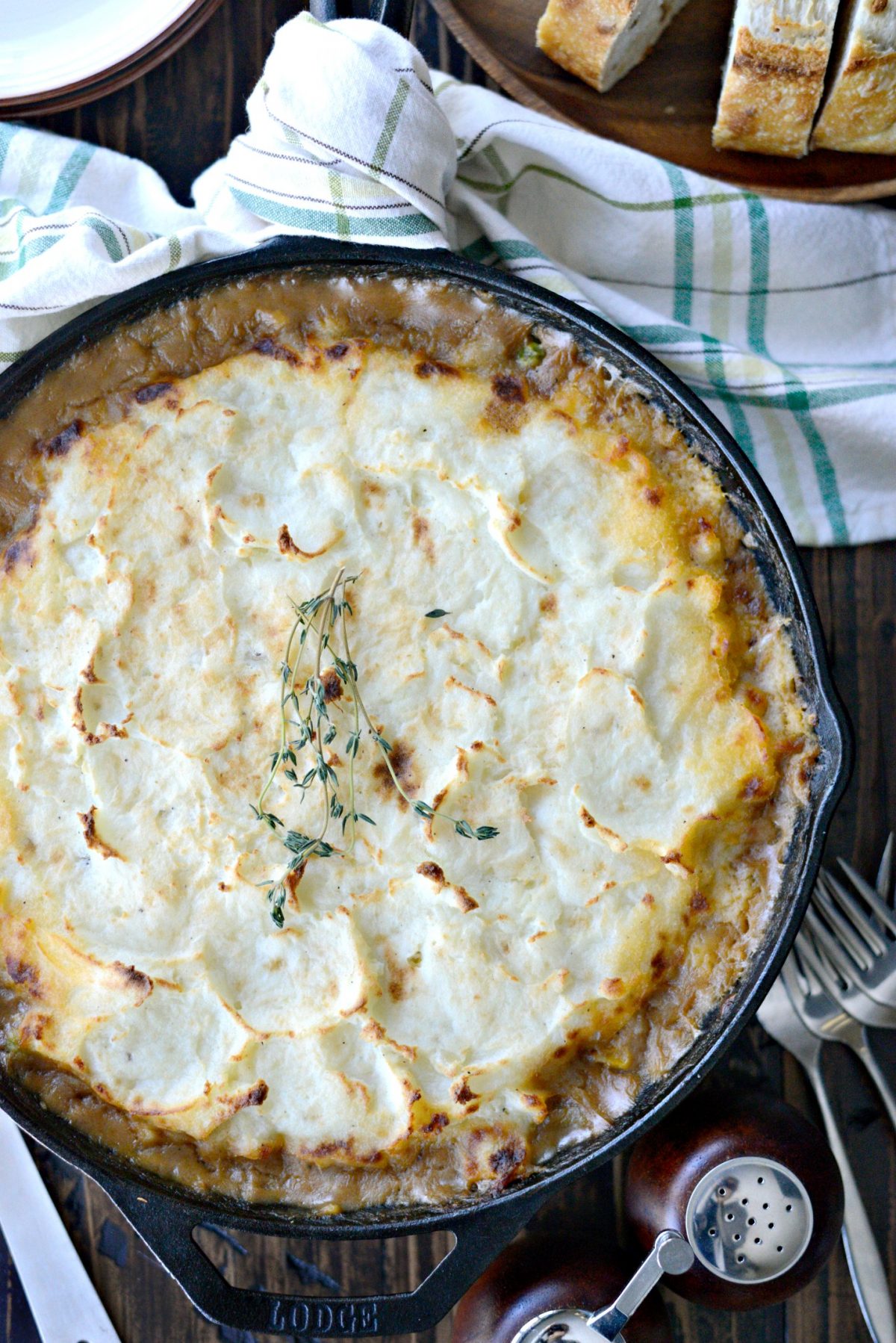 Oh. My. Goodness.
Not only does this skillet shepherd's pie smell amazing but it tastes amazing too. Simple, good ol' comfort at it's finest. I served it with warm crusty bread and fell deep into a food-induced coma. There are worse things.
Enjoy! And if you give this Skillet Shepherd's Pie recipe a try, let me know! Snap a photo and tag me on twitter or instagram!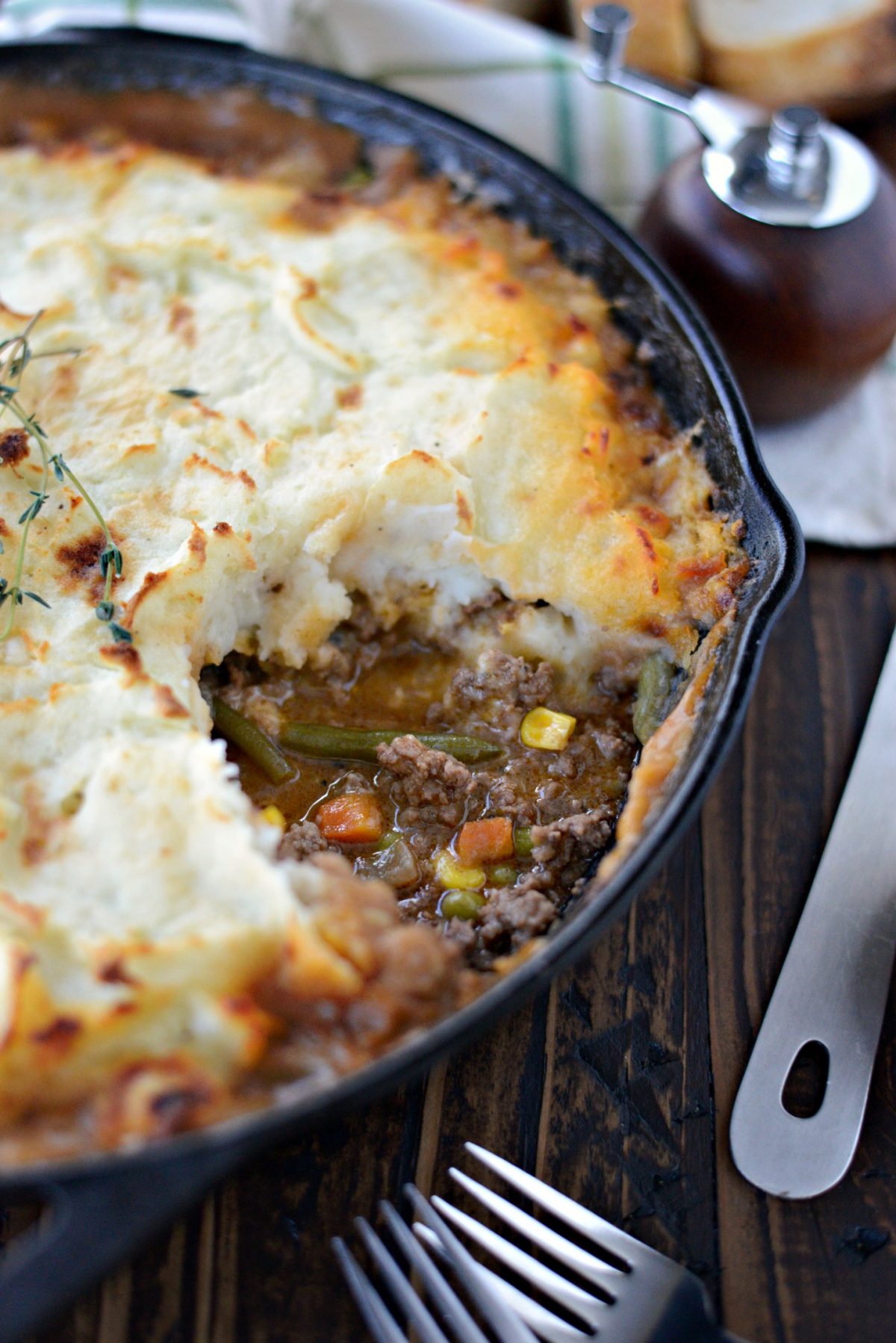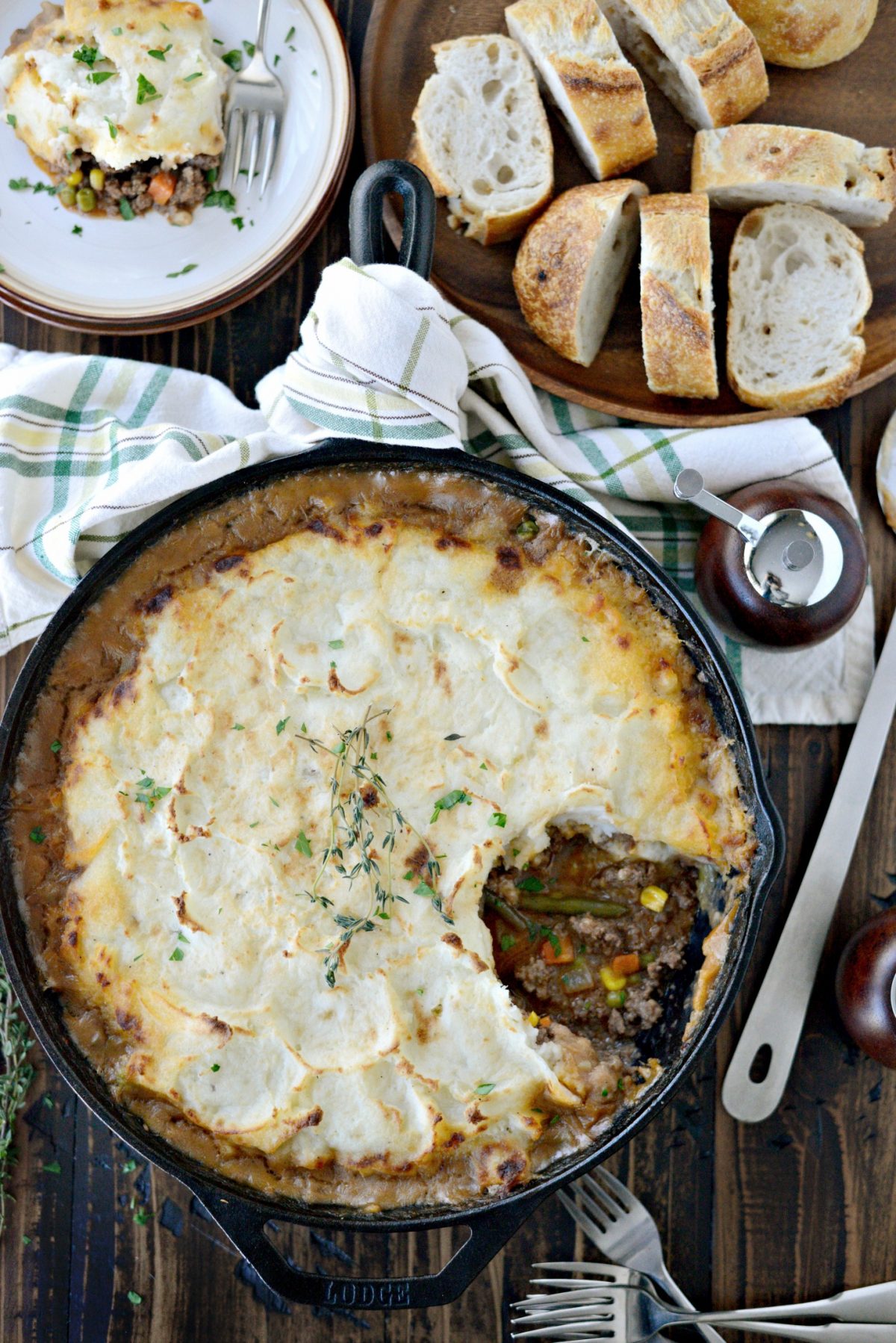 This post may contain affiliate links.
Buy the Cookbook: Simply Scratch : 120 Wholesome Homemade Recipes Made Easy Now available on Amazon »
THANK YOU in advance for your support!