These Chicken Shawarma Wraps are easy because most of it is made on a single sheet pan! Chicken thighs are tossed in a homemade shawarma blend and garlic before being roasted in the oven with onions and lemons. The chicken comes out so incredibly juicy and flavorful! Tuck thin slices into pita and topped with the crisp pickles, onions and creamy Lemon Tahini Yogurt Sauce.
Chicken shawarma wraps have to be one of my favorite foods in life.
I took an easy approach with the shawarma and tossed chicken thighs in lemon juice, TONS of fresh garlic and my go-to blend of aromatic shawarma spices. Then I place it onto a sheet pan with onion and lemon slices and then roasted it all in a hot oven for 20 minutes. Twenty minutes!
Typically toum (garlic sauce) is slathered quite heavily on to soft warm pitas. But not today. We're brightening this shindig up with a lemon tahini yogurt sauce that's so delicious I could eat by the spoonful. And it won't leave you with dragon breath, but if you want to up the garlic in the sauce, be my guest! Bring it.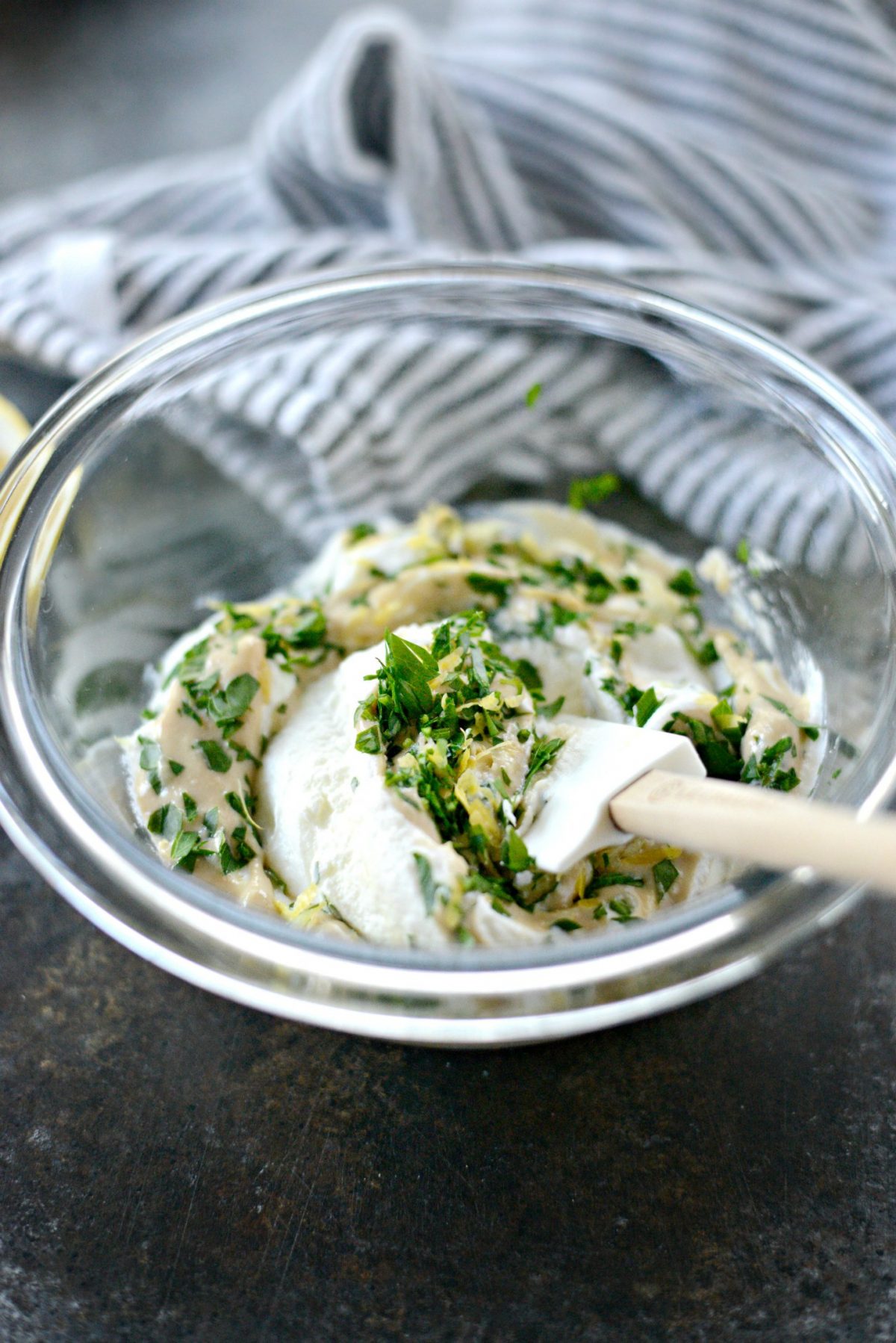 I make the tahini yogurt sauce first so the flavors have a chance to blend and marry. Add 1 cup full fat plain yogurt, 2 tablespoons tahini, 1 to 2 tablespoons fresh lemon juice, 2 tablespoons parsley, 1/2 a clove of grated garlic, 1/2 teaspoon lemon zest and a few pinches of kosher salt, to taste. Cover and refrigerate until ready to use.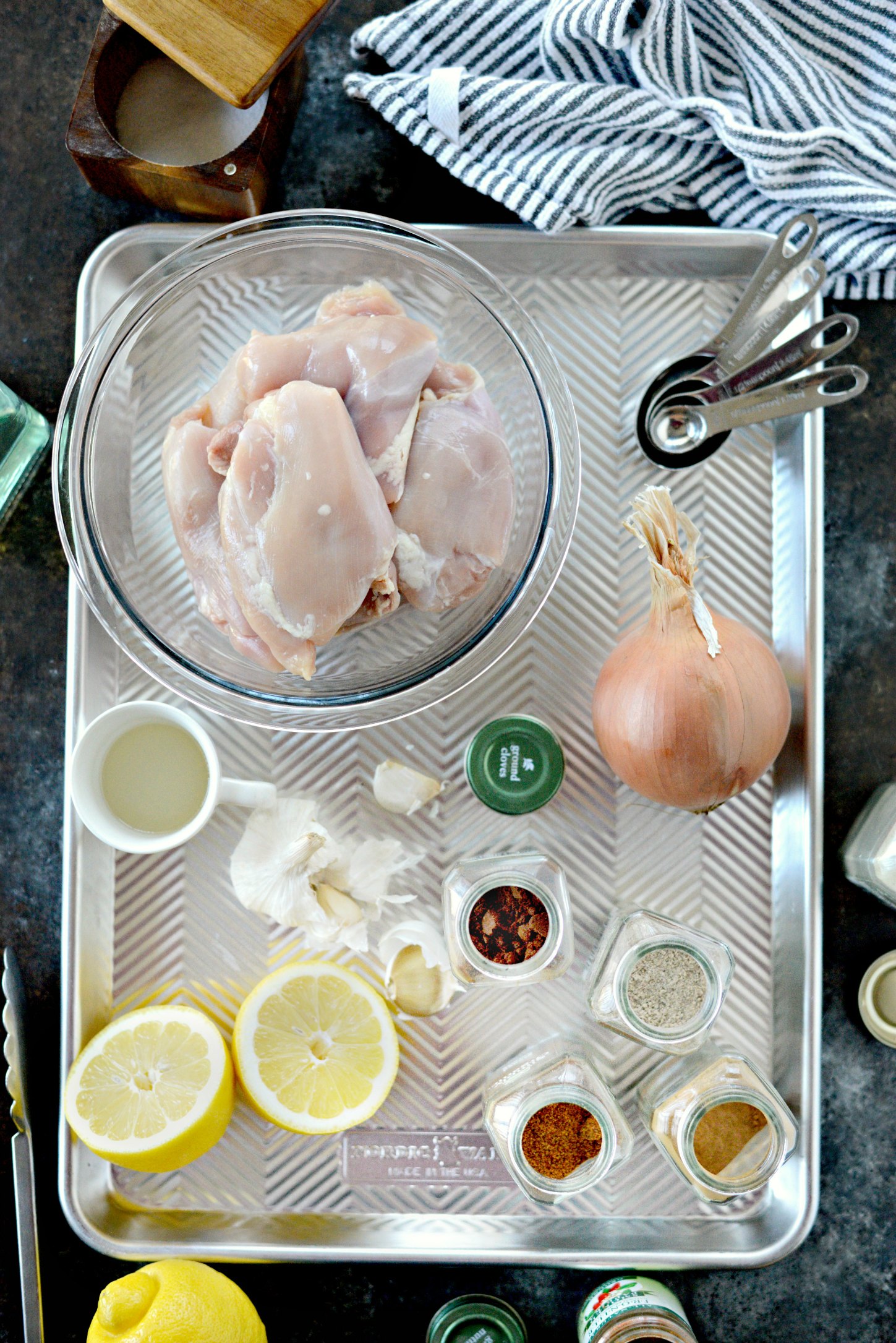 To Make These Chicken Shawarma Wraps You Will Need:
boneless, skinless chicken thighs
extra light olive oil plus 2 teaspoons
juice from 1/2 a lemon
fresh garlic (finely grated or squeezed through a garlic press)
kosher salt
cardamom
white pepper
cinnamon
smoked paprika
ground clove
nutmeg
yellow onion, sliced vertically
sliced lemon
Now you can grab a sheet pan and all the chicken shawarma ingredients and let's get cooking.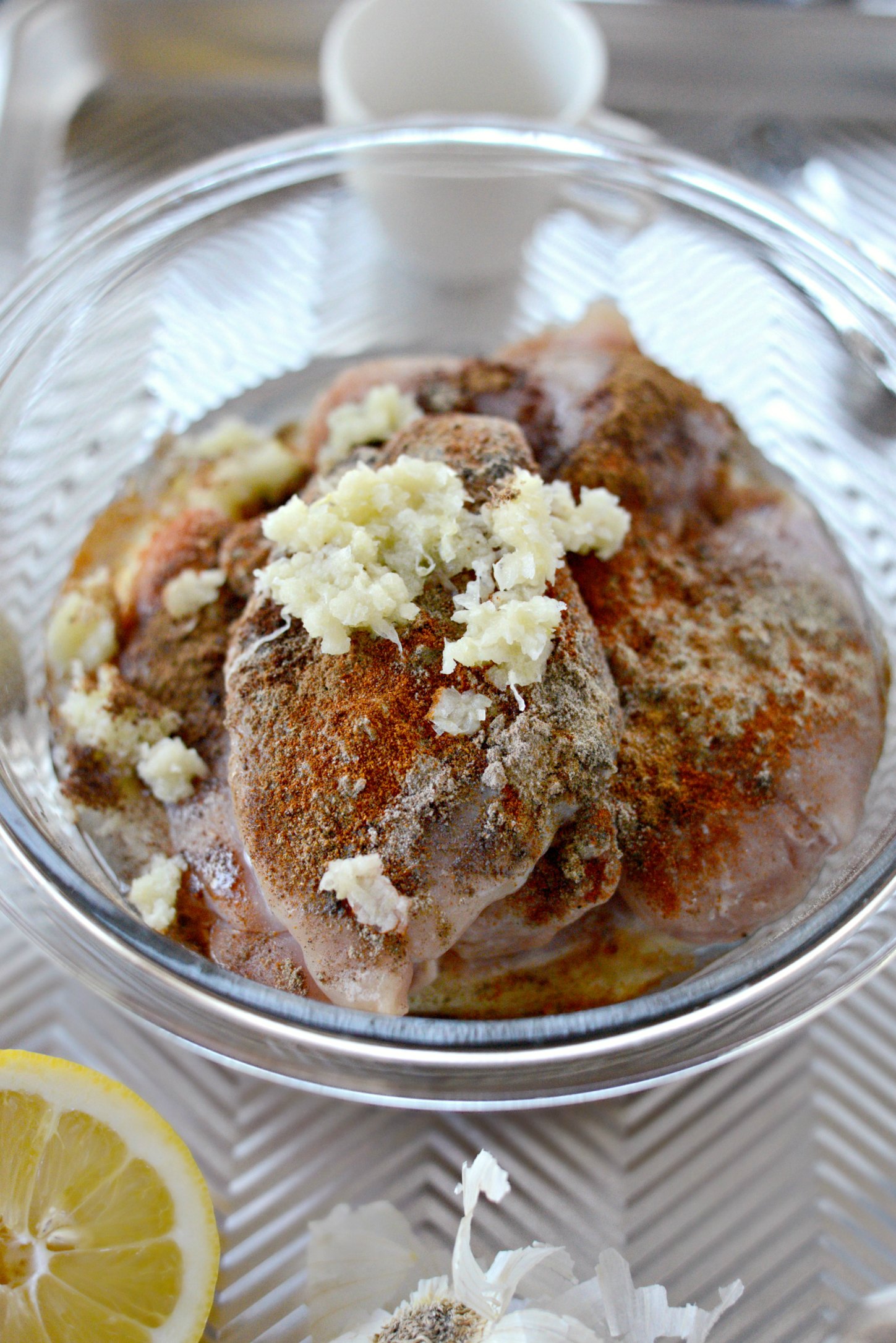 Start by placing 2 pounds of boneless, skinless chicken thighs into a bowl with 2 tablespoons of olive oil, juice of half a lemon, 1 teaspoon kosher salt, 1 teaspoon ground cardamom, 1/2 teaspoon white pepper, 1/4 teaspoon cinnamon, 1/4 teaspoon smoked paprika, 1/8 teaspoon of both ground clove and ground nutmeg. Then finely grate in 4 to 6 cloves of fresh garlic.
I prefer grating the garlic ( instead of finely mincing) because this will allow the garlic to melt into the chicken instead of burning because the pieces are too large.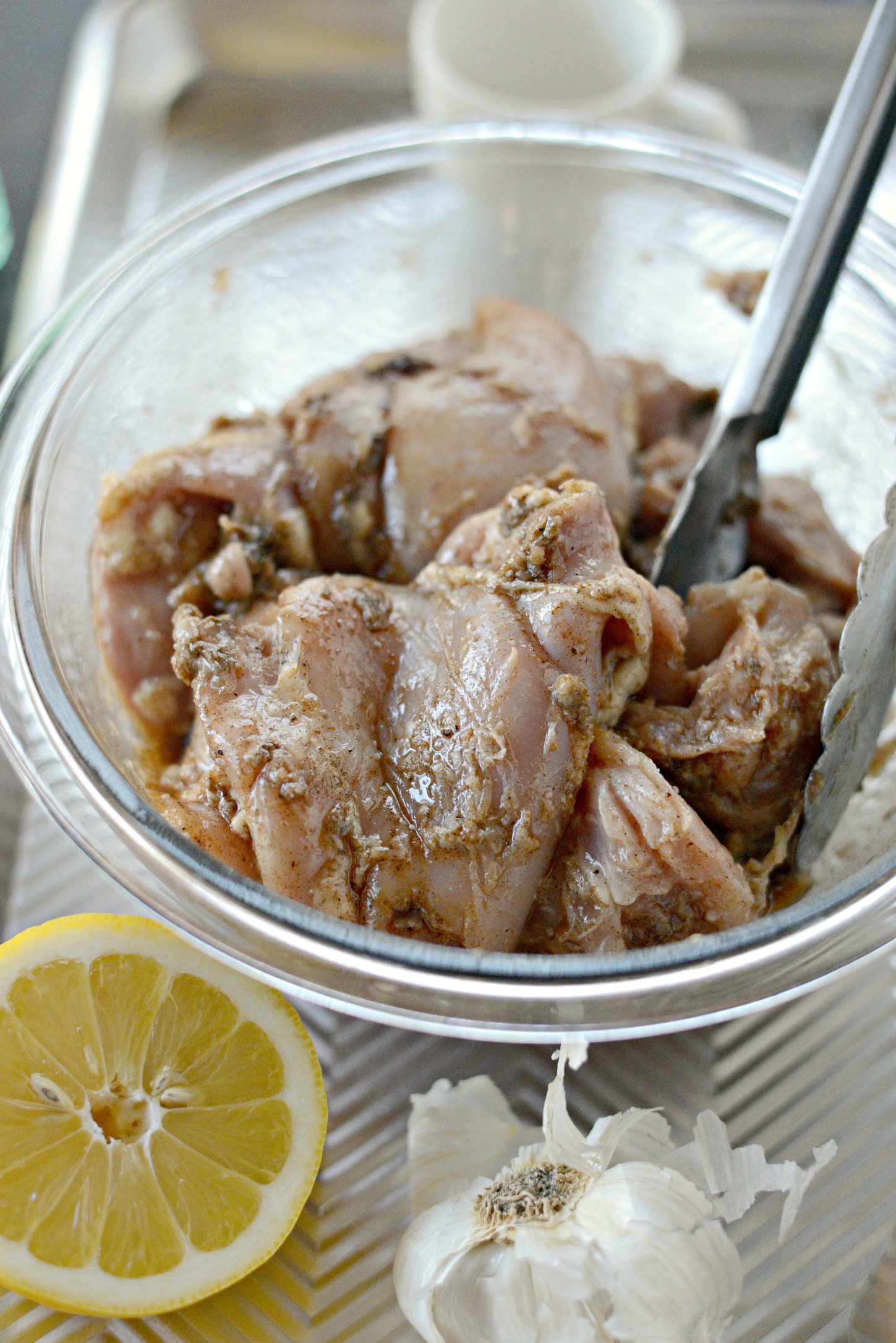 Toss well to coat the chicken evenly.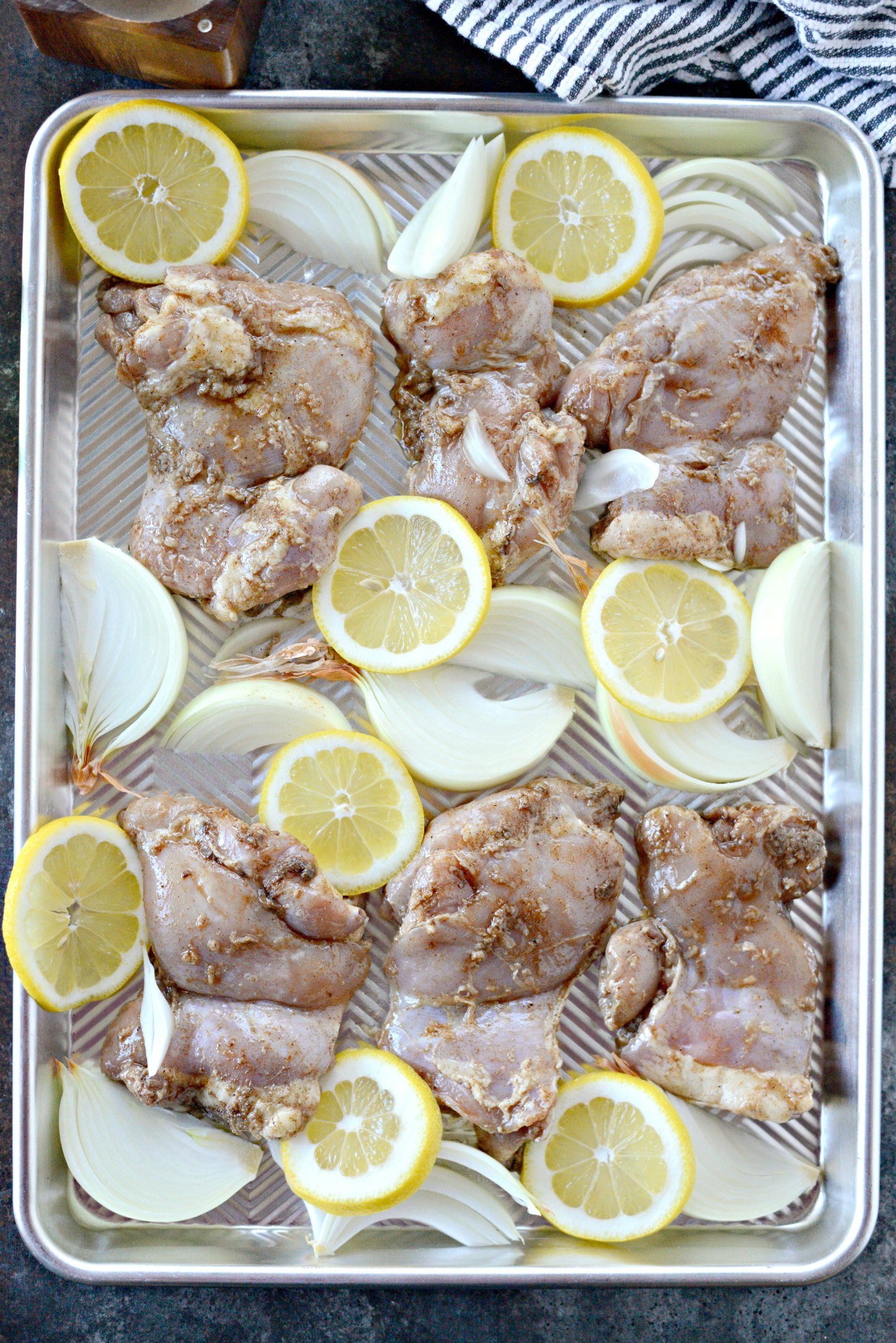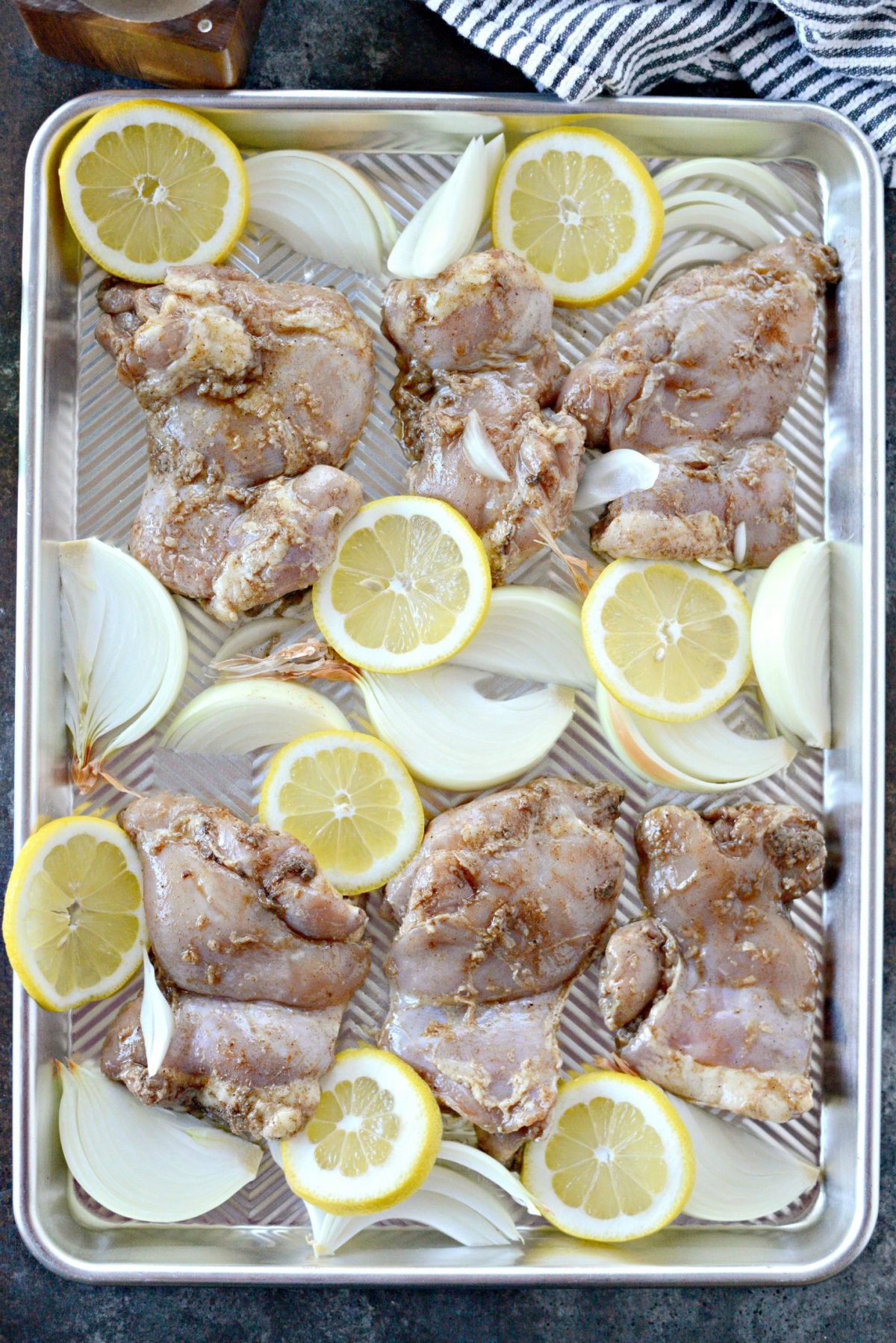 Next arrange the chicken, sliced onion and lemons onto a rimmed, metal baking sheet. Drizzle 2 teaspoons of olive oil over the onions and then slide the sheet pan into your preheated 425° oven for 20 minutes. Be sure to rotate the pan halfway through.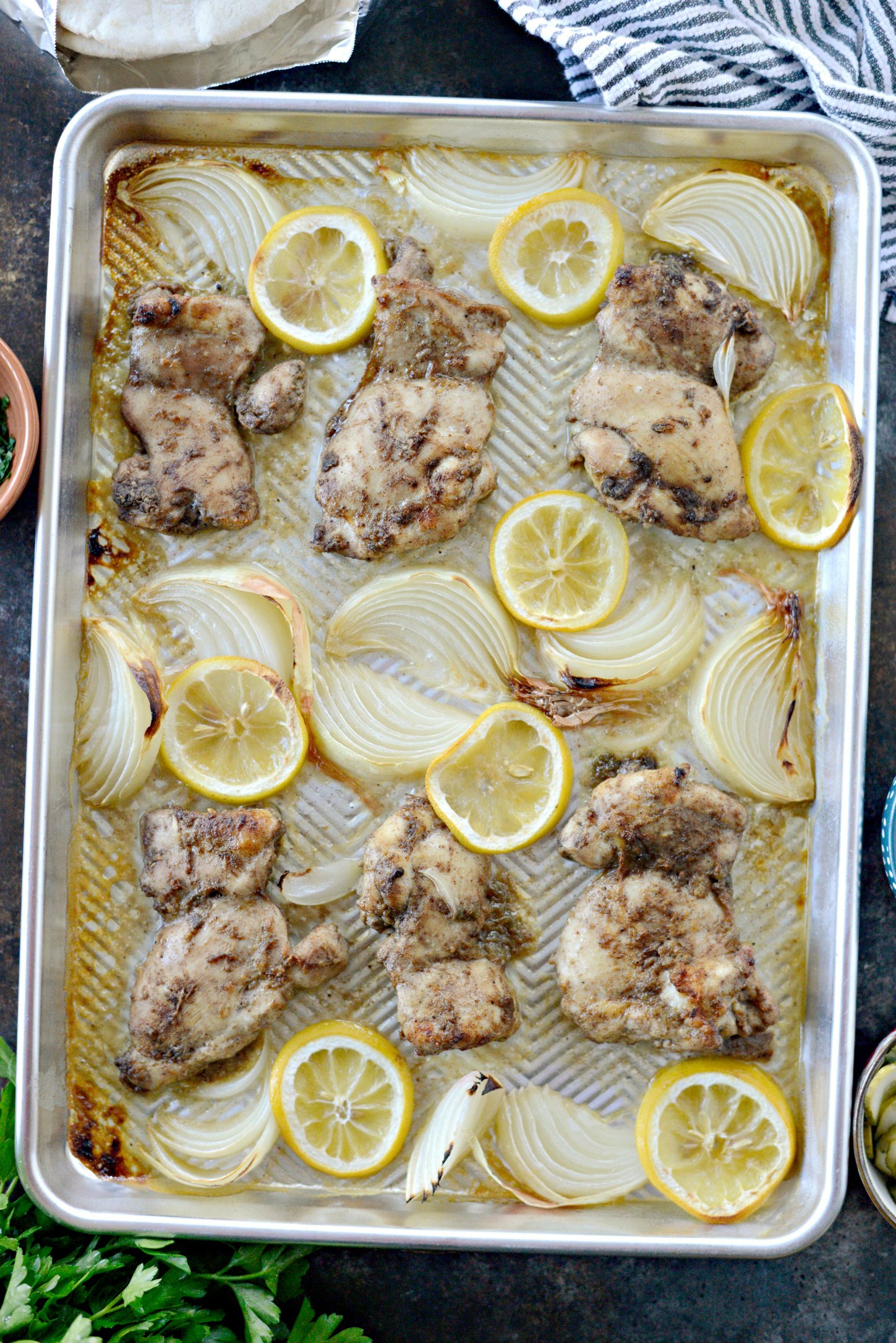 Look at that deliciousness!
For crispy edges, I'll flip on the broiler for a few minutes after the chicken is fully cooked.
The chicken is out of this world. You could add this to a salad, tuck it into lettuce or eat as is with a side of rice pilaf. However today, we're serving these up by smearing that lemon tahini yogurt sauce in the center of a toasty warm pita, topping it with the chicken shawarma, onions and pickles.
The chicken is so juicy and flavorful and that along with the crisp pickles and creamy sauce makes this one dang good chicken shawarma wrap. Pat loves these and Haileigh (my oldest) told me I need to start making these every week. Hmmm let me thing… okay! Malloree only had the chicken and dipped her pita into hummus. But she gave me two thumbs up on the chicken and said "Mom, this is really good."
I. Die.
Enjoy! And if you give these Chicken Shawarma Wraps a try, let me know! Snap a photo and tag me on twitter or instagram!
This post may contain affiliate links.
Buy the Cookbook: Simply Scratch : 120 Wholesome Homemade Recipes Made Easy Now available on Amazon »
THANK YOU in advance for your support!