One Pan Chicken Pesto Pasta. Who doesn't love the whole one pan/pot concept?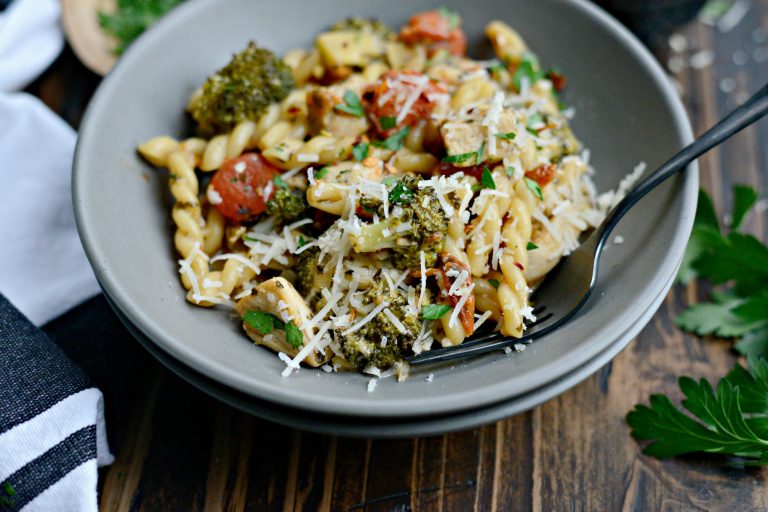 One pan, one meal. I know I love them, so I've been slowly building up my "one pan/pot wonders" list because a) who doesn't love the idea of only dirtying one pan and b) less dishes = happy me/you.
And this recipe has it all. Literally.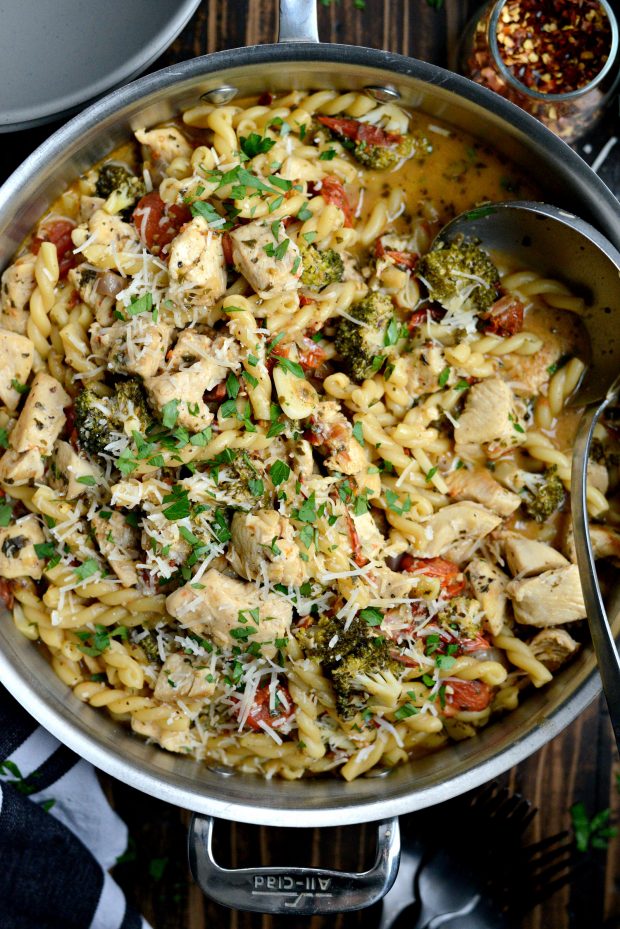 In this dreamy one pan chicken pesto pasta dish, I cooked up chicken, shallots and garlic and then blistered tomatoes before adding in the broccoli, basil pesto, sundried tomatoes, pasta and broth. Then the whole thing simmers for about 10 minutes. Add in a splash of cream and simmer for 2 more minutes. Bingo-bango done.
To make This One Pan Chicken Pesto Pasta You Will Need:
olive oil
butter
boneless, skinless chicken breasts
kosher salt
ground black pepper
shallots (or yellow onion could be substituted)
garlic
cherry tomatoes
broccoli florets
sundried tomatoes (in oil or dry)
short pasta (like gemelli)
4 cups low-sodium chicken broth
1/2 teaspoon kosher salt (more or less to taste)
1/4 teaspoon black pepper
2 pinches chili flakes (optional)
2 tablespoons of heavy cream
1/2 cup freshly shredded Parmesan cheese, divided
This recipe does have it's good share of prep work. As I always say, prepping is key! So cut the broccoli into small florets, chop the shallot, slice the garlic clove and dice the chicken. Then pre-measure everything and you're good to go! Every recipe runs smoother when the prep work is done in advance.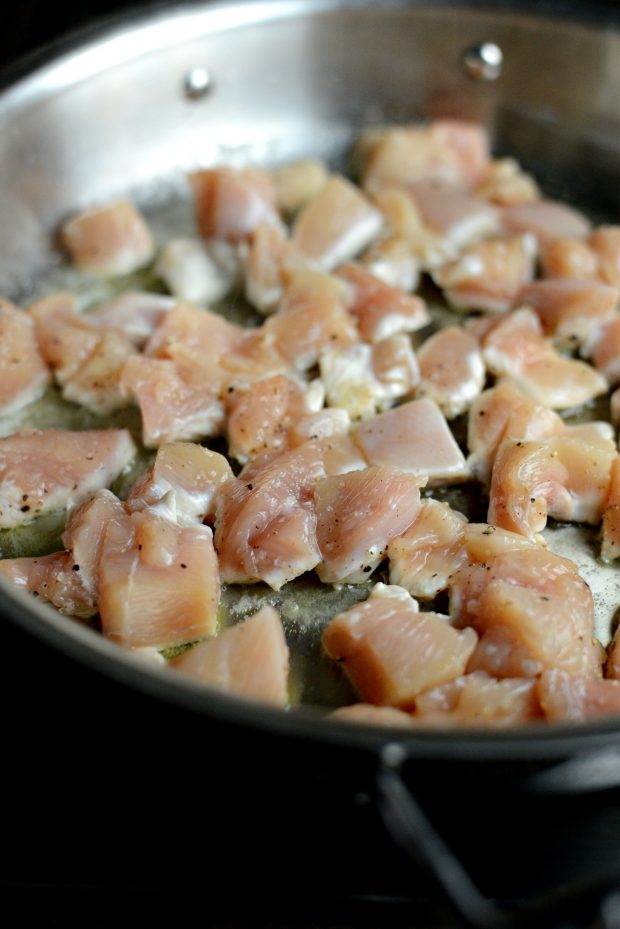 Heat a large 12-inch skillet over medium-high heat. Once hot drizzle in about a tablespoon of olive oil and drop in a tablespoon of unsalted butter as well. Once melted, add in all 1-1/4 pound diced chicken breast into an even layer and cook for about 4 to 6 minutes or until the chicken is almost fully cooked and has a nice golden crust on the bottom. Stir and cook fully before transferring to a plate.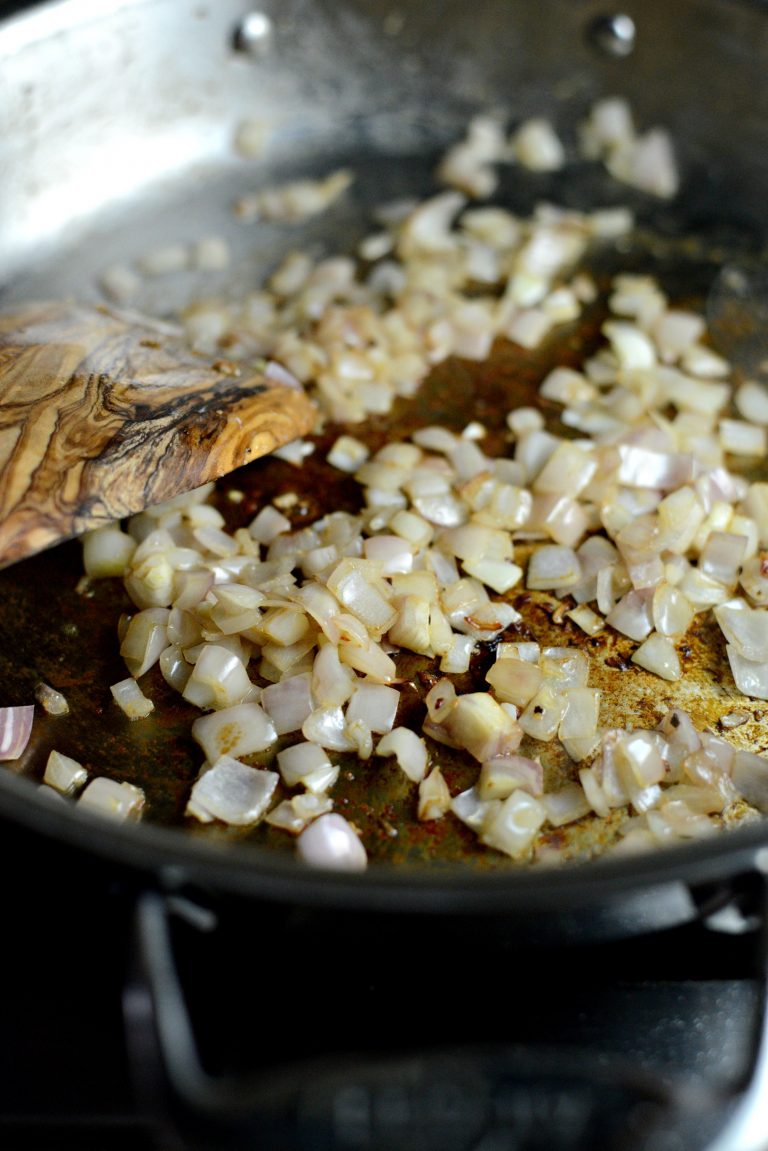 Reduce the heat to medium, and then to the remaining oil/butter in the pan, add 1/4 cup diced shallots and sauté for a couple minutes.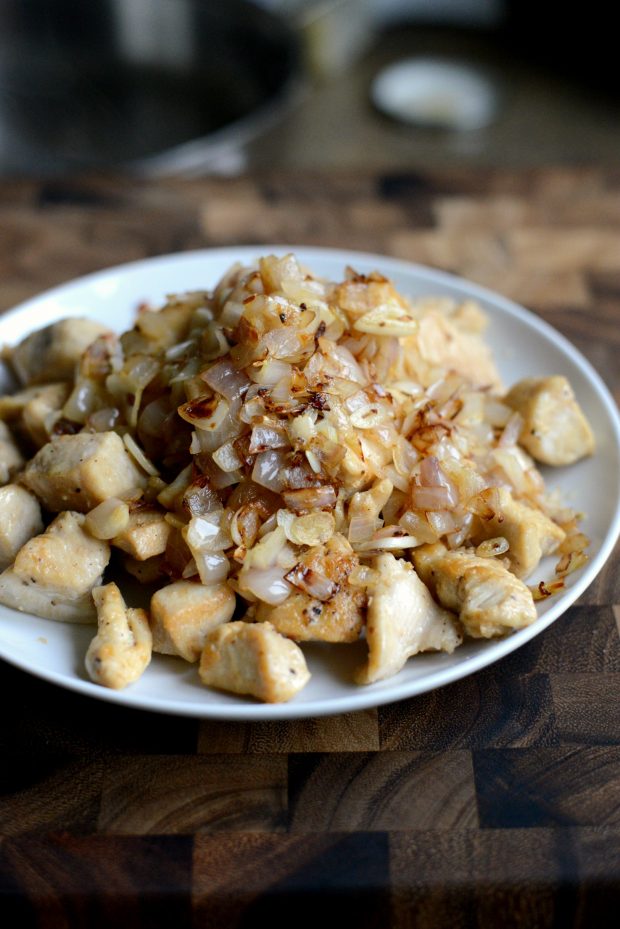 Add in 3 cloves sliced garlic and cook for one more minute before transferring the shallot/garlic combo to the plate of chicken.
Throw in 1 pint of washed cherry tomatoes, and toss to coat in the oil. If needed, add a splash more olive oil.
Add in 3 to 4 cups broccoli florets and toss to cook until the tomatoes are tender enough to smash with the back of your spatula.
Measure and add in the 1/3 cup of each basil pesto (homemade or store-bought) and chopped sundried tomatoes.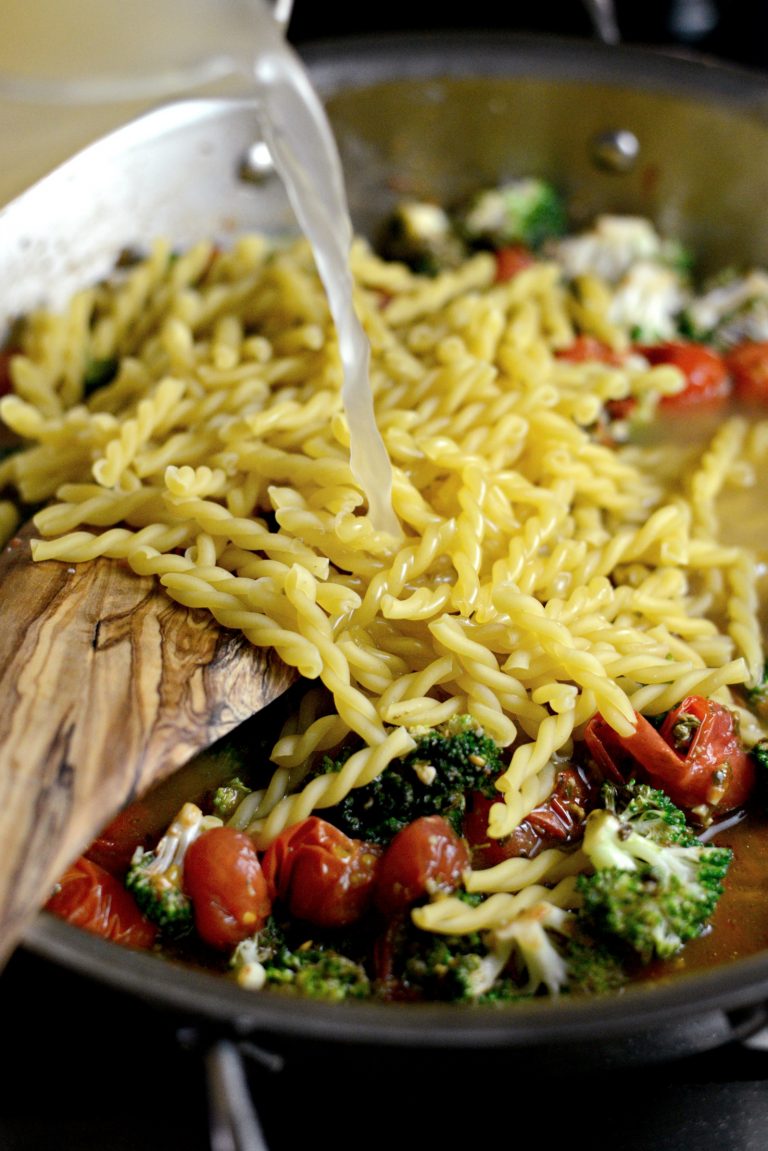 Next add in 2 cups pasta. I'm using gemeli, but any short pasta should work. Then pour in 1 quart (or 4 cups) of low-sodium chicken broth.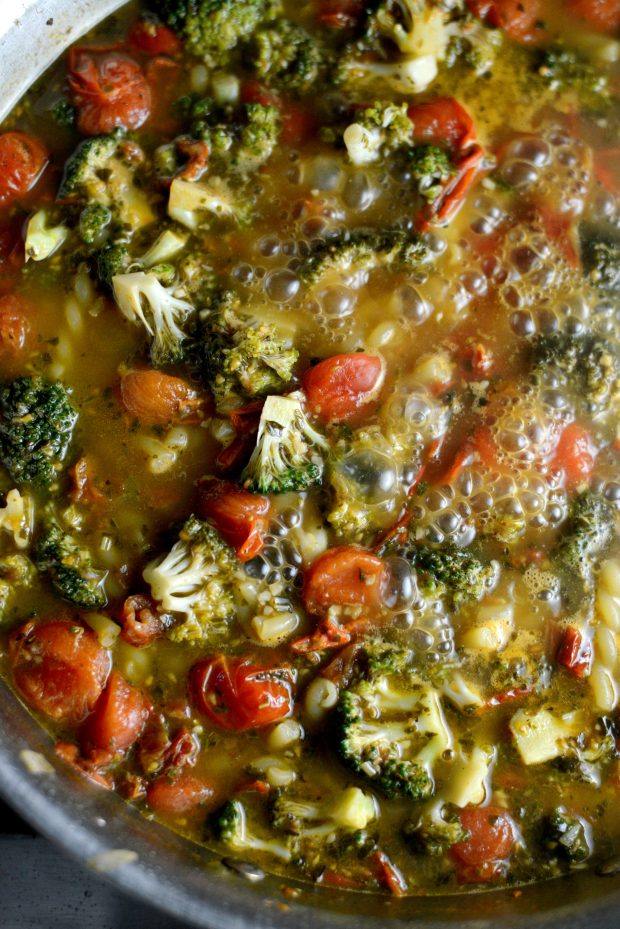 Cover the pan with a lid and bring to a boil. Then remove the lid and simmer for 10-12 minutes, stirring occasionally. The pasta will absorb a lot of the liquid, leaving you enough to make a sauce!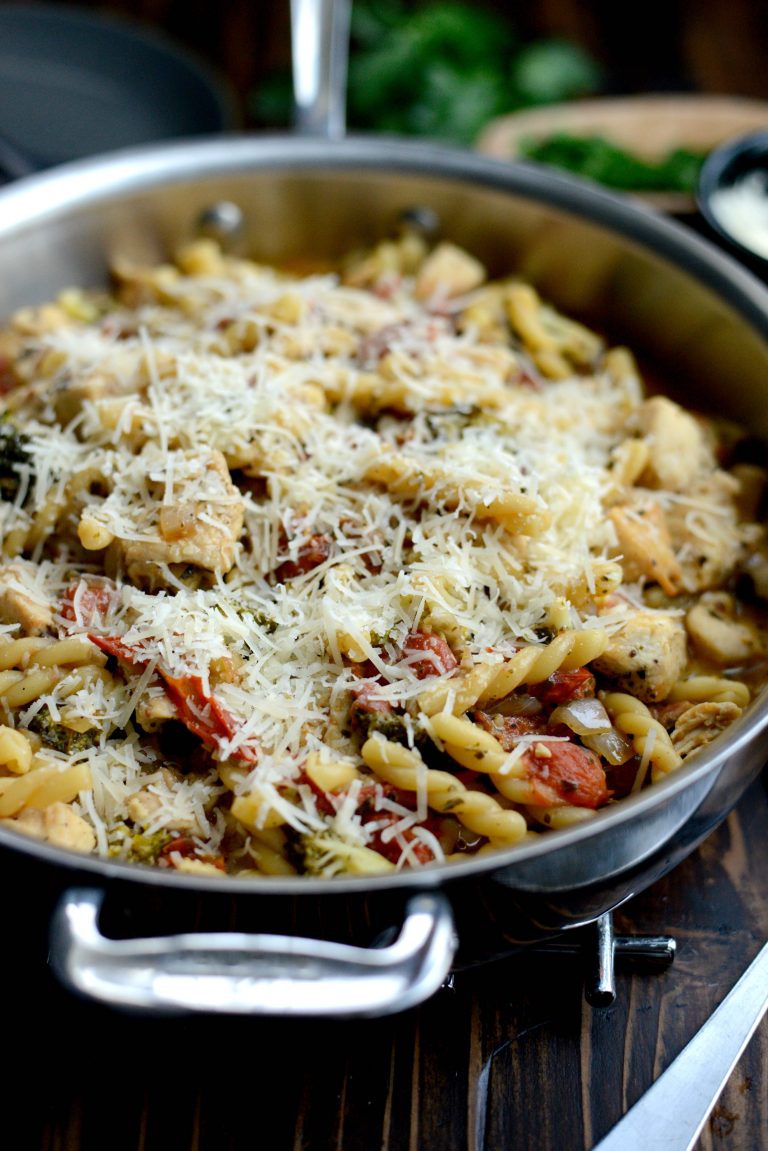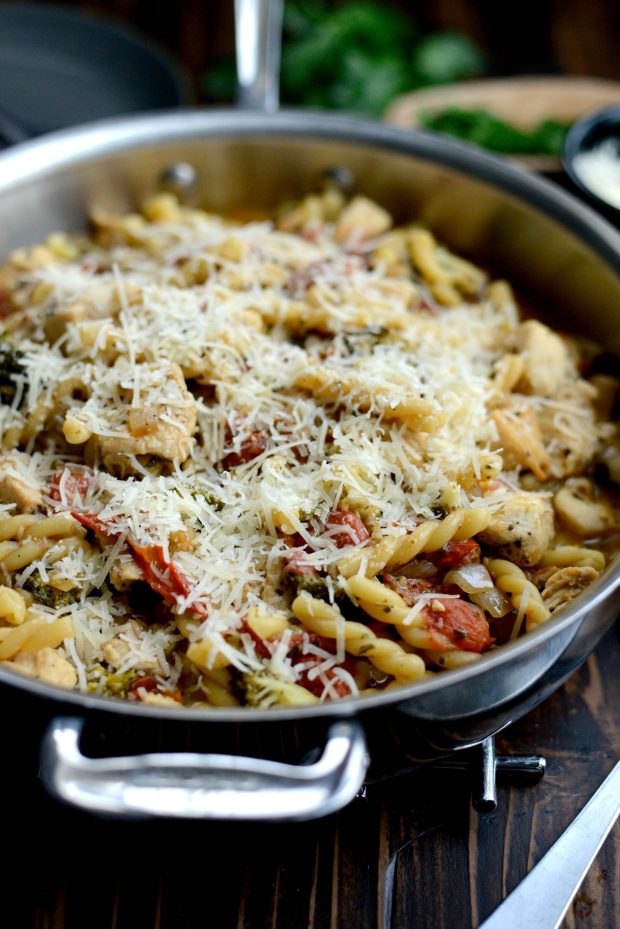 Add the chicken, onions and garlic back into the pan along with a couple tablespoons of heavy cream. Season with salt and black pepper to taste, and red pepper flakes for some kick (optional), then let that simmer (uncovered) for a few minutes before adding in 1/4 cup of shredded Parmesan.
Top with chopped parsley or basil and serve!
This one pan chicken pesto pasta will fill your home with the most intoxicating aroma! And the flavor will knock your socks off! I like to round out the meal with a spinach (or chopped) salad and maybe some grilled slices of bread. And wine.
Always, wine.
Cheers to one pan meals!
Enjoy! And if you give this One Pan Chicken Pesto Pasta recipe a try, let me know! Snap a photo and tag me on twitter or instagram!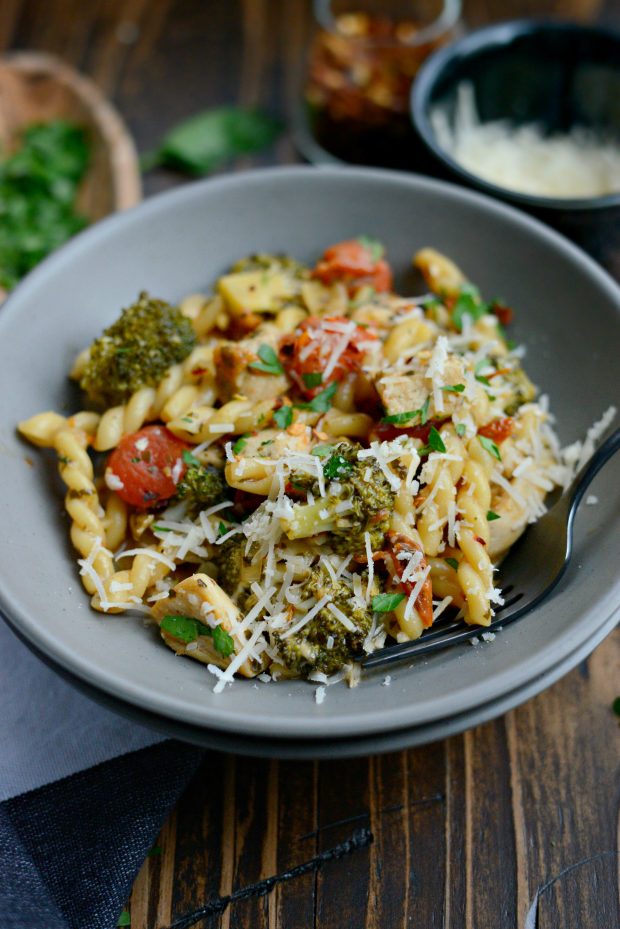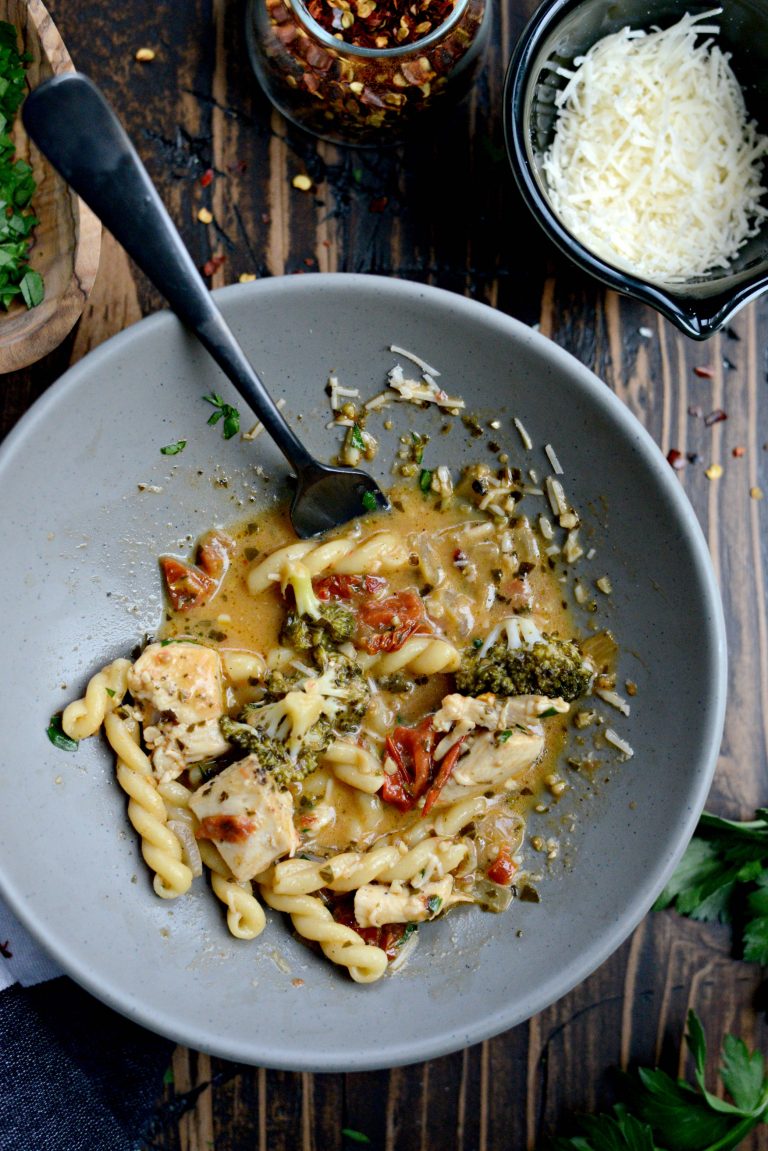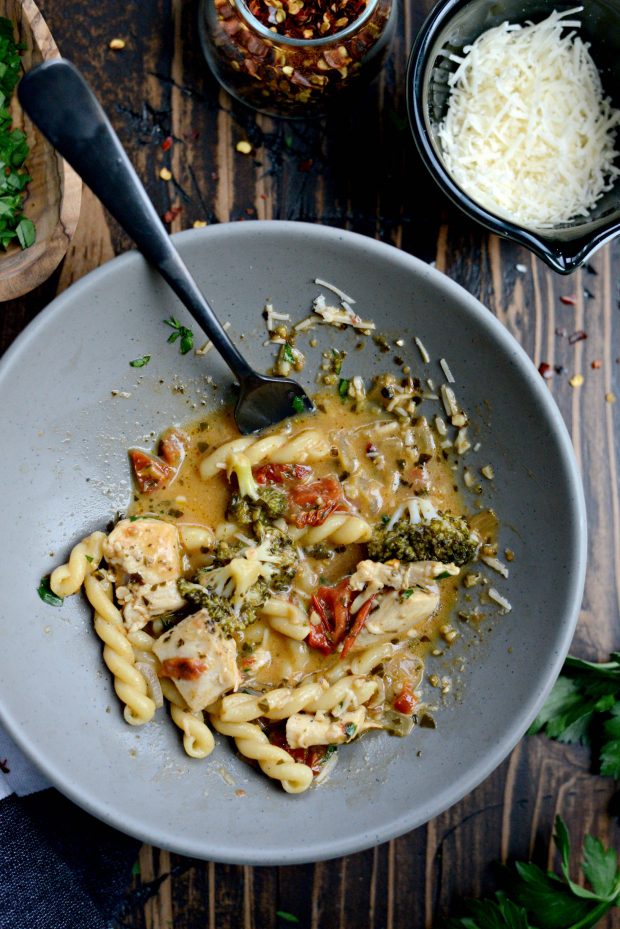 This post may contain affiliate links.
Buy the Cookbook: Simply Scratch : 120 Wholesome Homemade Recipes Made Easy Now available on Amazon »
THANK YOU in advance for your support!