This one-pot, oven braised beef stew is filled with hunks of browned beef and vegetables like potatoes, carrots, mushrooms and green beans along with fresh herbs and garlic in rich, deep flavorful gravy. Just this thing to warm your up on a cold winter's day!
Baby, it's cold out side.
The snow has been falling steadily all day long. And by the end of the week, our temperatures will be low. And by low I mean -1. GAH! I do not want to leave the house when it's like this. I want to be holed up with movies and coffee wearing all the scarves, thick socks and eating cozy comforting dishes. Like stew.
Over the weekend I made this amazing oven braised beef stew. It's my mom's recipe that I found in the beloved three-ring binder of Our Family's Beloved Recipes that she gave all us daughters years back. And because I'm my mother's daughter, I only changed the quantities a little, but the ingredients remain the same. Maybe.
Beautifully browned beef with lots of veggies, herbs and garlic in a deeply rich and brown gravy, all in one pot. It's just what the cold weather ordered (wait, huh?) so bust out a loaf of crusty bread and dive on in!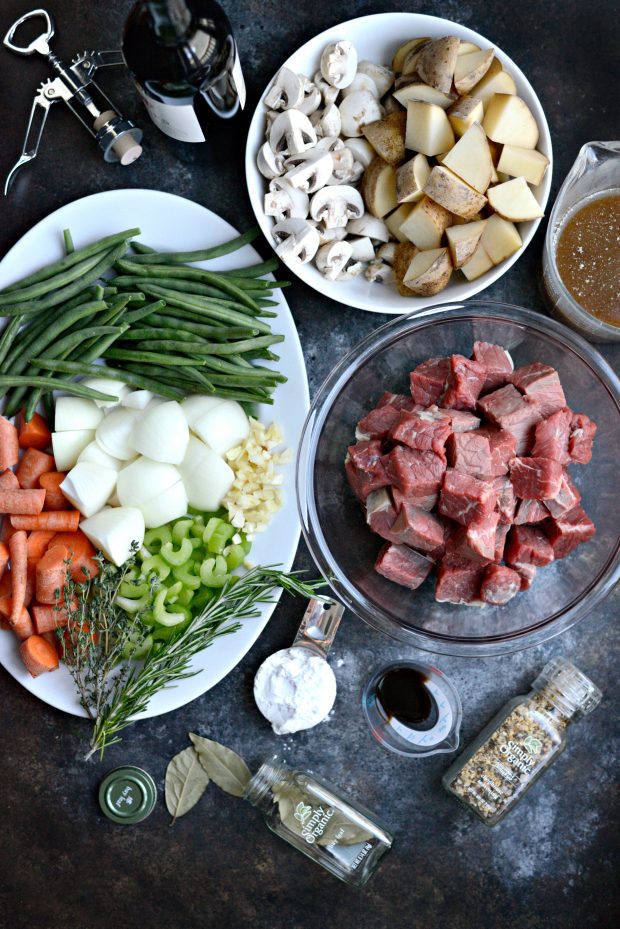 To Make This Braised Beef Stew You Will Need:
bacon fat
extra light olive oil
bottom round roast, cut into 1 to 1-1/2 inch pieces
steak seasoning (I like Simply Organic Chophouse Seasoning)
dry red wine (I like Malbec)
yellow onions
celery
carrots
mushrooms
russets potatoes
green beans
garlic
fresh thyme, rosemary and bay leaves
beef stock
fine ground tapioca flour
kosher salt and black pepper
chopped parsley leaves, for garnish
First cube up a 2-1/2 pounds of a bottom round roast into a little over 1-inch pieces, like how I did it in this post. I like to cut my own stew meat, because do you really know what cut of meat is in the pre-cut package labled "stew meat"? Then prep all of the remaining veggies and rustle up the remaining ingredients.
Next sprinkle the pieces of beef with 2 tablespoons of steak seasoning. I like to use Simply Organic Chophouse Seasoning. [affiliate]
Heat 1 tablespoons each bacon fat and olive oil in a large 6 quart (or larger) dutch oven. Then work in batches, searing the meat until deep golden. The rich color and deep flavor of this braised beef stew is because of the searing of the stew meat.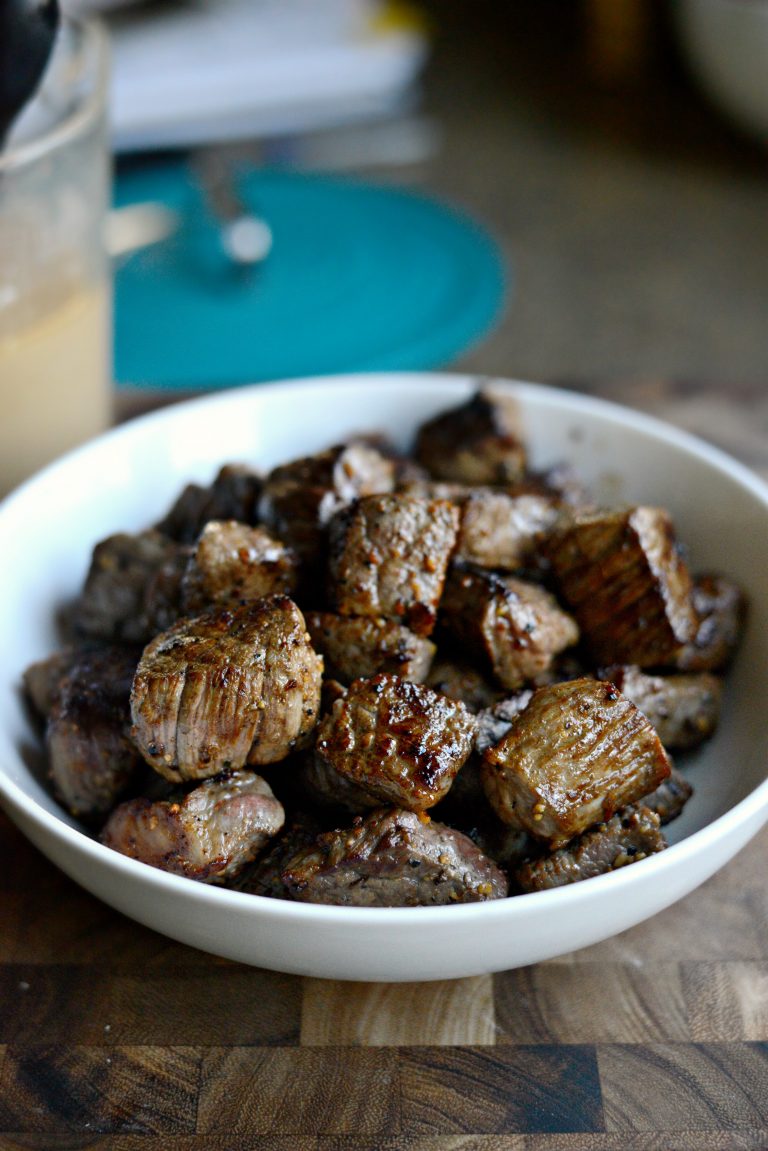 Transfer the deeply caramelized meat to a clean bowl and repeat with the rest. For me I did it in 3 batches and it took me about 20-25 minutes.
Then reduce the heat to medium, pour 1/2 cup dry red wine into the pot, using a wooden spoon and scraping up the browned bits on the bottom. Immediately tossing all the meat back in afterwards.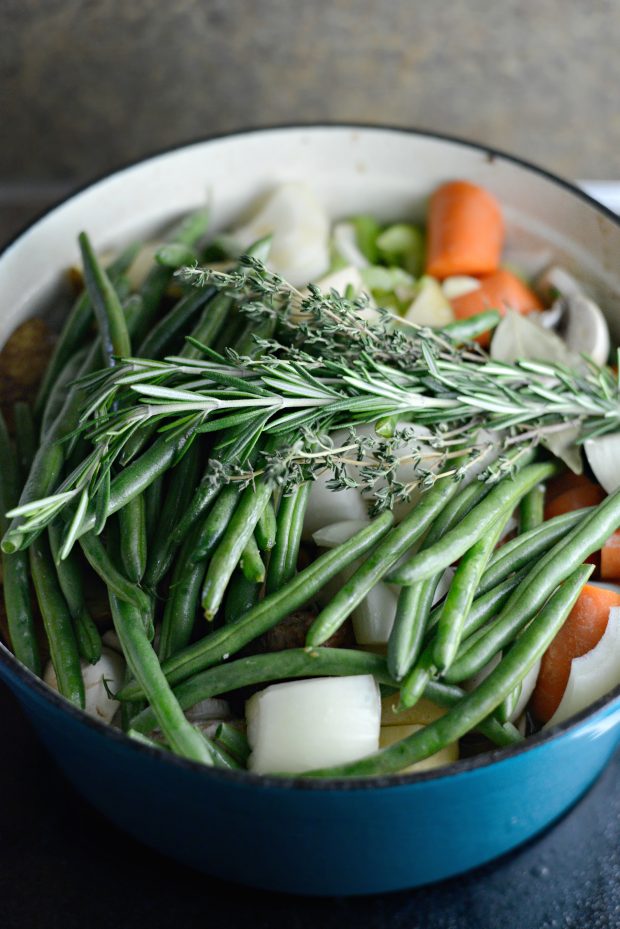 Then mix the 1/4 cup of tapioca flour in with the 4 cups beef broth and 1 tablespoon Worcestershire and then pour it all into the pot. Next, toss in, 2 yellow onions (cut into eighths), 2 stalks of celery, sliced, 4 large carrots that have been cut into pieces, 1 (8 ounce) package of mushrooms (halved or quartered if large), 2 medium russets (cut into 1-1/2 inch pieces), 1/4 pound fresh green beans (trimmed and halved), 4 peeled and roughly chopped cloves fresh garlic. Give it one last stir. Lastly, place 4 springs fresh thyme, 2 sprigs fresh rosemary and 2 bay leaves on top, cover with the heavy lid and bring to a boil before sliding into your preheated 250° oven for 3-1/2 to 4 hours.
Yes 250°. Low and slow, remember? ❤️
Ps. I found tapioca flour and my local grocery store but if you're having trouble finding it, you can order it on Amazon. [affiliate]
In the oven is where the magic happens. Slowly cooking the vegetables until they are perfectly tender and the meat falls apart easily.
So comforting! And smells intoxicatingly delicious!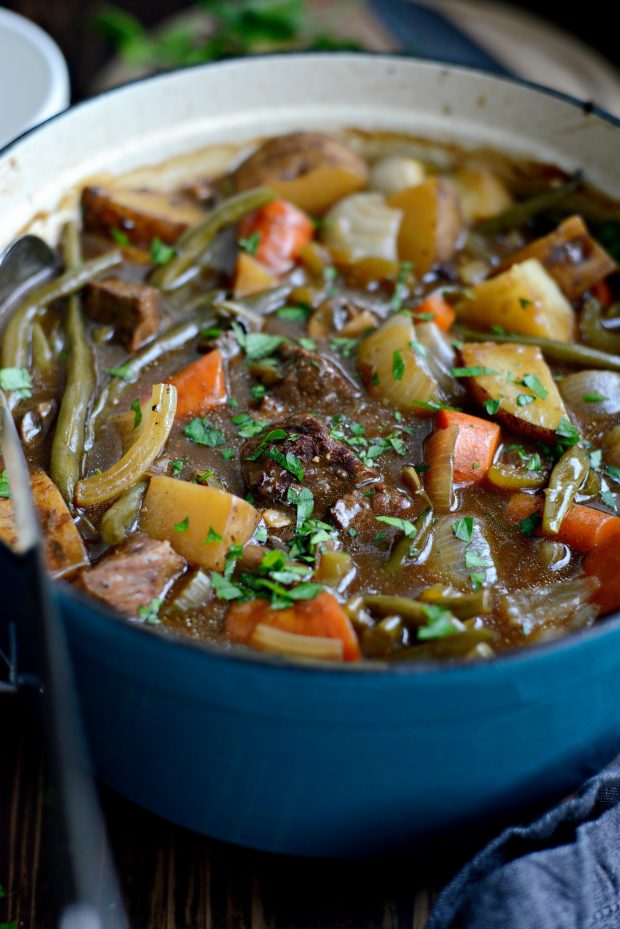 As you'd expect, this braised beef stew fills your home with the most intoxicating aroma. And on days when the winter weather chills you to the bone, this stew is a warm hug… thawing you from the inside out in the best way possible.
Enjoy! And if you give this Braised Beef Stew recipe a try, let me know! Snap a photo and tag me on twitter or instagram!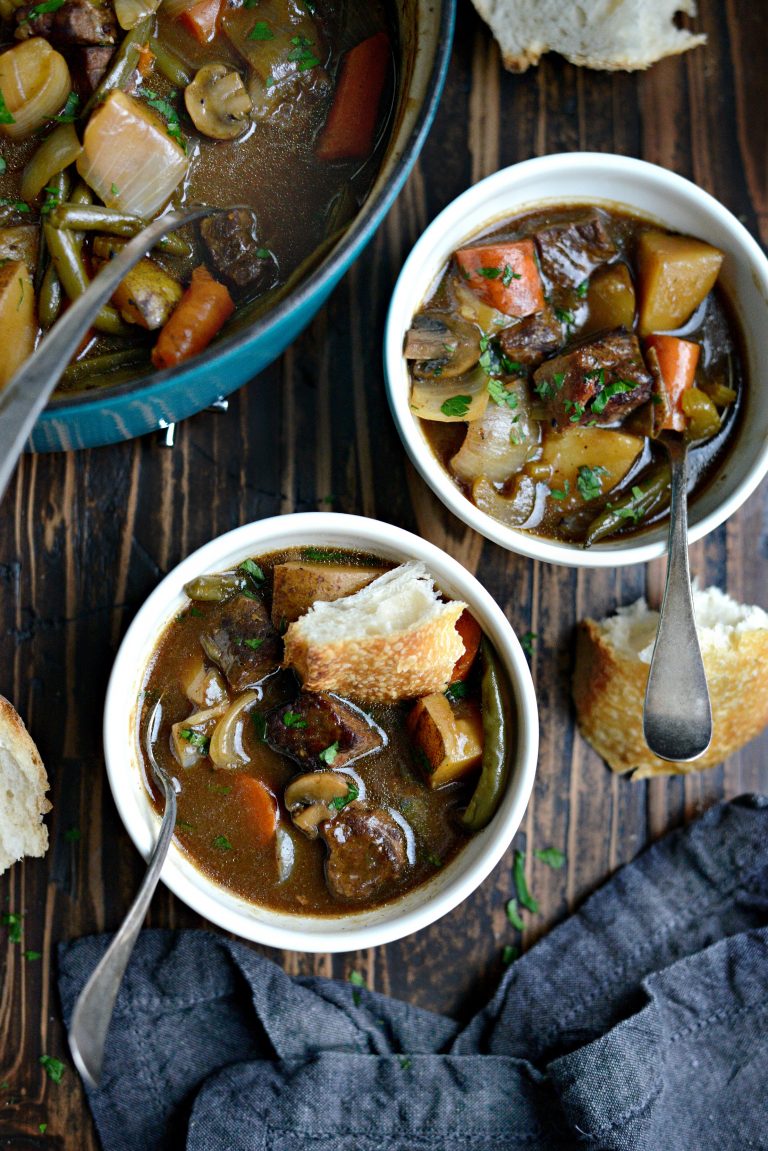 This post may contain affiliate links.
Buy the Cookbook: Simply Scratch : 120 Wholesome Homemade Recipes Made Easy Now available on Amazon »
THANK YOU in advance for your support!