Easy no yeast cinnamon rolls means you can enjoy freshly baked cinnamon rolls in an hour! No double rising! This is my husbands Great Grandmothers recipe and I'm so happy and honored to share it with you!
My diet starts January 1st.
Right after I finish this pan of cinnamon rolls. Ya feel me?
Speaking of cinnamon rolls, I'm so happy to share with you my husbands Great Grandma Mack's (short for McNamara) recipe for easy no yeast cinnamon rolls.
My husband's Aunt Penny did some digging around and found this recipe a few weeks before Christmas. Of course, the recipe was hand written with little to no specific measurements and called for Crisco. So I tested this recipe a few times, using butter and adding a little salt to the dough, but still keeping the integrity of her original recipe.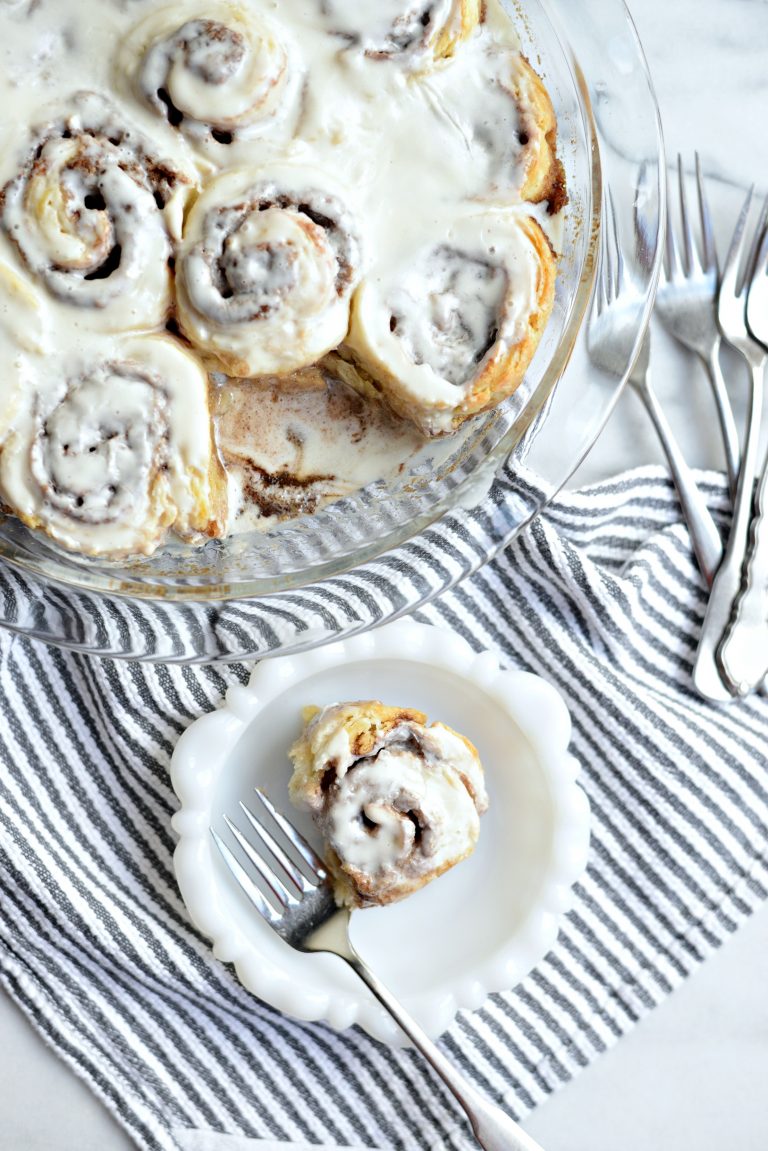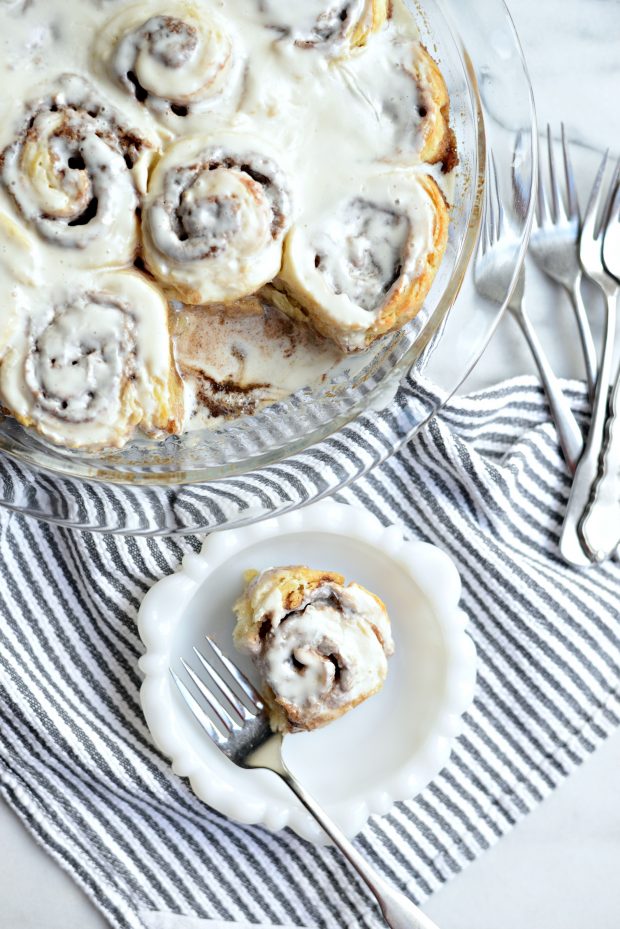 I've been apart of the McNamara family for over 21 years and I've heard my father-in-law talk about these cinnamon rolls from time to time. So when Penny found the long lost recipe, I decided to surprise my father-in-law by making them for him/us on Christmas morning. I quickly made a double batch on Christmas Eve night and baked them the next morning once we got to their home. My father-in-law said they tasted just as he remembered.
These no yeast cinnamon rolls can be whipped up in no time at all and they taste like perfection.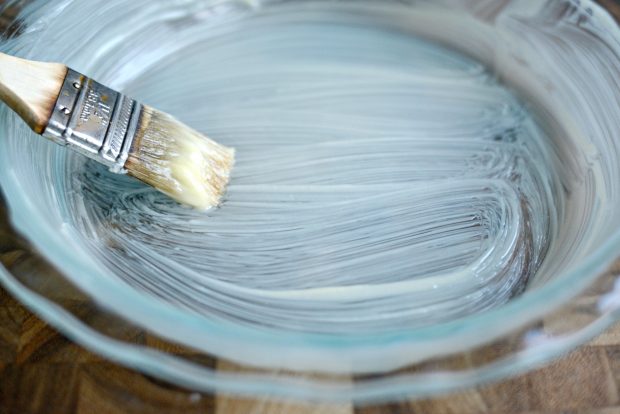 Start by preheating your oven to 375°. Pour a tablespoon of melted butter into a 9.5-inch deep-sided pie dish [affiliate]. Use a pastry brush to cover the bottom and sides of the pan.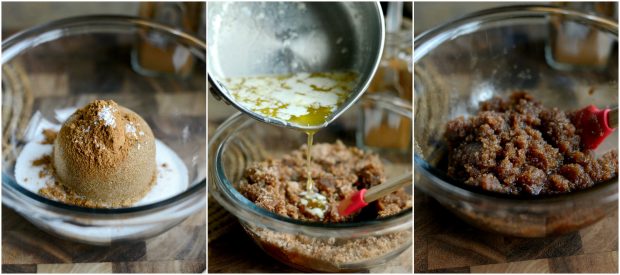 To start, make the filling by combining the remaining 5 tablespoons of butter with 1/3 cup of both dark brown and granulated sugar, 2 teaspoons cinnamon and 1/4 teaspoon of kosher salt. Set off to the side.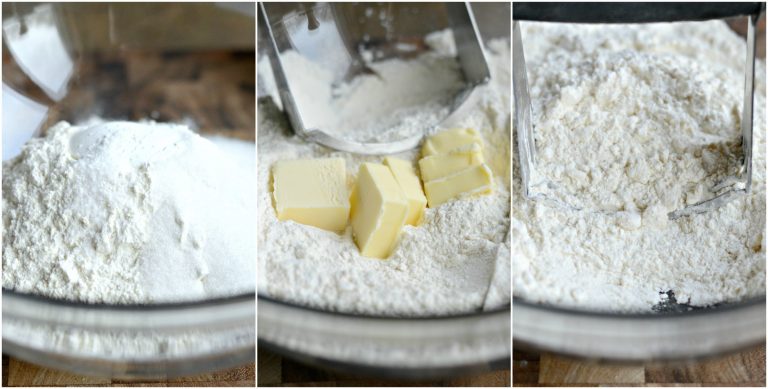 In a large bowl combine 2 cups all purpose flour, 1 heaping tablespoon baking powder and 1/2 teaspoon of kosher salt. Next drop in 6 tablespoons of cold, unsalted butter and use a pastry blender to cut the butter into the flour.
Ps. I have this one and love it! [affiliate]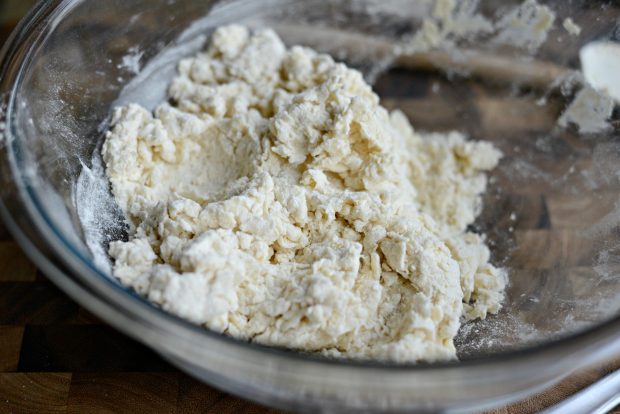 Pour in the 3/4 cup of cold whole milk and use a rubber spatula to combine. Use your hands to quickly knead any loose flour or butter pieces into the dough. Do not over work.
On a lightly floured surface, roll the dough into a 10 x 6 rectangle that's 1/2 an inch thick. Add the cinnamon sugar mixture and use an offset spatula [affiliate] to spread it all the way out to the edge of the dough.
Starting at one side, use your fingers to tightly roll the dough and then go back the other way, rolling as you go. Place the roll onto a small parchment lined sheet pan and freeze for 10 minutes.
Once the 10 minutes are up, remove the roll from the freezer and cut in half. Then cut the halves in half so you have 4 pieces. Cut each piece into thirds, so you will end up with 12 slices.
Arrange the slices in the bottom of the prepared pan. Slide the pan into your preheated oven and bake for 28 minutes, rotating the pan halfway during baking.
Meanwhile, make the icing by sifting 1 heaping cup of powdered sugar into a bowl…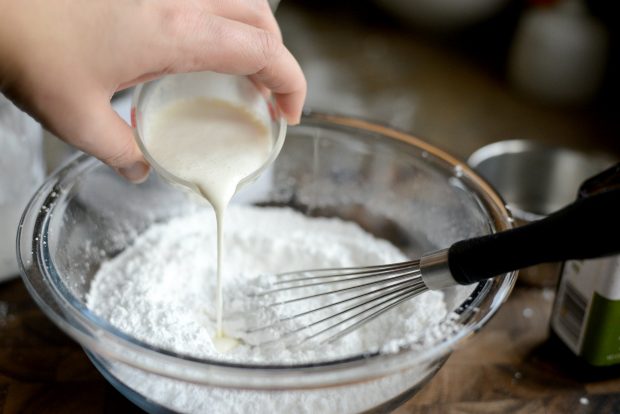 … and combine it with 6 tablespoons of heavy cream and 3/4 teaspoon of pure vanilla extract.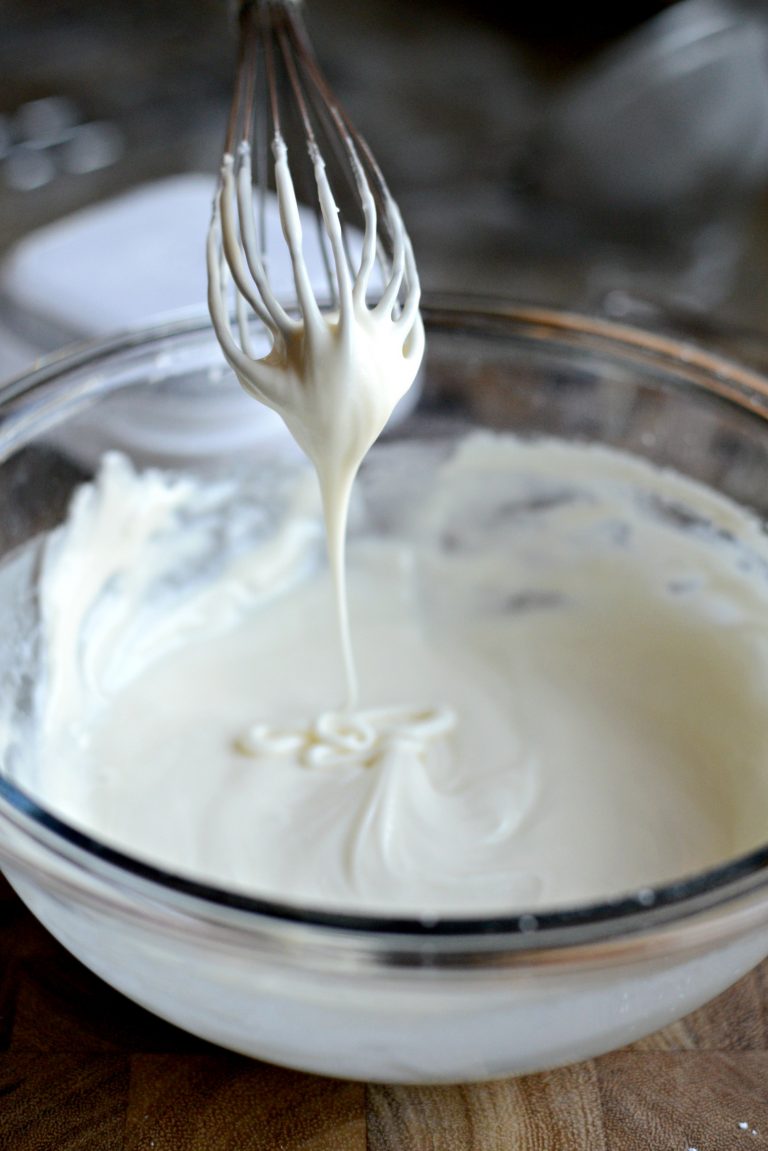 Whisk until smooth. It should be super thick so it can melt once it tops the hot cinnamon rolls.
They should come out bubbling, gooey and smelling amazing!
Pour the icing over top of the hot, straight-from-the-oven cinnamon rolls.
This is without a doubt my favorite part.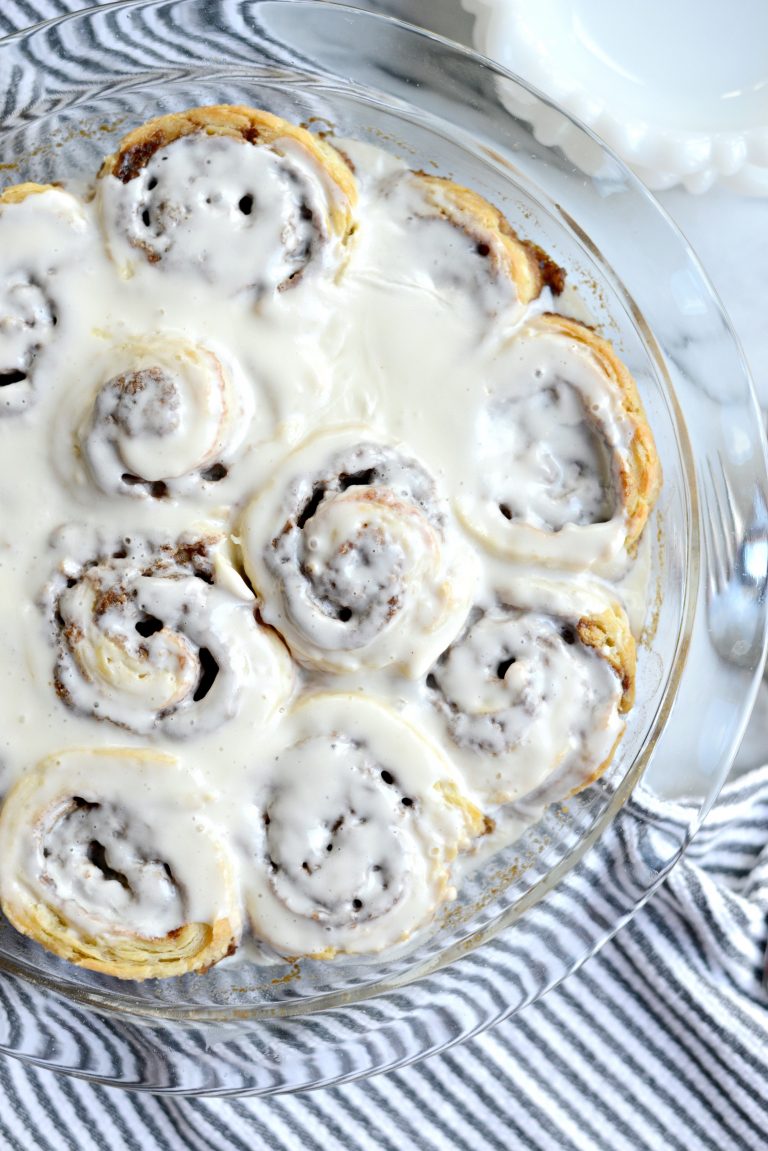 Oh yes yes yes.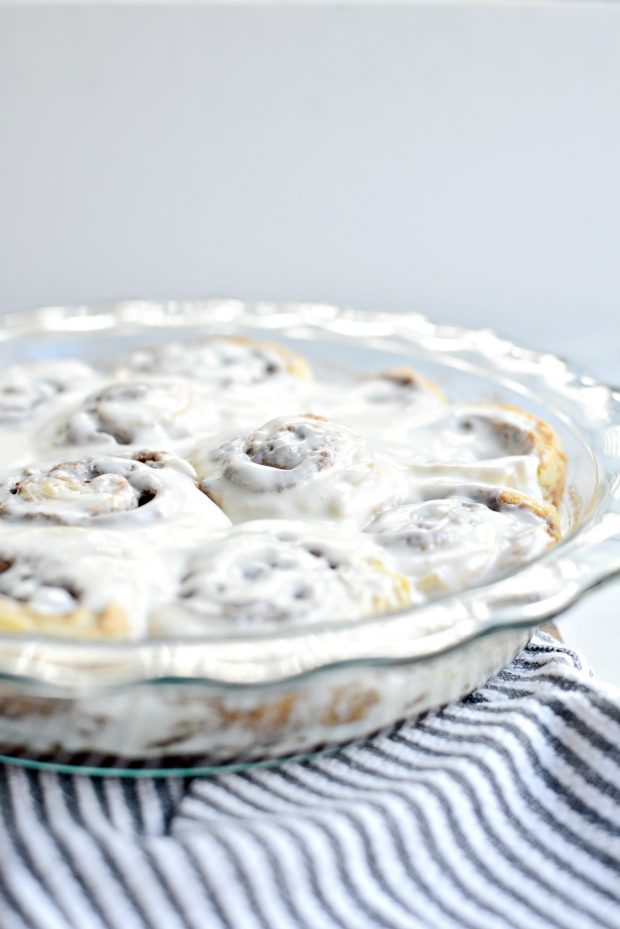 With one day left of 2016 I'm going to splurge and do nothing but sit in my comfy clothes, drink coffee all day and write my year in review. Until then I'd love to know what are some recipes you would like to see in 2017!
Happy New Year Everyone!
Enjoy!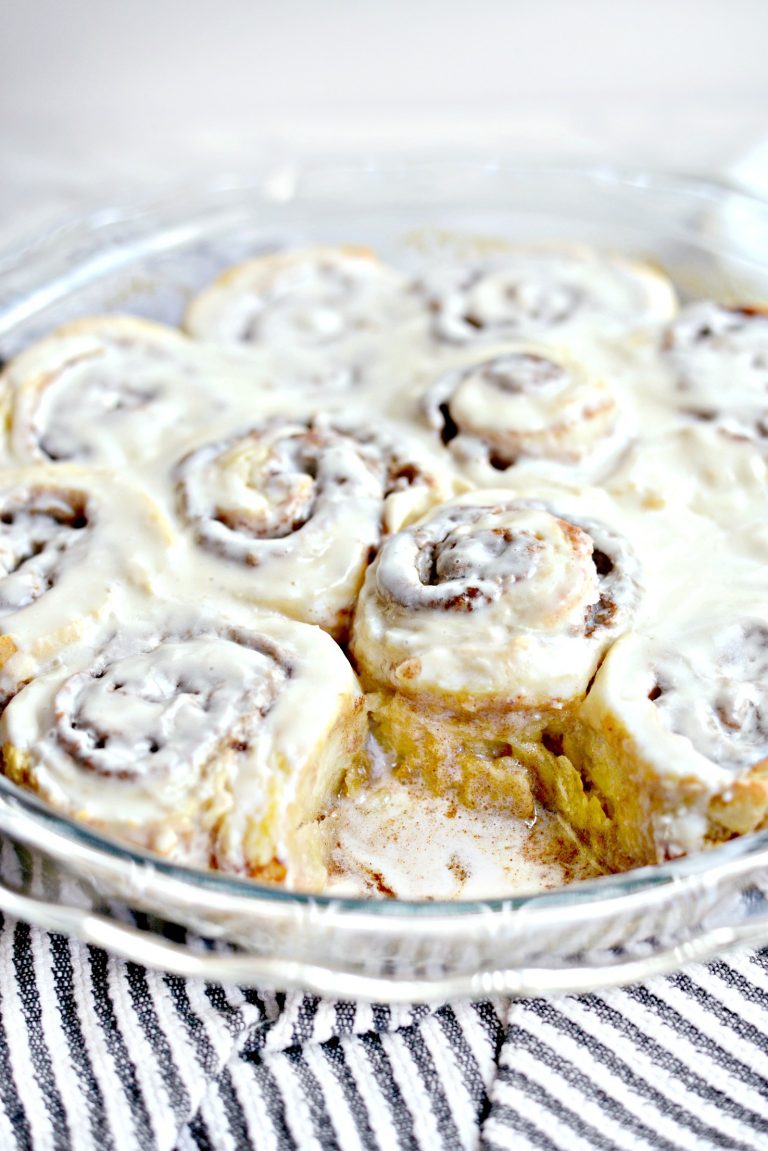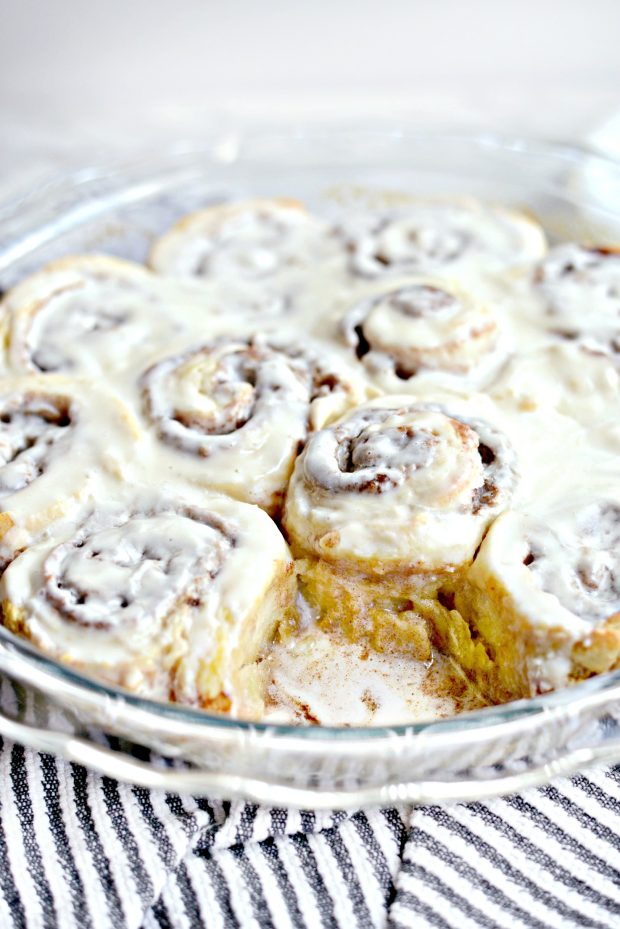 My cookbook Simply Scratch : 120 Wholesome Homemade Recipes Made Easy is now available! CLICK HERE for details and THANK YOU in advance! 
[this post contains affiliate links.]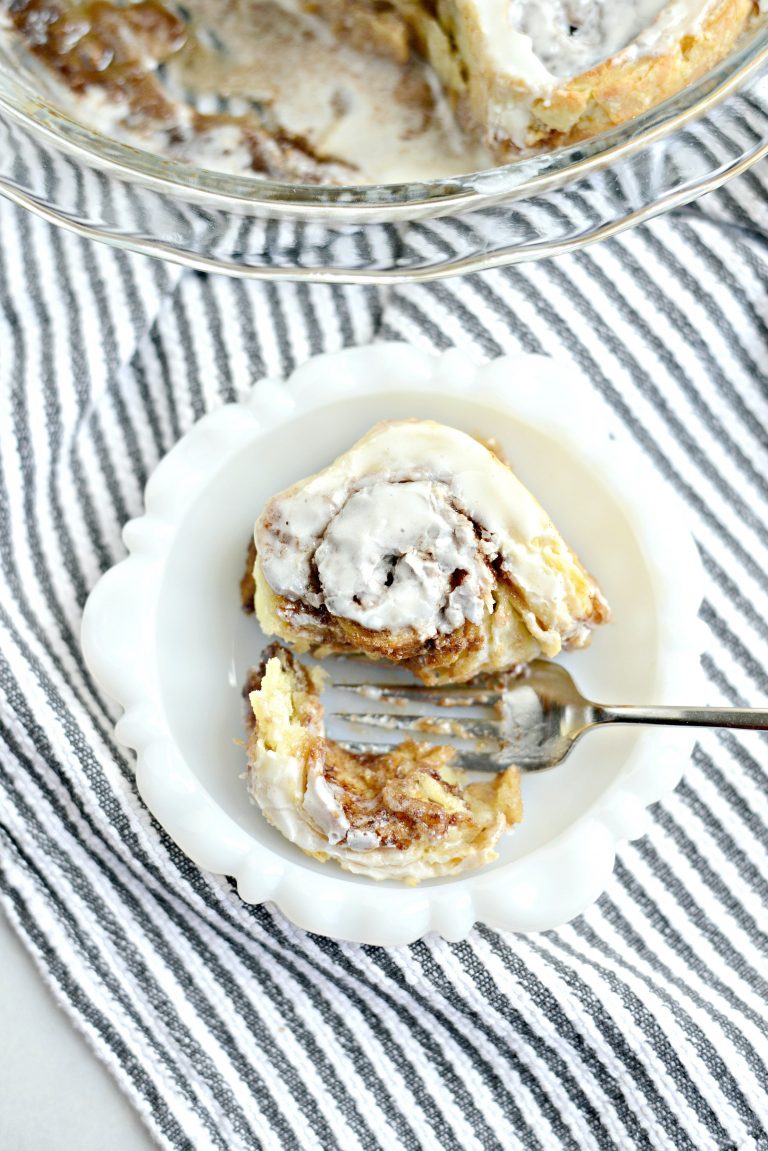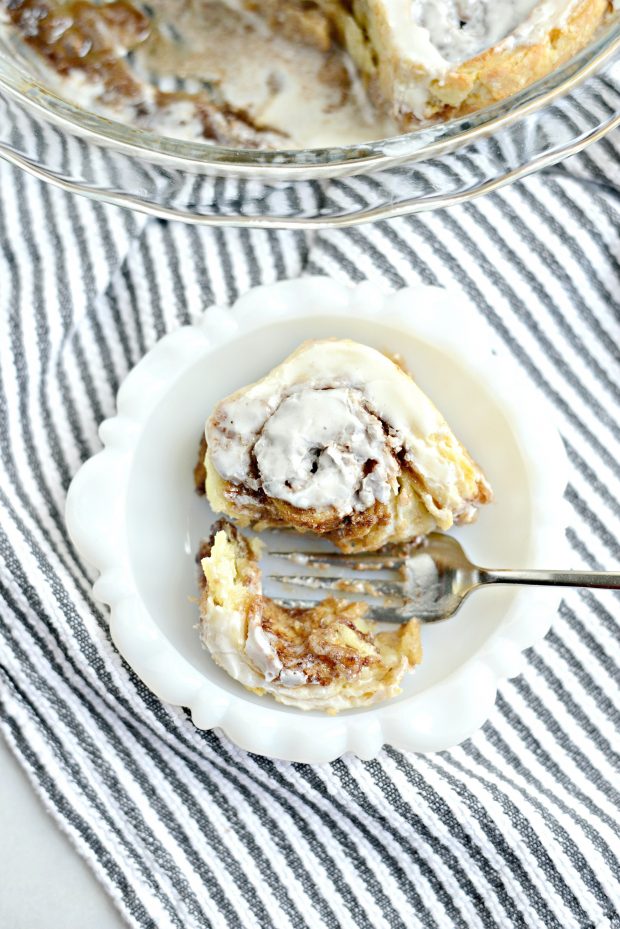 This post may contain affiliate links.
Buy the Cookbook: Simply Scratch : 120 Wholesome Homemade Recipes Made Easy Now available on Amazon »
THANK YOU in advance for your support!