In this Chicken Tikka Masala recipe, pieces of chicken thigh meat marinates in a spiced yogurt combination and cooked in a garam masala spiced, tomato and coconut milk sauce. Serve with rice and naan.
Why hello, gorgeous plate of food. Chicken tikka masala is one of my favorite Indian dishes, next to Butter Chicken, of course. What can I say? I'm a total sucker for chicken in thick, vibrant sauces. Have you seen a more colorful dish in your life?
Tikka Masala has always been something I eat while Pat's up north hunting or when he's on a summer golf trip. I was thinking he wouldn't be down with all the spices and flavors going on, so I'd save it for the times when I could curl into the nook of our couch, pj's on and remote in hand and chow down. I finally got around to making it so I could post it and boy was I wrong to wait. In fact, my WHOLE FAMILY loves it. Even Malloree. The girl loves the pungently spiced and rich tikka masala but wont go near rice. Riddle me that? Either way, my jaw = dropped.
I serve it next to a mound of coconut rice and either naan or pita bread, to sop up all that thick orange gravy. It's heavenly.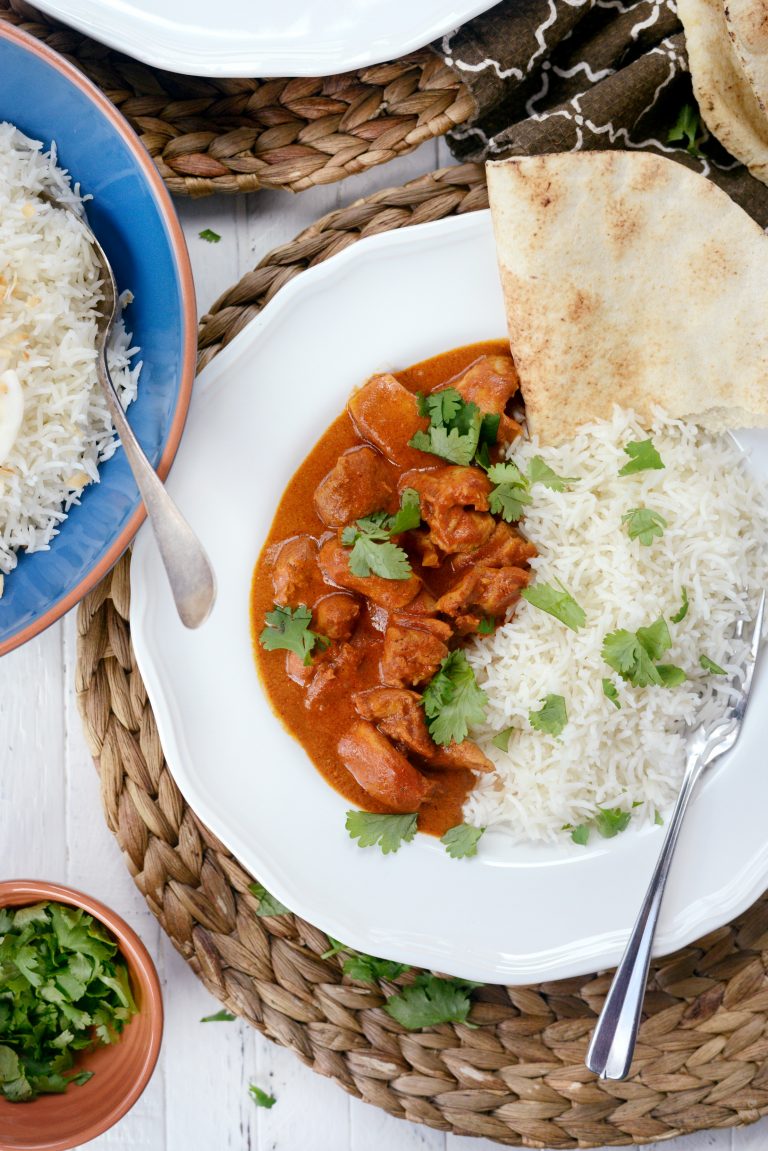 Whether you're feeding your family or flying solo, there's no need to go out when you can satisfy your craving for tikka masala in the comfort of your home… pajamas, wine and Netflix are totally optional. Forks required.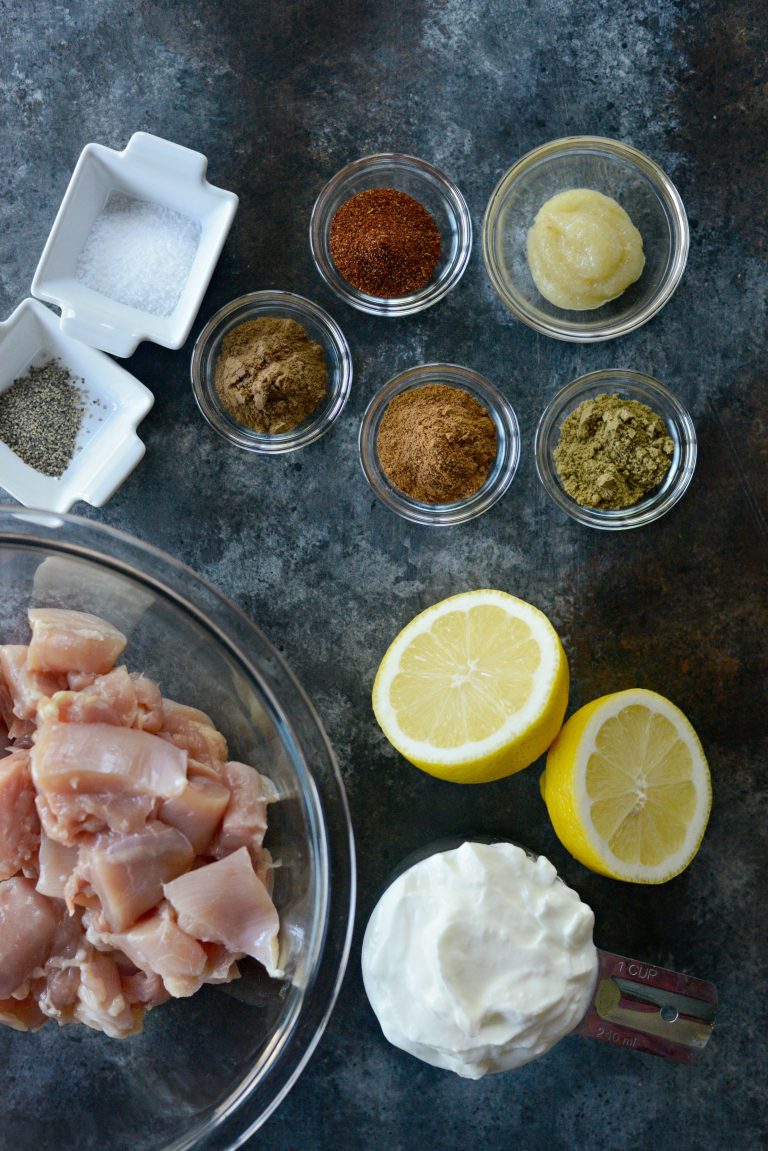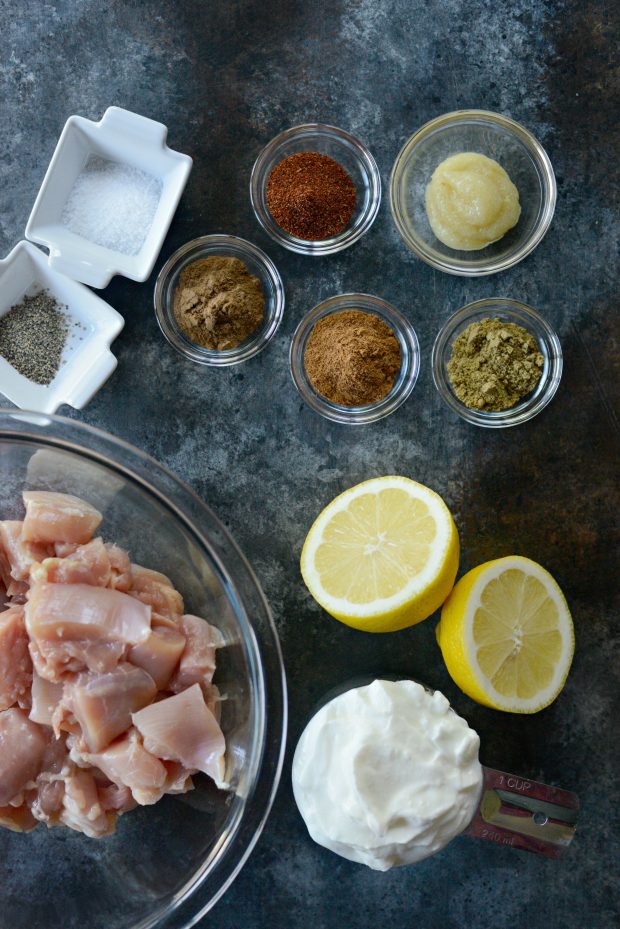 There's a few ways I make this. Summer months I will grill the marinated chicken on our outdoor grill. But during the chillier months, I cook it all in one pan. It was drizzling the day I made this so I opted for the one-pan chicken tikka masala bit.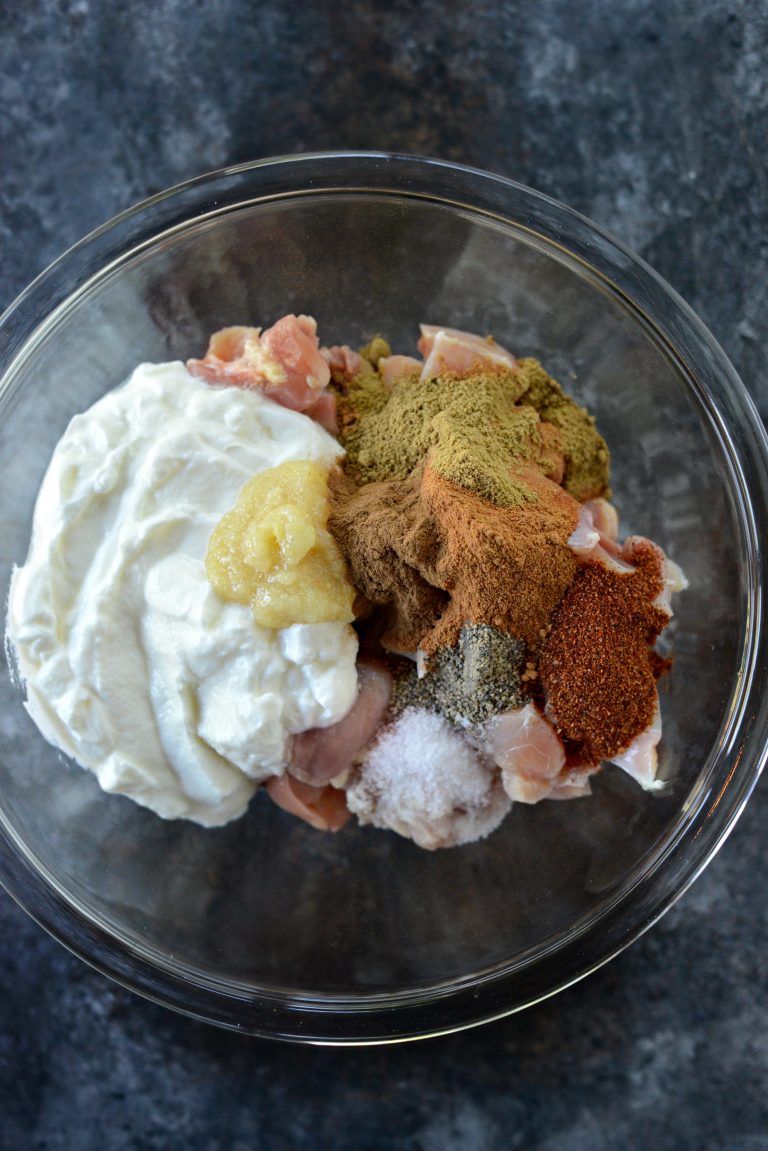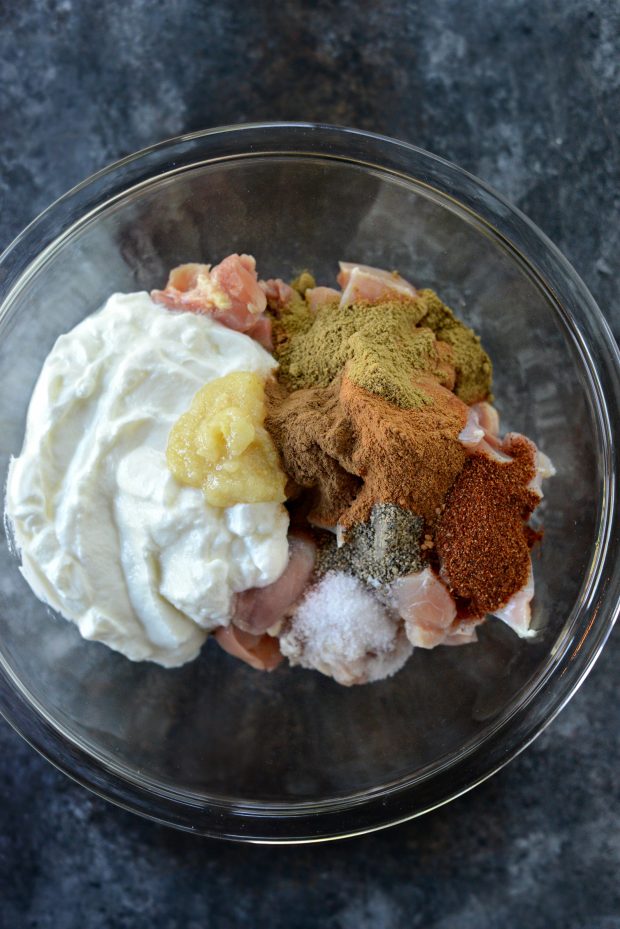 Place 2 pounds chicken thighs (that have been cut into 1-inch pieces) into a large bowl with 1 cup of whole milk plain yogurt, juice of half a lemon, 1 heaping tablespoon ginger, 2 teaspoons of both ground cumin and chili powder, 1-1/2 teaspoons annatto (which will give it that glorious color, but optional), 1 teaspoon both cinnamon and kosher salt and 3/4 teaspoon black pepper. Toss to combine and refrigerate for 1 to 3 hours.
After the chicken marinates, add two tablespoons of butter to a large 12-inch skillet and heat over medium/medium-high. Once hot, add garlic, 2 teaspoons garam marsala and coriander, 1 teaspoon cumin and paprika. Stir it all around and cook for 1 minute.
Next, add in the marinated chicken and bring to a simmer. Cook for about 10-12 minutes, then add in the tomato sauce, sugar, salt and coconut milk. Reduce the heat to low and cook until the sauce has thickened.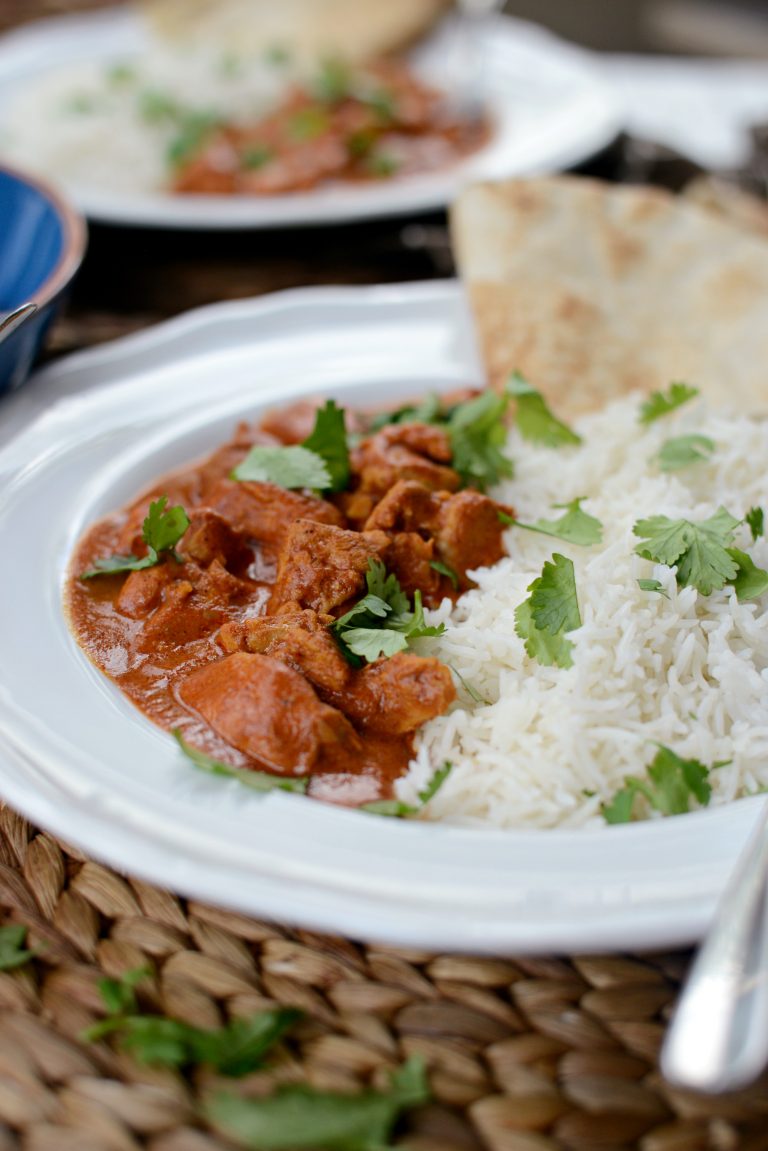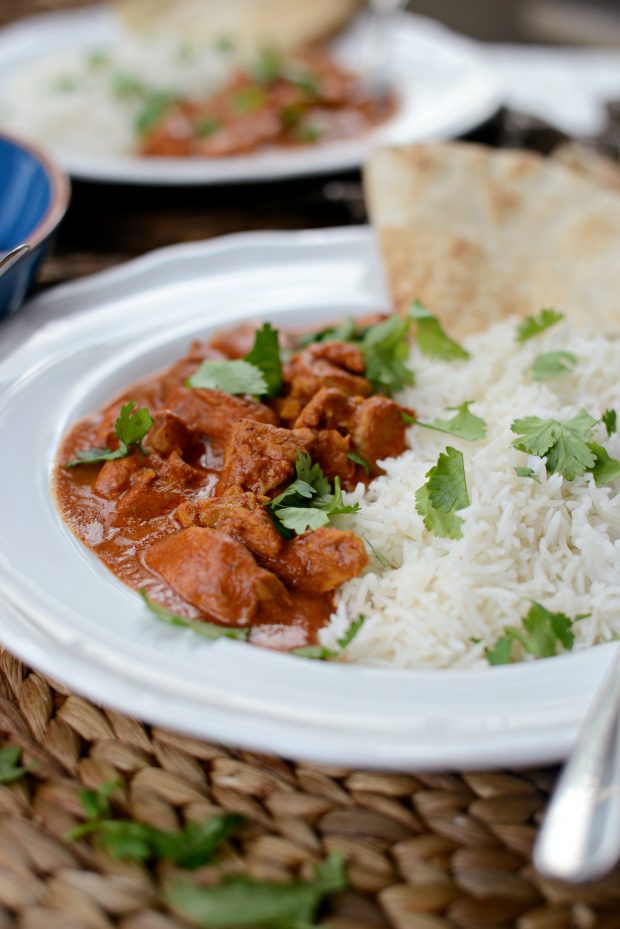 Serve next to coconut rice with pita (or naan) and brace yourself for the best food coma of your life.
The sauce is SO FLAVORFUL! Sorry for the shoutty capitols but the flavor is out of this world. A wonderful homemade version of a classic.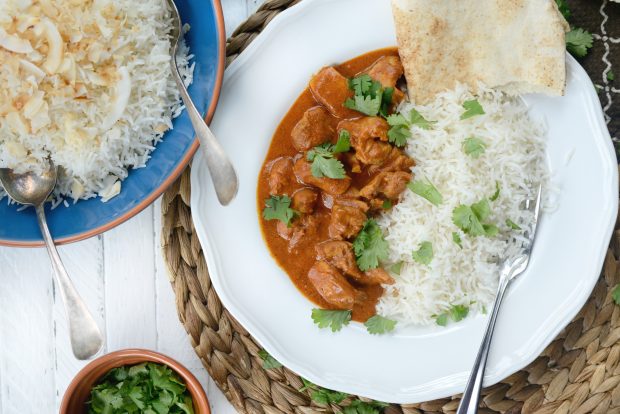 My cookbook Simply Scratch : 120 Wholesome Homemade Recipes Made Easy is now available! CLICK HERE for details and THANK YOU in advance!
Recipe adapted from Food.com [this post contains affiliate links]
This post may contain affiliate links.
Buy the Cookbook: Simply Scratch : 120 Wholesome Homemade Recipes Made Easy Now available on Amazon »
THANK YOU in advance for your support!