Shish tawook, chicken taouk, or Lebanese marinated chicken kebabs or heaven on a stick.
Lebanese cuisine is at the tippy-top of my favorites. Not only because it tends to be healthful, but also you'll find robust spices, lots of lemon and there's usually tons of garlic involved. Which translates to delicious flavor injected into the recipes and the food. And let's be real there's that garlic sauce!!!  
In my tawook recipe, I marinate bite-size pieces of both (boneless and skinless) chicken thighs and thin-cut chicken breasts in fresh squeezed lemon juice, lots of garlic and a plethora of spices. After marinating, the chicken is then threaded onto wooden skewers and grilled.
The smell coming off of your grill is spectacular. I swear I could feel my neighbors peeking at me from out of there windows and from around the corner on their back decks. They're probably wondering "why in the heck  is she taking pictures while grilling?"… but I'm pretty sure the mouth-watering smell brought them out in the first place.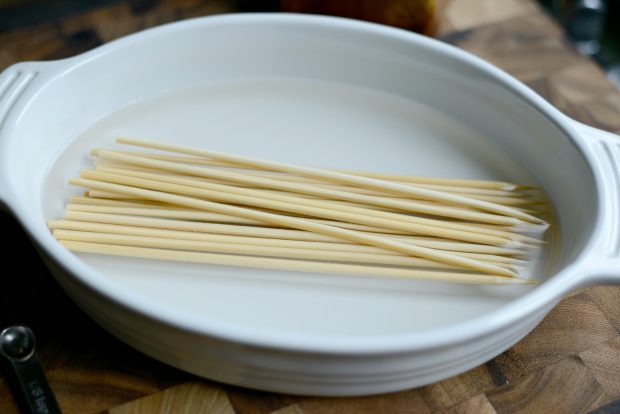 First thing to do is soak your skewers, if using wooden bamboo ones. Metal skewers, obviously wont need it… but bamboo do. Soak for at the very least 45 minutes to 1 hour. Water soaked skewers are less likely to catch fire on the grill.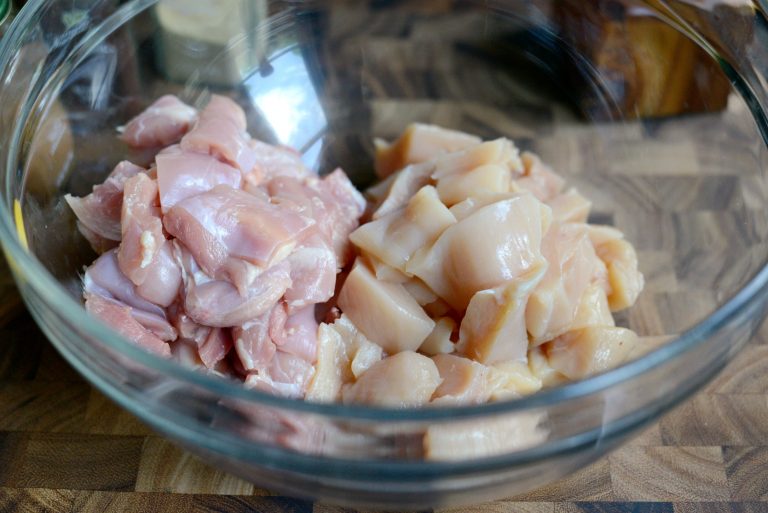 Start by placing 1 pound of each boneless and skinless chicken thighs and thin-cut breasts into a large bowl. I use thin cut chicken breast because when it's cut into bite-size pieces it's the same thickness as the thighs.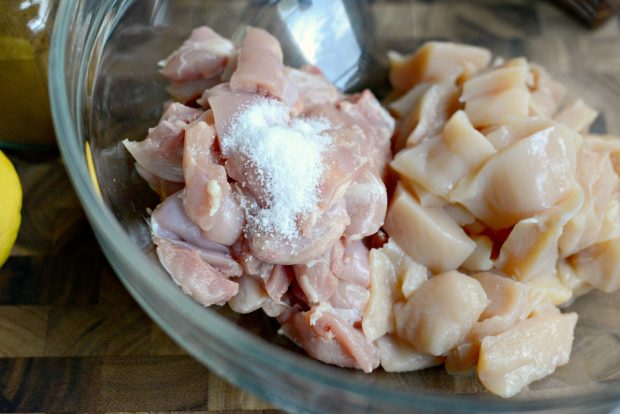 Season with 1 teaspoon kosher salt…
…1 teaspoon ground cardamom…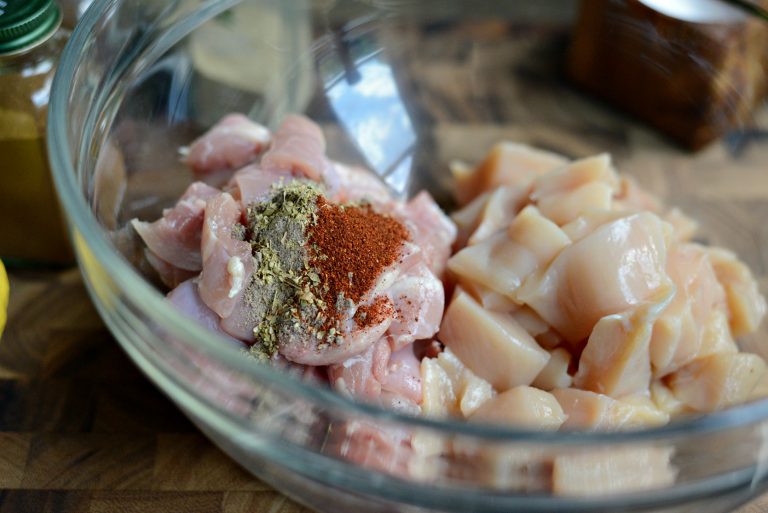 …1/2 teaspoon dried oregano and paprika…
…1/2 teaspoon ground sumac berries and 1/4 teaspoon of both ground cinnamon and white pepper.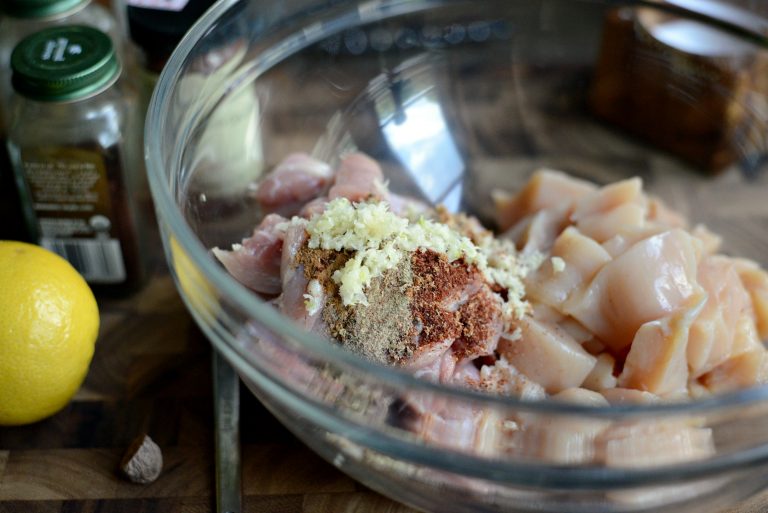 Then grate in 4 medium-ish cloves of garlic. Grating garlic is the best way to get garlic into a dressing or marinade. Whereas mincing garlic leaves you with larger  pieces of garlic that will burn up or fall off the chicken, grated garlic sort of melts into the dressing or marinade and sticks to the meat better.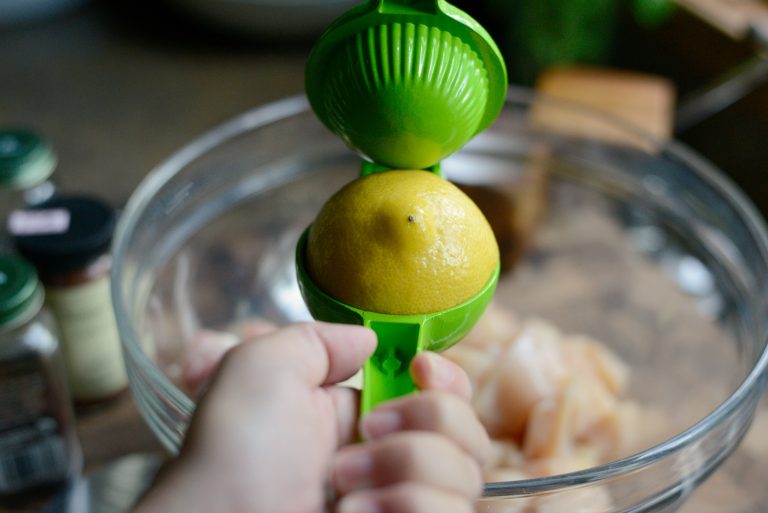 Squeeze the juice from a large and juicy lemon. It almost doesn't fit in my juicing contraption.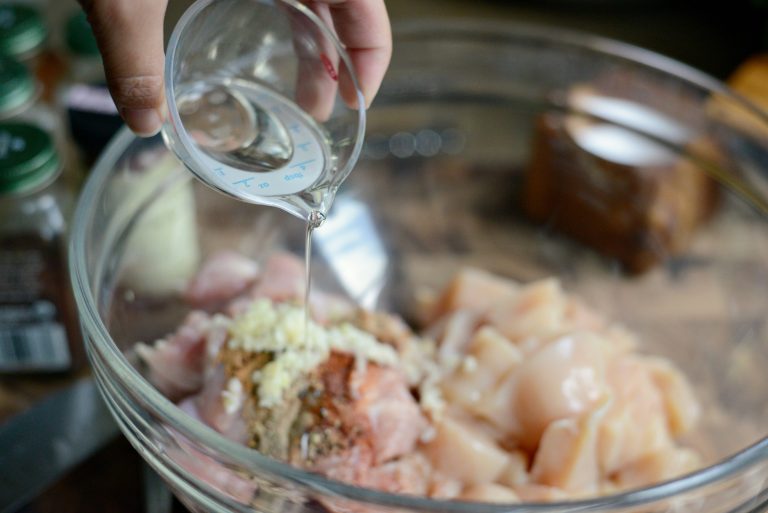 Lastly, add in 2 tablespoons of safflower, sunflower or extra light olive oil. Any high-heat safe oil will work.
Then use tongs to toss and combine. Cover and marinate on the counter top for 20-30 minutes.
Then drain the water from your skewers, and thread! I alternate thigh and breast meat so that each skewer gets a little of each. Plus my OCD brain won't allow it any other way.
Place on your grill that is HOT and has been preheated to medium-high. Once the chicken are on the grill, I reduce the heat to medium and cook, rotating the skewers until fully cooked, which is anywhere between 5-8 minutes. A hot grill will cook these quickly and give you good grill marks, just remember to turn it to medium to avoid over cooking or burning. And watch those skewers! There's still a chance they will catch fire even if they've been soaked, so don't venture too far from the grill.
Glorious!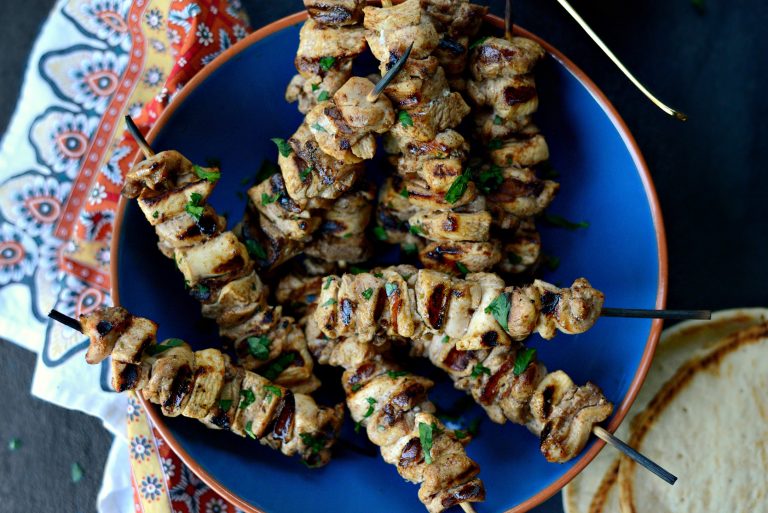 As you can see, the ends of some of my skewers still caught fire and some just blackened. It happens.
However, the chicken is perfect. Which is the most important part amiright? It's moist, flavorful and so darn easy! You now have a few choices on how to serve this; you can either slide the grilled chicken off of the skewers (once cooled, of course) and dunk into garlic dip and eat, or place the chicken pieces on warm pita bread and top with tomatoes, cucumber and onion for a sandwich. OR top a veggie-loaded salad with it… which is what I tend to do most often.
Shish tawook, I heart you.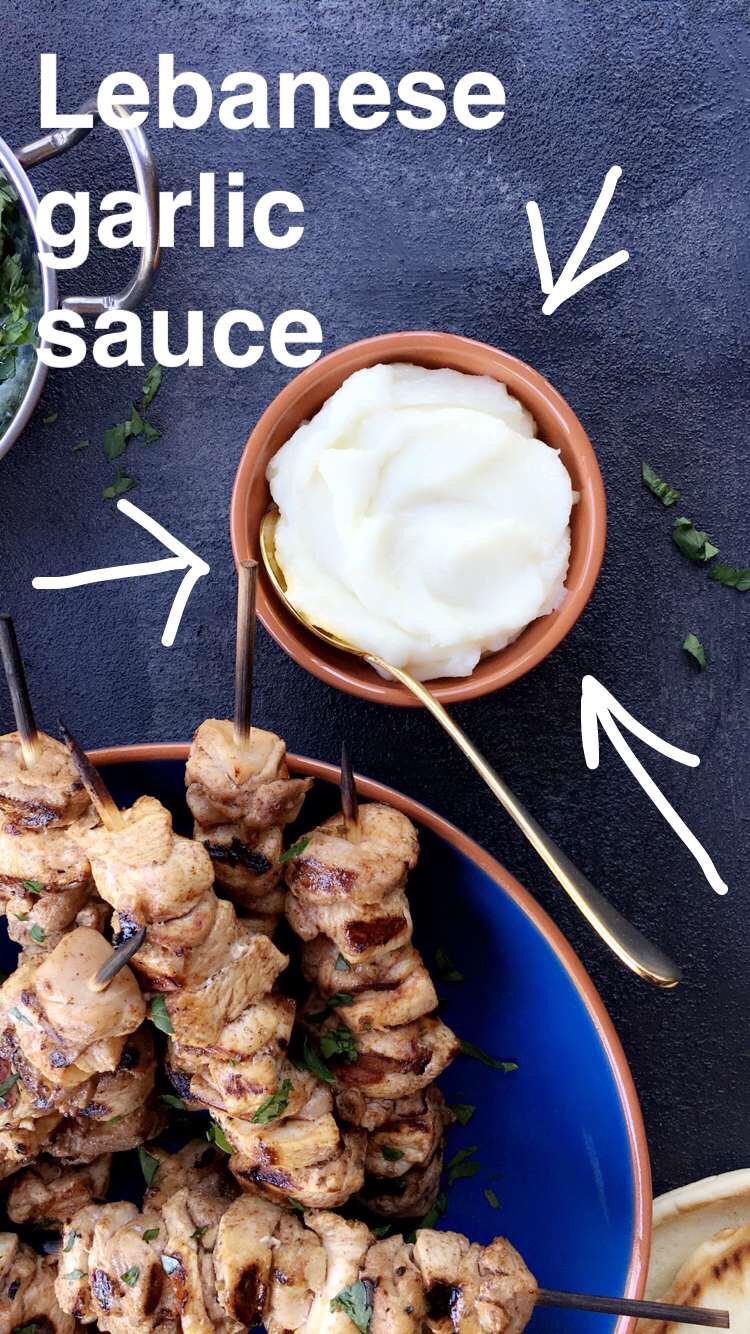 Check back tomorrow where I'll be sharing with you how to make Lebanese garlic sauce (aka toum)! You DO NOT want to miss this!
Try this shish tawook in my Chicken Tawook Salad!
Enjoy!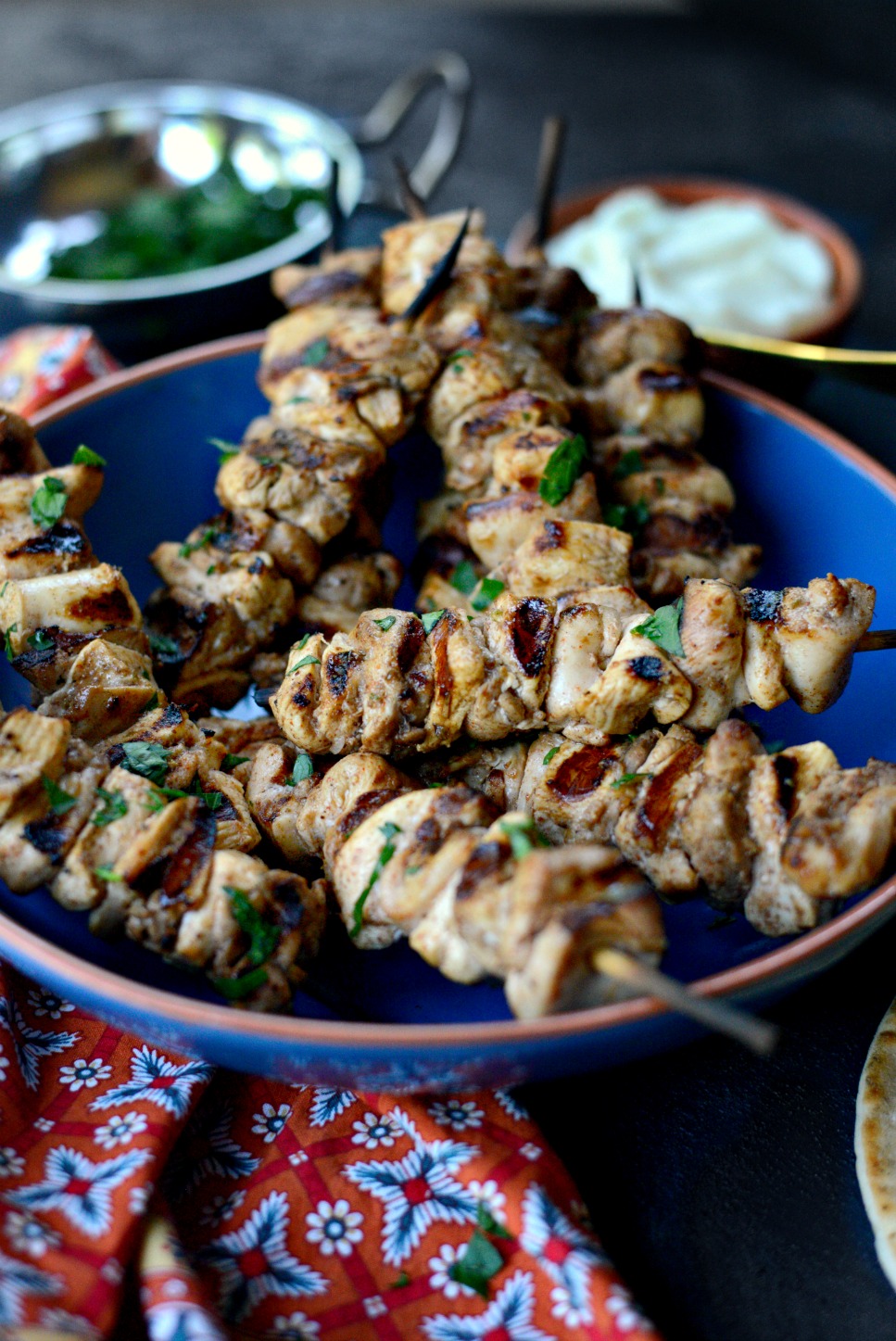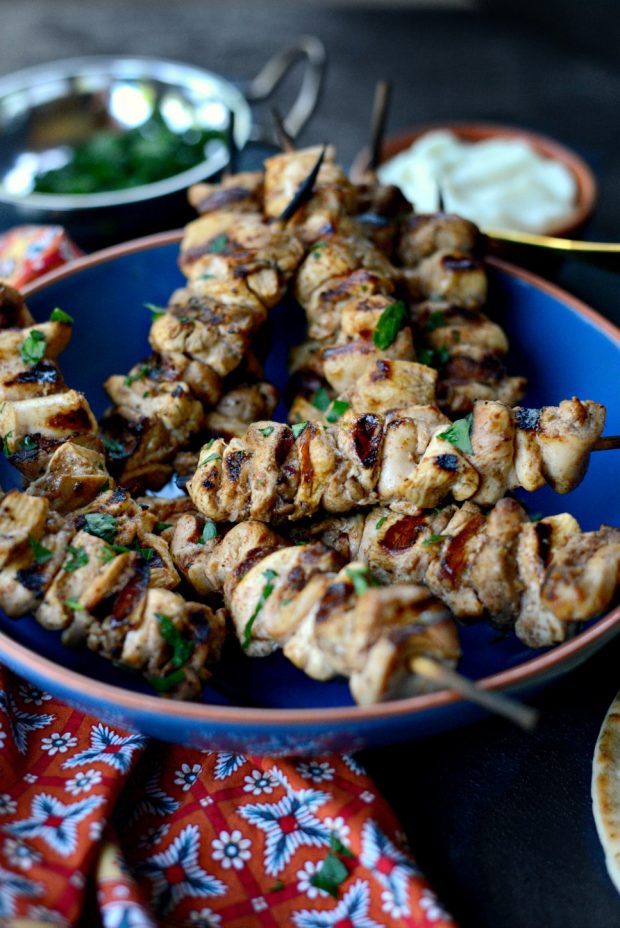 My cookbook Simply Scratch : 120 Wholesome Homemade Recipes Made Easy is now available! CLICK HERE for details and THANK YOU in advance! 
This post may contain affiliate links.
Buy the Cookbook: Simply Scratch : 120 Wholesome Homemade Recipes Made Easy Now available on Amazon »
THANK YOU in advance for your support!