Chicken tawook salad is loaded with seasoned grilled chicken, vegetables, toasted pitas, Lebanese garlic sauce and drizzled with a lemon sumac dressing.
This chicken tawook salad is an exact replica of the one I order from my favorite Middle Eastern restaurant.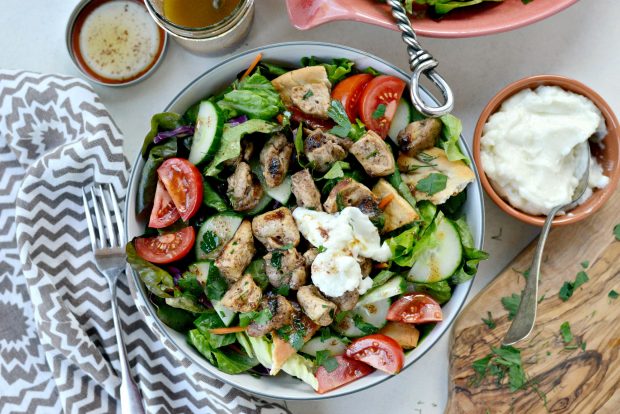 Two of my sisters, Kelly and Julie turned me on to this salad and it's so unbelievably delicious. It has a rainbow of vegetables and the warm chicken pieces on top with the cool salad is my absolute favorite thing. It's just SO SO GOOD! I think part of it has something to do with the amazing dressing and the other part is that garlic sauce. And of course the toasty pita pieces are too shabby either.
Since there is not a La Marsa in Virginia where Kelly lives, 9 times out of 10 we order it when she's in town. Usually whomever is closest to the restaurant picks up the order and in no time we are all blissfully drunk on chicken shawarma wraps, chicken tawook salad and garlic sauce.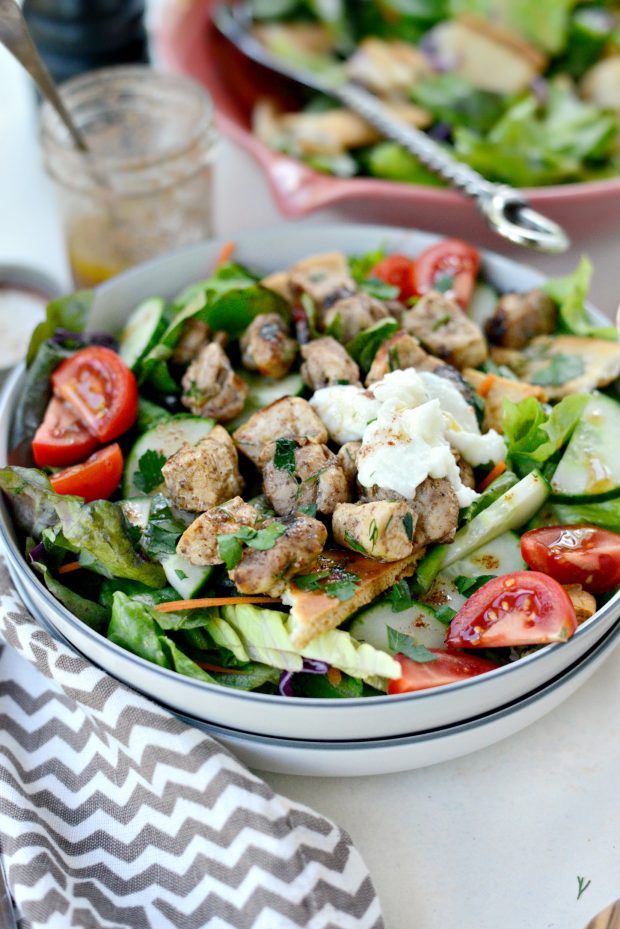 Since I've done so much talking about Chicken Tawook last week, I decided to share with you my recipe for my favorite way to consume it.
The Salad Breakdown: Leafy salad greens, carrots, cabbage, fresh dill and parsley, cucumber, onions, tomato, broken pieces of toasted pita and grilled pieces of chicken tawook. A dollop of that amazing garlic sauce and a drizzle of lemon sumac dressing seals the deal.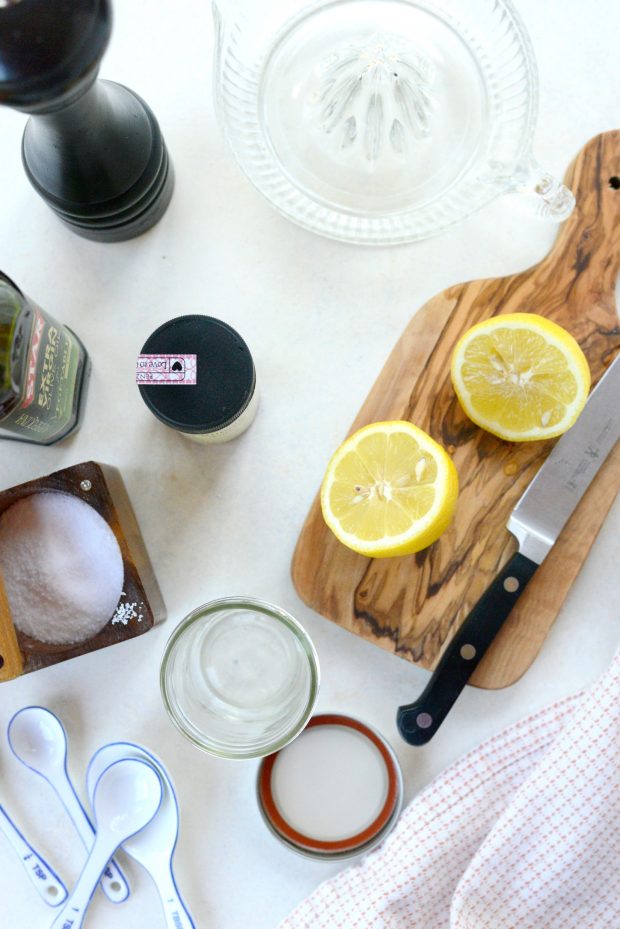 This dressing is literally 5 ingredients: Sumac, salt and pepper, lemon juice and olive oil.
If making my fattoush salad, then I grate in a 1/2 to a whole garlic clove. This salad does NOT need any more garlic so that's why I left it out.
Freshly squeeze a large lemon to get 2 tablespoons of juice, give or take.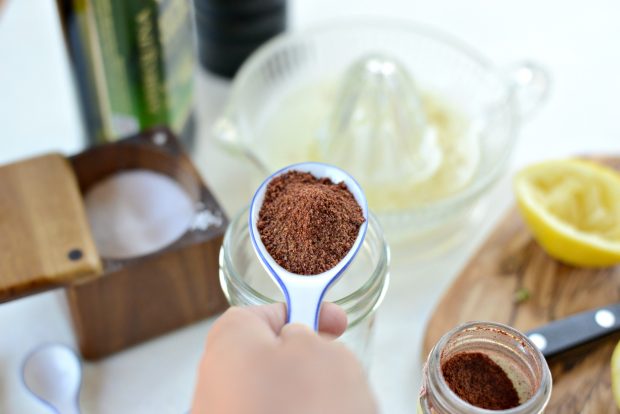 Into a small glass jar or container with a tight fitted lid; add in 1 heaping tablespoon of ground sumac berries. I get mine from Penzey's Spices.
Season with two pinches of kosher salt and coarse black pepper. This is done to taste and I don't use precise measurements.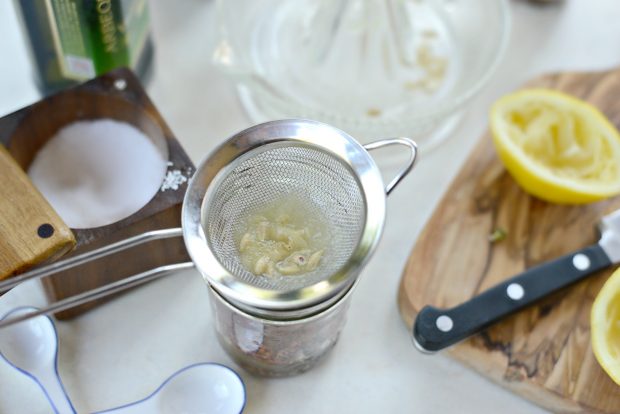 Pour the lemon juice through a strainer to catch the seeds…
…and then add 1/4 cup of olive oil
And secure the lid. #saladdressingart <—- it's trending. 😉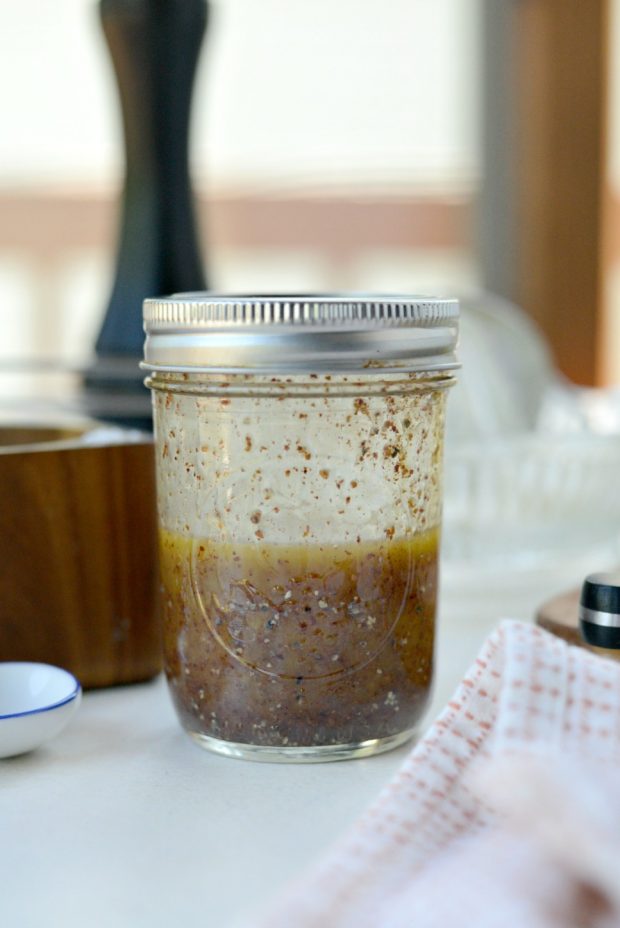 And shake until combined.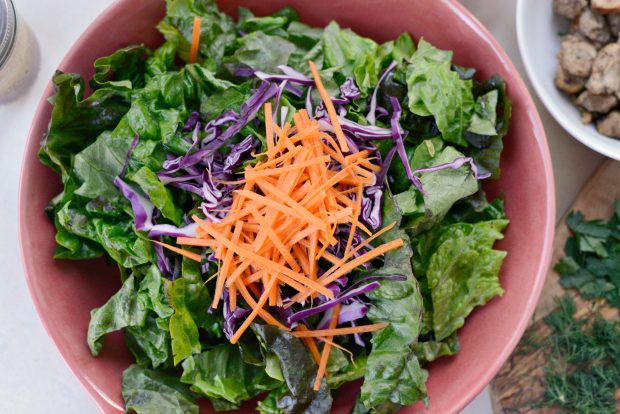 For the salad, I toss together chopped romaine, red leaf lettuce, carrots and cabbage…
Fresh dill and parsley (I love fresh herbs in my salad!)…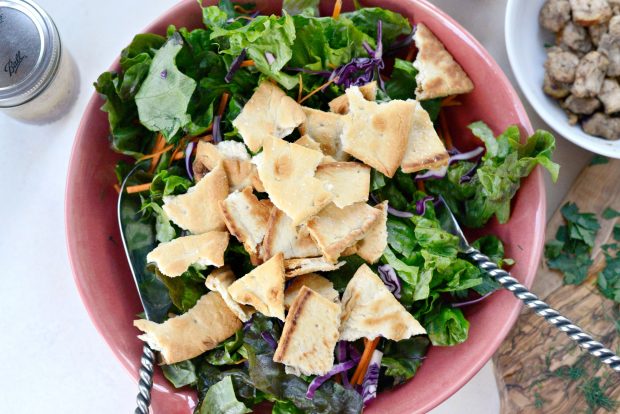 And of course, the toasted pita pieces.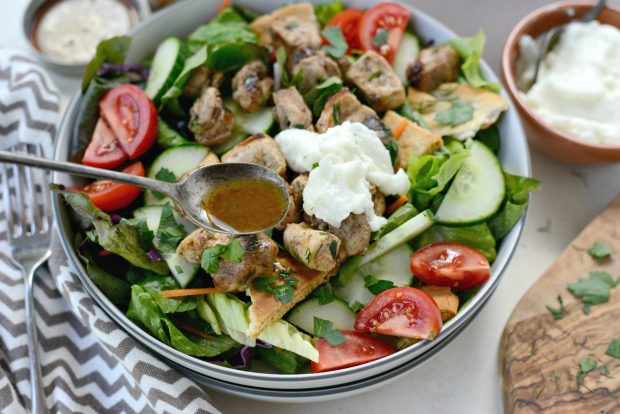 I then plate up the salad. Because we all like different toppings in my house, to my bowl/plate I add cucumber, onions, tomato and the pieces of grilled chicken tawook. THEN I add a dollop of garlic sauce and pour a little of that amazeballs (sorry, do people even say that anymore? Did they really ever?) dressing over top.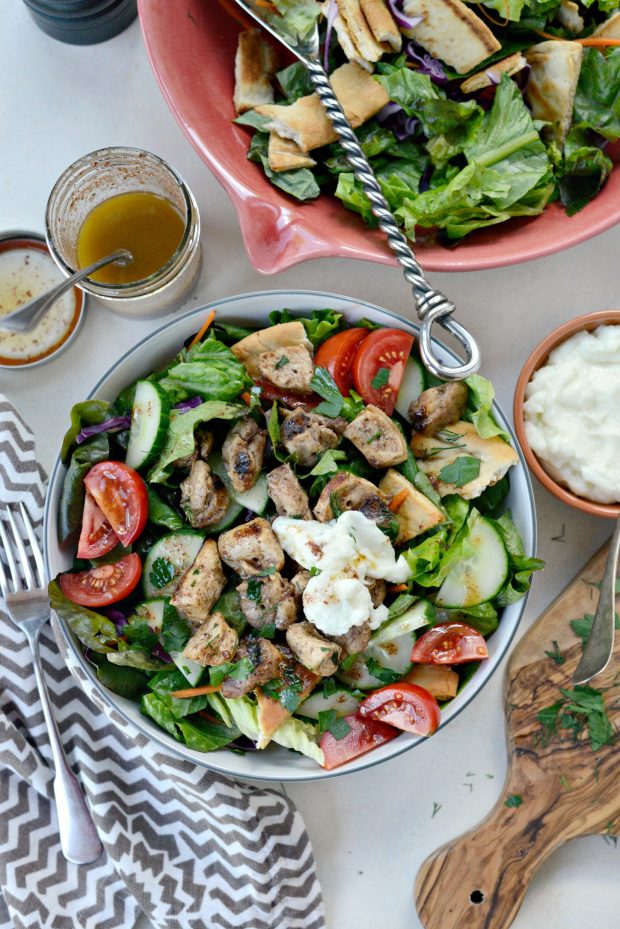 Toss the salad together so the garlic sauce mixes with the dressing and coats everything in this creamy luxuriousness.
This is the salad of summer 2k16.
Enjoy!
My cookbook Simply Scratch : 120 Wholesome Homemade Recipes Made Easy is now available! CLICK HERE for details and THANK YOU in advance! 
Chicken Tawook Salad with Lemon Sumac Dressing
My favorite way to eat chicken tawook is on top of a cool and crisp salad. The garlic sauce plus the lemon sumac dressing is the ultimate!
Yield: 4-6 servings (depending)
Prep Time: 30 minutes (not including tawook preparation)
Cook Time: 10 minutes (for pita chips)
Total Time: about 30 minutes
Ingredients:
FOR THE DRESSING:
juice from 1 large lemon (about 2 tablespoons)
1 tablespoon ground sumac berries
1/4 cup olive oil
kosher salt, to taste
coarsely ground black pepper, to taste
FOR THE PITA CHIPS:
3 pocket-less pitas, cut into triangles
light olive oil
kosher salt
FOR THE SALAD:
1 large head romaine lettuce, chopped
1 head red leaf lettuce, chopped
1 cup sliced purple cabbage
2 carrots, grated or julienned
1 heaping tablespoon of chopped parsley
1 heaping tablespoon of chopped dill
1 cup sliced red onion
1/2 and English seedless cucumber, sliced into half moons
5 Campari tomatoes, sliced into wedges
1 recipe Shish Tawook
Lebanese Garlic Sauce, for serving
Serve with Lebanese Garlic Sauce
Directions:
FOR THE DRESSING: In a small jar, add the sumac, salt and pepper, lemon juice and olive oil. Secure the lid and shake to combine.
FOR THE PITA CHIPS:
Toss pita triangles with oil and salt. Place in a preheated 400 degree oven for 8-9 minutes, rotating the pan half way. Remove, cool and then break into misshapen pieces.
FOR THE SALAD:
Toss lettuces, cabbage, carrot, herbs and pita pieces together. Divide salad on to plates and top with onions, cucumber, tomatoes and chicken tawook. Add a dollop of the garlic sauce and drizzle the entire salad with the lemon sumac dressing.