This Rainbow Fruit Salad has an assortment of favorite summer fruits tossed together with a bright citrus honey syrup. It's colorful and is great for brunches, picnics, barbecues and large gatherings!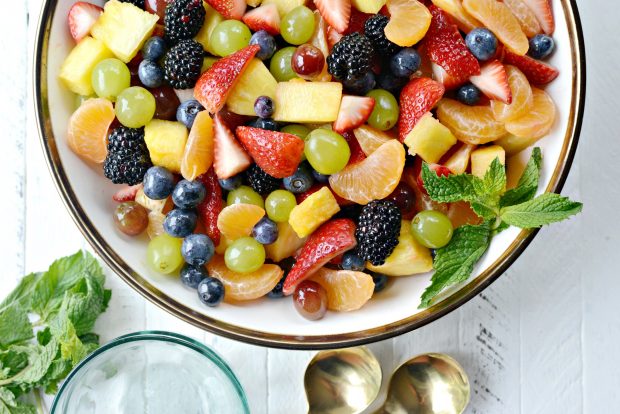 Last summer few of my closest girlfriends and our kids were gathering for a late morning brunch.
I was in charge of bringing the fruit so I went with my go-to fruit salad because next to pancakes, breakfast sausage, a cheesy-bacon-filled quiche and cinnamon rolls the size of your face, it was a bright and colorful addition to one fantastic meal. And the mimosas weren't too shabby either!
I've made a few fruit salads in my day, you may be familiar with this summery version, or this tropical one which is really a salsa but in the past I've cut the fruit into larger pieces and totally transformed it into a fruit salad. Then there's my personal favorite this fruit salad drenched in a white wine simple syrup (!!!) which is strictly for grown ups only.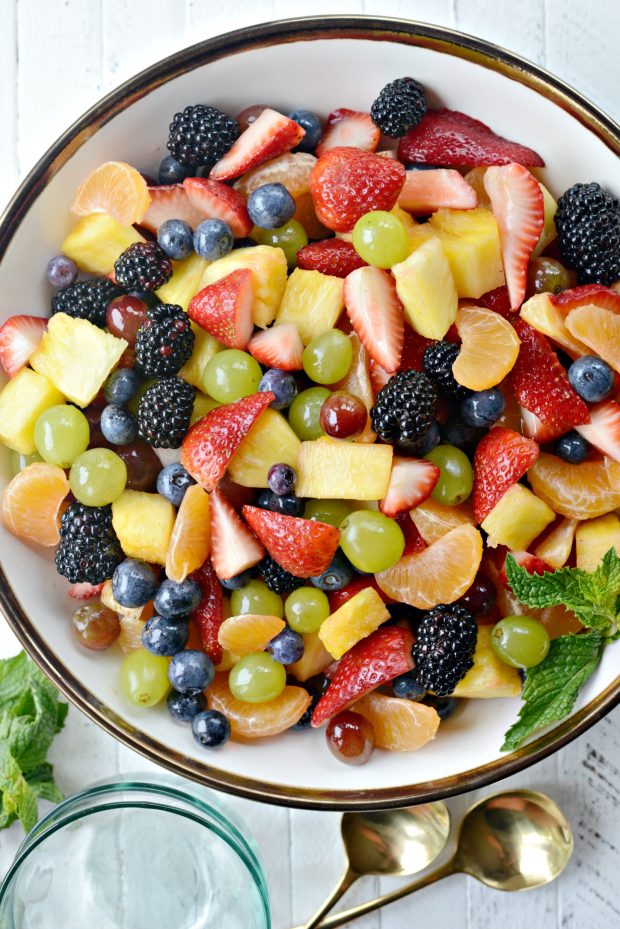 I only have a few rules when making a fruit salad.
The most important one, and I may get some slack for this, but absolutely NO bananas. They get slimy and mush up when tossed and may even turn a little brown, especially when the salad isn't tossed with a citrus syrup! I've even noticed that bananas are usually what's left in the bowl and on the plates of most adults and kids. IF you are a fan of bananas in your fruit salad, then don't let my words stop you. GO FOR IT! I'm just a picky gal who has a strong dislike of soggy (ie slimy) brown bananas.
Also, if you're using strawberries in your fruit salad, I make sure there's more strawberries than anything else. Especially when kids will be present.
The last rule is to make sure every color of the rainbow is represented… we eat with our eyes first do we not?
What I love most about this mega fruit-loaded salad (besides the rainbow representation, of course) is that it makes quite a bit. It served our brunch party well by feeding 4 adults, 3 teenagers and 4 little ones. The little was leftover was picked over by the teenagers and everyone loved it.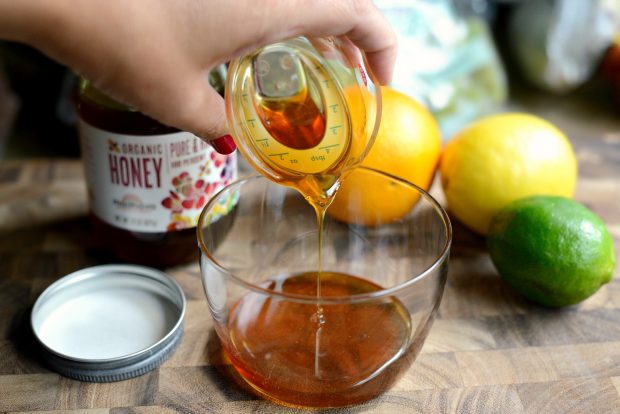 This citrus honey syrup couldn't be any easier.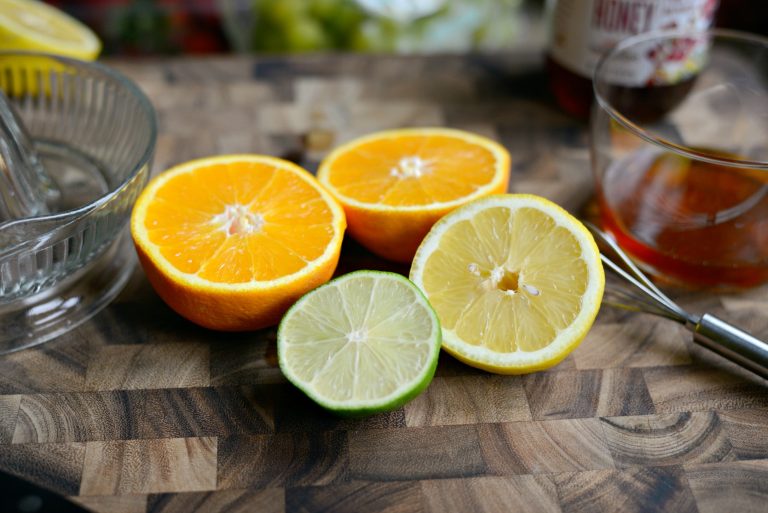 You will need 1 large and juicy orange and half of a (juicy) lemon and lime.
Juice them until you have 1/3 to 1/2 cup combined.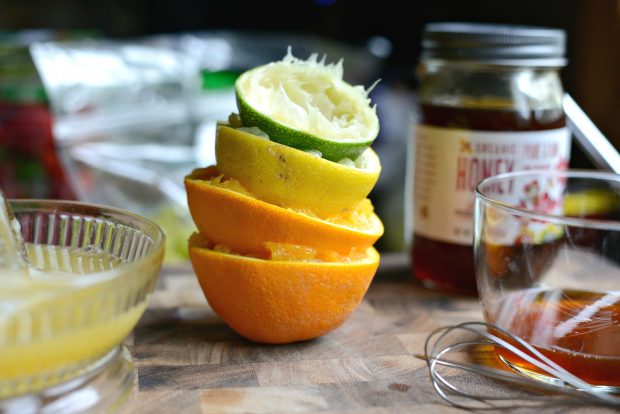 #citrusart
Pour the juices through a mesh strainer to catch the pulp and any seeds.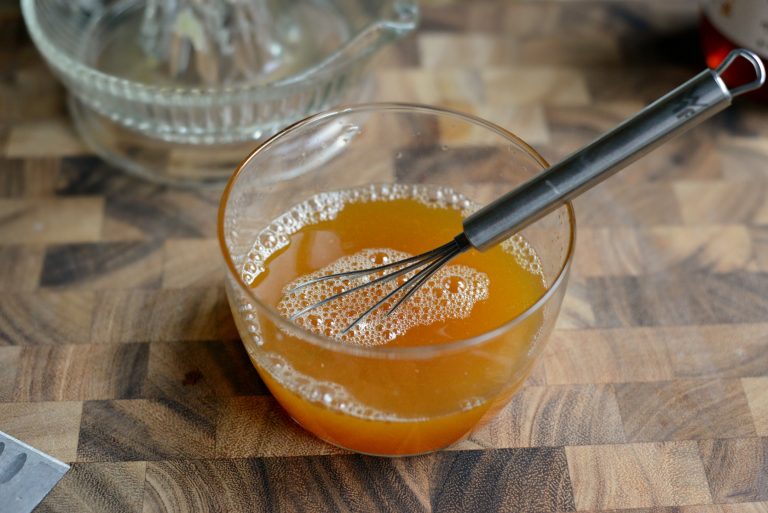 Whisk until the honey becomes one with the juice and set off to the side while you prep the fruit.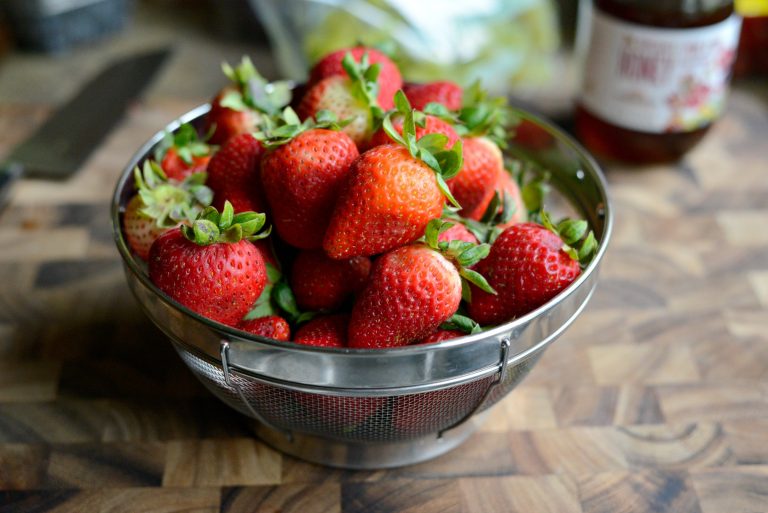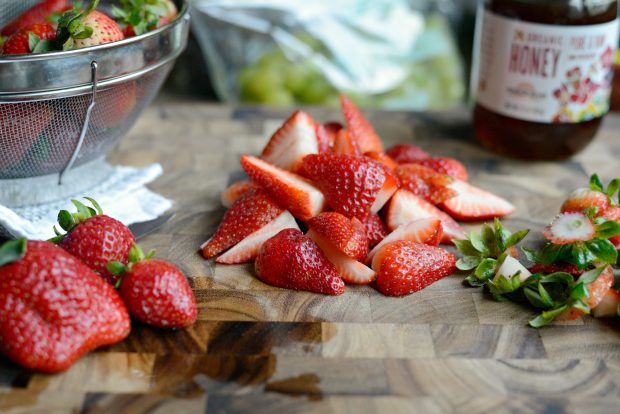 Rinse, core and quarter 2 pounds of fresh strawberries. Cut smaller strawberries in half.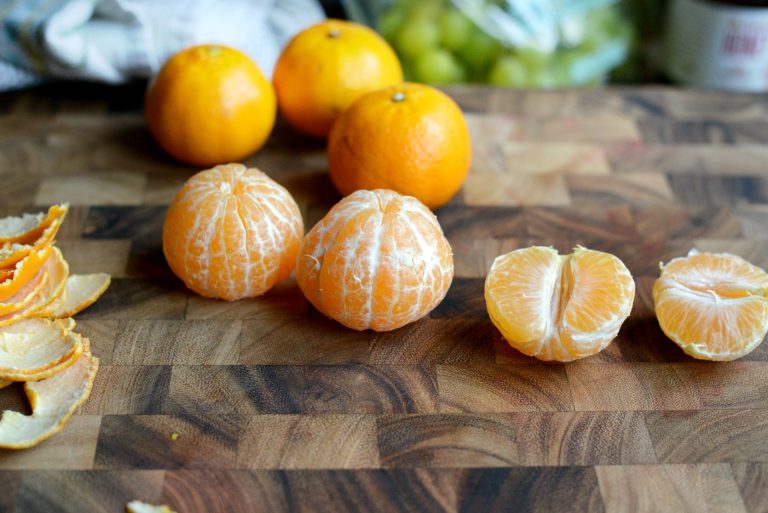 Peel 4-6 clementine oranges and separate into segments.
Cut up about a pound of fresh pineapple.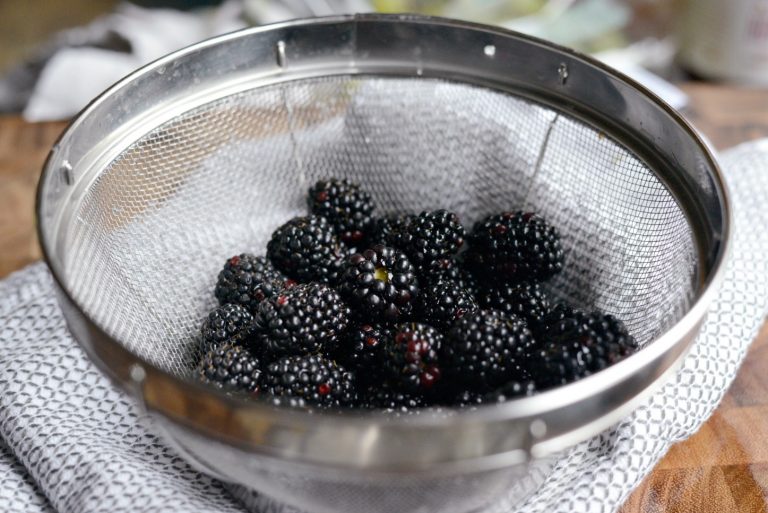 Rinse and add in a 6 ounces of blackberries.
And pint of blueberries.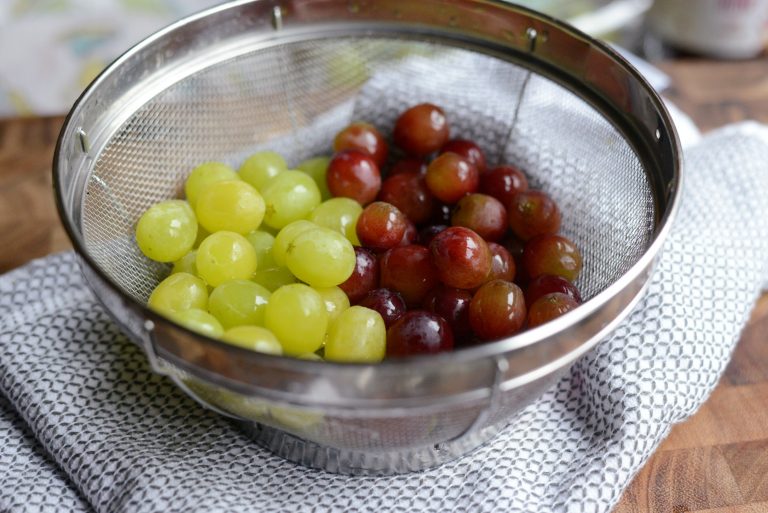 Along with about a 1/2 pound or more of both red and green grapes. I pick out smaller grapes so I don't have to cut them in half. <—-lazy.
Add all the fruit into a giant bowl and arrange in order of color. Kidding. Have I mentioned my OCD of colors?
Pour in a little or a lot of the citrus honey syrup right before serving.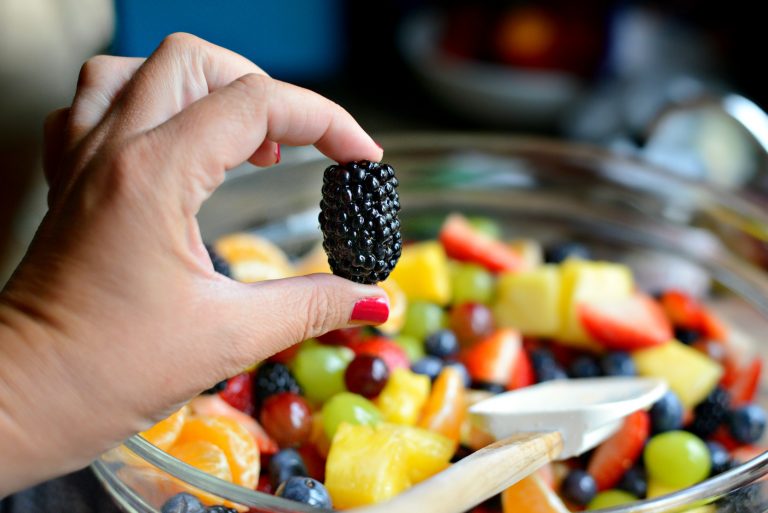 First let's take a moment and check out the size of this berry AND my wedding ring tan lines.
Good gracious.
Then use a rubber spatula to gently toss it all together. Snag a pineapple or two (really three) you know, to "taste test".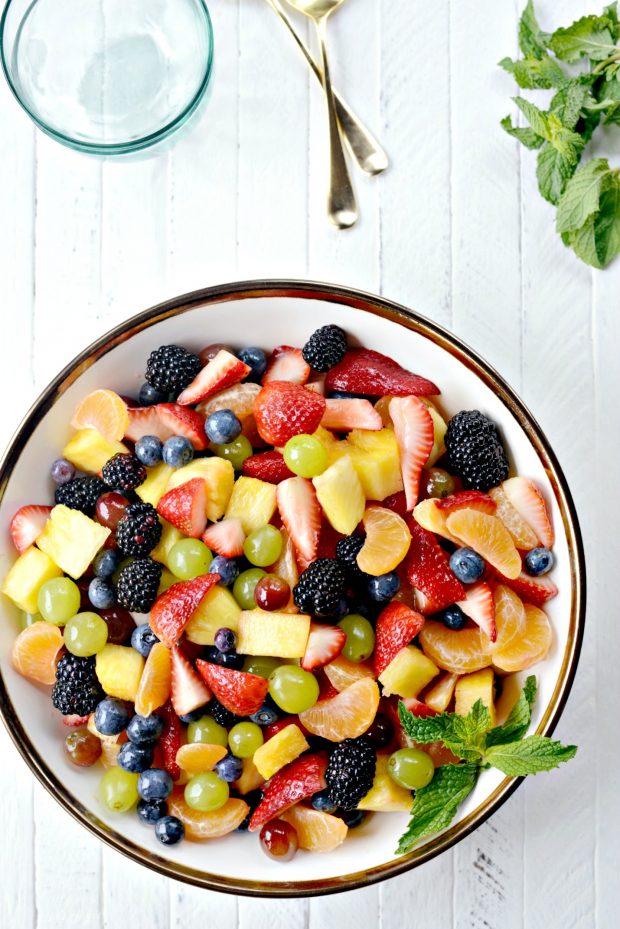 Serve in a large bowl with a sprig of fresh mint on the side. This rainbow fruit salad is guaranteed to be devoured! It's got all the best fruit, which for me that means no melon and bananas, and is super glossy and delicious tossed in that citrus honey syrup. My most favorite fruit salad EVER!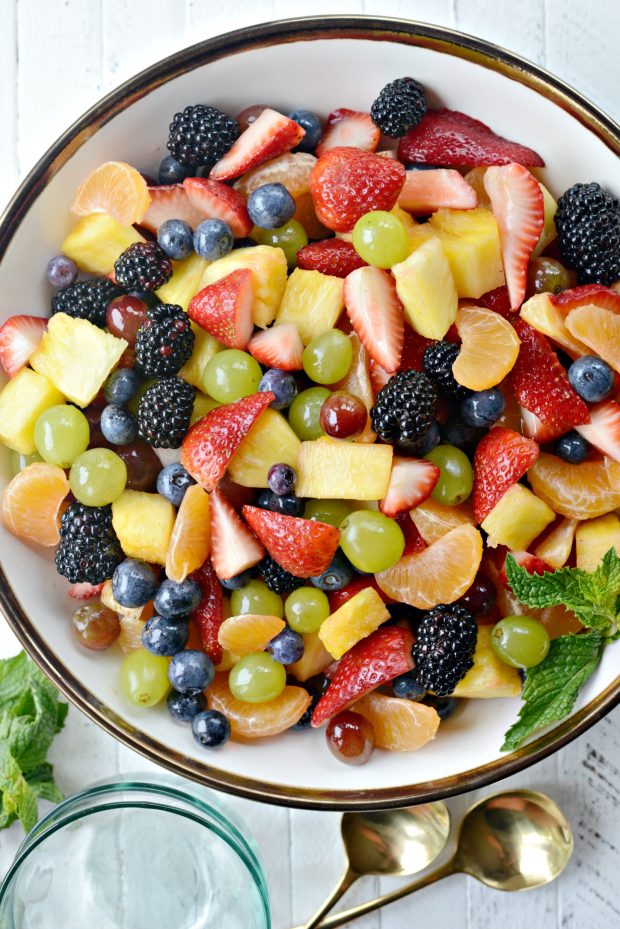 Want to make this salad for a wedding or baby shower?
I would suggest tossing the fruit together before adding the glaze. Divide the fruit among those cute disposable plastic cocktail cups and drizzle a little of the glaze over top.
Enjoy! And if you give this Rainbow Fruit Salad recipe a try, let me know! Snap a photo and tag me on twitter or instagram!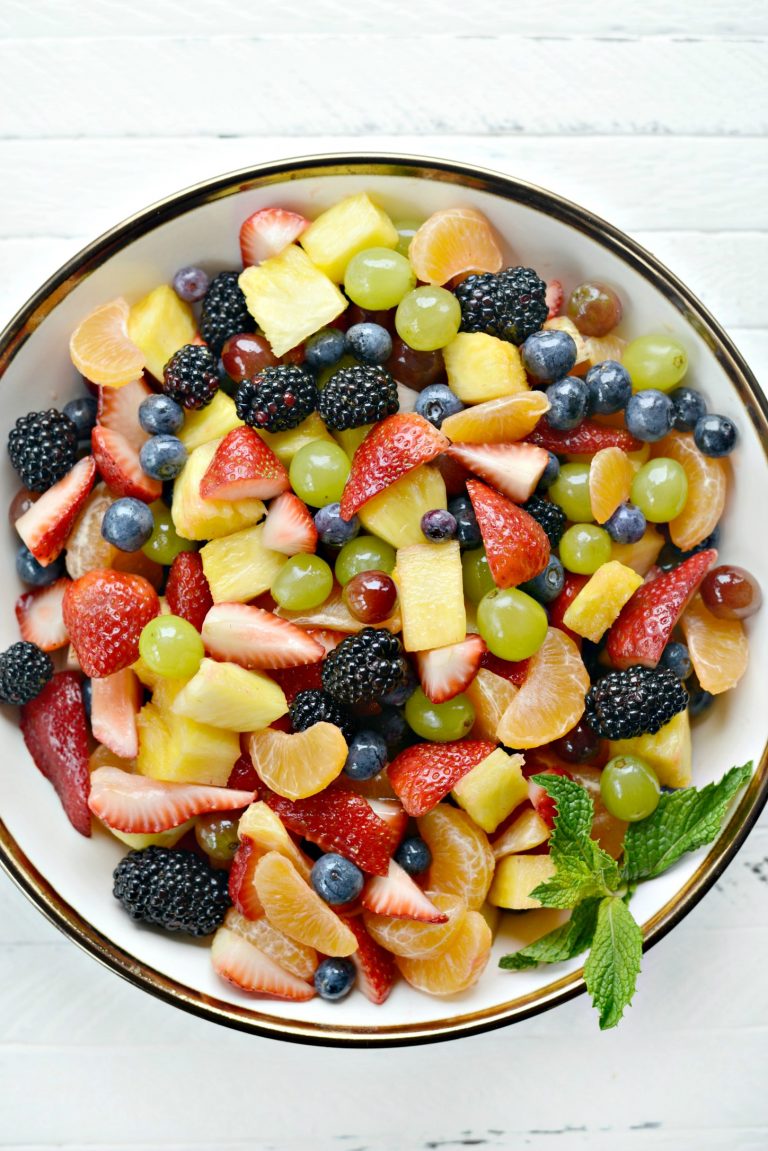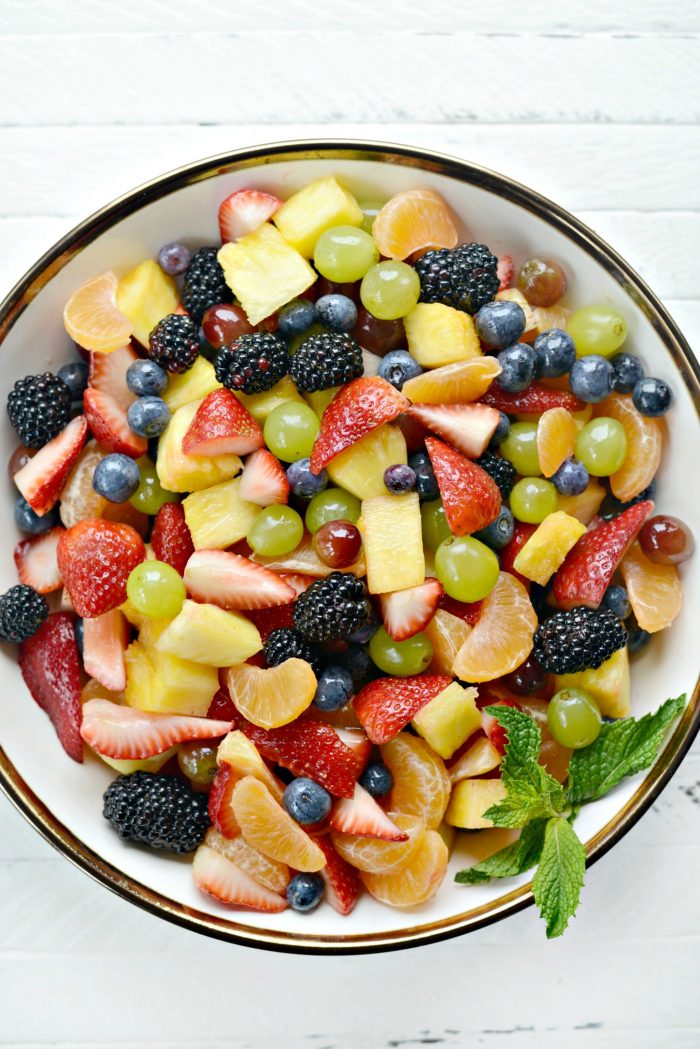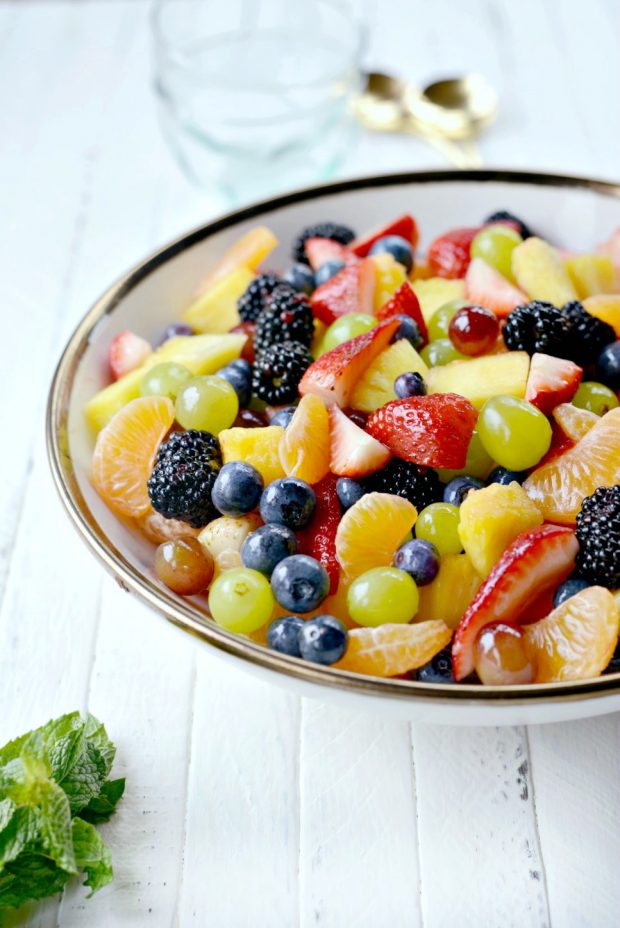 This post may contain affiliate links.
Buy the Cookbook: Simply Scratch : 120 Wholesome Homemade Recipes Made Easy Now available on Amazon »
THANK YOU in advance for your support!