Lebanese Garlic Sauce is a fluffy garlic sauce that is also know as toum. Use this delicious condiment as a dip, spread or whisk it into salad dressings.
Calling all my fellow garlic loving people! If you've had chicken shawarma wraps or dined at a Middle Eastern restaurant then there's a very good chance you've had this sauce.
The recipe behind this addictively potent and magical white garlic sauce has been a complete mystery in my family for years. Every single time we order from La Marsa (extra garlic sauce please!) it's the same thing : "How in the world do they make this?" or "What makes it so creamy?" or "I've heard that you use potato."
All questions will be answered in this "how to make Lebanese garlic sauce" post.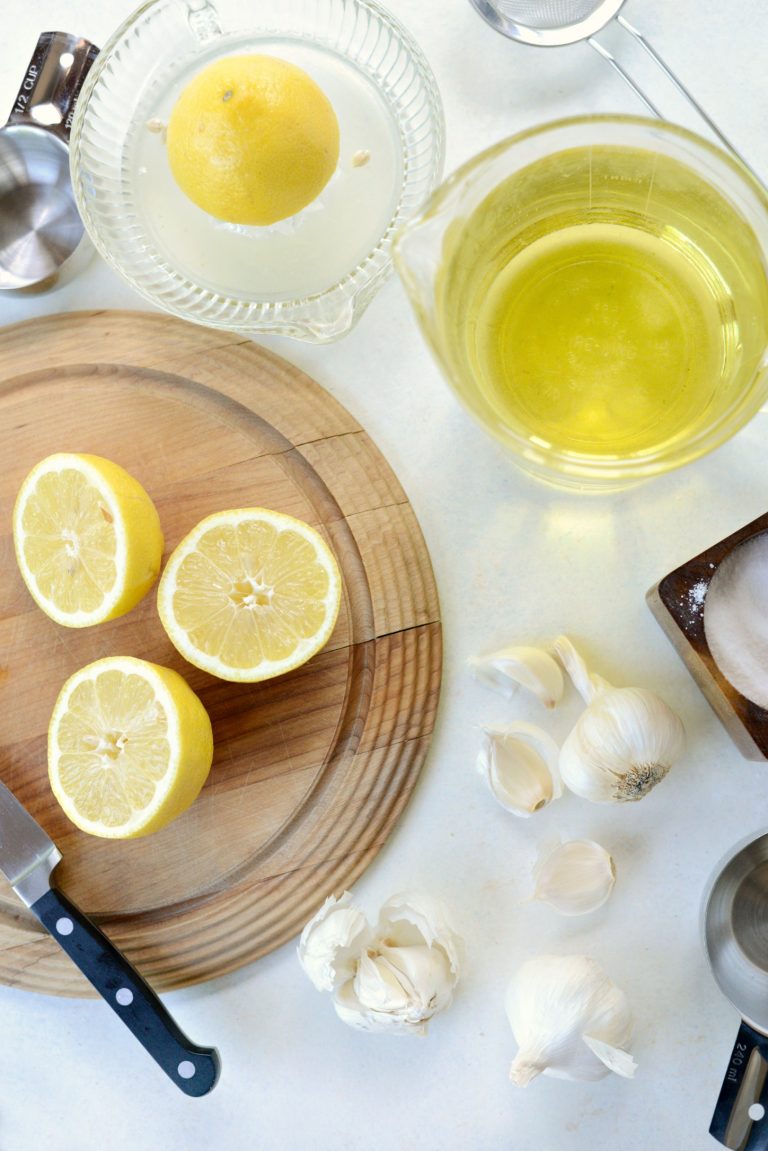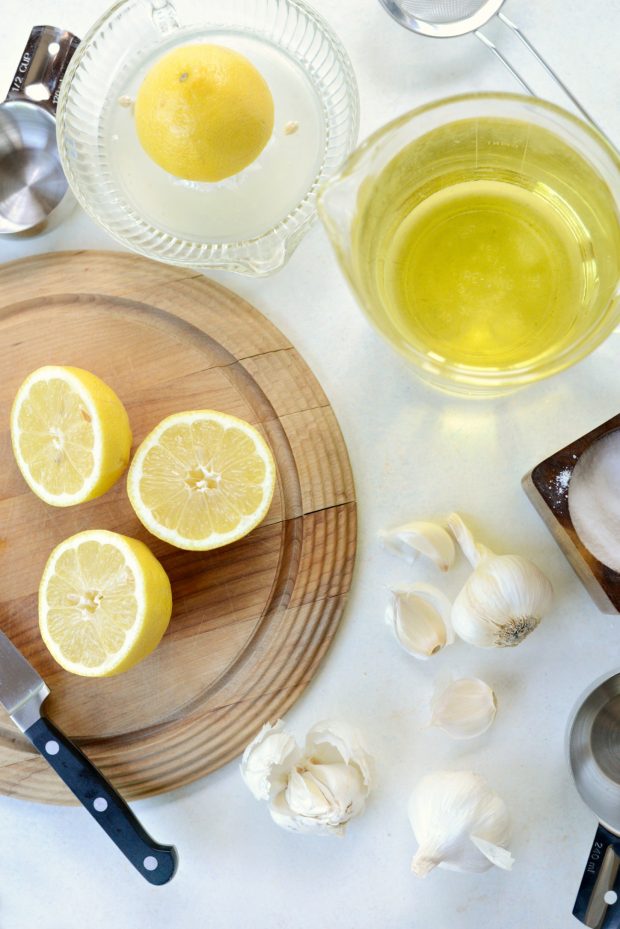 To Make This Lebanese Garlic Sauce You Will Need:
garlic
kosher salt
lemon juice
light flavorless oil (canola or grapeseed)
patience 😉
That's it. No potato or sour cream and mayonnaise as some may think. And it all happens by going slow, taking your time and creating an emulsion in your food processor. If you can make homemade mayonnaise, you can make toum.
First start with a cup of peeled, whole garlic cloves. Make sure the bulbs are firm with tight skins and do are not sprouting green shoots.
How to Peel Multiple Cloves of Garlic?
I have one of those silicon tubes for peeling garlic. However you can place all individual cloves of garlic into a stainless bowl with another stainless bowl over top (both rims touching) and shake. The peels should/will come right off. I have yet to try it, but after rolling 4 bulbs worth of garlic cloves I will definitely try it next.
Add 2 teaspoons kosher salt and the cup of peeled, whole garlic cloves to your food processor, fitted with the blade attachment.
When I was doing my research on this sauce, I watched several YouTube video tutorials and I remember one saying to make sure every tool and gadget is thoroughly dried and that there is zero water in your processor, on your spatula or measuring cups and spoons. Because water will not allow the emulsion of oil and lemon juice with the garlic.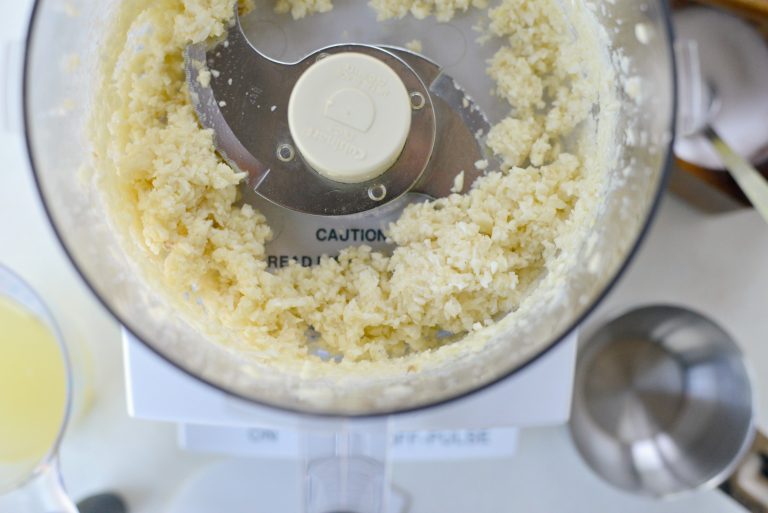 Then pulse until finely chopped.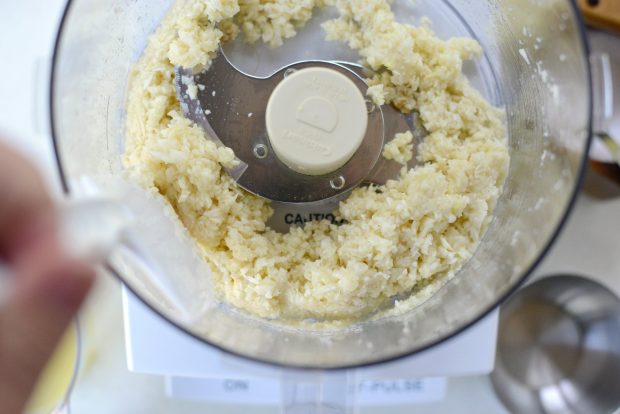 Next scrape down the sides with a spatula.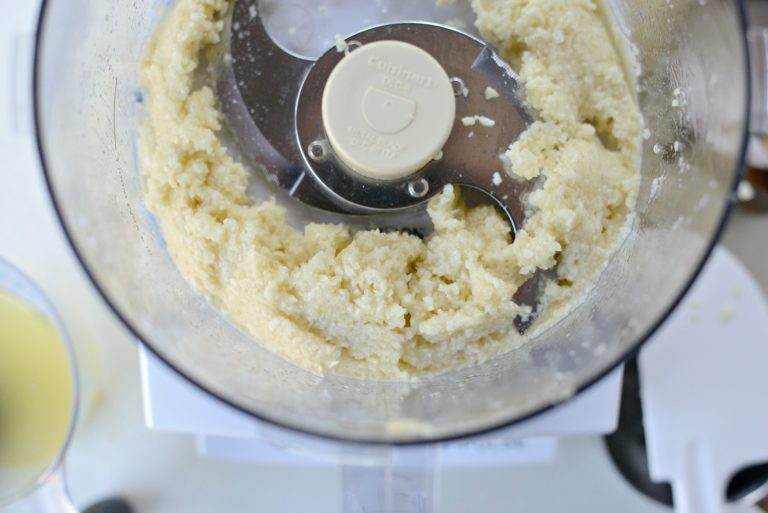 Secure the lid once more and pulse until finely minced, scraping down the sides one last time.
With the motor running, S-L-O-W-L-Y pour a half cup of grapeseed oil in a thin and steady stream into the processor.
Why grapeseed oil?
Well, truthfully, the thought of using 4 cups of any oil gives me the heebie-jeebies, so I went with an oil that is healthier. However, typically corn or vegetable oil is recommended, and will most likely yield a lighter and fluffier sauce. However grapeseed, light or extra light olive oil may be used. Keep in mind that the taste will still be delicious, but it may affect the overall texture or "fluffiness".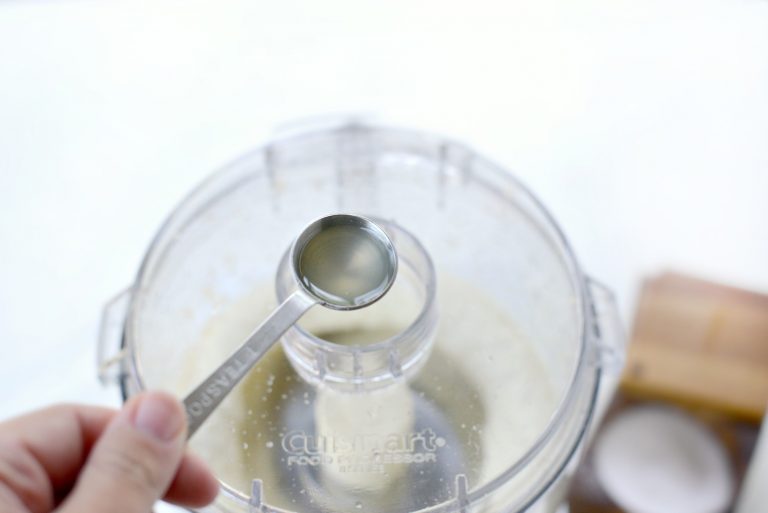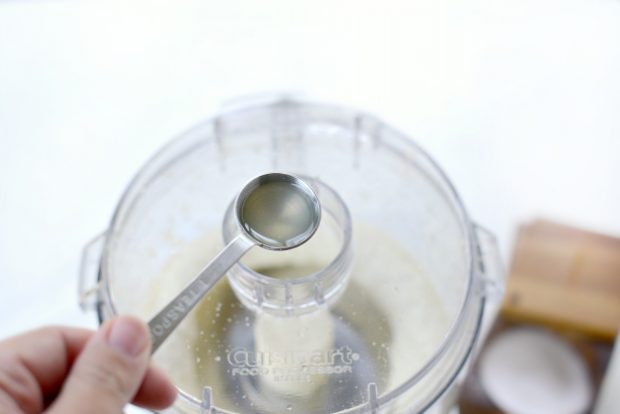 Allow the processor to continue to blend for 30 seconds before pouring in 2 teaspoons of freshly squeezed lemon juice.
Repeat these steps, going slow and not rushing adding in 1/2 cup (of oil) and then letting it run for 30 seconds before adding the 2 teaspoons of lemon juice. Keep alternating, scraping down the sides once in a while, until you've used up both the oil and lemon juice.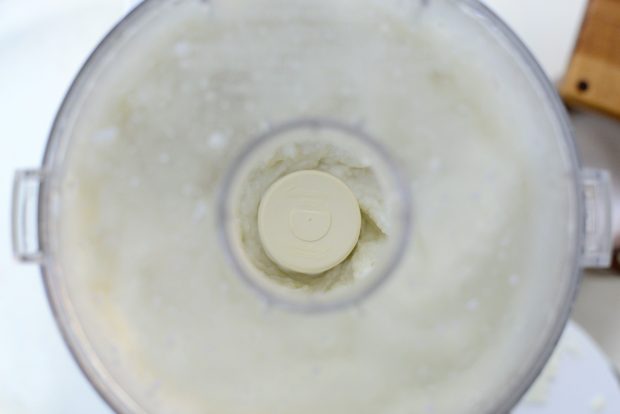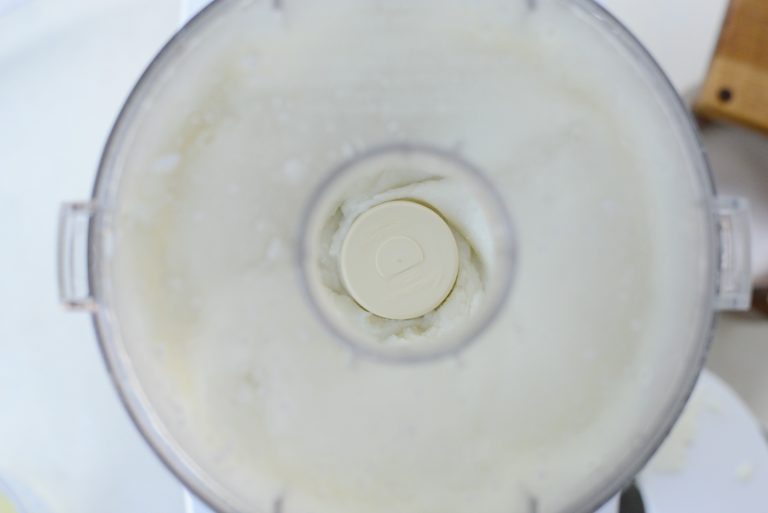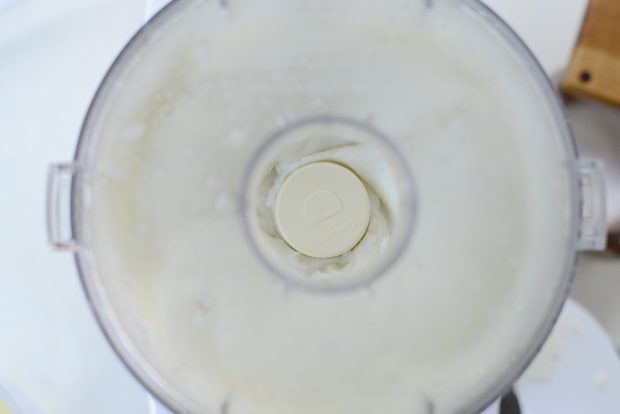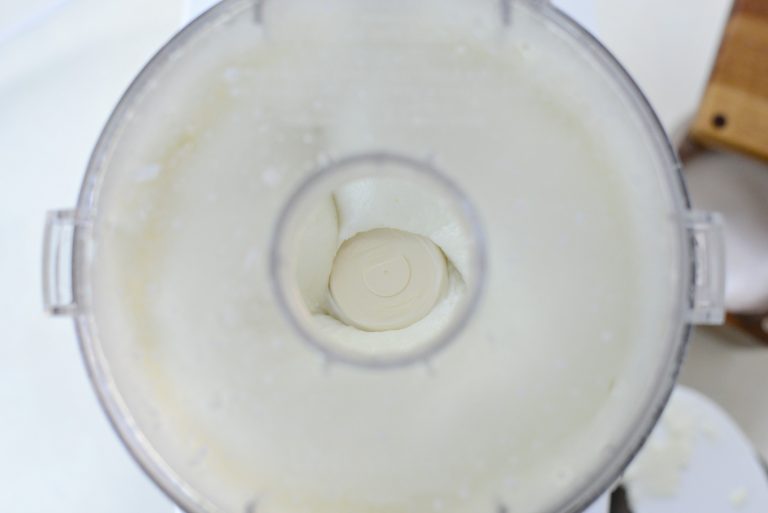 Once the oil and lemon juice is used, continue to blend for another 30 to 45 seconds until light and fluffy.
BOOM! Money.
It's incredible isn't it? Just salt, garlic, oil and lemon juice.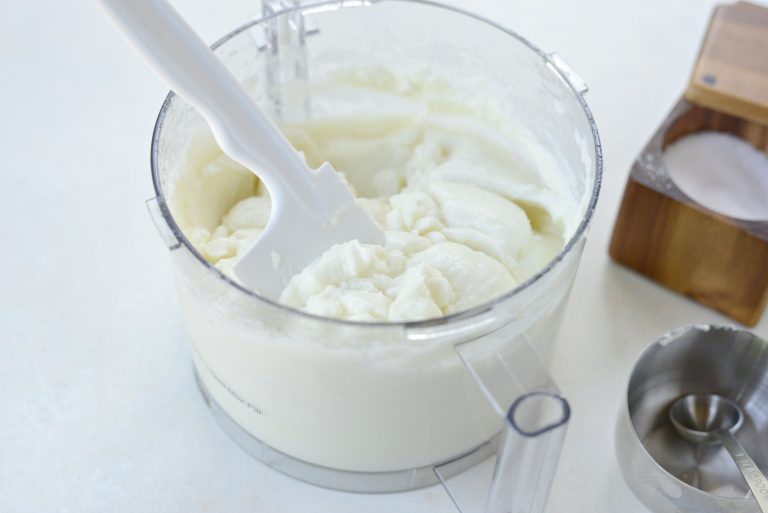 Pro Tip:
Make sure every tool and gadget is thoroughly dried and that there is zero water in the bowl or on the blade of your food processor or on your spatula, measuring cups and spoons. Water will not allow the emulsion of oil and lemon juice with the garlic.
Use fresh garlic! Bulbs that have sprouts coming off the top are not good! Use bulbs of garlic that are firm, with tight skins and are without blemish or green sprouts. For a less pungent garlic taste, remove the germ from the center of each clove of garlic.
How To Best Store Toum:
Allow the sauce to cool completely for an hour on the counter or until the sauce is room temperature and not warm whatsoever. You just don't want any moisture to accumulate on the lid of the container you're storing it in or the water could drip into the sauce and it could cause the garlic sauce to separate.
Cover and refrigerate for 1 to 2 months, or portion this up and freeze for up to 6 months and have garlic sauce whenever you wish. For best results, make a day in advance.
What to do if your toum or Lebanese garlic sauce breaks or separates?
Remove all but 1/3 cup or so of the sauce from the bowl of your food processor. Add in 1 egg white, secure the lid and process to combine. Add the remaining toum and process until thick and fluffy.
What To Serve With Toum or Lebanese Garlic Sauce?
You can serve this Lebanese garlic sauce with freshly baked pita bread, chicken shawarma or shish tawook. However there are dozens and dozens of ways to use this amazing garlic sauce.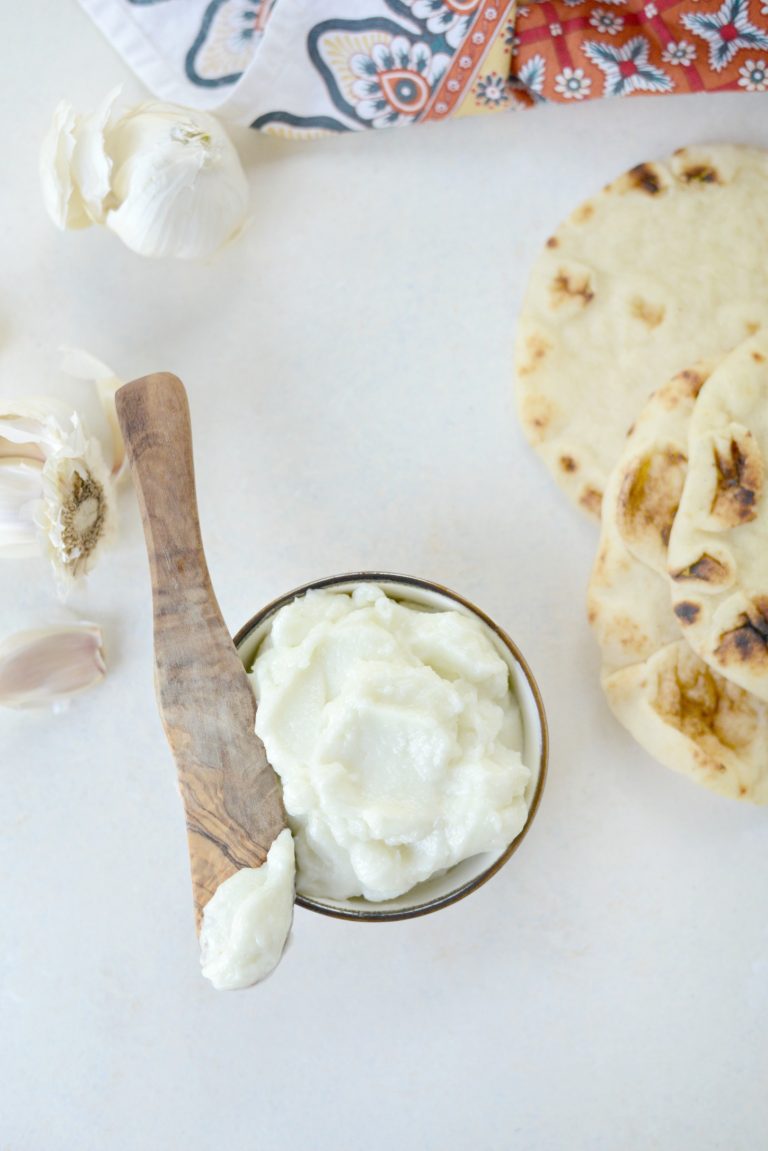 I do try to make this garlic sauce a day in advance. Because this will give it a chance to calm and mellow out a bit. Because this is a garlic sauce, so expect it to be potent. For a less pungent toum, remove the germ in the middle of each clove of garlic.
This Lebanese garlic sauce is crazy delicious and my entire family loves it.
Enjoy! And if you give this Lebanese Garlic Sauce or Toum recipe a try, let me know! Snap a photo and tag me on twitter or instagram!
This post may contain affiliate links.
Buy the Cookbook: Simply Scratch : 120 Wholesome Homemade Recipes Made Easy Now available on Amazon »
THANK YOU in advance for your support!