These colorful grilled shrimp spring roll noodle bowls are almost too pretty to eat. Almost. Healthy, light and full of flavor!
Almost.
Think spring roll turned noodle bowl. Let me explain.
I love sushi. From the fancy thinly sliced raw eel or salmon wrapped sashimi to the generic grocery store spring rolls. Gimme all of it. However, note that not all grocery store sushi should be created equal. Um, no. If there's a person there making it fresh right in front of your eyes, then your chances of delicious grocery store sushi are good. I'm picky (what? you didn't know?) and when living in the sticks there aren't a whole lot of places to get sushi, so I  only go to one grocery store to get my fix and I get the spicy California spring rolls every time.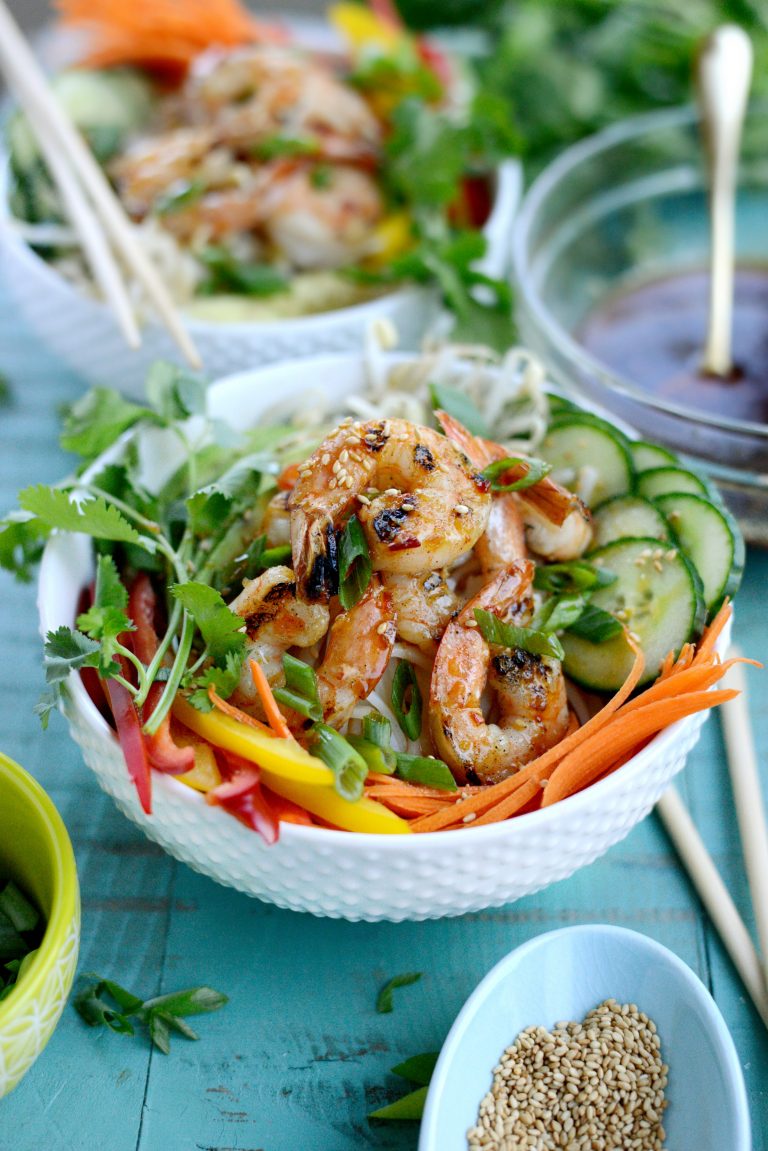 In those beloved California spring rolls are typically cucumber, avocado, carrot and crab, all wrapped in sticky sushi rice and nori. But I wanted more, MORE I tell you! So I sort of deconstructed the sushi roll and created a spring roll noodle bowl, upping the veggies, adding grilled shrimp and making a yummy and slightly spicy, gingery tamari based  saucy-dressing of sorts.
Warm grilled shrimp + cold crisp veggies = my current obsession.
Shall we?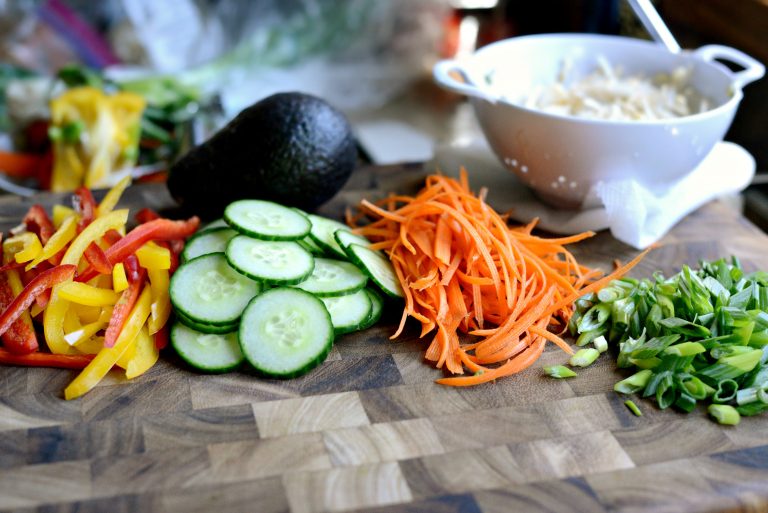 Prep all of the vegetables. Thinly slice the peppers and cucumbers, julienne thin strips of carrots, rinse off the bean sprouts and slice a few green onions on an angle.
Scoot these off to the side to make the dressing.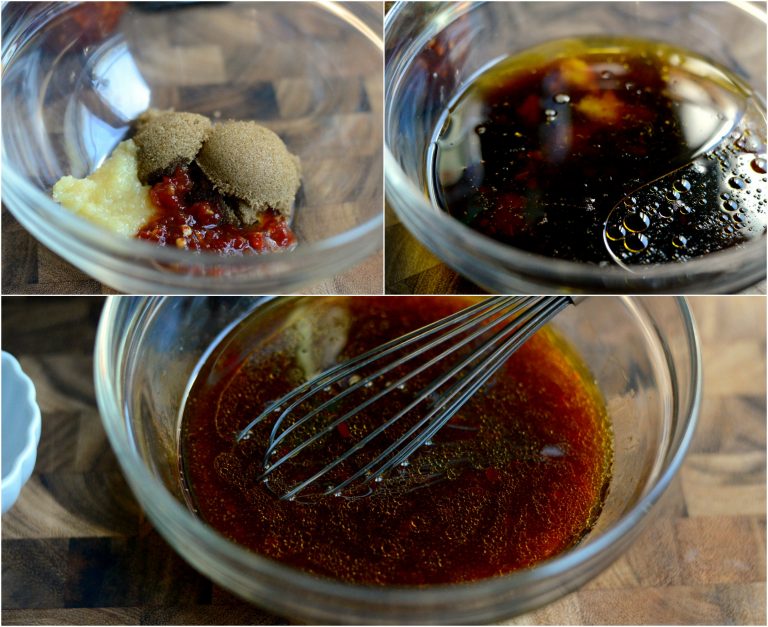 The dressing is SO good. It's a tamari-based sauce with slight kick from chili garlic paste and easy to whip together.
In a small bowl combine 3 tablespoons of dark brown sugar with 2 teaspoons of both grated ginger and chili garlic paste. Then whisk in 1/2 cup rice wine vinegar, 2 tablespoons low-sodium tamari, 2 tablespoons olive oil and 1 tablespoon fish sauce and a few splashes of toasted sesame oil. Once whisked, set it aside and grill up the shrimp.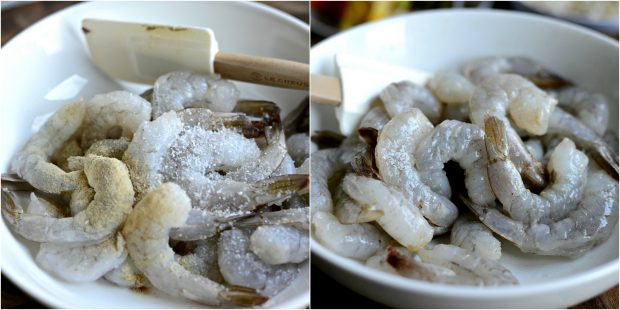 Toss a pound of medium sized shrimp in a tablespoon of light olive oil, a few pinches of kosher salt and ground white pepper.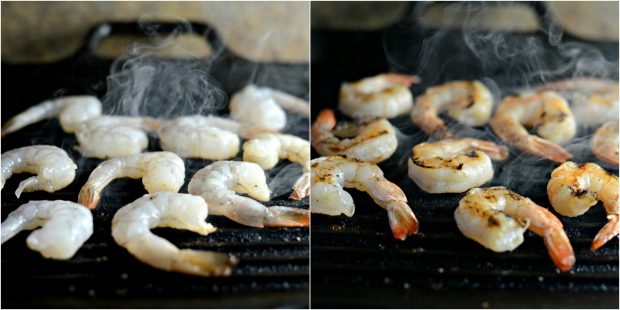 Heat a grill or grill pan on medium to medium-high heat. Work in batches, grilling the shrimp 2 to 3 minutes a side or until opaque and cooked through. Do not over cook.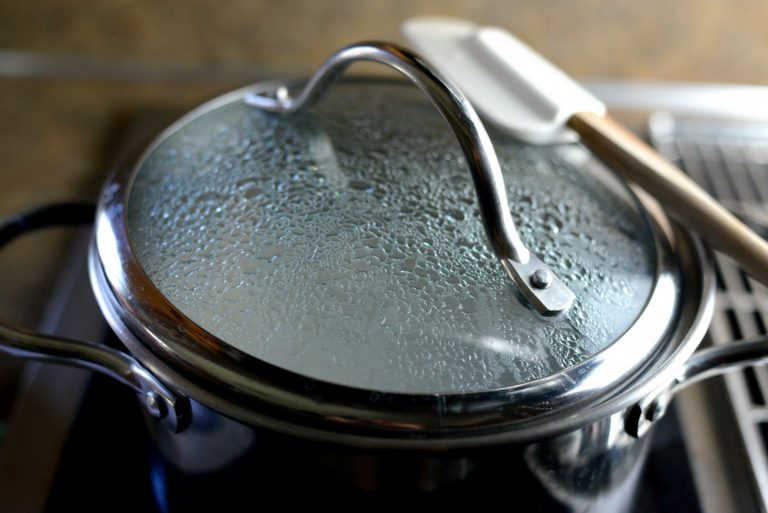 Meanwhile bring a pot of water to a boil and follow the instructions on the package of rice noodles.
Once the noodles are softened and cooked through, drain and rinse with cold water.
Can't find rice noodles? Turn these into rice bowls by using sushi rice!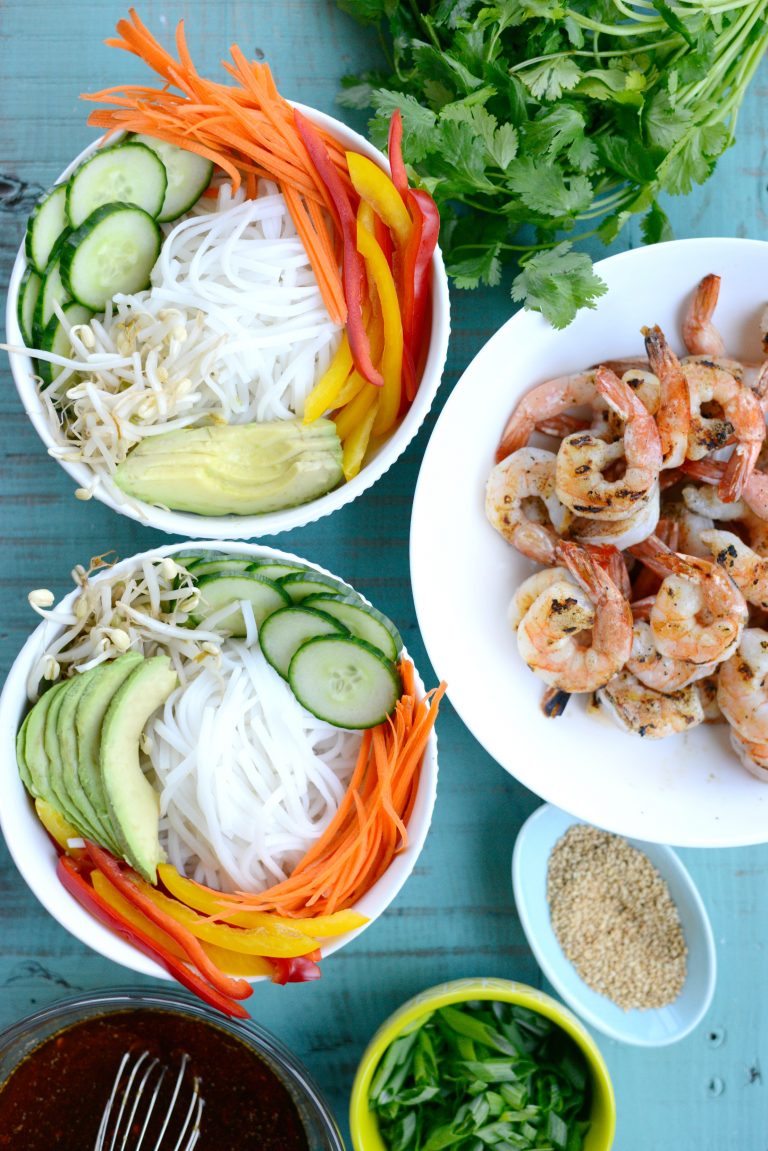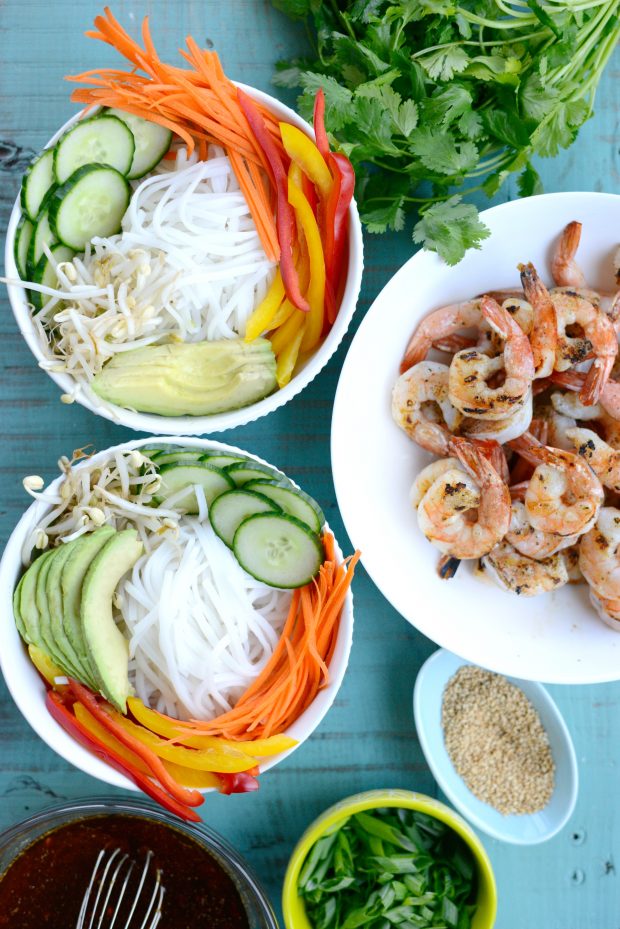 Pile noodles into bowls, then place the peppers, carrots, cucumber, bean sprouts and avocado around the perimeter…
I slice the avocado right before I start building the bowls so they don't go all brown and gross on me. I use about 1/4 an avo per bowl.
Top with a few of the grilled shrimp…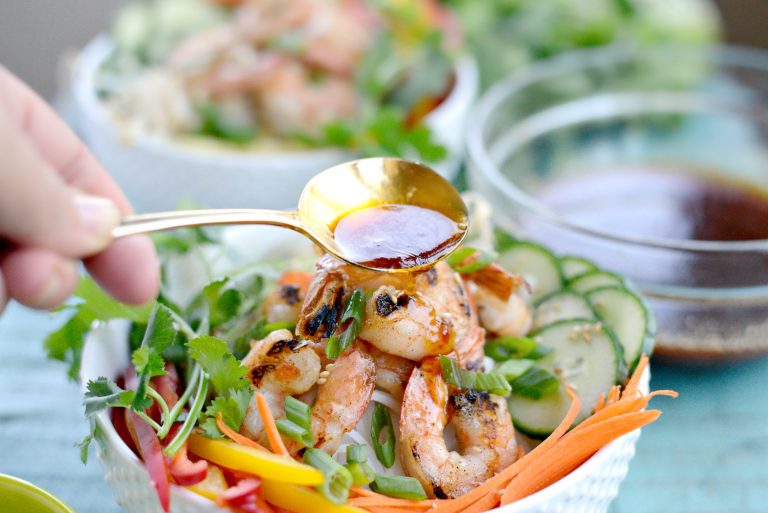 …and drizzle with spoonfuls of the sauce.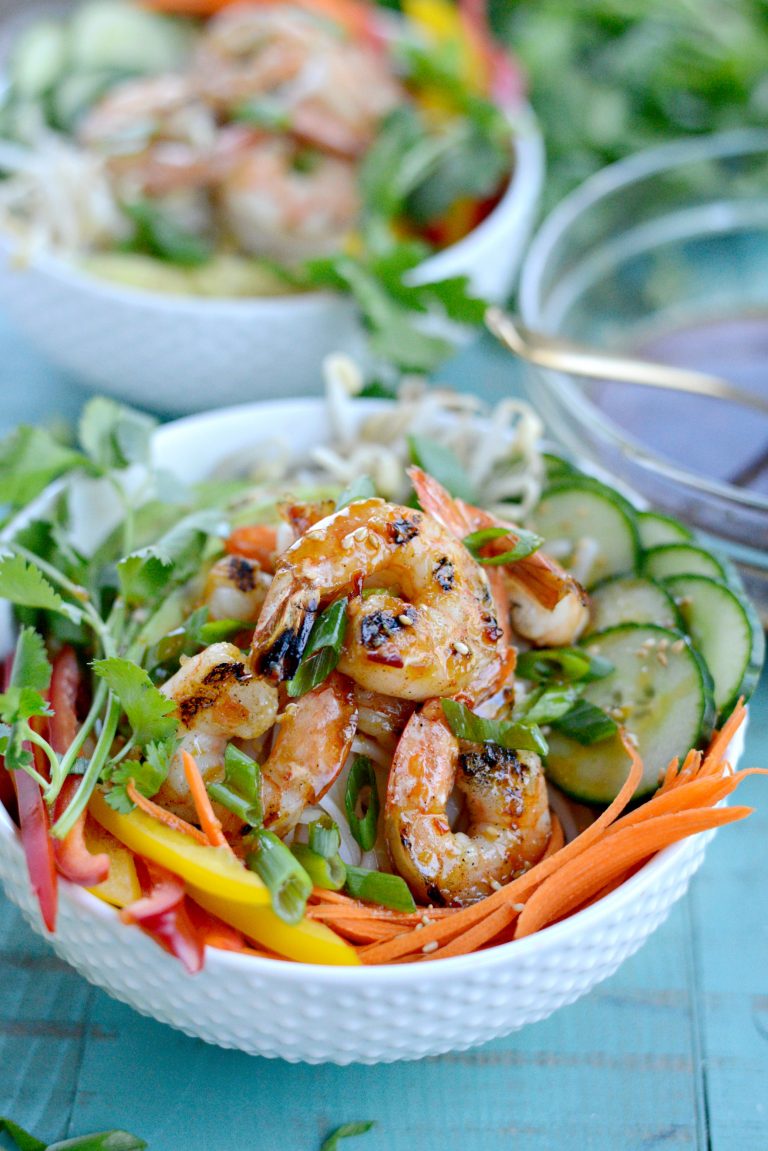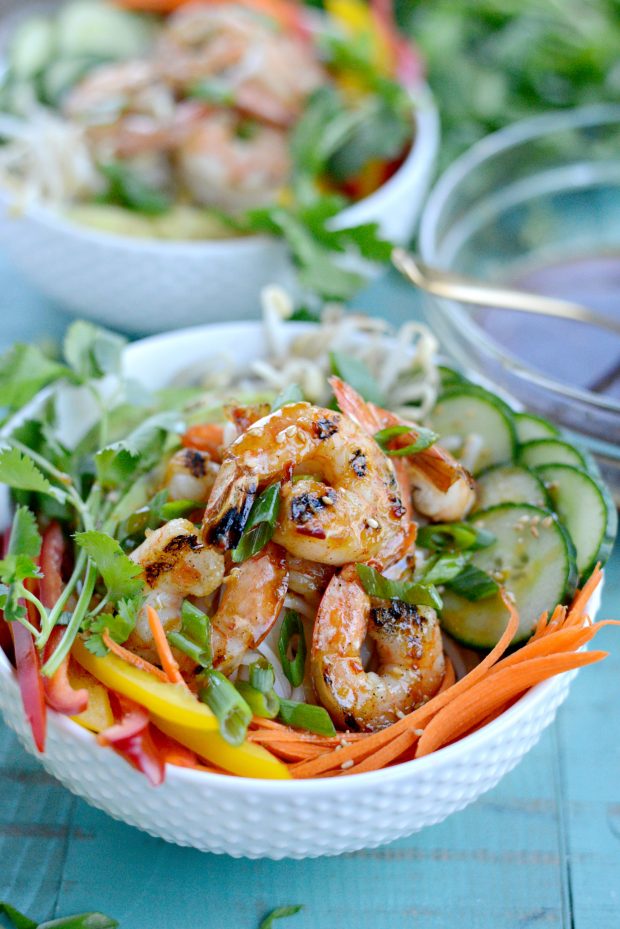 Sprinkle with green onions and toasted sesame seeds. I add some torn cilantro to mine before grabbing my chopsticks and attacking.
These spring roll noodle bowls have it all and then some. So needless to say, I love them! I saved the leftovers and ate them after my evening work out and it was just as amazing the second time. That sauce with the grilled shrimp and crisp vegetables is perfection!
Enjoy!
My cookbook Simply Scratch : 120 Wholesome Homemade Recipes Made Easy is now available! CLICK HERE for details and THANK YOU in advance!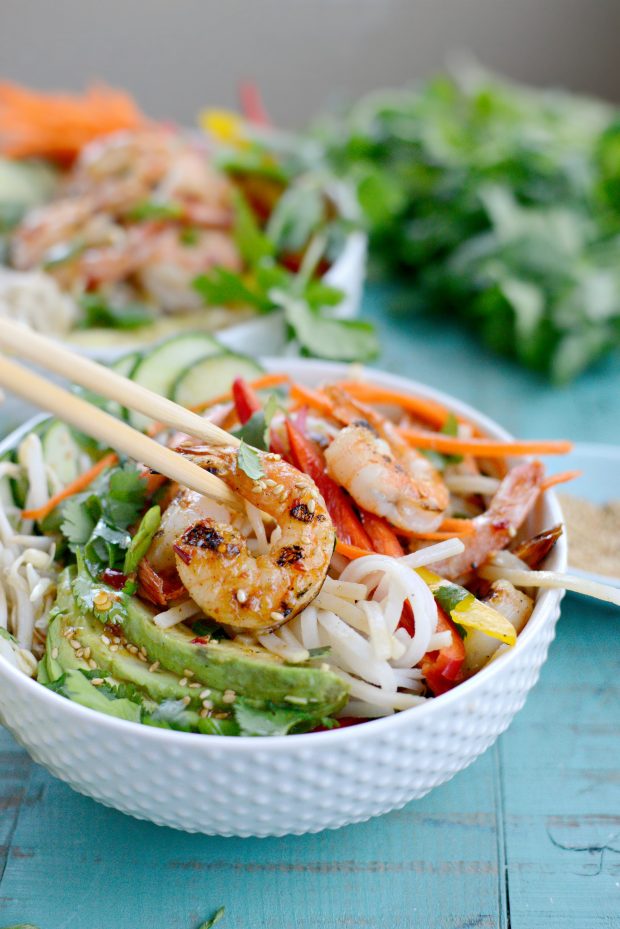 Inspired by Tastemade.
This post may contain affiliate links.
Buy the Cookbook: Simply Scratch : 120 Wholesome Homemade Recipes Made Easy Now available on Amazon »
THANK YOU in advance for your support!