A fun twist on a classic Cuban Sandwich. Fried ham and turkey sandwiched with pickles, swiss, mustard and roasted garlic aioli.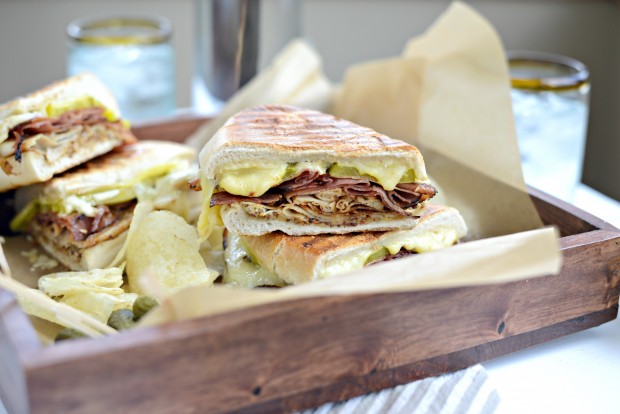 Who doesn't love a good sandwich? Especially if it's grilled, griddled or pressed with layers of meat, cheese and a sauce (mmm pesto!) of some sort inside? There's 27 sandwiches on this blog, I counted. Not including open-faced sandwiches (4), burgers (12) or quesadillas (17) all of which are considered sandwiches right?
But my love for a Cuban sandwich runs deep and that's why I decided take my beloved classic sandwich and kick it up a notch or three.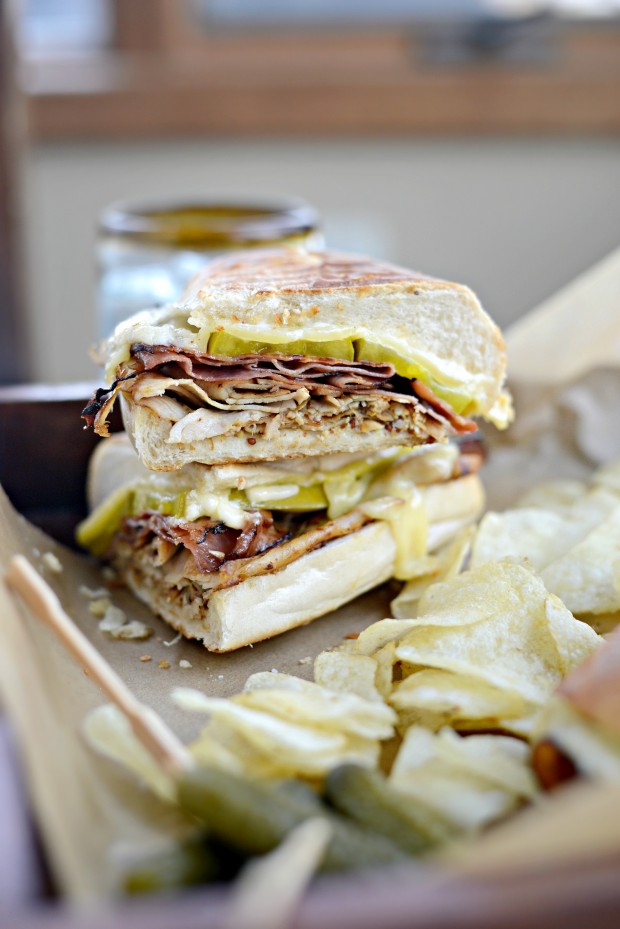 Typically a Cuban is a ham, roasted pork, pickles and cheese sandwich. Well I decided to slip in some thinly sliced turkey BUT I've fried both in a little butter to get it all crispy and caramelized first. That's my little secret to a killer Cuban sandwich.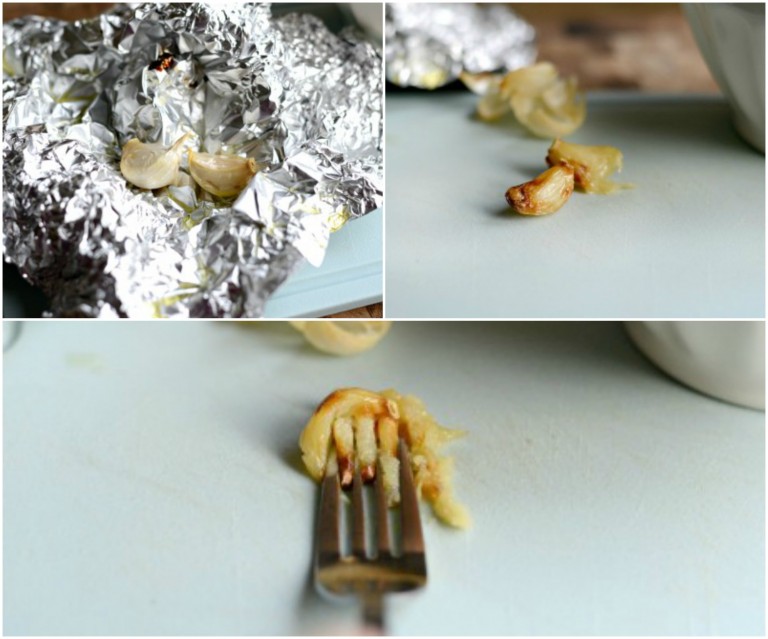 Start by roasting 2 to 4 cloves of garlic, depending on how garlicky you want it. Place the unpeeled garlic on heavy duty aluminum foil, drizzle with olive oil and a pinch of kosher salt. Next, fold up the sides to form a little purse and roast in a preheated 400°oven for 20-30 minutes. Then, carefully remove the pouch and allow to cool before taking the roasted garlic cloves out. When they're cool enough to handle, peel away their skin and smash with a fork.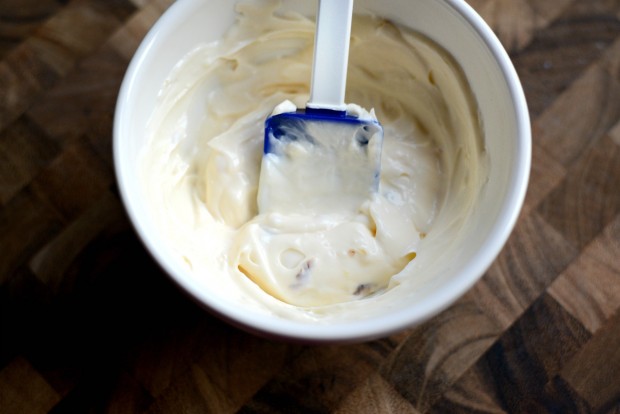 Lastly, stir the smashed roasted garlic into 1/2 cup of mayonnaise.
(You can find my homemade mayo recipe in my cookbook!)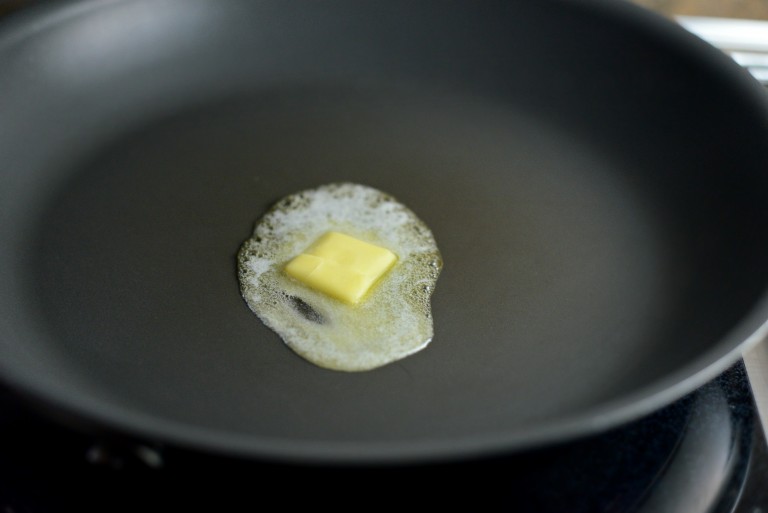 Next, heat a large 12-inch skillet over medium to medium-high heat and melt a tablespoon of butter.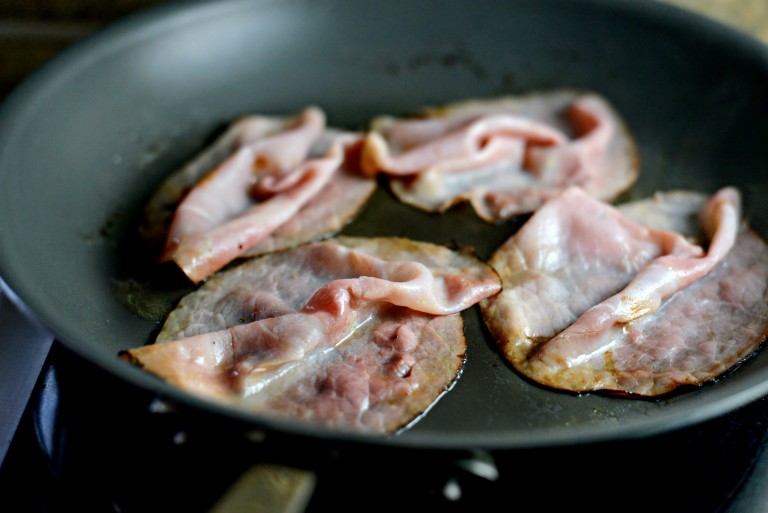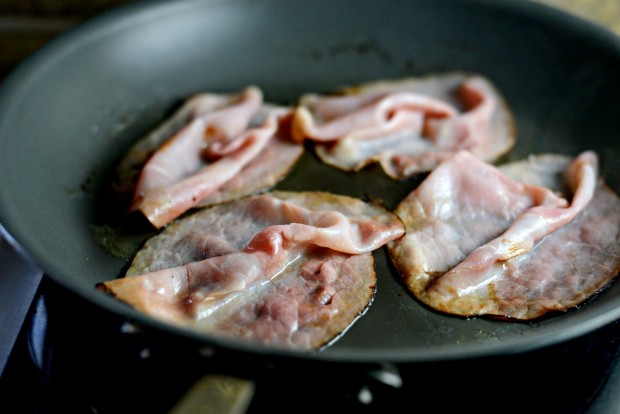 Then, once the pan is hot, place 4 slices of ham into the skillet and cook until crisp and caramelized, flip and repeat. Transfer to a plate and repeat with the next 4 slices.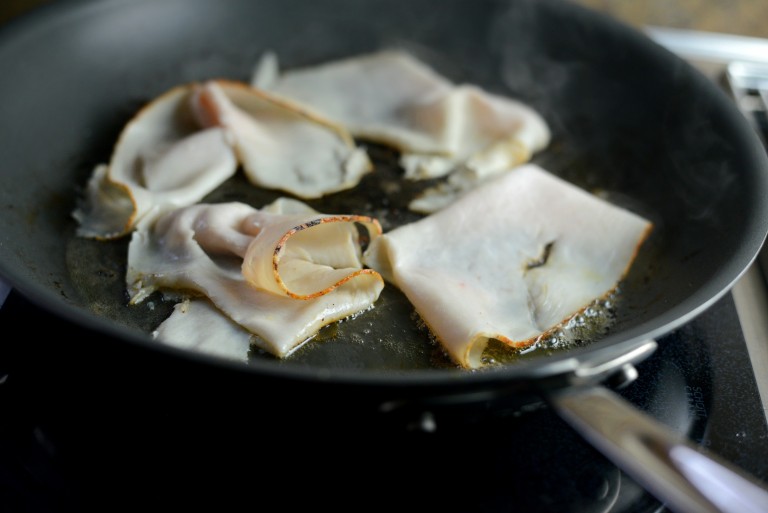 Next, add another tablespoon to the skillet. Adjust the heat if the pan is too hot, and just like the ham, cook and caramelize all 8 slices.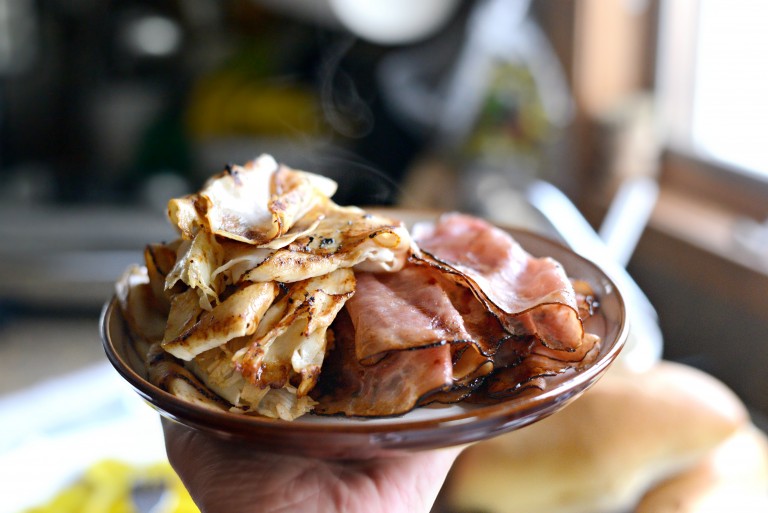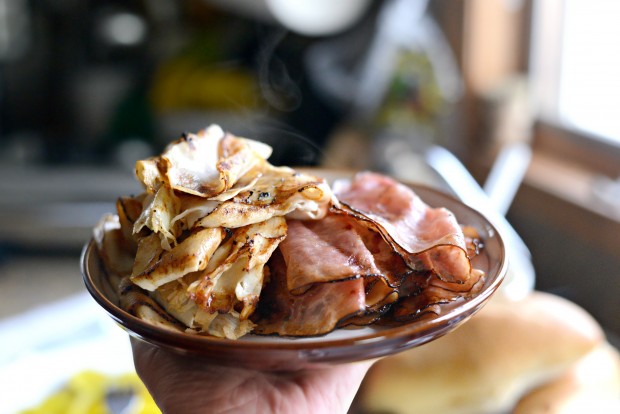 Transfer it to the plate with the ham.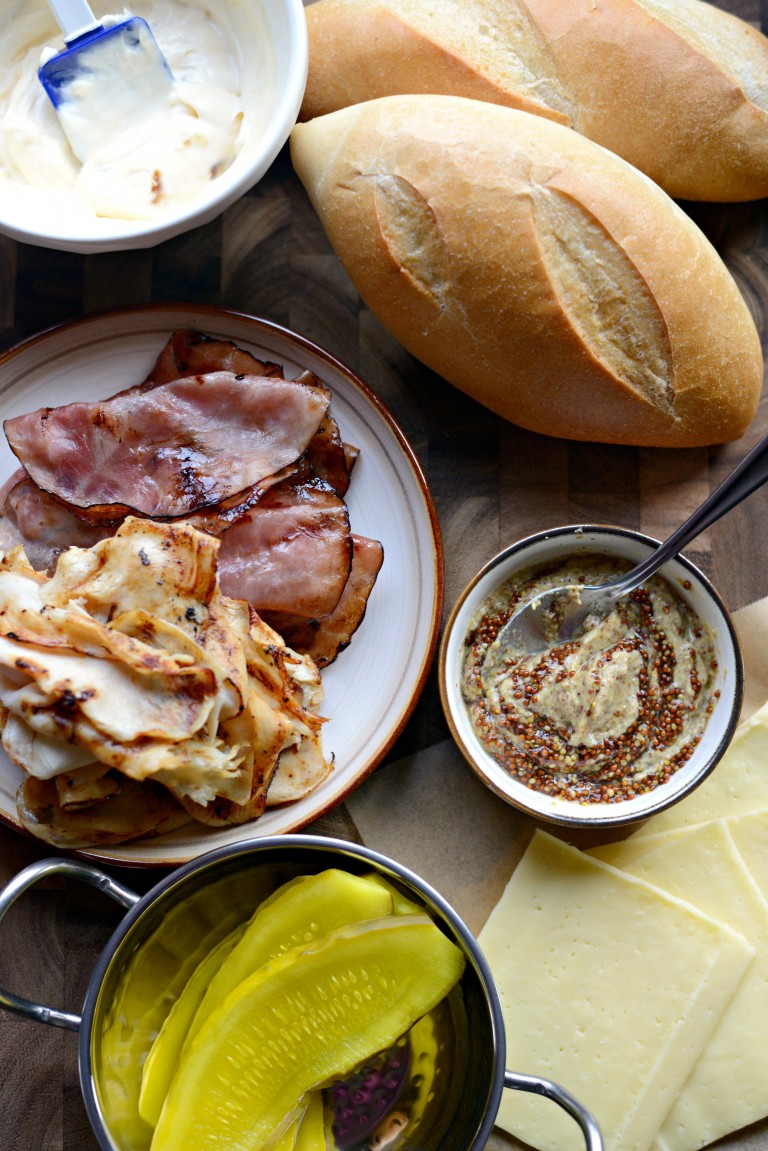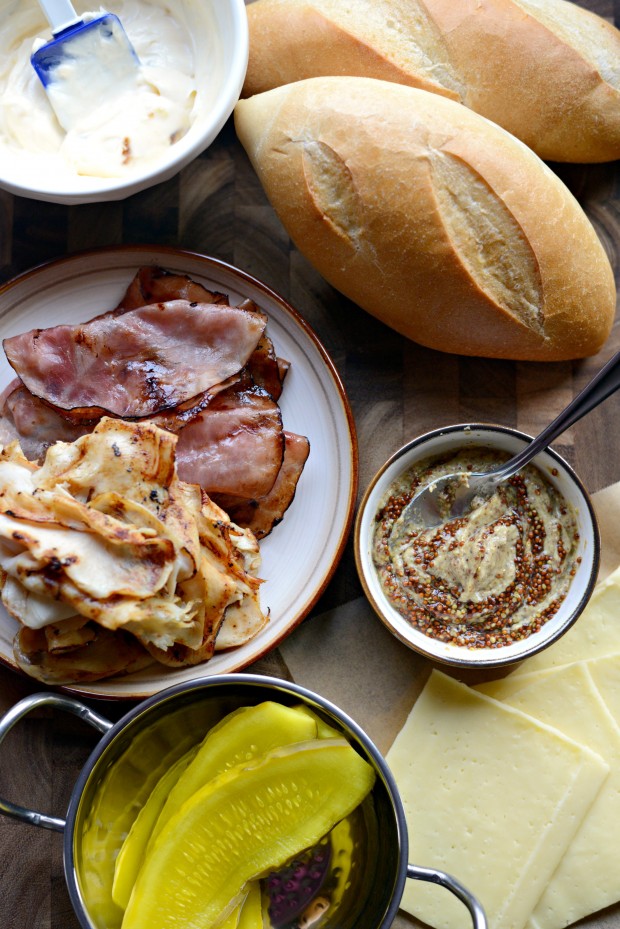 Now it's time to gather all your sandwich making goodies: crusty bread (this is panini bread from my local market), garlic aioli, the ham, turkey, pickles and mustard.
The mustard is my new favorite mustard blend that I make of equal parts country-style Dijon and whole grain mustard.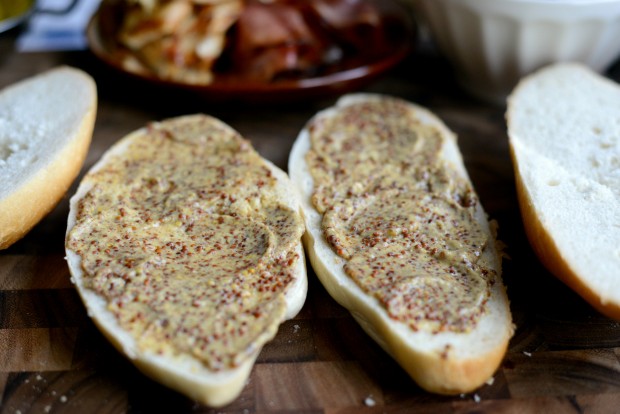 First spread a tablespoon of the mustard on the inside of each bottom half of bread.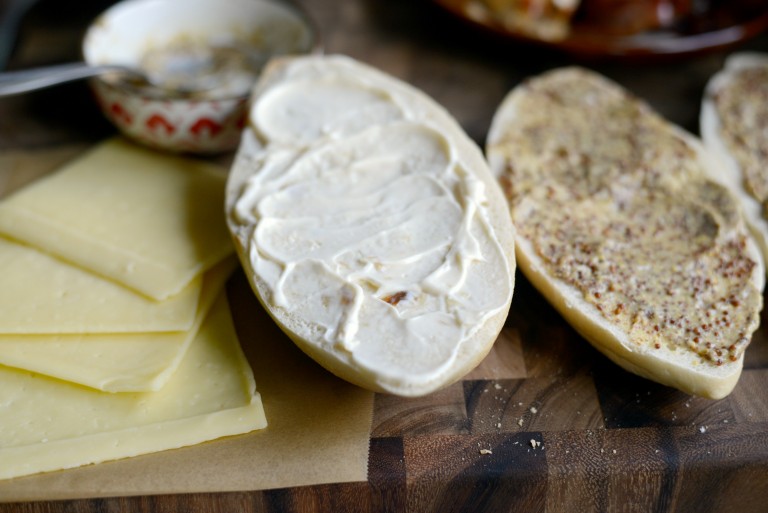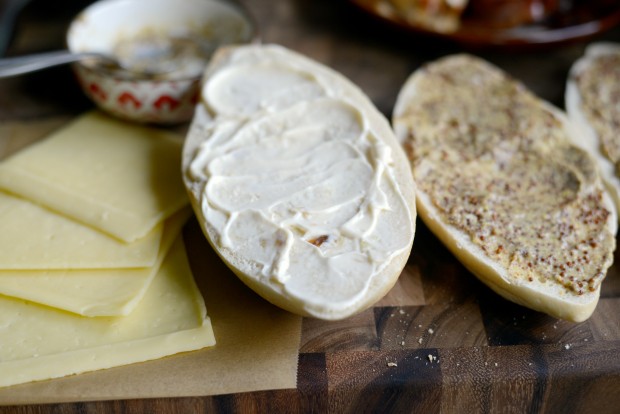 Next smear the inside of the top halves with the garlic aioli.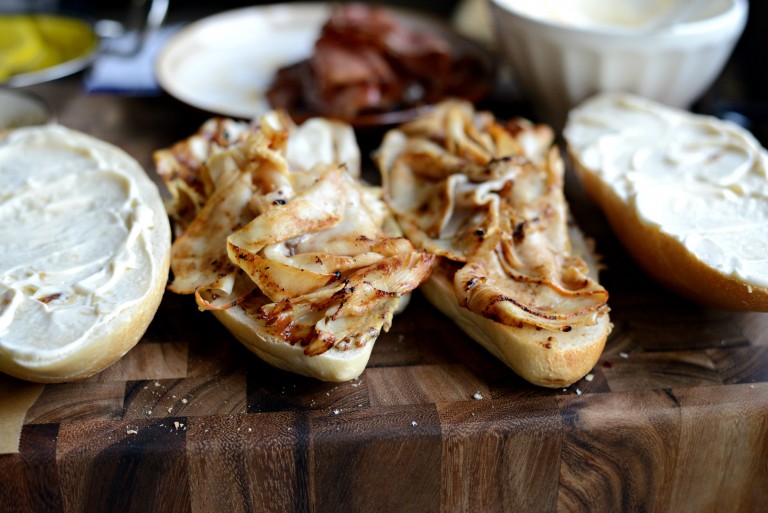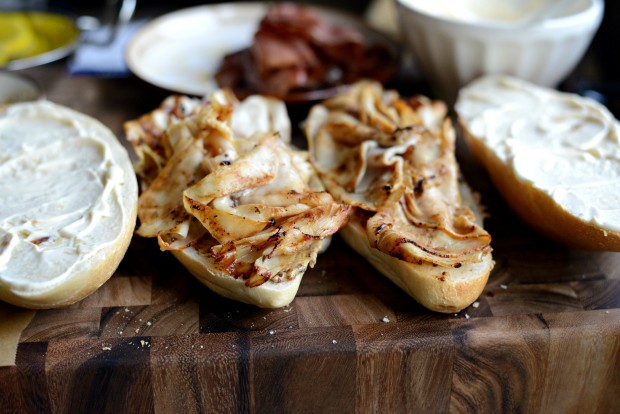 Next, layer the turkey on top of the mustard…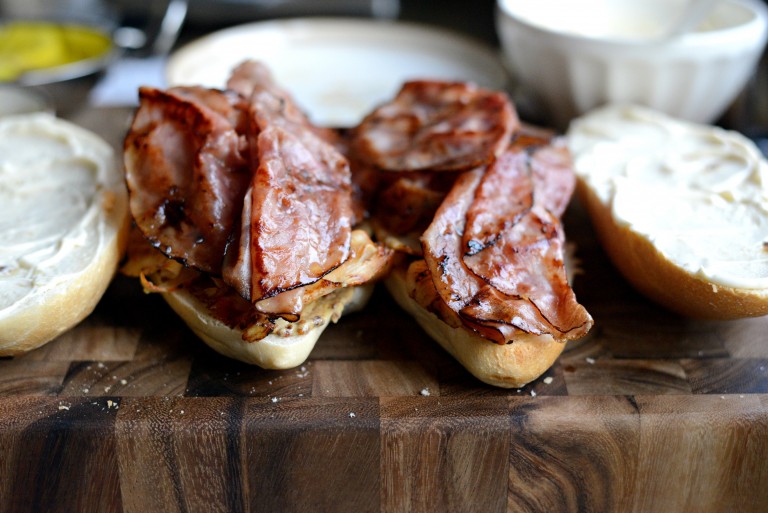 And then the crispy ham…
…pickle slices…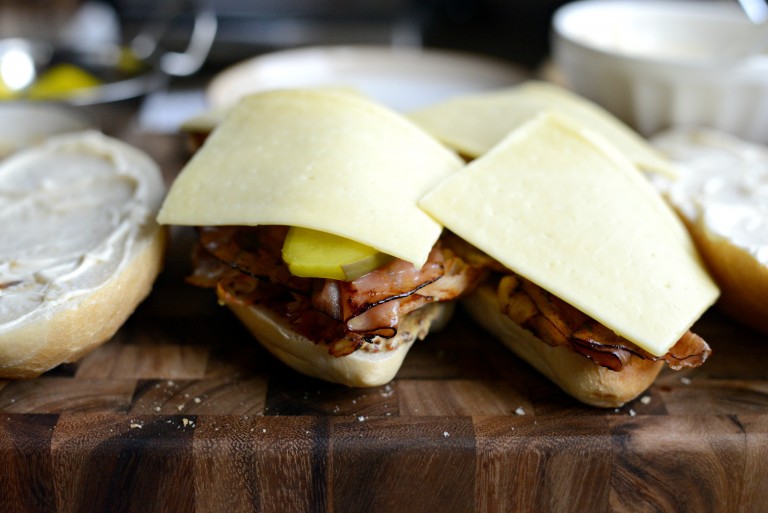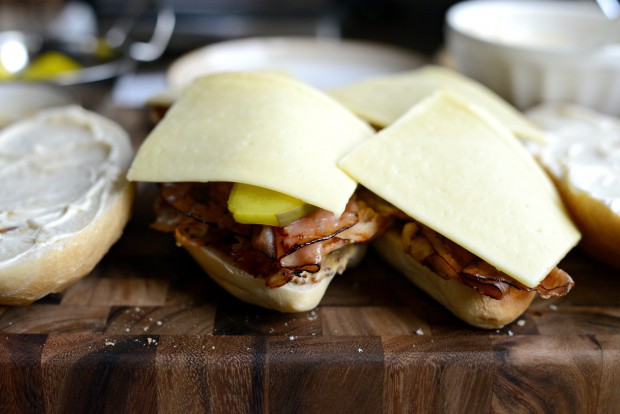 …baby swiss cheese slices, two slices for each sandwich.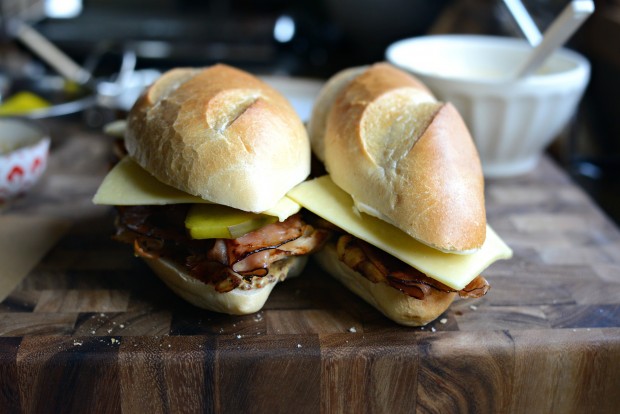 Next, place the tops back on the sandwiches.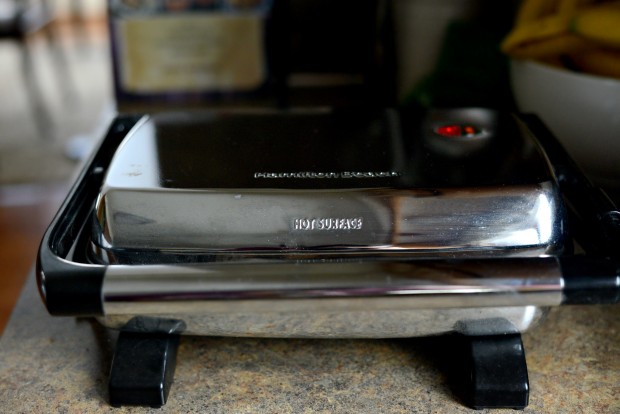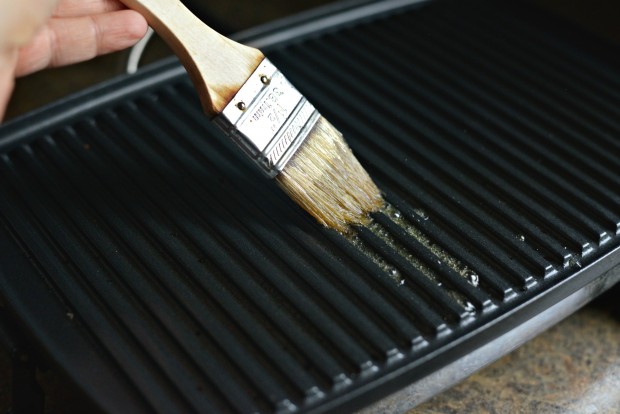 Preheat your panini press. Once hot, brush the press with some melted butter- but that's optional and totally up to you.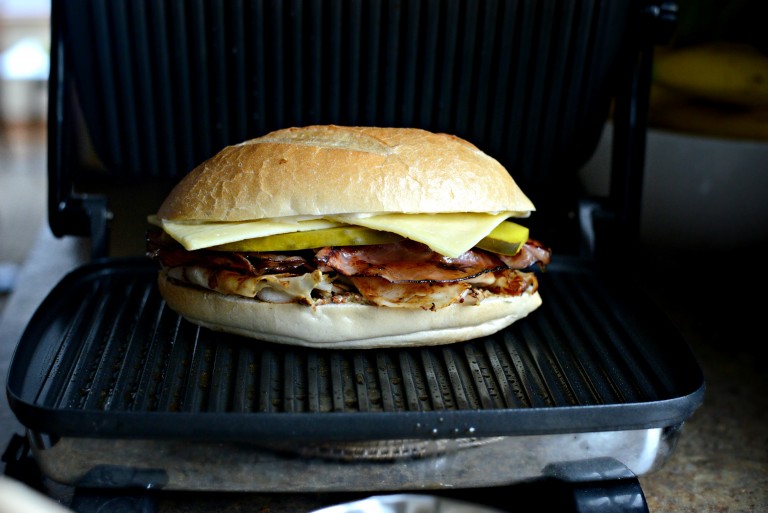 Place the Cuban on the panini press…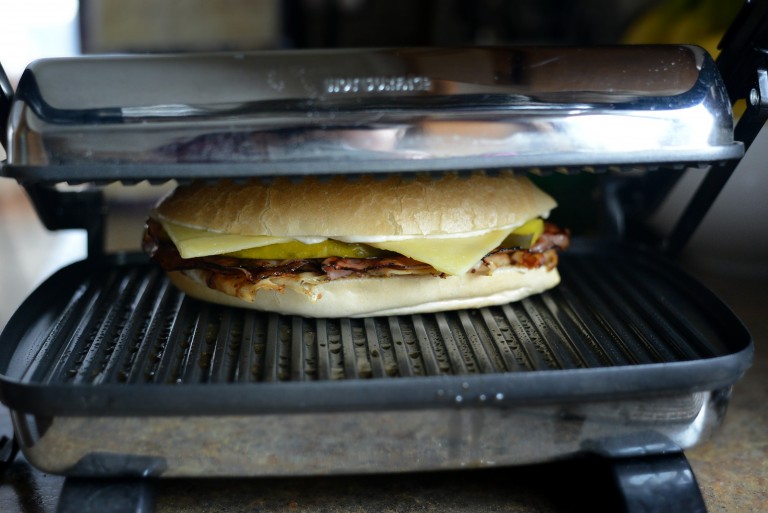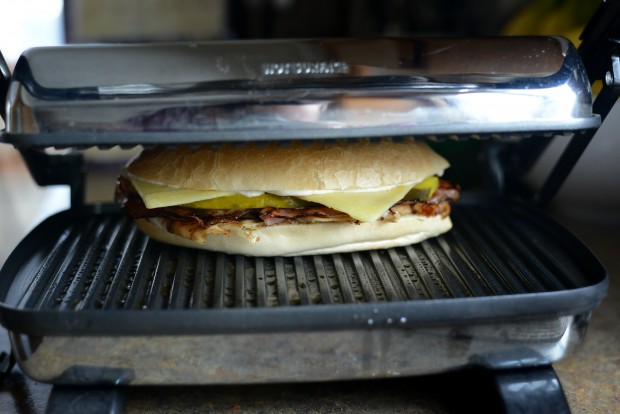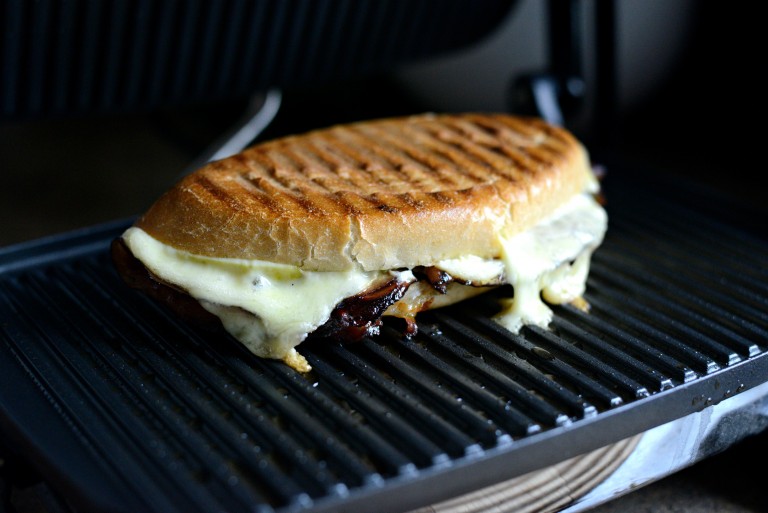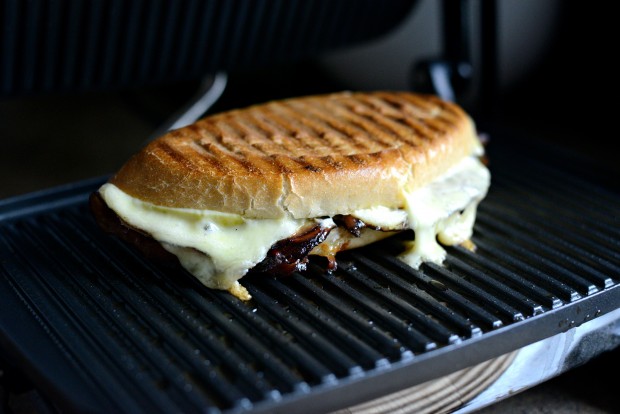 The sandwich almost slipped right out of there, the thing is huge. Let the panini press do it's thing, grilling the bread and melting the cheese.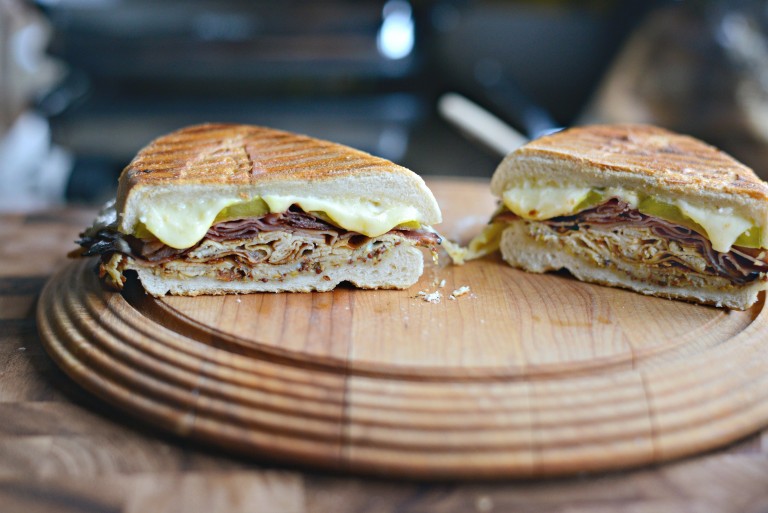 Ohhhh the cheese.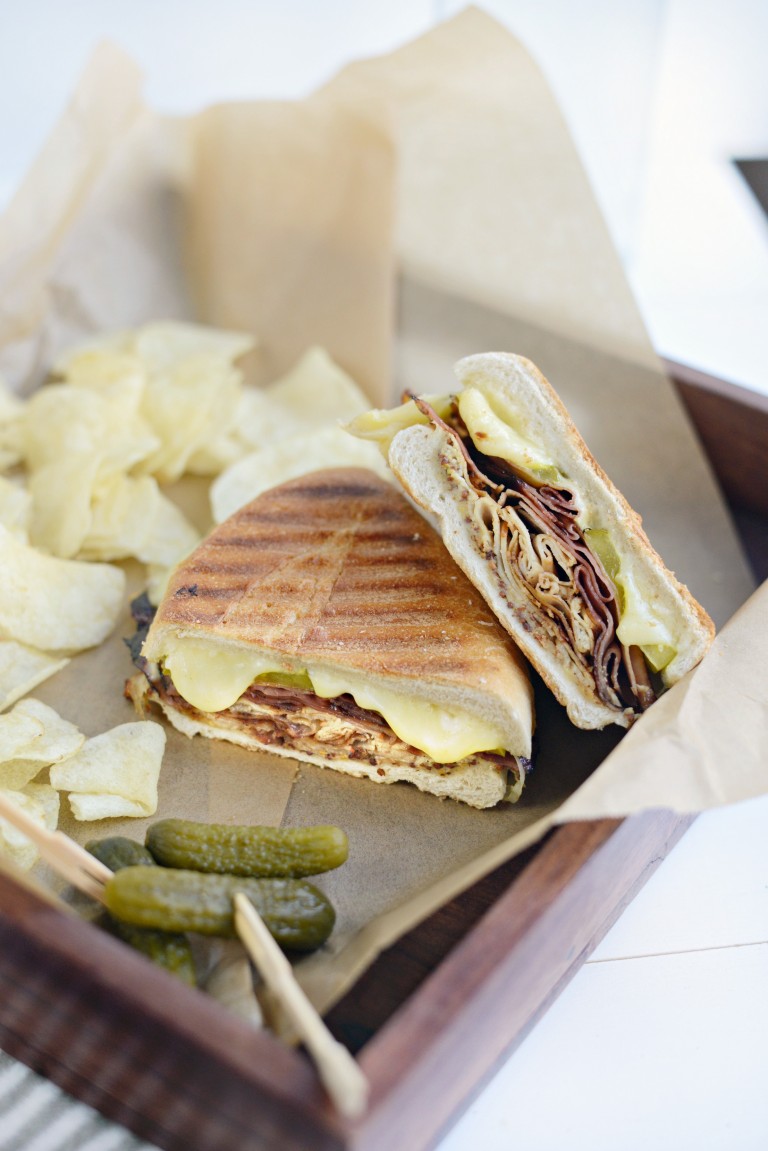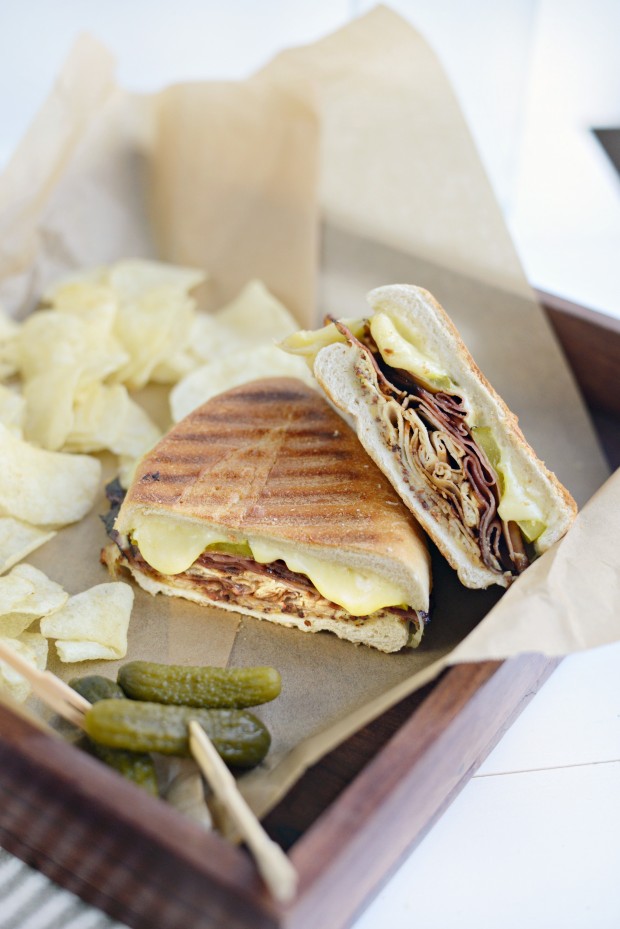 Finally, cut in half and serve with potato chips, more pickles and an icy cold beverage.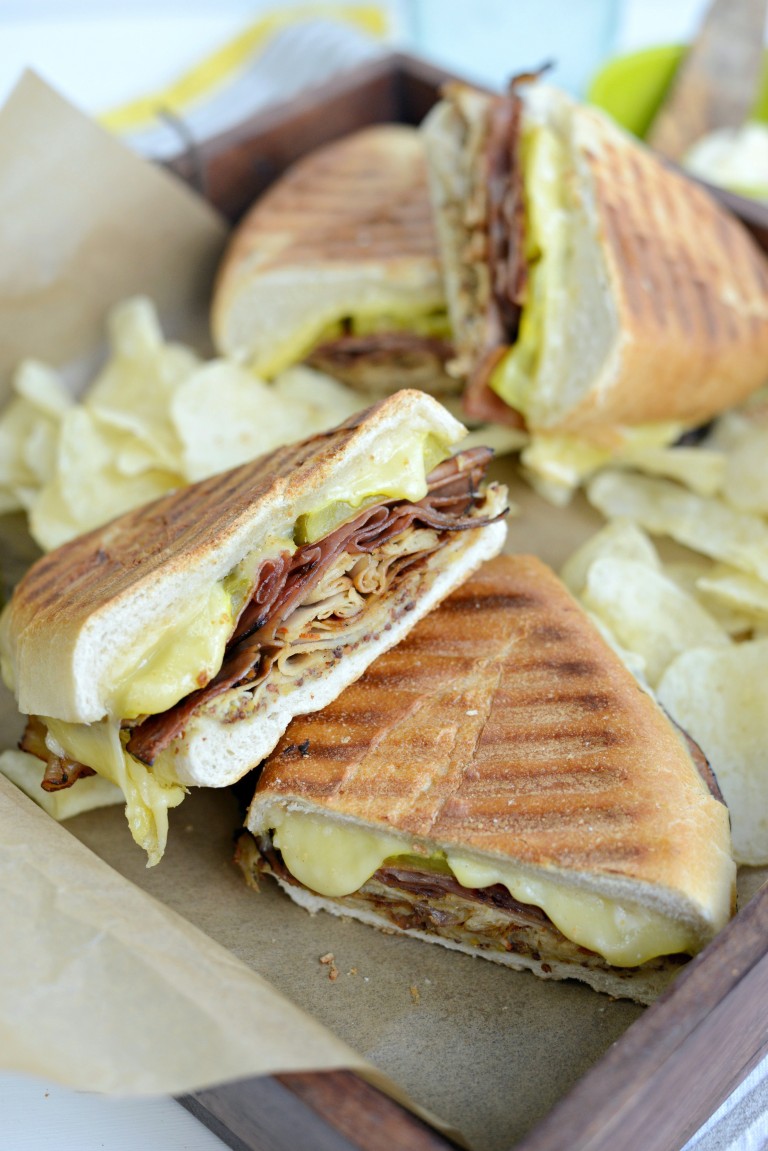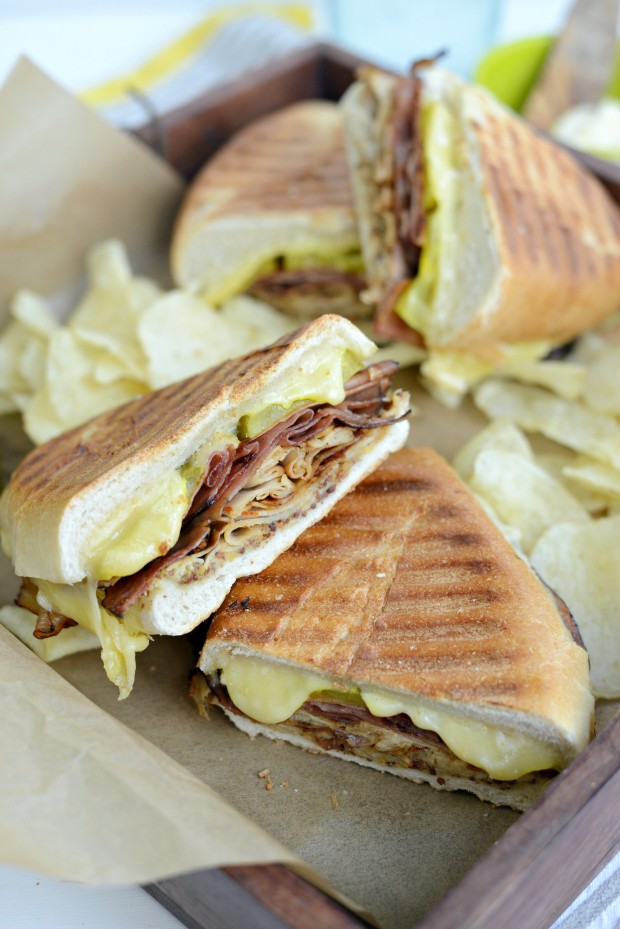 Enjoy! And if you give this Pressed Cuban Sandwich recipe a try, let me know! Snap a photo and tag me on twitter or instagram!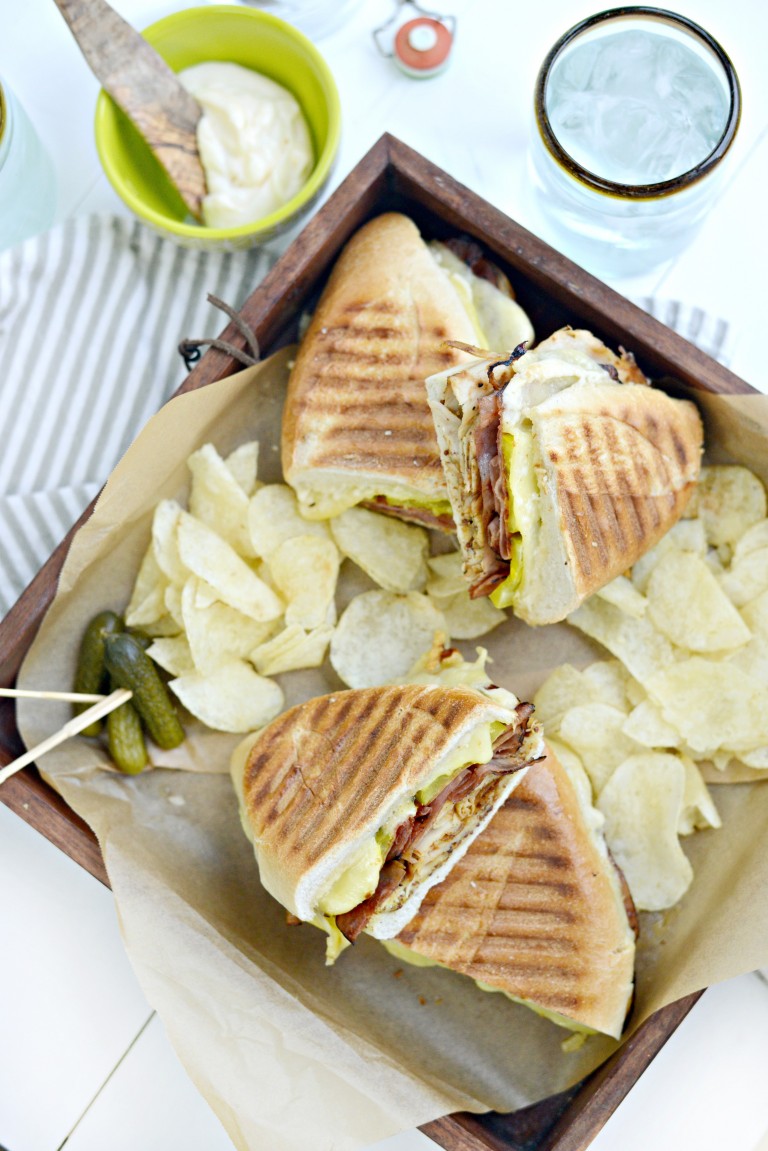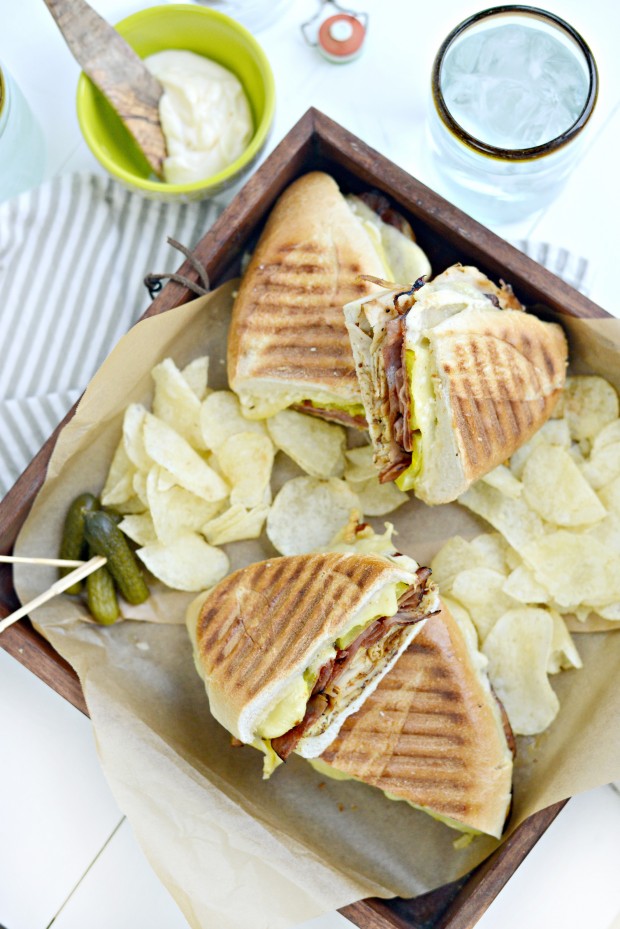 My cookbook Simply Scratch : 120 Wholesome Homemade Recipes Made Easy is now available! CLICK HERE for details and THANK YOU in advance!
[this post contains affiliate links.]
This post may contain affiliate links.
Buy the Cookbook: Simply Scratch : 120 Wholesome Homemade Recipes Made Easy Now available on Amazon »
THANK YOU in advance for your support!