Cozy and comforting braised chicken stew! This veggie-loaded rustic chicken stew is so easy, warm and comforting on a chilly day
Braising is just about the only thing I enjoy about these cold winter months.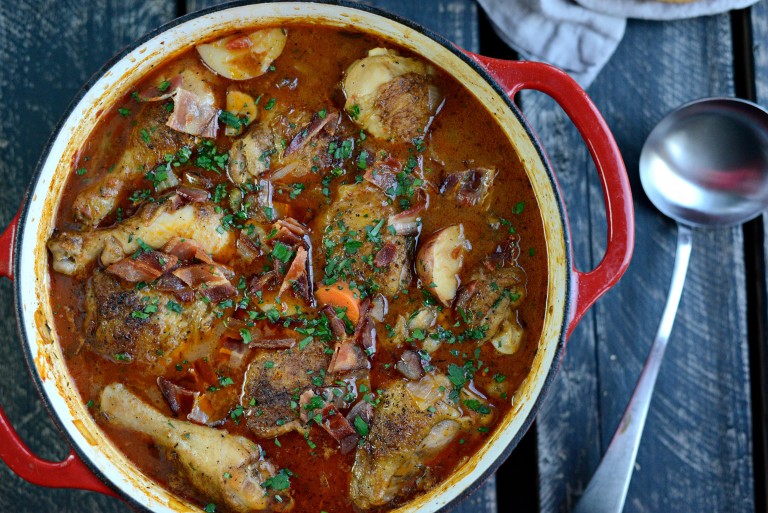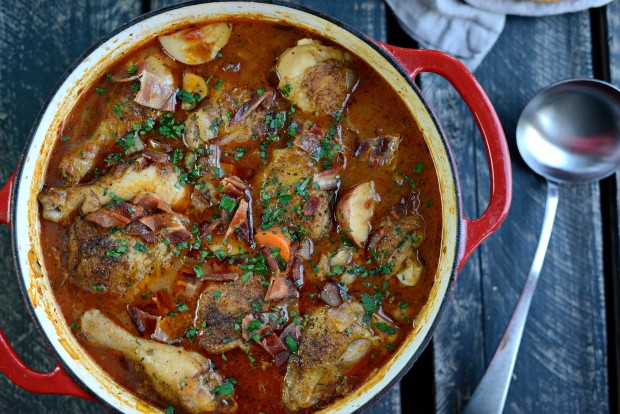 There is just something so therapeutic about the mere thought of braising something, let alone eating it. If you were to ask me what's my favorite thing to cook, I'd probably say braised anything. Usually braised meat (beef or pork) is served on a bed of polenta or mashed potatoes, or with a loaf of crusty bread is served to wipe the bowl clean and in a perfect world, there would be both. Today I'm sharing with you a delicious braised chicken stew.
But first may we talk a moment about bacon? This braised chicken stew starts and ends with bacon (plus a whole lotta goodness in between) and I'm particularly obsessed with the applewood bacon I get from a nearby butcher. Usually it's a little more pricey but you definitely get more bang for your buck, meaning more meat than fat, better flavor and the aroma smells like an actual wood fire. Heaven! If you can get your mitts on good quality bacon- do it and use it.
Besides bacon, there's also copious amounts of fresh vegetables; like onions, carrot, celery, baby redskins and mushrooms. The gravy is made with fire roasted tomatoes, chicken broth and fresh thyme. It's all kinds of delicious and easy to boot!
One pot. One dinner.
Get all the veg prep out of the way first, it's not a ton of work but it's always a good place to start. So wash up the carrots and celery and slice them about a half inch thick. Then coarsely chop a large yellow onion.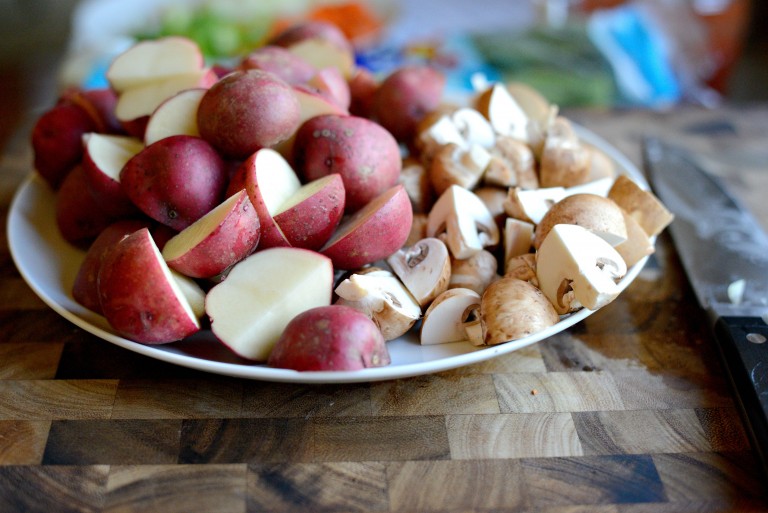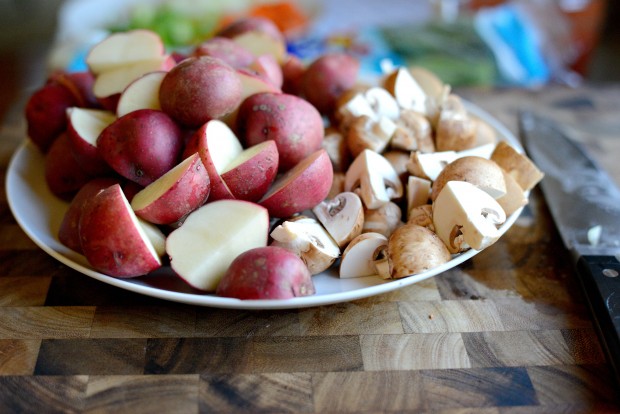 Halve about 14 to 16 baby redskin potatoes and quarter 8 ounces of mushrooms. I could only find cremini but white button would work just fine here too.
Set all those prepped veggies off to the side for a moment.
Place the chicken thighs and drumsticks on a cutting board. Trim off any excess skin from the thighs.
Grab the poultry seasoning. I make my own because I'm an overachiever like that. If you want to make your own too you can find the recipe in my cookbook :).
Season with salt and pepper, then sprinkle about a tablespoon of the poultry seasoning over top of all the chicken. I didn't measure but that's about how much was left in my little canister there.
Place 4 slices in a 5-quart Dutch oven. Turn the heat on medium-low and cook the bacon until crispy, turning bacon often.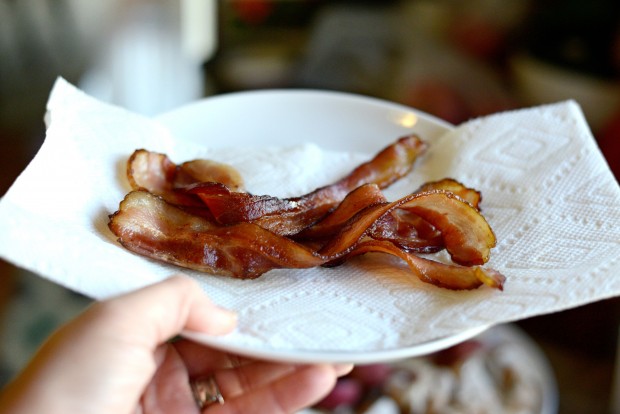 Transfer the bacon to a paper towel lined plate. See what I mean about the bacon? Scrumptious!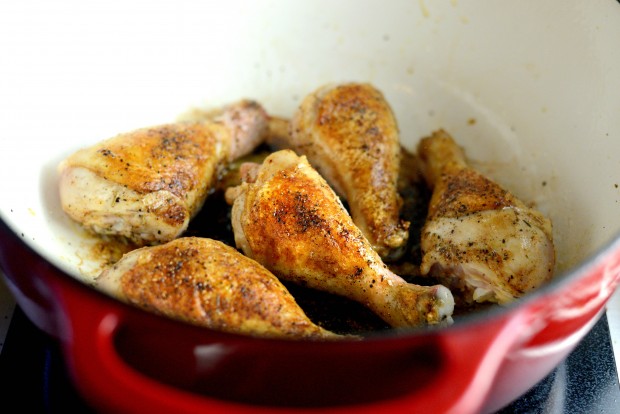 Increase the heat to medium-high and place half of the chicken pieced into the hot bacon fat.
Transfer the chicken to a clean platter and repeat with the remaining pieces.
Add in the onion, celery and carrots to the remaining fat in the pot. If for some reason there isn't much, go ahead and add a little olive oil.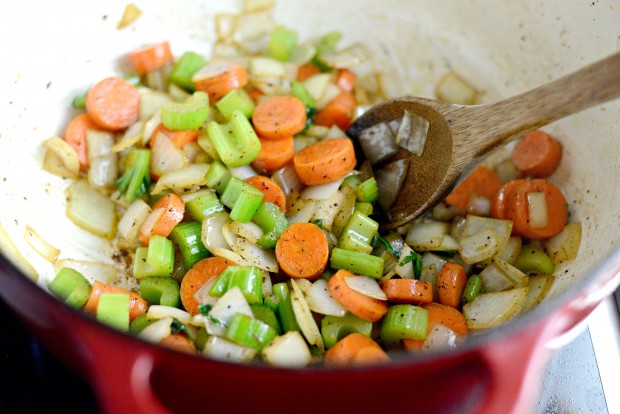 Stir, scraping up the browned bits on the bottom of the pot.
After about 5 minutes the onions should be tender and the carrots and celery are just starting to soften up. Add in 3 tablespoons of all purpose flour, stir to coat and cook for 2 minutes.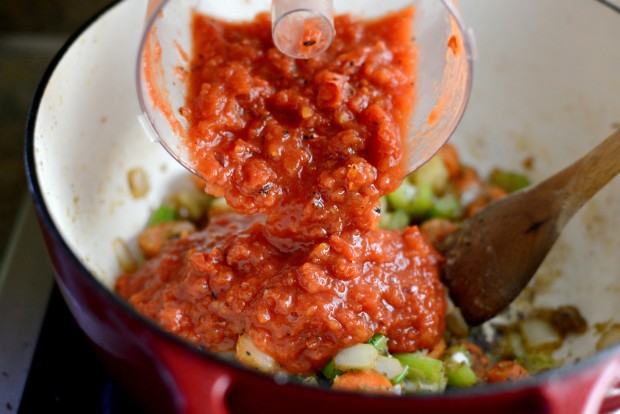 Earlier I pureed one 14-ounce can of diced fire roasted tomatoes until chunky. Pour that into the pot.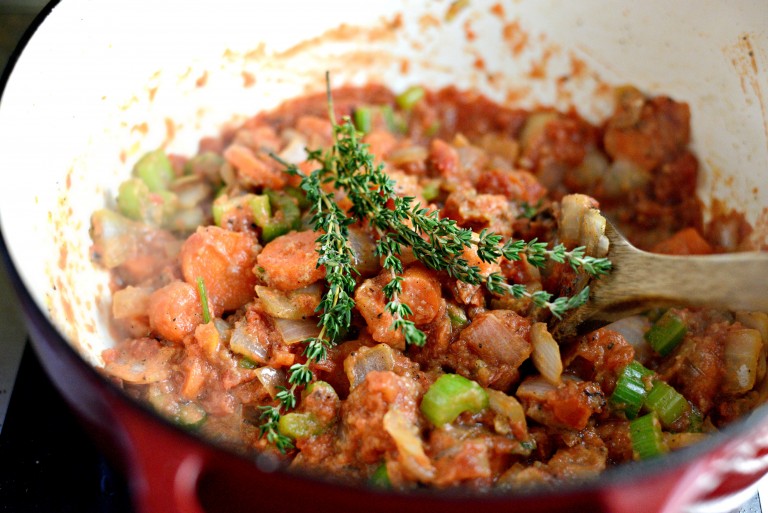 Add in 4 springs of fresh thyme…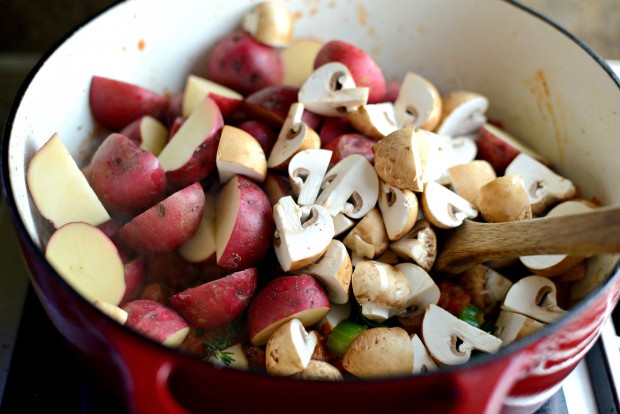 Add in the potatoes and mushrooms.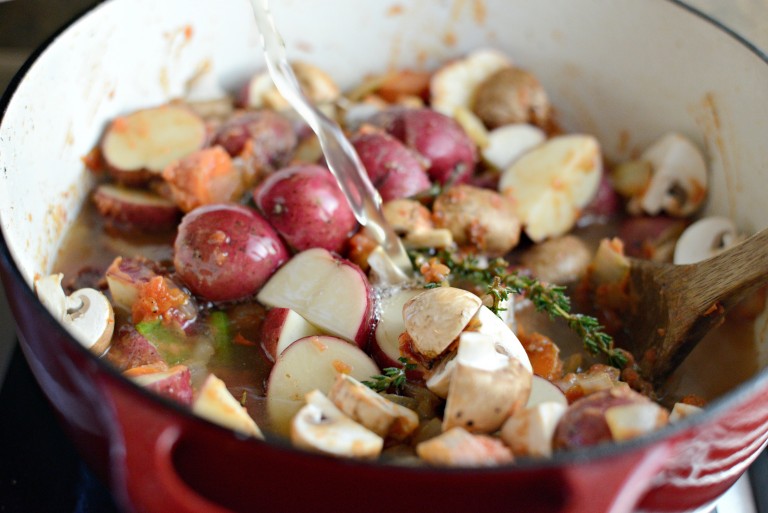 Pour in the low-sodium chicken broth…
Two bay leaves…
And then place the chicken on top of the vegetables and liquids.
Cover and bring to a boil. Once boiling, reduce heat to a simmer and cook for 40 to 45 minutes.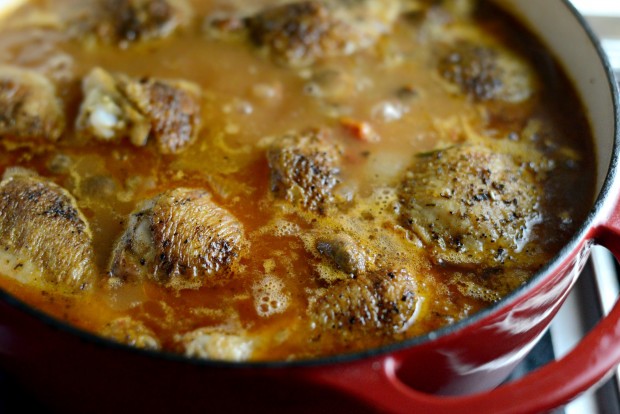 Booooyah!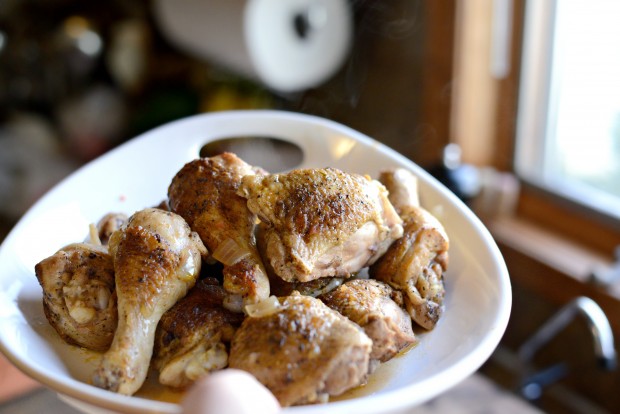 Then transfer the fully cooked chicken to a clean platter and preheat your oven to 400 degrees.
Next, bring the stew liquids to a boil and cook for 15 minutes to thicken and reduce.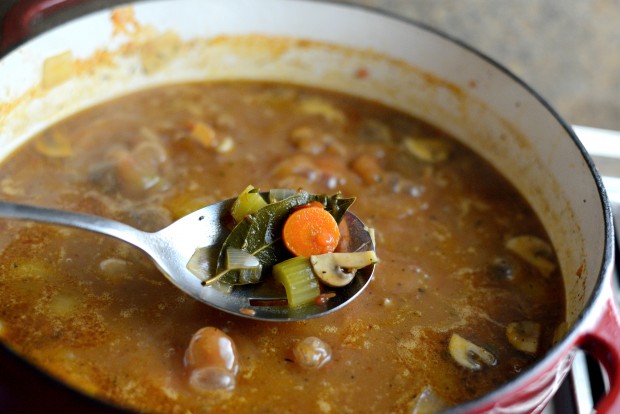 Fish out the bay leaves and thyme stems.
Then check and double check that the potatoes are tender. Taste and season with salt and pepper.
Lastly, place the chicken back on top of the stew and place into the oven to crisp that skin back up, for about 10-15 more minutes.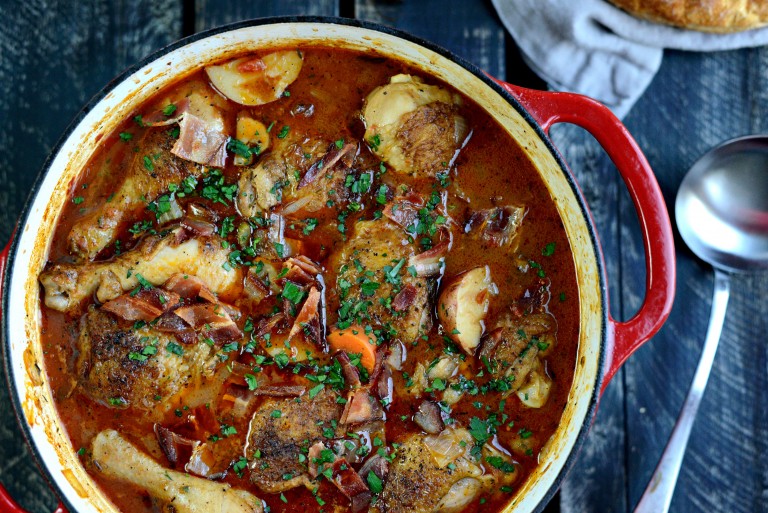 Then sprinkle with the chopped bacon and finely minced parsley, then serve.
I used tongs to place a drumstick and thigh into shallow bowls and spooned the rest of the saucy vegetables around it.
You guys, this stew is so flavorful! The chicken is falling away from the bone, the vegetables are perfectly cooked and the "gravy" is bursting with flavor. PLUS there's bacon!Oh and definitely buy a crusty loaf of bread to dip, dunk and mop up anything left in your bowl.
Enjoy! And if you give this braised chicken stew recipe a try, let me know! Snap a photo and tag me on twitter or instagram!
This post may contain affiliate links.
Buy the Cookbook: Simply Scratch : 120 Wholesome Homemade Recipes Made Easy Now available on Amazon »
THANK YOU in advance for your support!