One pan herb roasted turkey breast is one easy, comforting and delicious dinner. This is such a hearty, cozy meal for just about any occasion.
I'm all for one-pan meals.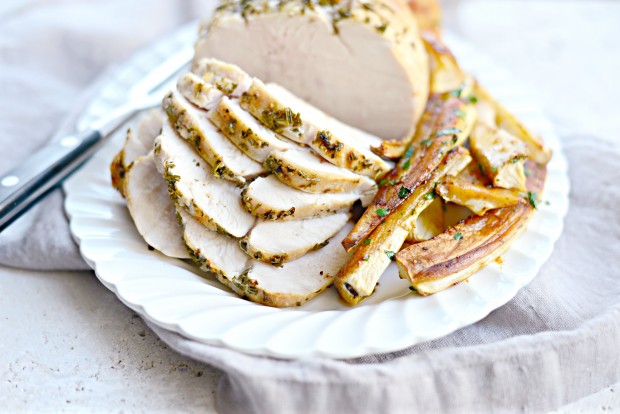 Meals that you basically throw everything into a heavy pan (or Dutch oven) and shove into the oven.
I especially love the ones that slowly roast in the oven, wafting off a homey aroma and allow me the chance to clean up, wash some dishes and paint my nails.
They truly are the absolute best. Are you kidding me? In my book, they're right up there with leftovers.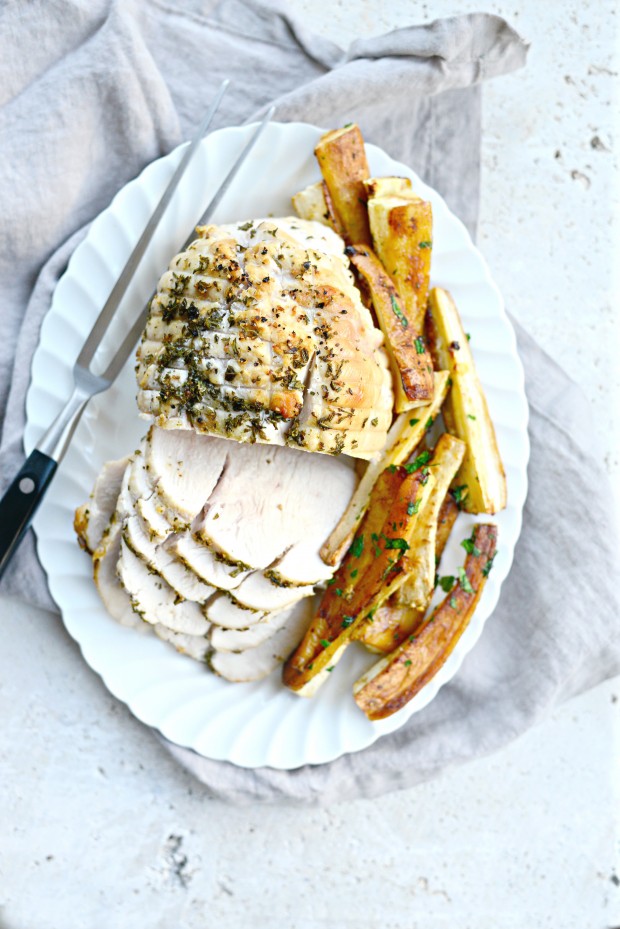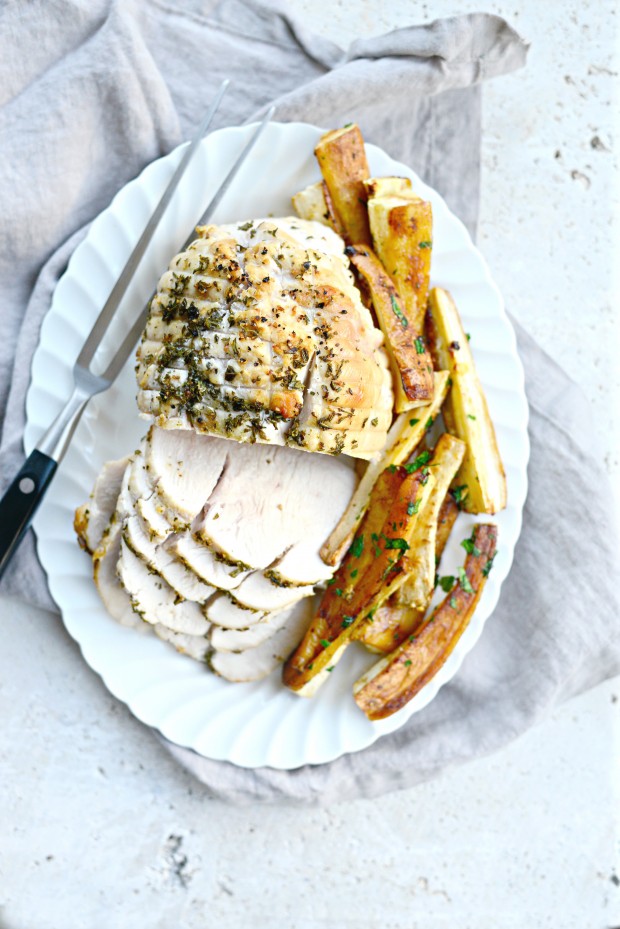 Let's say your having a small cozy family dinner, or it's Thanksgiving and you're already roasting a large bird and just want some extra white meat on the table… well, this recipe is the recipe to make! I even made a pan gravy from the drippings (and a little extra butter 😉 ) to go with it and it was fantastic.
Those parsnips pull double duty, acting as a roasting rack elevating the turkey and also as a side dish. Holla!! I adore parsnips with every fiber of my being and the crispier the better. In this recipe the bottoms caramelized and the vegetable is basted with butter as the turkey breast cooks… it's a hands-free approach and they're an insta-side dish for my turkey.
Earlier in the day, I also made a from scratch broccoli casserole to tag along- mind blowing.  But that's a whole different blog post for another day (very soon).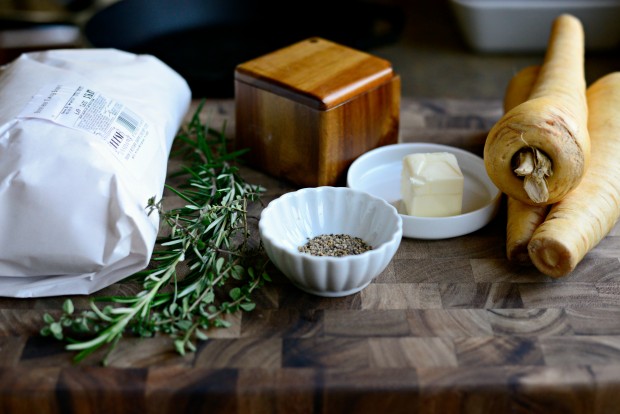 Thankfully the frost has yet to kill off what's left of my rosemary and thyme plants so I am using a few sprigs of each  in the butter rub for my turkey. If you're not down with the herbs you can just do salt and pepper and it'll be just as tasty- and even more so when it's smothered in gravy. Naturally.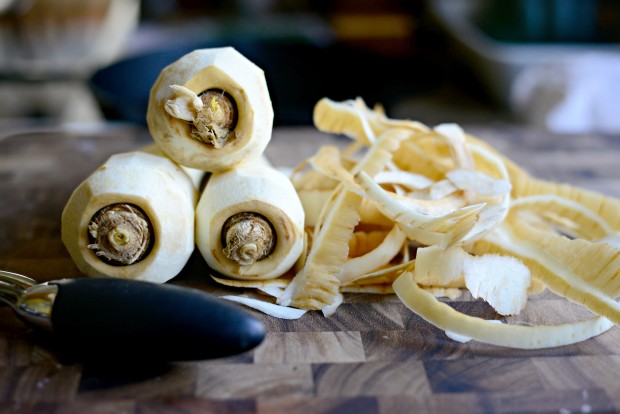 Start by peeling 3 to 4 parsnips, depending on their size… you will want enough for an even layer in  your 12-inch cast iron skillet.
After they're peeled, I cut them in half, width-wise, and I cut the narrower parts in half (lengthwise) and the thicker parts in half (lengthwise) and then thirds for uniform wedges. Oh my goodness was that NOT the most confusing sentence ever?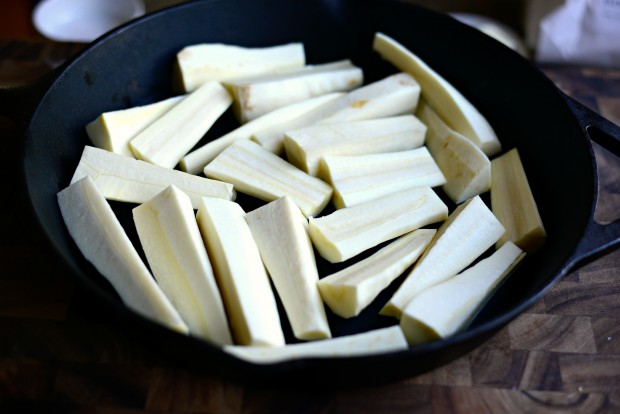 Arrange the parsnips in an even layer…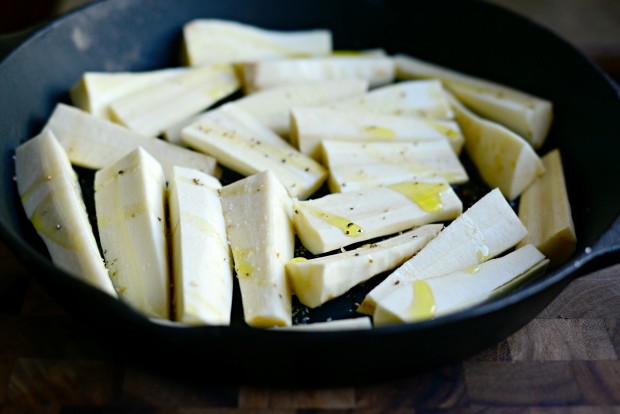 …drizzle with a tablespoon or so (I don't measure) and season with a few pinches of kosher salt and coarse black pepper.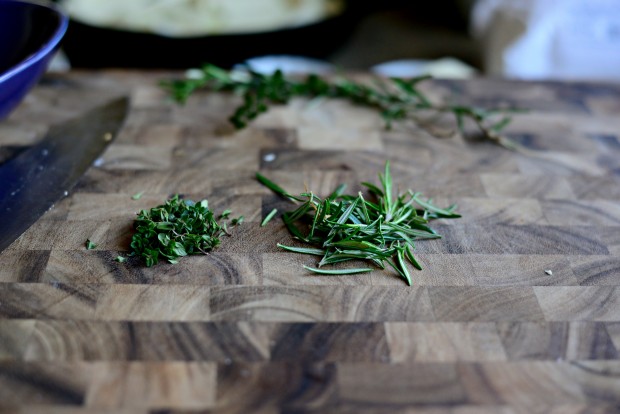 Moving on to the butter: Strip the leaves off of a few stems of both rosemary and thyme.
Finely mince both. Should be about a teaspoon of each.
Add two tablespoons of soft, unsalted butter to a bowl…
…add the herbs…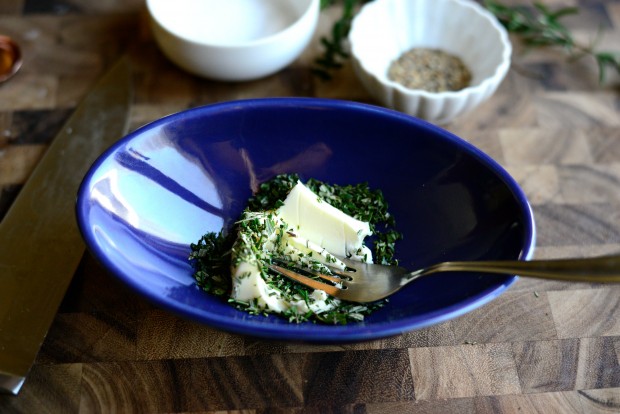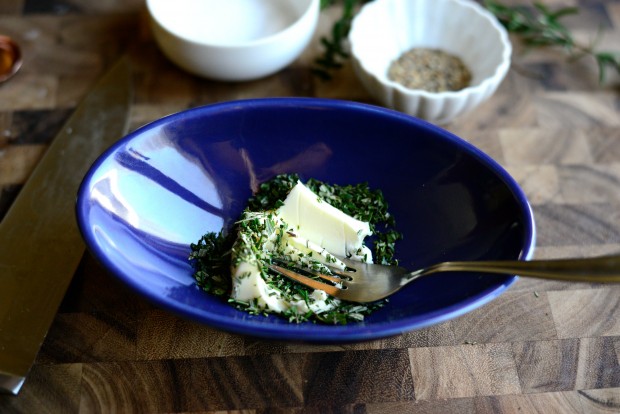 …and mash with a fork.
Ta-da! Now set that off to the side for a moment.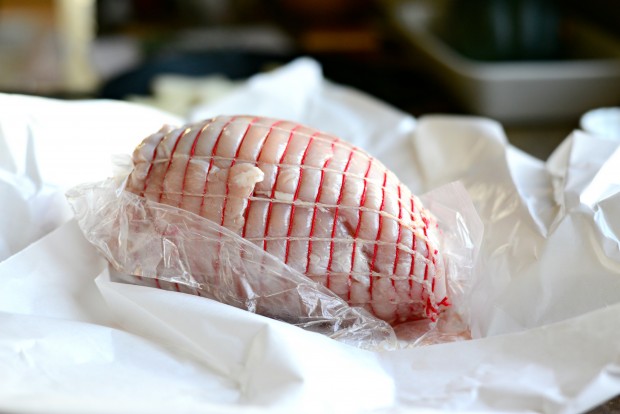 I walked in to the butcher for a bone-in, skin-on turkey breast and walked out with boneless, skinless turkey breast roast thing. But hey that's okay… I can work with that! You can use the herb butter on a bone in, skin-on breast just may need to adjust the measurements depending on its size.
Remove any plastic packaging but keep the stringed netting intact.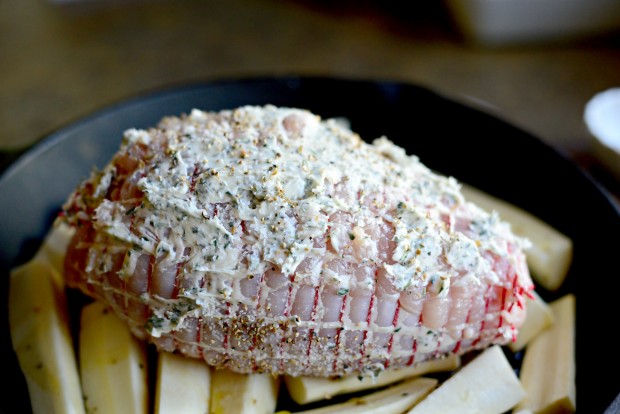 Pat dry the turkey breast with paper towels before smothering it with the herbed butter. Season all sides generously with salt and pepper, then place it on the bed-o-parsnips.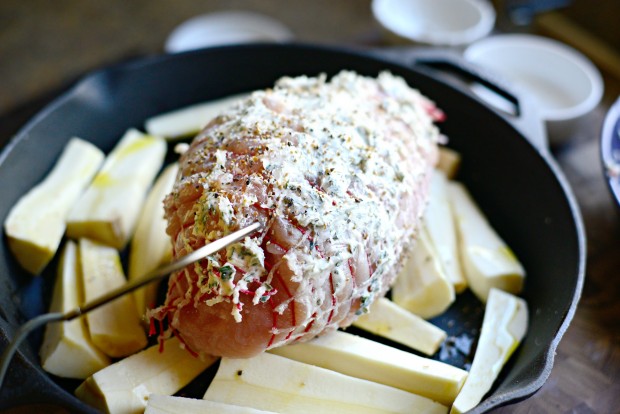 Insert a thermometer in the center of the thickest part and slide the whole pan on the lowest rack in your preheated 425 degree oven.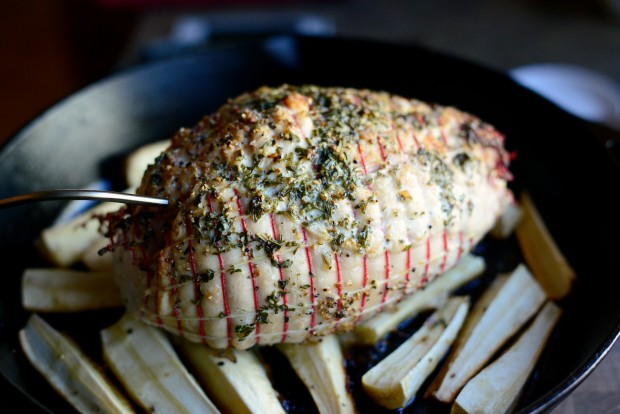 Roast at 425 degrees for 30 minutes. Reduce heat to 350 degrees and cook until a digital thermometer [affiliate] reeds 160-165 degrees about 1 hour to 1 hour 30 minutes.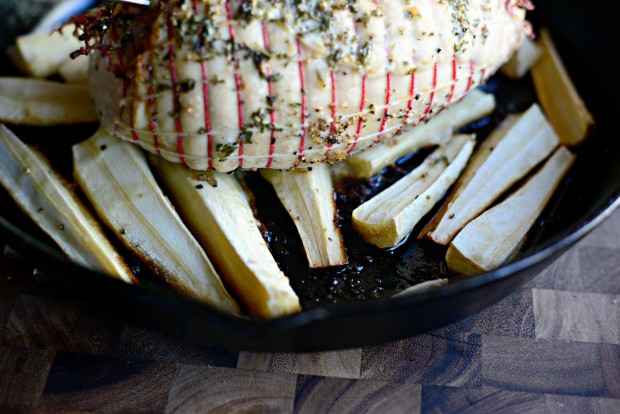 And would you just look those parsnips…
First, transfer the one pan herb roasted turkey breast to cutting board and let it rest for 8 to 10 minutes under tented foil.
Toss the parsnips with finely minced parsley. The hot skillet should keep these warm but if you want to make a pan gravy then just transfer them to a serving dish and cover tightly with foil. Add 1-2 tablespoons of butter, once melted add 1 finely dice shallot and cook until soft and translucent. Add 2 to 3 tablespoons flour and whisk it into the fat. Cook the flour/fat mixture for 2 to 3 minutes before slowing adding and whisking in the broth, about 2 cups. Season to taste with dried thyme, ground sage, salt and pepper (sorry, I didn't measure any of this out). Bring to a bubble and simmer until thick.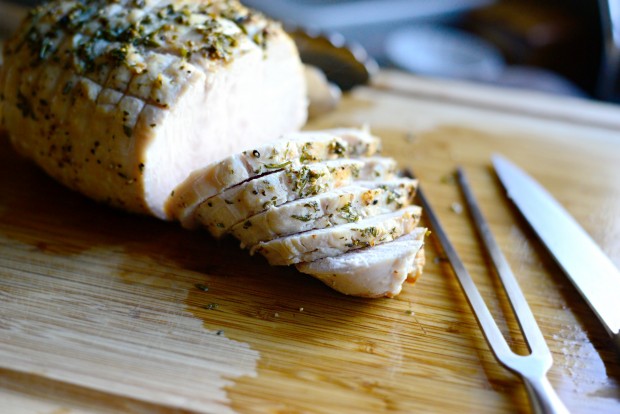 Once the turkey has rested, slice and serve with gravy poured over top.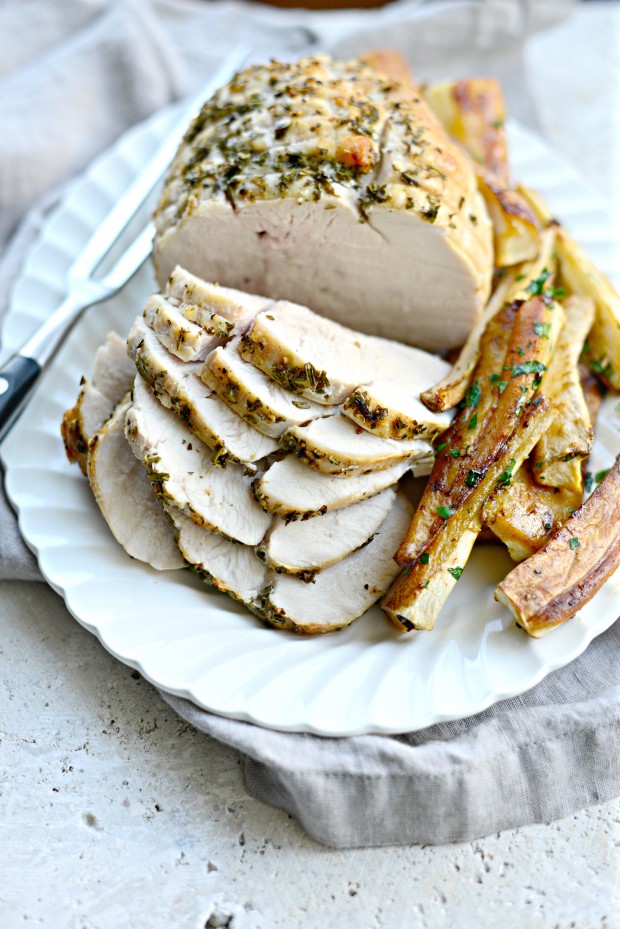 Tender, flavorful turkey… crispy, earthy parsnips… it's the total package.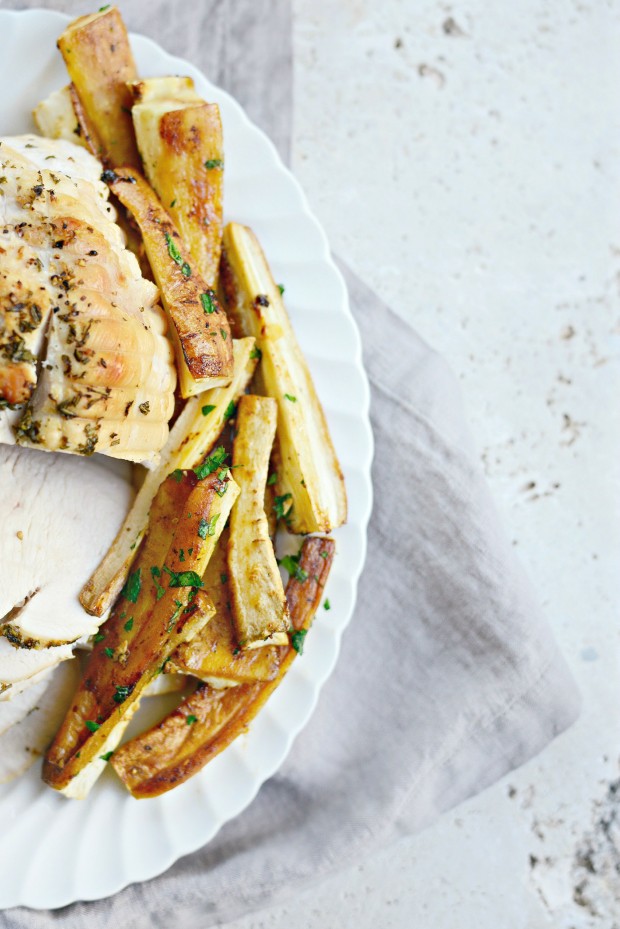 I stole quite a few parsnips from the bow while I made the pan gravy. Seriously I could eat these parsnips all on their own. Utterly FABULOUS!
This one pan herb roasted turkey breast is such a hearty, cozy dinner for just about any occasion.
Make it. Eat it. Love it.
Enjoy!
My cookbook Simply Scratch : 120 Wholesome Homemade Recipes Made Easy is now available! CLICK HERE for details and THANK YOU in advance!
[cft format=0]
[this post contains affiliate links.]
This post may contain affiliate links.
Buy the Cookbook: Simply Scratch : 120 Wholesome Homemade Recipes Made Easy Now available on Amazon »
THANK YOU in advance for your support!