Homemade Giblet Gravy is a thick and robust gravy made from turkey drippings, homemade neck and giblet stock and finely minced giblet and neck meat. This recipe yields 3 cups of gravy or 12 (1/4 cup) servings.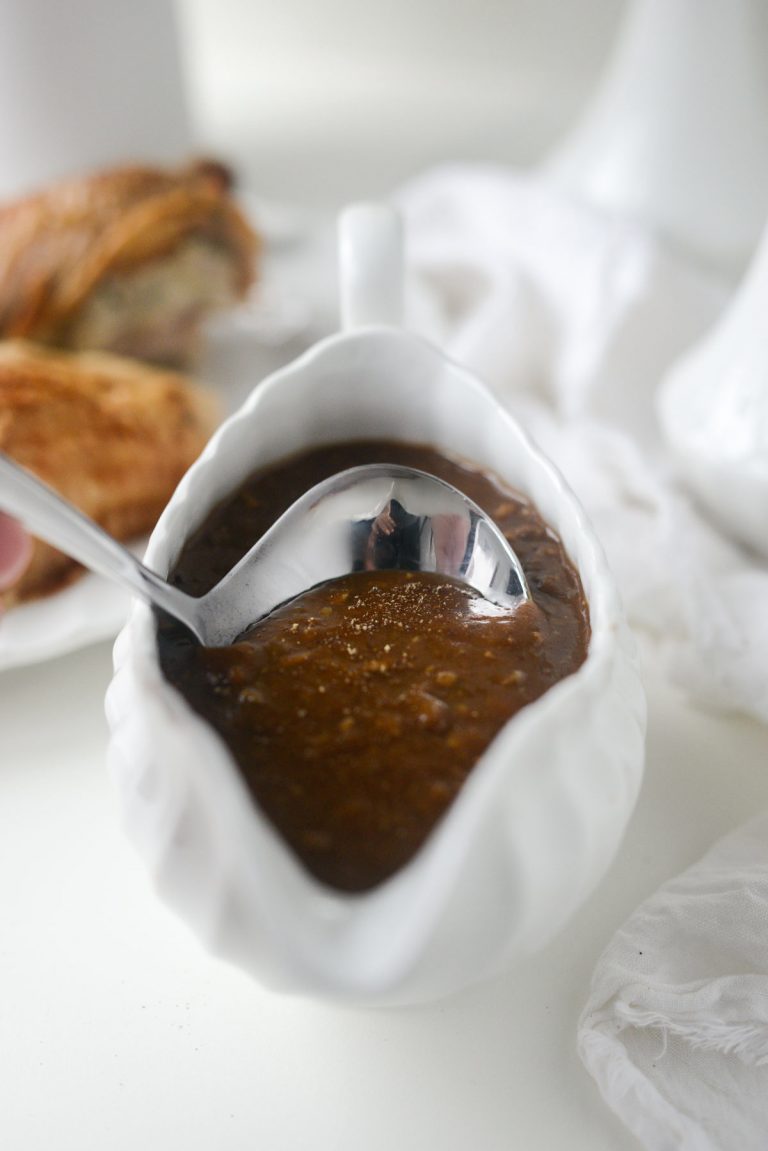 Don't throw the neck and giblets out!
Instead, try making a flavorful gravy or add to a stuffing. This year, I wanted to share my recipe for homemade giblet gravy! It's incredibly easy. A simple stock is made while the turkey is cooking and then the gravy comes together while it's resting.
What Are Giblets?
Most turkeys come with the neck and a waxy paper bag of its giblets in the turkey cavity. Giblets are the edible organ meats of the turkey (or fowl). It's also known as offal and consists of the heart, gizzard (stomach) and liver.
To Make the Homemade Giblet Gravy You Will Need:
for the giblet stock:
neck and giblets
bay leaf
rosemary
sage
thyme
shallot
water
cheesecloth
for the gravy:
butter
neck and giblets (reserved from making stock)
turkey drippings
unbleached all-purpose flour
finely minced neck meat and giblets
giblet stock
turkey or chick stock (as needed)
soy sauce (or season with salt to your preference)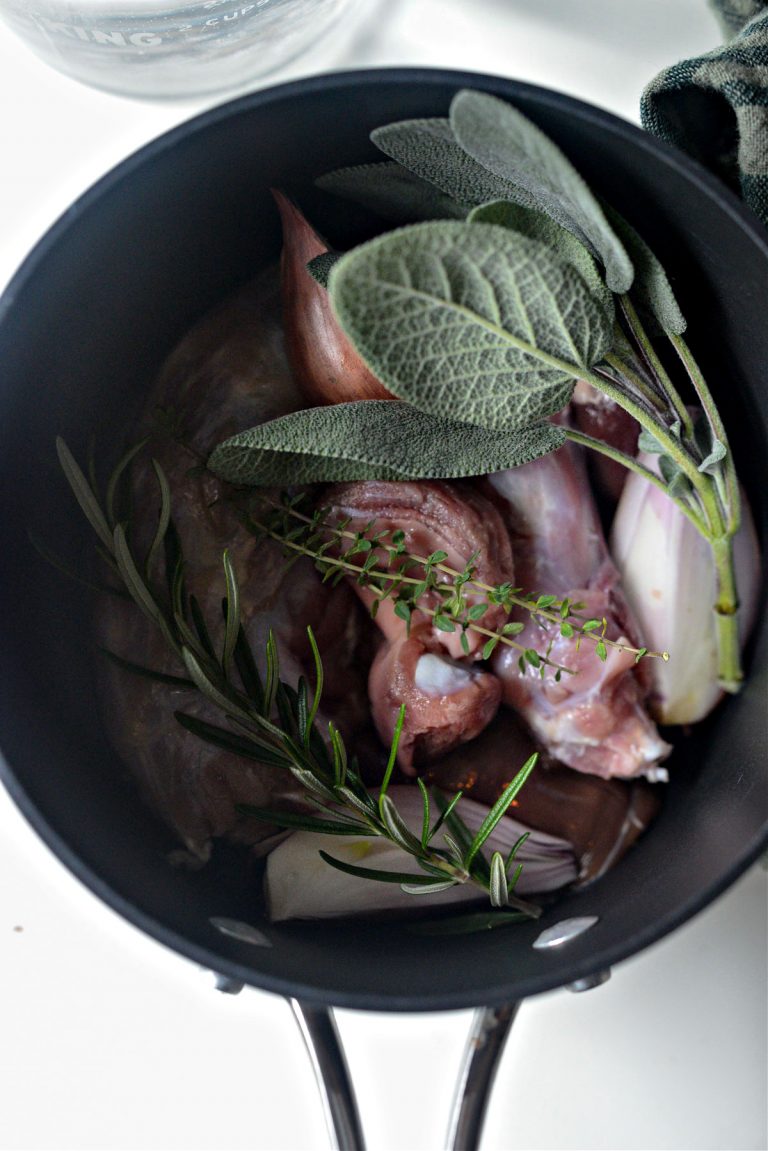 Make the turkey neck and giblet stock:
Add the turkey neck, giblets, quartered shallot, bay leaf and fresh herbs in a 6 quart saucepan.
Pour in 4 cups water.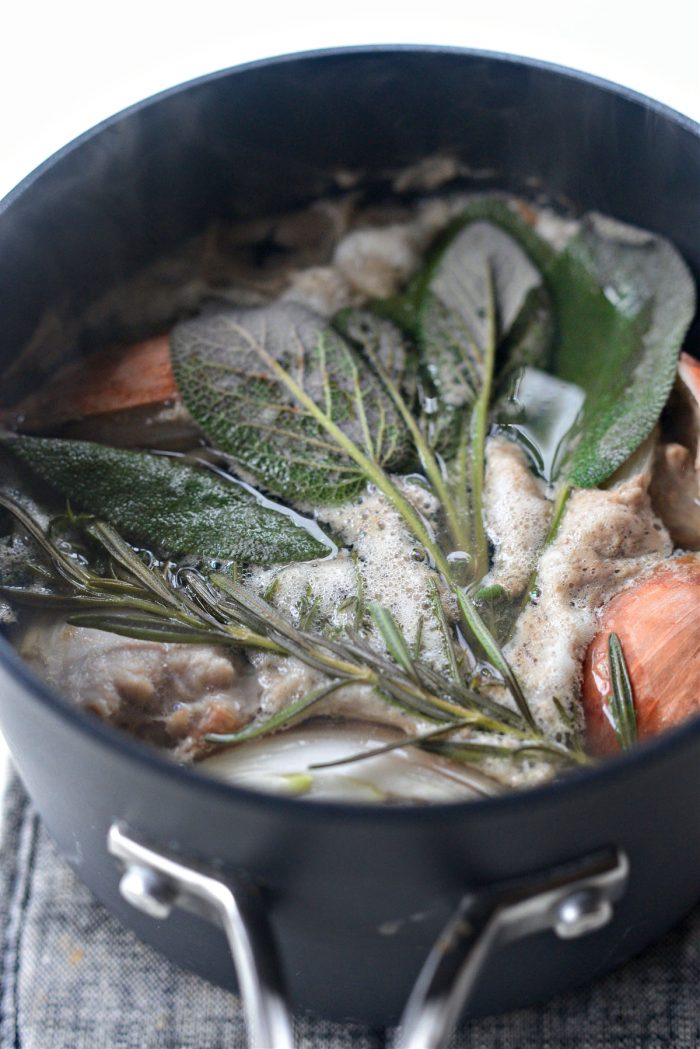 Bring to a boil and then reduce to low, simmering for 1 hour.
And that's it! It's really simple and will elevate and flavor your gravy.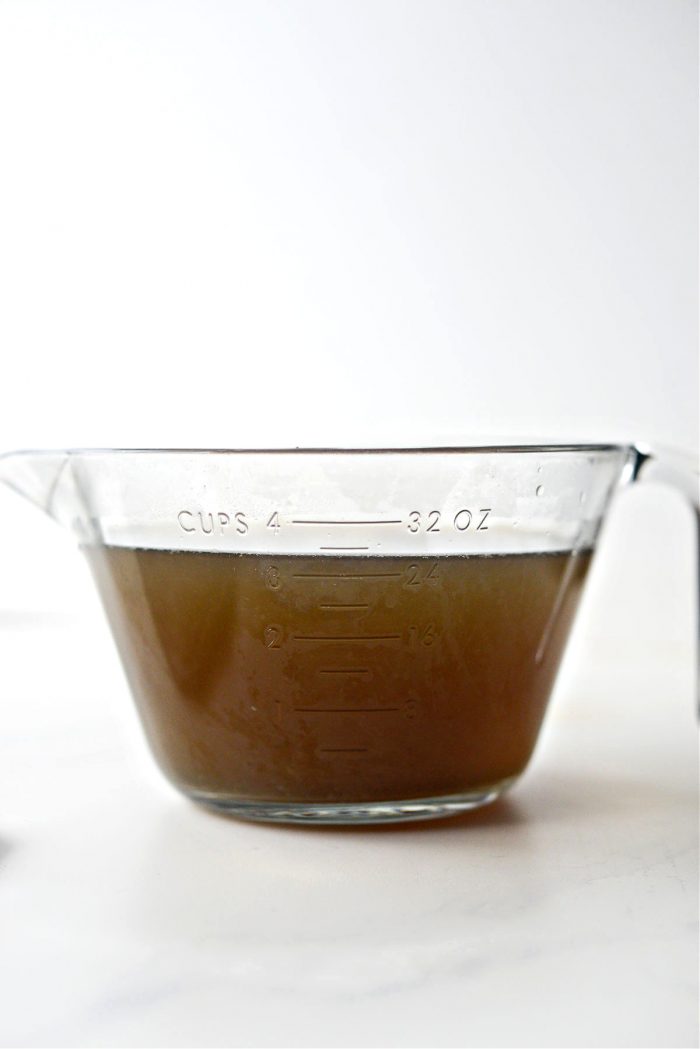 Set a mesh sieve lined with a double layer of cheese cloth over a large liquid measuring cup. Use tongs to remove the neck and giblets. DO NOT DISCARD. Then pour the giblet stock through the strainer. Set aside.
Melt 2 tablespoons butter in a skillet and heat over medium to medium-high heat. Once hot, add the neck and giblets.
Searing on both sides.
Once seared, remove and let cool slightly. Once safe to handle, pick of any meat from the turkey neck and mince it very fine along with the giblets. For a finer chop, add it to a food processor and pulse a few times.
Once your turkey is done cooking, add the neck stock and pan drippings to a fat separator. Remove the plug and pour the stock/juices into a separate measuring cup, leaving the drippings behind in the separator. To the stock/juices add enough turkey or chicken stock to equal 4 cups of liquids.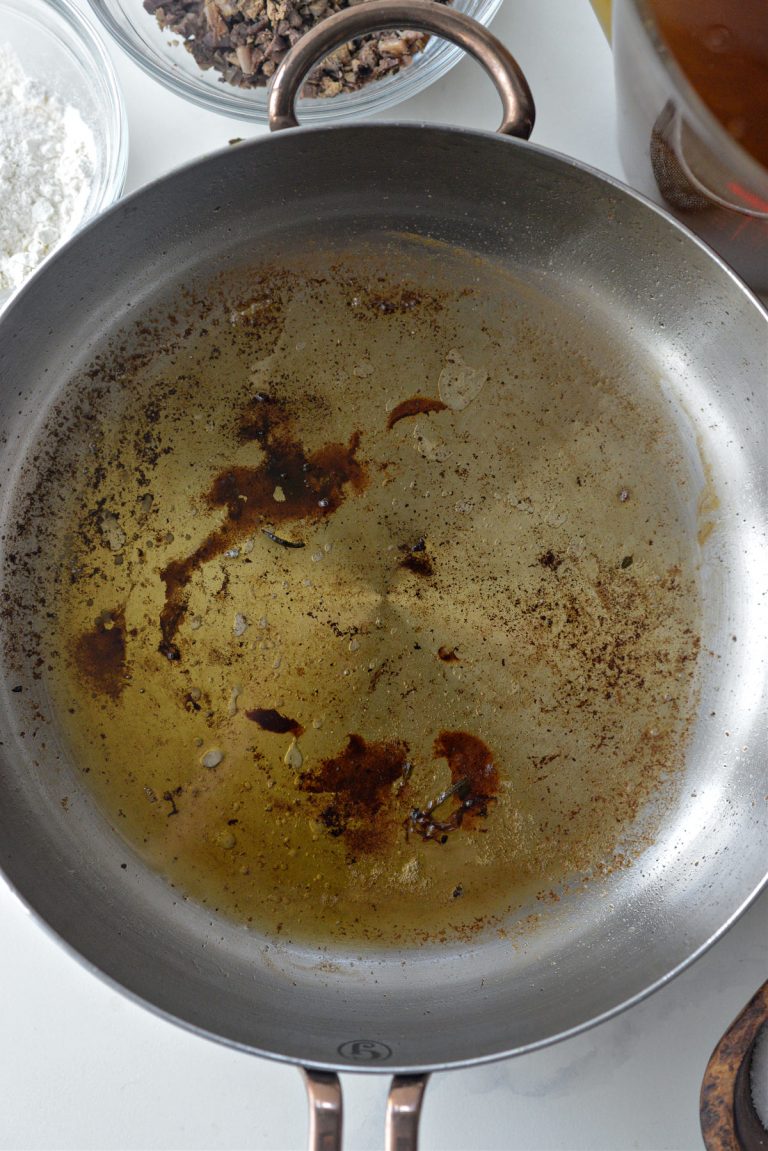 While your turkey is resting Make the Gravy!
To any remaining butter in the skillet (used to searing the turkey neck and giblets) add 2 to 3 tablespoons turkey drippings and heat over medium.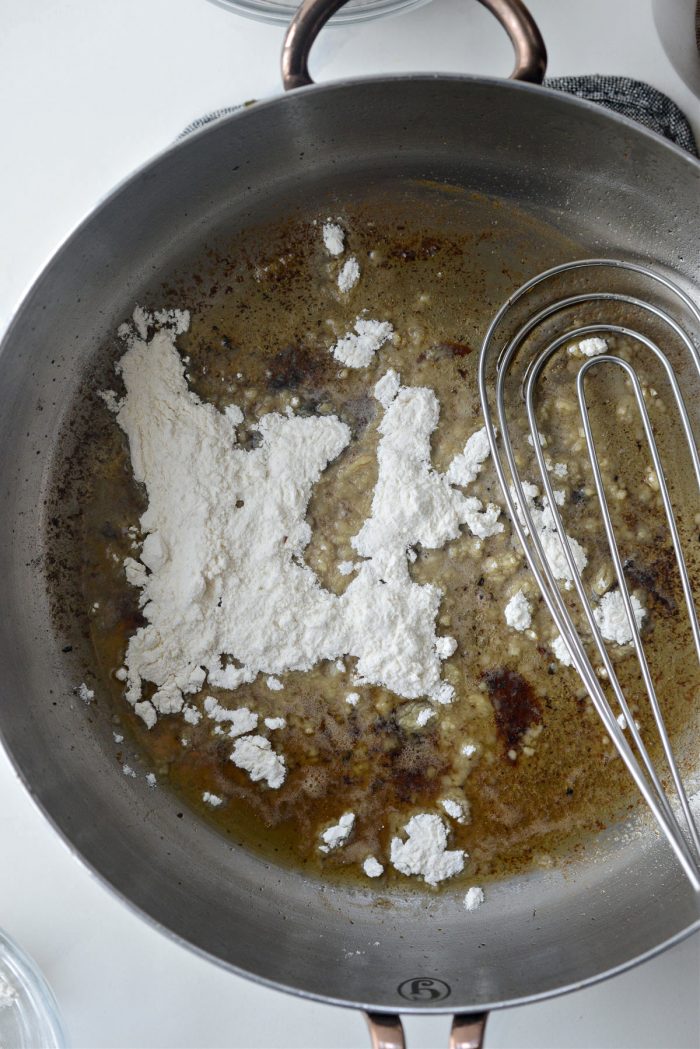 Once bubbling, add 4 tablespoons of flour.
Sprinkle in more if needed. You want it to form a paste.
Whisk while cooking the flour for 3 minutes.
Add in the minced neck meat and giblets.
Stir and cook for 1 minute.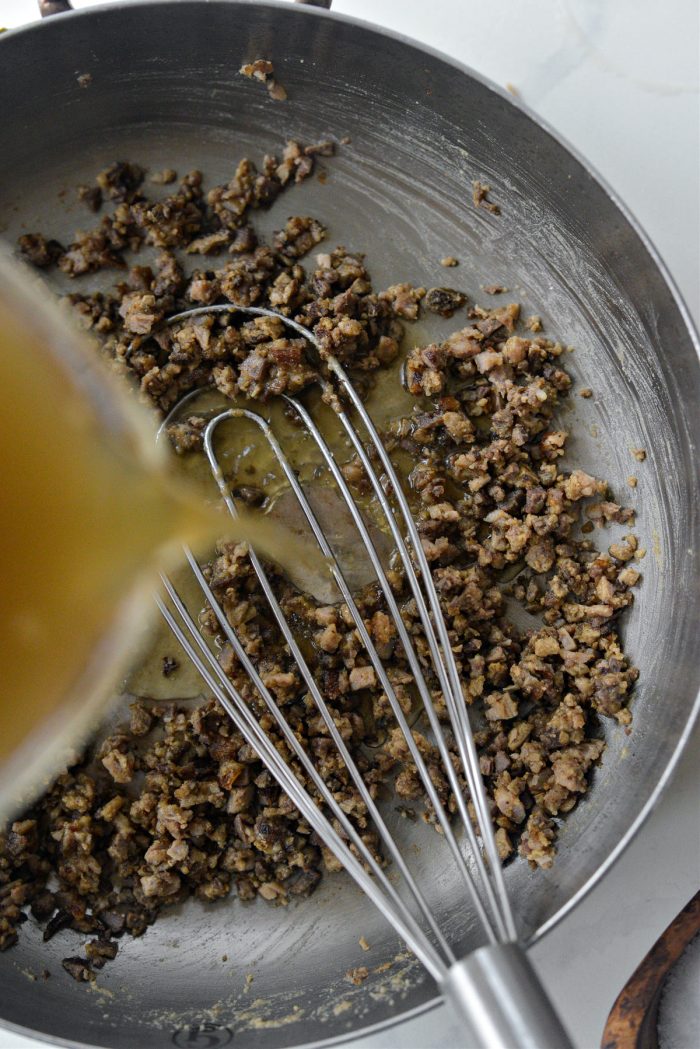 Slowly pour in the turkey/giblet stock while whisking.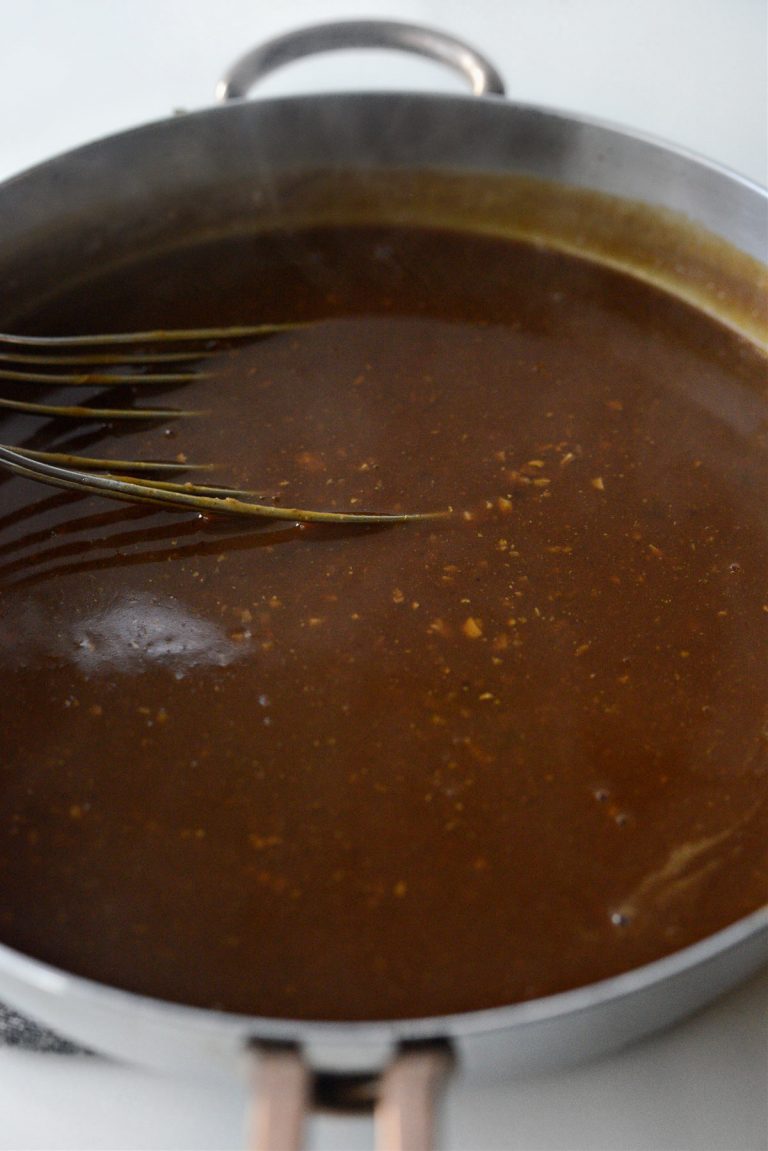 Let simmer, whisking occasionally, until thickened. I season my turkey gravy with 2 tablespoons low-sodium soy sauce. However for this post, I was not paying attention and accidentally grabbed the dark soy sauce without realizing it and that's why my gravy is such a deep brown color.
Still delicious but very dark in color.
How to thicken your turkey gravy fast:
Waiting for gravy to thicken can take a bit of time. If you're ever in a pinch and you want to thicken your gravy instantly here's what to do. Combine 2 tablespoons cornstarch with 2 tablespoons water. Once it is simmering or bubbling, whisk while pouring in the cornstarch slurry.
Keep in mind: it's 1 tablespoon cornstarch (with water) for every 1 cup of liquid.
Transfer to a gravy boat and serve!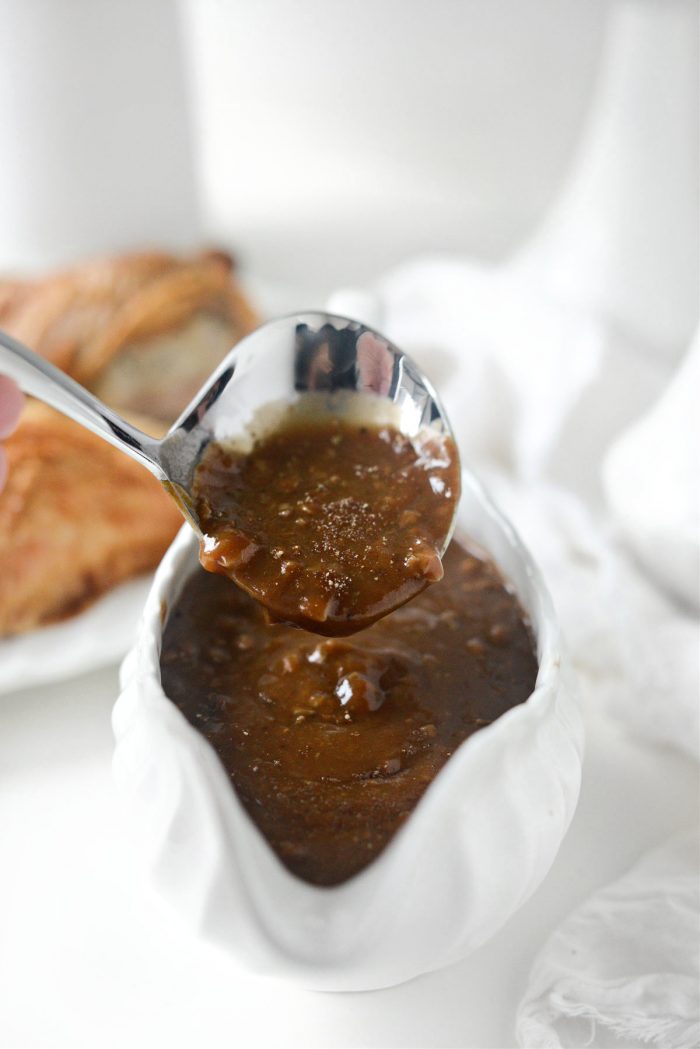 Enjoy! And if you give this recipe a try, let me know! Snap a photo and tag me on twitter or instagram!
Yield: 12 servings
Homemade Giblet Gravy
Homemade Giblet Gravy is delicious with so much deep flavor. A thick and robust gravy made from turkey drippings, a homemade neck and giblet stock and finely minced giblet and neck meat. This recipe yields 3 cups of gravy or 12 (3 tablespoon servings)
Ingredients
FOR THE GIBLET STOCK:
1 turkey neck
1 packet giblets
1 medium shallot
6 sage leaves, small
1 sprig rosemary
4 sprigs thyme
4 cup water
FOR THE GIBLET GRAVY:
2 tablespoons unsalted butter
2 tablespoons turkey drippings
4 tablespoons unbleached all-purpose flour, more as needed
1 cup turkey stock, or chicken stock, more or less as neede
2 tablespoons soy sauce, or salt to taste
Instructions
MAKE THE STOCK:
Add neck, giblets, shallot and herbs to a saucepan and cover with 4 cups of water. Bring to a boil, reduce heat to low and simmer for 1 hour.

Remove neck and giblets, setting them off to the side. And strain the stock through cheesecloth draped into a mesh sieve set over a bowl.

Add any turkey or chicken stock (if needed) in order to have 4 cups of liquids.
MAKE THE GRAVY:
Add butter to a skillet and heat over medium-high. Sear the neck for 3 to 4 minutes a side. Transfer to a cutting board to cool slightly before picking meat from the neck and finely mincing it with the giblets.

To the same skillet, add 3 to 4 tablespoons of turkey drippings (depending on how much butter is remaining in the skillet).

Whisk in 4 tablespoons of flour, or more to form a paste. Cook the flour for 3 to 4 minutes.

Add in minced giblet meat and cook 1 minute before slowly pouring in the stock.

Bring to a simmer and cook, stirring often until the gravy thickens.

Season with 2 tablespoon soy sauce and black pepper to taste. See notes for tips on thickening.
Notes
How To Thicken Gravy Fast:
If in a pinch, thicken this gravy by combining 2 tablespoon cornstarch with 2 tablespoon water and whisk that into a bubbling gravy.
Serving: 4tablespoons, Calories: 56kcal, Carbohydrates: 3g, Protein: 1g, Fat: 4g, Saturated Fat: 2g, Polyunsaturated Fat: 1g, Monounsaturated Fat: 2g, Trans Fat: 1g, Cholesterol: 8mg, Sodium: 201mg, Potassium: 40mg, Fiber: 1g, Sugar: 1g, Vitamin A: 86IU, Vitamin C: 1mg, Calcium: 7mg, Iron: 1mg
This post may contain affiliate links.
Buy the Cookbook: Simply Scratch : 120 Wholesome Homemade Recipes Made Easy Now available on Amazon »
THANK YOU in advance for your support!