White Chicken Enchilada Lasagna is like white chicken chili but in the form of enchilada lasagna. Cheesy and delicious, a family favorite!
How about some cheese, cheese and more cheese??
Oh yeah and some chicken. But mostly cheese because this is one cheesy dinner. I don't make dinners like these too often but every once and again I crave a ultra comforting meal in the form of cheese dinner. Of course there's more to this than a brick of cream cheese and 4 cups of cheese. There's shredded chicken, bell pepper, onions, green chiles and tortillas, stacked in layers and baked until hot and bubbly. It's sort of like (my personal favorite) white chicken chili but in the form of enchilada lasagna. Ya dig?
You can serve this how ever you like; heaped onto a plate with a few splashes of Frank's Red Hot or with diced avocado and or salsa, but typically I just serve this with tortilla chips along with a side of napping.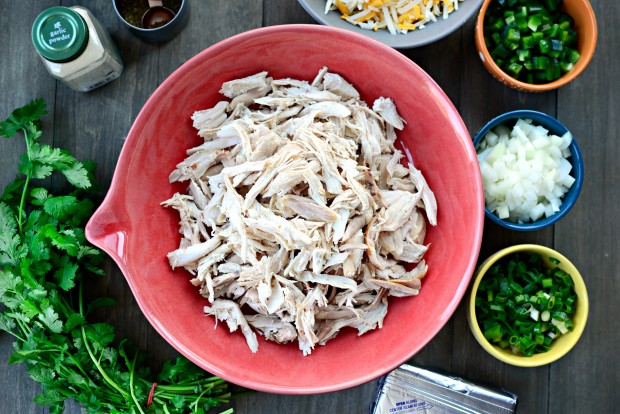 In a large bowl add 4 cups of shredded cooked chicken. Roast the chicken yourself or use rotisserie… I leave it totally up to you.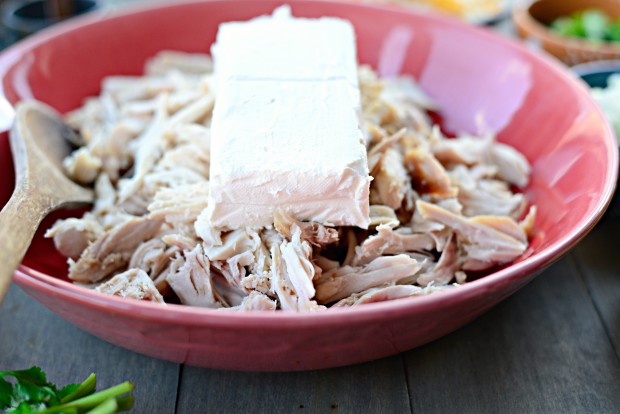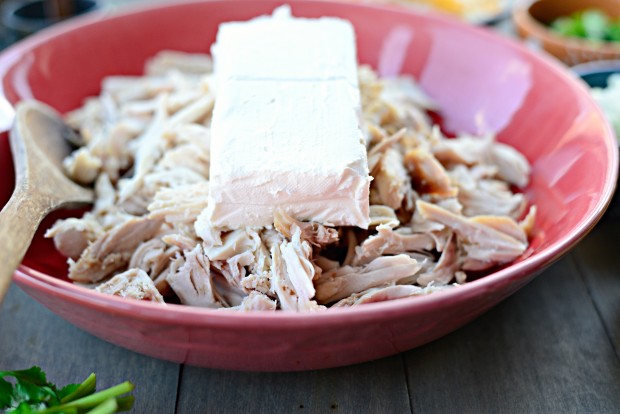 Plop down a brick of softened cream cheese. Trust me it's a whole lot easier to mix this mess together when a softened brick is involved versus a straight-from-the-fridge brick. #cantbedone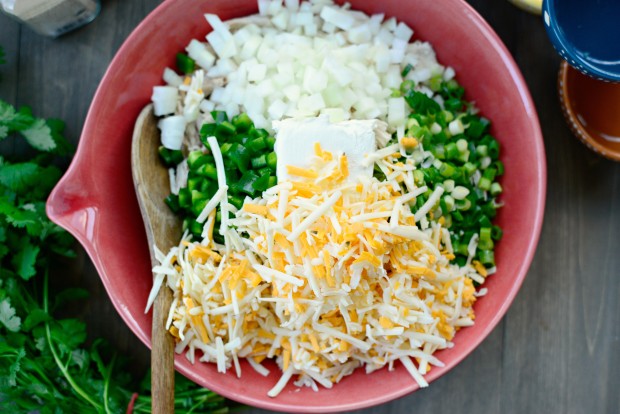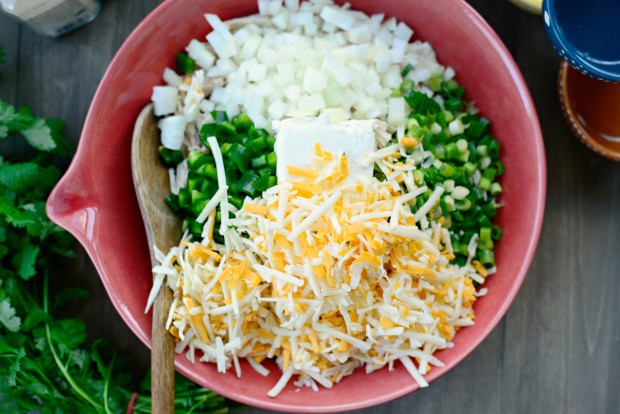 Then add in 1/2 cup finely diced green bell pepper, 3/4 cup of finely diced yellow onion, 4 green onions that have been sliced and 1-1/2 cups of the 3-cheese blend. This time I wasn't paying attention to my chopping and diced the onion and pepper a little to big and they were still a bit crunchy in the end. Still totally edible and the texture of soft-yet-firm vegetables wasn't all that bad to be honest. But just keep that in mind when you're making this… or you could saute them first in a skillet with little butter or totally omit them all together.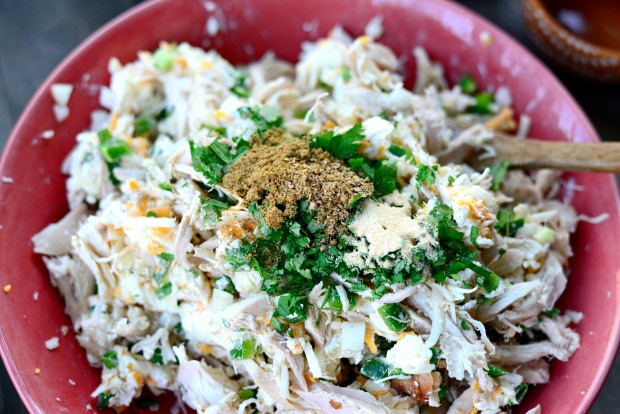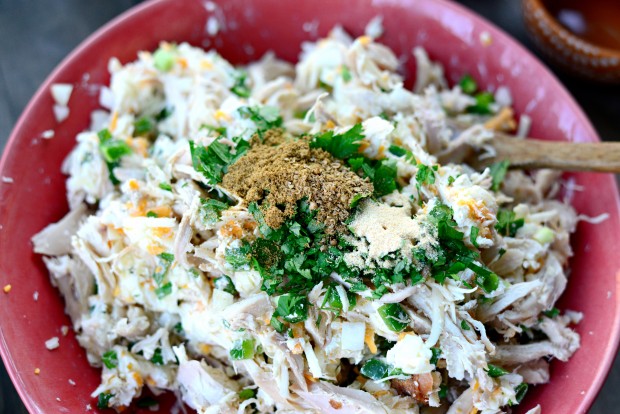 Give it a quick mix to get the cream cheese throughout before adding in 2 (ish) tablespoons of chopped fresh cilantro, 1 teaspoon of both cumin and garlic powder and 1/2 teaspoon ground coriander.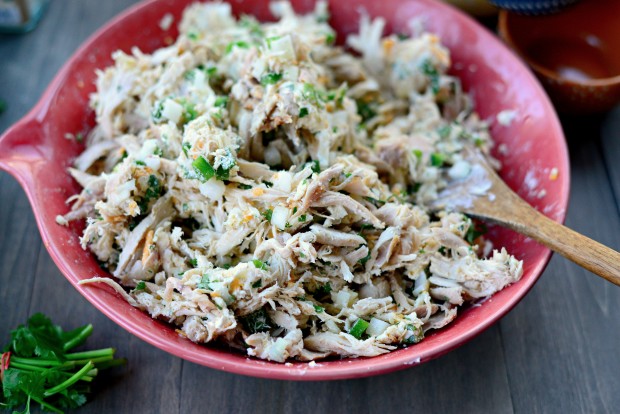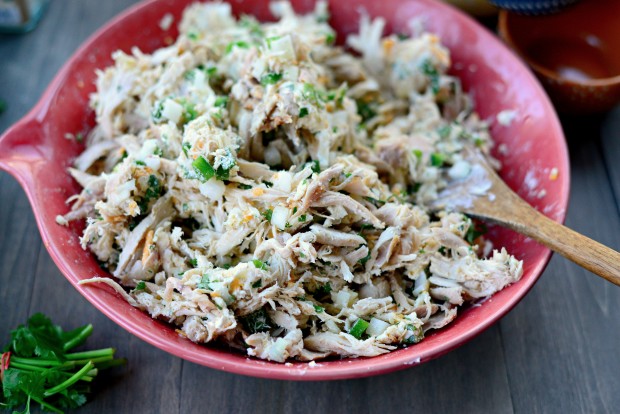 Mix until the herbs and spices are throughout and then set this off to the side to make The White Sauce.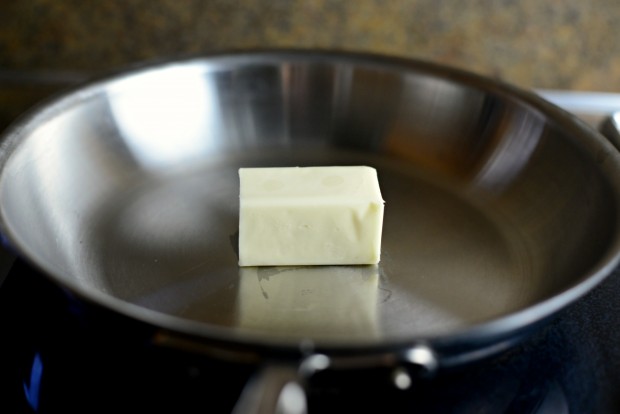 In a 10-inch skillet add 4 tablespoons of unsalted butter and heat over medium…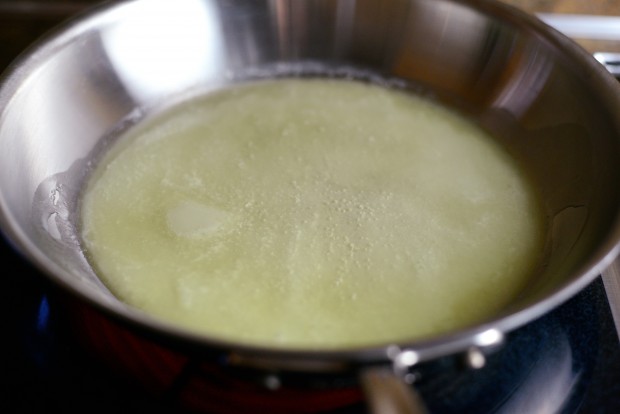 …until melted.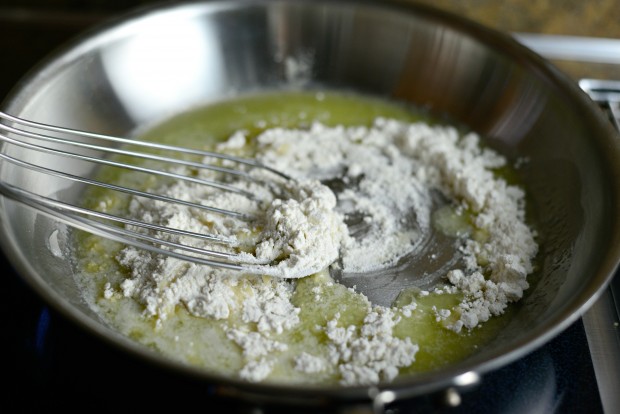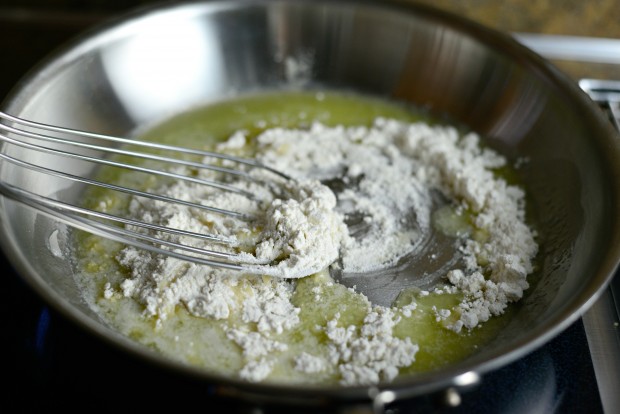 Whisk in 1/4 cup of all purpose flour and continue to whisk while it cooks for 2 to 3 minutes.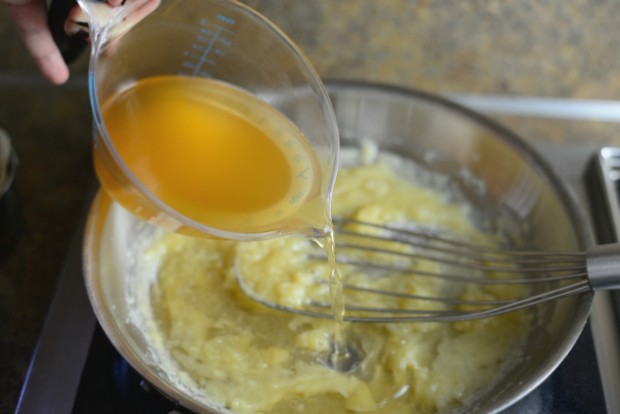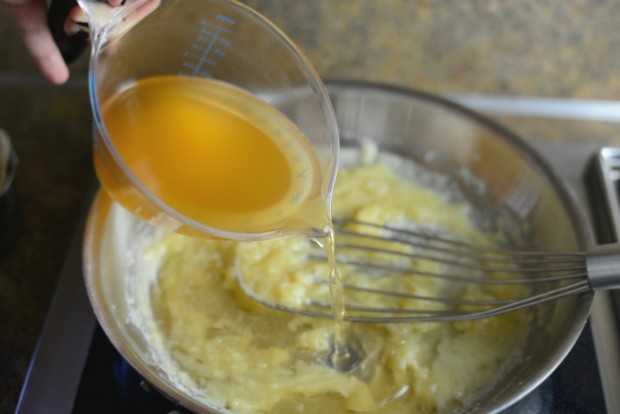 Whisk in 1-1/2 cups of chicken broth…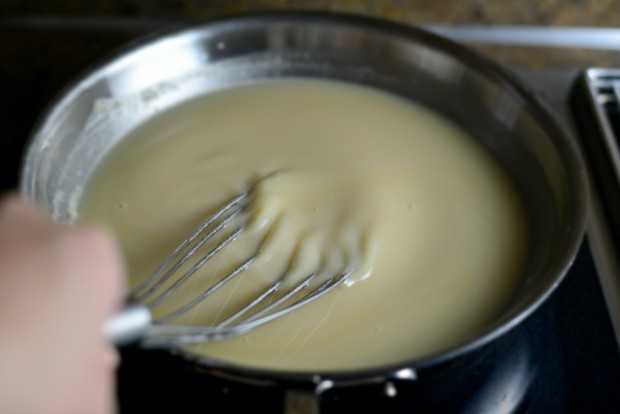 …until smooth and luscious.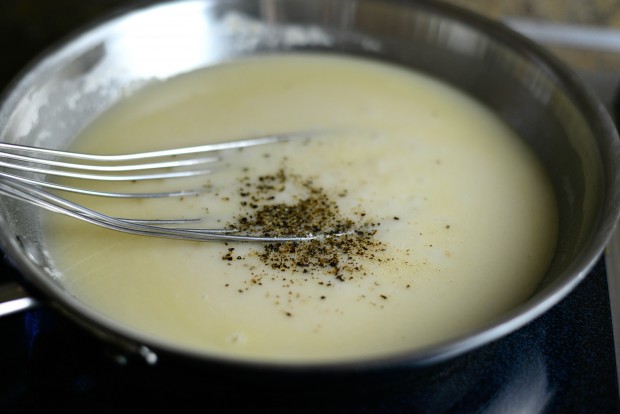 Turn the heat off and season with a pinch or two of kosher salt and a couple of grinds of fresh black pepper.
Add in 1 cup sour cream…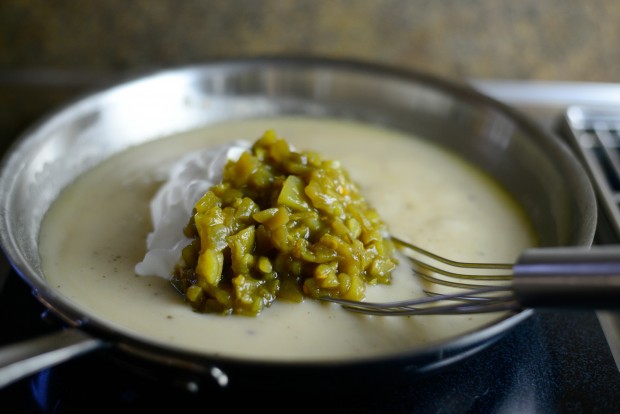 1 (4.5 ounce) can of diced green chiles…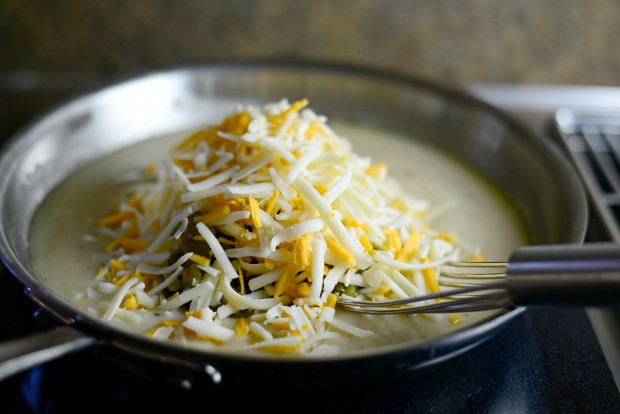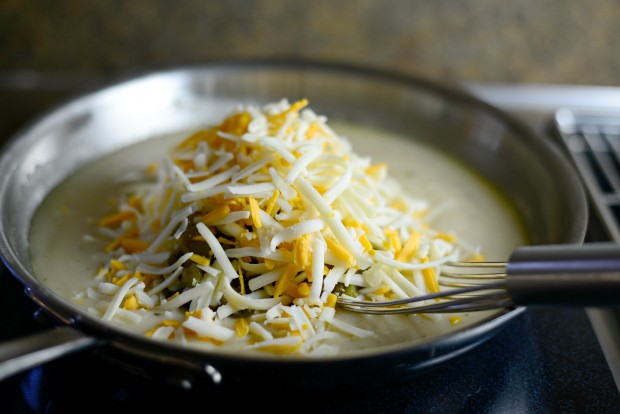 …1 cup of the shredded cheese blend…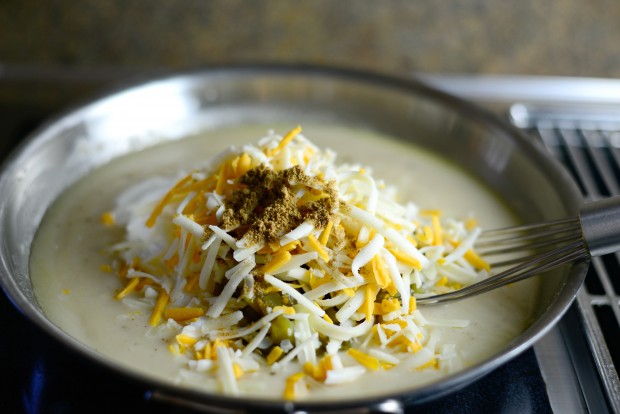 …and lastly, 3/4 teaspoon cumin.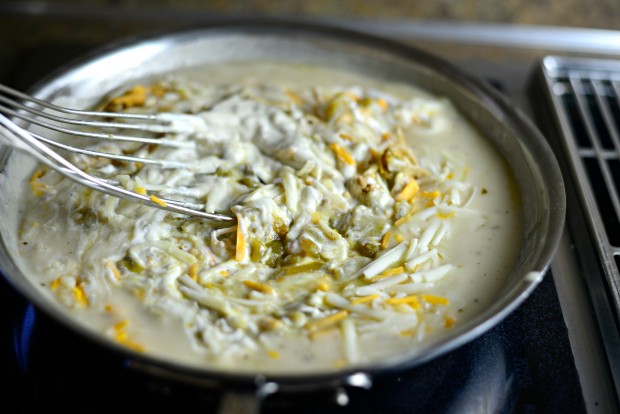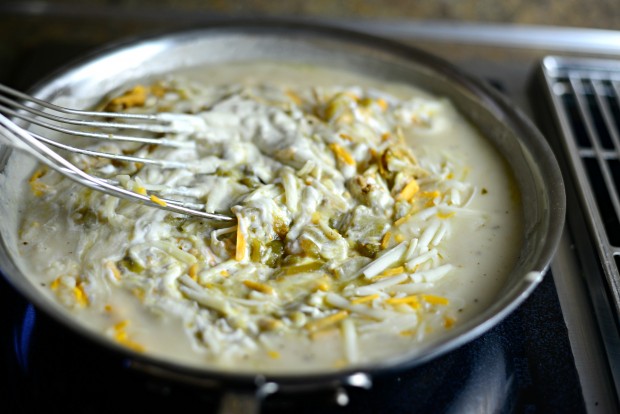 Stir slowly…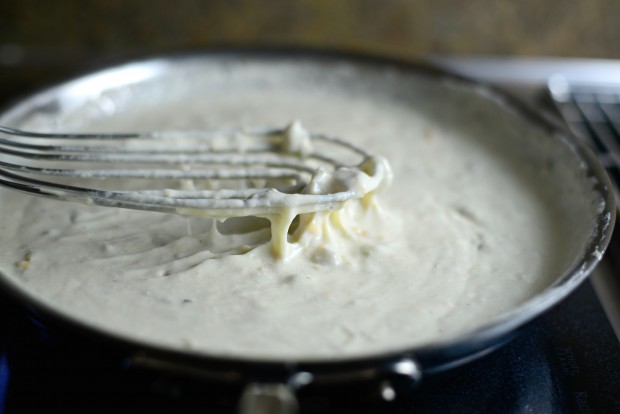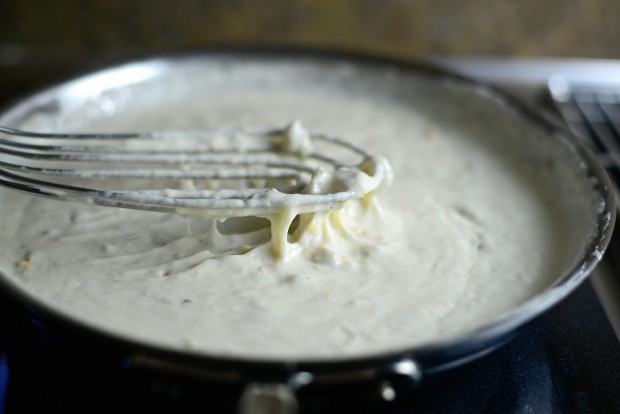 Until the heat of the sauce melts the cheese and all the ingredients are incorporated.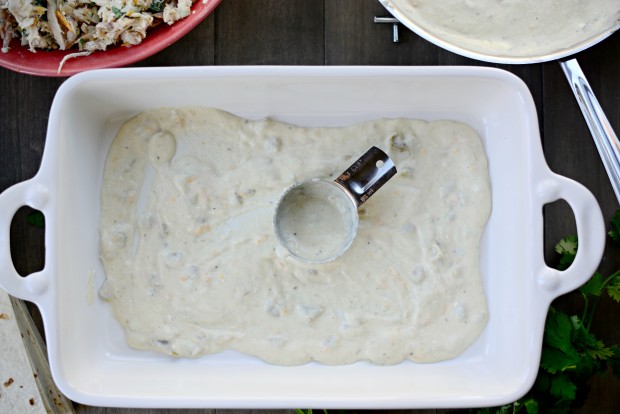 Spread 2/3 cup of the sauce on the bottom of a 9×13 baking dish.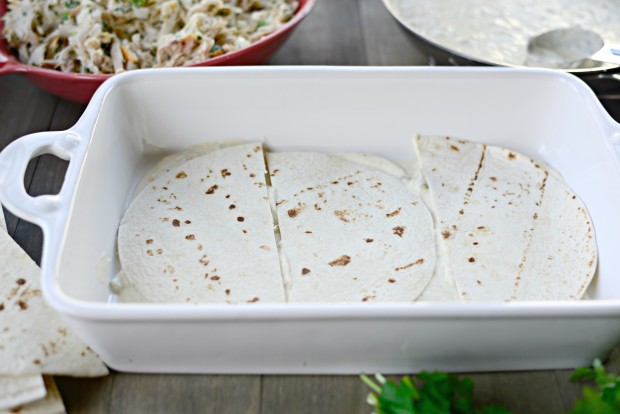 Place three flour tortilla halves on top of the sauce…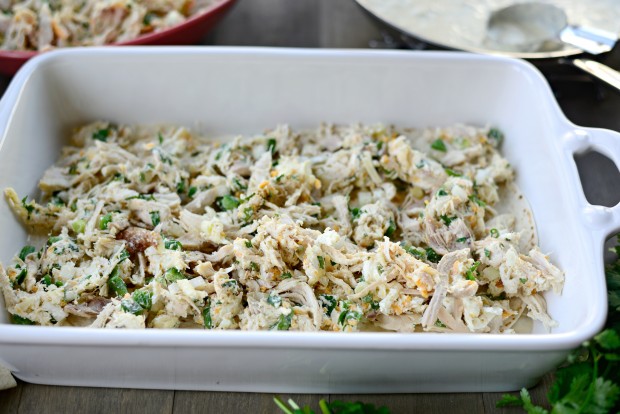 Add 1/3 of the chicken mixture on top of the tortillas…
…and drizzle with 2/3 cup of the sauce.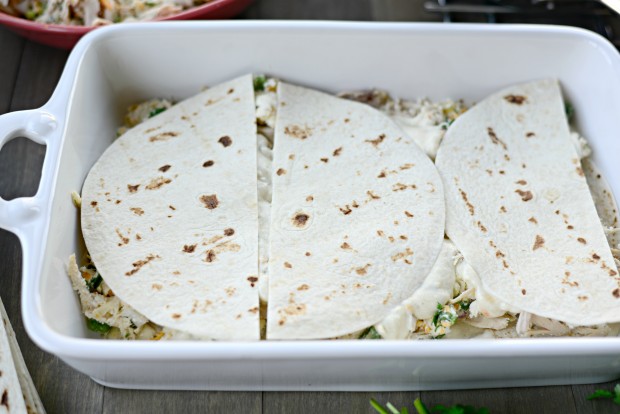 Top with 3 more tortillas…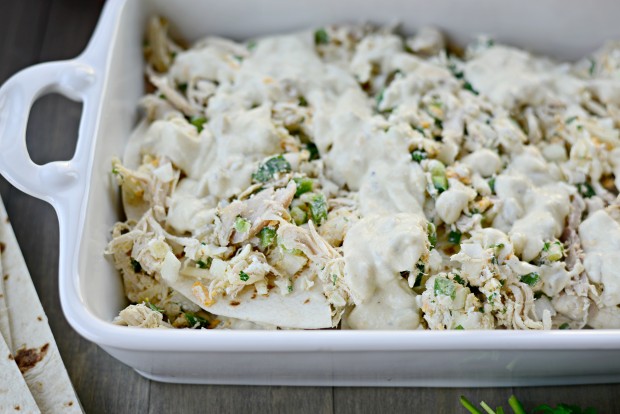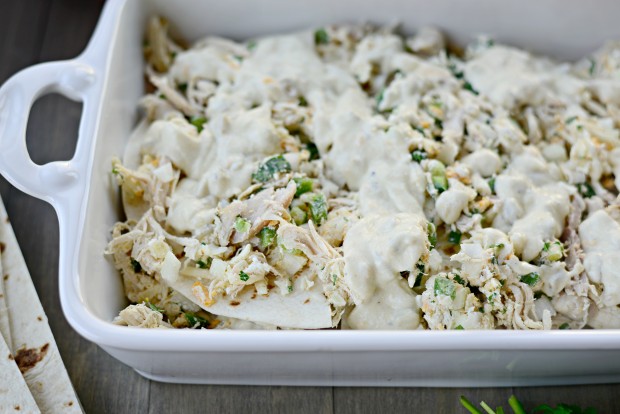 …another third of the chicken mixture and 2/3 cup of the sauce.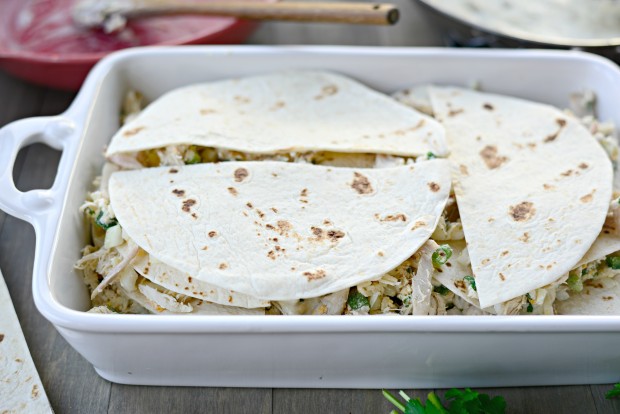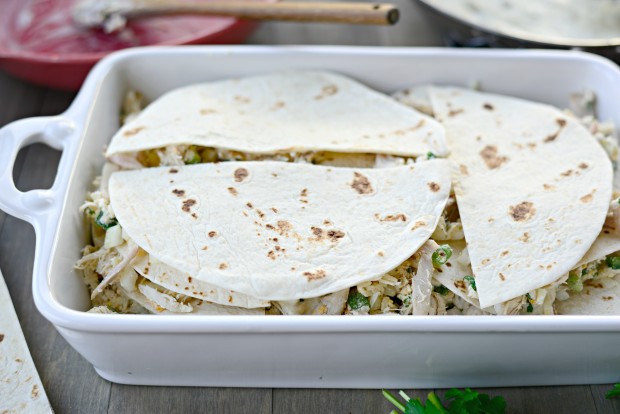 Three more tortillas, the remaining chicken mixture, NO SAUCE but three more tortillas…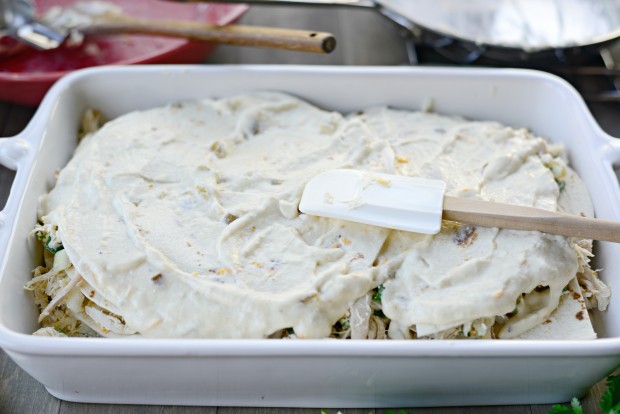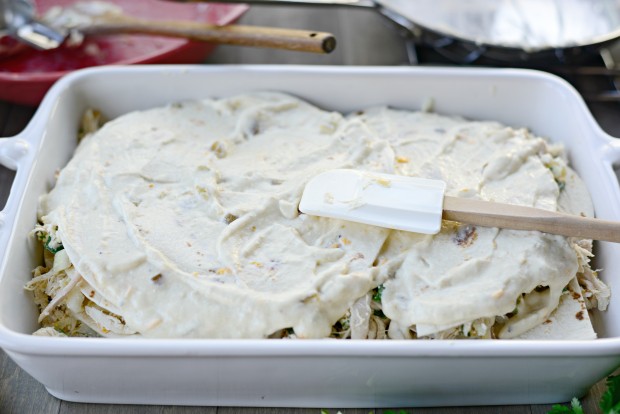 Now, pour the remaining sauce over the top…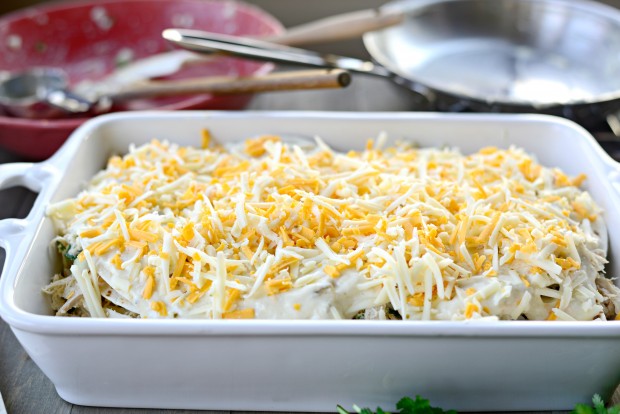 …and sprinkle with remaining cheese.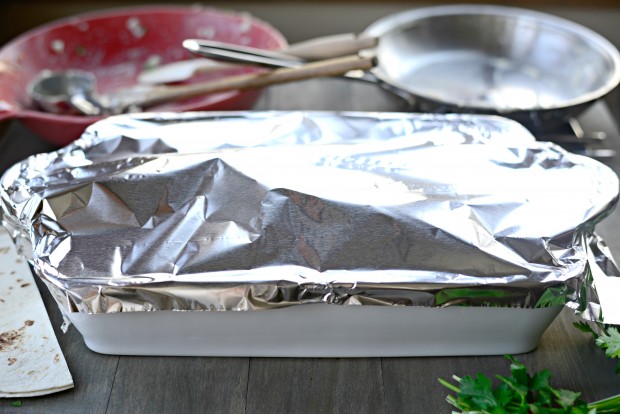 Cover the baking dish with foil and slide it into a preheated 375 degree oven to bake for 35 to 40 minutes. Remove the foil and continue to bake for 15 more minutes, it should be melted and bubbly.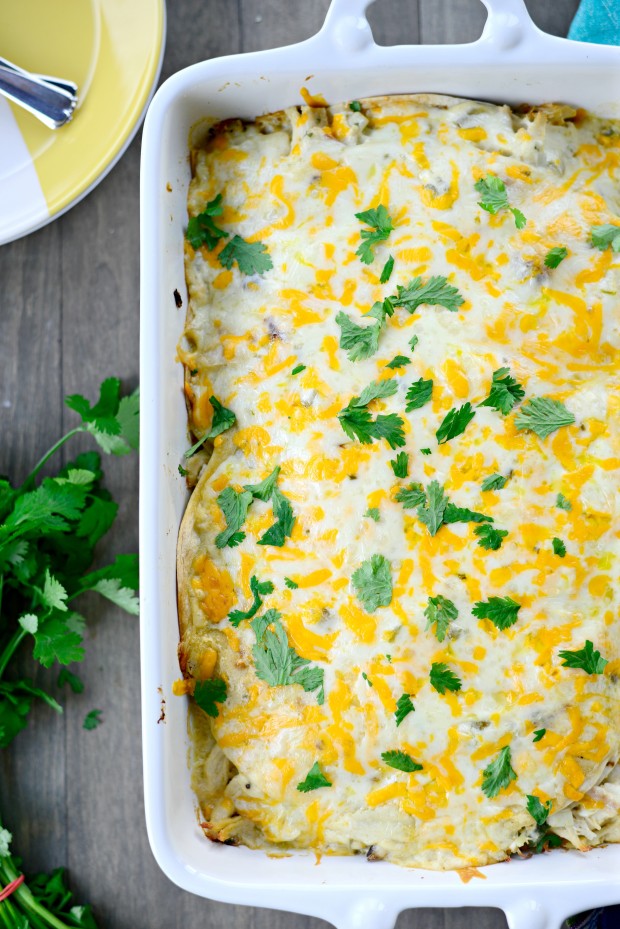 Sprinkle with some torn cilantro leaves…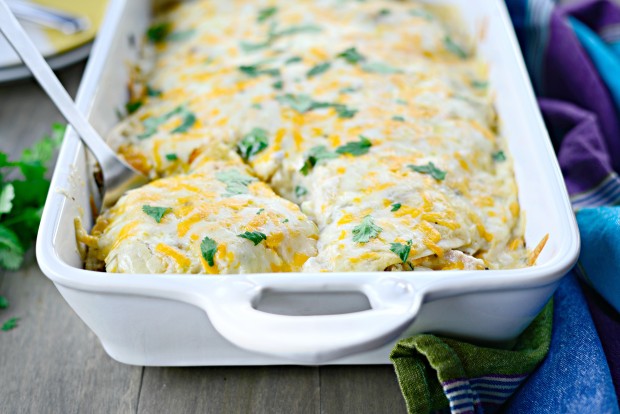 …and dig right on in it.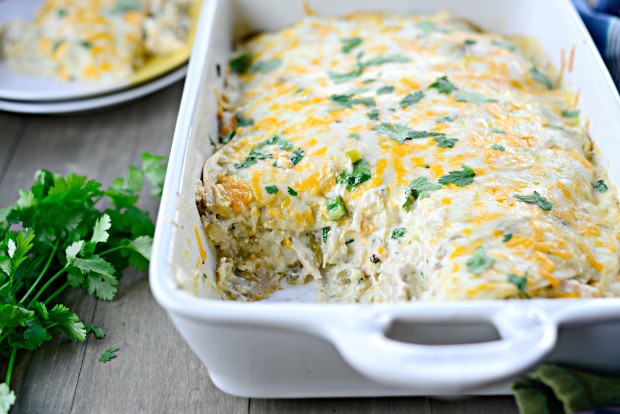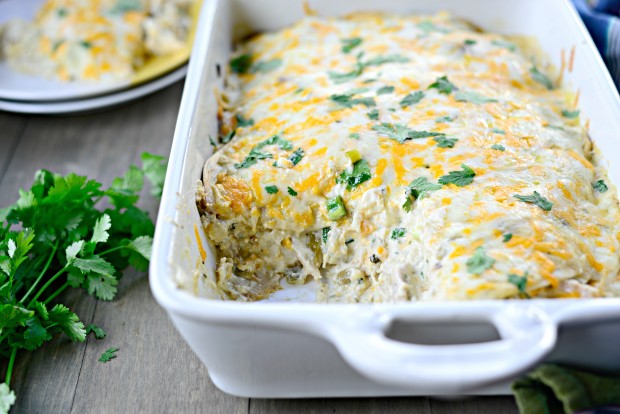 So creamy, so luscious and so cheesy!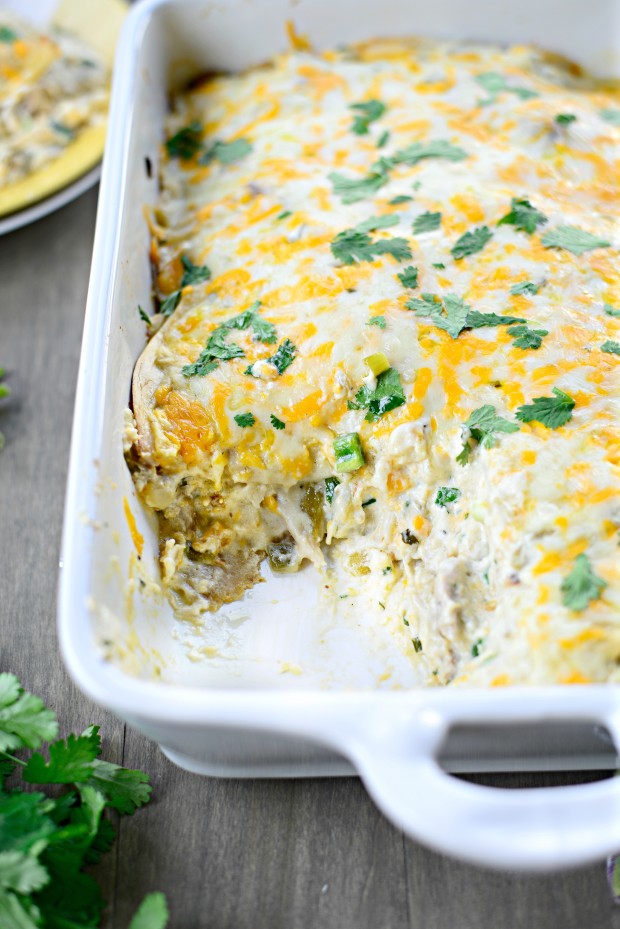 It's borderline ridic. Comfort food at it's best.
Ps. Is there really such a thing as too much cheese? I don't think so, not in my world. (Insert new cheese emoji here)
Enjoy!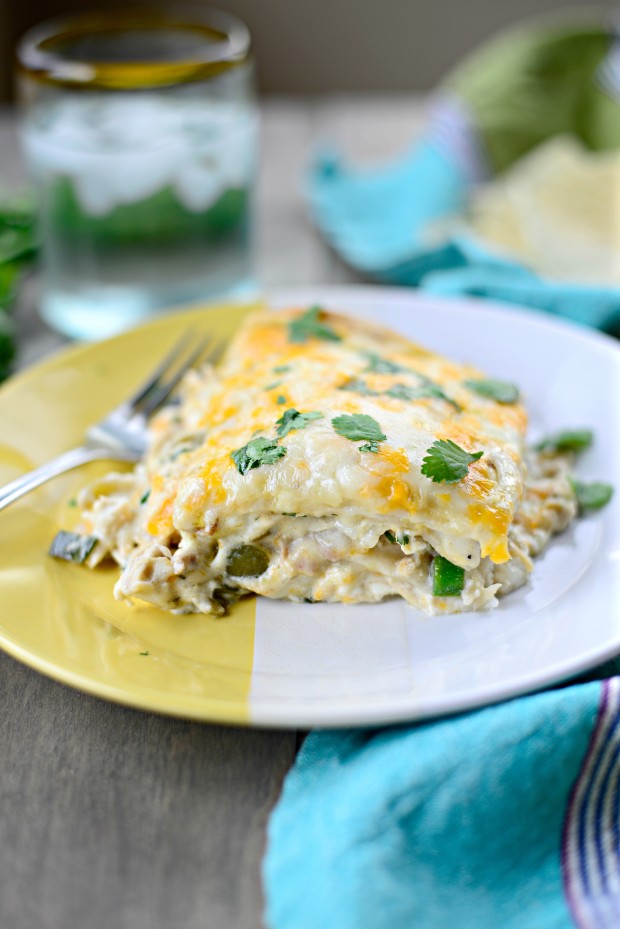 My cookbook Simply Scratch : 120 Wholesome Homemade Recipes Made Easy is now available! CLICK HERE for details and THANK YOU in advance!
[this post contains affiliate links.]
This post may contain affiliate links.
Buy the Cookbook: Simply Scratch : 120 Wholesome Homemade Recipes Made Easy Now available on Amazon »
THANK YOU in advance for your support!