In this grilled tomatillo salsa, fresh vegetables are grilled and hand chopped for a quick and extremely flavorful salsa. Get your chips ready!
Snacks is my middle name. Laurie Snacks McNamara.That's me.
Give me any snack combo and I'll happily make a meal out of it. Veggies and dip? Did it. Apples and almond butter with a little sea salt? My lunch always. But when we go out for Mexican food I tend to house the freshly made chips and salsa leaving little room for my steaming cast iron skillet of chicken fajitas. Not that I've ever have not eaten dinner… but it's sometimes a struggle. (not really.)
And this grilled tomatillo version is no different.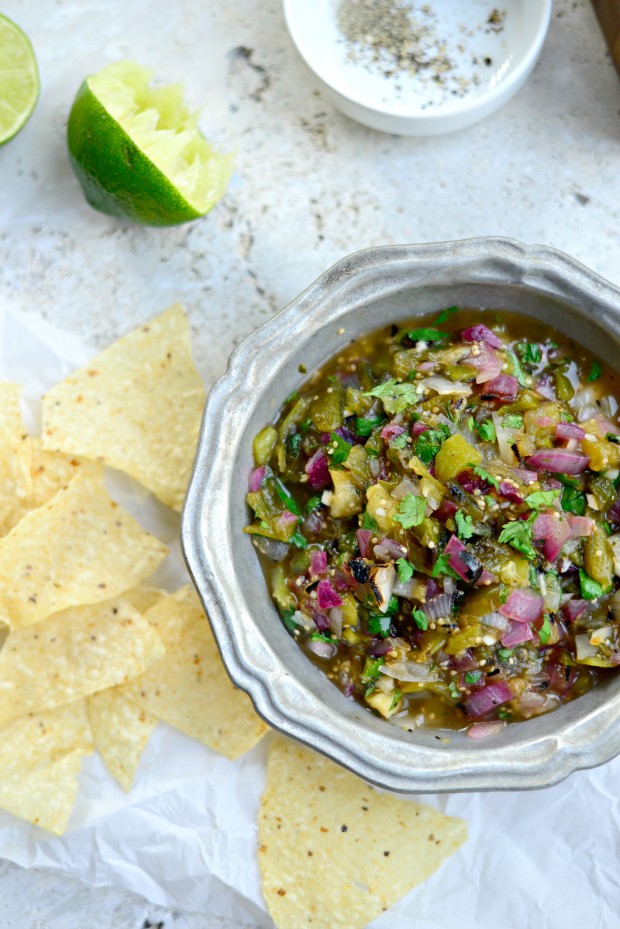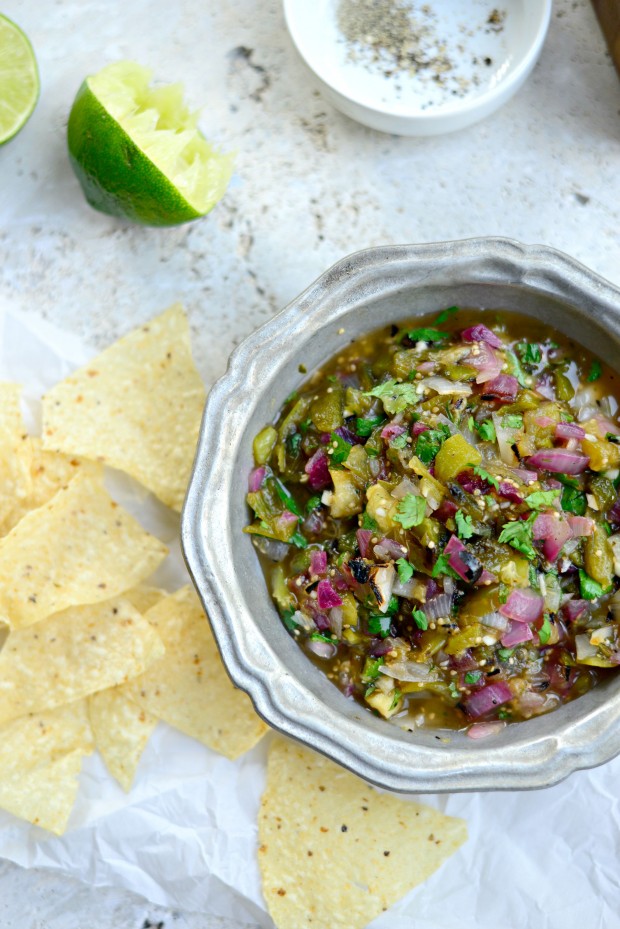 All the vegetables get grilled which adds that distinct grilled-char flavor, then I chop everything by hand so lugging out the food processor is avoided.
This is one delicious grilled tomatillo salsa!
To start, you'll need 6 medium-ish sized tomatillos (which is about 1-1/4 pounds), one red onion, one white onion, a jalapeno and poblano pepper. The peppers I grew in my garden- so proud of those babies.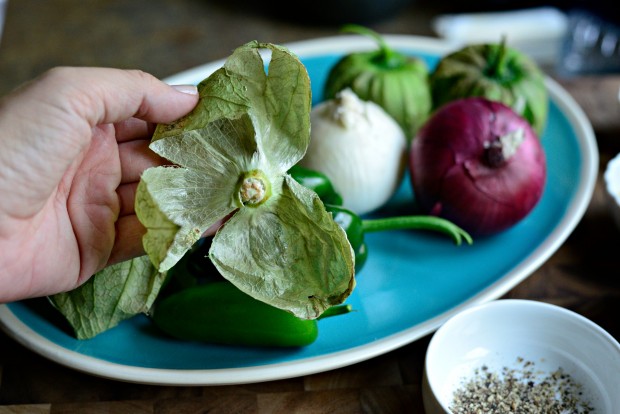 Next, peel the papery outer husk off of the tomatillos. Give the tomatillos a good wash under warm water because they'll have a sticky film on them.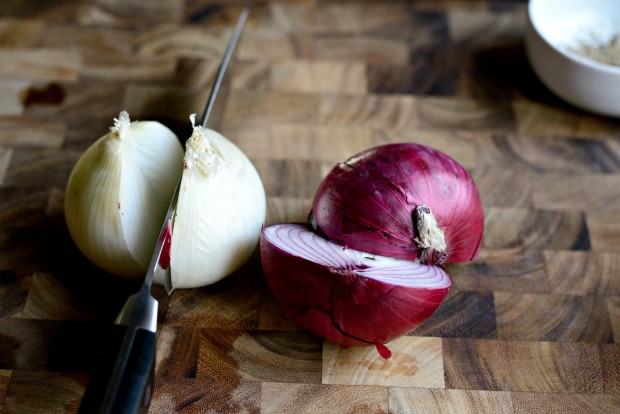 Then cut the onions in half and peel off the dry outer layers.
Toss all the veggies into a large bowl with a light drizzle of sunflower oil.
Then sprinkle with a couple pinches of kosher salt.
Next, place the veggies on a preheated medium to medium-high grill…
Turning every so often until tender.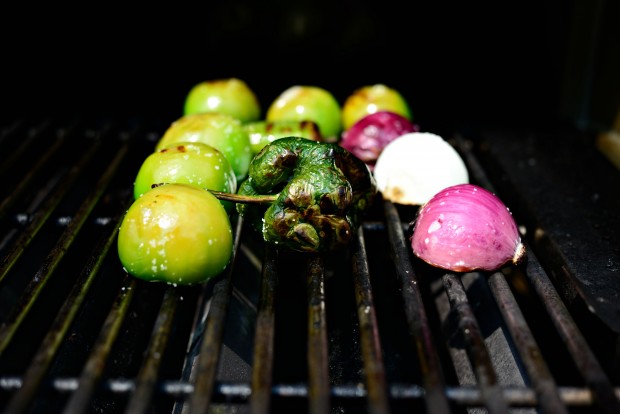 Make sure to get a good char on the poblano and jalapeno. And you will notice the tomatillos go from a vibrant green to a more muted unattractive color. Hey it's the truth.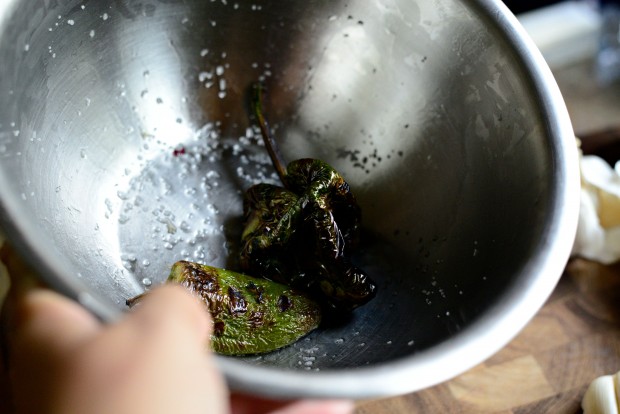 Next, place the jalapeño and the poblano back into the bowl…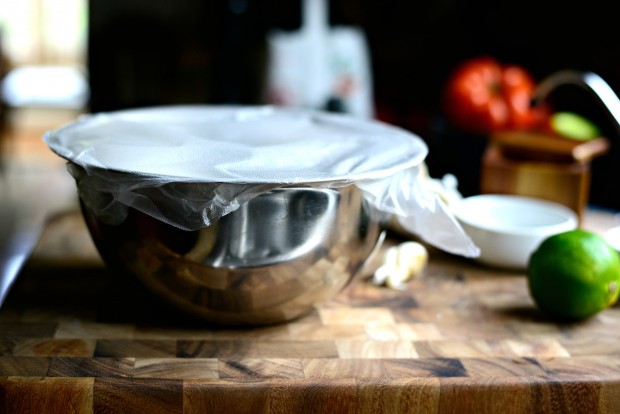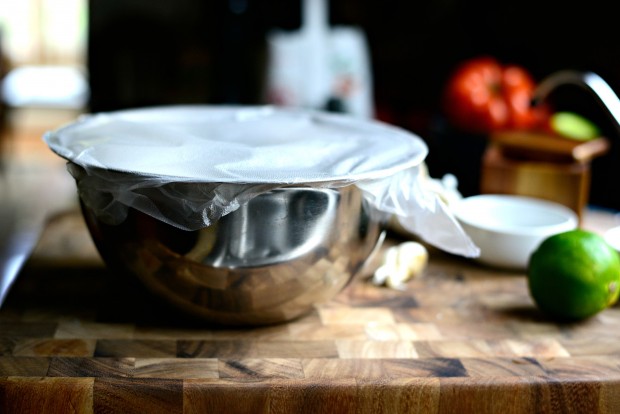 And then cover with plastic wrap to steam.
Meanwhile, transfer the grilled tomatillos and onions to a platter. Next, grab cilantro, garlic, limes, salt and pepper and just ignore the oil in the photos- not sure why that's in there.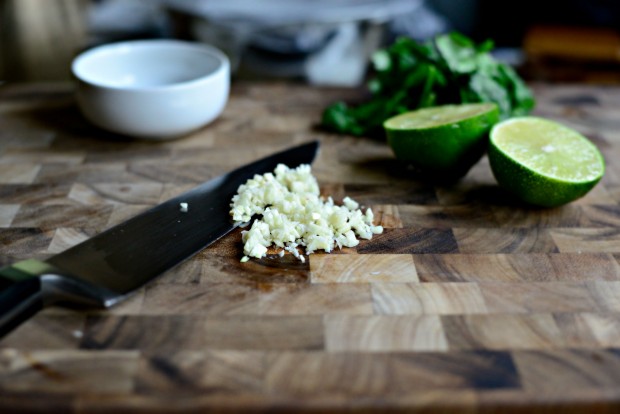 And then finely mince up two cloves of garlic…
…and roughly chop up about 1/2 cup of fresh cilantro.
Next, remove the skin, seeds and the rib membrane of the jalapeno before slicing into strips.
And then you'll do the same thing with the poblano too. And I actually to pictures of the process.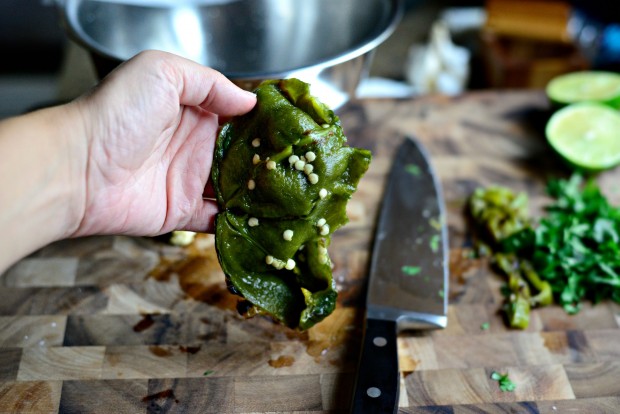 Next, slice in half and scrape out those seeds…
Lastly, peel off the outer skin and remove the skin and slice into strips.
Slice the onions and place all the salsa making ingredients onto a large cutting board or work surface. Starting with the onions and tomatillos, folding all of the ingredients together and continuing to chop.
Then add in the cilantro and garlic and give it one more chop.
Lastly, toss it all into a bowl and squeeze in the juice of 1 lime.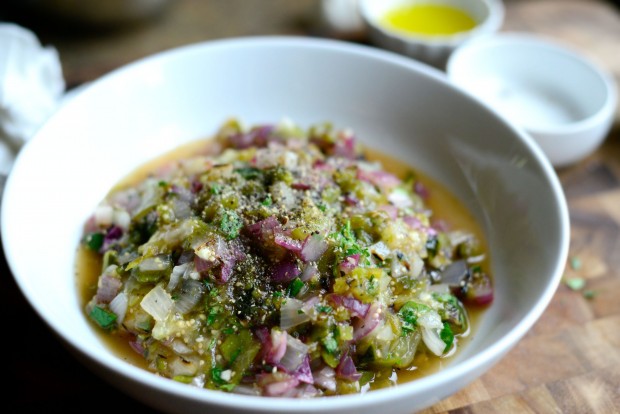 Finally season with salt and pepper to taste. For me it was 1-1/2 teaspoons of kosher salt and 1/4 teaspoon of black pepper, but you can taste it as you go. In fact, I encourage it. 😉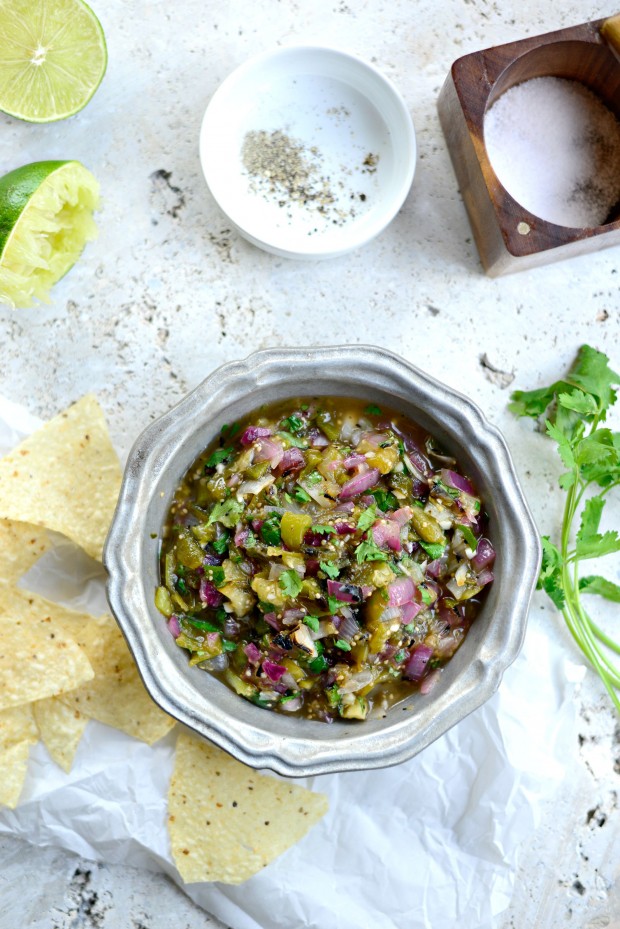 Serve immediately with corn tortilla chips or spoon over tacos.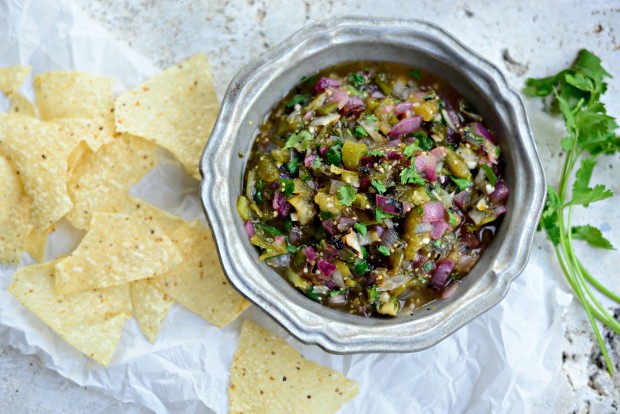 This grilled tomatillo salsa is super fresh tasting, slightly spicy and muy MUY delicioso!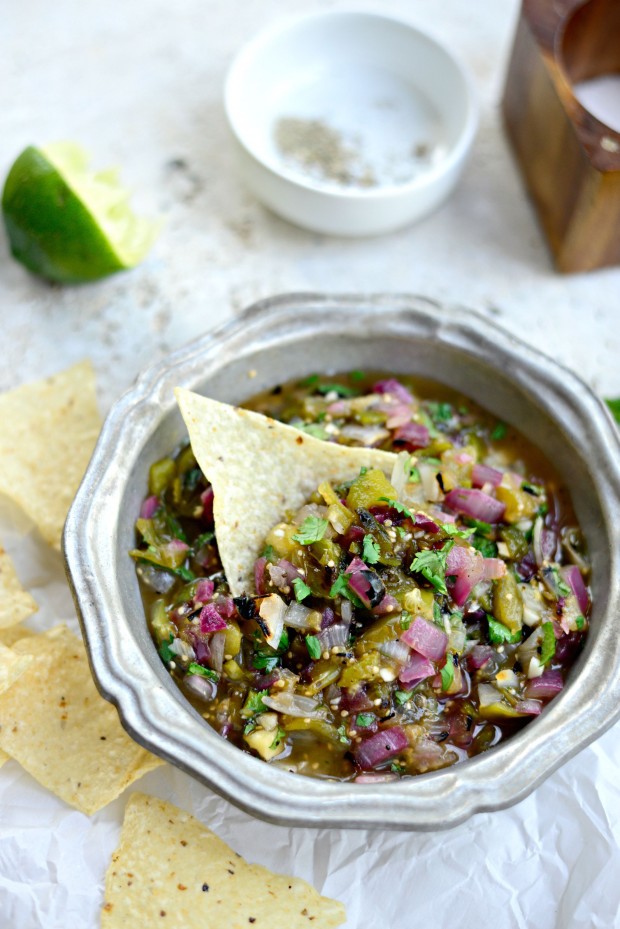 Dip. Eat. And snack on.
Enjoy!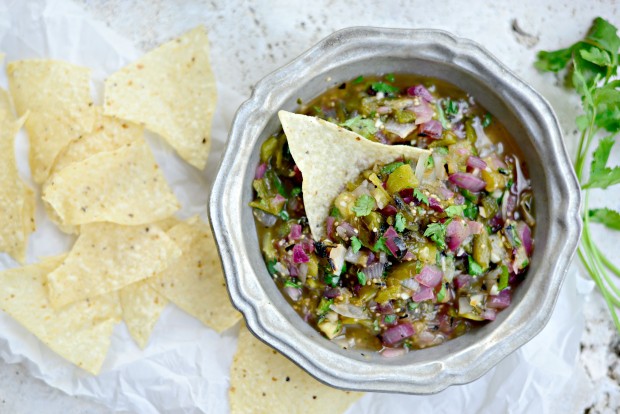 This post may contain affiliate links.
Buy the Cookbook: Simply Scratch : 120 Wholesome Homemade Recipes Made Easy Now available on Amazon »
THANK YOU in advance for your support!