This 15-minute chipotle cumin grilled chicken is my go to when in a hurry and I need to put dinner on the table. 5 spices pack a punch here and adding a little fresh lime juice for a chipotle lime version. Once grilled, serve it as is or slice/chop the chicken to stuff in tacos or on top of salads or nachos.
Everyone needs a go-to, hands-down, fantastic, grilled chicken recipe.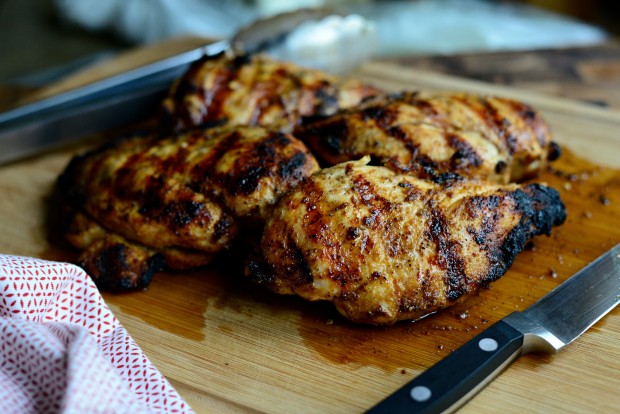 This is mine. I know that this may not look like some super duper fancy grilled chicken, although I think it does ;).
I'm not kidding when I say 5 little spices pack a whole lot of flavor here and I absolutely love it. I use this recipe when I don't feel like working hard I don't have time for chopping, juicing and measuring a bunch of ingredients. When I'm in the mood to just measure, mix and grill.
This is the best grilled chicken recipe for stuffing in tacos, quesadillas, sandwiches or to load up on top of a healthy salad or nachos. Or you could totally do nothing and serve it as is with a little of this grilled corn pico (to.die.for) spooned over top and alongside grilled green beans (have you tried them?!) or a light side salad.
Needless to say this chicken is my jam.
In a large bowl, measure out 1-1/2 teaspoons both cumin and onion powder, 1 teaspoon kosher salt, 3/4 teaspoon ground chipotle pepper and 1/2 teaspoon of garlic powder (not garlic salt). The cumin gives it that cumin-y (for lack of a better word) flavor and the chipolte pepper gives it that smoky heat… nothing crazy spicy, just good flavor.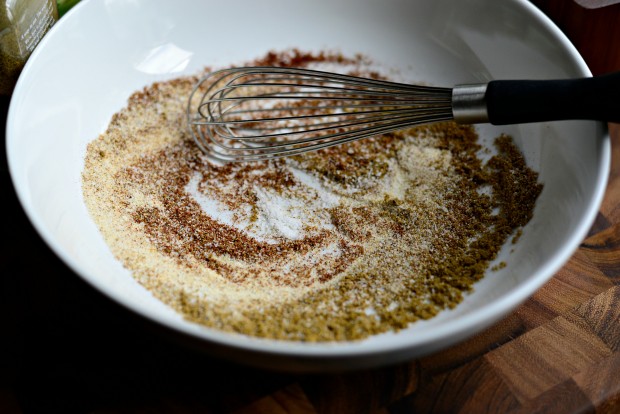 Then give the spices a little stir. Note: use these dry spices (omitting the lime juice and oil) as a seasoning for ground beef, turkey or chicken.
Next pour in 2 tablespoons of sunflower oil (or another light oil that can withstand high grill temps).
Then whisk until thoroughly combined.
And then add 2 pounds of chicken breasts to the spice mixture.
Use tongs to toss the chicken, so they are coated well.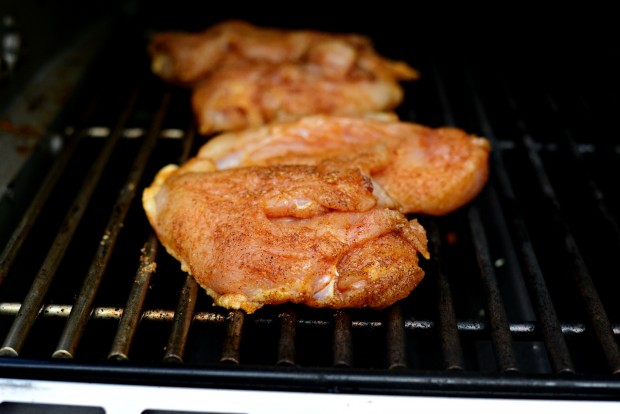 Place the chicken onto the grates of your preheated (about 400 to 425°) grill and cook for 6 minutes.
Then flip and continue to grill for 5 to 6 more minutes or until the chicken is fully cooked throughout. Ignore those chard bits, it's just a little well done chicken fat that can be picked off… or not.
Give the chipotle cumin grilled chicken a moment to rest. Do this so the juices redistribute throughout, resulting in the chicken being moist and juicy.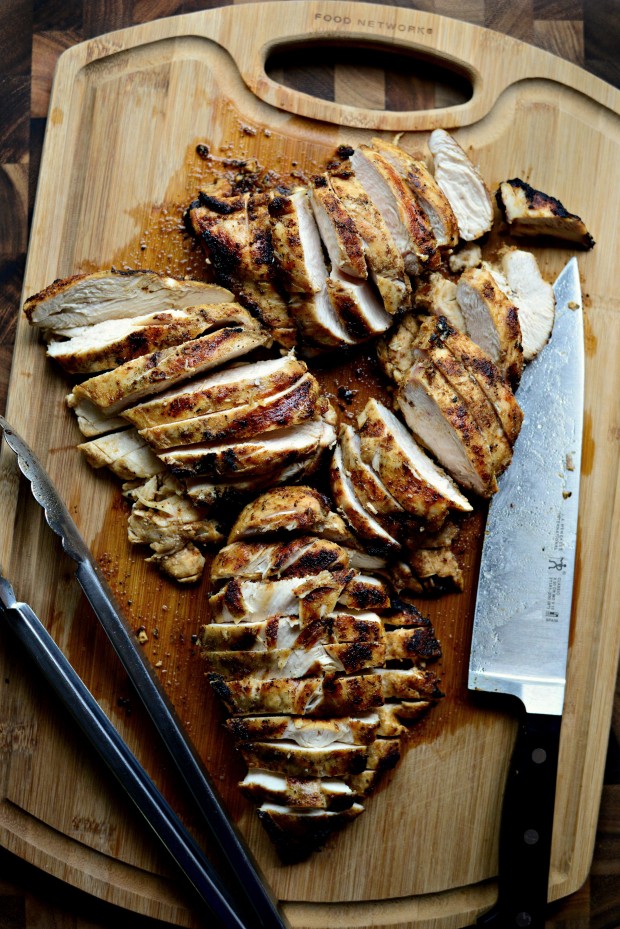 Sometimes I slice up thin strips for sandwiches…
Most of the time I make a batch of this Chipotle Cumin Grilled Chicken, give it a chop and throw it into a re-sealable baggie. That way I can use it all week long for salads, tacos — basically allthethings.
You know that moment when you walk outside and the air smells like someone is grilling. THAT WILL BE YOU!
Enjoy! And if you give this Chipotle Cumin Grilled Chicken recipe a try, let me know! Snap a photo and tag me on twitter or instagram!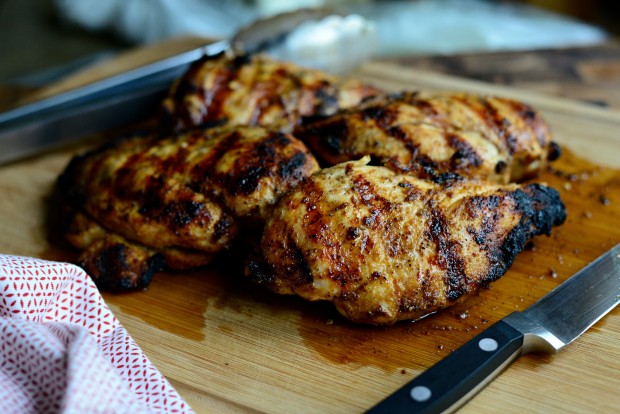 My cookbook Simply Scratch : 120 Wholesome Homemade Recipes Made Easy is now available! CLICK HERE for details and THANK YOU in advance!
[this post contains affiliate links.]
This post may contain affiliate links.
Buy the Cookbook: Simply Scratch : 120 Wholesome Homemade Recipes Made Easy Now available on Amazon »
THANK YOU in advance for your support!