There's so much flavor in this garlic swiss chard pizza. Whole wheat dough, topped it with sauteed swiss chard, toasted garlic, red onions and lots of Gruyere. This is a red sauce free pizza! Instead I use my NO-mato (tomato-less) roasted vegetable pizza sauce.
Is it me or did this week fly by?? I swear yesterday was Monday and then I blinked and here it is Friday.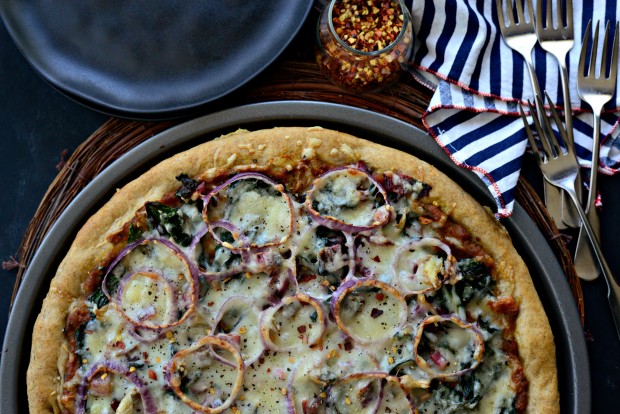 Fridays are my favorite because Pat doesn't work and we usually do something just the two of us while our girls are at school. Most of the time we go out to breakfast or to Costco. Oh my gosh. WE GO ON DATES TO COSTCO. That sounds so lame but it's SO much fun. It's extra fun when there's free samples of cheese and stuff.
So I guess I'm okay with it being Friday and with the weekend here. Wait. I just remembered we're getting our taxes done Saturday at some crazy early time. That means no sleeping in and a shower is mandatory. Blech. BUT I have leftover pizza so heyyyyy it's not all so bad.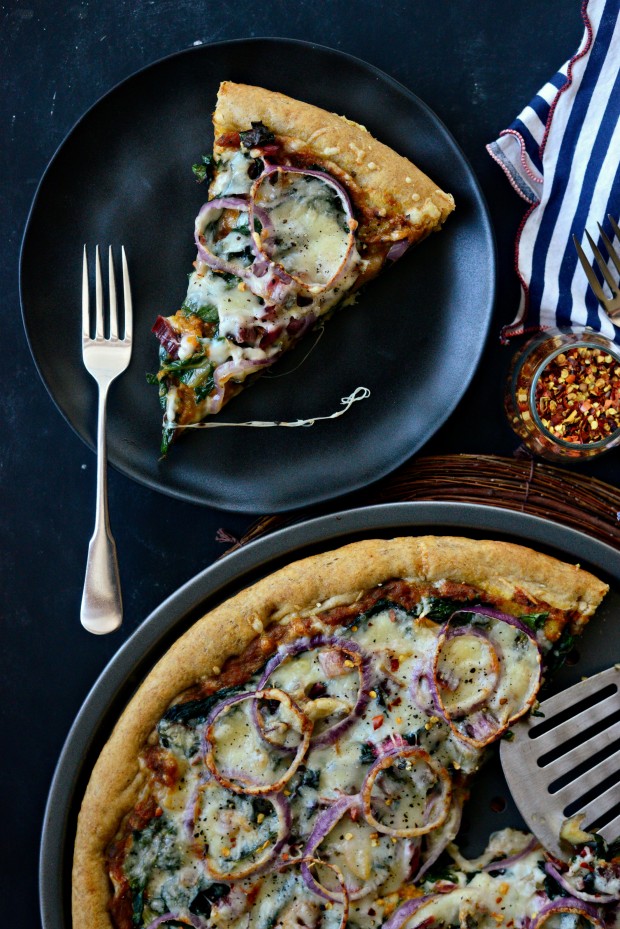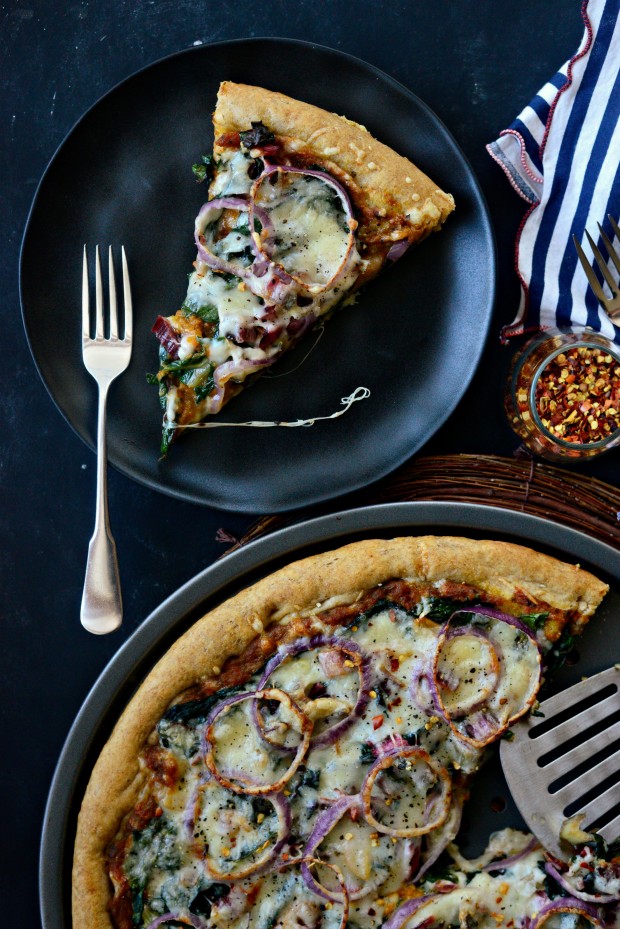 You all remember that sauce I posted Wednesday. The tomato-less sauce that's chocked full of roasted veggies?! Well I slathered it on whole wheat dough and topped it with sauteed swiss chard, toasted garlic, red onions and lots and lots of Gruyere. True story. I didn't miss the tomato sauce and I didn't miss the pepperoni, this pizza is just straight-up vegetarian goodness.
Then I ate a slice (or three) and wrapped the remaining slices in foil and I've been working on this here pizza all week long. There are worse things.
Start by trimming off the stems of one bunch of Swiss chard.
Dice those babies up…
And throw them into a bowl and set off to the side.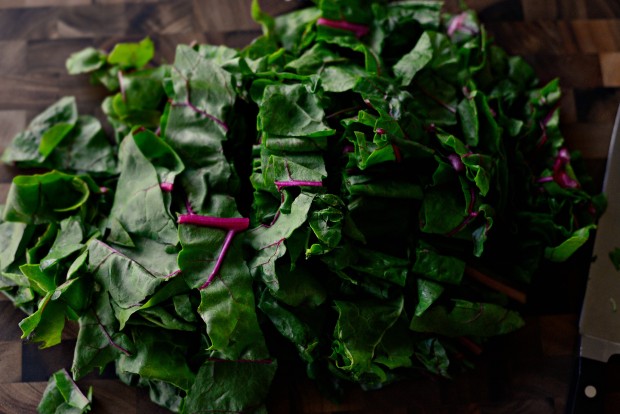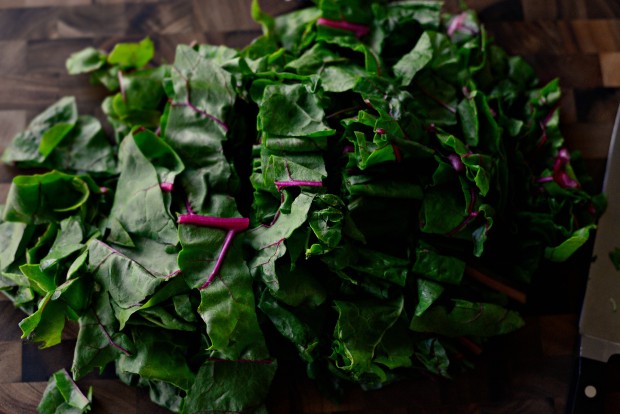 Roughly chop up those leafy greens…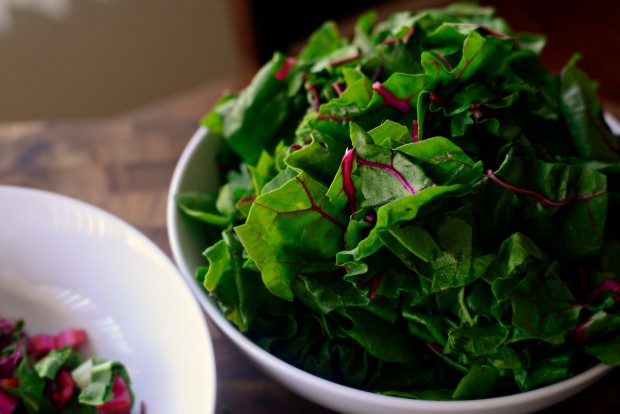 And put those in a bowl and off to the side as well.
Slice up 6 large cloves of garlic.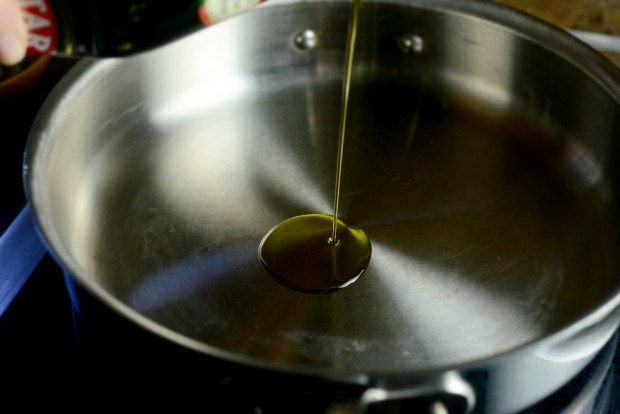 Drizzle a couple of teaspoons onto a deep-sided, 10-inch skillet and heat over medium-low.
Toss in the garlic…
Stir, cooking slooooooowly until the garlic is toasted and golden in color.
Add in the diced chard stems…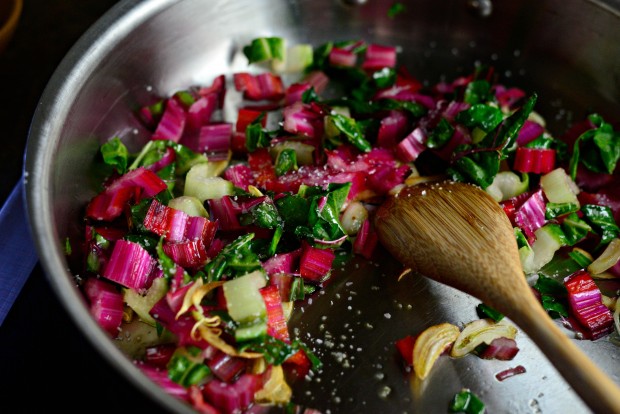 Season with a pinch of kosher salt…
Saute until tender… about 8-10 minutes.
Transfer the sauteed stems and toasted garlic back in to a bowl.
Add a couple more teaspoons of oil to the pan and Throw in the chopped chard leaves…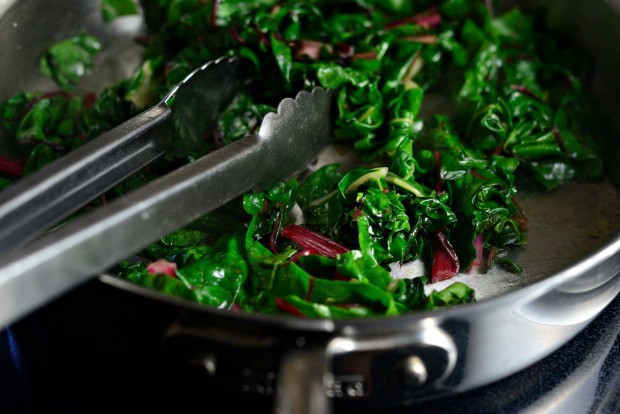 Cover and cook, tossing and cooking until the leaves are bright green and wilted… about 5-8 minutes. Remove the pan off of the burner to cool for a smidge while you build the 'za.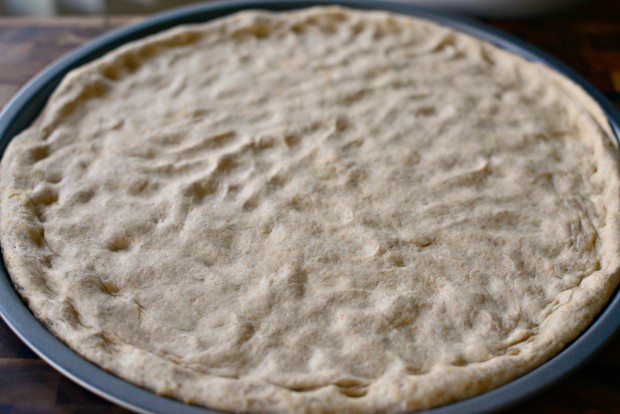 So I found this round pan at my local grocery store (Meijer) and it's AWESOME! Its a standard round pan but has holes in the bottom and I think that helps the dough crisp evenly. I'm not sure, but what I do know is that I love this pan.
So with your fingertips, spread the dough out onto the pan, leaving a ridge for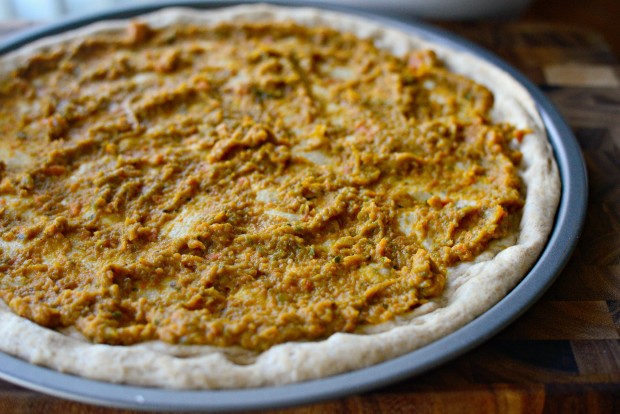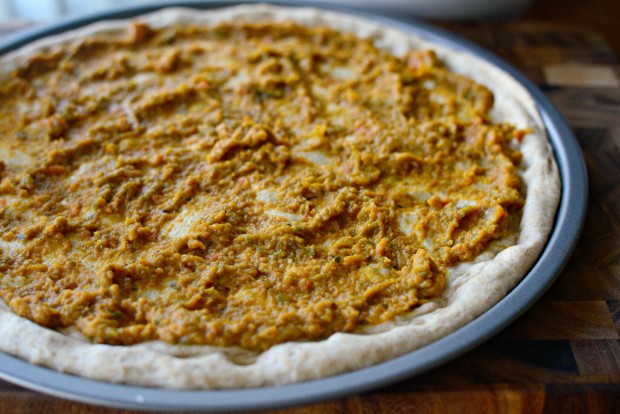 Spread sauce all over the crust…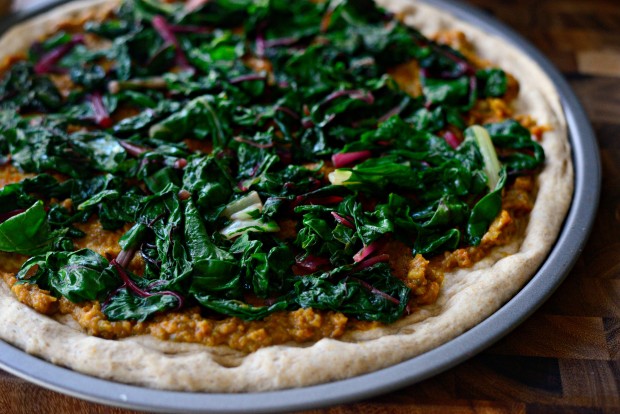 Top with the wilted chard…
And top with the chard stems, and all those slices of toasted garlic. YUM.
Lastly top with slices of red onion…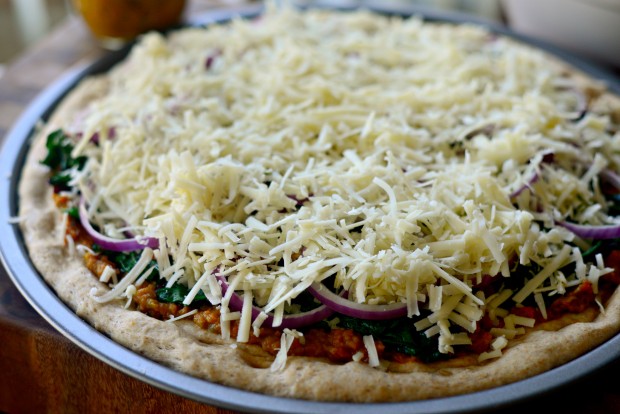 … and grated Gruyere. Brush the crust edge with olive oil and bake the Garlic Swiss Chard Pizza in a preheated 450 degree oven for like 18-20 minutes or until golden and the cheese is bubbly.
Welcome to pizza heaven folks!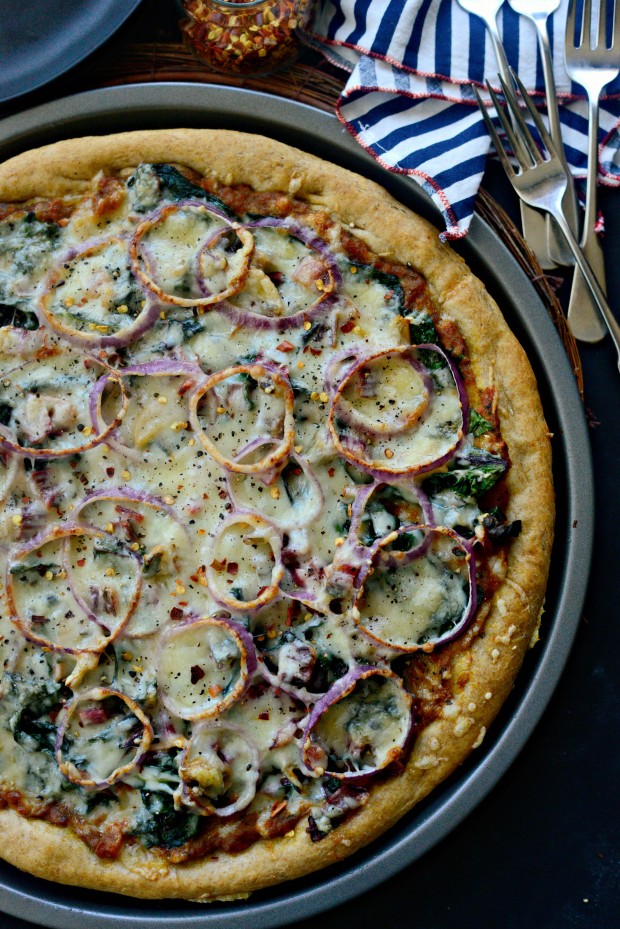 I LOVE this Garlic Swiss Chard Pizza!!!
It's a pizza I know I couldn't serve my family because of all that green earthy goodness and they are allergic to all things green and leafy. But I don't even care. Every once and again I make things that I like and eat the leftovers for days.
Those bites that have the toasted garlic in them are money. MONEY I tell you.
Enjoy! And if you give this Garlic Swiss Chard Pizza recipe a try, let me know! Snap a photo and tag me on twitter or instagram!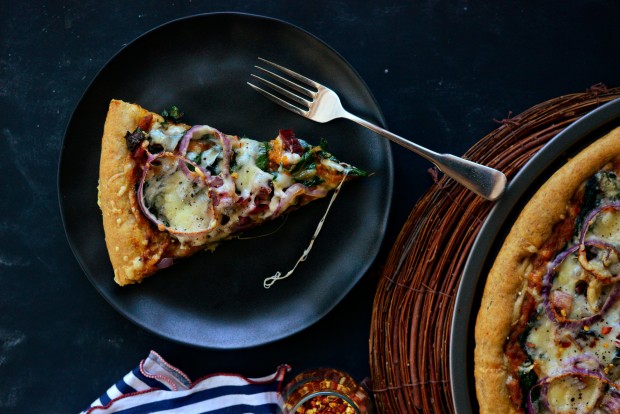 My cookbook Simply Scratch : 120 Wholesome Homemade Recipes Made Easy is now available! CLICK HERE for details and THANK YOU in advance!
[this post contains affiliate links.]
This post may contain affiliate links.
Buy the Cookbook: Simply Scratch : 120 Wholesome Homemade Recipes Made Easy Now available on Amazon »
THANK YOU in advance for your support!