A hearty apple, carrot and raisin baked oatmeal that will warm you up and keep you filled all morning. Drizzle with maple syrup and add a splash of milk before serving.
The weather in the mitten state has been crazy bitter cold. It's SO cold that Thursday and Friday of last week into this past Monday the school district thought that kids should just stay home. What? I do NOT remember staying home as a kid "due to inclement weather temperatures". What the what? Snow days for sure… but it's-too-cold-days? I don't think so.
Not that I'm complaining. I really didn't mind sleeping in until 8, staying in my pj's, which let's face it are also my "work" clothes. The whole not having to wake up at 6:30 am and go out in the negative temps to drive my daughter down to the bus stop was SO totally fine by me. Oh and heyyyy I also made us baked oatmeal.
As I'm sure you understand, I couldn't get away with only serving peanut butter toast those 3 too-cold-for-school days and so I thought I'd make them a fruit and veggie loaded baked oatmeal. I know! Carrots in oatmeal?? Think carrot cake and it all makes sense.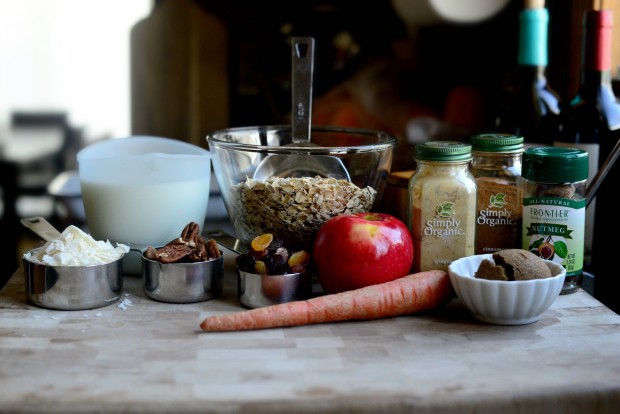 So yeah… baked oatmeal… again. It's one of my favorite breakfasts of all breakfasts. One pan is filled with the oatmeal-y goods and then gets shoved into the oven for a half hour. Scoop, splash with more milk and top with allthethings your heart desires. In this instance it's toasted coconut and pecans. Yeah, baby!
Wash up a shiny apple. I'm using a honeycrisp because it's one of my favorites but use any firm apple you like.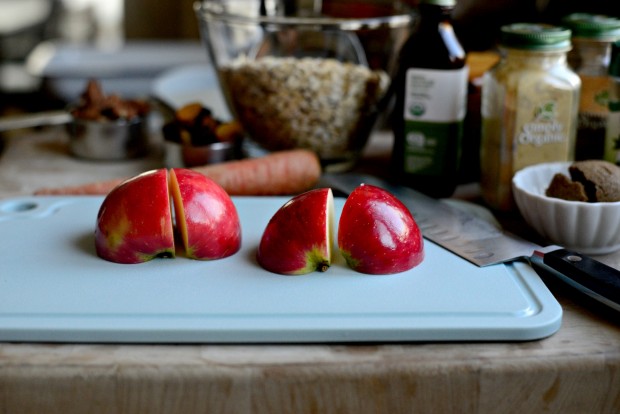 Quarter…
Remove the core…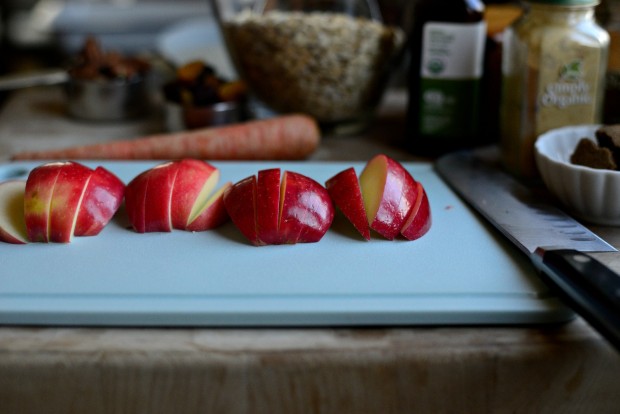 Slice into strips…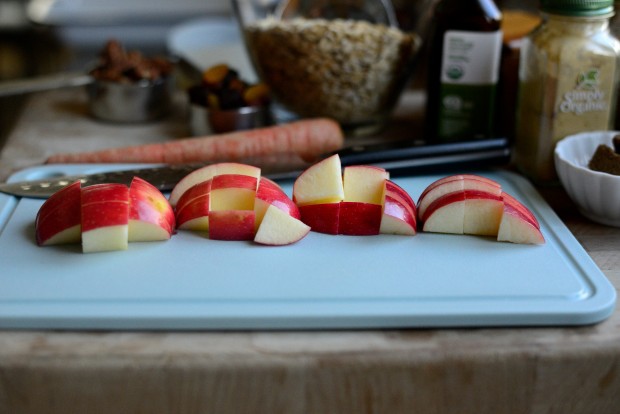 …and dice small. In the end I personally like the apples to still have some firm texture but not crunchy. So dice yours up smaller and check on the baked oatmeal at the 25 minute mark.
Next grate up one medium carrot. I don't even peel it… just scrub and grate (and watch your fingertips!).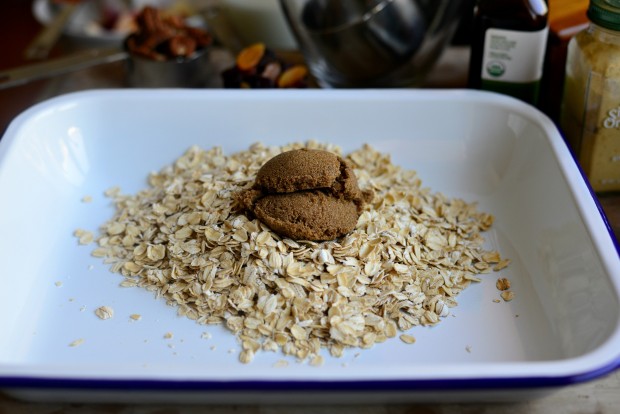 Throw 2 cups of old fashioned oats. Quick outs will turn into mush… so old fashioned oats is the way!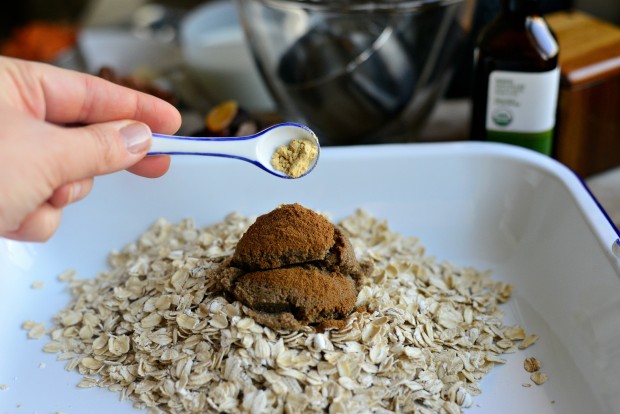 To that add two tablespoons dark brown sugar, 1/2 teaspoon cinnamon and 1/4 teaspoon of ginger.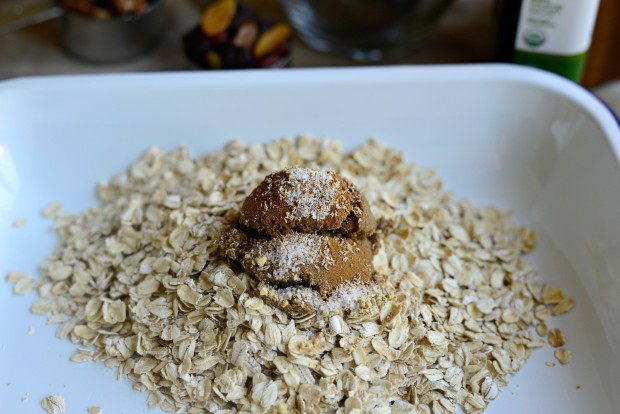 Then a 1/4 teaspoon of grated fresh nutmeg and kosher salt.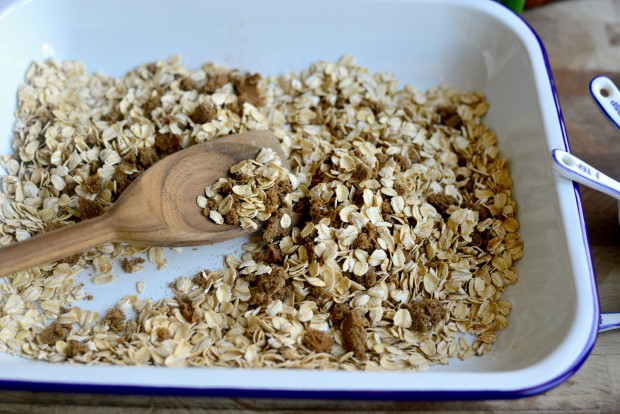 Stir that all around to bust up the brown sugar.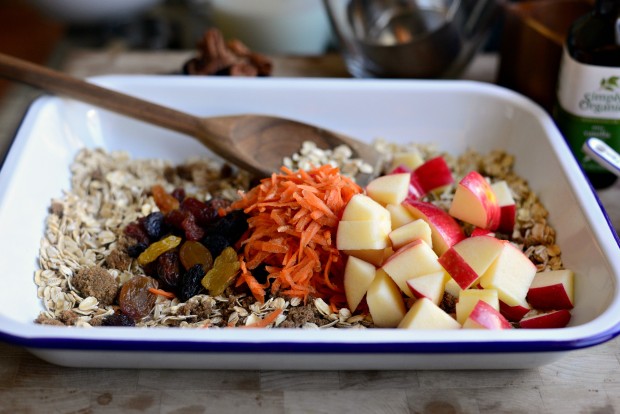 Throw in all those fun add-ins like raisins, the grated carrots and diced apples.
Toss it all together. So pretty. So colorful. It just screams THIS IS GOOD FOR YOU!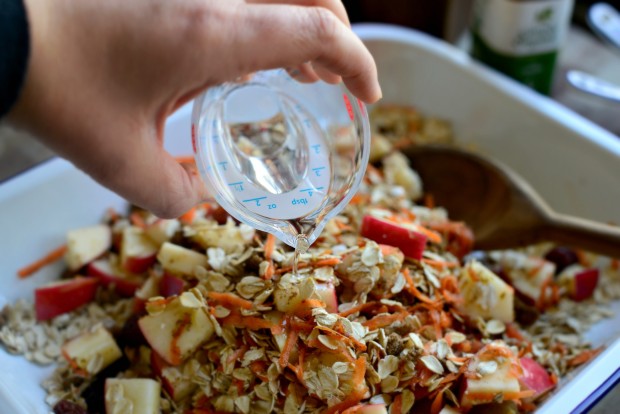 Pour in two tablespoons of melted coconut oil…
Measure and add in 1/2 teaspoon of pure vanilla extract.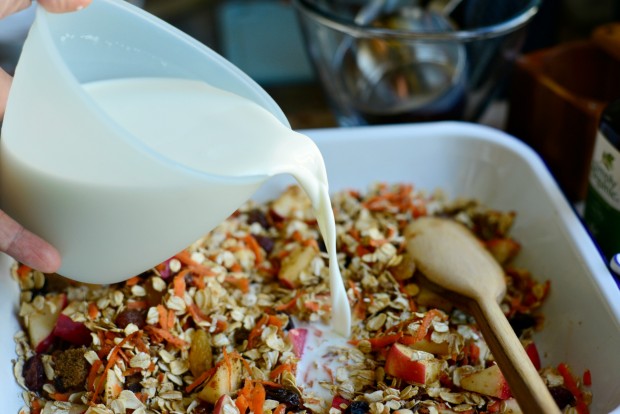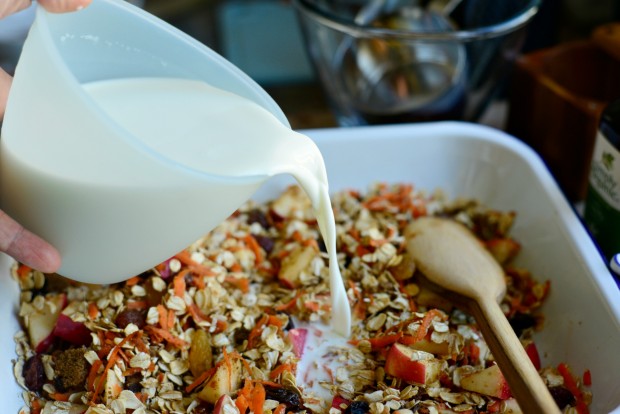 Pour in 2 and 3/4 cups whole milk.
Spread the fruit and oats out so it's just above the milks surface and slide it into a preheated 350 degree oven for 30 minutes.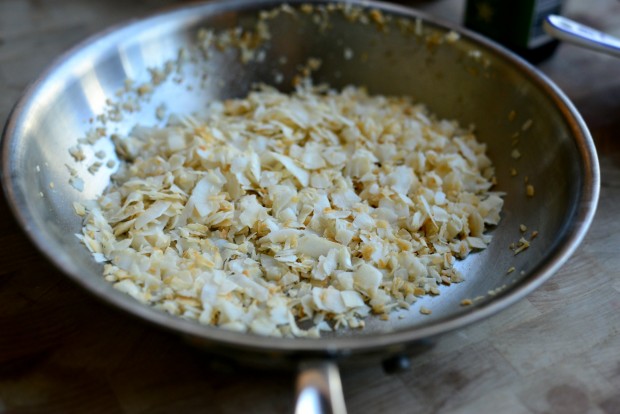 In the meantime toast up 1/2 cup of unsweetened coconut in a small skillet over medium heat or until golden and fragrant.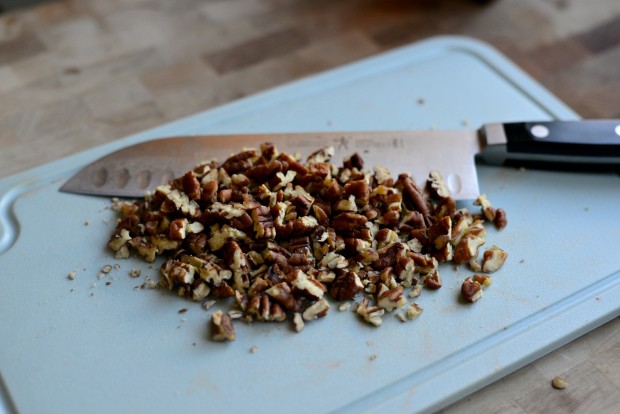 And chop up 1/3 cup pecans.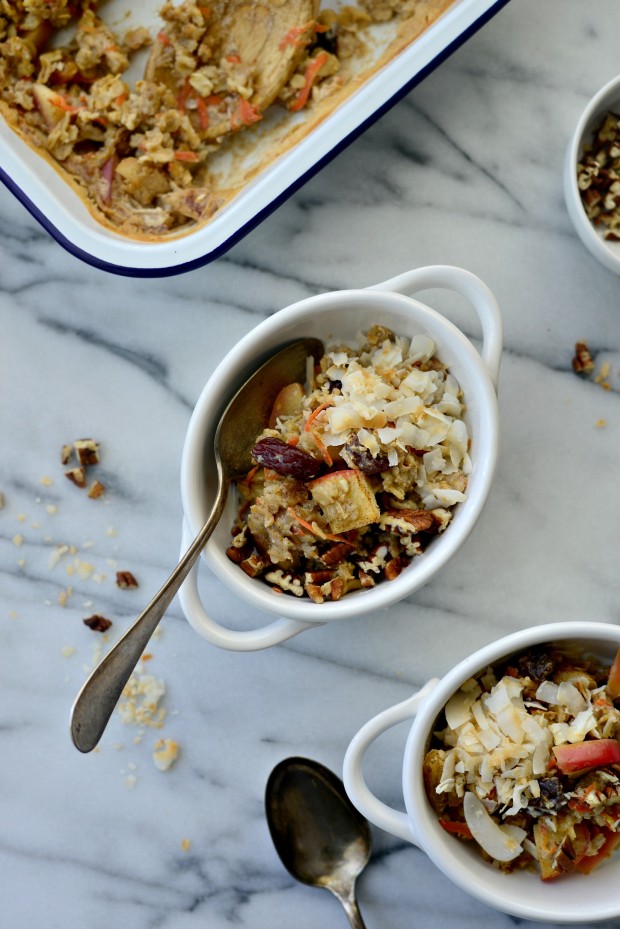 Once baked and smelling glorious it's time to dish it up! Scoop oatmeal into small bowls, top with a splash of milk and the toasted coconut and chopped pecans. I also added more brown sugar in my bowl because I'm a total sucker for lots of brown sugar in AND on my oatmeal.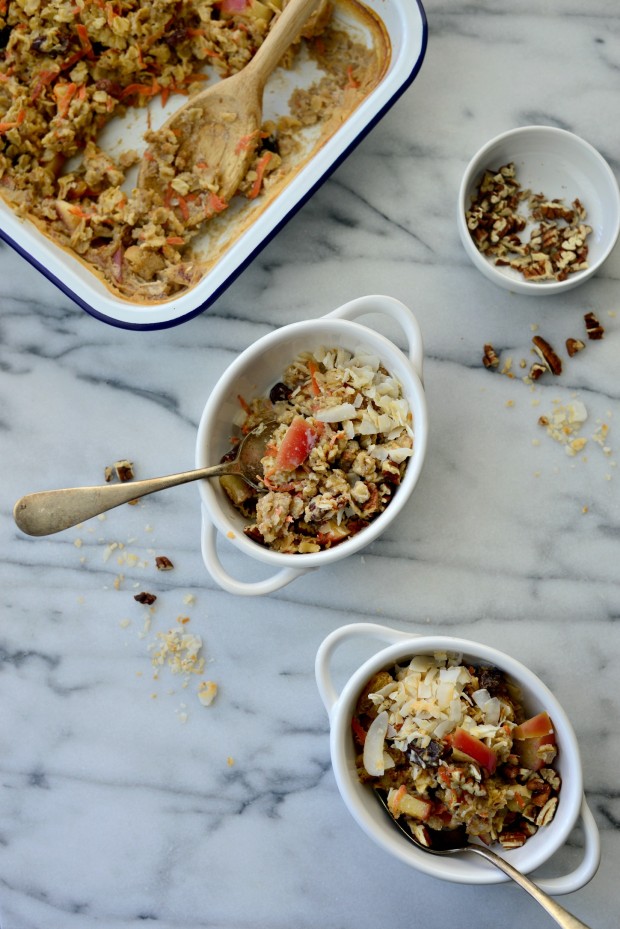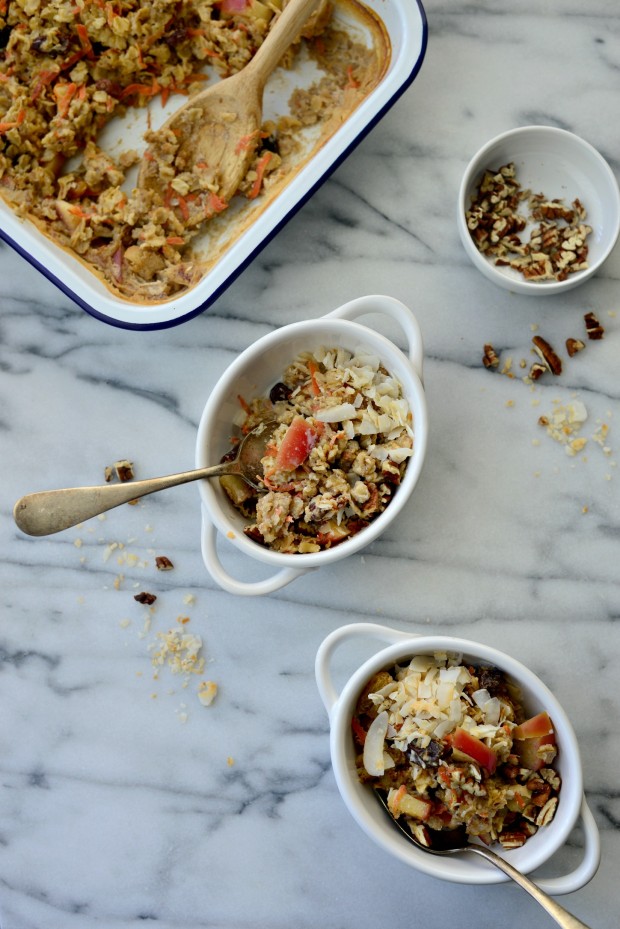 The apple, carrot and raisin combo adds a touch of sweetness without being overly sweet. My eldest daughter "claims" she doesn't like oatmeal… but of course IMSOMEAN because I made her try a bite of my bowl of raisin baked oatmeal and she admitted that it was pretty darn good. Take that kid!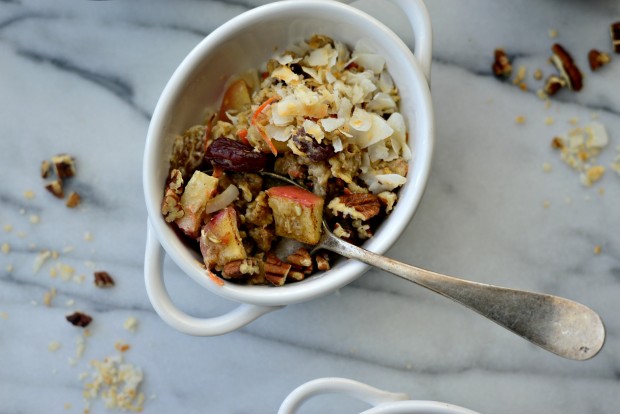 Raisin baked oatmeal is the absolute BEST snowy day breakfast ever!
Enjoy! And if you give this Raisin Baked Oatmeal recipe a try, let me know! Snap a photo and tag me on twitter or instagram!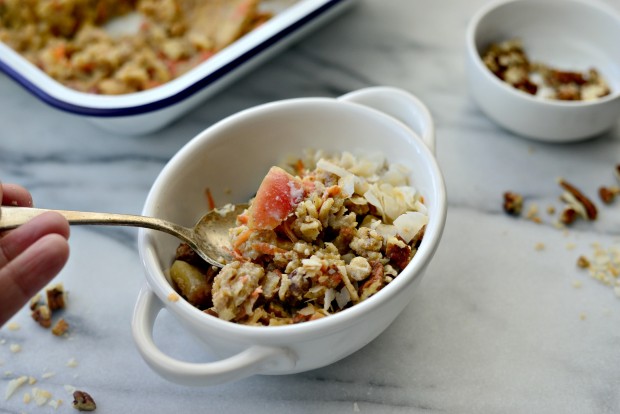 My cookbook Simply Scratch : 120 Wholesome Homemade Recipes Made Easy is now available! CLICK HERE for details and THANK YOU in advance!
[this post contains affiliate links.]
This post may contain affiliate links.
Buy the Cookbook: Simply Scratch : 120 Wholesome Homemade Recipes Made Easy Now available on Amazon »
THANK YOU in advance for your support!