These corn poblano quesadillas are so easy and delicious. I fill corn tortillas with corn, poblanos, onions and cheese and griddle until crispy.
We basically snacked our way through the weekend. Okay, so I snacked through the weekend. Sometimes after a few weeks of holiday food I a. don't want to cook (we've discussed this) and b. I just want a little quick, brainless somethin-somethin that maybe comes with some sort of dip? but it definitely doesn't consist of a main dish with sides. Quesadillas are those things for me.
Like so many people I make quesadillas all the time with good ol' flour tortillas. I always keep some on hand for things like fajitas, turkey roll-ups or 'dillas. This summer I tried to make my own flour tortillas from scratch. Epic fail. My arms were exhausted from trying to roll them out as thin as humanly possible… in the end the dough ended up too tough and well I vowed I'd never make them again. But I'm not one to give up, so I'm sure once the memory of that nightmare of a day in the kitchen is somewhat in the distant past I'll give it a go, but this time I'm opting to use a tortilla press.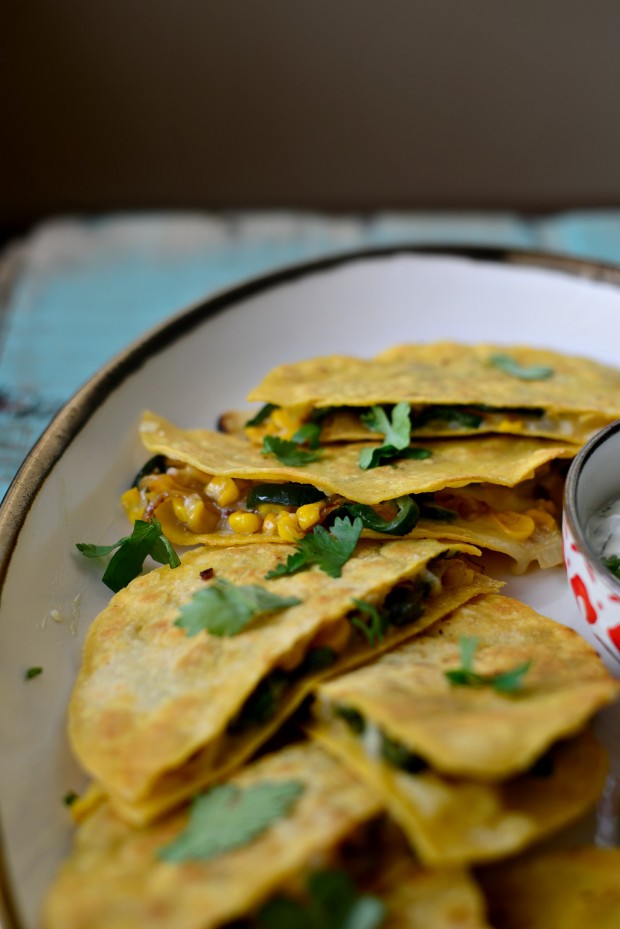 For these cheesy quesadillas, I'm switching things up and using yellow corn tortillas. With a little oil in a pan or on a griddle they fry up to crispy perfection. I love that distinct corn taste… it's like you're eating a tortilla chip sandwich. Crazy? Maybe. Good? Oh heck yes.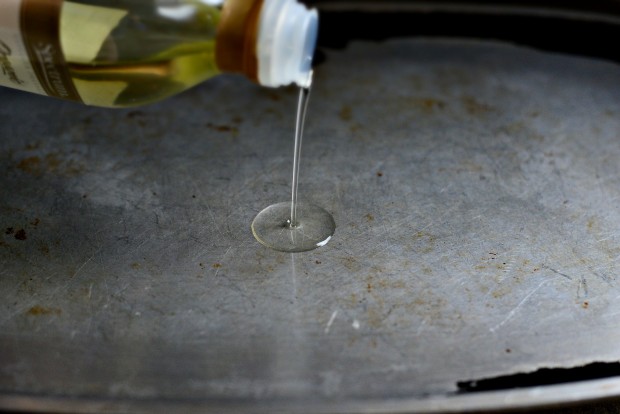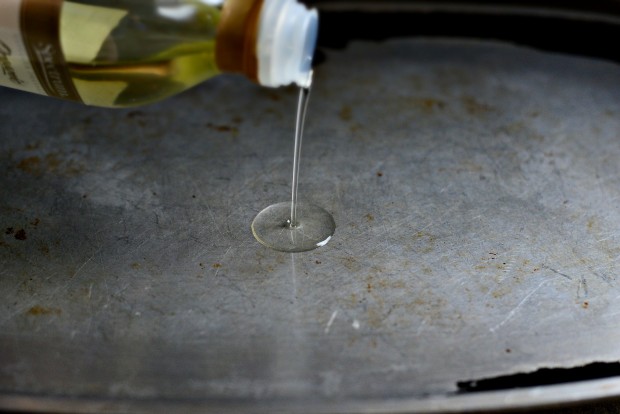 Add a tablespoon of oil to a griddle and preheat to 375 degrees.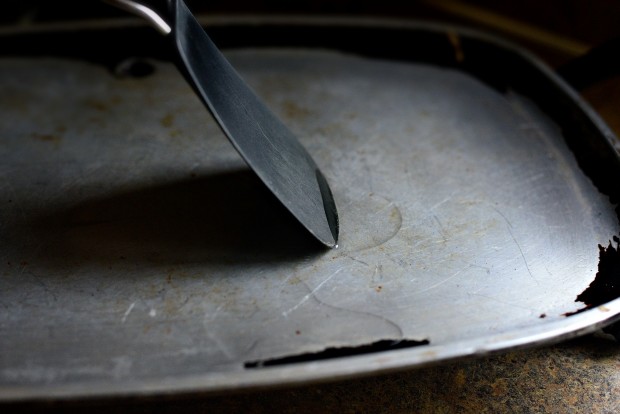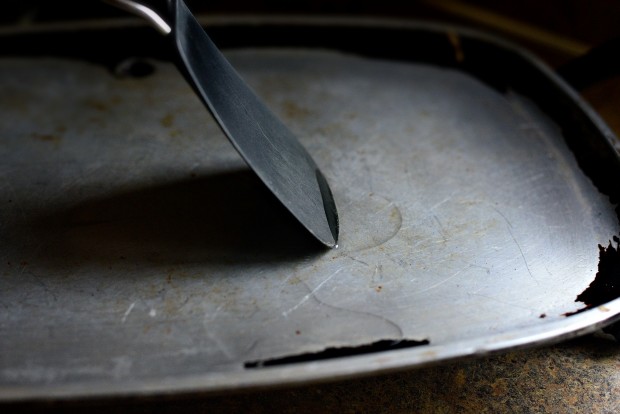 Spread it around to evenly coat.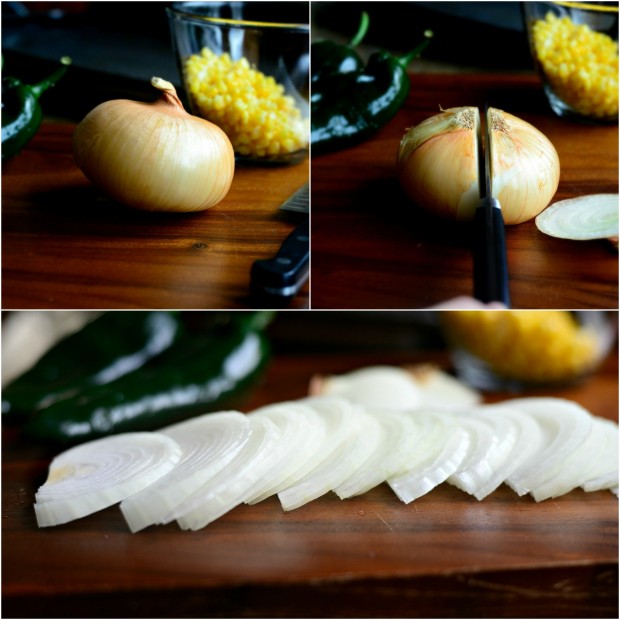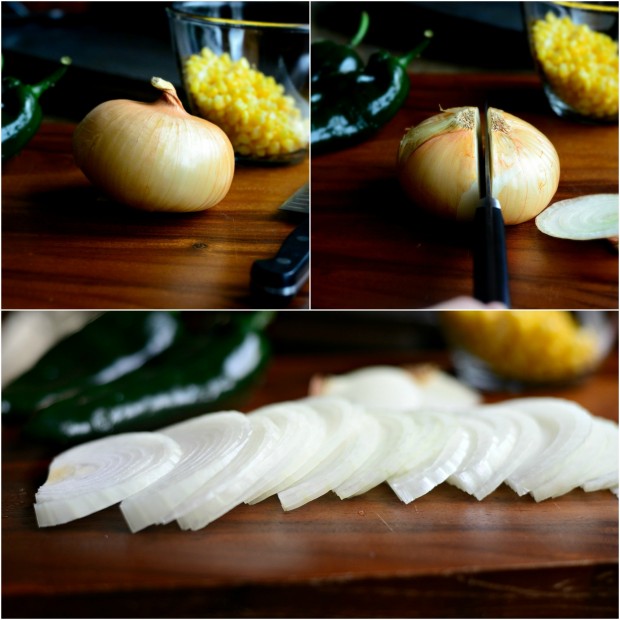 While the griddle is doing its thing, halve, peel and slice 1 large sweet onion.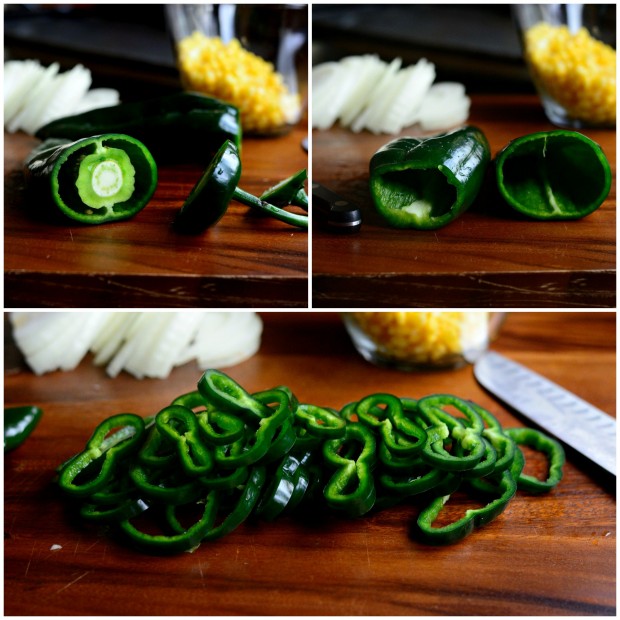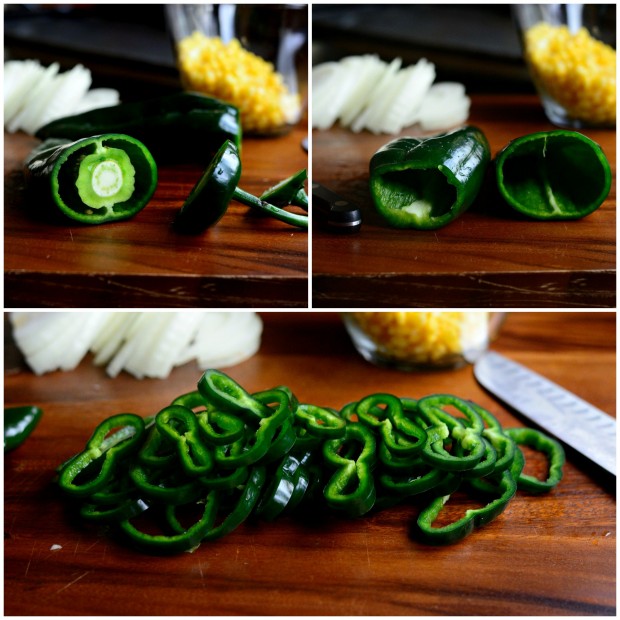 Cut the stems off two poblano peppers. Use a paring knife and cut around center seeds and membrane and remove.
Add the onions onto the hot griddle, season with a pinch of salt and cook for 3 to 4 minutes to soften.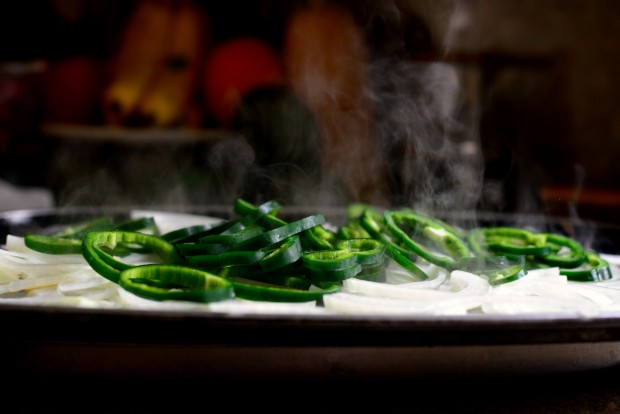 Then add the poblano, another pinch of salt and cook for 3 to 4 minutes more.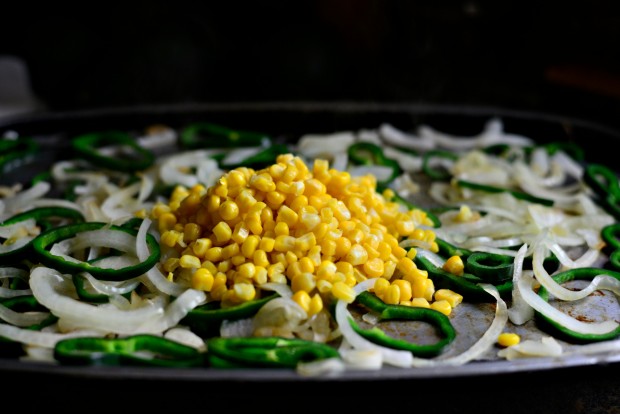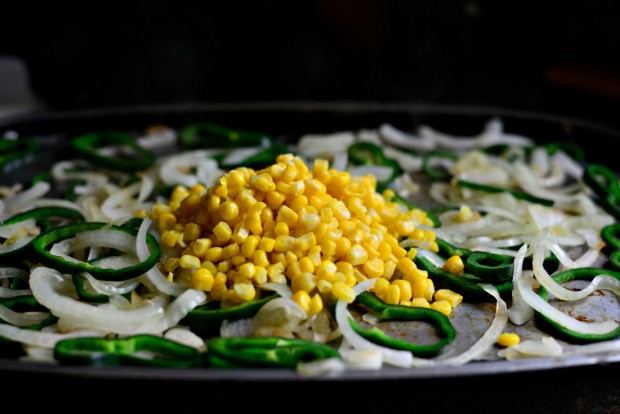 Add the corn…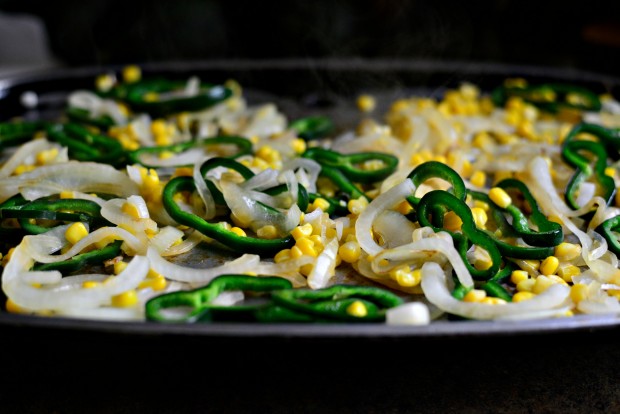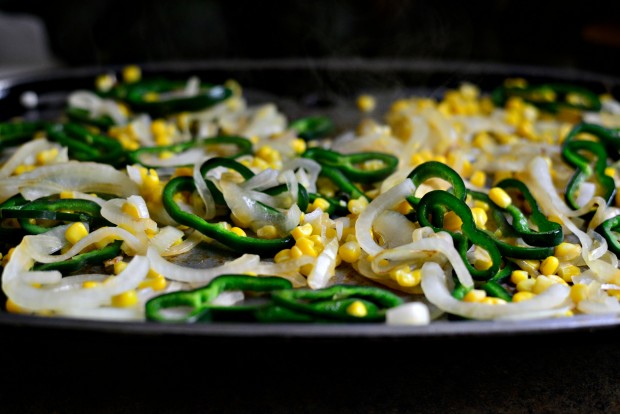 Toss it all around and then spread it all out into an even layer on the griddle. Leave it alone…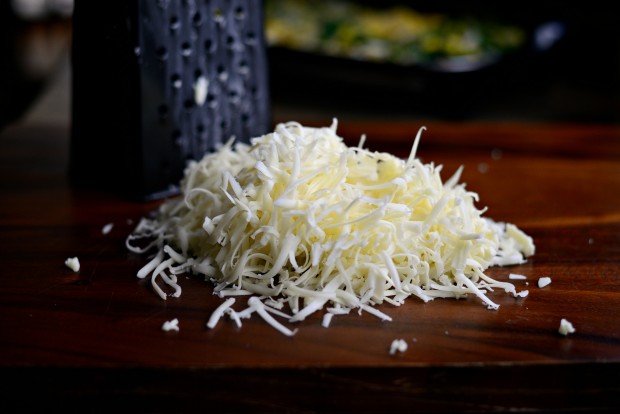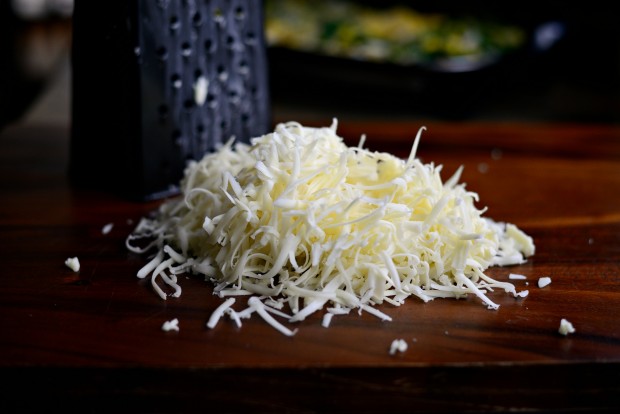 While you grate up 6 ounces of Monterey jack cheese… and measure out 1/2 cup of Cotija.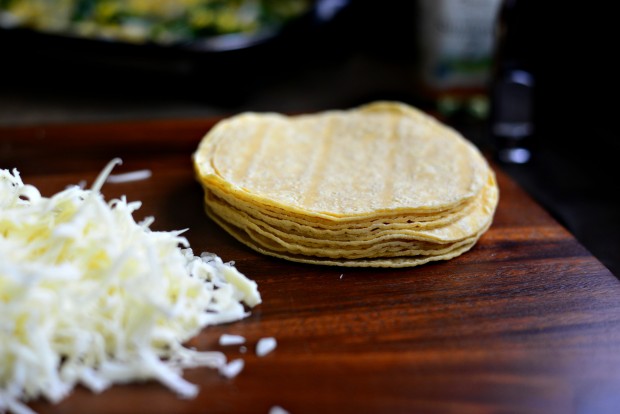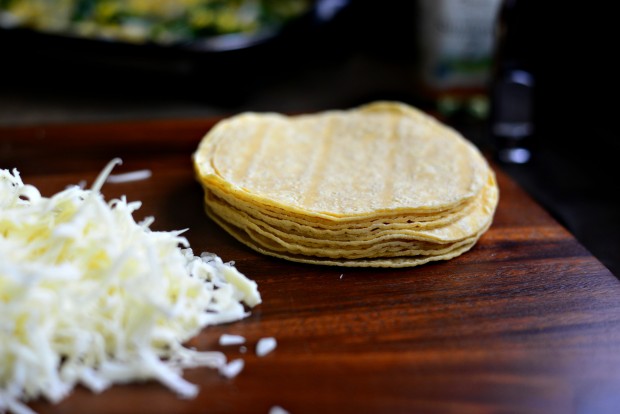 Grab 8 yellow corn tortilla shells.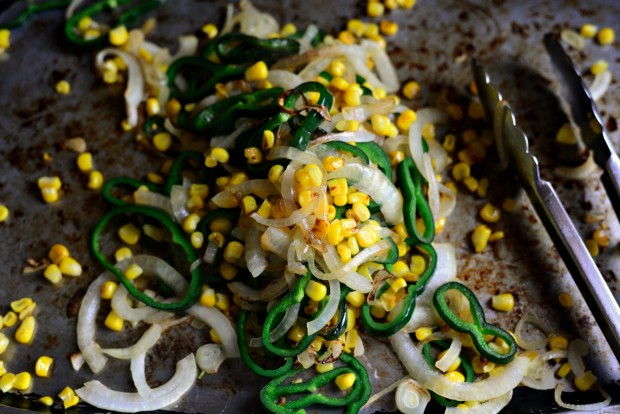 Once the corn, onions and poblano have good color to them, gather'em up…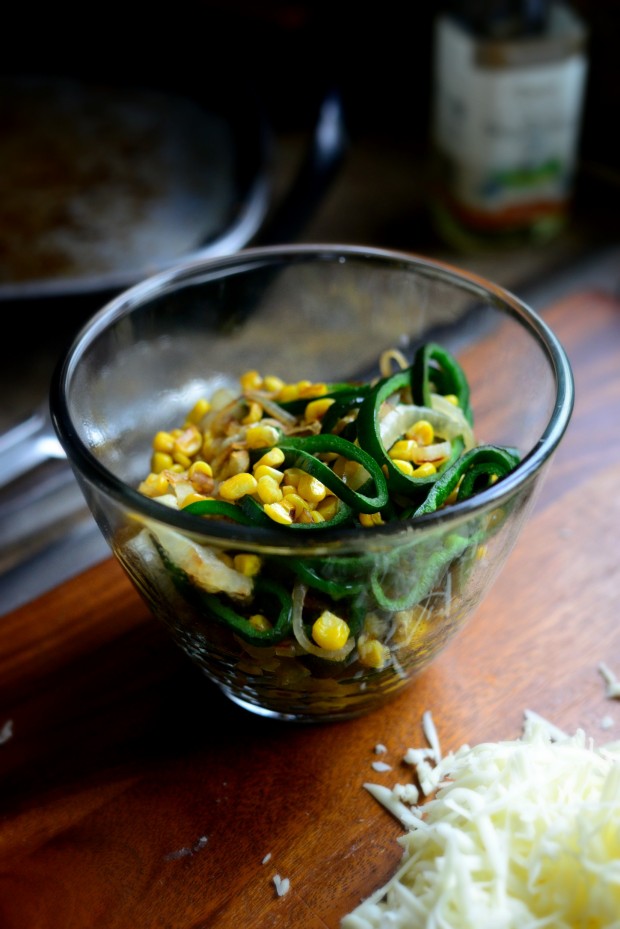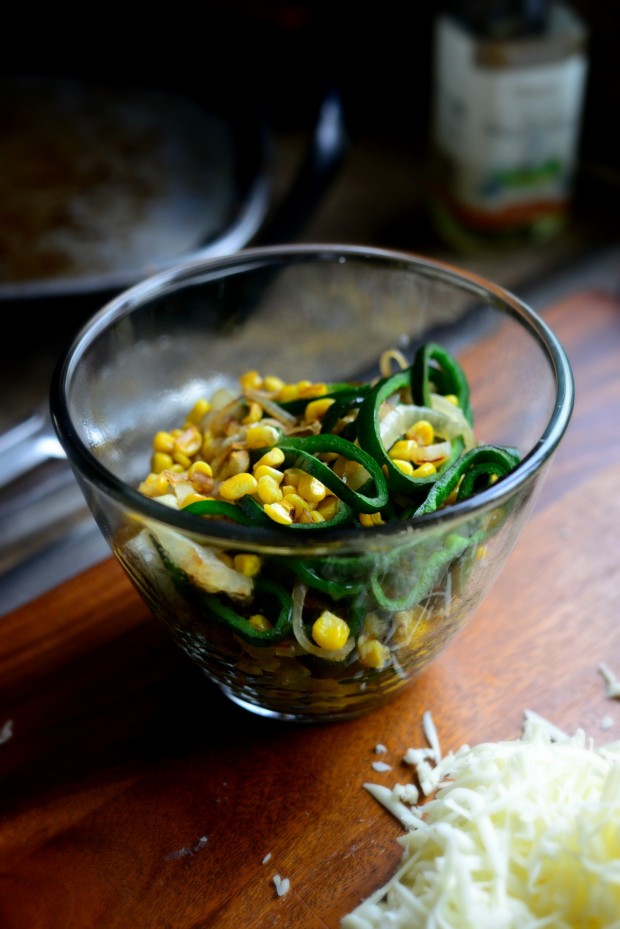 …and drop it all into an awaiting bowl.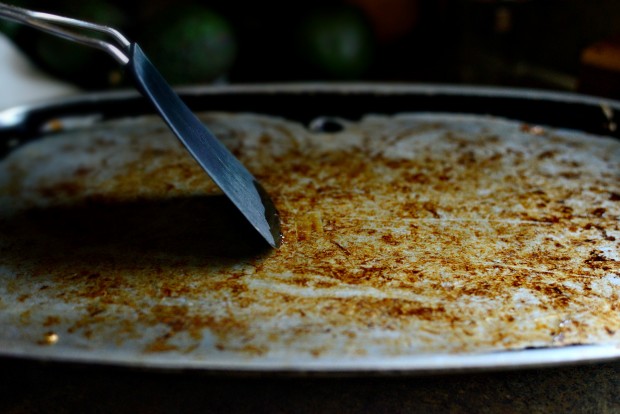 Add more oil, about a tablespoon, and spread it around the griddle.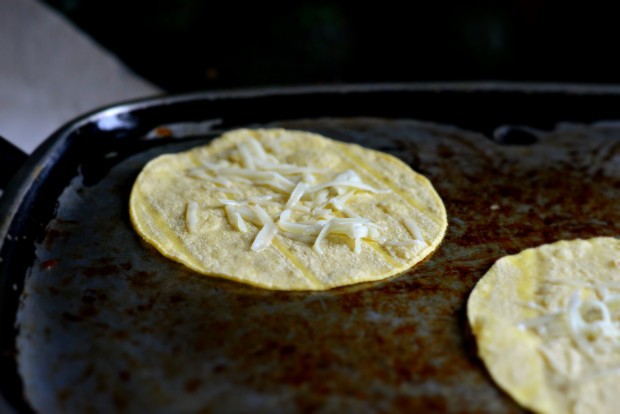 Lay the tortillas down and sprinkle with a little cheese so the vegetables will stick to them a bit.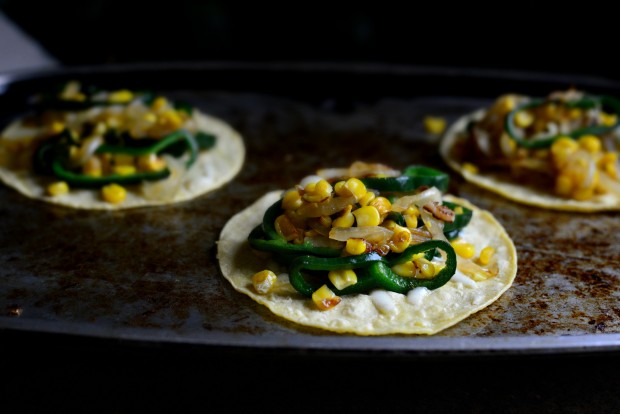 Divide veggies among the tortillas…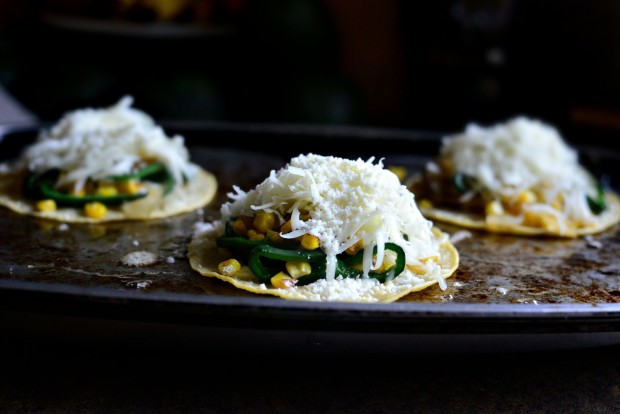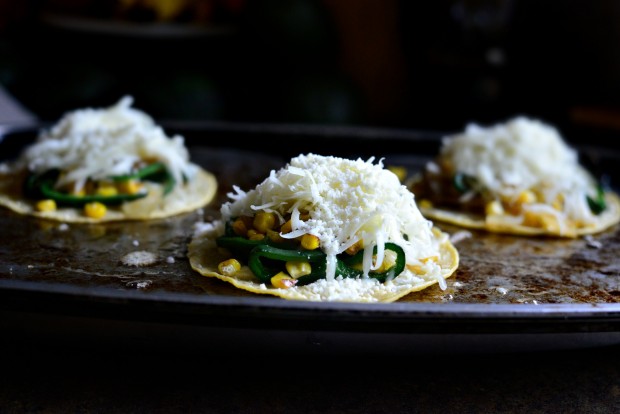 Top with jack and Cotija cheese…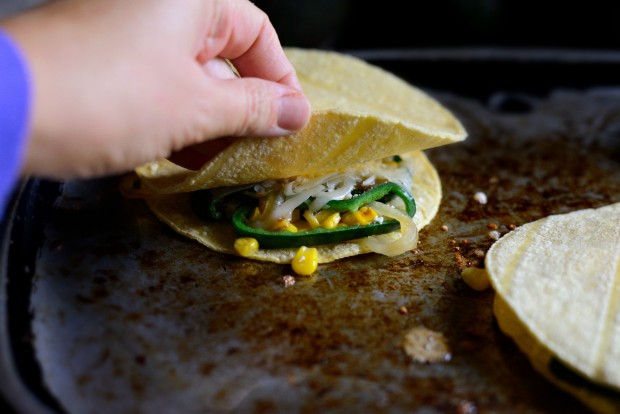 A second tortilla…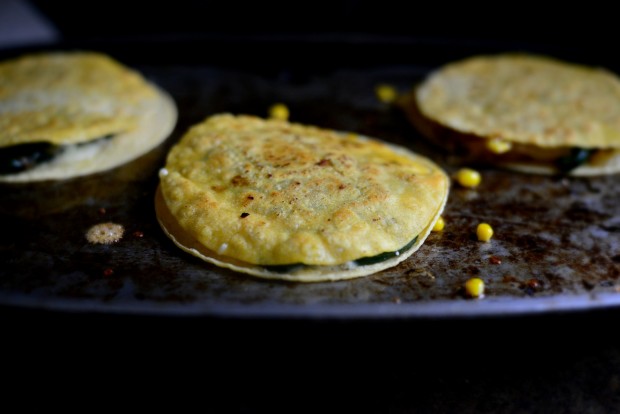 …and very carefully flip once the underneath is crispy and golden brown.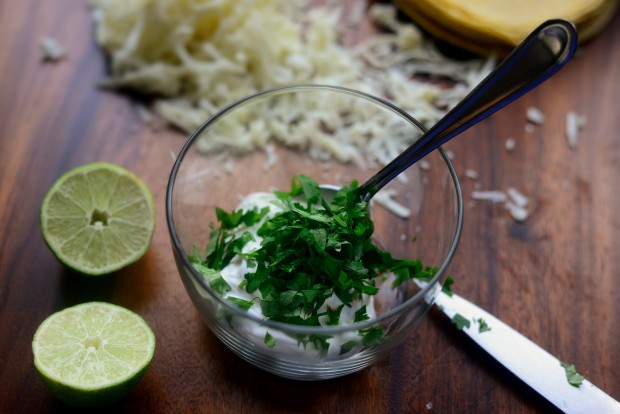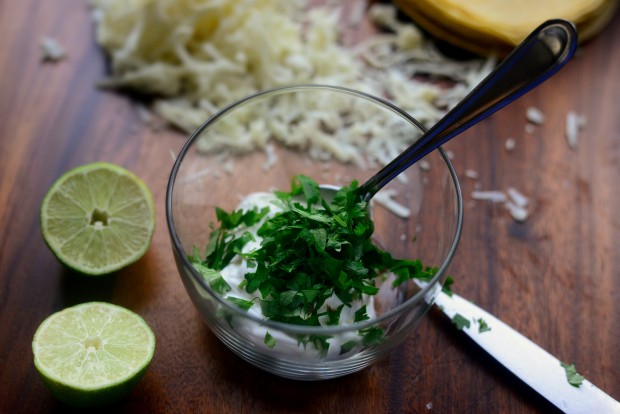 While the second side is grilling I whipped up a little bowl of cilantro lime crema. It's just a 1/2 cup sour cream, 1/2 a lime (juiced) and 1 tablespoon minced cilantro leaves.
Finally, cut the crispy corn poblano quesadillas in half, serve on a platter with the bowl-o-crema, a few limes and next to a few ice cold coronas ;).
Yup. That's the perfect my bite.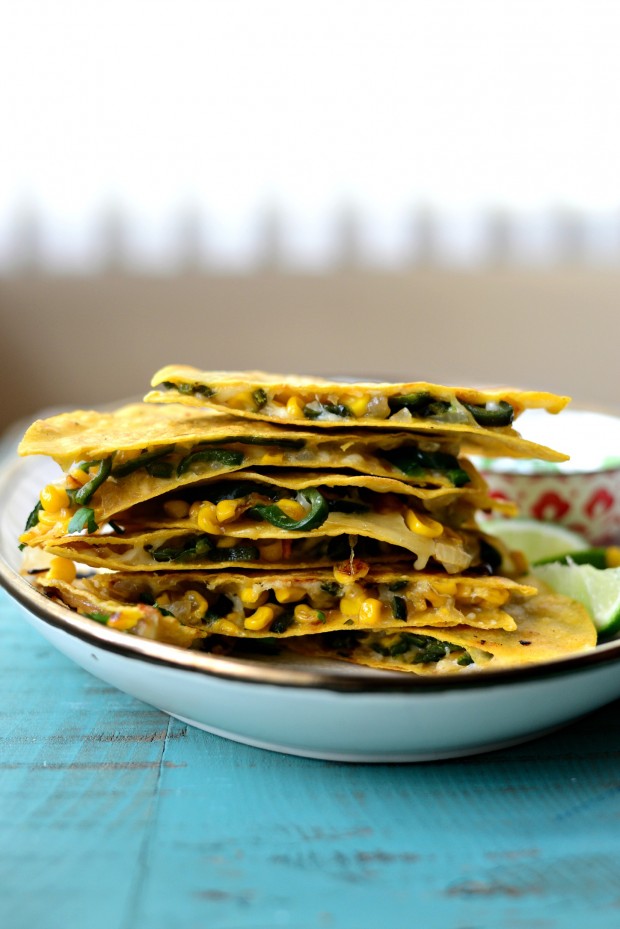 Excuse me while I unhinge my jaw and inhale this stack of corn poblano quesadillas.
Enjoy! And if you give this Corn Poblano Quesadillas recipe a try, let me know! Snap a photo and tag me on twitter or instagram!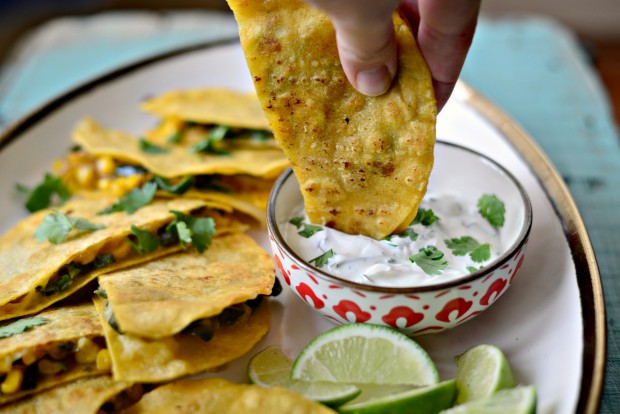 My cookbook Simply Scratch : 120 Wholesome Homemade Recipes Made Easy is now available! CLICK HERE for details and THANK YOU in advance!
[this post contains affiliate links.]
This post may contain affiliate links.
Buy the Cookbook: Simply Scratch : 120 Wholesome Homemade Recipes Made Easy Now available on Amazon »
THANK YOU in advance for your support!