I can hardly believe that this is my 5th 'year in review' post. Whoa. I didn't start writing these thinking it would be a reoccurring thing and that I would eventually be 5 years deep into blogging and still yammering on about food, life and random stuff. Unbelievable.
It has definitely been the most exciting 5 years to say the least. So much has happened, I've learned a thing or seventy (thousand) and have made so. many. recipes. I think we're at 700+ and still going strong.
Recapping what quite possibly could be my favorite year of all years (except the years my daughters were born, not that I really can remember those too well with all the non sleep I was getting back then) has me a little excited. I couldn't wait to talk about the past year with you guys.
2o14 was the first full year I was able to blog full time without my other job outside of the home standing in the way. It was a scary decision to make but a much needed one. It became so much easier to focus on all things food and I can now say (for the fear of losing said job is no longer imminent) my head feels free to dream up recipes and it's nice not having to recipe write and plan grocery lists while answering phones, tracking patients, their tests… you know actually "working".
As you know, it was quite a year of making lots of yummy food. Some of my favorites include roasted broccoli and cauliflower soup, sweet potato home fries and salted pumpkin spice knots. Just to name a few, of course.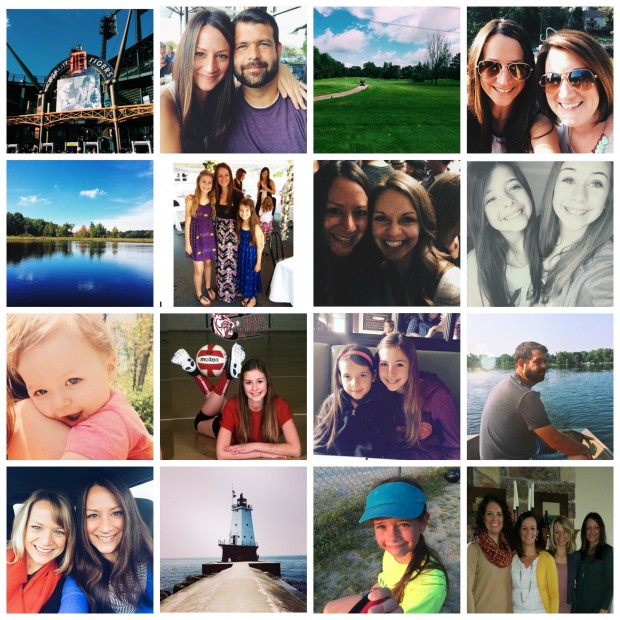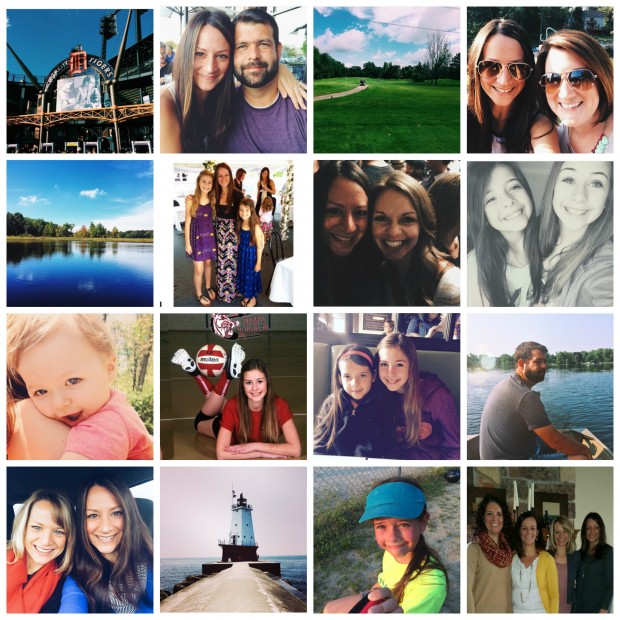 It's hard to sum up a whole year so I'll do my bestest to fill you in on some of the highlights and most likely you'll find the picture above.
– So I finally went to a Tiger's game at Comerica Park. Pre-game burgers at Nemo's and cold beers with friends, the sun setting, the crowd and bonus! they won!
– Pat and I celebrated 13 years of marriage (what!). We met in high school, six years later we got married, had a couple kids and I love him just as much now as I did then. He's my biggest fan and supporter and I'm one lucky girl.
– I played golf and didn't stink at it or hate it like I thought I would but you won't catch me doing it again in the near future, as you know I'd rather be cooking.
– This summer Pat and I did a lot of fishing, he'll argue this but I'm pretty sure I caught more than him. Either way, I love being out on the water, the view isn't too shabby and Pat so graciously takes the fish off my hook for me every single time, what a guy.
– We went with friends to our first (and Pat says 'our last') Oktoberfest where one okay-ish beer was like ten bucks. But we ran into a bunch of friends and who can put a price on that?
– Another highlight was watching my daughter play something other than softball. She made the 8th grade volleyball team and was the only lefty :).
– I had many lunch dates with my daughters, hangouts and coffee dates with wonderful friends and their families.
– This is lame but it's been SO long since I've seen an R rated movie in the actual theater. I know that seems ridiculous… but most movies I tend to see are with my girls and well, The Hunger Games and The Fault in our Stars are as good as they usually get. My sister Julie and I went to see Gone Girl and FYI the movie is just as good as the book!
– We also took our family on a mini vacay to Lake Michigan. It was Pat's first time to put his feet in the sand, memories were made and a vow was sworn that we would vacation more often.
– I love the summer for the fact that we spend so much of our time at the ball field… it never ever gets old seeing my oldest daughter play first base or my youngest daughter in catchers gear. My brain is constantly taking mental pictures.
– My year rounded out with spending much needed quality time with family, friends but especially my sisters. Two of them live out of state and were in town for Christmas and let's just say many bottles of wine were opened (and finished), quality time was spent, kids were face painting and running around and there was lots and lots of laughing. My year is now complete.
But I have some other news. I couldn't talk about this amazing year without telling you the biggest and most exciting news of all. Long story short… I've signed a contract with Penguin Group and I am currently elbow-deep into cooking, writing and photographing my very first cookbook. My stomach does this weird flip-flop thing just typing that out. If it wasn't for the fact that I'm currently living it and have the kitchen mess to prove it, I may not believe it. Writing a cookbook is SO much work and it's extremely hard to transition from blogger to blogger and cookbook writer, which explains my decrease in posts as of late. But I'm getting close to turning in my first manuscript and soon all things will be back to (somewhat) normal. I do plan to write another post sharing the details on the whole thing a little later on. It's a great story and a story I really do want to share with you, but for know I'll leave you with a smidgen of info… come fall of 2015 it should be in stores! Pinch me.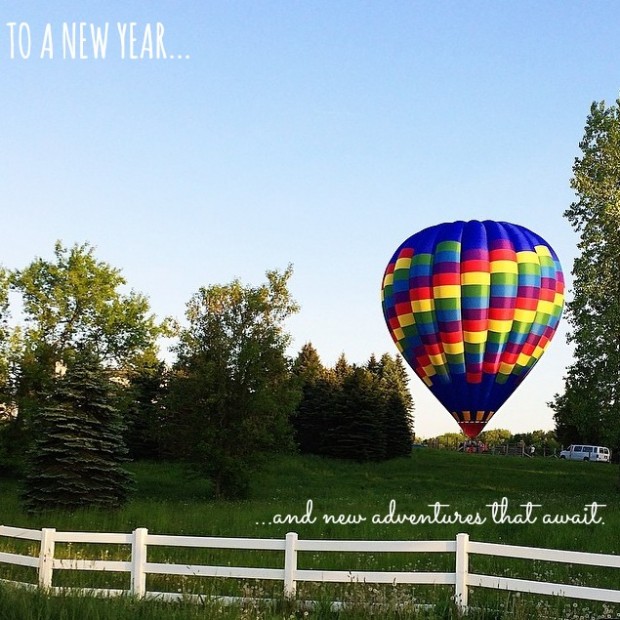 So to conclude this lengthy post I have to thank each and every one of you. My family, friends, (invisible and real life), all of those who pop in, comment, send me emails, make and share my recipes… I love you all. It truly never ceases to amaze me that I'm living my dream out. I love writing, cooking, capturing it in photography and most importantly eating all the food. Amen.
Happy New Year… I'm so excited to get this year rolling.
This post may contain affiliate links.
Buy the Cookbook: Simply Scratch : 120 Wholesome Homemade Recipes Made Easy Now available on Amazon »
THANK YOU in advance for your support!