These honey sesame roasted chickpeas are roasted, drizzled with a sweet and savory honey coating and quickly back to the oven for crispy addictive chickpeas.
Want some crispy, crunchy, chickpea snack perfection? Well you came to the right place.
Chickpeas are a beautiful blank canvas. A canvas that's just begging you to mess around with all kinds of spices to create tasty bold flavors. Today I did a little sweet and savory ditty. Sweet honey, that distinct sesame flavor which makes these the perfect crunchy snack.
I know right now everyone is roasting pumpkin seeds, but I'm so not in the mood. Like at all. So I roasted chickpeas instead.
Start by draining and rinsing two cans of chickpeas.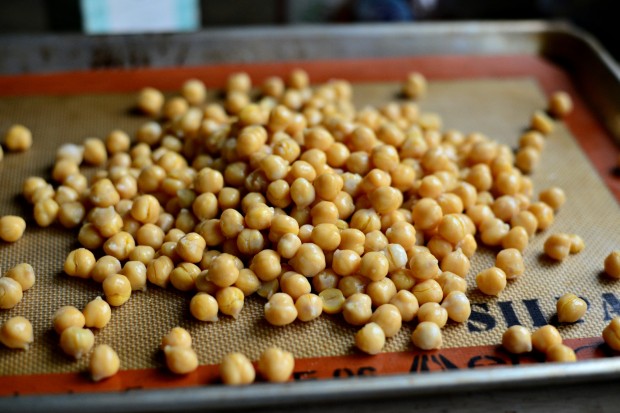 Next dump them out onto a metal sheet pan that's either lined with parchment or a silicon mat.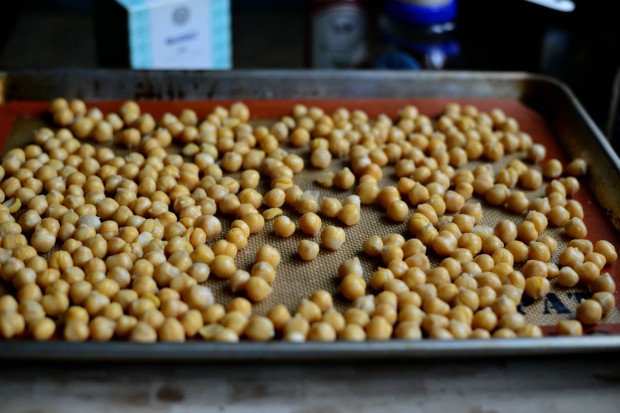 Then give the pan a shake so the beans are in an even layer. Slide the pan into a preheated 400F oven and roast for 40 minutes.
Meanwhile quickly mix together the glaze. Measure 1/4 cup honey add 1 tablespoon toasted sesame oil and 1/2 teaspoon of sea salt.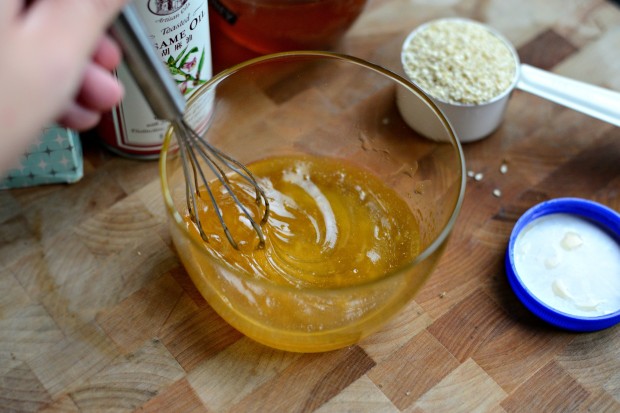 Lovely.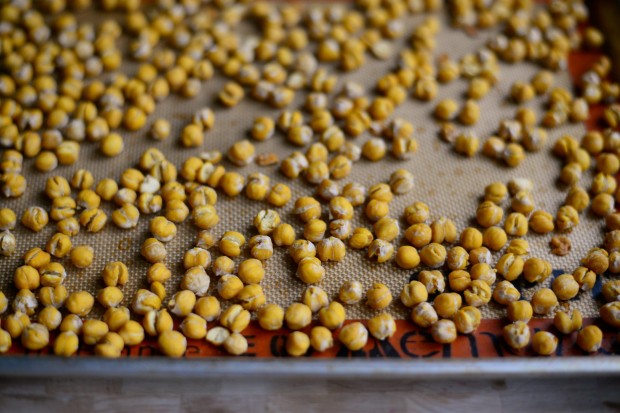 These are what 40 minutes in a 400 degree oven does to chickpeas. They are dried out little nuggets of goodness.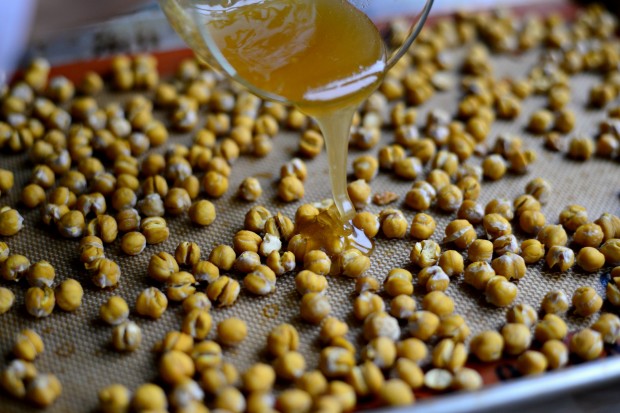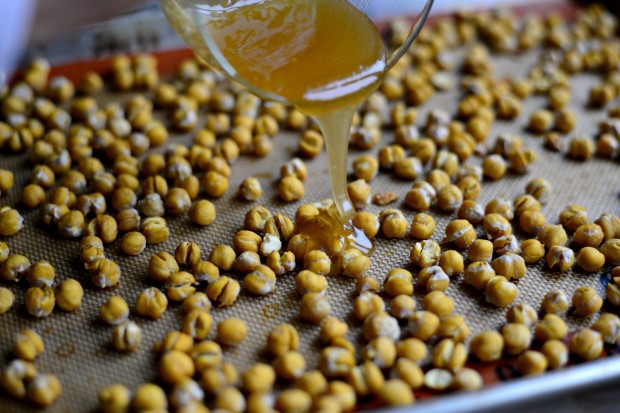 While they're still warm, drizzle that honey concoction over top. Bust out the spatula and scrape every ounce of that sticky glaze onto the pan.
Toss…
Sprinkle with sesame seeds, then toss (again) and send them back into the oven for 10 more minutes or until caramelized. The honey will harden even more as the chickpeas cool for the ultimate crunchy coat. After the Honey Sesame Roasted Chickpeas cool a bit, you'll notice the honey coating has candied on the outside creating a delicious crunchy outer shell.
Now you can serve as is or for some crunch, top your favorite salad with them.
Enjoy! And if you give this Honey Sesame Roasted Chickpeas recipe a try, let me know! Snap a photo and tag me on twitter or instagram!
My cookbook Simply Scratch : 120 Wholesome Homemade Recipes Made Easy is now available! CLICK HERE for details and THANK YOU in advance!
[this post contains affiliate links.]
This post may contain affiliate links.
Buy the Cookbook: Simply Scratch : 120 Wholesome Homemade Recipes Made Easy Now available on Amazon »
THANK YOU in advance for your support!