In these Sweet Potato Home Fries, sweet potatoes and poblano peppers are tossed with spices and roasted. Perfect with a fried egg on top.
I love making a huge batch of sweet potato home fries.
Pop them into a Tupperware container (or templeware as my youngest used to call it). Then I reheat them in small batches for a week of breakfasts. It's pretty brilliant because since no one in our home but me will consume sweet potatoes, they're all mine. I have literally been frying up an egg and saddling these babies up next to it for a gluten free and healthy breakfast. I'm not even close to getting tired of them.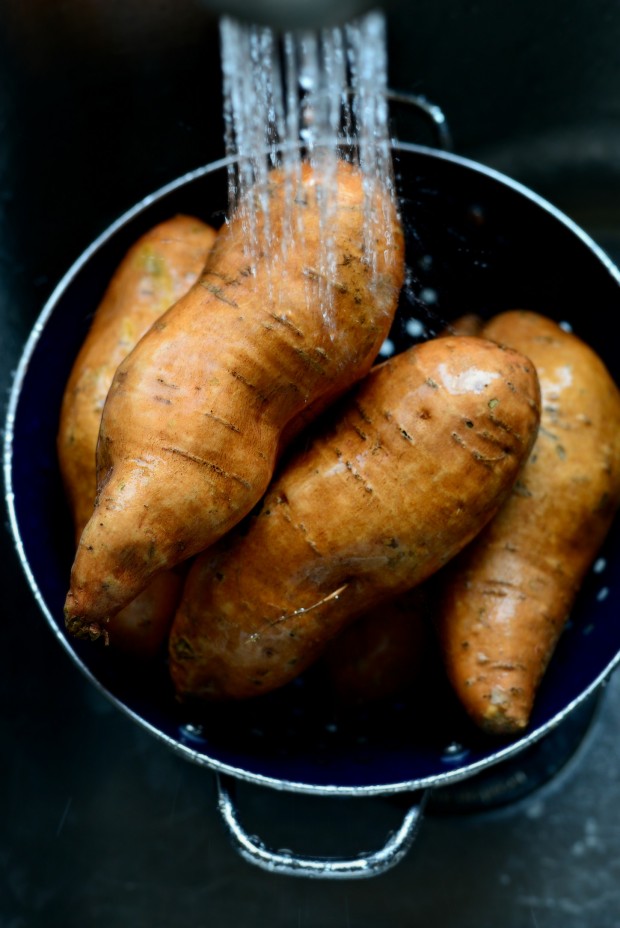 The sweetness of the sweet potato melds perfectly with spices like chili powder and cinnamon, to name a few, for a hearty hash that works with any meal of the day. Or just simply spoon some into a bowl and eat the deliciousness with a fork.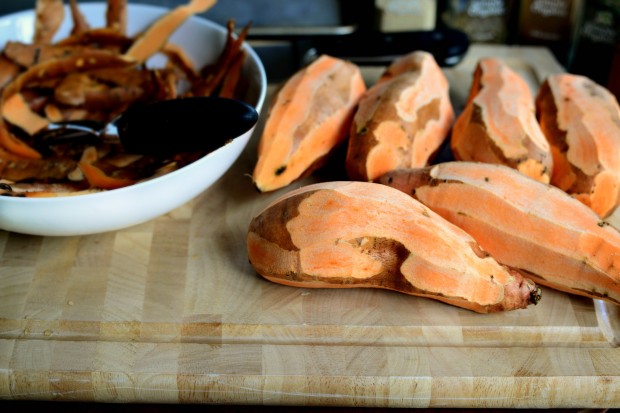 After giving them a good washing; haphazardly peel six medium sweet potatoes. I like to leave a bit of skin on for some of those extra vitamins. Feel free to leave all the skin on, just give them an extra good scrub down.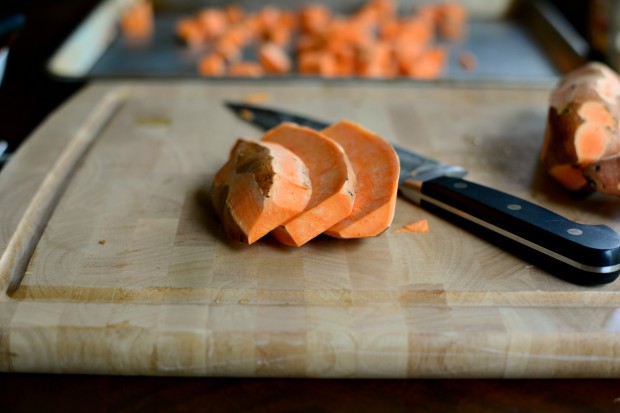 Next, trim off the ends and slice each potato lengthwise into planks.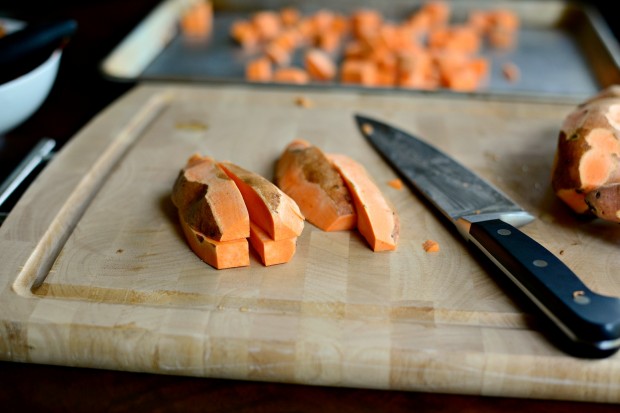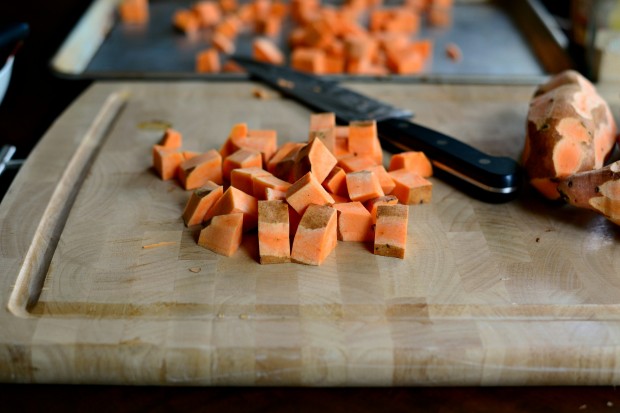 Then depending on their size, slice them in to sticks and then give them a dice.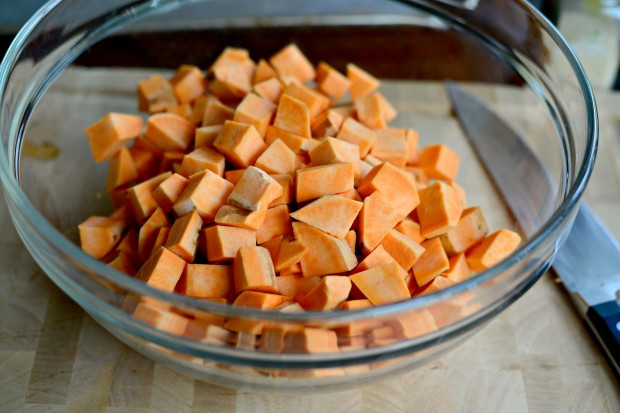 Next, throw all the diced sweet potatoes into a large bowl and then drizzle with 1 to 2 tablespoons of olive oil or enough to coat them.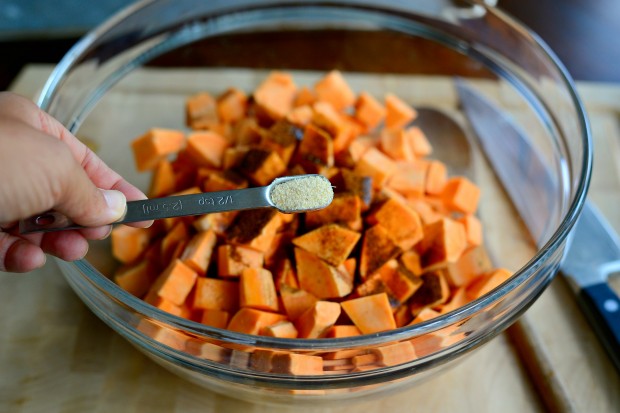 Then, measure and add in the tablespoon of chili powder and 1/2 teaspoon garlic powder (not garlic salt). Next measure 1/2 teaspoon of dried oregano into the palm of your hand and rub with your other palm directly over the bowl.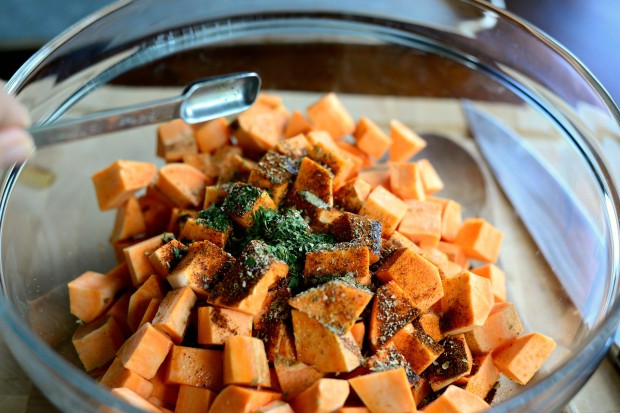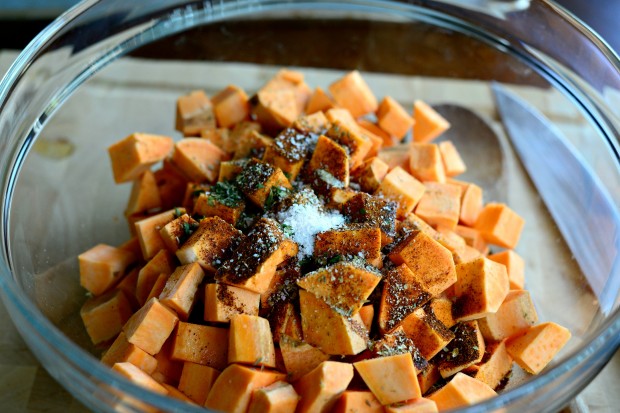 And then, measure and add in the 3/4 teaspoon of parsley flakes, 1/8 teaspoon of cinnamon, 3/4 teaspoon kosher salt and then 1/4 teaspoon of coarse ground black pepper.
Then remove the seeds from a medium poblano pepper or a jalapeño if you want some more pronounced heat. However, both are optional. We make these without the peppers all the time.
Next, toss all of it together and divide it among two rimmed sheet pans.
Lastly, spread the sweet potato and poblano into an even layer and bake at 400° for 20-25 minutes or until fork tender. Then, rotate the pans half way to ensure even cooking. Bonus: no need to toss or flip these tots! Just allow the sweet potatoes to cool for 5 minutes so any potatoes that are stuck will release from the pan.
Meanwhile slice up the light and dark green parts of three green onions and then chop up about two tablespoons of fresh cilantro.
Finally, plate up the sweet potato home fries and then sprinkle them with the green onions and cilantro over top before serving.
Prepare to fall in love.
These sweet potato home fires reheat nicely and even get extra yummy after sitting in the fridge.
Truthfully I most likely could eat this whole platter in one sitting, they are that good. However, my plans are to keep a container in my fridge at all times. Then I can enjoy these home fries throughout the week.
Enjoy! And if you give this sweet potato home fries recipe a try, let me know! Snap a photo and tag me on twitter or instagram!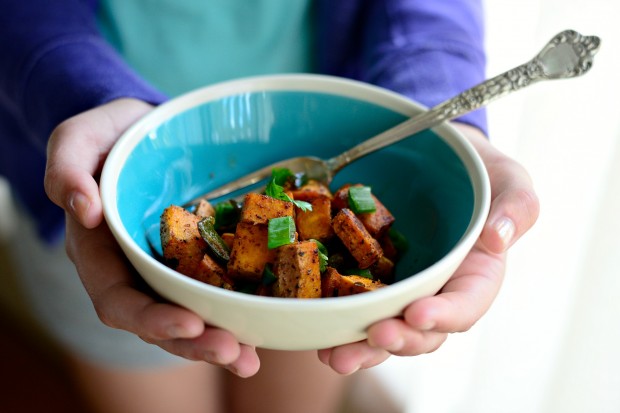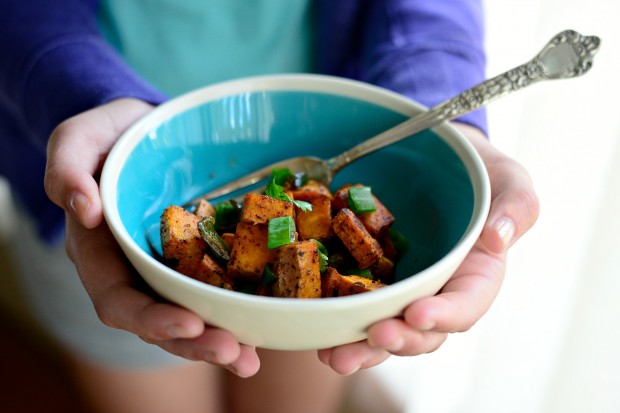 This post may contain affiliate links.
Buy the Cookbook: Simply Scratch : 120 Wholesome Homemade Recipes Made Easy Now available on Amazon »
THANK YOU in advance for your support!