Caprese Couscous Salad is my go-to summer salad! It all starts with light and fluffy couscous and ends with the forever-amazingly-stellar-combo of tomato, basil and mozzarella. Serve with grilled chicken or as a light meatless meal option.
It's been a crazy few weeks with school ending, my girl's summer ball beginning and everything in between. I've been just a wee bit busy, to say the least. The good news is that I have just this thing for you to make on those busy days. Caprese couscous.
Light and fluffy couscous takes less than 15 minutes and is tossed with fresh garlic, mozzarella, tomatoes and basil. Caprese will be my favorite summer combo. I find ways to caprese just about anything and when my cherry tomato plant is bursting at the seams with rip tomatoes, this is my go-to recipe.
The past couple of summers when a group of us friends would gather, our friends (Hi Leslie and Patrick!) have brought this particular creation to share. Everyone always raves about it and I find myself going back for seconds. Okay, thirds. So when I saw them a few weeks ago and finally asked Leslie what's in it, she told me how it's really just a few humble ingredients and gave me her blessing to share it here on SS.
This recipe is truly simple, healthy and refreshingly light. And if you want to substitute quinoa for the couscous, then go right on ahead. This bowl of caprese perfection is amazing, leftovers are amazing and I served it along with this lemon and basil grilled chicken and yes, even my girls ate it. Just not the tomatoes.
One of these days…
Here's what you'll need: tomatoes; I've made this caprese couscous with diced roma, grape or cherry tomatoes and you'll need a little less than a pint. Mozzarella (the fresh kind!); 8 ounces fresh mozzarella, either pearl-size (left whole, pictured above), celegine-size cut in half or one large 8 ounce ball that has been cut into small cubes. The remaining ingredients are couscous, olive oil, basil, garlic, salt and pepper.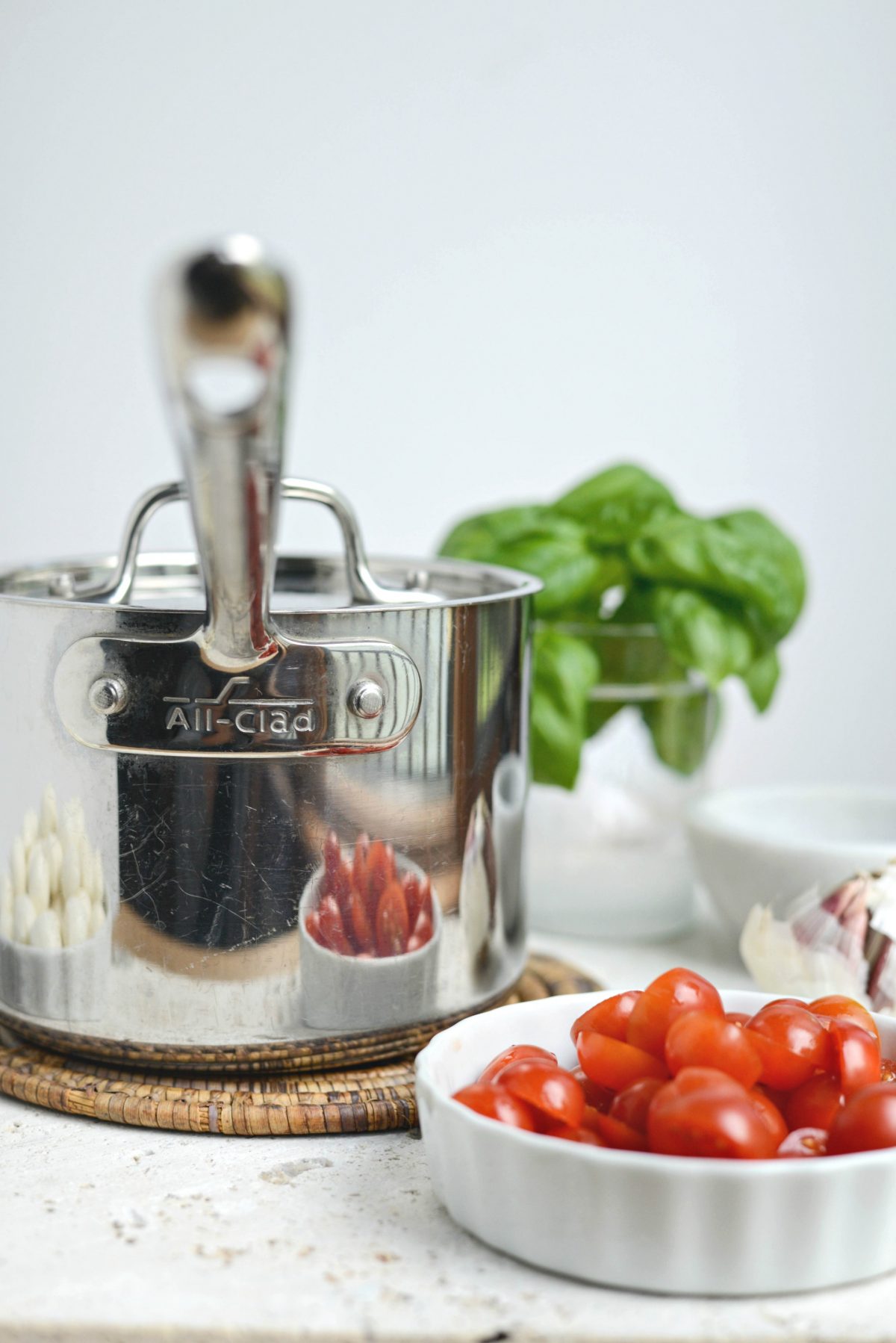 Next, prepare couscous by following directions. This is how I make couscous every single time.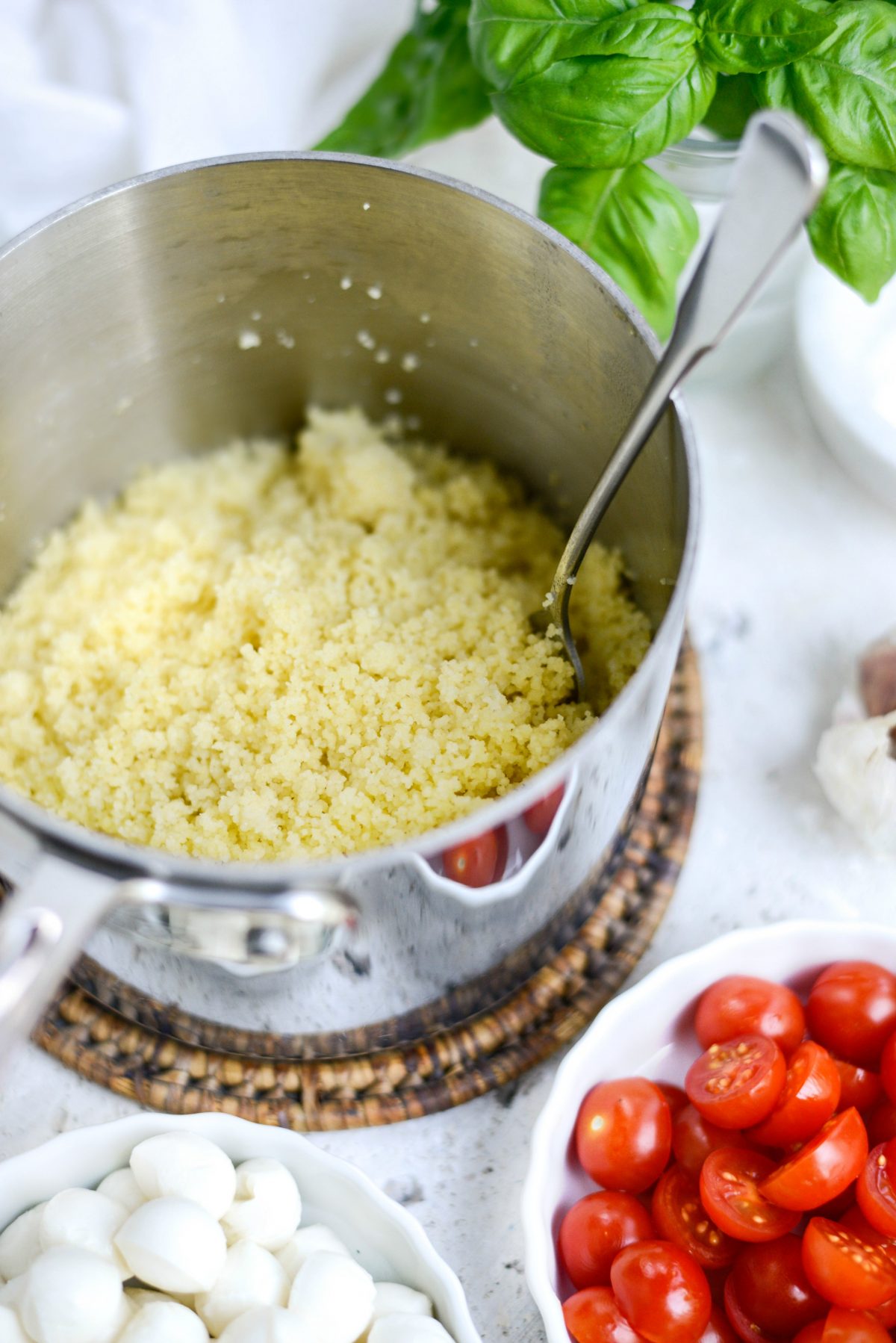 Once the couscous is ready, fluff with a fork.
Next add the couscous to a bowl and then grate in a small clove of garlic, or finely mince it before adding it in.
Then throw in the tomatoes, mozzarella, two tablespoons of chopped fresh basil into the bowl with the cooled couscous and season with a couple of pinches of kosher salt and a few grinds of coarse black pepper. Lastly drizzle with a tablespoon or more of olive oil.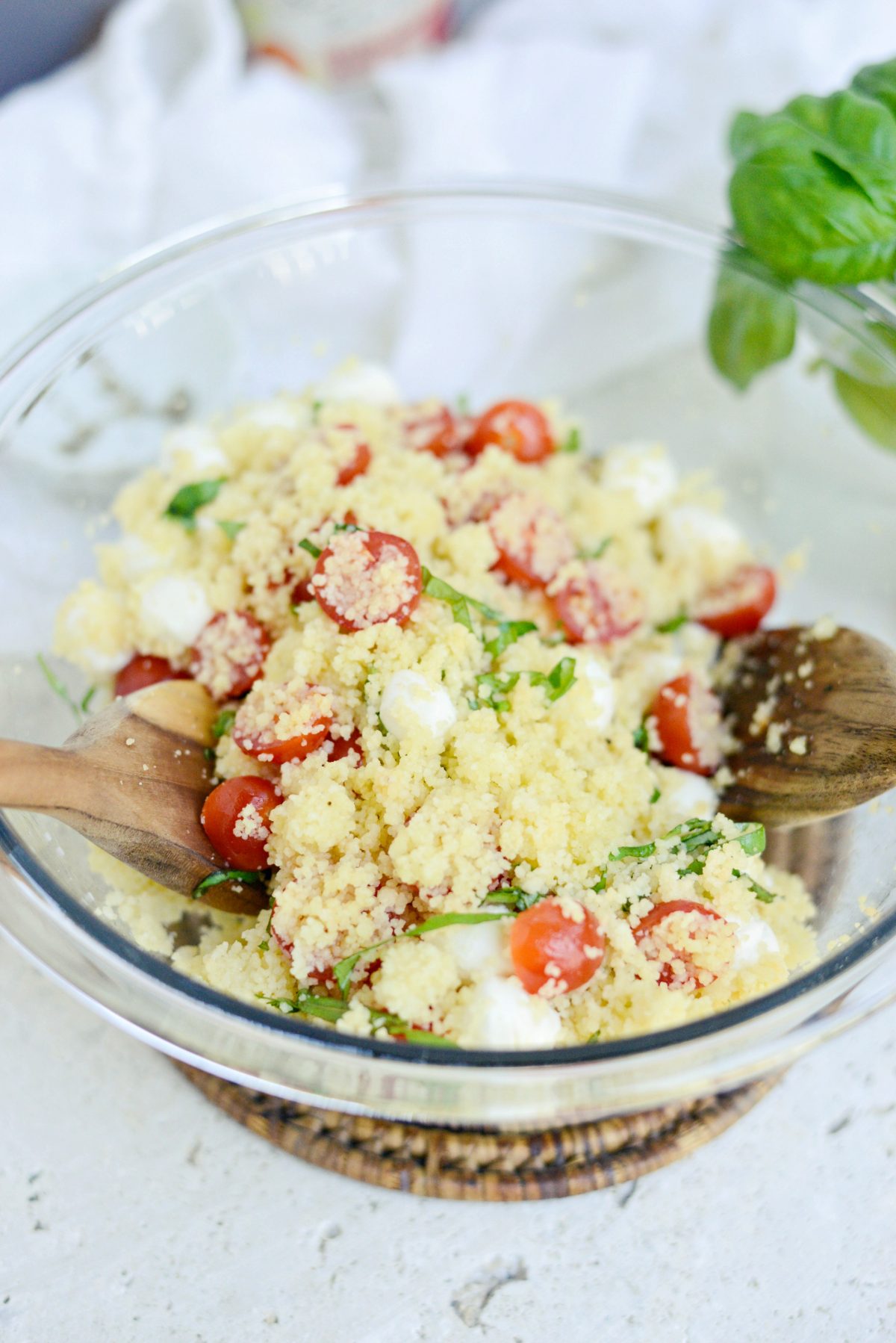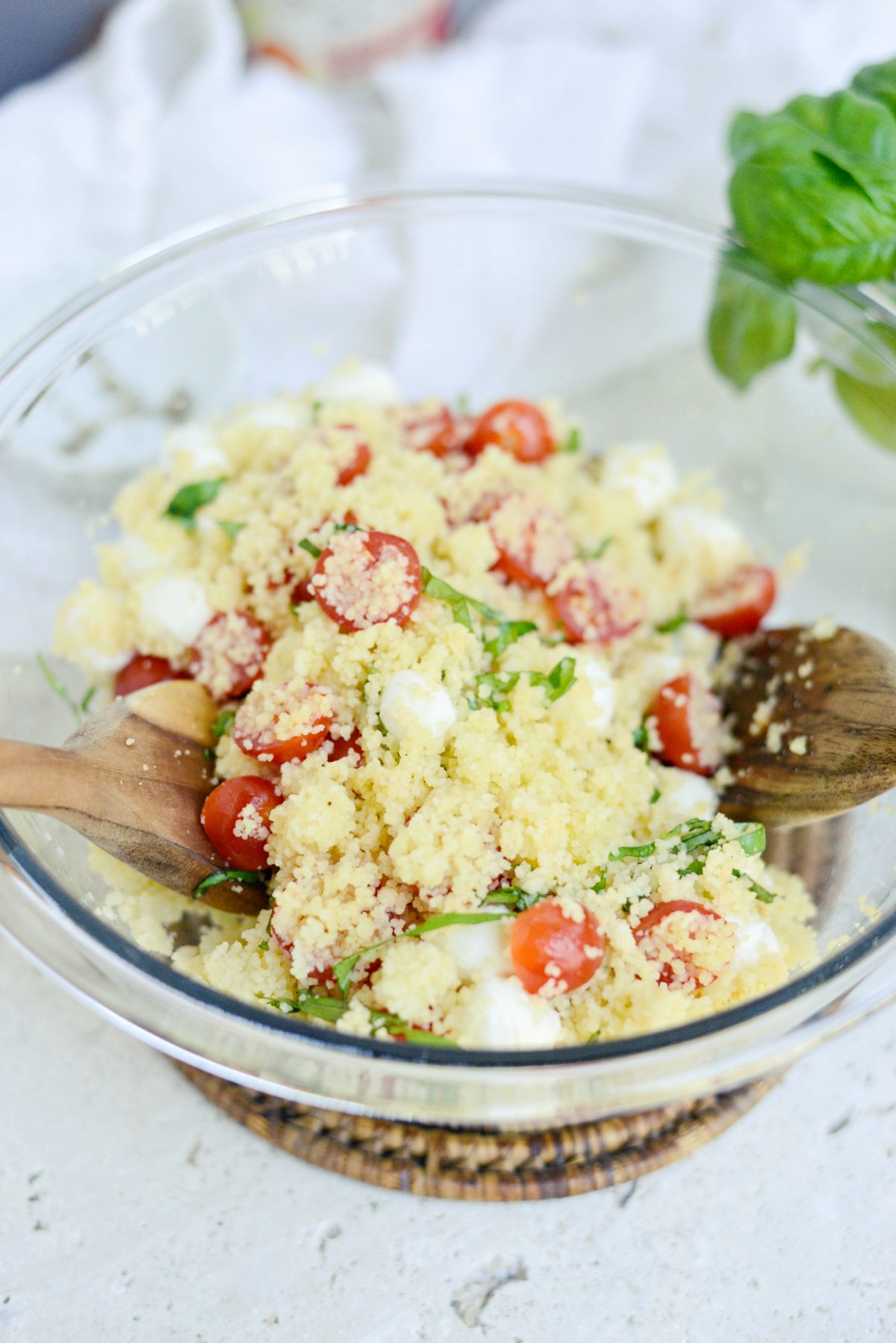 Gently toss to combine.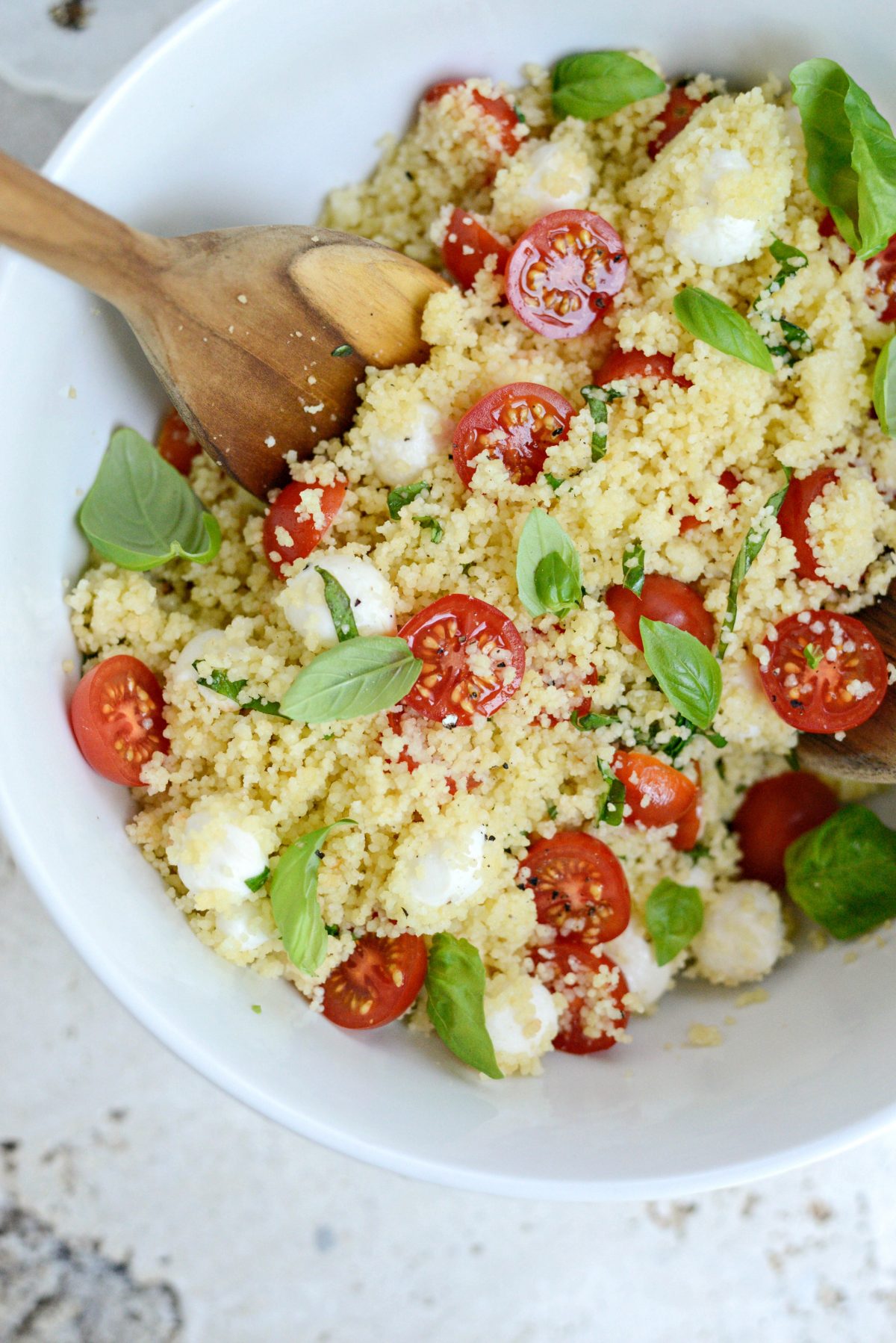 Perfect for a simmer party or as a side dish to your favorite dinner. However, it's most definitely perfect with a glass of crispy white wine.
Enjoy! And if you give this Caprese Couscous recipe a try, let me know by snapping a photo and tagging me on twitter or instagram!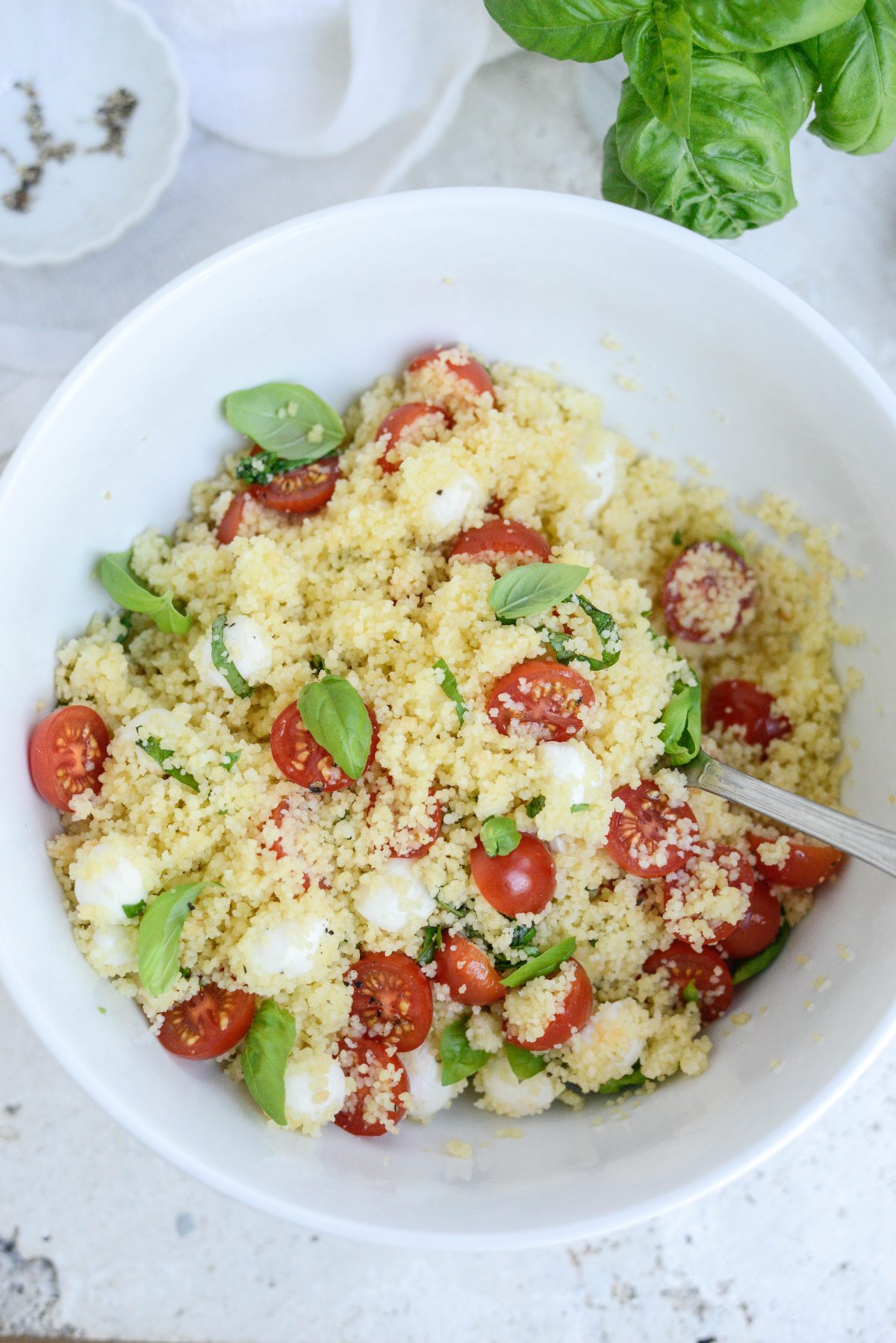 My cookbook Simply Scratch : 120 Wholesome Homemade Recipes Made Easy is now available! CLICK HERE for details and THANK YOU in advance!
[this post contains affiliate links.]
This post may contain affiliate links.
Buy the Cookbook: Simply Scratch : 120 Wholesome Homemade Recipes Made Easy Now available on Amazon »
THANK YOU in advance for your support!