Grilled Turkey Tacos! Marinated turkey tenderloins are grilled and tucked into soft tortillas and topped with a sweet and spicy mango salsa.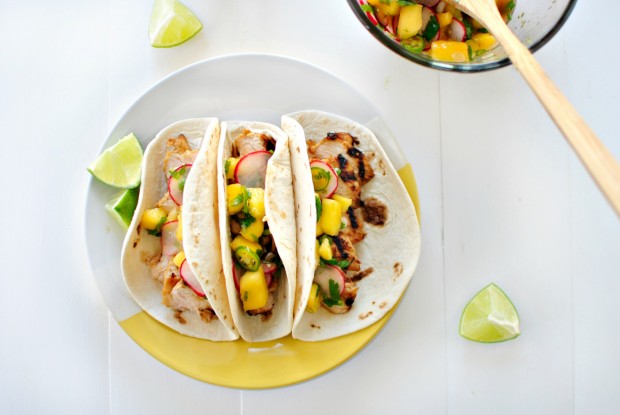 With all this glorious weather I basically grilled every day this week.
It never fails, every year at this time I start obsessing (to put it lightly) about grilling. Like is there any other way to cook in the summer? I think not.
If there is one grilling recipe that I make ALL the time in the summer it's this grilled turkey breast tenderloin. The ingredients are simple, but OMG it's tuh die for. The recipe first aired in 2011. Truthfully I just threw a bunch of ingredients into my mini processor and crossed my fingers. I love when I do that and it actually turns out better than imagined.
With being so many gosh darn recipes on this here blog you can understand how a recipe from 2011 can get buried and forgotten about. I can't let that happen with this one. I wanted to breathe new life into this recipe, so I made these Grilled Turkey Tacos and topped them with a killer mango and radish salsa and stuffed it all into soft tortillas. Normally I would abide by my first rule that "every taco needs some form of cheese" but not this one. It was light and perfect. BUT if you cannot NOT add cheese then I'd sprinkle with Cotija. Definitely.


Instead of having to flip between posts, I remade the marinade for ya and included it in the printable below.
To start; quarter up a medium shallot, smash and peel two cloves of garlic and peel and chuck an inch or so of fresh ginger root.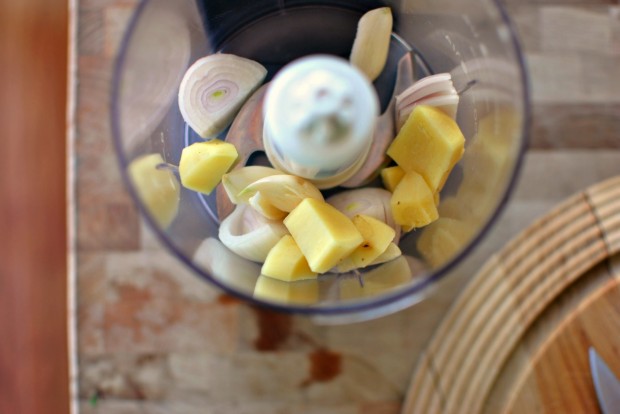 Throw those goodies into a mini processor.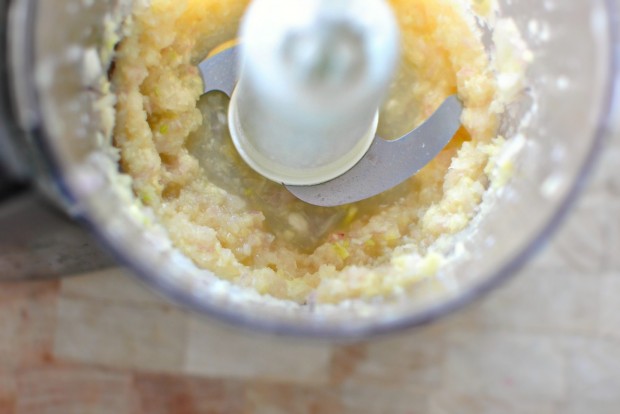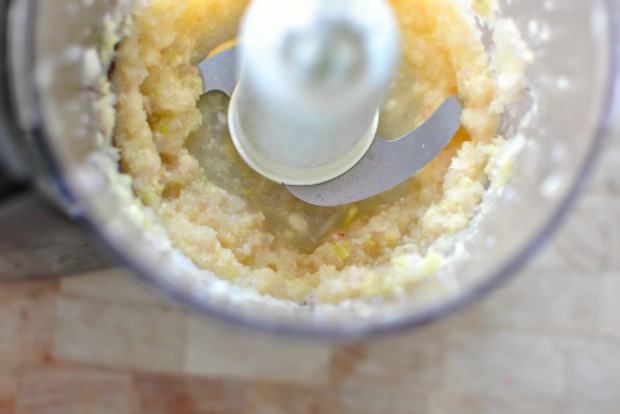 And pulverize.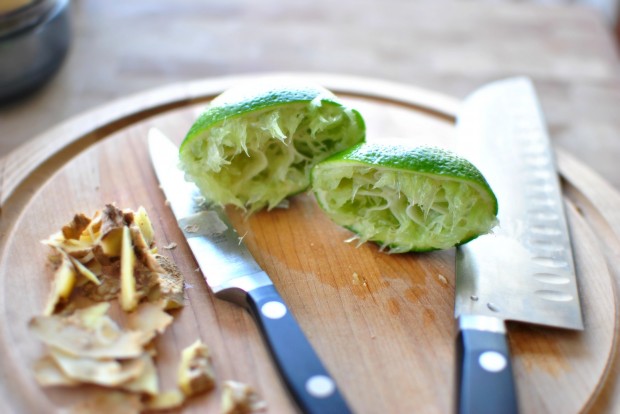 Next, add in the juice of one lime.
1/4 cup of any healthy oil. Olive oil, grapeseed oil or coconut oil are my go-to's.
Next pour in a 1/4 cup of low sodium tamari.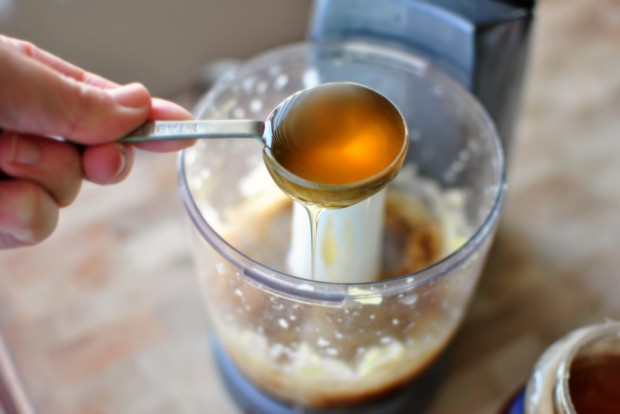 A tablespoon of good honey. Anyone else lick the measuring spoon afterword? No? Just me?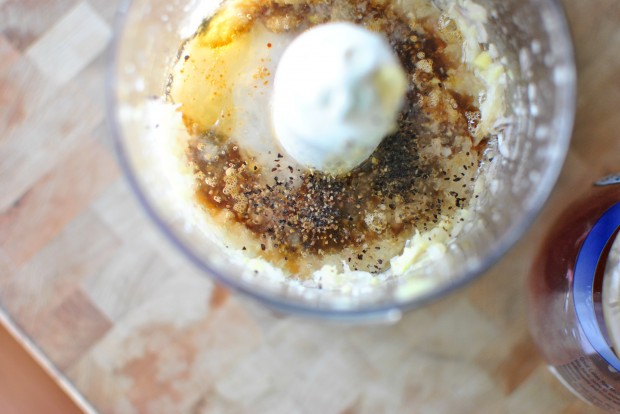 Lastly add a pinch of black pepper before whizzing it one last time.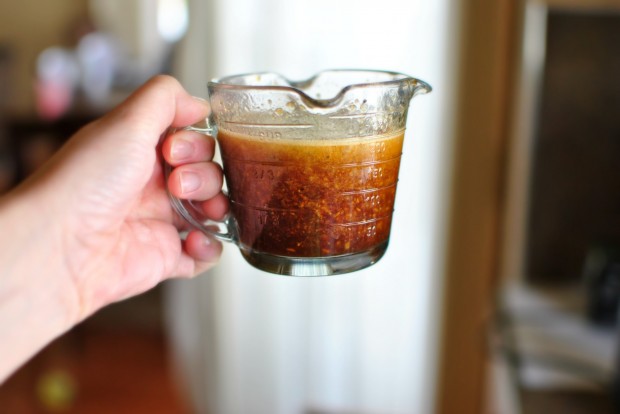 There ya have it. I cup of delicious marinade for your turkey or chicken.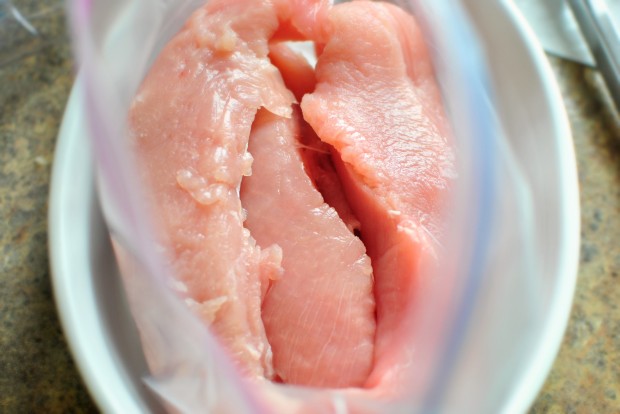 Throw the 1.25 pounds of turkey breast tenderloins into a bag or dish.
Pour the glorious marinade over top…
Toss the turkey around to coat and let it sit on the counter for 30 minutes.
NOTE: If you do use coconut oil it will solidify… but that's totally okay because it will melt again on the grill. 😛
Meanwhile you can preheat your grill and whip up a fiery salsa.
With a sharp knife or an even sharper mandolin, slice up three radishes and 1 serrano chile pepper. For less heat; halve the pepper and scrape out the ribs and seeds THEN slice with a knife.
Thinly slice up three green onions and dice up a mango. Here's my tutorial on how to dice one up but keep in mind you want these small than what is show in the post. 🙂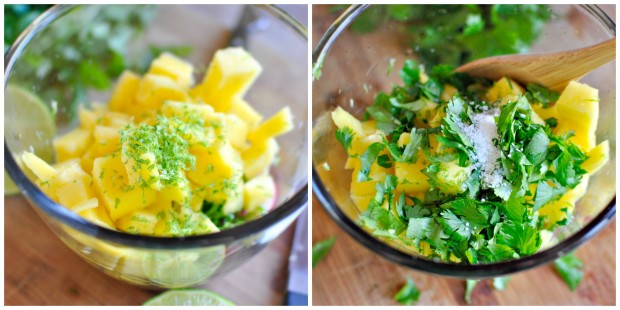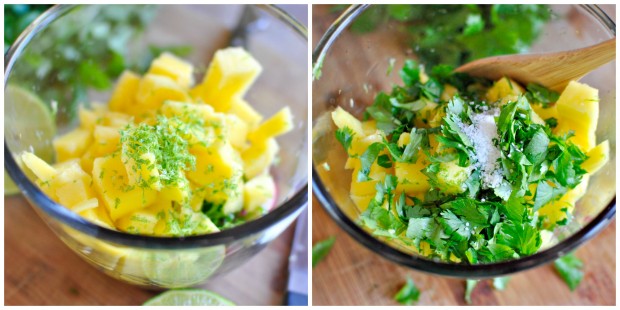 Add in the zest of half a lime and the juice from the whole lime. Add in two tablespoons roughly chopped cilantro and a 1/4 teaspoon of salt.
Lastly, stir together and let that sit for the flavors to develop.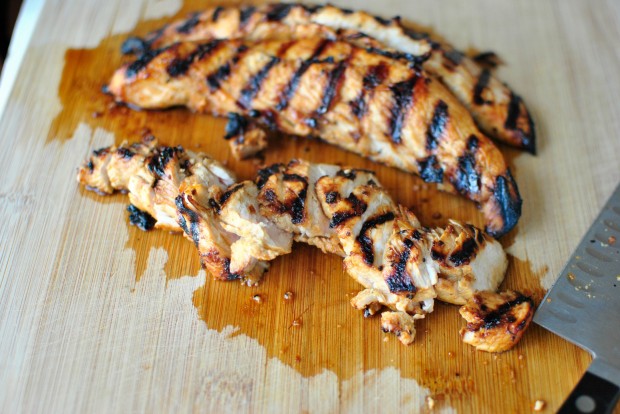 This is how I grill the turkey. I preheat my grill to high. Once hot, I reduce the heat to medium-high… slap on the turkey and cook it for about 6-8 minutes before flipping and cooking for an additional 4-6 minutes more. Let it rest under tented foil for about 5-8 minutes before slicing thinly on the bias. Easy-peasy.
Finally, warm up some tortillas (wrapped in foil and heated on the grill or in your oven) and then fill with slices of grilled marinated turkey and top with the mango radish salsa.
And just like that…Grilled Turkey Tacos!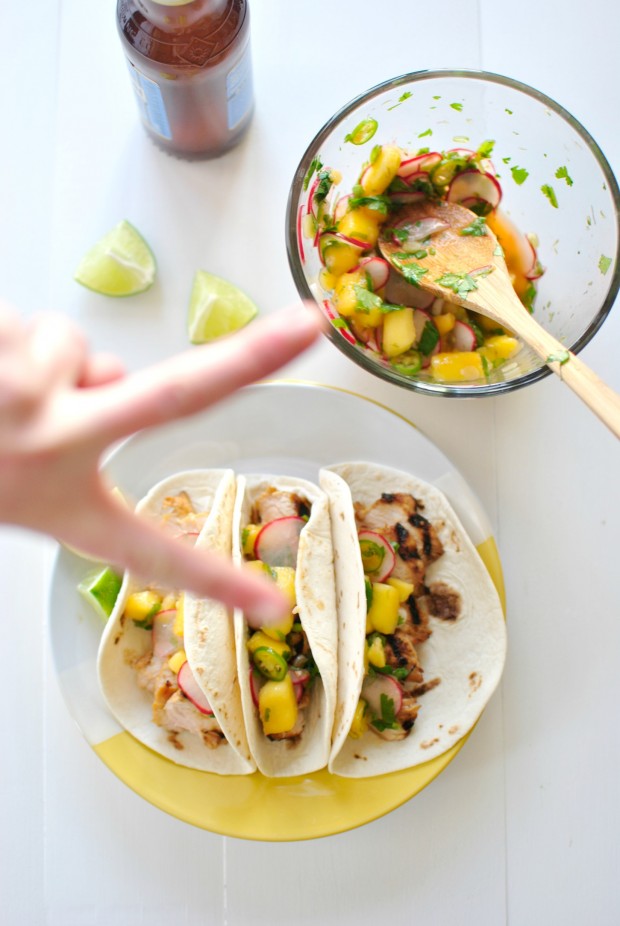 Did I mention it was spring break? This is what happens when kids are home and they're trying to be funny. They run by and stick a peace sign under my camera lens. Or they make a pig face on the window right in front of me. OR they sing-song "Yooo0-hooo big summer blowout!" because they've watched Frozen on repeat.
Okay, so maybe they are funny. 😉
Back to the grilled turkey tacos.
The flavors of the marinade still shines through, but the salsa is phenomenal! I love the crunchy, earthy radish with the tropical, sweet mango. If I closed my eyes I'm suddenly on the beach somewhere far-far-away.
(YOOOHOOO big summer blowout!) Sorry.
Enjoy! And if you give this Grilled Turkey Tacos recipe a try, let me know! Snap a photo and tag me on twitter or instagram!
This post may contain affiliate links.
Buy the Cookbook: Simply Scratch : 120 Wholesome Homemade Recipes Made Easy Now available on Amazon »
THANK YOU in advance for your support!