I've been obsessing about honey roasted peanut butter since my trip to Whole Foods last summer.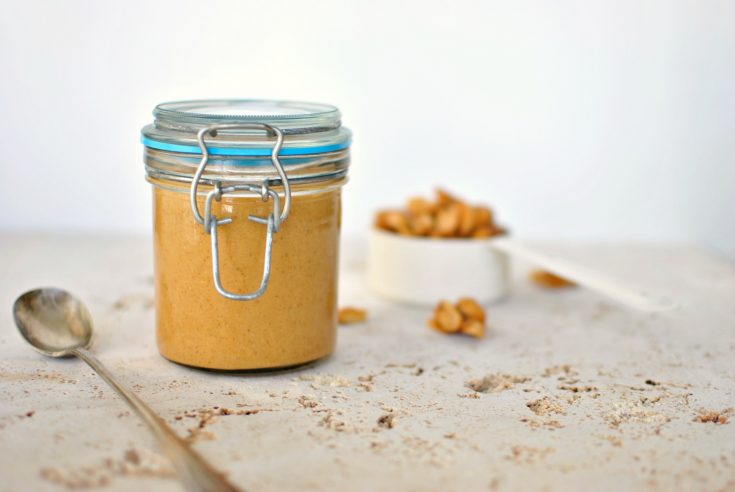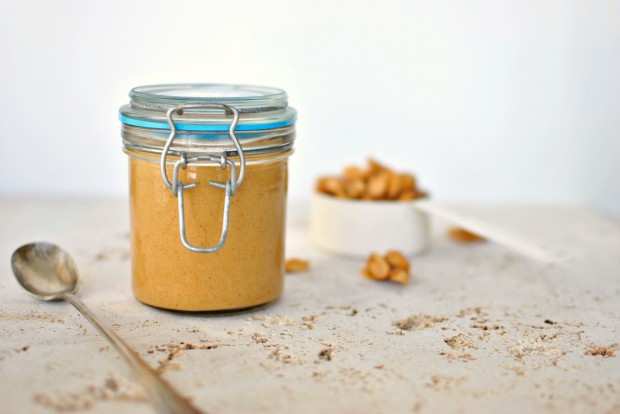 It might have something to do with watching 9and smelling) the honey roasted peanuts slowly grind into peanut butter into my dish below. Or maybe the fact that it's honey roasted peanut butter and well, it's a gem spread all over toast with a drizzle of honey on top.
I love it.
In my early on days of blogging I made honey roasted cashews. Since the cashews are simply ah-mazing why not do a similar thing to peanuts and grind them up to make peanut butter? Naturally.
I wanted to make a dairy-free version so I swapped the butter out for coconut oil and obviously the cashews for peanuts but everything else is the same. All you will need is a little honey, real maple syrup, unrefined coconut oil, vanilla, cinnamon and salt. Along with peanuts and some grapeseed oil and you will have peanut butter in no time.
Soooo what are we waiting for? Let's turn some nuts into butter.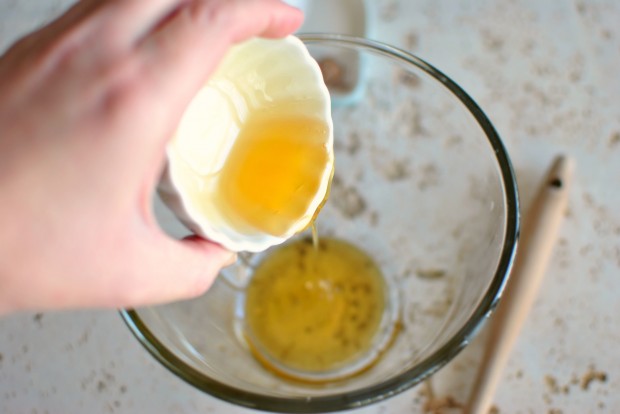 First drizzle the honey into a small bowl.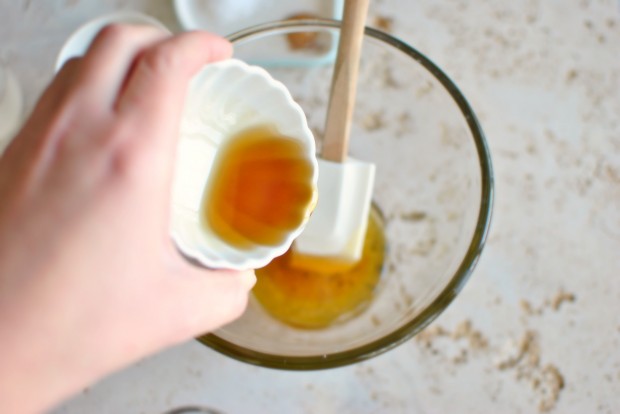 Then add in the maple syrup.
Next add in the coconut oil.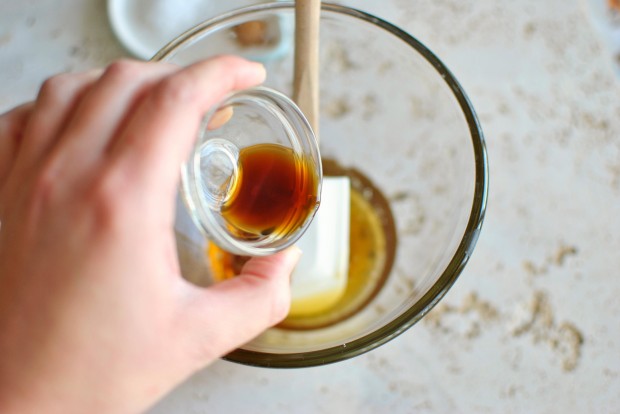 And then the vanilla extract.
Next add in a teaspoon of kosher salt and a cinnamon.
Finally, stir it all together until the cinnamon and kosher salt are throughout.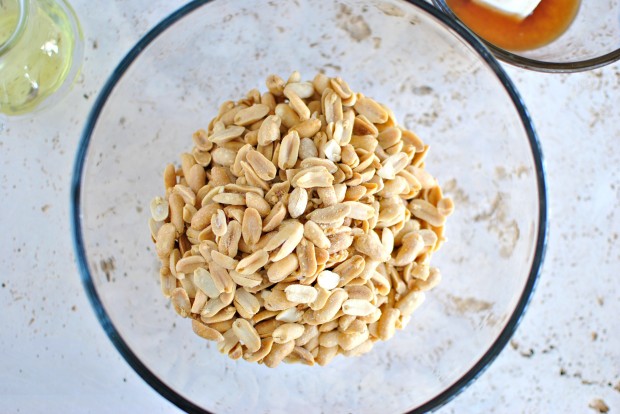 Then, in a separate mixing bowl, add in 1 pound of lightly salted (I'm using kettle roasted) shelled peanuts.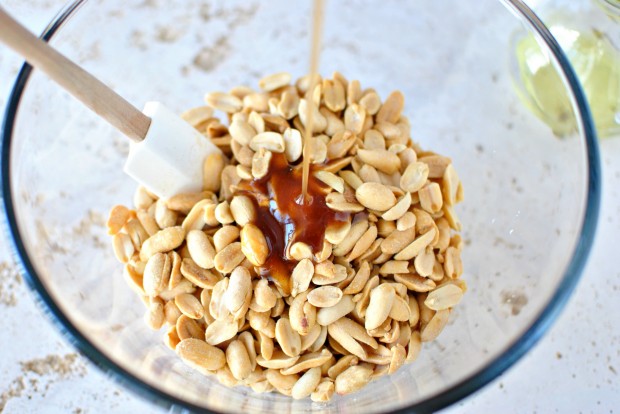 Next, pour in the honey/maple/cinnamon mixture over the peanuts.
Toss and then spread the coated nuts over a lined, rimmed sheet pan and bake in a 350° oven for 6 minutes.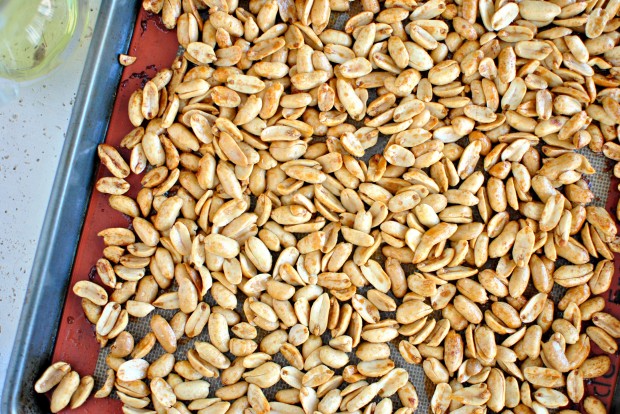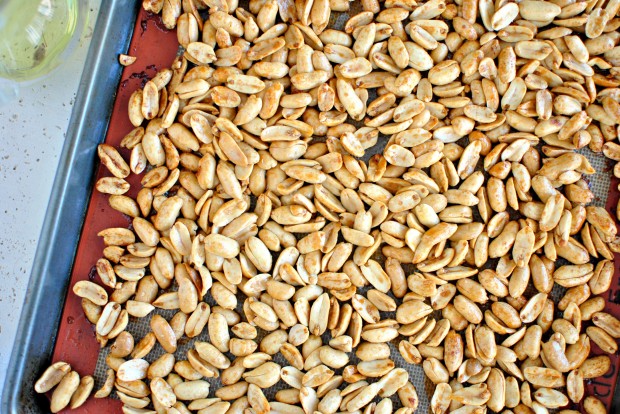 Next, remove the nuts, give them a stir, rotate the pan in the oven and continue to bake for an additional 6 minutes.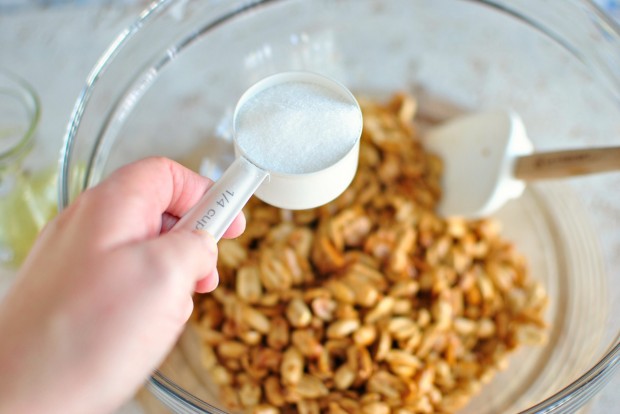 Once the nuts have cooled, slide them off of the sheet pan into a bowl and then measure and add in a quarter cup of granulated sugar.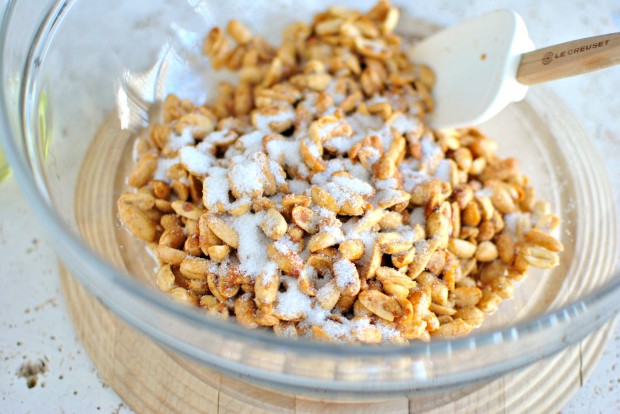 Next, give it a toss to coat each and every peanut.
Now these nuts, oh man, you could seriously stop right here and snack on these all day long, but I have other plans.
Next take 2-1/2 cups of honey roasted peanuts, leaving the remainder to snack on, and throw them into the bowl of your food processor or high-powered blender.
Then pulse a few times and with the processor running, pour in the quarter cup of grapeseed oil.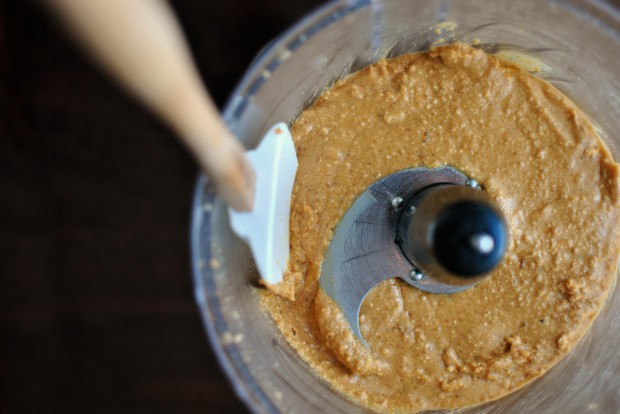 Once combined, scrape down the sides and continue blending you've made smooth peanut butter or until your ears bleed ;).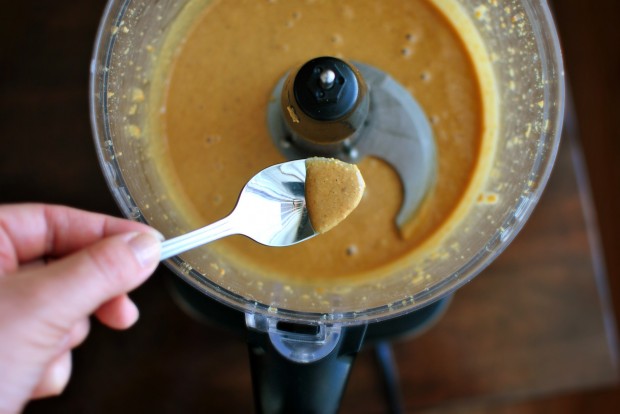 Finally, taste and adjust salt if needed.
Peanut butter toast is a childhood favorite of mine. I remember my mom making me toast and she would spread peanut butter immediately onto the hot toast and the peanut butter would melt to an ooey mess. To this very day I make my toast the same way.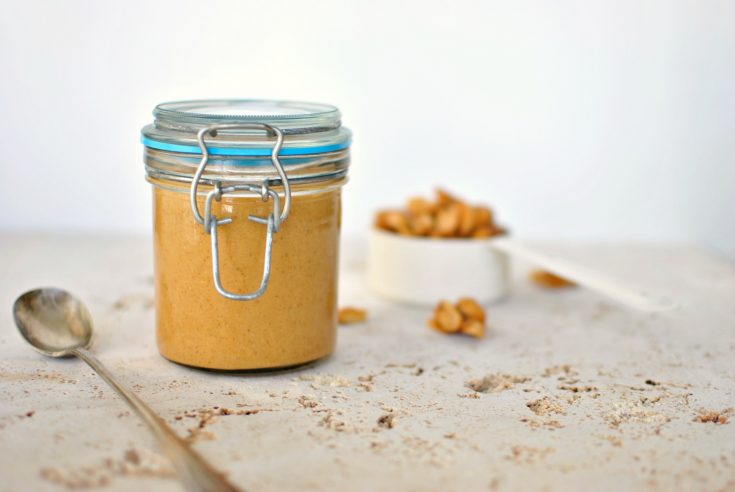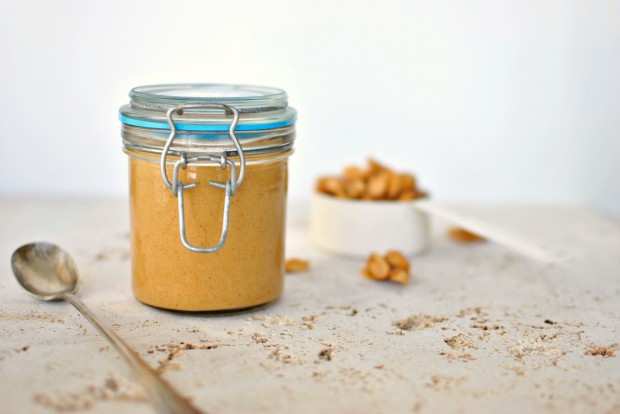 I love the texture of homemade peanut butter and I especially love the sweetness from the honey and maple syrup. My life may never be the same.
Now if you'll excuse me, I'm going to toast some bread.
Enjoy! And if you give this Honey Roasted Peanut Butter recipe a try, let me know! Snap a photo and tag me on twitter or instagram!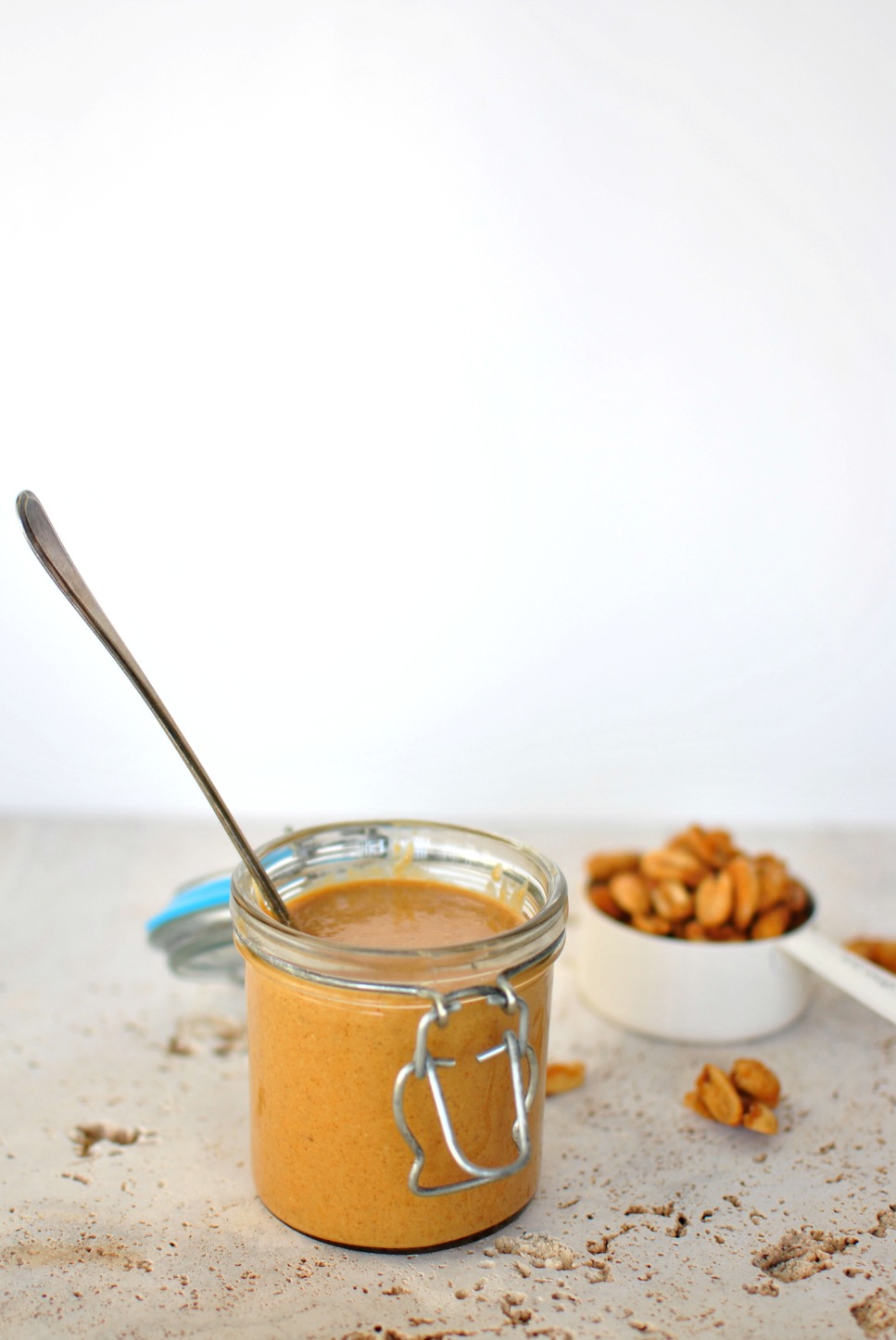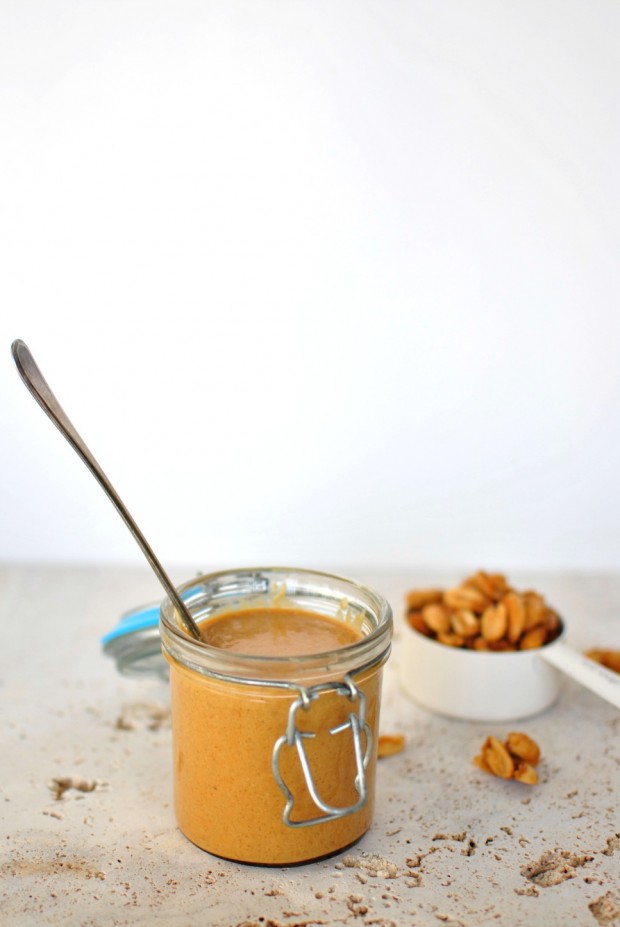 My cookbook Simply Scratch : 120 Wholesome Homemade Recipes Made Easy is now available! CLICK HERE for details and THANK YOU in advance!
[this post contains affiliate links.]
This post may contain affiliate links.
Buy the Cookbook: Simply Scratch : 120 Wholesome Homemade Recipes Made Easy Now available on Amazon »
THANK YOU in advance for your support!