This turkey pot pie soup is a creamy yet cream-less turkey soup with all the pot pie fixins'! Serve this with biscuits for a soul warming dinner.
I made you a soup today.
A creamy yet cream-less turkey soup with all the pot pie fixins'. And as a bonus it goes from pot to bowl to your mouth in thirty minutes.
I think you guys are really going to like this. If you like pot pies like I like pot pies then this soup is your jam. This turkey pot pie soup is so hearty and comforting and since winter isn't going away anytime soon what's one more soup recipe for your repertoire?
This weekend went by too fast. As they always do. But this soup was definitely the highlight. Soups have never been my forte. I've made my share of soup flops, so it was my mission to make one my favorite dinner in soup form. And I did… in thirty minutes.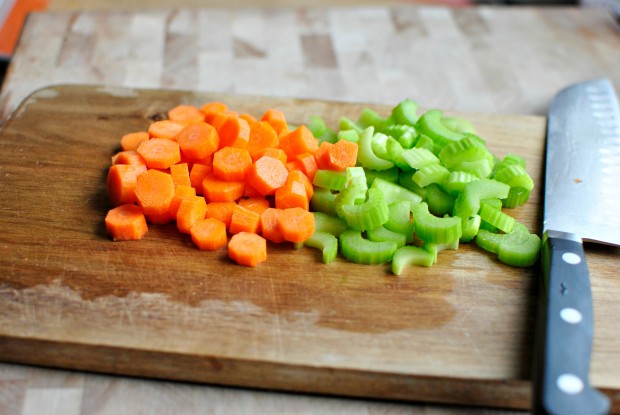 The bulk of time comes with prepping. The more you get used to slicing and dicing, the faster the recipe will take you. So if it takes you 35 minutes, don't hate me, okay? Sooo with that said dice up a few carrots and celery stalks. My carrots were on the skinny side so I didn't have to cut them in half… but overall you'll want about 1/3 cup of both.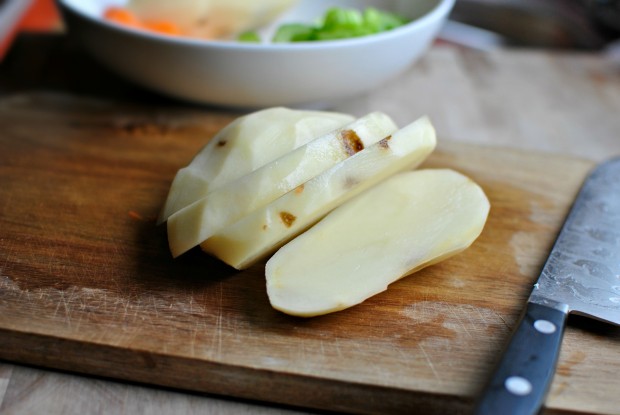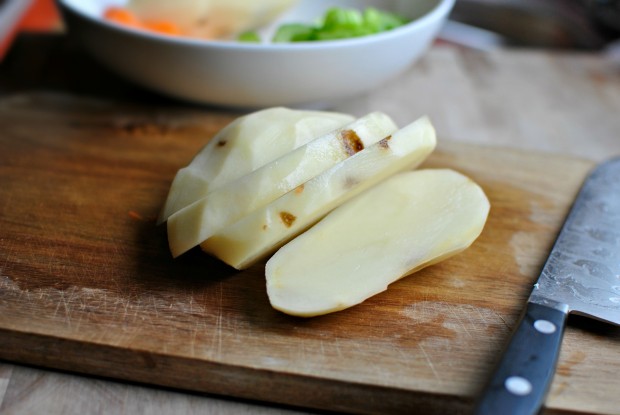 Next, moving on to the potatoes, slice the potatoes into planks.
Then slice them into sticks.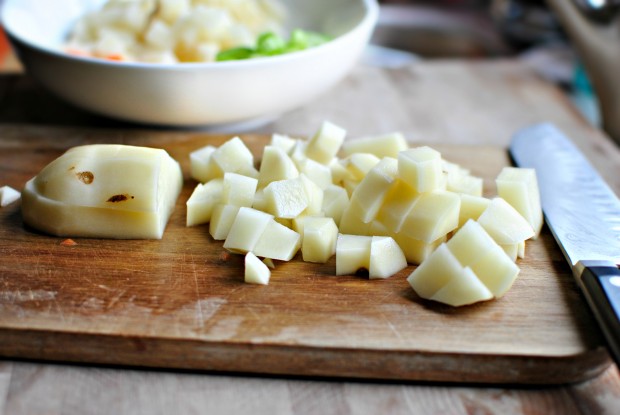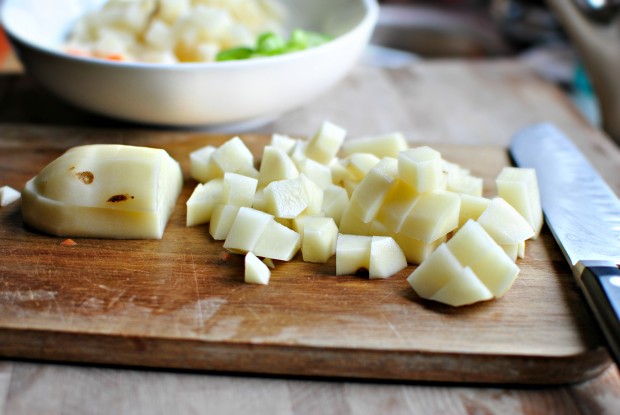 …and then into cubes and set those off to the side.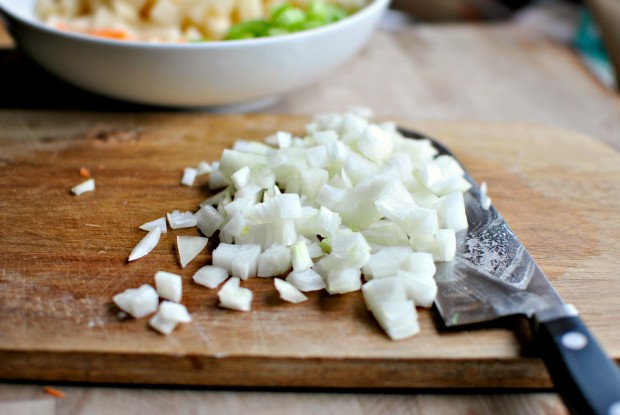 Next, dice up a small yellow onion.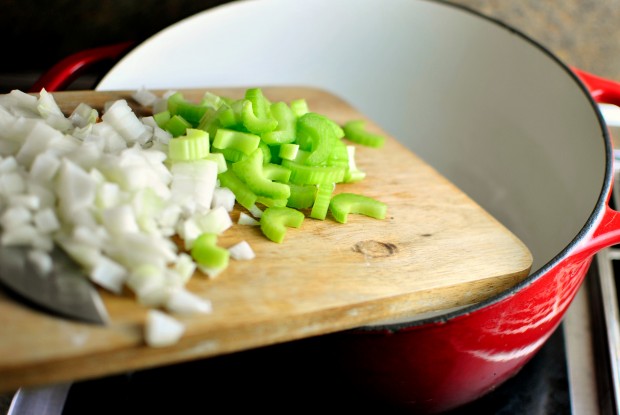 Then, in a large Dutch oven, drizzle in a tablespoon or so of olive oil and preheat to medium heat. Once hot, slide the onions and celery into the pot.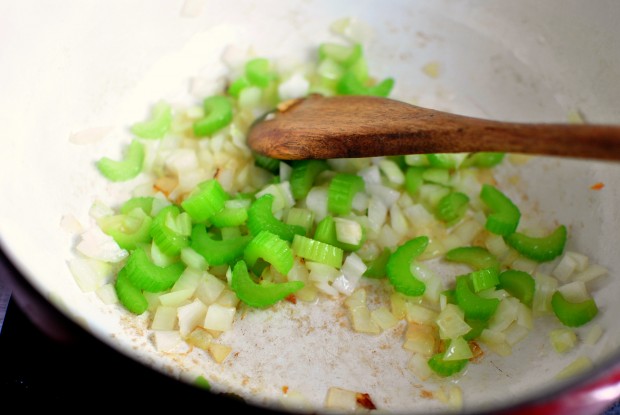 Next, cook for 5-8 minutes until the celery and onions are soft.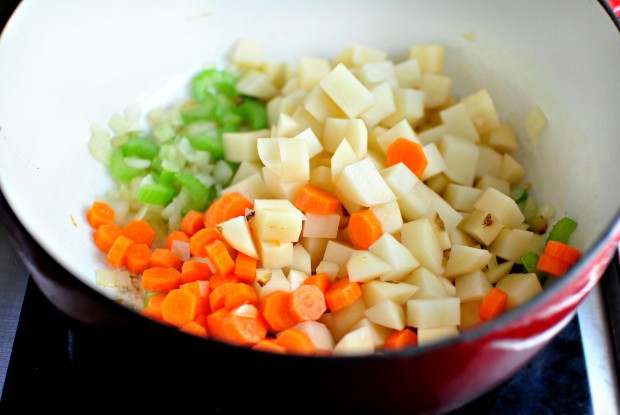 Then add in the potatoes and carrots.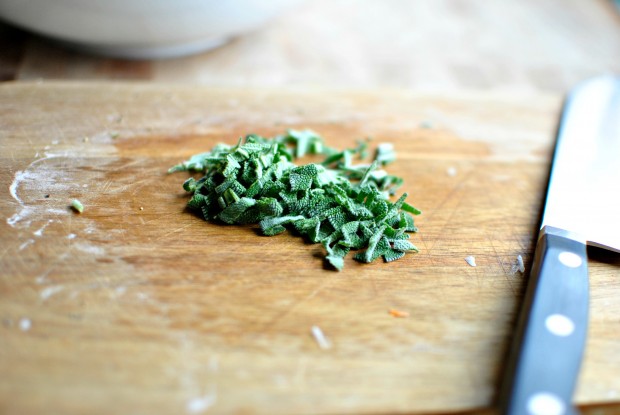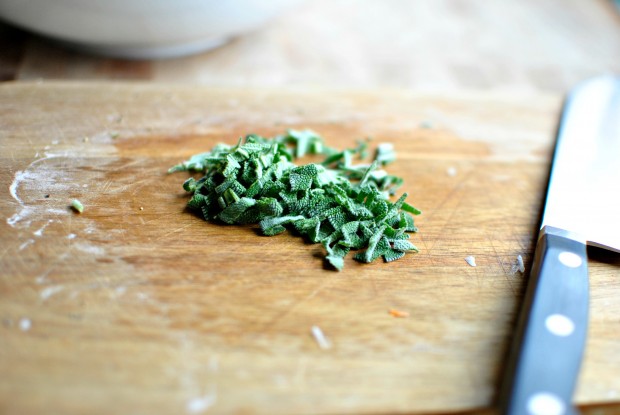 Next, slice up about a tablespoon of fresh sage…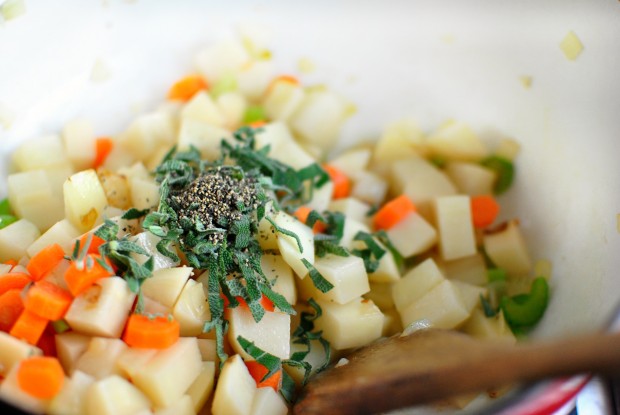 And toss it in along with the black pepper.
Measure and pour in two cups of turkey stock and two cups of low-sodium chicken broth.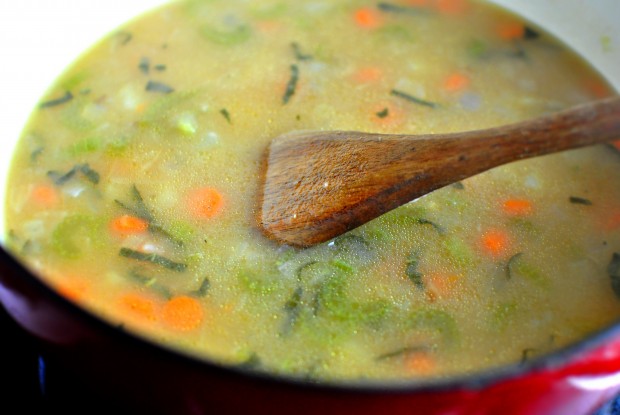 Stir and bring to a boil. Reduce to a simmer, cover and cook for about 15-18 minutes.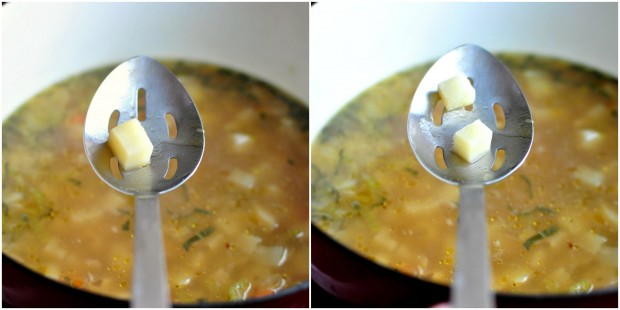 Or until the potatoes are soft and tender about 12-15 minutes.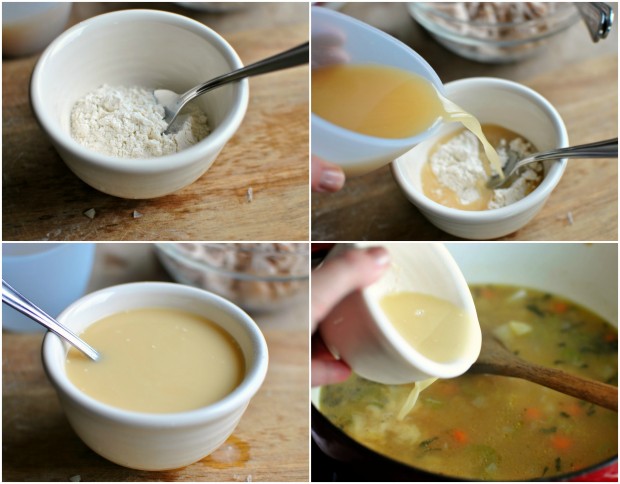 In a small bowl, measure out the two tablespoons of all purpose flour and 3/4 cup of turkey stock, stir until smooth and pour it into the soup and stir, stir, stir. The heat of the soup mixed with the flour/stock combination wikk thicken the soup slightly without the addition of any milk or cream. Score!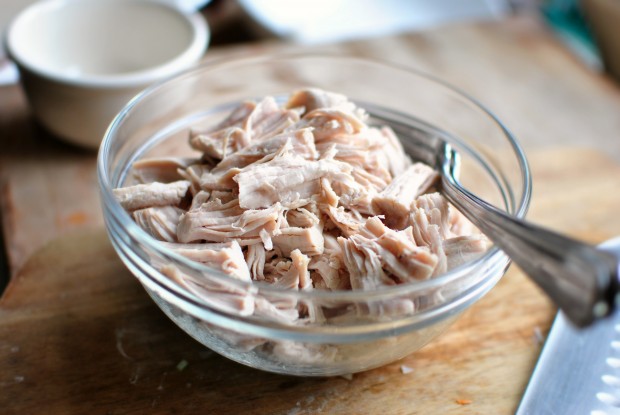 I had some leftover turkey, but if you want to make this soup and don't happen to have leftover turkey… then you can buy a turkey breast or turkey tenderloins, poach them for 25 minutes and shred them. Or use leftover chicken and turn this into a chicken pot pie soup. Either way it's a win-win.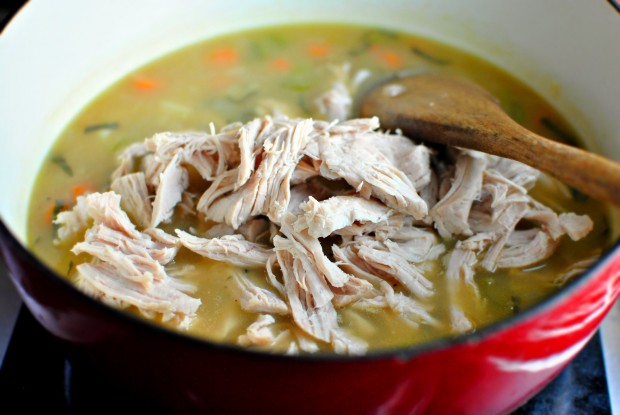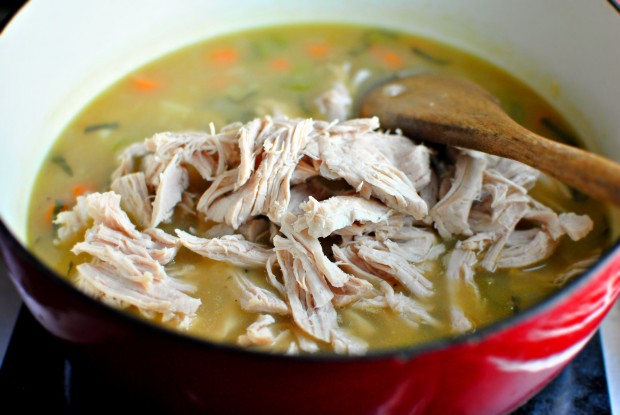 Now all you have to do is add in the shredded turkey and let the soup simmer for 5-8 minutes to cook out the floury taste.
Chop up about a tablespoon of fresh parsley…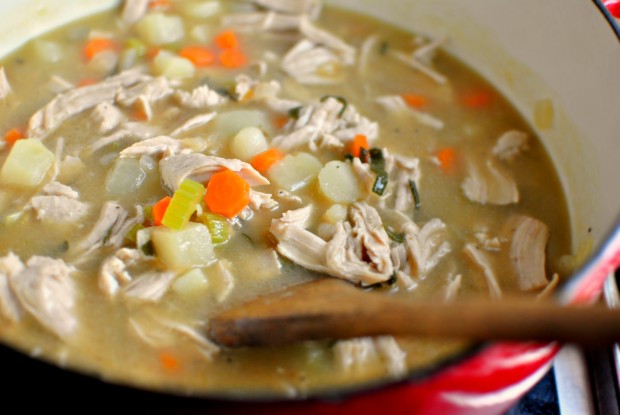 Throw it into the pot and stir. When the turkey is warmed through you're ready to serve.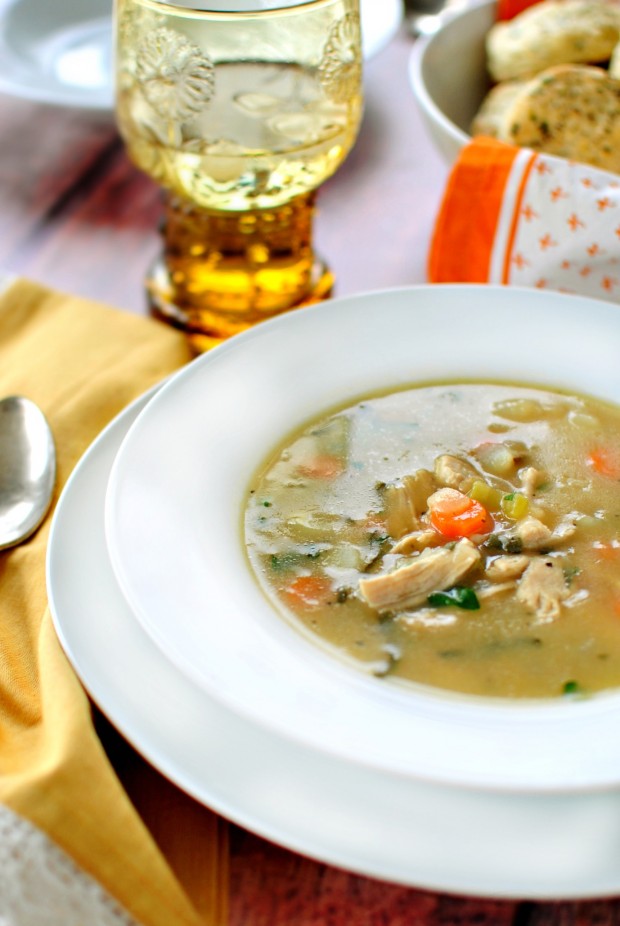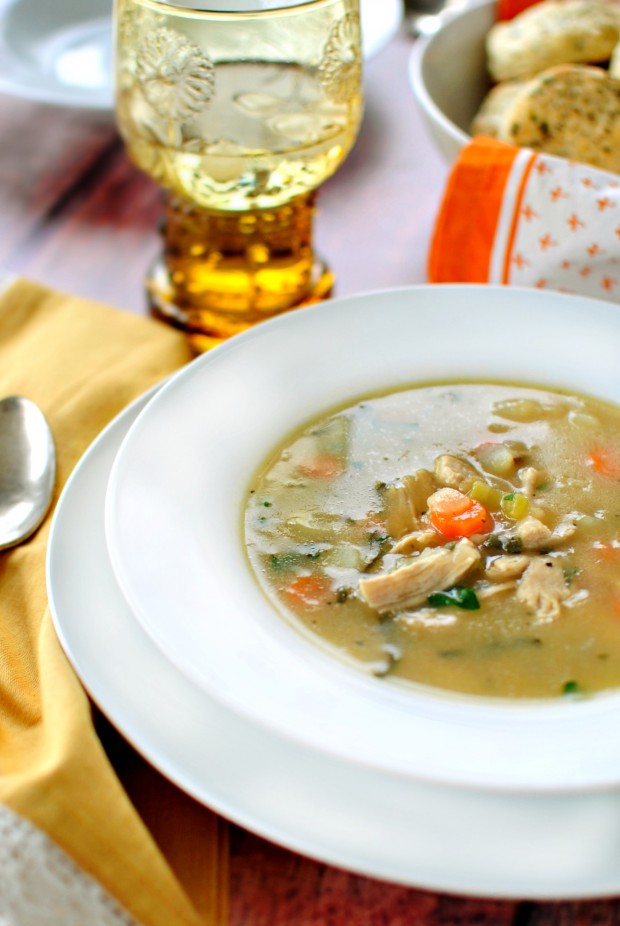 Now you have a couple options. You could serve with crackers or a rustic loaf of bread. I thought about making some homemade pie dough, bake it up to serve it on top. But I wanted to make some yummy biscuits to break up and add into the soup. So I did. Annnnd I'll be sharing those with you tomorrow.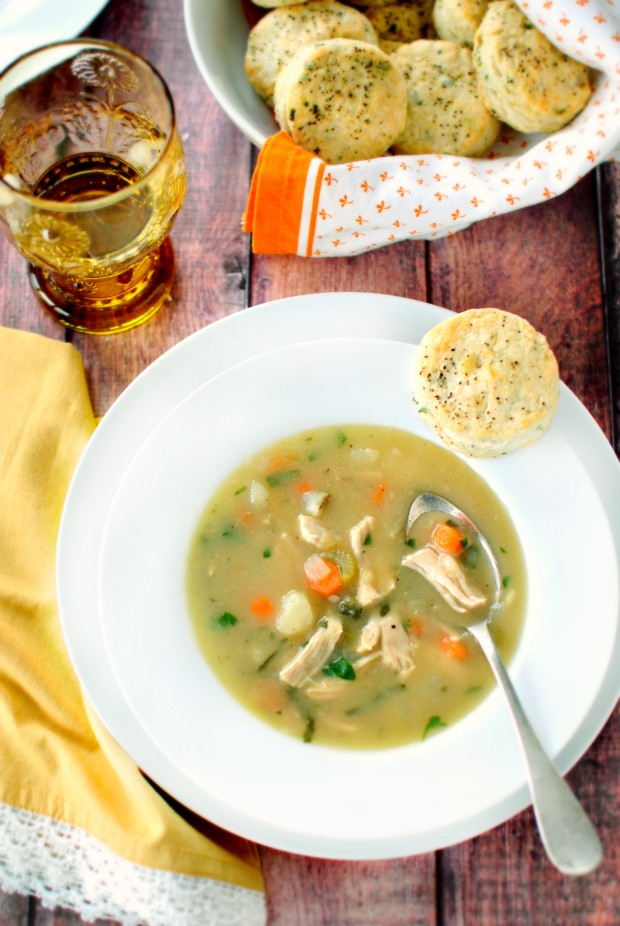 A from scratch soup that's so creamy, delicious and filled with turkey pot pie goodness.
It's soups like this turkey pot pie soup that helps me deal with the snowy winter weather. Ps. I miss grass.
The End.
Enjoy! And if you give this Turkey Pot Pie Soup recipe a try, let me know! Snap a photo and tag me on twitter or instagram!
My cookbook Simply Scratch : 120 Wholesome Homemade Recipes Made Easy is now available! CLICK HERE for details and THANK YOU in advance!
[this post contains affiliate links.]
This post may contain affiliate links.
Buy the Cookbook: Simply Scratch : 120 Wholesome Homemade Recipes Made Easy Now available on Amazon »
THANK YOU in advance for your support!