Slow Cooker Taco Chili is easy, soul warming and delicious. Ground beef cooks with onion, garlic and taco seasoning before being added in a slow cooker with beans, chiles, crushed fire-roasted tomatoes and corn. Serve this taco chili in bowl with all the toppings.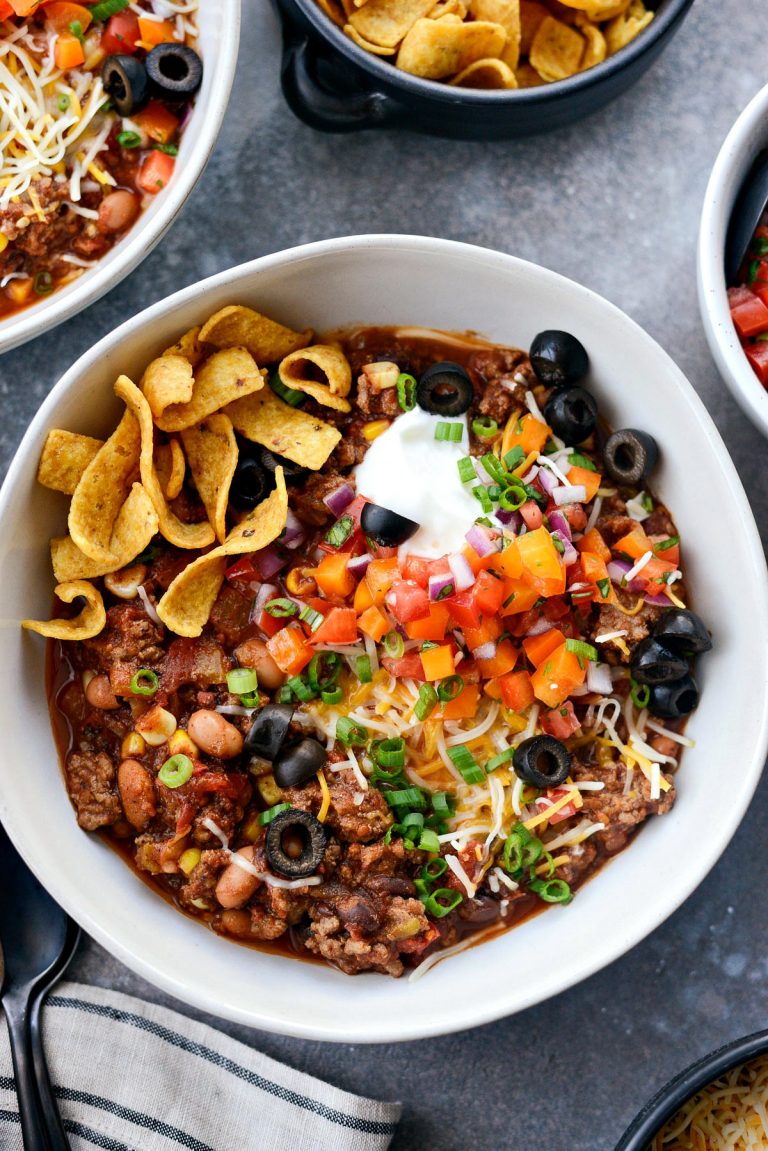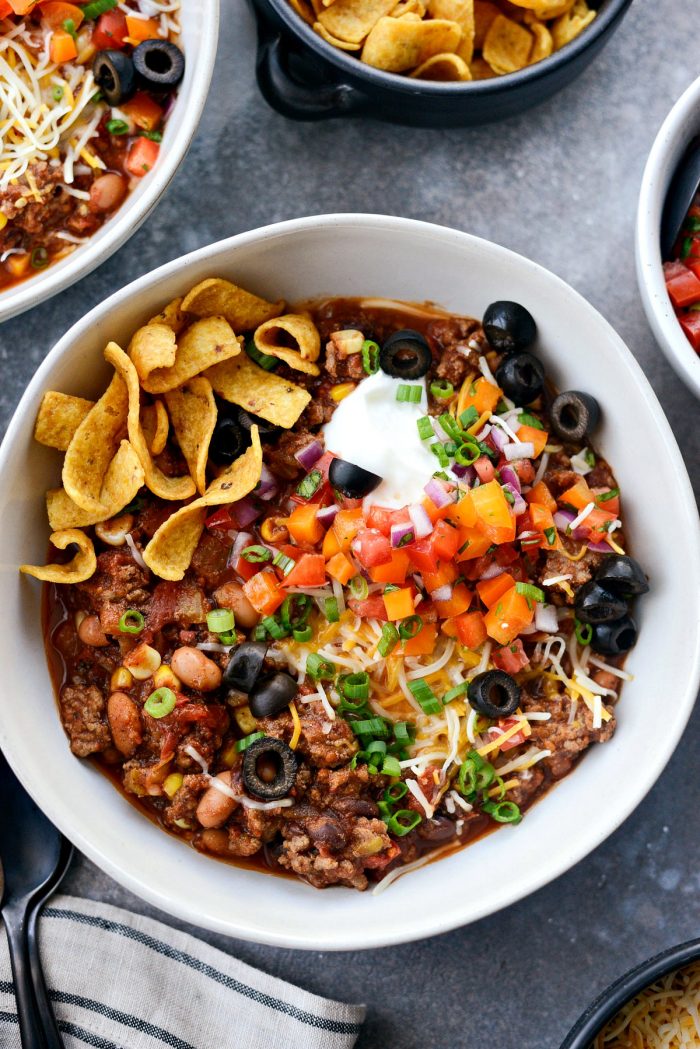 So I'm sort of writing this post mid slow cooking and I just pulled the lid off of my slow cooker and gave the chili a second sampling.
Oh my heavens.
It's taco-y but still retains the credibility to call it chili. Basically this is all the things you love about tacos, in chili form! This chili recipe started as a "hmmm let's see if I have what it takes to make a taco chili" and then a "since I'm really trying to love the slow cooker… why not put it in there" sort of deal. And it's served with a plethora of different toppings. Just how I like it.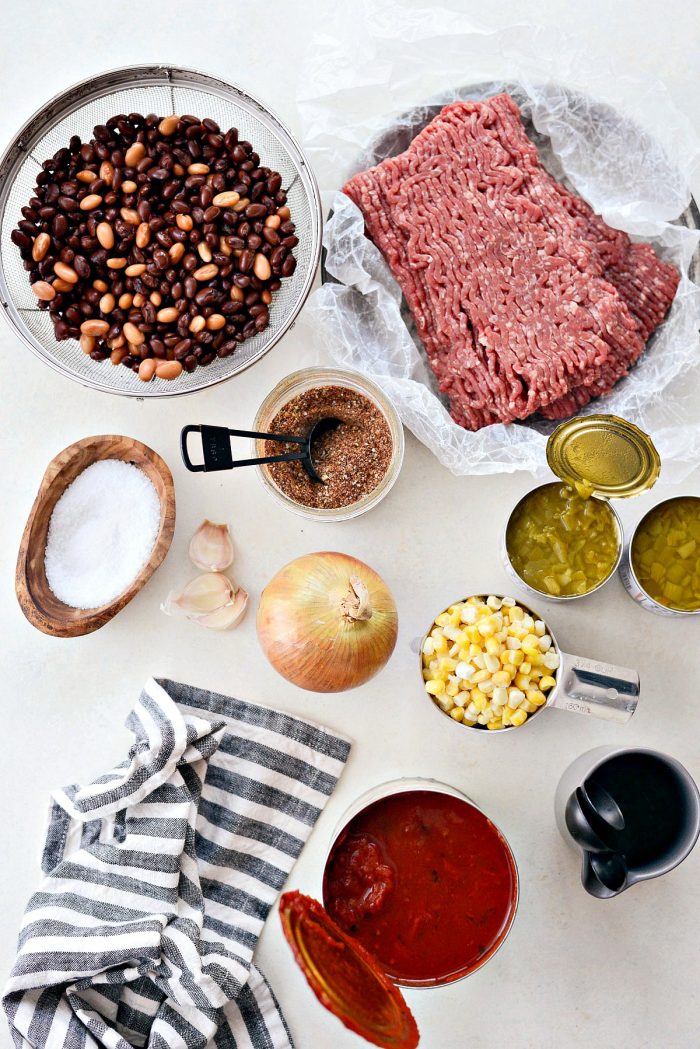 To Make This Slow Cooker Taco Chili You Will Need:
0live oil spray
lean ground beef
yellow onion
3 garlic cloves
kosher salt
pinto beans
black beans
crushed fire-roasted tomatoes
frozen sweet corn (or fresh)
canned diced green chiles (use mild for less spice or use just 1 can)
For serving: plain nonfat greek yogurt or sour cream, shredded cheese, pepper pico de gallo, sliced green onions, black olives and corn chips of your liking.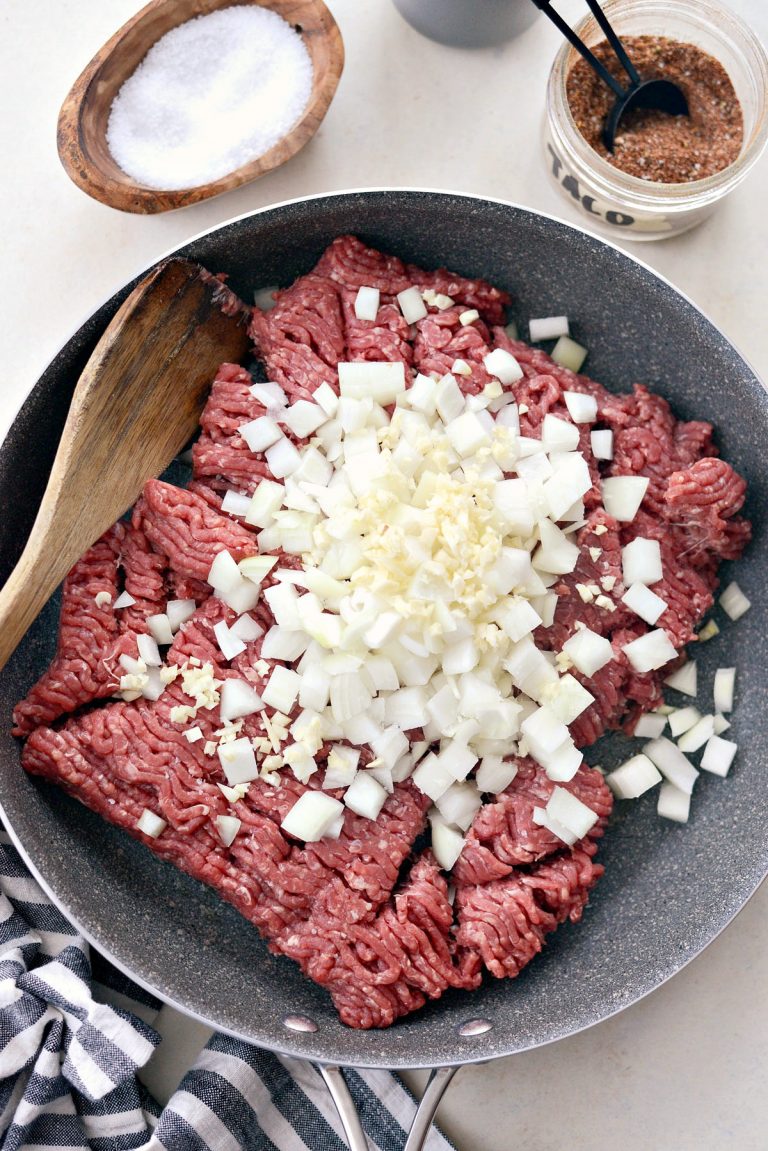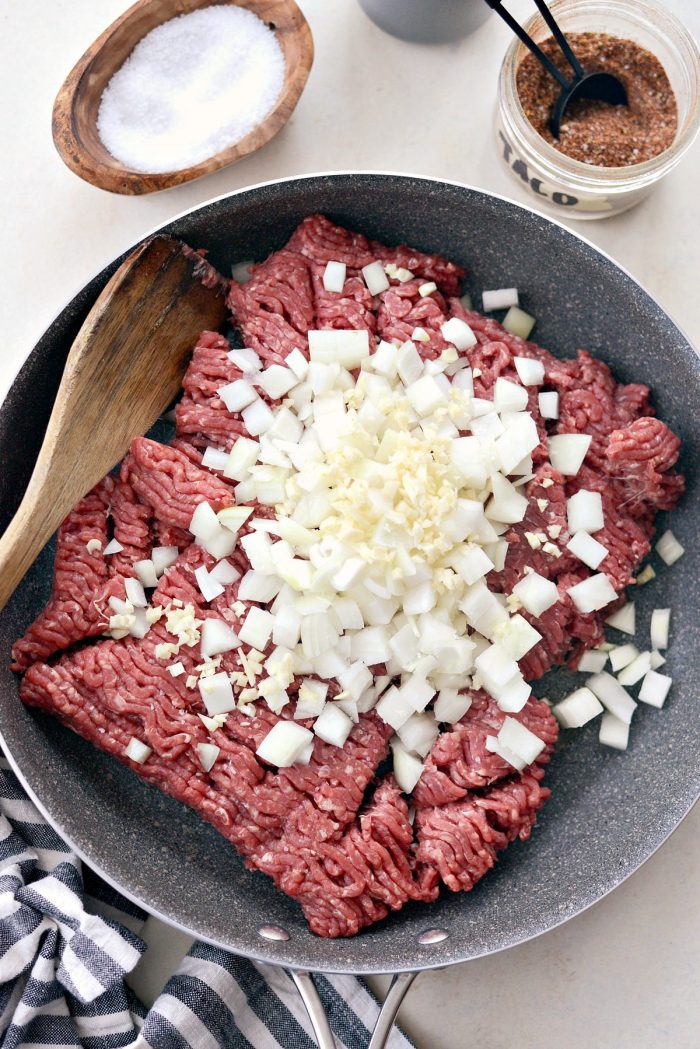 In a deep skillet heated over medium-high heat, mist with olive oil and then the 2 pounds lean ground beef, 1 chopped yellow onion and 3 cloves minced garlic.
Once the ground beef is cooked and the onion is soft and translucent, add in 4 tablespoons taco seasoning. You could make this step the night before and add everything in the morning before heading out the door.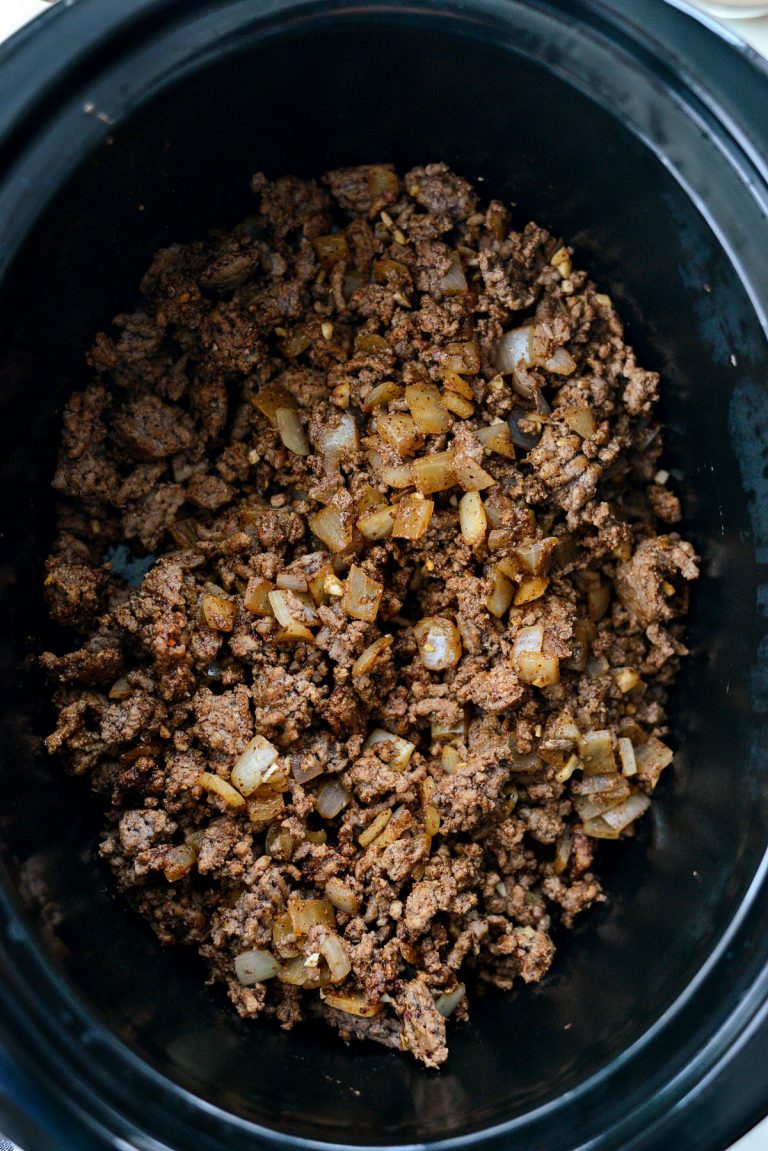 Use a slotted spoon to drain the meat from the fat and then transfer the ground beef/onion mixture to the crock pot. If a little fat get's into the pot, it won't hurt a thing. 🙂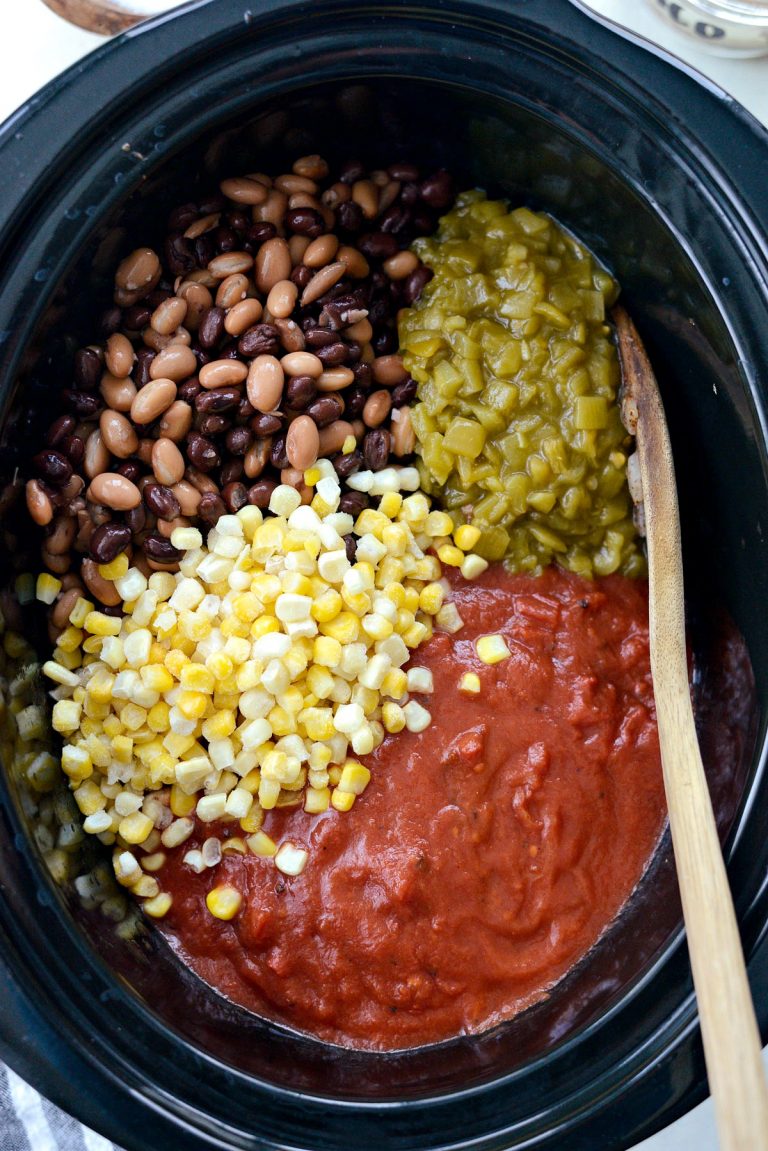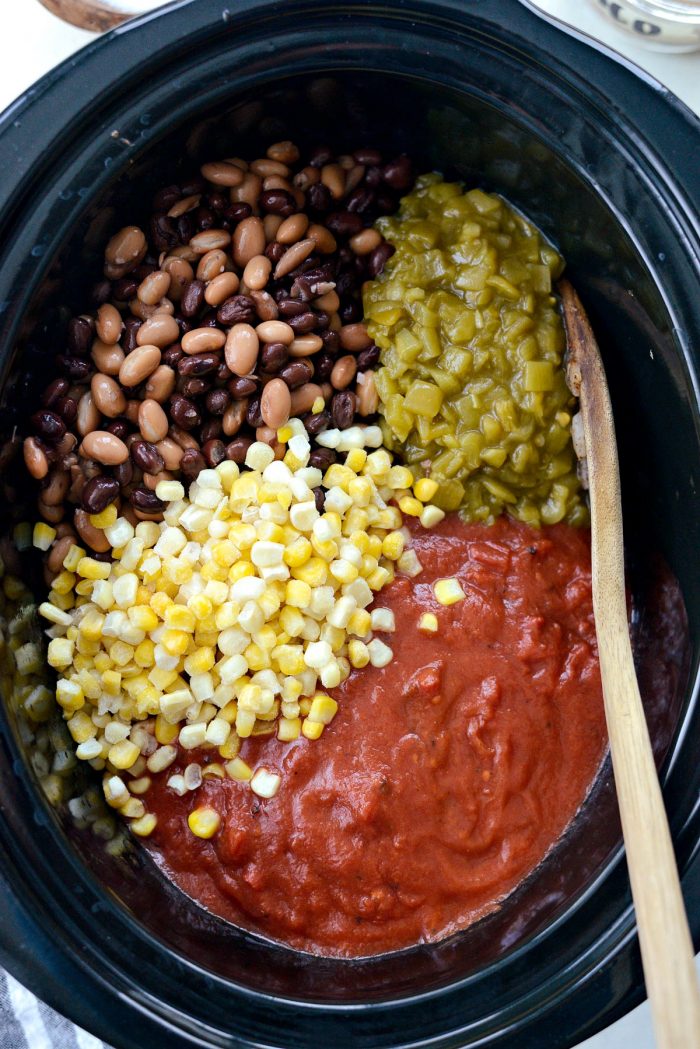 Add in 1 can each (drained and rinsed) pinto and black beans, 2 (4 ounce) cans diced green chiles, 3/4 cup sweet corn and 1 (28 ounce) can crushed fire-roasted tomatoes.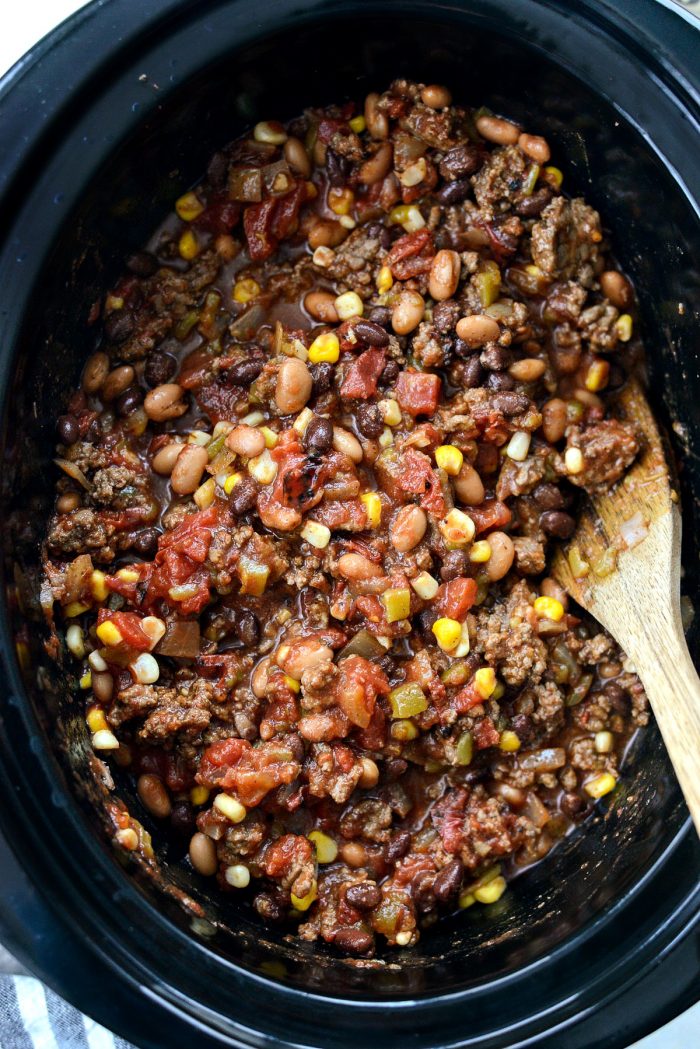 Give that a quick stir before covering and cooking on low for 6 hours or high for 3 to 4 hours. Alternatively, you could make this whole thing in a dutch oven on your stove top, simmering for 30 to 40 minutes over medium-low heat.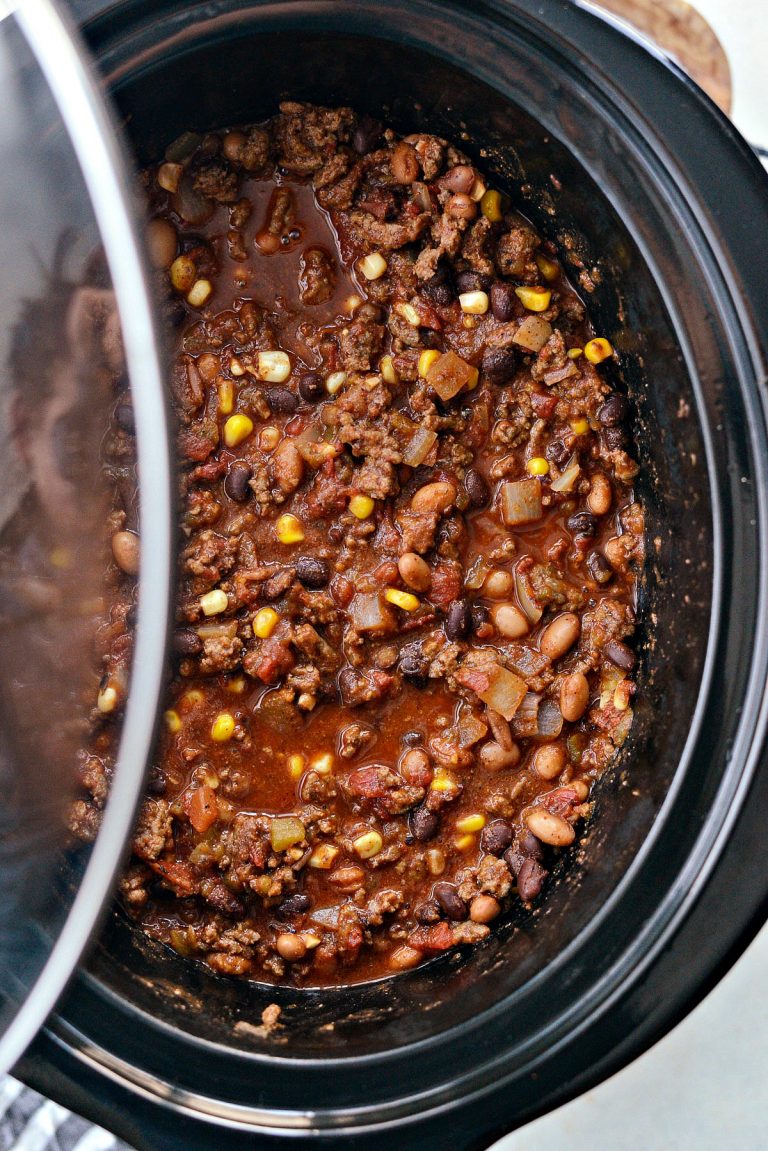 Before serving, give it one last stir and taste for seasoning, adding more salt if desired.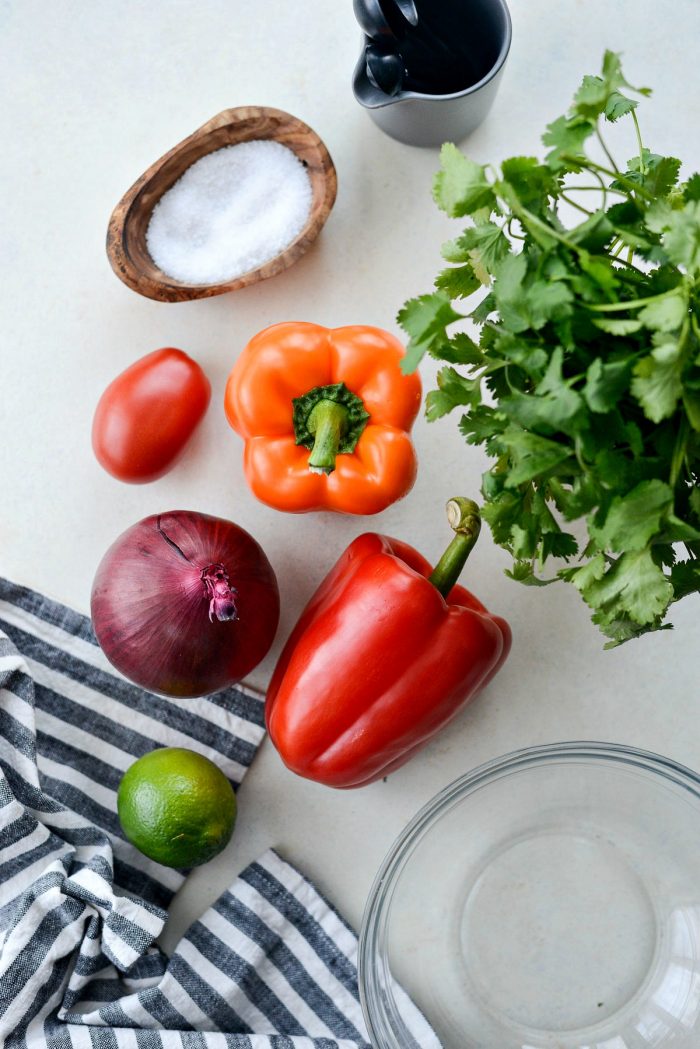 To Make The Pepper Pico de Gallo You Will Need:
red bell pepper
orange bell pepper
roma tomato
red onion
cilantro
lime juice
kosher salt
While the taco chili is in the slow cooker, add 1 seeded and diced roma tomato, 1/2 of both a diced red and orange bell pepper, 1/2 a diced red onion, 2 tablespoons minced cilantro, 1/4 teaspoon kosher salt and the juice of half a lime.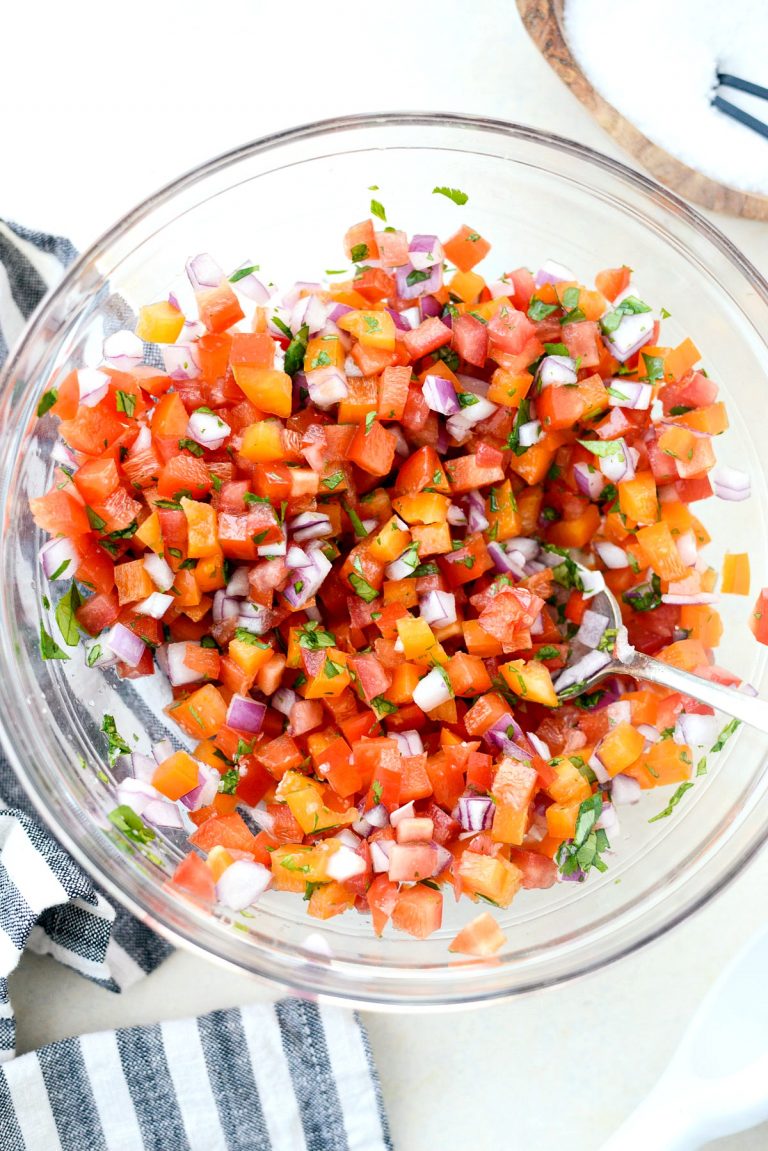 Stir to combine. Cover and refrigerate until ready to serve.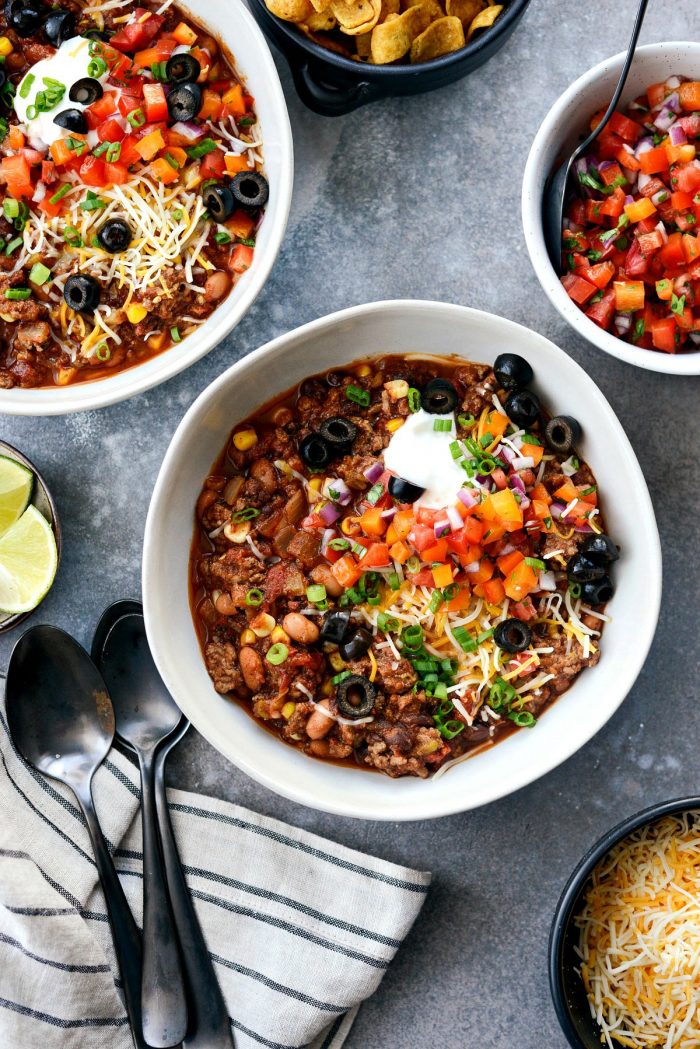 Spoon the slow cooker taco chili into bowls and top with Greek yogurt (or sour cream), shredded cheese, pepper pico, black olives and green onions.
Serve with tortilla chips, Fritos (<— our favorite) or with Mexican corn cake.
Hello, #tacochilituesday! If you love tacos, then this taco chili is totally your jam. The flavors in this chili is incredible and then all those toppings add texture and freshness. And believe it or not, but the leftovers are even better the next day.
For More Chili Recipes Click Here!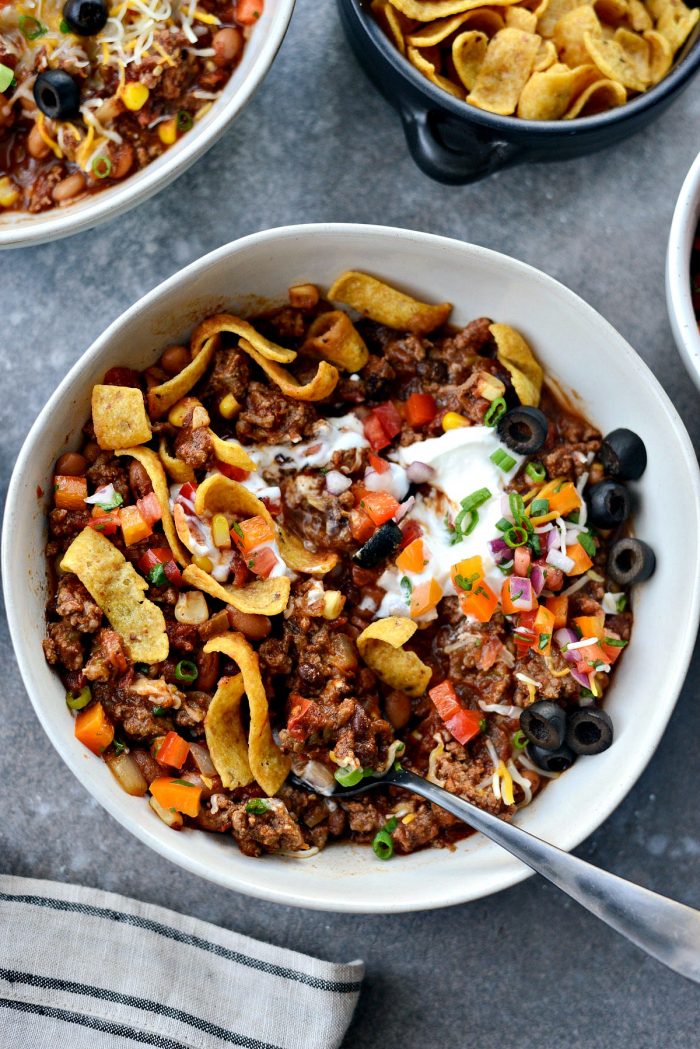 Enjoy! And if you give this Slow Cooker Taco Chili recipe a try, let me know! Snap a photo and tag me on twitter or instagram!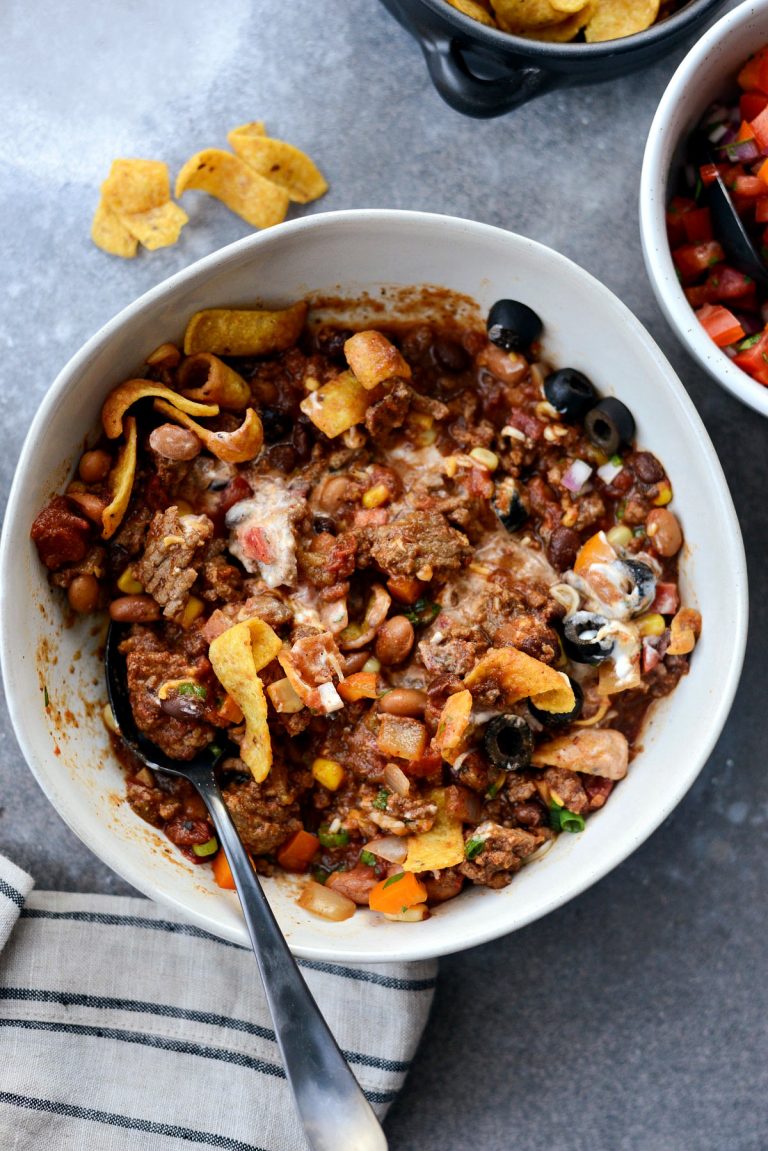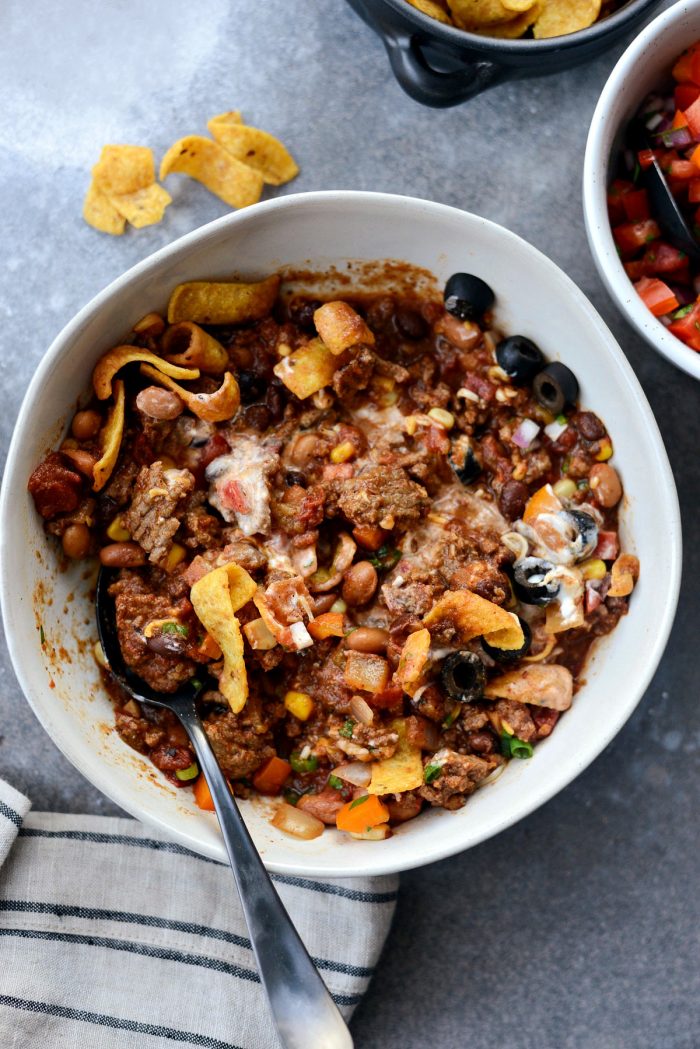 This post may contain affiliate links.
Buy the Cookbook: Simply Scratch : 120 Wholesome Homemade Recipes Made Easy Now available on Amazon »
THANK YOU in advance for your support!